Horoscope 2022 - October 2022
Horoscope 2022 - October - Uranus, Neptune, Jupiter retrograde, Sun moves to the Scorpio zodiac sign...
Horoscope 2022 October 9th, Full Moon is in Aries zodiac sign. For Aries zodiac sign, this means a hypersensitive and changeable nature, and constant opinions on one's own feelings. The Full Moon can even bring a feeling of crampedness to Aries because he is in his first astrological house. Women born in Aries zodiac sign feel great maternal instincts and love for the little ones. The effect of Full Moon in Aries will be felt by the whole zodiac within two days - from 9th to 10th October. All the signs feel this forming moon differently, depending on the astrological house in which Full Moon is formed. For Aries, this is the 1st astrological house. In the case of Taurus, we are talking about the 12th house, which gives Taurus a solitary nature and the need to escape from the daily routine of life. During these two days, Taurus will hide from world and try to get a better idea of their life path, specify Horoscope October 2022. Taurus can give full transition to his compassion and imagination during this period. The 3rd zodiac sign, Gemini, will feel the October full moon in the 11th house. Cancer will desire to connect with a person who can bring him sincere and deep feelings. The key word for full moon in 10th house, and therefore in this case for the sign of cancer, is humility and mental development. Leo perceives the October Full Moon in 9th house, which encourages them to develop imagination and creativity, especially through travel plans for the future. It is an exceptionally suitable period for literary activity and for the development of one's skills and knowledge. Leo should rest during these two days - watch a good documentary or read a book that will teach them something new. The moon in the 8th house concentrates its energies during October on Virgo zodiac sign who is suppressing most secret desires these days, and tries to look at the world around pragmatically, describes Horoscope October 2022. Virgo will also be extremely sensitive and intuitive. The Full Moon in 7th astrological house is a position where the moon feels really good because it satisfies the desire for praise and social recognition. It acts on a sign of Libra, signaling the natural flow of an event that is associated with the fate of Libra. Scorpio perceives the Full Moon through the 6th house, focusing on changes and improvements at home. Scorpio becomes an exceptionally conscientious person who wants to transform his life refuge into a harmonious abode where he can relax deeply after each day. In the case of Sagittarius, Full Moon is formed in the 5th astrological house, when Sagittarius focuses mainly on educational methods and on children. The masculine energy from this astrological house and transit suggests that Sagittarius can finally solve his children's persistent problems in a vigorous and simple way, underlines Horoscope October 2022. During this Full Moon, the moon settled in the 4th house in connection with Capricorn, which directs the Capricorn's attention mainly to family and close friends. Aquarius feels the harmonious and strong position of Full Moon in the 3rd astrological house, which helps every Aquarius in the treatment of not only physical pain but also the soul, define Horoscope October 2022. The last zodiac sign, the Sun sign of Pisces, is dealing with positive financial matters these days. Full moon affects Pisces in the other house, and brings them a certain financial life security. In short, such an impact will have a strong Full Moon during October 2022.
Horoscope October 2022 and important dates in 2022
Horoscope 2022 October 10th, Mercury enters this air sign of Libra. Mercury in Libra brings great help and willingness to all 12 zodiac signs for their own lives. We develop relationships that make sense to us, and we forget to strengthen relationships that are toxic to us. This perfect balance of emotions is ensured by communicative Mercury, which also highlights the approach to our relationships or marriage. This seems to be the ideal time to sign important documents and build a stronger marriage. Mercury in Libra brings the ideal opportunity to celebrate long-lasting and happy relationships. Even though it is Monday, October 10th, you still have the perfect opportunity for a trip with your partner somewhere in nature during the previous or next weekend, where you will celebrate your mutual love, emphasizing Horoscope October 2022. However, the transit of Mercury in Libra zodiac sign can put some of us in extreme situations that can endanger health. This applies especially to signs born with a fiery element. Therefore, the signs of Leo, Aries and Sagittarius should be very careful about their health. If you are surprised by indecision in life, it can also be caused by this transit of Mercury in Libra zodiac sign.
Horoscope 2022 October 12th, not only Aries and Scorpio perceive the Mars square retrograde Neptune. The square of the two planets is generally considered to be the more negative aspect felt by all the zodiac signs. This movement of Mars in connection with Neptune brings a reduction in our overall energy and a decline in mood. At the forefront of this day may be a scandal that will damage the reputation in the future, especially in the field of work. Zodiac signs should therefore pay special attention to gossip and slander. They should not engage in any activity that could harm other people mentally. There comes a time when you may be struck in life by the thought of the past and those who have hurt you in the past. A very important attitude during this aspect is to approach past thoughts and your inner self so that you do not take any negative steps towards yourself. Keep a cool mind, because your overall negative attitude can also have a big impact on the development of your future energy. In life, we all have to admit at some point the unpleasant things from our past, but the most important thing is how we deal with these things. If we can throw the past behind our heads, because we know that these things are no longer, we can move forward with our heads held high. It is important to forgive ourselves as we forgive others, recommends Horoscope 2022. For some zodiac signs, it will certainly be difficult to overcome this negative aspect, and therefore the Horoscope recommends seeking professional help in case of great mental pain or sadness. We can have less energy to be able to manage this period with a good mental attitude. Relationships with others can also be suspicious and paranoid, so at this point, do not address any of your suspicions about your partner that you have not verified. Suspicion, jealousy, and paranoia can result in your vengefulness, which can cause disaster in your love life. If you become a victim of gossip or scandal, all you have to do is wave your hand over it and move on. Those individuals who are in a long-term relationship, but are not satisfied with it and are looking for pleasure in the arms of another person, will experience this worst period, says astorlogy Horoscope October 2022. The mental state that awaits us will take away a lot of energy, and we will feel this decline in energy for the rest of October. Therefore, let us try to focus on our own mental building and on our own mental growth at the beginning of the month. Only if we find out exactly what we expect from life can we be happier in the future. No one can advise us now whether we should take a step forward or backward, but in any case, if we deepen our hearts, we will find out what life whispers to us.
Horoscope 2022 October 19, the sun in the quadrature with Pluto strengthens the more negative effect of the quadrature of Mars with Neptune. October seems to be more challenging for negative transits, which will hit most zodiac signs hard. As of October 12, energy has still not risen from its declining trend, and these vibrations are complemented by Pluto's negative tendencies. Zodiac sign, which is to some extent affected by the planet Pluto - Scorpio zodiac sign, will have the best opportunity to fight these negative aspects. The scorpion will not experience any significant changes in energy or effects on his mood. The other zodiac signs must now use their hearts in connection with their reason. It is not time to act too callous, warns Horoscope October 2022, but it is also not appropriate to make decisions based only on your heart. So you have to write down all the pros and cons, in case you need to make some important decisions in life now. Although it is not recommended to sign important documents, or to decide on an important matter for your future now, you can at least make a list of pros and cons that will simplify your decision. From October 19, all signs of the zodiac will begin to overcome the barriers that stand in achieving their overall ambitions. When quadrating the sun with Pluto, mental transformation is recommended, and the release of aggressive energy through sports or a favorite hobby. Everyone must find their own way to get rid of the excess negative energy that these October transits bring.
Horoscope 2022 October 22nd, the sun comes into conjunction with a directive Venus. The end of negative vibrations brings precisely this very positive aspect which harmonizes our fears and encourages us to love and understand. Overall, one feels more balanced when influenced by the conjunction of the sun and the planet Venus. All zodiac signs find lost self-esteem, and we also focus strongly on things that are beautiful in our eyes. Of course, the specific influence on your zodiac sign depends on the astrological house in which this conjunction takes place. You will learn more in your personal horoscope, but from a global perspective we have the opportunity to do good and pay attention to beautiful things. For some Zodiac Signs this is an ideal time for a small renovation of your home. Surround yourself with beautiful things that will help you relax even more in your refuge. Good taste, for good and quality things, can help the success of singles, who will more easily focus their attention on those people to whom love matters. On this day, you may not be mistaken in choosing your future partner. October 22nd is such a special day for sharing love, hugs and kisses. It comes out on a Saturday, so even singles can go out and meet interesting people. Don't wait for a better opportunity, because in October, the conjunction of the sun with the planet Venus is the most positive transit of the moon.
Yearly Horoscope 2022 October - Sun enters Scorpio
Horoscope 2022 October 23, the positive effect of the sun shifts from Libra zodiac sign to the 8th house of Scorpio. The sun enters Scorpio zodiac sign, which is controlled by the mighty planet Mars. Mars is still in direct motion, and therefore does not bring any slowdown or decision-making to our lives. The key words of this transit, which affect all zodiac signs globally, are strength, intensity and transformation. Scorpio, as the 8th zodiac sign, is closely connected with its own astrological house, which also focuses its attention on sharing finances with others for its own self-understanding, intimacy and sexual pleasure, inform yearly Horoscope October 2022. From a negative point of view, the sun in a scorpion can have a negative effect mainly on the water zodiac signs - Cancer, Scorpio and Pisces, but also on acceptable zodiac signs - earth signs - Taurus, Virgo and Capricorn. From a negative point of view, these zodiac signs can get into a treacherous position in personal relationships, where they are tempted to manipulate and possess property. For some water signs, there is also a period of great trial in love, because they will have to resist the seduction of someone new in their lives. The period of the sun in Scorpio zodiac sign in 2022 will be a period of trials but also of joy. It will be a time when several zodiac signs realize the strength of their relationships and their willingness to work on important things in life.
Horoscope 2022 October 25th, New Moon will be in the same sign where the sun acts - in Scorpio zodiac sign. The New Moon in the 8th zodiac sign touches each sign differently. Overall, this is a very important aspect that focuses our attention on the sexual needs of the individual and the intuitive development of relationships. The water zodiac signs also have the opportunity to look deeper into occult ways to improve life, where it is possible to study elements of white Magic for the benefit of life. The New Moon in this sign sends the energy of understanding to all others, when we have the opportunity to perceive not only the problems of other people, but we also have a sense of good business. In the personal horoscope for each zodiac sign, we discuss aspects of the moon for a specific zodiac sign. From the point of view of the general description, however, they must pay particular attention to their health during this period, especially female signs, which include a bull, a crayfish, a virgin, a scorpion and a fish. Surgery is not recommended during the New Moon in Scorpio. Women who suffer from persistent problems with the reproductive system or joints should pay special attention to their health. So during this lunar phase, we try to penetrate our own emotions as deeply as we can, and focus on the long-term relationships that fill us with satisfaction.
Horoscope October 29th, Mercury shifts from Libra zodiac sign and shifts its focus to Scorpio zodiac sign. The Scorpio is severely affected by aspects during October. Even during October 29th, the planets Venus, Mercury and also the Sun are in this sign, which is why this zodiac sign will feel harmonious during October. Other zodiac signs will feel this entry specifically, but in general Mercury is very fearless in the Scorpio and is trying to deepen its attention to the core of any problem. Therefore, we will also analyze our problems with our requirements and we will try to find a healthy middle ground between what we require and what we need, claim Horoscope October 2022. Certain zodiac signs, which are in imbalance with Scorpio, that is, signs of fire and air, may run into false news during this transit, or be lured to an overly advantageous financial offers. For all 12 signs of the zodiac, this aspect means a more optimistic mood, and more passionate expressions of love. Communication about every problem in this period moves us forward not only in terms of our career, but also love.
October will be an exceptional month in several ways. It will be important especially for the energies of the Scorpio sign, which will experience several interesting transits during this period. Other zodiac signs perceive negative aspects especially in the middle of the month. These negative karmic energies can shake the positively built energies of the past. A global look at the astrological chart for October 2022 suggests that some people may also need the help of an expert to overcome the anxious emotions that are coming from past periods.
IMPORTANT ASTROLOGICAL ASPECTS - October 2022 HOROSCOPE FOR ALL 12 ZODIAC SIGNS:
Horoscope October 2022 specifies Retrograde all-month movements of the planets Urat, Jupiter, Neptune.
Mercury in retrograde motion from 1 to 2 October 2022, then in a directive until the end of the month, specifies the annual Horoscope 2022
Venus in directive motion throughout October 2022.
Mars in a directive motion from 01 to 30 October 2022. From noon it goes into redrograde motion, specifies Horoscope October 2022.
The Annual Horoscope for 2022 also describes Saturn in retrograde motion from October 1 to 23, 2022.
Aspects that affect Horoscope 2022 during October
Horoscope 09 October 2022 - Full Moon in Aries zodiac sign
Horoscope 10 October 2022 - Mercury enters Libra zodiac sign
Horoscope 12 October 2022 - Mars square Neptune
Horoscope 19 October 2022 - Sun square Pluto
Horoscope 22 October 2022 - Sun conjunct Venus
Horoscope 23 October 2022 - Venus and Sun enters Scorpio zodiac sign
Horoscope 25 October 2022 - New Moon in Scorpio zodiac sign
Horoscope 29 October 2022 - Mercury enters Scorpio zodiac sign
Horoscope 2022 - All Months of the year 2022
Click the image and read more...
Horoscope 2022 January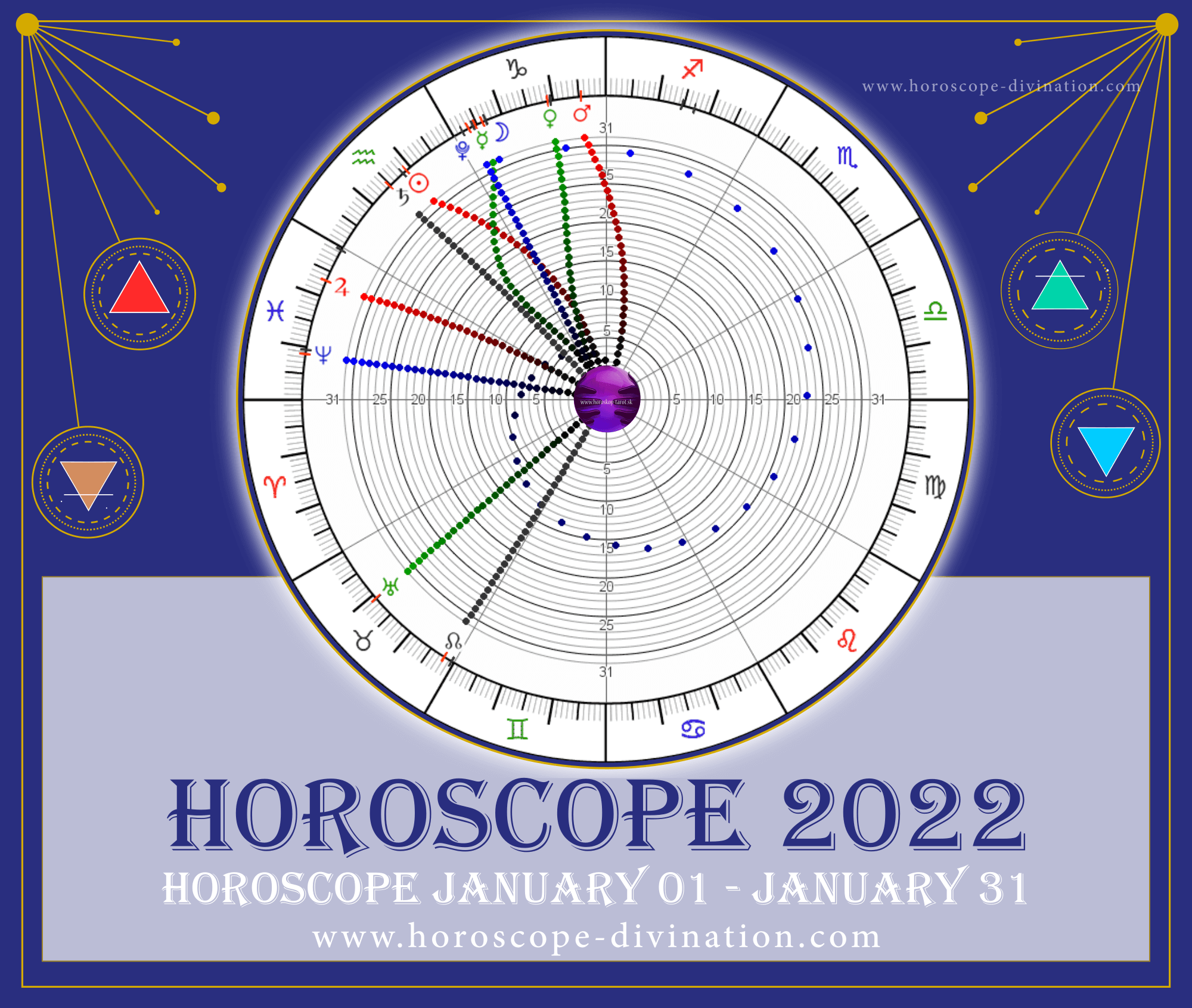 We are entering the new year, 2022, with the Sun in Capricorn zodiac sign. The first aspect that the Astrological Horoscope draws attention to is the retrograde Venus almost throughout January...
Horoscope 2022 April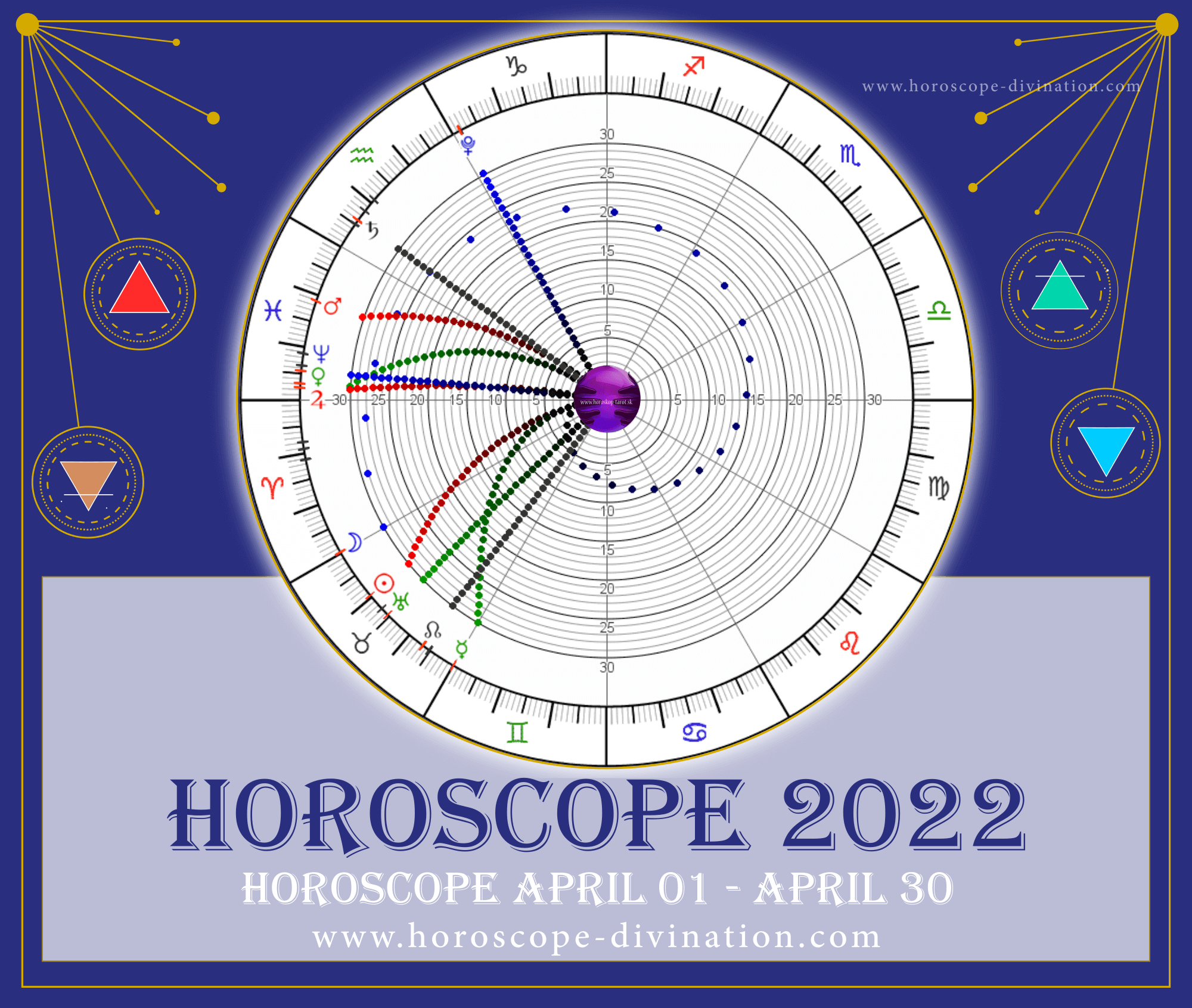 The month of April begins with the New Moon in Aries zodiac sign. The planets Uranus, Saturn, Mars, Venus, and Mercury are in directive motion throughout April 2022...
Horoscope 2022 August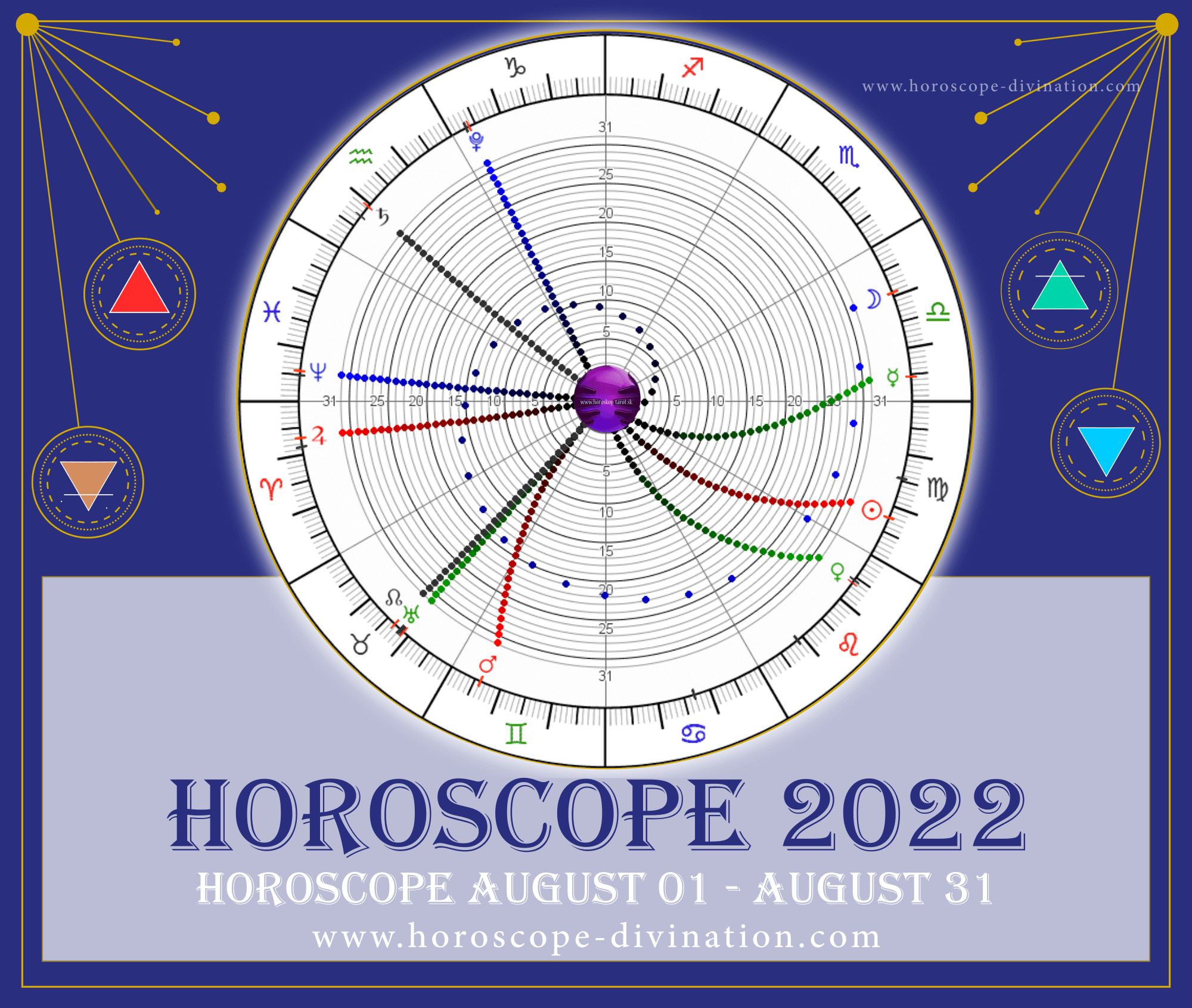 During August, regressive planets behave differently in regressive motion, depending on which astrological house they affect in each sign. Nonetheless, in order to understand the global impact of regressive movements, it is necessary to clarify how our energies will affect us in general...
Horoscope 2022 November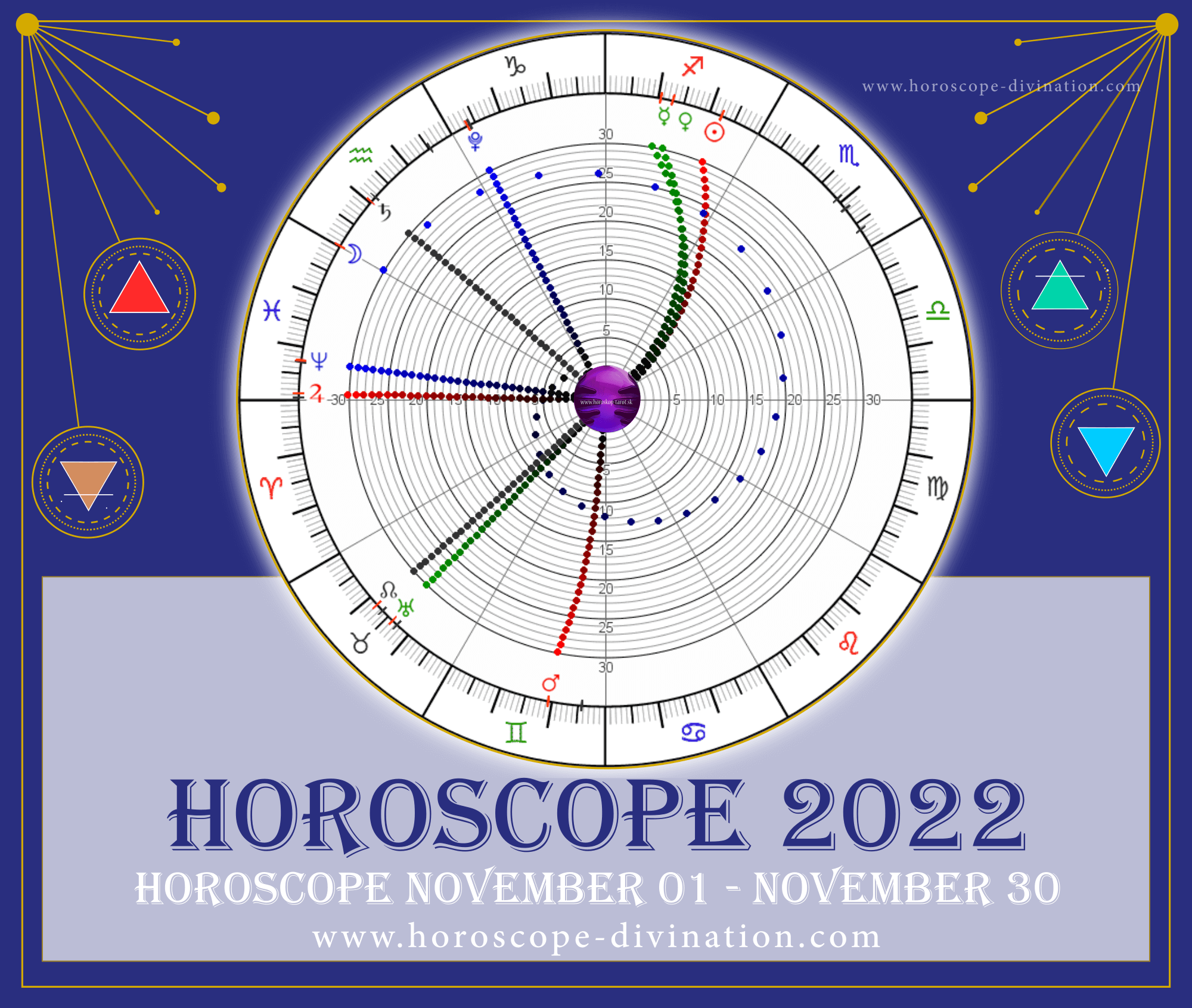 In November, we will be introduced to the regressive Mars preceding Gemini zodiac sign, in full force. Until November 23rd, the regressive Jupiter and the planets Uranus, Neptune and the above-mentioned planet Mars also act on the complex energies...
Horoscope 2022 December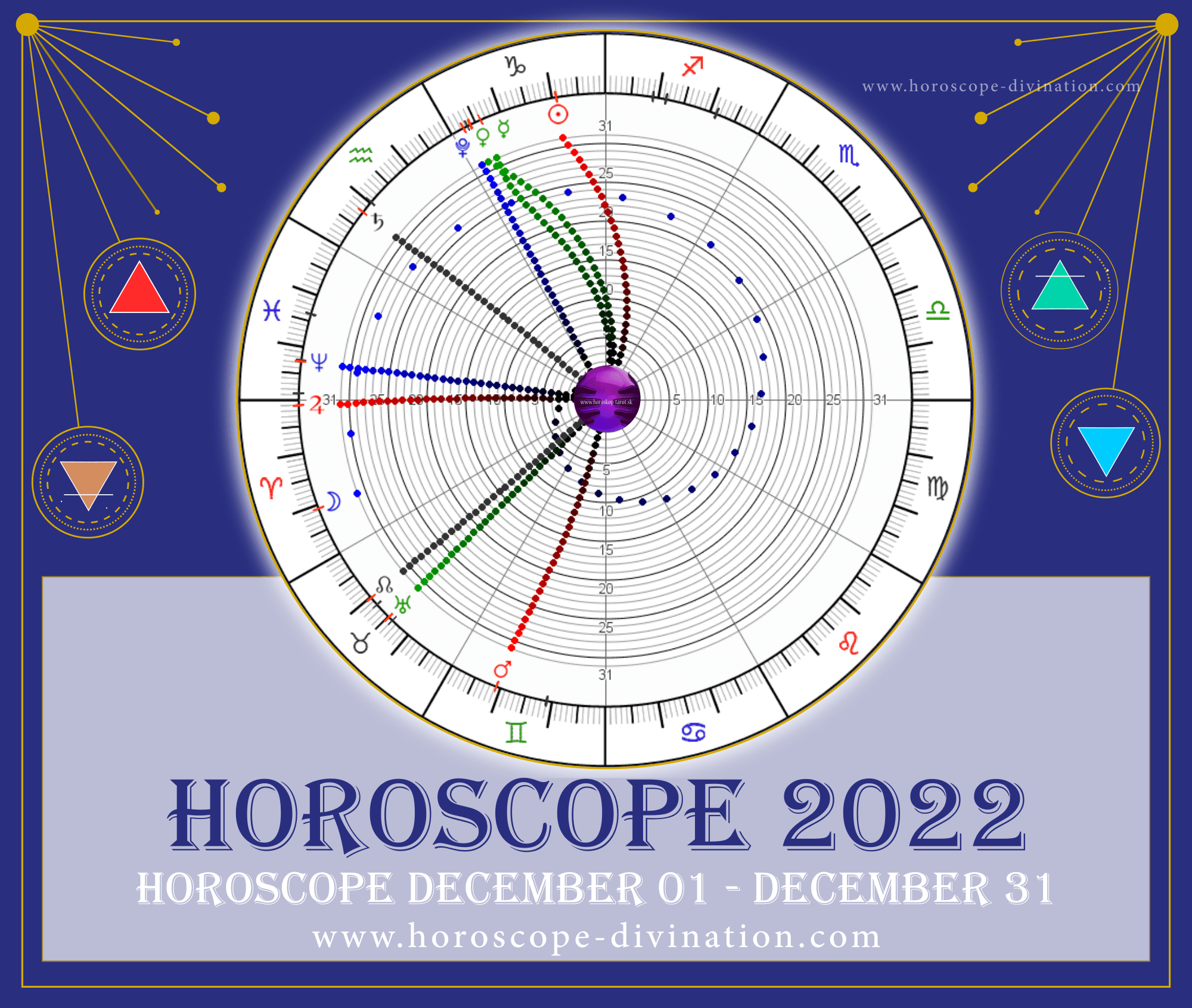 In December, the planet Neptune has moved in direct motion since December 4th, and the planets Uranus and Mars have been moving in regressive for the rest of the year. At the end of December, the month of December will also hit us with the regressive movement of the planet Mercury...