Horoscope Gemini 2022
The astrologist and fortune teller have prepared a Horoscope for Gemini zodiac sign for the year 2022. Read the prediction in love, health, or in a career that is enriched with interesting information about Geminir astrological zodiac sign. Gemini celebrates its birthday between May 21st and June 20th. What opportunities, news, or changes await Gemini during 2022? Read a comprehensive prophecy for the area of love, health and career, which focuses its prediction mainly on Astrological influences and movements through the houses of Gemini.
The personality of Gemini in 2022 and yearly Horoscope
Gemini is known for its gentleness, curiosity and ability to learn quickly. This will not be the case this year either, when through some negative transits Gemini may feel an inconsistent and indecisive nature that is close to Gemini. In 2022, the greatest friend for Gemini will be music and interesting books, because Gemini will be able to indulge in more free time just for themselves. Since the sign of Gemini - whether male or female Gemini does not like the routine, this year they will look for various small adventures, such as walks or short trips to places they do not yet know. Their great acumen will help them advance in their careers, but there are also negative aspects affecting the career of Gemini, which we will get acquainted with in the following lines of the horoscope. The social and communicative nature of Gemini, which is always ready for good fun, will also multiply Gemini's opportunities for relaxation. Gemini will have enough time to consider the priorities of the year and to be able to make firm decisions in several life directions.
The year 2022 will bring success especially to Gemini who do business or work in the art sphere, but will also affect teachers, doctors or journalists. These professions will be positively affected in terms of the astrological chart, and Gemini who are considering starting their artistic careers will have a large number of opportunities to seize the opportunities. This year, Gemini is closely associated with his childhood, family, and relatives. It is tied to deeper emotional expressions, and love will be full of intellectual challenges. Even those In relationship will be given more chances during 2022 for a new love, for a new relationship, or for a deep and meaningful friendship.
The ruling planet of Gemini is the communicative Mercury, underlines horoscope gemini 2022, which strikes the energies of Gemini, but also other zodiac signs with its reversing and directive movement. However, Gemini will also be affected by the positive transits of Mercury, which will act at an incredible speed, because this fast planet will further strengthen the positive qualities of the individual - Gemini zodiac sign. This year, too, Mercury has an influence on how Gemini think, on the way they communicate, and concentrates energy on different aspects of Gemini's life. Mercury is known for its strength and organization. These properties of the planet influence Gemini in great force, and so Gemini become amazing people who transfers the properties of this powerful planet into his personality. The biggest challenge of the year will be for Gemini to listen to others and try to penetrate into their soul. Gemini will also need to say goodbye to relationships that do not stimulate you emotionally. Many months of 2022 will focus on Gemini's friendly and family relationships, but some transits will help Gemini better understand long-term love or overcome career decisions. This year, too, Gemini will prefer to physically contact their partner, who they consider extremely important. Unmarried Gemini will focus mainly on such relationships and emotions that have the potential for a bright future. Repetitive superficial relationships, and dysfunctional connections, are not of interest to more Gemini, because these relationships do not allow us to create the depth of emotions that Gemini seek and need.
Gemini is a very friendly zodiac sign, which in life focuses mainly on its friends and family. The family is extremely important for Gemini, whether they are parents, siblings or their own children. This year, too, Gemini will strive to create a safe and peaceful home to share with his loved ones. However, there are also challenges that will affect family harmony and happiness in 2022. The love of Gemini in a long term relationships will also be tested. In their life, Gemini often have to decide between their practical side and their heart, define 2022 Horoscope Gemini. Such a difficult choice will also occur this year, when Gemini's career will be an opportunity to change their life. Gemini understands in love mainly with the signs of Sagittarius and Aquarius, and at work, family or friendships they create great compatibility with the signs of Leo, Aries, Scorpio and again, with the signs of Aquarius and Sagittarius. Libra will be Gemini's best and true friend who will never betray them. If Gemini look for advice in 2022 on how to move in the right direction of life, Gemini will find it from the sign of Libra.
The essential oil for Gemini for 2022 is definitely eucalyptus essential oil, which will help Gemini not only to concentrate better, but also to seek vitality after difficult days. This essential oil should be a part of Gemini's life throughout the year, as it will help not only with health problems, but also with mental pain. However, be careful with this oil, as some Geminis may react to eucalyptus with an allergic reaction. Those who do not handle eucalyptus oil well can replace eucalyptus oil with lemon oil, which is Gemini's second option to enhance vitality and energy. In terms of aromatherapy, these oils should be part of your home throughout the year, and a few drops of this fragrance will help you better relax and focus on Gemini's own life, whether it will be helpful in overcoming difficulties.
The year 2022 will be significantly influenced not only by the ruling planet of Gemini - the planet Mercury, but also by the basic characteristics and features of the Gemini sign. The horoscope will focus not only on the ruling planet, the influence of the sun on Gemini zodiac sign, but mainly on the movements of important planets in the houses of Gemini. Overall, the year 2022 seems to be a successful period when strong friendships and family ties will be highlighted in the life of Gemini. Gemini, now Gemini have the opportunity to know your astrological prediction for the whole year, whether Gemini are looking for answers to questions in the field of love, work, finance, or health. Can you overcome the problem in 2022, will Gemini's love be stronger than ever before? Will the unemployed manage to find the desired job? Will the single Gemini be more focused on their own personality, or are there opportunities for new love? We will answer these questions in the following parts of the horoscope, which also deals with whether 2021 is a suitable year for marriage, and whether those who are trying for a coveted baby will be successful. Continue reading the prediction, which will reveal the future in all important life directions.
Horoscope 2022 Gemini from the POSITIVE point of view
Before imagining the detailed Horoscope for 2022 for Gemini zodiac sign, in terms of love, work, or health, let's look briefly at how positively Astrological Transits will hit your zodiac sign during 2022.
From love view, first quarter doesn't bring any exceptional transits that would negatively or positively affect energies of Gemini. The first great positive aspect comes during May, when Gemini will have opportunities in relationship to strengthen long-term relationship and marriage. Throughout June 2022, Venus and Mercury influenced relations in a positive direction. This month, Gemini have the opportunity to enhance every relationship, and heal what has been disrupted. Love relationships that are based on deep understanding and deep love will flourish during June. From July 19th to August 4th, Gemini do not have to expect any quarrels or complications in a long-term relationship. The year 2022 brings many opportunities for Gemini, who in the past have gone through more complicated emotions in the relationship, and who are trying to get the broken relationship back into balance. There are also transits, which mean suitable days for marriage or pregnancy for every Gemini.
In the detailed horoscope you will find out about every date suitable for a wedding in case you are going to get married in 2022. From October 10th to 29th, every Gemini will have an excellent opportunity to move forward. So if Gemini are considering whether to move your long-term relationship to a new level by marriage or joining the family, Gemini have a chance to change Gemini's relationship in the period from 10 to 29 August. Gemini's sensitivity to your partner will allow Gemini to understand not only your own desires but also Gemini's partner's needs and reconcile these two things into one functioning and beautiful relationship. In November, the 7th Gemini House of Astrology is strongly occupied and has a very positive effect on the emotions and love of not only those in relationships but also single Gemini. A strong occupied 7th house of partnership means a period full of love, Gemini attraction and beauty. Unmarried twins are offered many opportunities to get to know their soul mate, because the 7th Astrological House makes Gemini an irresistible and charming person. From an astrological view, the month of November seems to be very strong for Gemini.
On December 23rd, relationships that are based only on an intimate basis will be terminated. Any relationship that Gemini have maintained only for sexual pleasure must be terminated by the end of 2023, because it no longer brings you joy and pleasure. This fact will remind Gemini of the end of 2022, when you will find that it is time to reorient your energy to something valuable and lasting. Throughout 2022, friendships seem strong and excellent. Strong friendships are further strengthened, and Gemini's friends are sincere and loyal to Gemini. These friendships also affect your mood, and your friends will help Gemini in difficult times.
From the view of Gemini's career, February already brings opportunities for the unemployed, which is used mainly in the area of services and assistance to others, specifiec career Horoscope 2022. In February, any unmarried Gemini can put their energy entirely into the distribution of CVs and the search for a coveted job. February is also a good month for students born under Gemini zodiac sign, who need to improve their grades or complete exams. The months of April and May 2022 will be positive at work, and many Gemini will be able to progress in their work, and even grow their careers. There are opportunities for those Gemini who are happy at work, because you will draw even more successful energy into Gemini's life. For example, on May 2nd, transits indicate a huge opportunity for the unemployed or for a change of occupation. In terms of career, Gemini will be positively influenced by Venus in the 8th house from December 10th, which means not only a better job evaluation, but also an extraordinary financial gain. Finances seem to be stable with a few negative transits, which we will discuss later. However, in terms of finances, the strongest month is December, which will offer Gemini an exceptional and unexpected opportunity to get rich and increase your assets.
Gemini's health points to several periods when Gemini will need to strengthen your defenses. Eucalyptus and lemon oil is, from a health view, the oil of the year 2022 for every Gemini who wants to get rid of persistent headaches or breathing problems. These oils should be a regular part of Gemini's home or office in 2022. Any stressful situation, headache, or loss of energy will be overwhelmed by this fresh scent, because from view of aromatherapy, it is a scent suitable for the overall purification of energies for the Gemini sign. From March 20th to April 20th, one Gemini will be given a number of opportunities strengthen own defenses. Herbs throughout the year should include herbs that will improve your immunity. Bet not only on consuming herbs in soups or spices, but also drink herbal teas that have many healing and positive effects on your health. However, the first half of the year bothers Gemini in terms of health. On the other hand, the second half of the year will be much more favorable in this regard, and Gemini's energy will be unceasing and vital. The month of November 2022 will surprise every Gemini suffering from a long-term disease, because you will find the causes of this disease. Gemini will research your health genealogy to help you find answers to the questions Gemini have been looking for about Gemini's health for a long time. It is therefore clear that the year 2022 offers a number of positive changes in the life of Gemini. Find out more about how the love, career, or health of Gemini will be affected in 2022 in the detailed Gemini Horoscope.
Accurate Monthly Horoscope Gemini tells you more about Gemini future in love, health, career, money or relationships. Horoscope Gemini 2022 is also connected with a monthly prophecy. Read all the important horoscopes from the fortune teller for the year 2022.
Yearly Horoscope 2022 Gemini from the NEGATIVE point of view
The life of Gemini will be affected to some extent during the year 2022 by negative transits, which Gemini should definitely know if you are a Gemini yourself, or if Gemini have a Gemini you love at home. We will look briefly at the negative transits affecting Gemini's love, work, finances and health in 2022.
Right at the beginning of the year, each of Gemini will feel the influence of the retrograde Venus and, in January, the retrograde home planet - Mercury. However, these planets generally affect you in several ways. Gemini get a space to think about Gemini's life, your decisions, but also your future. However, these movements of the retrograde planets affect unmarried Gemini, who need to be more solitary in January.
In terms of the love of singles, January will be a really difficult time for any Gemini who are fully aware of their loneliness and desire to connect their soul and body with someone's love. The first significant impact on Gemini's love life comes in April 2022, when both male and female Gemini should be on the lookout for love affairs at work. April transits interfere with the love of Gemini in a negative direction, when Gemini feel that your partner does not understand you as Gemini need and desire. From this view, you may be interested in capturing someone else's emotions just for yourself. These feelings mainly affect April 2022. From August 10th to October 2nd, Gemini feel the movement of retrograde Mercury affecting Gemini's emotions, family relationships, feelings and overall love life. Singles will tend to be interested in lasting to childish relationships that bring physical satisfaction rather than mental satisfaction. Singles are also focused on finding secure partners who will bring you not only emotional satisfaction, but also a better financial status.
For singles, this desire to know a wealthy partner persists, especially in the period from 5th April to 2nd May. retrograde Mercury also influences the Horoscope Gemini and the behavior of Gemini in a long-term relationship or marriage, because Gemini try to solve all conflicts and quarrels shallowly, which can affect your partner, who may perceive Gemini's cold side. In 2022, mainly inharmonic and disrupted relations will be examined. Any relationship that has been weakened in the past, whether by Gemini or the other, will once again pass a tough test that will tell you more about whether Gemini are being judged for another life together. The biggest test of the Gemini relationship, which is not sure of the strength of the relationship, takes place from October 23rd to November 16th. From November 17th to December 6th, unmarried Gemini should alert you, because Mercury in its exile reminds Gemini of wrong past decisions, especially in the area of relations.
Single Gemini will have to learn to process the energies of Mercury that send negative vibrations to your overall mental harmony. Even if your past decisions were wrong, you always have the option to start over. From December 6th, Gemini will realize Gemini's value and strength. Astrological transits also indicate which periods are appropriate and which, on the contrary, are unsuitable for marriage. From the point of view of the astrological chart, it is clear that the most suitable days for marriage do not occur until the month of October 2022. Until this month, Horoscope 2022 does not specify any exceptional days that mean a wedding for you without any complications.
How will negative energies affect your 2022 career? In January, Gemini can feel inferior and unappreciated under the influence of the retrograde planets. You may also perceive the benefits of other employees at work who are advancing faster than Gemini, even though they do not do such quality work. This fact can frustrate you in January, which will result in your overall bad mental state and feeling of inferiority. However, the following months of 2022, after the end of these negative energies, bring several opportunities for success at work, for career growth, and also for greater satisfaction from your work. Another negative transit from a career view is the planet Mars in the sign of its exile, which will hit Gemini's career home hard during July. During this period, several Geminis should pay attention to the performance of quality work, to the observance of deadlines and to the observance of safety in the performance of work. Any major mistake can cause Gemini to be fired at work, and you will have to deal with such complications in 2022. So be extra careful, especially if your work requires constant concentration. You'd better take a day off than go to work tired and inattentive. In terms of finances, 2022 will bring Gemini opportunities for better financial rewards and extraordinary financial gain at the end of the year. In January, however, the horoscope warns you not to enter into any over-looking contracts that could affect Gemini's financial budget long after Gemini sign a loan, insurance, or onerous contract. We also do not recommend any large purchases throughout January, and especially the purchase of real estate. Further financial caution will be required around July 2022, when your finances may be affected from the outside environment.
Therefore, not only keep track of your own expenses and not be subject to misleading offers, but also focus on the expenses of Gemini's family members who are not so interested in money. In July, Gemini will have to take care of all the money. You will not have many opportunities for extraordinary financial success even from September 10th to December 10th, when the Astrological Transits of the 5 retrograde Planets in your chart do not indicate any progress in the financial status of Gemini.
Health bothers Gemini especially in the first half of 2022, when Gemini have to be more careful towards yourself and take more care not only of Gemini's body, but also of your mental health. Already the month of February 2022 can bring Gemini a lot of exhaustion and a feeling of great fatigue. As we have already mentioned, Gemini can overcome this fatigue not only with physical movement, but also with oils suitable for Gemini in 2022 in terms of aromatherapy. From March 20th, it is very important to monitor the health of children in the Gemini family, because children whose parents are Gemini may feel nauseous due to poor diet or exhaustion. From March 20th to April 20th, pay close attention to children's health, and pay enough attention to them, especially if they complain of pain or great fatigue. From April 15th to May 24th, there are great potential for injuries. Again, the Horoscope warns Gemini to be very careful about Gemini's health during daily activities. Unfortunately, this period also indicates a sudden death in the Gemini family. Therefore, pay maximum attention to Gemini's health, especially in the second half of April and the first half of May. But also monitor the health and vitality of Gemini's family members. Health will be very challenging in the first half of 2022, but the second half of the year means calming the negative energies for health and overall physical and mental harmony.
Now Gemini know the positive and negative transits leading to your zodiac sign in a nutshell. We will then explain the detailed Horoscopes of Love, Work, Finance and Health for 2022 for each Gemini.
Daily Horoscope Gemini prepare Gemini for the current day. Horoscope Gemini from the Fortune-Teller also means the possibility of daily divination for Gemini zodiac sign.
Listen to your personal Gemini Horoscope 2022
---
Horoscope Gemini 2022 - Love, Career, Health, Future...
Click the image you like and read more about year 2022...
Horoscope Gemini 2022: Overview - Positive and Negative aspects of 2022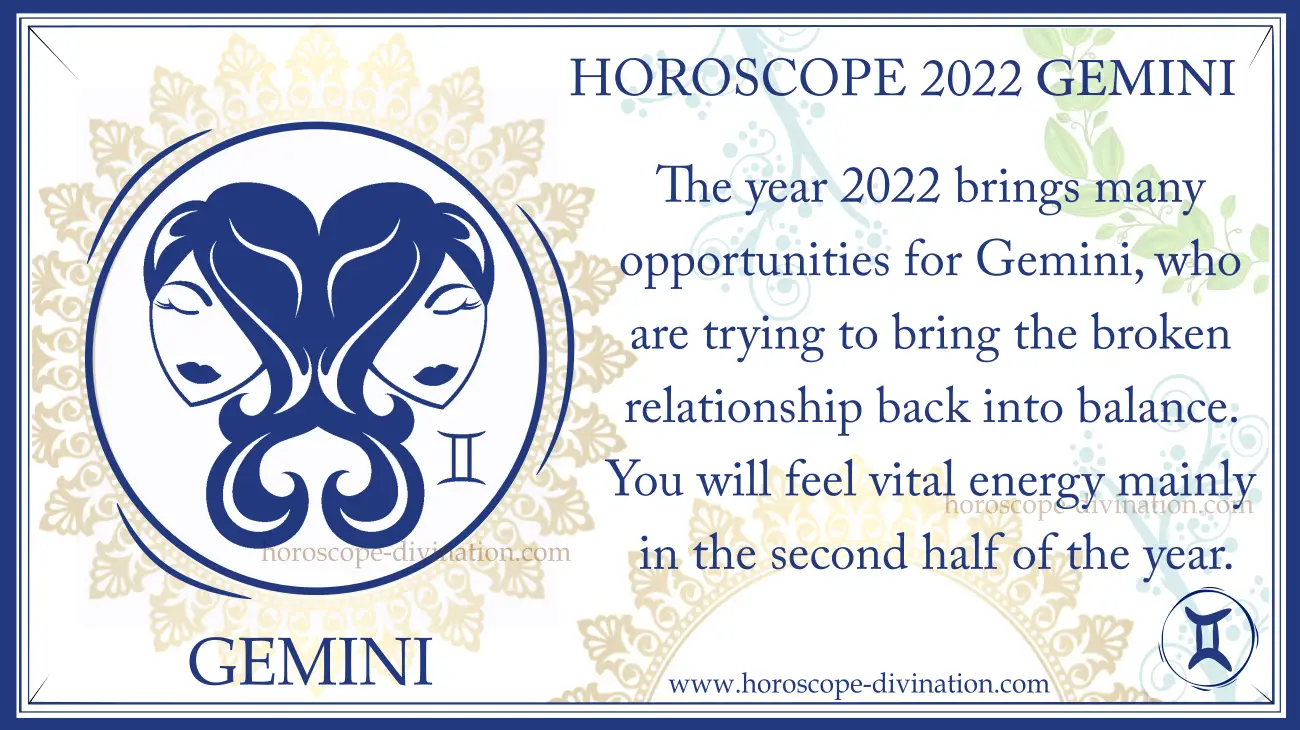 From Love view, the first quarter does not bring any exceptional transits that would positively or negatively affect the energies of Gemini. The first big positive aspect comes during the month of May, when Gemini will have many opportunities in a relationship to strengthen their long-term relationship and marriage... Introduction of Horoscope 2022 Gemini...
Horoscope Gemini 2022 from fortune-teller - Love & Relationships in 2022: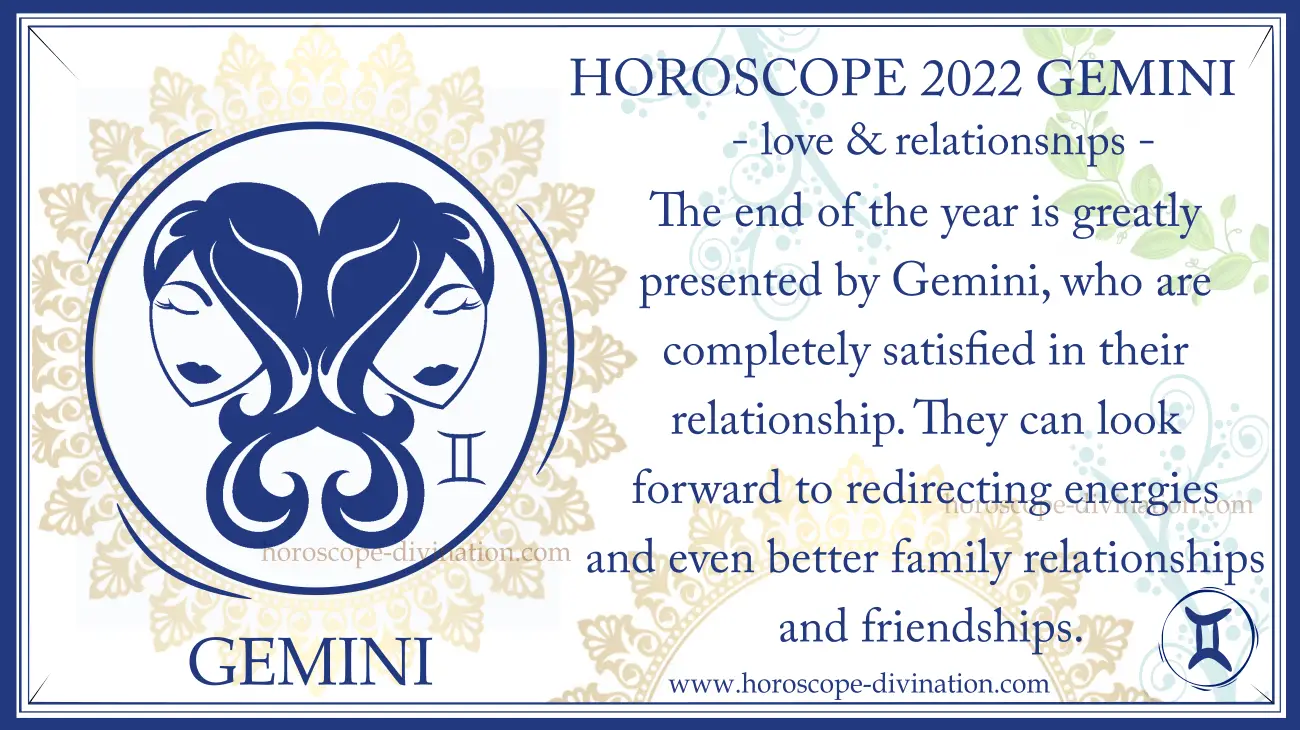 We see the busiest 5th house of joy and pleasure on the planets mainly in September, when Gemini is hit by several positive transits affecting the love of the assigned Gemini. In November, the 7th partnership house is the hardest hit, and these energies are focused mainly on romantic relationships... Read more about Love Horoscope Gemini 2022...
Horoscope Gemini 2022 - Family, Friends, Marriage and Pregnancy in 2022: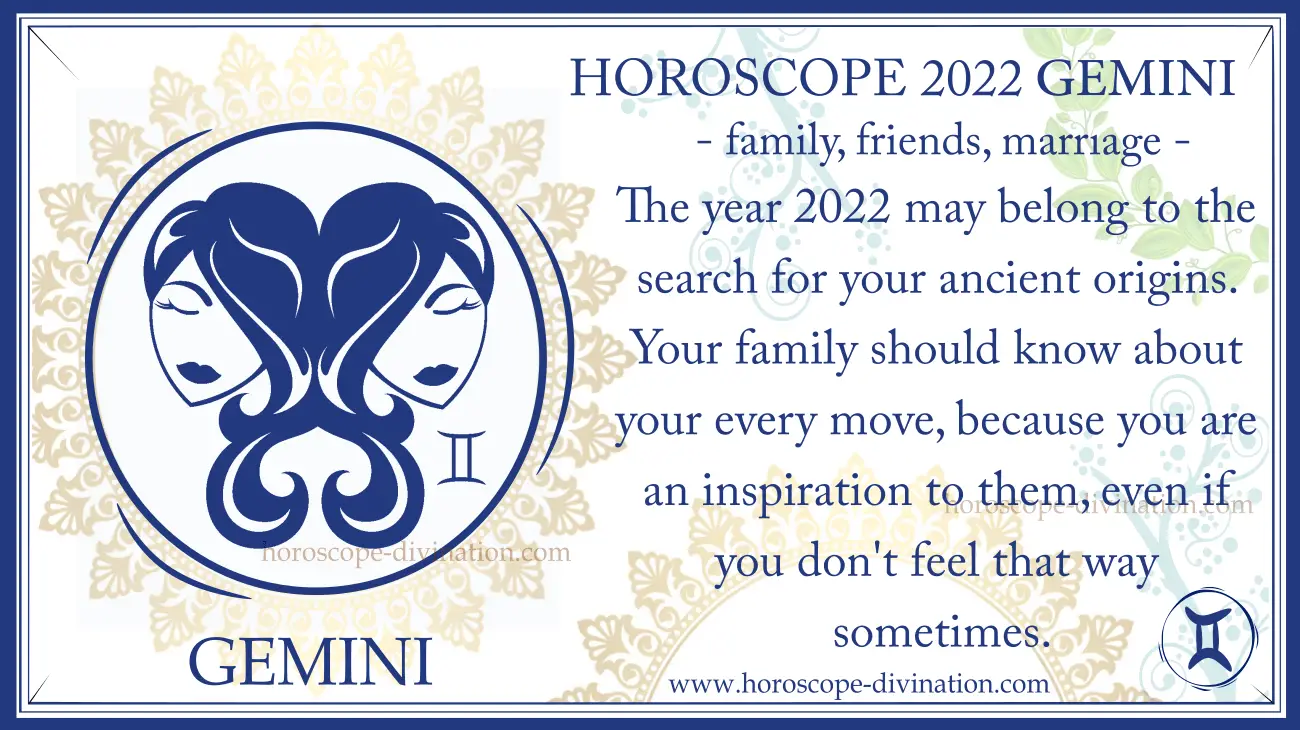 The year 2022 may belong to the search for your ancestors and your ancient origins. You will combine periods of great curiosity with a desire to know yourself. January brings to the life of Gemini a regressive planet that rules you, but also a regressive Venus that brings distrust to the people around you... Read this yearly Horoscope Gemini 2022 - Family, Friends, Pregnancy and Marriage...
Horoscope 2022 Gemini - Career & Finances: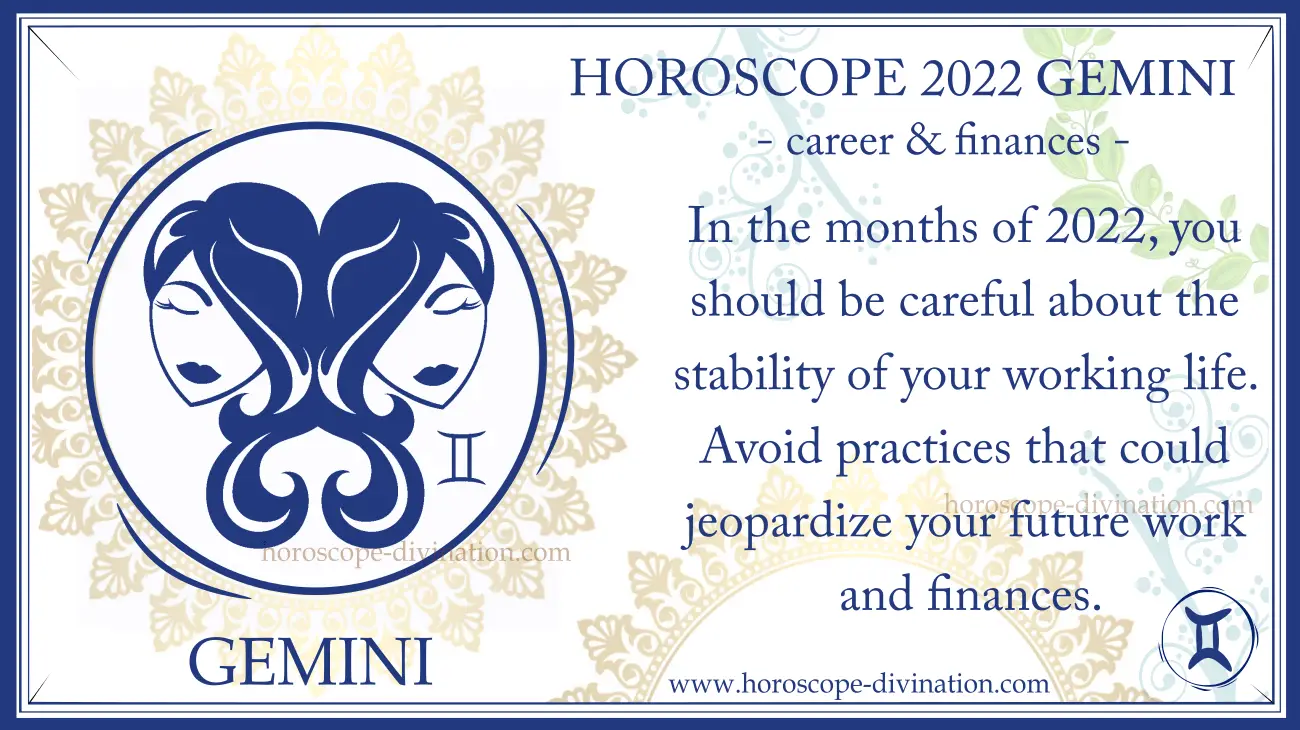 The influence of January's regressive Venus in the 8th house, from January 1st to 29th, 2022, affects not only the energy of love and desire, but also trust in people and interest in things around you. Gemini will overcome a period of lack of interest in things that do not seem valuable in their life... Complete annual Horoscope Gemini 2022 in career and finances...
Horoscope Gemini 2022 - Health & Vitality: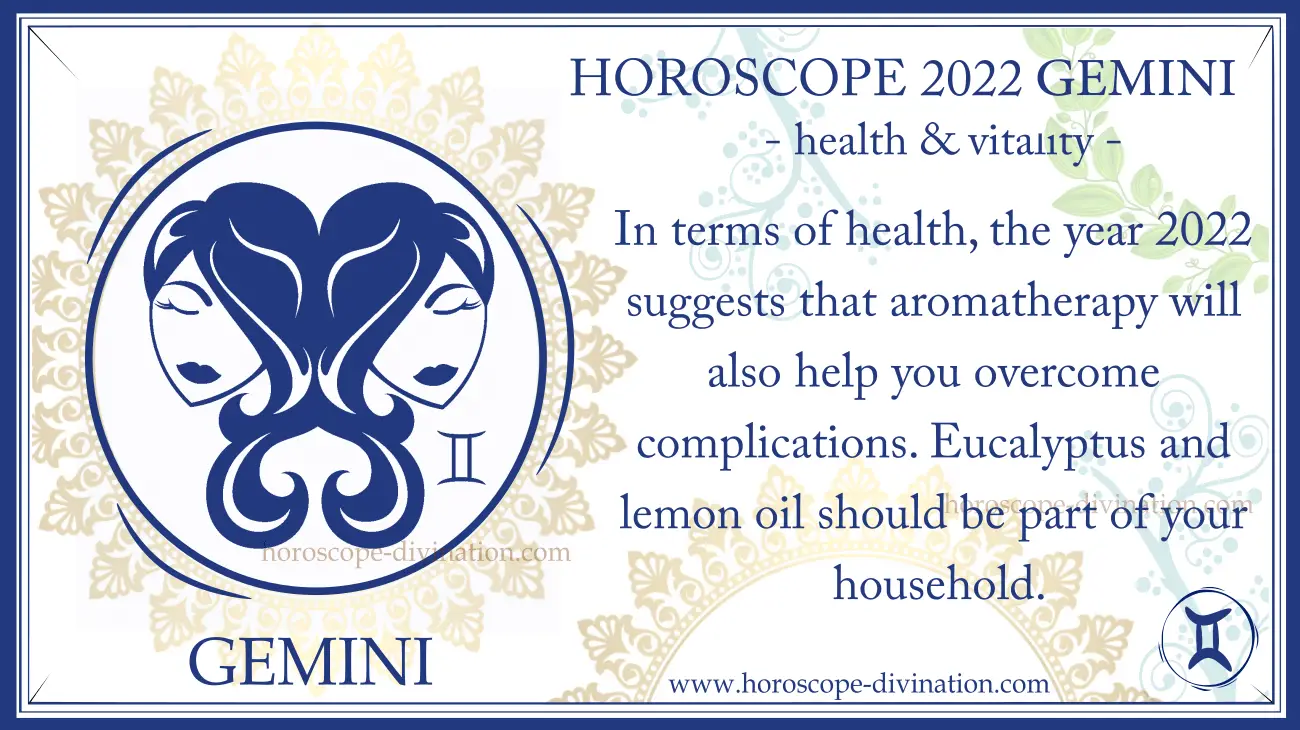 From a health point of view, the year 2022 suggests that each of you should provide your home with essential oils, which are a valuable aid in terms of aromatherapy in dealing with acute headaches or in case of great exhaustion... Read yearly Horoscope 2022 of Health and Vitality for Gemini zodiac sign...
Retrograde movements of planets that affects Horoscope 2022 Gemini
Graph of Retrograde Planets 2022 - Their affect on Horoscope Gemini 2022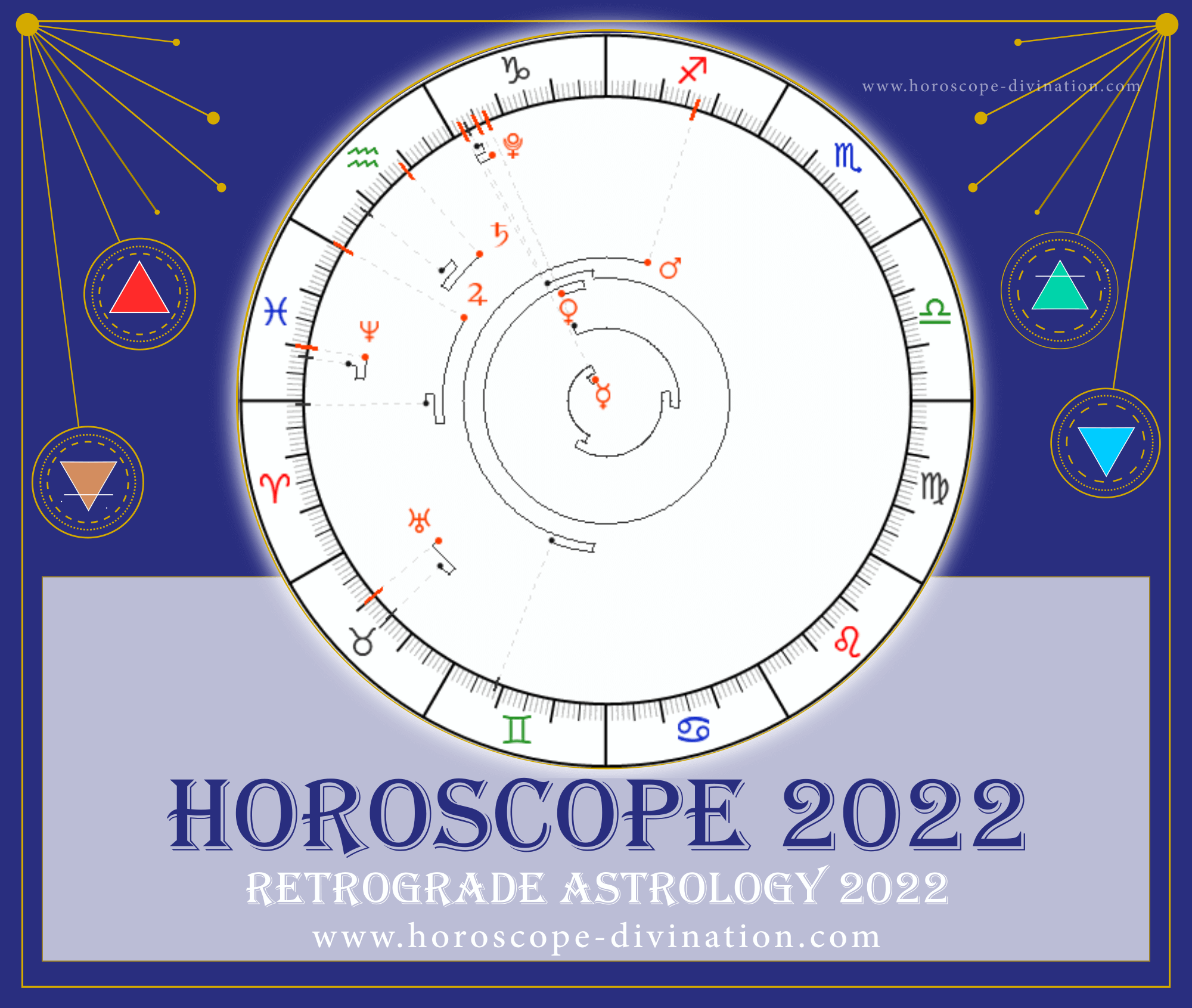 Click on the image above to read all the important information about the Retrograde Planets of 2022 and their impact on Horoscope Gemini 2022. Below you will find a list of terms important for your energy, vitality and for the overall Horoscope Gemini 2022.
Mercury Retrograde and Horoscope 2022 Gemini
14 January 2022 (in Aquarius 9 house) - 04 February (in Capricorn 8 house) (For 21 days, Horoscope Gemini 2022 is influenced by the first retrograde Mercury)
10 May 2022 (in Gemini 1 house) - 03 June (in Taurus 12 house) (Horoscope 2022 Gemini emphasize transit for 24 days)
10 September 2022 (in Libra - 5 house) - 02 October (in Scorpio 6 house) (Horoscope Gemini 2022 is affected by transit for 22 days)
29 December 2022 (in Capricorn 8 house) - end of year 2022 (Horoscope Gemini will hit this aspect for 3 days)
Venus Retrograde - Horoscope 2022 Gemini
01 January - 29 January 2022 (in Capricorn in 8 house) (Horoscope Gemini 2022 talks about this transit during 28 days)
Mars Retrograde - Horoscope Gemini 2022
30 October 2022 - to year 2023 (in Gemini - 1 house) (63 days are affected by Horoscope 2022 Gemini)
Retrograde Jupiter - Horoscope 2022 Gemini
28 July 2022 (Aries in 11 house) - 23 November (Pisces in 10 house) (Horoscope Gemini 2022 is affected for 118 days)
Retrograde Saturn 2022 - Horoscope Gemini 2022
04 June 2022 (Aquarius in 9 house) - 23 October 2022 (Aquarius in 9 house) (This transit affects Horoscope 2022 141 days)
Retrograde Uranus - Horoscope Gemini 2022:
01 January 2022 (Taurus in 12 house) - 18 January 2022 (Taurus in 12 house) (For 17 days, Uranus concentrates its energies on Horoscope Taurus 2022)
24 August (Taurus in 12 dome) - to the start of the year 2023 (The annual Horoscope 2022 Gemini is affected by the retrograde Uranus for 130 days)
Retrograde Neptune 2022 - Horoscope Gemini:
28 June 2022 (Pisces in 10 house) - 04 December (Pisces in 10 house) (the annual Horoscope Gemini 2022 is changed by transit for 159 days)
Pluto Retrograde - Horoscope Gemini 2022
29 April 2022 (Capricorn in 8 house) - 08 October 2022 (Capricorn in 8 house) (aspect affects Horoscope Gemini 2022 for 162 days)