Horoscope Taurus 2022
The fortune teller has prepared a prediction for the year 2022, for the Earth zodiac sign of Taurus, which is celebrating its birthday between April the 21st and May the 20th. What opportunities, news, or changes await Taurus during 2022, according to an astrological prediction prepared by the fortune teller? Read a prophecy in love, health, work and career enriched with interesting information about the sign of Taurus.
The personality of Taurus in 2022 and yearly Horoscope
Taurus is one of the earth zodiac signs. The earth element is shared by Taurus together with the sign of Virgo and Capricorn. In the astrological graph, these Earth zodiac signs are positioned at an angle of 120° to each other. The astrological Characteristics of the signs predetermine the common basic characteristics of these 3 signs. Common keywords, or characteristics for the earth zodiac signs, are a focus on material goods, on practical progress in life, with a strong orientation for work, money and harmonious relationships. Taurus zodiac sign, as well as other earth zodiac signs, may be more closed in relationships. A strong positive feature of the signs that share the earth element together is also strong logical thinking and exceptional diligence. Taurus is a zodiac sign, that certainly belongs to the most industrious people, who never give up without a fight and without a goal. Taurus is very popular in society, and it will not be otherwise in 2022. Strong logical thinking and relentless diligence can move Taurus to new life opportunities and financial improvements this year as well. The earth element that enriches Taurus's life also symbolizes life prosperity, stability and Taurus's creative power. It also describes physical attractiveness, security and intuition. All these characteristics are associated with the sign of Taurus, which is a faithful partner, and an excellent friend. The earth element has a more negative effect on Taurus by enclosing his nature, and can cause him complications in the early beginnings of the relationship, or in joining the collective.
Taurus is the second sign of the zodiac. It is a strong sign, which is characterized by stability and perseverance. The strong zodiac signs are the 4 signs that are arranged in a cross in the astrological chart. These include the signs of Taurus, Leo, Scorpio and Aquarius. The strong signs of the zodiac are characterized by the fact that when the sun passes through them, wwe are in a period that does not change - it does not begin nor end. If the sun enters Taurus zodiac sign, the spring and all its beauty begins. At the heart of spring is this firm zodiac sign that maintains a balanced flow of natural things. Thanks to this feature, Taurus is also able to cover projects that are already underway. They can get on a moving train, and quickly understand their position. This strong feature of the strong sign helps Taurus in every work in life. It helps to keep property and material things in balance, which is extremely important in Taurus's life, for his mental well-being.
A reliable and energetic Taurus has a strong focus on achieving career success during its life. He is a hardworking man who can sometimes be considered a great careerist because he spends a lot of his time in his work. He focuses on the material world, where he wants to achieve balance throughout his life. If he feels harmony in this area, he can devote himself fully to interests other than physical pleasures and his hobbies, which are often cooking, music or gardening. Taurus is suitable for any creative activity where manual work is required and where he can fully express his creative spirit. Taurus is an exceptionally good father who teaches his children respect, and thanks to him, children gain a lot of valuable knowledge. A woman born in Taurus zodiac sign is equally an exceptional woman and an unbeatable mother who can harmonize her energies to such an extent that order and love prevail in a common household. Taurus in life hate rapid changes of opinion or quick decisions. They can be nervous about uncertainty and they find it more difficult to overcome complications in the field of work or private life. Taurus is one of zodiac sign, concentrating not only on the material world but also on physical pleasures. Taste, touch and hearing have developed really strongly, so they can perfectly enjoy quality music, an excellent dinner, or the touches of their loved one.
The ruling planet of Taurus is a planet of romance, attraction and beauty. The ruling planet is shared by Taurus zodiac sign also with the 7th sign of the zodiac, Libra zodiac sign. The planet Venus acts on Taurus with its strong energies and affects its basic characteristics. These are specified in Taurus mainly thanks to this planet, which brings loyalty and creative spirit to the Taurus. Thanks to Venus, Taurus is not only an exceptional parent, but also a great cook or gardener. Taurus tends to be very dependent on other people in his life, and he needs one great true love in his life. Taurus is more than the other zodiac signs looking for a half that will always support him in life. Despite the emotional foundation from Venus in certain astrological transits, Taurus zodiac sign is a very balanced sign, which will bring a lot of practical thinking and intelligence into any test of life without any problems.
This earthly and strong second zodiac sign is connected in life with the 2nd astrological house, which is also referred to as the house of property. This astrological house, associated with Taurus zodiac sign, symbolizes property opportunities, freedom and the ability to exercise in life. In Taurus, it also evokes a positive attitude towards material goods and finances. Taurus wants to secure not only himself, but also his whole family so that they never suffer from shortages. His ability to apply himself in every direction gives life to a number of opportunities for Taurus to choose their longed-for life path even at a young age. This second zodiac sign is strongly focused on his life path and at a later age he achieves a great feeling of happiness and satisfaction in life. On the other hand, since Taurus is very oriented towards money and material goods, it may happen that he is troubled by a large amount of financial loans or debts in life. In this horoscope, we will also look at the financial stability of Taurus during 2022.
Taurus zodiac sign and Libra are controlled by the planet Venus. In these two signs it is very strong and thanks to the action of the planet Venus on Taurus zodiac sign, or on the sign of Libra, these two zodiac signs can fully manifest their basis, and their pure form. Even during 2022, Taurus will experience the strong influence of Venus, right at the start of the year. We classify Taurus as a female sign, where belong not only Taurus, but also Cancer zodiac sign, Virgo, Scorpio, Capricorn and the last zodiac sign - Pisces. Female signs are endowed with strong empathy, ability and great patience. During 2022, Taurus is mainly affected by the moon and the positive transits of Venus operating in the 4th, 5th or 7th astrological house. We will discuss more about the effect of Venus on Taurus zodiac sign in the Horoscope for 2022.
The year 2022 will also be influenced by the basic position of Taurus in astrological houses, and its characteristic features. We will look not only at the ruling planet, but also at its element and other important transits. In 2022, Taurus will be focused on work and success, but harmonious periods can also be replaced by relationship problems and broken health. The friendships that Taurus will make in 2022 will have a strong foundation and will make sense for the future. Taurus, now Taurus have the opportunity to know Taurus' destiny in 2022 in terms of the operation of the planets and all the aspects that are closely connected with Taurus. Get to know the prediction in love, finances, at work and also in health. Will the year 2022 be successful, and can Taurus overcome every problem that has arisen? Horoscope of Taurus 2022 will reveal a prediction in all important life directions.
Horoscope 2022 Taurus from the POSITIVE point of view
In January, the Retrograde Venus will take care of several changes in Taurus' life. Taurus concentrates all his energy mainly on himself, on building his own psyche, and also on love and family relationships. As Taurus will be more closed in on Taurus'self in January, you will mainly deal with Taurus' unresolved relationships from the past. In January, all your energy is focused on relationships that have remained unresolved in the past - whether with friends, lovers or co-workerers. So in January, focus mainly on resolving unfinished disputes, and meditate. A certain wise woman in Taurus' life, which Taurus have so far perceived as a good counselor, will help Taurus solve many conflicts and problems from the past in the month of January, ie at the first days of 2022. As for love, friendships, and family relationships, the second month of 2022 - February, brings a positive energy to the life of Taurus, and immense physical beauty.
This positive month brings much more energy for Taurus, because the Retrograde Venus resonates, and you can focus on Taurus' presence, because Taurus have managed to resolve other relationships to Taurusr satisfaction. The following months will be more difficult for Taurus, also in terms of romantic relationships or family life. For example, March means up to 17 suitable days for singles to experience love that will last. Just in March, a single Taurus has a lot of chances to know the love of his life. May will be complicated for Taurus in several areas, and from view of the astrological chart, May seems to be the most negative month of 2022. Summer months - June, July and August again harmonize all negative energies in relationships with which you understand well. Also, June seems to be a good month to share love with family members, according to the astrological chart, and 2022 also brings opportunities to resolve disharmonious friendships, especially in May.
There are also several opportunities for those who want to enlarge their family and bring a new offspring into the world. Taurus can find positive dates for fathering a child in the section Love and Relationships. This Horoscope will also tell Taurus if the year 2022 is suitable for a marriage for Taurus zodiac sign, and which dates are ideal for sealing a long-term love. The last months of 2022 include many opportunities to build stronger relationships, whether with friends, with Taurusr love, or with yourself. From a Horoscope career view, start of 2022 will be ideal for solving the obligation, and for completing all started tasks. Taurus can move forward from 20th March to 10th May, as astrological transits wish success and opportunities for the unemployed. Taurus will have several opportunities to carry out activities to meet the needs of others. Taurus' great dedication, and hard work in 2022, deprives Taurus of the amount of energy Taurus will need to supplement with a healthy lifestyle and exercise. In terms of the obligation of 2022, May and June recommend cleaning the energetic aura at home.
If Taurus clean up the negative energy of the household at start of June, success and greater satisfaction will also be added to Taurusr life. The summer month of August is extremely positive for those whose job is to work with people or provide services. The team will thrive not only in this activity, but in business as a whole. In terms of finances, the year 2022 for Taurus is in some respects balanced, although Taurus will feel a certain tense period right at the first January days, which we will discuss in the negative aspects of this year. From a positive view, the months of February, March and April come, which are extremely stable and do not interfere with any negative impact on Taurus's finances. Taurus can read more about how Taurus' finances will develop during 2022 in the financial horoscope on the following pages. January 2022 seems to be a strong month due to the Retrograde ruling planet of Taurus, which intervenes in all aspects of Taurus - work, love, but also health.
January will help Taurus to analyze past health problems and even find suitable solutions, define yearly Horoscope 2022 for Taurus zodiac sgin. January is an excellent month for all preventive check-ups, even though it is only first days of year 2022. This month will also motivate those who are trying to lose weight and make a change in their own diet towards a better lifestyle. The middle of 2022 will be challenging emphasizing Horoscope 2022 of Taurus' Health, but Taurus can think of a pet that will improve and strengthen Taurusr psyche. December 2022 is a health idyllic month that helps Taurus stabilize its health and improve its condition. In terms of positive aspects, therefore, the year 2022 brings several influences that offer Taurus opportunities not only to strengthen the relationship and family ties, but also to move forward in work and gain better financial stability.
Accurate Monthly Horoscope Taurus tells you more about Taurus future in love, health, career, money or relationships. Horoscope Taurus 2022 is also connected with a monthly prophecy. Read all the important horoscopes from the fortune teller for the year 2022.
Yearly Horoscope 2022 Taurus from the NEGATIVE point of view
So Taurus is waiting for a complicated May, which will bring several challenges that Taurus will have to manage emotionally and professionally. Health Horoscope 2022 specifies that there are also several months that do not recommend the bull in 2022 to travel or perform risky activities. In terms of emotions, Taurus will have to deal with past emotional issues in love in January. These problems can concern both the private, love life of Taurus, as well as family or friendships. Taurus will go back in time, which may cost Taurus a lot of energy in January. Taurus will deal with the past mainly with Taurusrself, but Taurus will also seek help from Taurus' loved ones whom Taurus trust. The demanding January from an emotional point of view will be offset by the effects of February, when the astrological chart indicates positive vibrations in love.
In April, you will feel several days of loneliness, when Taurus will feel lonely even if Taurus are surrounded by a large number of friends or Taurus' love. This loneliness will mainly affect the singles, who will seek society only to escape the intense feelings of insecurity and loneliness. May also draws attention to several warnings in the area of emotions. Some of the Taurus's friends have dishonest intentions with Taurus' person, and may even betray Taurus. The whole of May represents a very disrupted family relationship, and even a deterioration of the financial situation. This May negative vibration will hit every Taurus to a great extent, and therefore it is necessary to draw fresh energy and strength at 2022 start.
During May, Taurus will face various quarrels, disruption of the relationship with a friend, partner or lover, as well as disruption of family relationships. The horoscope also points out the conflicts between Taurus and Taurusr siblings. The total May emotional decline will takeTaurus away, and you will have to prepare for the large expenditure of energy that will require coping with these negative days. At the end of May, the negative energies will begin to subside and the month of June will mean the stabilization of Taurus' own person.
July is positive in terms of the relationship, and other disharmonious relationships will not be brought until the month of August, specifically the period around August 24. In September, the Horoscope draws the attention of every Taurus to a love affair that can affect long-term relationships. The astrological chart shows that the love affair mainly affects Taurus who are dissatisfied in a relationship and who have a close relationship with someone at work. Mastering this aspect, and these provocations by astrological transits, will be extremely important for Taurus, especially for their future relationships. In November, Taurus is hit by enormous jealousy and nervousness, especially in unbalanced relationships. If in 2022 Taurus are in a relationship that Taurus think is out of balance, you must resolve these feelings at the year beginning, otherwise Taurus will be followed by enormous nervousness, quarrels and misunderstandings in relationships throughout 2022.
Career Horoscope underlines that, first days of 2022 will not bring opportunities for any new projects, and no exceptional opportunities related to career advancement or job improvement. In February, Taurus will even have trouble educating Taurus' children. February energies can bring misunderstandings with children, and a complication in managing their upbringing. Unemployed people will feel negative energies, especially around March 17th, 18th and 19th. When looking for a job, Taurus feel a futile attempt to change something in Taurus' life, and therefore a mild depression may occur in Taurusr life. On March 19th, there is an impact on your hard work and stamina, which also marks Taurus' effort at work. The retreating Mercury will affect Taurus's communication skills in May and early June, which will be significantly reflected in Taurusr work. September energies mean nervousness in the presence of other people, and a problem when working with people.
Overall, 2022 is not suitable for long journeys, and Taurus is advised to choose a holiday close to his home. Finances will be problematic in January, but only from Taurus's psychological side. Taurus will feel financial uncertainty, which will result in later accumulation of assets, and accumulation of money at the end of the year. All of Taurus's energy will be focused on gaining better financial status, which may divert Taurusr attention from Taurusr private life. From August 20th, you will focus mainly on Taurus' finances. During this period, Taurus should be careful not to miss the daily joys of life.
Health Horoscope Taurus 2022 says that, the first warning comes in May, which is a generally unstable month for Taurus. You should be aware from 24th May, because astrological transits indicate complications, especially for those who are in a violent relationship or who work in high-risk jobs. From May 24rh to August 20rh, there are several negative transits indicating injuries and violence. Each Taurus should therefore be warned during this period, as health may be impaired. However, the final month of 2022 is positive for health, and we will explain this area on the following pages of the horoscope.
Daily Horoscope Taurus prepare Taurus for the current day. Horoscope 2022 from the Fortune-Teller also means the possibility of daily divination for Taurus zodiac sign.
Listen to your personal Horoscope Taurus 2022
---
Horoscope Taurus 2022 - Love, Career, Health, Future...
Click the image you like and read more about year 2022...
Horoscope Taurus 2022: Overview - Positive and Negative aspects of 2022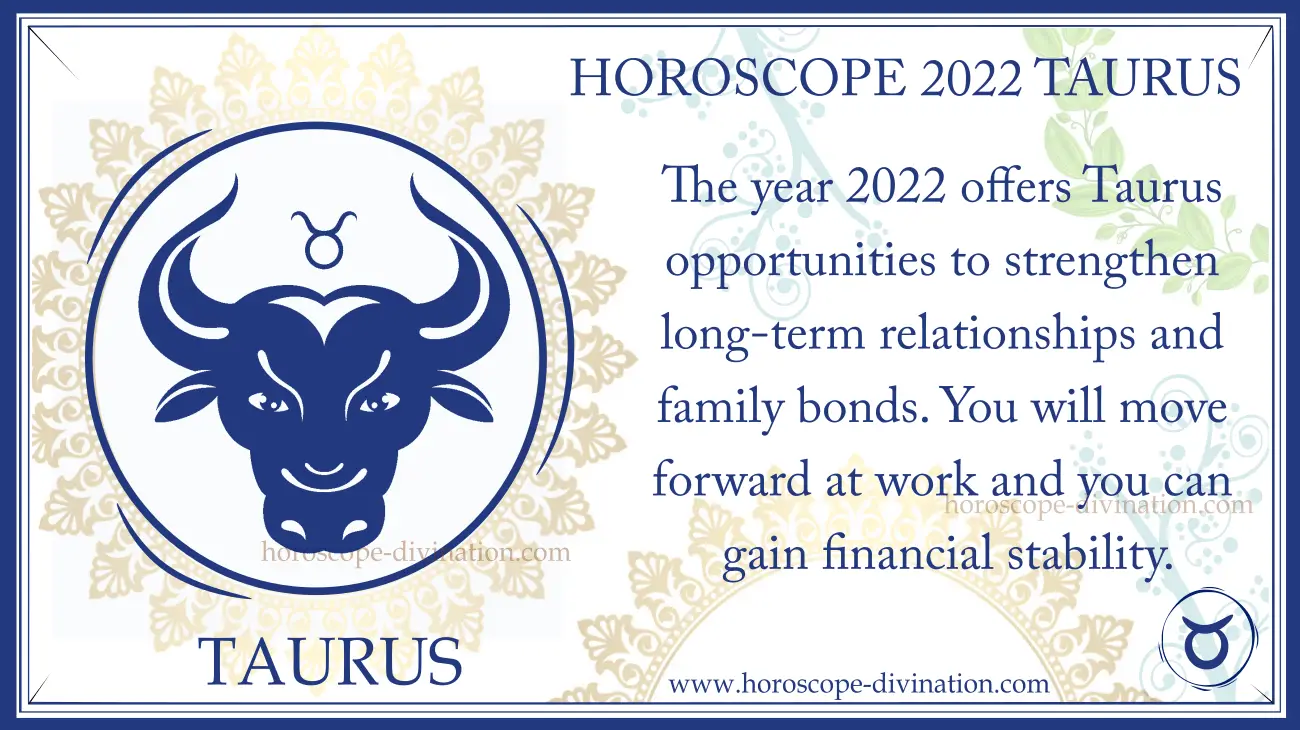 In January, focus mainly on resolving unfinished disputes, and meditate. A certain wise woman in your life, which you have so far perceived as a good counselor, will help you solve many conflicts and problems from the past in the month of January, ie at the beginning of 2022. Introduction of Horoscope 2022 Taurus...
Horoscope Taurus 2022 from fortune-teller - Love & Relationships in 2022: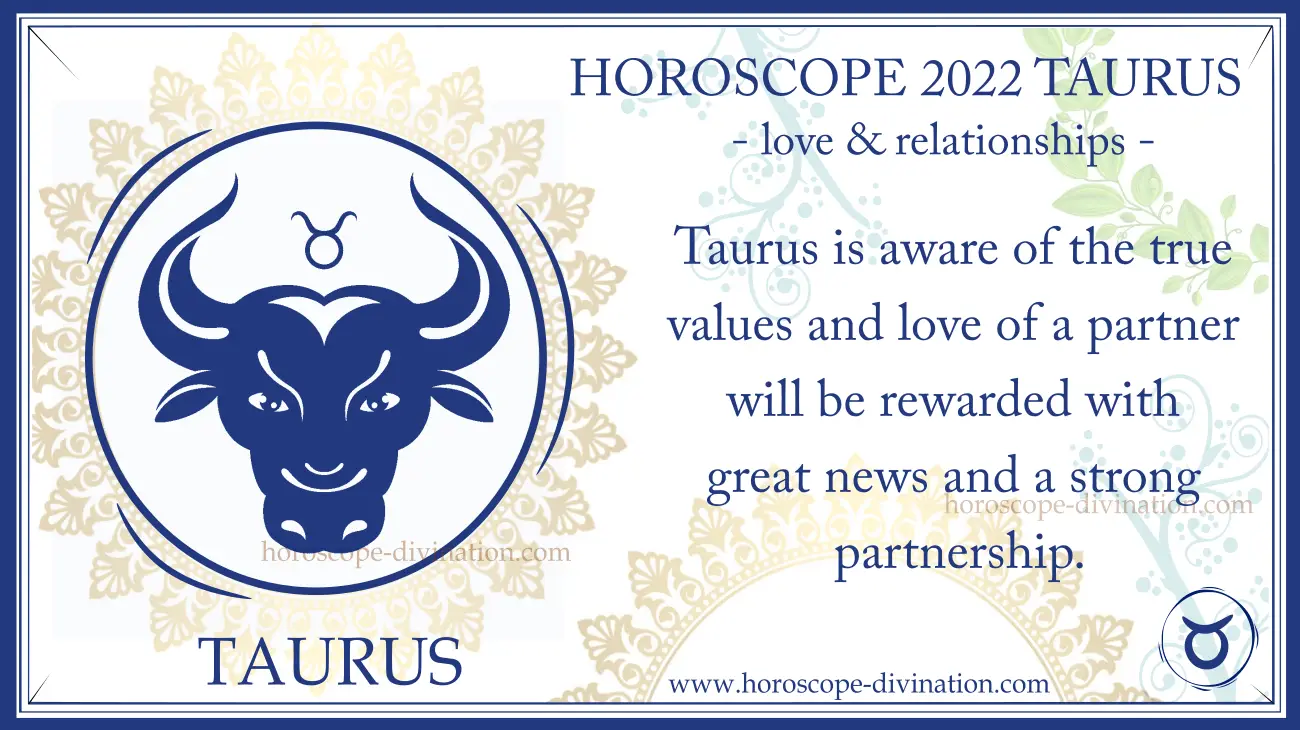 The Retrograde Mars in the second house, which Taurus will feel from October 30th until the rest of the year, will further strengthen the nervousness in the relationship. This is mainly due to a strong desire for intimate connection, and because of jealousy... Read more about Love Horoscope Taurus 2022...
Horoscope Taurus 2022 - Family, Friends, Marriage and Pregnancy in 2022: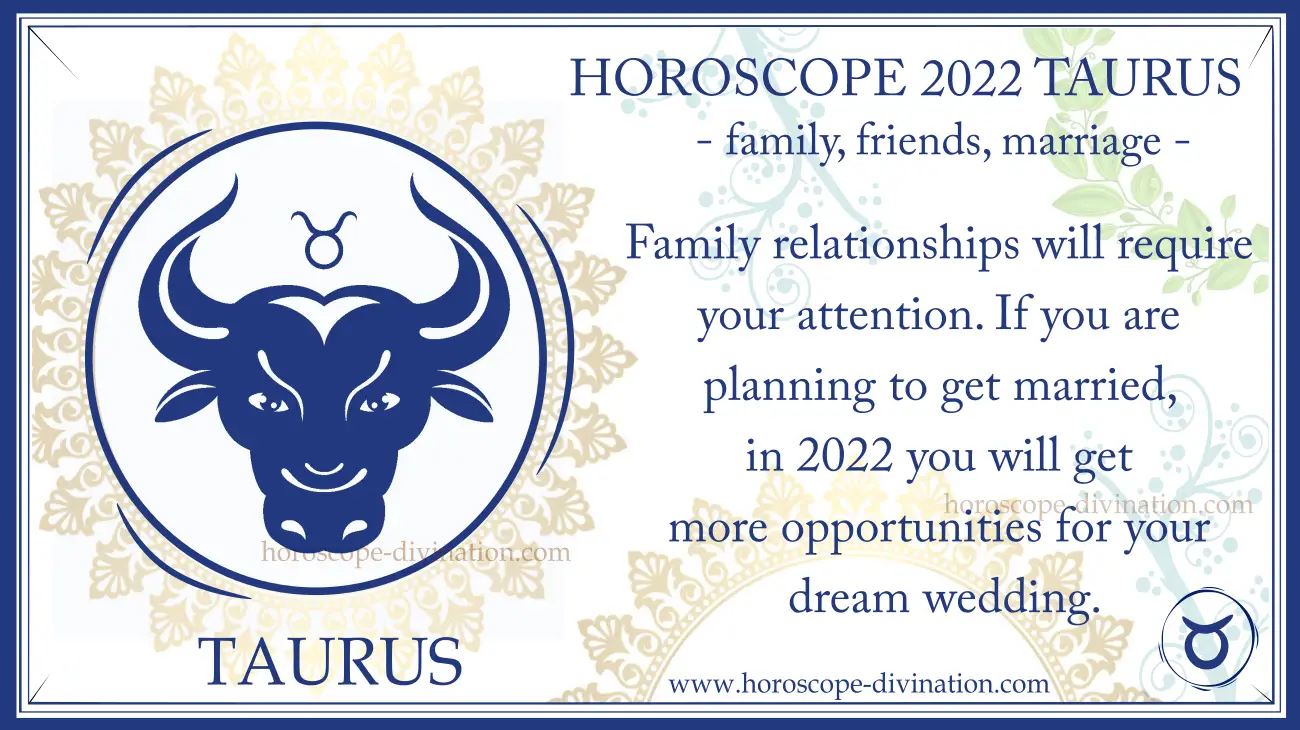 Every Taurus needs a personal space where it does not allow others to limit its development and progress. For some Taurus, such a position of Venus will be reflected in a tremendous love for spiritual advancement. You will also desire some form of solitude... Read this yearly Horoscope Taurus 2022 - Family, Friends, Pregnancy and Marriage...
Horoscope 2022 Taurus - Career & Finances: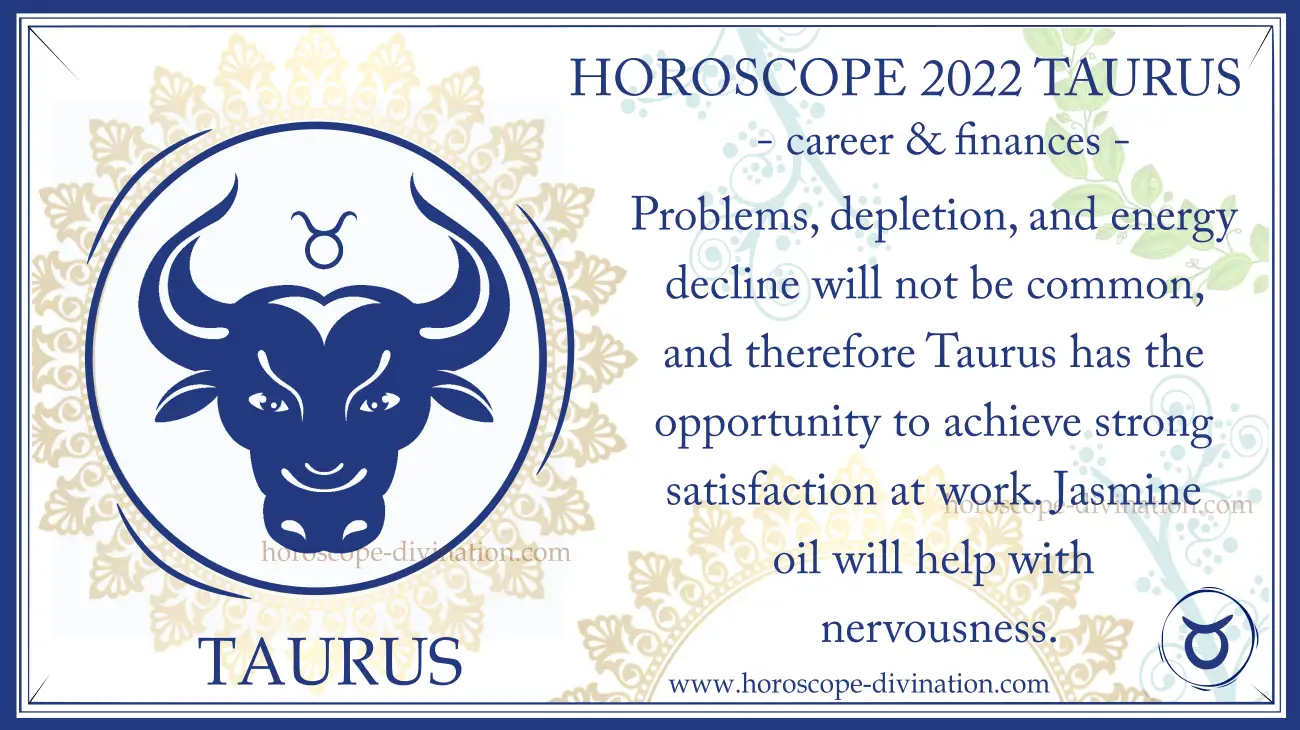 The ruling planet of Taurus- Venus, which is Retrograde during most of January, also guides your stability and career perspective. January will not bring new opportunities for the Bulls who are currently looking for a job, because during the movement of the Retrograde Venus it is not appropriate to make a strong decision, change jobs, and this astrological Transit is not even favorable for those who want to start something new... Complete annual Horoscope Taurus 2022 in career and finances...
Horoscope Taurus 2022 - Health & Vitality: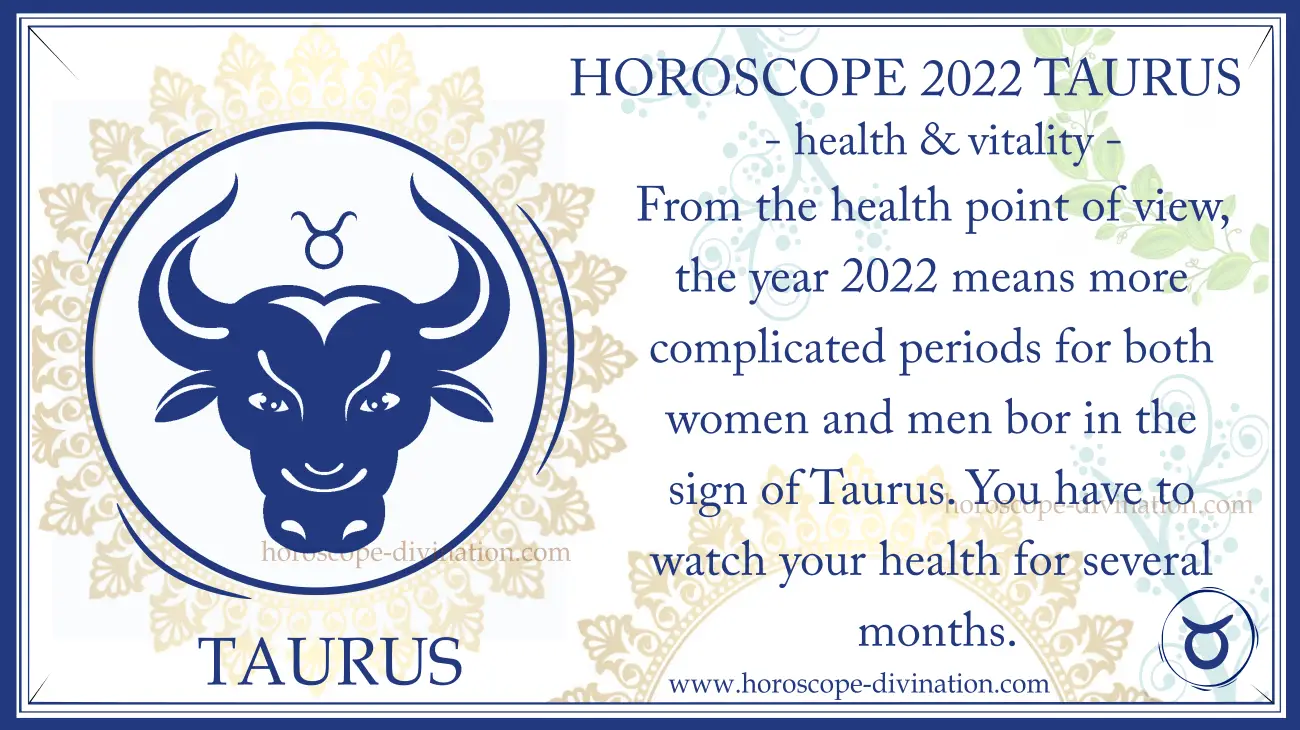 The health of Taurus in 2022 will be conditioned his problems in love, but also by workload. At the beginning of the year, the Retrograde Venus in the 9th Astrological House will also affect the health of Taurus, when he will be mainly looking for mental peace. Some Taurus, especially those who are more sensitive, will feel a desire for complete solitude, seeking long walks alone, or moments when they can indulge in silence and solitude... Read yearly Horoscope 2022 of Health and Vitality for Taurus zodiac sign...
Retrograde movements of planets that affects Horoscope 2022 Taurus
Graph of Retrograde Planets 2022 - Their affect on Horoscope Taurus 2022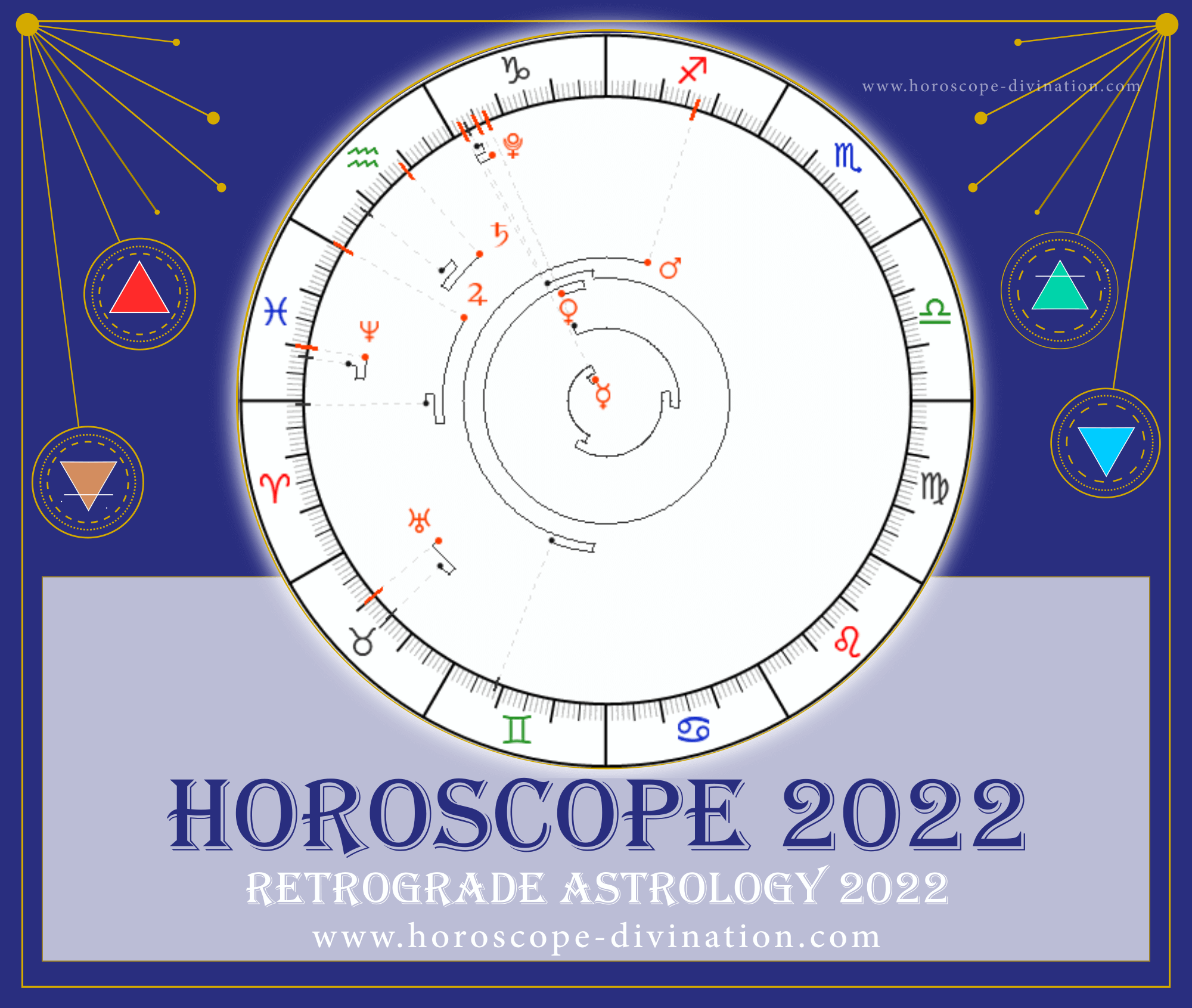 Click on the image above to read all the important information about the Retrograde Planets of 2022 and their impact on Horoscope Taurus 2022. Below you will find a list of terms important for your energy, vitality and for the overall Horoscope Taurus 2022.
Mercury Retrograde and Horoscope 2022 Taurus
14 January 2022 (in Aquarius 10 house) - 04 February (in Capricorn 9 house) (For 21 days, Horoscope Taurus 2022 is influenced by the first retrograde Mercury)
10 May 2022 (in Gemini 2 house) - 03 June (in Taurus 1 house) (Horoscope 2022 Taurus emphasize transit for 24 days)
10 September 2022 (in libra - 6 house) - 02 October (in Scorpio 7 house) (Horoscope Taurus 2022 is affected by transit for 22 days)
29 December 2022 (in Capricorn 9 house) - end of year 2022 (Horoscope Taurus will hit this aspect for 3 days)
Venus Retrograde - Horoscope 2022 Taurus
01 January - 29 January 2022 (in Capricorn in 9 house) (Horoscope Taurus 2022 talks about this transit during 28 days)
Mars Retrograde - Horoscope Taurus 2022
30 October 2022 - to year 2023 (in Gemini - 2 house) (63 days are affected by Horoscope 2022 Taurus)
Retrograde Jupiter - Horoscope 2022 Taurus
28 July 2022 (Aries in 12 house) - 23 November (Pisces in 11 house) (Horoscope Taurus 2022 is affected for 118 days)
Retrograde Saturn 2022 - Horoscope Taurus 2022
04 June 2022 (Aquarius in 10 house) - 23 October 2022 (Aquarius in 10 house) (This transit affects Horoscope 2022 141 days)
Retrograde Uranus - Horoscope Taurus 2022:
01 January 2022 (Taurus in 1 house) - 18 January 2022 (Taurus in 1 house) (For 17 days, Uranus concentrates its energies on Horoscope Taurus 2022)
24 August (Taurus in 1 dome) - to the start of the year 2023 (The annual Horoscope 2022 Taurus is affected by the retrograde Uranus for 130 days)
Retrograde Neptune 2022 - Horoscope Taurus:
28 June 2022 (Pisces in 11 house) - 04 December (Pisces in 11 house) (the annual Horoscope Taurus 2022 is changed by transit for 159 days)
Pluto Retrograde - Horoscope Taurus 2022
29 April 2022 (Capricorn in 9 house) - 08 October 2022 (Capricorn in 9 house) (aspect affects Horoscope Taurus 2022 for 162 days)