Personal weekly Tarot Reading for free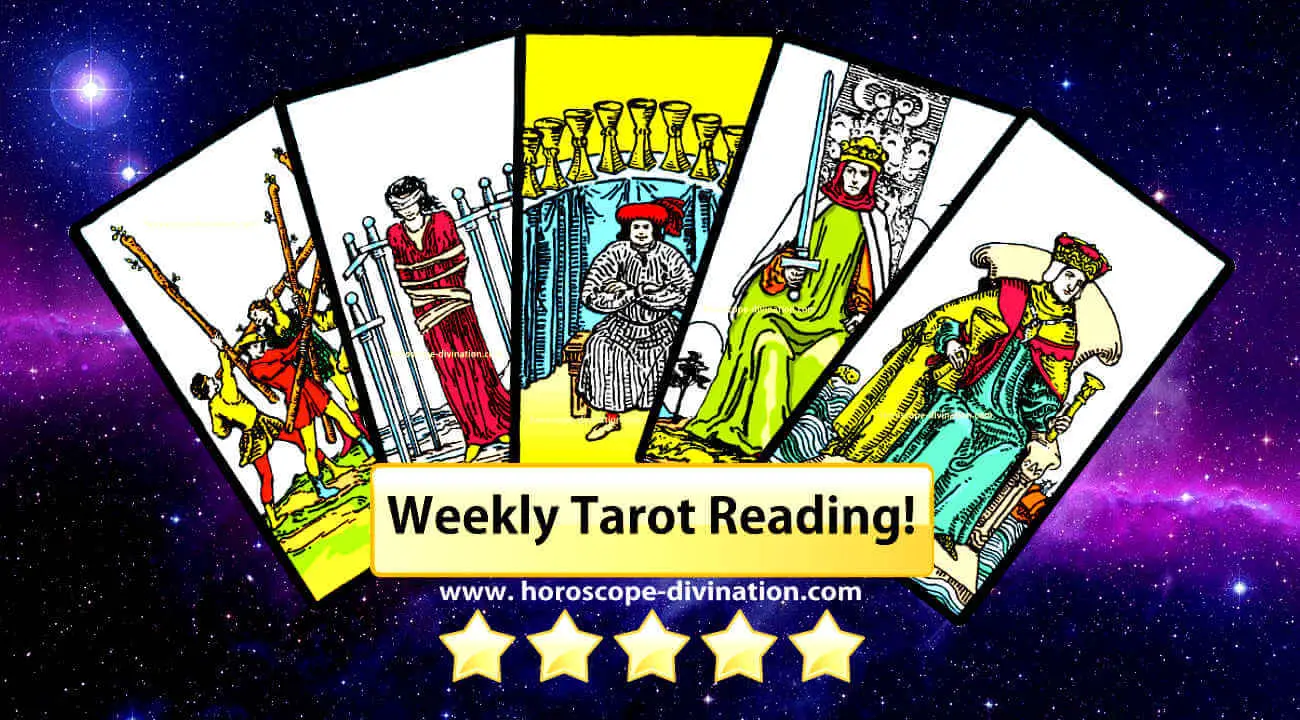 Each tarot card and its combinations have several meanings. From a combination of tarot cards, can an experienced clairvoyant read your near and distant future! The interpretation of three cards is the most common form of fortune-telling, and that is why we have chosen it online for you. Tarot will answer your questions in the field of relationships, work, money, but also, for example, in your mental development. Tarot cards will also give you motivational advice for the current week. Reading by tarot is perhaps the most accurate form of divination because it is you who choose your fateful tarot combinations.
Choose your 3 cards that fate will give you this week. Wait a moment and the online tarot will redirect you directly to your personal prophecy. A weekly tarot reading will clarify your upcoming future for the current week. Each card from the mighty tarot is used to interpret this reading.
Focus on your future before you flip these three tarot cards, and let the destiny move your fateful hand. Each card you flip has a specific meaning for you. In this article, we will not deal with the meaning of individual cards ... Instead, we will tell you about the meaning of your personal weekly tarot reading.
How strong is weekly tarot reading?
Of course, you should know your future by your weekly horoscope as well before you flip your tarot cards. But... Weekly Tarot reading provides the most personal form of divination for each person individual. Tarot card divination is considered a form of white magic. The meaning of the cards is individual, but it changes with the connection with other cards. One card can offer many meanings in combination with, for example, a tarot card from a major arcana, or in combination with cards from a minor arcana... There are also such tarot cards that are associated with your astrological house and also with your zodiac sign. From these cards, we can determine the tarot divination according to the sign of the zodiac. For example, the tarot card Magician is associated with the sign of the Aries and the Whale of fortune with the Capricorn sun sign.
Weekly reading receives information from a higher source of energy and connects with your fateful choice. That is why you always choose a combination that fate will determine. An experienced fortune-teller dedicated to card interpretation has prepared these prophecies for the current week according to the cards of your choice. That is why the weekly tarot on our website is the best and most accurate.
Daily Tarot Reading, weekly tarot, and divination!
The online tarot will help you in several ways... Thanks to tarot cards, you can decide easier and faster. Tarot for this week will help you in several ways or in important life issues. Online Tarot is a great alternative to personal divination and can advise you cheaply and very quickly. This tarot is free! Don't hesitate and try Daily Tarot Reading and get to know your destiny today, according to your card, which energy will give you.
If you have an important question that you are looking for the right answer, you are in the best place! Yes - No Tarot Reading will advise you on any of your decisions. If you can't decide on a certain thing, or you are thinking about the consequences of your actions, ask your fate cards. In a limited time, this divination is free, so do not hesitate and use the online Yes - No tarot. Not just this week is important. Fate can advise you on weekly tarot reading, but also on important issues and accompanies you in your decisions.
Meet the Online Tarot today and for free! In a limited time, right now!