Horoscope Scorpio 2022
Dear Scorpios, prepare for 2022 according to an astrological prediction prepared by a fortune teller, an astrologer with years of experience. In this Horoscope for 2022, we will imagine the future of the Scorpio. Scorpio will find out how your partner's life will go in 2022. We will reveal to Scorpio what sorrows and pleasures await Scorpio in the area of family life, friendships, work, or health. Scorpio Horoscope 2022 also tells you the appropriate dates for marriage, and the terms that affect the fertility and pregnancy of each of Scorpio. Scorpio Horoscope 2022 is divided into several categories so that Scorpio can easily orient yourself in it. The easy-to-read Horoscope 2022 will foretell you a future in all important life directions of the Scorpio during the year 2022.
The personality of Scorpio in 2022 and yearly Horoscope
Scorpio is a sign of the zodiac, which is ruled by the water Element. This Element also rules the signs of Cancer and Pisces, with which Scorpio has a number of common characteristic features. From the point of view of astrology, a friendly sign for Scorpio is not only a man with the water element, but also those signs that possess the earth element - the signs of Taurus, Virgo and Capricorn. Even in 2022, Scorpio will understand these signs. But what does the water element mean in Scorpio's life, how will it affect 2022?
The Water Element is an element of constant movement. Although it may sometimes seem to move slowly, it is steady. It brings life to our planet. It keeps secrets, which are hidden in the depths, under the surface. It is an element not only of life, but also of conception and death, describes annual Scorpio Horoscope 2022. The Water Element is also associated with energy, with fairy tales and secrets hidden deep in the soul of its wearer. Water means not only the beginning but also the end. Water means life, but its power can also bring death. Each water sign of the zodiac - Cancer, Scorpio and Pisces, take a piece for themselves from the water element, emphasizing Libra 2022 Horoscope. The Scorpio takes on a mysterious nature, mystery, and a deep mental connection with himself.
Also, the water Element brings certain negatives to Scorpio's life. It can be sudden sadness, anger, or sudden mood swings, and typical expressions of love. The water signs of the zodiac also Scorpio may seem very emotional at first glance, but on the other hand, it can handle a large number of emotions at once, and a great workload. The nature of Scorpio will also be manifested during the year 2022, predicts accurate Libra Horoscope 2022. Thanks to astrological transits, which will be strengthened by the element of water, Scorpio will be a very resilient person with creative expression. It represents a stream of infinite possibilities. Even in 2022, it will greatly affect the life of Scorpio, and thanks to Scorpior element, Scorpio will be able to capture a number of opportunities that will be offered not only in work, finances but also in personal life.
What role does the ruling planet Scorpio play during 2022? The ruler of the Scorpio is the red planet Mars, but the planet Pluto also interferes with the life of Scorpio with its energies. Mars also rules the signs of Aries, and in the sign of Scorpio it determines the end of certain moments, or the ways of Scorpio. Mars will continue to influence the energies of your zodiac sign in 2022 and yearly Horoscope Libra, during several astrological transits. Even, at the end of 2022, the last two months of the year, Mars is entering a Retrograde motion that will strike the energies of your sign. Mars is the basic energy of Scorpio's life. To a large extent, it controls his life, but it gives him enough courage to make full use of his life potential.
Thanks to Mars, Scorpio possibility to immediately detect the problem, and deal with any problem, even if it is strenuous. Mars gives Scorpio some of its energy, fighting spirit, hard work, even courage. In 2022, Scorpio's brave nature will be fully manifested, which will also be connected with the planet Mars, which is your ruler. Any of your plans for success in life can be fulfilled if the energy and strength of Mars helps Scorpio overcome difficult times. Mars means the beginning of all in Scorpio's life, underline Libra Horoscope 2022. On the other hand, it also symbolizes the end of a certain path, or the closure of past karma in Scorpio's life. From a negative point of view, Mars may be perceived as too hasty, aggressive, or intrusive. The anger that manifests itself in Scorpio's life is also the result of the action of Mars in negative astrological aspects. Mars loves everything hot, sharp and spicy. These elements will be carried over into Scorpio's life by 2022, when Scorpio will be looking for the spice of everyday life. You want to enrich your life with news, not stand still, adds yearly Horoscope 2022.
Together with the planet Mars and the water element, move Scorpio's life forward. As we have already mentioned, Scorpio is also affected by the planet Pluto, which, however, is no longer officially considered a planet. In astrological readings, however, we still interpret it as a planet. Scorpio reaches the time of transformation. Part of Pluto's nature is rejection, a retreat that Scorpio can accept precisely because of Pluto's actions. It also manifests itself in the sexual direction, when it determines human needs and if the needs of the Scorpio are not met, it can cause unconscious frustration. In Scorpio, it reveals its naturalness, individuality and affects the specific properties of Scorpion's physical body, prognose Libra yearly Horoscope for 2022. It is the secondary planet of Scorpio, but in 2022 Scorpio will feel the effects of this second ruler, even its Retrograde movement.
In 2022, the inventive, passionate, courageous Scorpio will face not only positive but also negative transits surrounding his life. Scorpio is a determined person who can fight in life until he finds the truth in life, his life direction and the right goal. In the eyes of others, you manifest as a person of a leadership nature who has no problem covering any profession that requires leadership skills, courage, the right dose of foresight, and diligence. However, your water sign of the zodiac also lives by expressing your emotions, describes accurate Libra 2022 Horoscope. Scorpio's emotions, inner life, and your mental stability are very important to Scorpio's life. Whatever secrets Scorpio hide in the depths of your soul, you don't like to trust others. Not only Mars but also the planet Pluto affects you, which is to blame for Scorpio's incredulous nature and sometimes even for violent tendencies. If something makes Scorpio angry, Scorpio is not only taking over the energy of your element into Scorpio's life, because water can cause a lot of problems, says annual Libra 2022 Horoscope. Then you take over the power of the planet Mars - a powerful, energetic and passionate planet, thanks to which Scorpio can sometimes overreact to things that do not deserve such a reaction.
A characteristic sign of your personality is jealousy, which Scorpio can control only at a later age. Even in 2022, Scorpio may be troubled in Scorpio's personal life by these feelings, which will be influenced mainly by the transition of the ruling planet, but also by the influence of the planet Venus on Scorpio's personal relationships. You should use Pluto, your secondary planet, as the main planet of Scorpio's transformation and regeneration in 2022. During the positive aspects of Pluto, it is essential that Scorpio rest sufficiently and look for opportunities for relaxation and rebirth. Although Pluto will be Retrograde in 2022, you should still choose the path of rest or mental inner self-development. Your jealousy and suspicion continue to play an important role in Scorpio's life during 2022. Scorpio Horoscope 2022 will remind Scorpio in several points how very necessary it is to trust your partner, to look for trust in yourself. Not only Scorpio's planet, aromatherapy, but also your herb of 2022 serves to strengthen Scorpior physical body and mental harmony in 2022. We will talk more about how Scorpio can strengthen Scorpio's health during the year in the Scorpion's health section, in the last part of the Great Horoscope on year 2022 for the sign Scorpio.
The start of year will revolve mainly around your friendships and family relationships. Sincerity and honesty are the basic qualities that will make you a great friend in 2022, an irreplaceable member of your family. Even love gets the word out in a few months. The strongest months for love will be February, April, May, June and the month of July 2022, but also the end of 2022, which can cause many misunderstandings. Scorpio's interpersonal relationships mean an influx of new possibilities, acquaintances, and a lot of fun in the circle of Scorpio's loved ones. However, the large amount of information that Scorpio to process during the year can sometimes confuse Scorpio, bringing you an inner feeling of pain. That is why it is necessary to strengthen your mental health right at year start. Scorpio Horoscope 2022 thus speaks of what a complex, fascinating, specific personality manifests itself in those people who were born between October 23rd and November 21st. Astrology has just given Scorpio the sign Scorpio, whose basic manifestation is its melancholic nature.
The year 2022 will also be reflected in the overall impact on Scorpio's love and emotions. Scorpio will achieve the greatest overall compatibility in love also in 2022 with the sign of Taurus and the sign of the zodiac Cancer. Scorpio's love affairs with these two signs will be full-fledged. They will bring you a lot of positive emotions. A suitable compatibility of love for the year 2022 for the Scorpio seems to be both the sign of Pisces and the sign of Virgo, with whom he will establish new love relationships, especially single Scorpios. Libra Horoscope 2022 predicts that at work, in friendly and family relationships, Scorpio will understand Capricorn, another Scorpio and also the sign of Aquarius. With Aquarius, you share values on an intellectual level and joint activities, where Scorpio will find understanding this year as well. Scorpio can experience problems in interpersonal relationships with the Gemini sign. Especially if Gemini is your close friend.
The year 2022 may impoverish Scorpio from this friend, or there may be some misunderstandings between you that will be difficult to treat. The lucky color of Scorpio for 2022 is orange and red. If you want to strengthen your strength, energy and vitality, surround yourself at home and at work with these colors. Scorpio don't have to repaint the whole apartment or house right away. All Scorpio to do is bring elements of this color into Scorpio's home in the form of a picture, new accessories or electrical appliances in this color. The lucky numbers of Scorpio for 2022 will be 7, 11, 19, 21, 23 and 48. If you decide to travel during the year, you should definitely not miss the interesting countries, which have a rich history and mysterious culture. In terms of health, Scorpio Horoscope 2022 specifies that a challenging period awaits Scorpio, not only mentally and emotionally.
So we have already discussed the basic characteristics of Scorpio for the year 2022. Let's then look at the comprehensive personal Horoscope for each Scorpio. Discover the future that awaits you. As we have already mentioned, in the following sections of Horoscope 2022 Scorpio tells Scorpio about the future in love of both single Scorpio and Scorpio in relationship, reveals the future and energy in Scorpio's family, friendships, and then specifies which days are astrologically suitable for a wedding or pregnancy. The next part of the horoscope includes predictions in Scorpio's career and finances. Scorpio will find out if you will advance your career, if Scorpio's finances will improve or if you should pay more attention to the money saved. The last part of the horoscope for 2022 is dedicated to Scorpio's health, energy and vitality. In this section, we will talk more about aromatherapy or your herb of 2022, which will strengthen your health. Scorpio will also learn what complications Scorpio can expect and how to prevent these complications or how to treat them.
Horoscope 2022 Scorpio from the POSITIVE point of view
Astrological transits focus on both positive and negative effects on each Scorpio. Scorpio Horoscope 2022 in this section will introduce Scorpio to positive transits and the greatest impact on the area of love, health, finances, or career of each of you. First, let's look at the positive transits focusing on the love of Scorpios in relationship - In the positive direction, in January, Scorpio possibility to say goodbye to the negative karma associated with unresolved past relationships. It will require your slight isolation from other people, but it is in January that Scorpio to find forgiveness and especially yourself. Through proper meditation and mental exercises, Scorpio will be freed from something Scorpio is carrying from the past. And that is very positive news.
In 2nd half of February, Libra Horoscope 2022 predicts you want to pay more attention to Scorpio's partner because you neglected him at the beginning of the year. The conjunction of Venus and Mars in second part of February Horoscope Libra 2022 gives you an ideal opportunity for an intimate connection with your partner. Enjoy the joy and passion that is now at the peak of Scorpio's life. Scorpio can express your loving, tender, passionate nature in love with your loved one. February will test Scorpio's love - especially the other half of it. However, if you cope with these provocations from astrological transits, it is certain that the following months of 2022 will also wish to target such relationships that fight negative energy in the household. Scorpio need to free yourself, right at start of 2022. Free yourself from the black karma that is related to the past of someone in Scorpio's household. Scorpio will also be able to take this step thanks to Scorpio's own decisions, so that February may begin to heal relations that deserve to remain intact. The key months for strengthening Scorpio's love and partnership are the months of April and May, when astrological transits have a beneficial effect on both the 7th and 5th astrological houses. Scorpio chance to enjoy the closeness of Scorpio's partner.
Enjoy social events. Scorpio can communicate with your partner, laugh, enjoy intimate pleasures. Scorpio will also find common ground in the field of raising children and Scorpio will understand even if the energies have been disharmonious so far. If Scorpio recently solved a problem related to Scorpio's relationship, months are coming that are a beneficial caress for your affiliate life. Scorpio Horoscope 2022 advises you to enjoy these months in the arms of Scorpio's love. Deepen your mutual emotional and intimate connections. Look for new ways to understand and support each other. Venus means excellent partnerships from May 23rd to the first half of June. It means strengthening the communication and understanding of the partner. Some of Scorpio will fall in love with Scorpio's partner again because Scorpio perceive his beauty, intelligence and all the positives with which he tries to keep your love sparkling and passionate. The rebirth of passion and Scorpio's love for Scorpio's partner takes place in the months of May and June, which mean valuable aspects for Scorpio's future in love with your partner.
The 9th house will offer the opportunity for sincere communication about the present, but also about the future during the rapid transition of the planet Mercury - from July 5th to July 19th. Now Scorpio can also communicate about the wedding, about the children. All topics in love are open and your partner fully understands your setting. If some topics were taboo for you, now Scorpio can communicate them freely and without fear with Scorpio's partner. Even the singles enter the aspects of astrology in a positive sense - In January, you meditate and perceive your own feelings. Scorpio transform the energy of sadness and the decline of energy into the acquisition of healthy self-confidence and progress in mental development. The most ideal months to find the desired love are the months of April, May and the month of June 2022 for every single Scorpio.
Family relationships, friendships, weddings, or Scorpio pregnancies will also be affected. A positive transit for family relations is the February conjunction of the Sun with Saturn. In this regard, the introduction of February 2022 allows you to consider some cooperation with a member of your family. However, this cooperation should not be one-sided, so think about its benefits before Scorpio shake hands with your loved one on the sign of an agreement, recommends astrology Libra Horoscope 2022. However, February is an excellent month for building holistic and harmonious family relationships. However, relations with parents, siblings and other family members will be of good quality even during March, when not only Venus but also your ruler - the planet Mars - works on the 4th house. At last year part - from December 21st, Scorpio is in Scorpio's skin again.
Scorpio is an understanding, loving person who is determined to look deeper into the lives of your own children and who understands the feelings of others. That is why Scorpio is an integral part of their lives for the family. At last part of the year, Scorpio enjoy a lot of love and a sense of harmony with your closest family members. Friendships will be largely harmonious during 2022. Even the horoscope offers you the opportunity to pack your bags and go to foreign countries with Scorpio's closest friend. Your personal energy in July and August will be very attractive and Scorpio can even get a higher social status thanks to new friends, if you desire it. From perspective of marriage and pregnancy, astrological transits represent several suitable terms for these great steps in life. Scorpio can read more in the section Horoscope of Marriage and Pregnancy for the year 2022. This Scorpio Horoscope 2022 is important for every Scorpio who asks whether the year 2022 is suitable for a wedding, or for conceiving the first or next baby.
In 2022, Scorpio Horoscope 2022 predicts several months when Scorpio chance to rise your career - in short, we will imagine positive transits affecting Scorpio's career and finances. The months of June, July and August are very positive and strong in terms of transits affecting Scorpio's career. Expect not only many opportunities for the unemployed, but also opportunities for a change of occupation, as well as for career growth. Scorpio will be rewarded for your hard previous work, which will make you very happy and motivated. In general, there are several positive career days ahead of you, but the months of June, July, and August 2022 are the most favourable.
Especially in August, Scorpio to move on in life, says astrology Horoscope Libra 2022. The transits of astrology affecting your life will push Scorpio to change your life, especially if Scorpio neglect your personal life, partner, or children under the influence of Scorpio's career life. Then it is time for a change, because in August Scorpio will have to act more with Scorpio's heart than with logical thinking. Especially if Scorpio's decisions are to intersect between Scorpio's work and personal life. In terms of finances, the year 2022 also wishes Scorpio a chance to win, or to be rewarded, for your past hard work. Several transits will be favourable in finances and Scorpio can enjoy not only stability in the family budget, but also extraordinary financial gain. During the year, you will also have the option of a large purchase, more expensive repairs of electronics, households or cars, and year end there are possibilities for a mortgage or housing reconstruction. Money will be basically stable and Scorpio can afford everything your heart desires, especially at the end of 2022.
Scorpio Horoscope 2022 also deals with health forecasts for the whole year. In the first half of 2022, Scorpio does not have to worry about health. Scorpio will also be able to find the source of certain diseases and find out how to prevent them. Scorpio will also have enough time and space to undergo a preventive check-up, in the first months of 2022. Health seems stable, with only some warnings and recommendations related to more disruptive astrological transits.
Accurate Monthly Horoscope Scorpio tells you more about Scorpio future in love, health, career, money or relationships. Horoscope Scorpio 2022 is also connected with a monthly prophecy. Read all the important horoscopes from the fortune teller for the year 2022.
Yearly Horoscope 2022 Scorpio from the NEGATIVE point of view
The fortune teller predicts that more demanding moments await Scorpio. First, we discuss what transits affect the love of single Scorpios and Scorpios in relationship in a negative direction - At the beginning of 2022, the emotions and feelings of Retrograde Venus and Mercury act in the same motion. It deepens the feelings of past karma. It intensifies your need for self-knowledge, meditation, and mental harmony with yourself. Scorpio therefore devote more time to Scorpio'sself, which can cause a feeling of isolation on the part of Scorpio's partner, who also needs to feel your presence and interest.
January 2022 may to some extent pull you away from the present. It focuses your attention on past karma associated with Scorpio's personal life if Scorpio unresolved relationships from the past. Scorpio will be troubled by any negative past karma that Scorpio to get rid of once and for all, prognose yearly Horoscope Libra 2022. In the second half of February, Scorpio will be hit by the conjunction of the planet Venus with your ruling planet Mars. This conjunction strongly affects Scorpio's desire for an intimate connection with a partner. Beware of violent expressions in love and intimate life, which are now not welcomed by your partner. In February, it is certain that Scorpio will struggle to overcome provocation from someone else who wants to disrupt your stable relationship with Scorpio's partner. Remember that an affair is devastating to Scorpio's relationship. These feelings will mainly affect those Scorpios who have dealt with complicated relationship moments in the past. Your inner feelings and Scorpio's relationship with your partner may require the intervention of a therapist, but this is a great idea for Scorpio's better future.
Scorpio Horoscope 2022 will remind Scorpio in February not to be seduced by the promise of momentary fun. Instead, focus on strengthening the relationship that is key to Scorpio's life. During September and October, Scorpio will be more closed in Scorpio's relationship. However, there are no key negative transits affecting your love, but Scorpio should not forget the needs of Scorpio's partner in these months. Scorpio Horoscope 2022 advises to take an interest in feelings and overcome the daily routine by talking about the future. The problem can occur if you get provoked and start arguing. Then the months of September and October can be difficult for Scorpio because Scorpio will close in on yourself.
What negatives to await singles in love? Astrological transits indicate a love affair for some single Scorpios in 2nd February half and the first March part, which will damage your own value in life. It will be a love affair - engaging in the relationship of other people, i.e. breaking the marriage, or the relationship of Scorpio's lover or mistress. Horoscope 2022 advises Scorpio well to avoid loving relationships that lead nowhere. At beginning of 2022, Scorpio will have to resist Scorpio's desires for intimacy, and unfortunately, Scorpio will only attract those in relationship into Scorpio's life. Even your ignorance of the life status of a potential lover or mistress can cause Scorpio many problems. Therefore, be careful. In the year second half, you perceive not only the Retrograde ruling planet, but also a feeling of isolation from others. You want to deal only with yourself, so in 2nd half of the year Scorpio no energy left to seek love, time and astrological transits do not even predict suitable opportunities.
Negative transits in terms of family, friendships, marriage, or pregnancy? -The beginning of 2022 deprives your person of a sober look at past interpersonal relationships. Not only do you cling to the near past, but Scorpio go even further - to the days when you were a small child. It may happen that most of Scorpio will find a number of problems in the past that Scorpio will blame Scorpio's parents for. January 2022 can mean worsened karmic energy, especially between you and Scorpio's parents, when you blame them for the wrong parenting methods during your adolescence. January will not cause big quarrels, but rather your personal mental decline if Scorpio is bothered by past relationships with your parents.
From perspective of march Mars in the 4th house, it is necessary to increase caution in the upbringing of your own children, because Scorpio tend to put more pressure and emphasis on upbringing. You want to push Scorpio's children hard to succeed, which can cause conflicts in communication and interpersonal relationships with children and, in this respect, with Scorpio's partner - if Scorpio different views on parenting. This Mars takes place from March 6th to April 15th, when you pay attention to proper communication with children and education without unnecessary conflicts, underlines Libra 2022 Horoscope. At March end, your home planet is in square with Uranus and can cause great quarrels, the root of which is a lie or misunderstanding. Should Scorpio expect negative aspects related to friendship?
January brings Scorpio strength and determination in terms of friendly relations. Scorpio will get redress from the past if Scorpio been wronged or harmed by a friend. It is in January that you accept any possibility of redress and Scorpio can be proud of how brave and kind-hearted Scorpio is. From April 29th to October 8th, watch out for fake friends. If Scorpio is a Scorpio whose friend is Gemini, be even more careful. In the time of the Retrograde secondary planet Pluto, such a relationship can be affected by mistrust, define astrology Horoscope Libra, conflicts and also by intrigue or gossip. So be careful, especially towards Gemini, during the period of the Retrograde Pluto. From point of Libra Horoscpoe 2022 view of the planning of a wedding or pregnancy, the inappropriate dates are the days when the planet Venus and Mercury are in Retrograde motion. From the overall point of view, it is not only January 2022 but also other dates. Pregnancy should be monitored mainly in December, when health complications can be expected. Therefore, be careful especially if you are in a high-risk pregnancy or Scorpio experience a sudden loss of energy.
Scorpio also have to be careful at work, especially during the subsequent negative transits that we are now imagining - for work and finance. - Negative moments are also waiting for you at work, but Scorpio will be well prepared thanks to the Horoscope forecast. In January, it is not a good time to renovate a household, sign documents, or start a business, or to change careers. From March 20th, 2022, you may feel that your hard work and willingness to help others are being abused by your co-workers for your own benefit. Scorpio is not far from the truth, so help yourself and focus on completing Scorpio's own tasks. It can happen that Scorpio neglect your own duties and help others. This will save you valuable time, which can cause problems for Scorpio's employer. If Scorpio is an entrepreneur or a manager who is in charge of this team of people, it is quite likely that there will be complications in Scorpio's relations between April 15th and May 24th, when Scorpio increase the pressure on others. Under this influence, you bring tension into interpersonal relationships, which are deteriorating, describes annual Libra Horoscope. The same Scorpios who take care of the household also transfer the same energies to the household.
In May, Scorpio also compare Scorpio's work with the performance of others, which may ultimately demotivate you. Scorpio will need more time to complete the tasks. May 2022 is the hardest month for any Scorpio in terms of career. It does not offer new opportunities for the unemployed and even blocks the positive energies of employed Scorpios, who should not make big changes and decisions now. From October 23rd to November 16th, the Scorpios, who take care of the household, should be sharpened. Scorpio can count on more work at home, which will be related to broken electronics, or with a large cost of housing or transportation.
Horoscope 2022 recommends Scorpio to prepare enough energy, especially for the period from October 23rd to November 16th, when Scorpio will have to devote a large part of your energy to problems related to Scorpio's household or your work. Should Scorpio expect negative days related to finances? At the beginning of the year - in January 2022, the fortune teller recommends Scorpio to avoid making big purchases or signing important contracts. These steps could negatively affect Scorpio's future family budget. The November formation Mars square Neptune can damage your finances if Scorpio is not careful. November also teaches you how to manage finances. Therefore, Scorpio can look at the environment. However, these energies relate only superficially to the penultimate month of 2022, as most of the November transits affecting finance are positive.
Health will also be affected in terms of negative transits. Rather, the year beginning is about mental health care, which can cause some Scorpios to wrinkle their foreheads. In March and April, you tend to reach for unhealthy diets and painkillers more often, because Scorpio suffer from toothaches and headaches. The second half of the year can hurt Scorpio. Scorpio will fight minor diseases, but you do not have to worry about any big surprises from a negative point of Libra Horoscope 2022 view. However, care must be taken in high-risk occupations, especially in the second part of 2022. At December end, transits indicate deteriorating health of Scorpio or Scorpio's family members, so it is advisable to prepare in advance for negative deadlines from the most important disruptive transits of the year.
Daily Horoscope Scorpio prepare you for the current day. Horoscope Scorpio from the Fortune-Teller also means the possibility of daily divination for Scorpio zodiac sign.
---
Horoscope Scorpio 2022 - Love, Career, Health, Future...
Click the image you like and read more about year 2022...
Horoscope Scorpio 2022: Overview - Positive and Negative aspects of 2022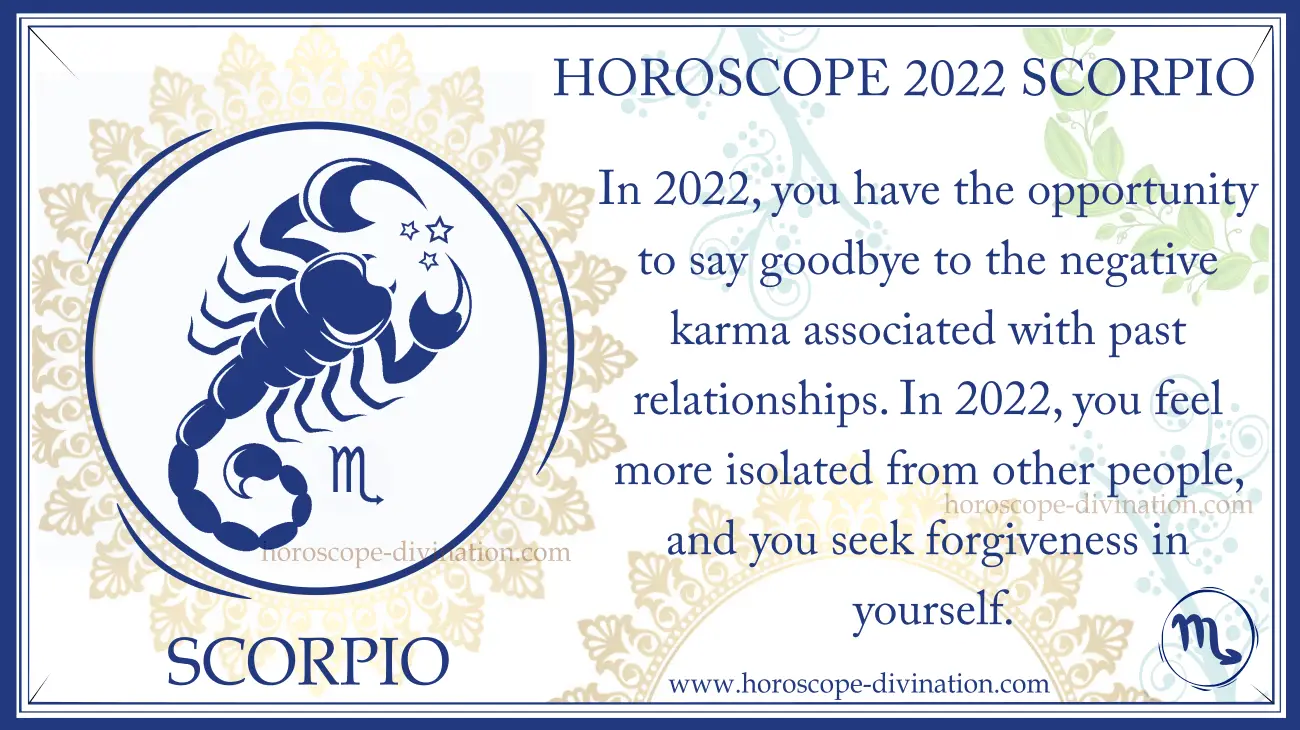 Astrological transits focus on both positive and negative effects on each Scorpio. Scorpio Horoscope 2022 in this section will introduce you to positive transits and the greatest impact on the area of love, health, finances, or career of each of you... Introduction of Horoscope 2022 Scorpio...
Horoscope Scorpio 2022 from fortune-teller - Love & Relationships in 2022: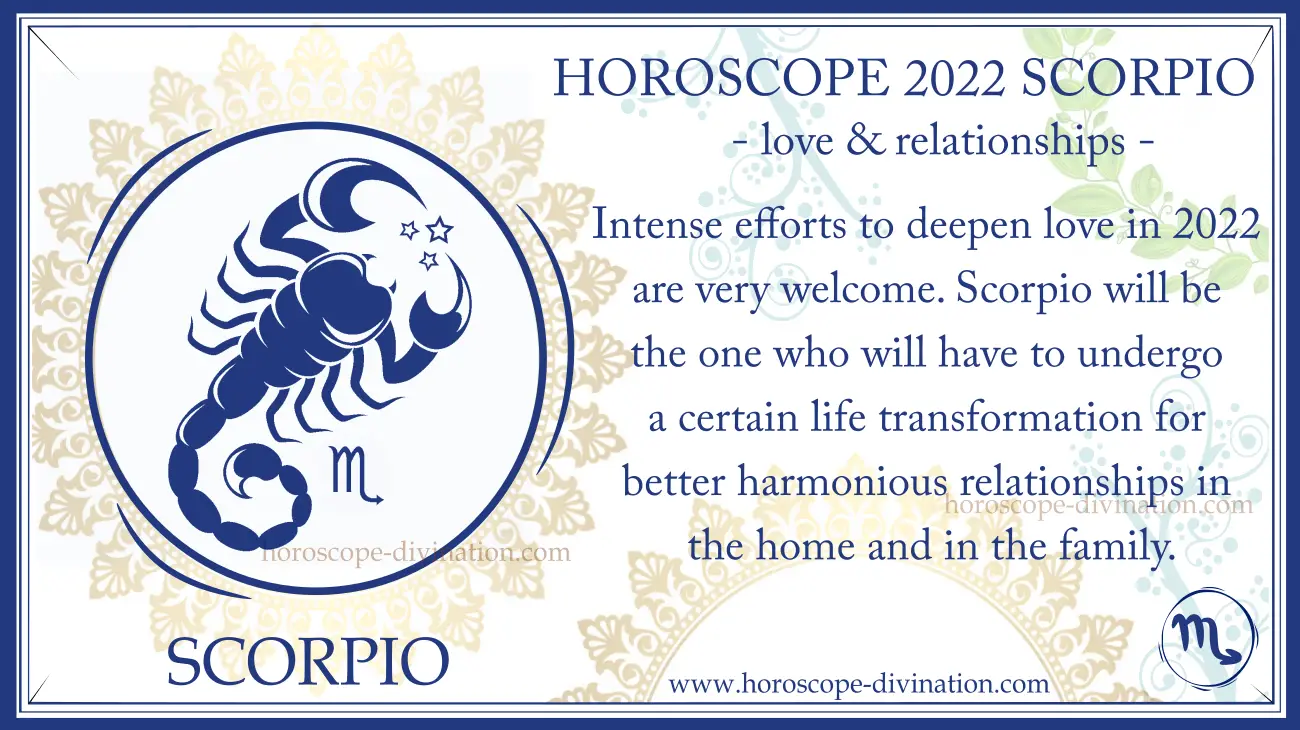 The Scorpio struggles with emotions during his life. The year 2022 will present itself as a year focused not only on the love of Scorpios in relationship, but also on the emotions of singles. Your family and friendships will be strengthened, but other interpersonal relationships that you should know will also be affected... Read more about Love Horoscope Scorpio 2022...
Horoscope Scorpio 2022 - Family, Friends, Marriage and Pregnancy in 2022: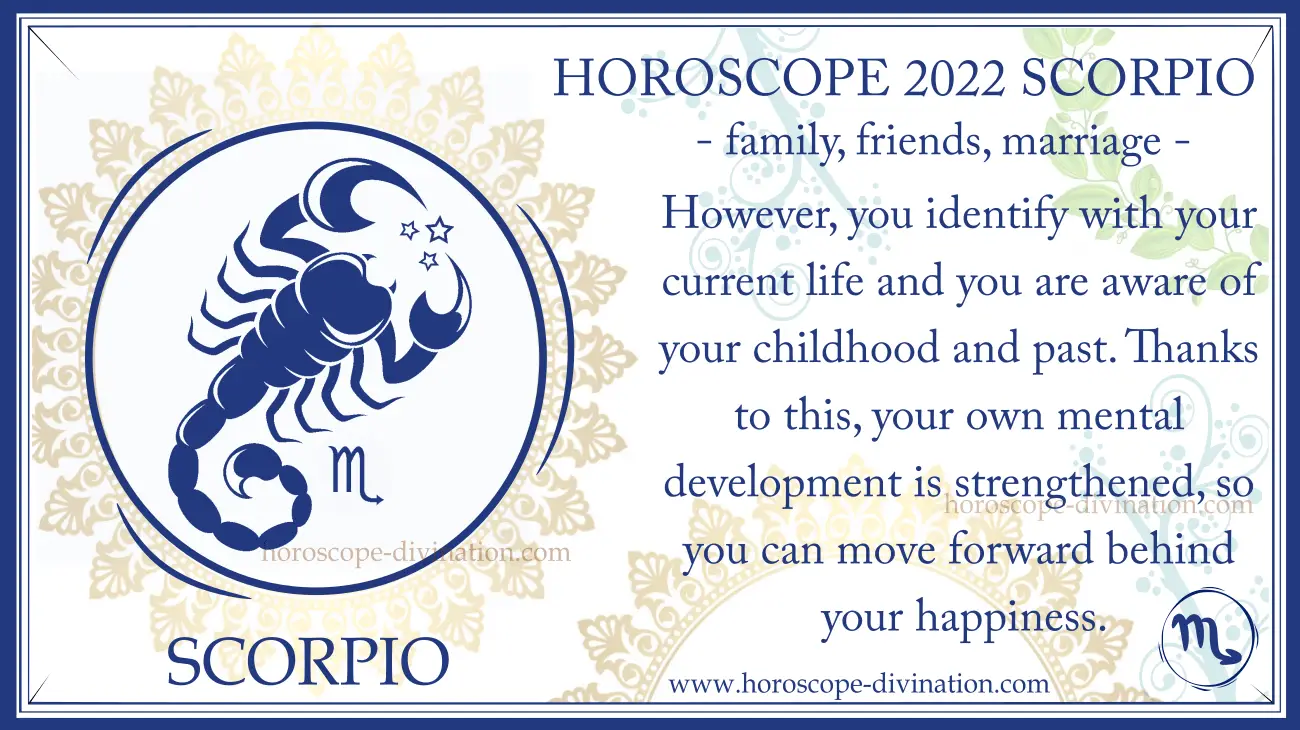 In 2022, Scorpio's family relationships will be severely affected by several astrological transits. January 2022 focuses on the 3rd and 4th houses, but these houses will also be affected in February, March, April and the final month of 2022 - December 2022... Read this yearly Horoscope Scorpio 2022 - Family, Friends, Pregnancy and Marriage...
Horoscope 2022 Scorpio - Career & Finances: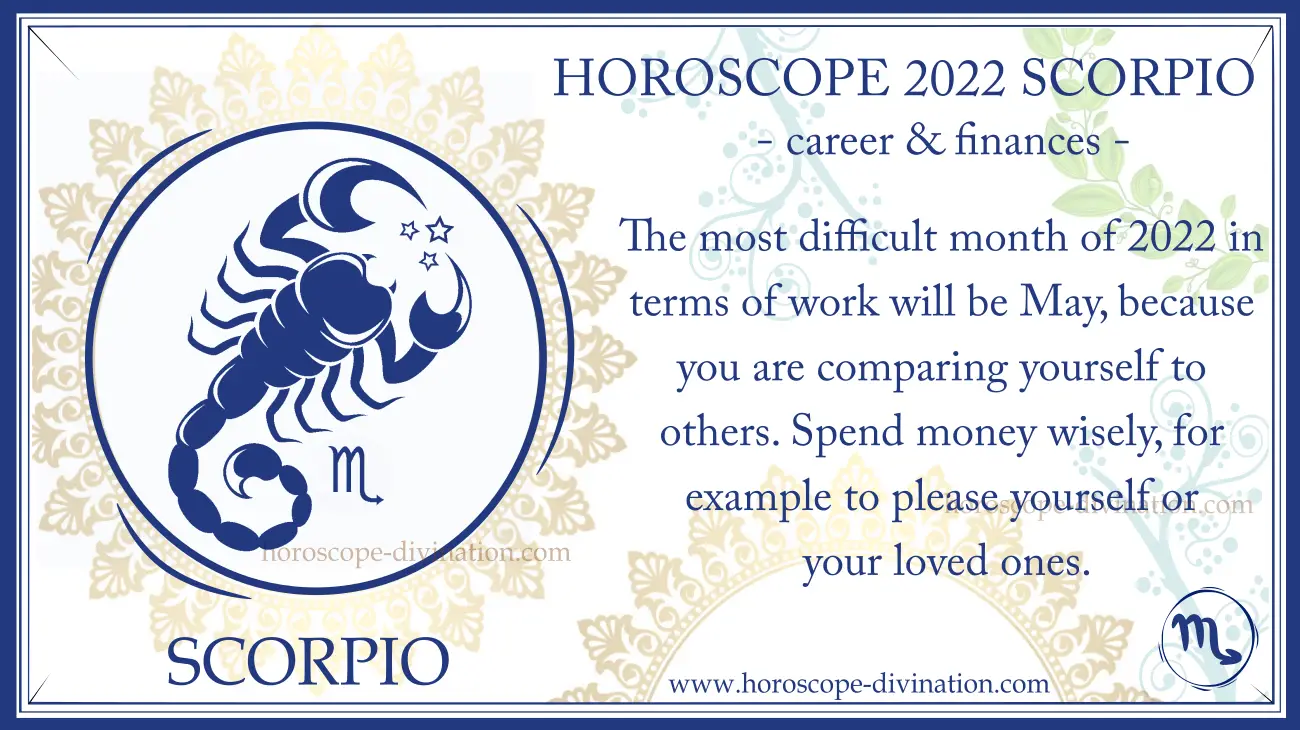 The Fortune Teller has also prepared Horoscope 2022 for those Scorpios who are interested in whether they will be more successful in the field of work and career advancement in 2022, or whether they should expect extraordinary problems at work or other complications from the point of view of career... Complete annual Horoscope Scorpio 2022 in career and finances...
Horoscope Scorpio 2022 - Health & Vitality: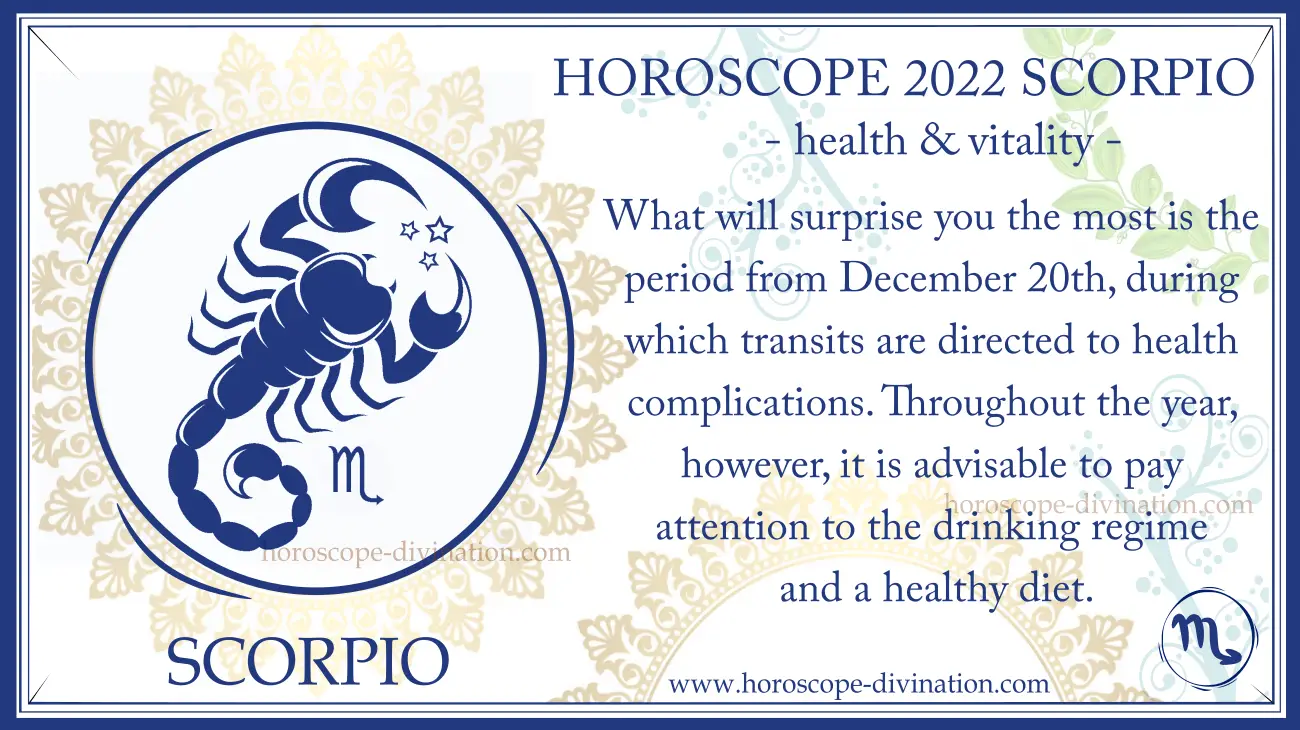 In this section, the horoscope focuses on the health of Scorpio during the year 2022. You will learn what recommendations the fortune teller brings for your better life, for firmer health and a more vital life... Read yearly Horoscope 2022 of Health and Vitality for Scorpio zodiac sign...
Retrograde movements of planets that affects Horoscope 2022 Scorpio
Graph of Retrograde Planets 2022 - Their affect on Horoscope Scorpio 2022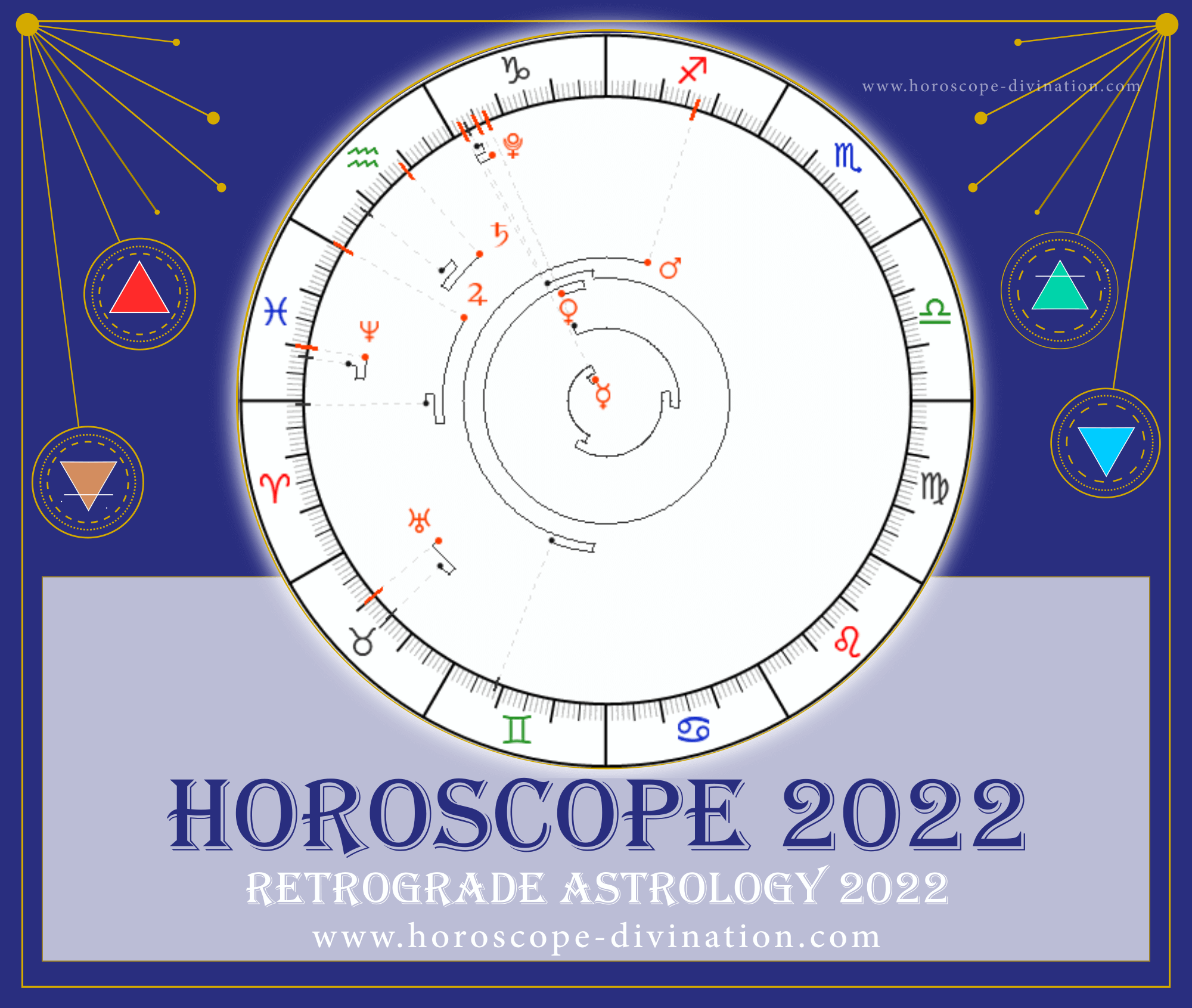 Click on the image above to read all the important information about the Retrograde Planets of 2022 and their impact on Horoscope Scorpio 2022. Below you will find a list of terms important for your energy, vitality and for the overall Horoscope Scorpio 2022.
Mercury Retrograde and Horoscope 2022 Scorpio
14 January 2022 (in Aquarius 4 house) - 04 February (in Capricorn 3 house) (For 21 days, Horoscope Scorpio 2022 is influenced by the first retrograde Mercury)
10 May 2022 (in Gemini 8 house) - 03 June (in Taurus 7 house) (Horoscope 2022 Scorpio emphasize transit for 24 days)
10 September 2022 (in Libra - 12 house) - 02 October (in Scorpio 1 house) (Horoscope Scorpio 2022 is affected by transit for 22 days)
29 December 2022 (in Capricorn 3 house) - end of year 2022 (Horoscope Scorpio will hit this aspect for 3 days)
Venus Retrograde - Horoscope 2022 Scorpio
01 January - 29 January 2022 (in Capricorn in 3 house) (Horoscope Scorpio 2022 talks about this transit during 28 days)
Mars Retrograde - Horoscope Scorpio 2022
30 October 2022 - to year 2023 (in Gemini - 8 house) (63 days are affected by Horoscope 2022 Scorpio)
Retrograde Jupiter - Horoscope 2022 Scorpio
28 July 2022 (Aries in 6 house) - 23 November (Pisces in 5 house) (Horoscope Scorpio 2022 is affected for 118 days)
Retrograde Saturn 2022 - Horoscope Scorpio 2022
04 June 2022 (Aquarius in 4 house) - 23 October 2022 (Aquarius in 4 house) (This transit affects Horoscope 2022 141 days)
Retrograde Uranus - Horoscope Scorpio 2022:
01 January 2022 (Taurus in 7 house) - 18 January 2022 (Taurus in 7 house) (For 17 days, Uranus concentrates its energies on Horoscope Taurus 2022)
24 August (Taurus in 7 dome) - to the start of the year 2023 (The annual Horoscope 2022 Scorpio is affected by the retrograde Uranus for 130 days)
Retrograde Neptune 2022 - Horoscope Scorpio:
28 June 2022 (Pisces in 5 house) - 04 December (Pisces in 5 house) (the annual Horoscope Scorpio 2022 is changed by transit for 159 days)
Pluto Retrograde - Horoscope Scorpio 2022
29 April 2022 (Capricorn in 3 house) - 08 October 2022 (Capricorn in 3 house) (aspect affects Horoscope Scorpio 2022 for 162 days)