Horoscope Pisces 2022
The prophecy for 2022 from the fortune teller is prepared for each of you who was born from February 19th to March 20th. You were born with Pisces zodiac sign, and at birth you were assigned the Water Element, which is closely connected with the life of Pisces. The ruling planet of Pisces in traditional astrology is Jupiter, but in modern astrology, the ruler of Pisces is considered to be the planet Neptune.
The personality of Pisces in 2022 and yearly Horoscope
Overall, during 2022, Jupiter moved through the first and second astrological houses of Pisces, with Neptune being the sign of Pisces throughout the year, making it the first house of astrology. Not only these two planets of astrology will significantly affect the energies of Pisces during 2022, describes astrology Horoscope Pisces 2022. The Water Element is shared by Pisces with tCancer and Scorpio zodiac signs. These 3 zodiac signs thus have certain characteristics in common.
During 2022, Pisces should reach for their stone, which is Amethyst for 2022, to attract more happiness and joy. Amethyst can bring you into the world of fantasy, but it also reminds you of the fixed values that Pisces will only find if you stop dreaming for a while. The lucky Pisces numbers for 2022 are 8, 12, 13, 24 and 25, define yearly Horoscope 2022 for Pisces zodiac sign. These numbers will accompany you throughout the year and Pisces can rely on them if you need more happiness in life. To relax, and lift energy in Pisces' home or office in 2022, surround yourself with purple or shades of green. These colors are your lucky 2022 colors that boost your energy and purify your karma. The happy day of every Pisces will be Thursday, which is generally a happy day for Pisces throughout life.
The Water Element is an element of constant movement that is related to Pisces zodiac sign and, to some extent, to your lifestyle. Pisces seems to be a mysterious zodiac sign, which sometimes balances between dreams and reality. Pisces keep secrets in their souls, because in the element of water they can anchor emotions, but also secrets. As Pisces Horoscope 2022 have already mentioned, Pisces share a water element with the signs of Cancer and Scorpio. The water zodiac signs are generally excellent friends, and they can accept negatives as well as positives in life. They have enough mental possibilities for self-reflection, and they can admit a mistake.
The water zodiac signs are said to be too emotional. On the other hand, these are strong signs of the zodiac, which can also face such great problems that other zodiac signs cannot handle. Like Cancer and Scorpio, Pisces is a magical personality who is to teach others how important and significant love is in the lives of each of us. Water will be extremely important for Pisces in 2022 as well, because this Element will give you energy, passion and the right direction from which you should not deviate in life.
Traditional astrology refers to the planets Jupiter as your ruling planet. It significantly connects not only with Pisces' zodiac sign, but also touches the Sagittarius sign, and in both of these zodiac signs it brings hope and perspective. In astrology, Jupiter represents a beneficial planet, and thanks to it, Pisces look at things around them even through pink glasses, underlines Horoscope for Pisces 2022. Jupiter is a planet of happiness, a planet of miracles and joy in life. Jupiter passing through the first house of astrology in 2022 will mean a deep connection between your mind and your body, and the organization of the most important thoughts in your life. It is very likely that Pisces will finally learn to understand themselves.
During 2022, this planet brings you ingenuity, and opportunities for beginnings and initiative in life. Thanks to the planet Jupiter moving in the first astrology house, Pisces identify with their own temperament, and you focus more on your own self. You do not become a self person, on the contrary, you perceive the needs of others as well as yours. Jupiter in this astrological house gives you enormous opportunities for self-realization and development, and a certain rebirth, especially for those Pisces that have gone through a more difficult past period, specifies annual Horoscope 2022 Pisces. In the later months of 2022, Jupiter entered the second astrological house. During a period of 118 days, Jupiter is in Retrograde motion in the second, and later in the first astrology house.
From July to November 2022, this planet passing through the second and first astrology houses seeks to restore a sense of wealth and focuses you on material desires. In the middle of 2022, Pisces will think more about finances, and about meeting the needs in this direction. Later, Jupiter gets into Pisces' zodiac sign, so the Pisces identify with the smaller goals of life, and will be satisfied with what they have in life. Pisces is able to achieve great success, but Pisces is happy for every progress in Pisces' life. The Retrograde Jupiter in the first house in 2022 also brings you a number of activities that Pisces will want to do with your friends and your loved ones. In the second half of the year, Pisces feel that they are moving very fast through life, and you want to focus your energy mainly on important things and important changes in your life. Pisces should remember that during 2022, it is not appropriate to give things more importance than they actually have, like your annual Pisces Horoscope 2022.
The compassionate and often artistically gifted zodiac sign of Pisces uses its intuition in love as well. It is a very wise zodiac sign that is self-sacrificing and expects nothing in return from others. People born with the sun in Pisces are very intuitive. It thus belongs to the 3 water zodiac signs, which can forgive others and are characterized by great empathy for others. Pisces are generally considered great romantics, they are attracted by the beautiful and gentle behavior of their partner. It is an extremely generous zodiac sign, which is not built on short-term relationships and adventures.
In 2022, however, Astrological Transits and Pisces annual Horoscope 2022 suggests that there will be moments that will completely overturn this property of Pisces, and especially single Pisces may provoke behavior that is not close to them. A caring and friendly Pisces is a friend for all zodiac signs. They will find closeness with every sign, because Pisces can listen and advise so that they do not like to bring negative energy into the lives of others. The overall compatibility in love during the year 2022 will be achieved by Pisces mainly with Taurus zodiac sign, Virgo and Cancer. With these three zodiac signs, Pisces will feel the deepest emotional connection in 2022, and Pisces will understand at a deeper level.
For single Pisces, it is appropriate to establish love and contacts, especially with Virgo zodiac sign, Scorpio, Capricorn, and every single Pisces should pay attention to Aries zodiac sign and Sagittarius, emphasiye Pisces Horoscope for 2022. In 2022, Aries and Sagittarius can bring you a lot of emotional torment, and they can even inflict a broken heart on you. Your closest friends in 2022 will include the signs of Cancer, Scorpio and Capricorn. The Sagittarius sign can betray your trust during the year, so if Pisces is a Pisces and there is a Sagittarius near you, be more careful about that sign and think about what personal information you say about yourself. The Sagittarius can use a lot of information for their own benefit. If Pisces is a Pisces who is interested in job success during 2022, it is clear that Pisces will achieve the greatest compatibility at work and in business with the signs of Cancer, Gemini, Libra and Aquarius. Such is the compatibility in love, emotions, friendships, and work for each Pisces during 2022.
The 2022 Pisces horoscope predicts that even during this year Pisces will tend to prioritize the needs of others over yours. However, Jupiter in 1st astrology house will remind you several times during the year how important it is to maintain your mental health and mental well-being, and therefore how extremely important it is to take care of yourself throughout the year.
What weaknesses will you fight in 2022? Some Pisces catch themselves in thoughts or activities that are not close to them. Pisces Horoscope 2022 predicts changes in personality mainly for single Pisces and for Pisces in a long-term relationship. Certain Astrological Transits will test your loyalty and trust in a relationship. Aspects also provoke single Pisces, which will be given opportunities for non-binding and adventurous connections with potential future partners. However, Pisces should be careful about these negative aspects of astrology transits during 2022 so that they do not return to fearfor their future.
Even in 2022, many Pisces will escape thoughts from reality, and will dream of unrealistic things that detach them from the present moment. In family and friendships, they build a deep emotional relationship with others, but you must be careful of those people around you who use your goodness to their own advantage. Pisces Horoscope 2022 also suggests that the fear in Pisces' life of your own emotions and your future feelings may separate you from the chances that will arise in connection with love, in advancing in an existing relationship, or in finding new opportunities to satisfy your soul and heart.
Horoscope 2022 Pisces from the POSITIVE point of view
The transits of astrology will hit the energies of Pisces in both positive and negative directions. In this section, the annual Pisces Horoscope 2022 focuses on how the most important astrological transits positively affect the energy, vitality and direction of the Pisces sign. First of all, Pisces 2022 Horoscope will look at astrological transits that will affect long-term Pisces relationships.
The introduction of 2022 brings Mercury, Venus, and the planet Uranus in Retrograde motion. The 3 Retrograde planets of astrology can mean certain negative vibrations, but on the other hand Pisces has the chance to meditate and discover the deepest thoughts and needs of Pisces' soul. You feel that you do not understand your partner, but from other perspective Pisces can understand yourself, which makes you an excellent friend for your long-term partner. In February 2022, each Pisces enjoys a harmonious relationship with Pisces' partner, Pisces has the possibility to build trust not only in Pisces' own feelings, but also in Pisces' partner's feelings towards you.
February is a good month to resolve conflicts, and to resolve any disputes or negative energies you feel at home. In May 2022, Pisces 2022 Horoscope foretell, your own childhood is important to you, because your thoughts go back to the past. These feelings may not be pleasant for every Pisces, but Pisces has the opportunity to use these ideas for your own benefit, forgetfulness, and to move forward. From May 10th to June 1st, you need to remove the negative energies associated with Pisces' childhood from your life so that you and your partner can move forward. The most positive months for love and Pisces partnerships, or for long-term marriages, are June, July, August 2022, and the first days of September 2022. In June, astrology transits focus on the 4th Astrological House. As a result, you enjoy harmony in Pisces' home.
The feelings of July and August will affect you in Pisces' relationship, because not only will the broken relationships be stabilized, but also an important life decision for Pisces, state yearly Horoscope. This life decision can mean a wedding or the birth of the first or next offspring. Pisces can use August 2022 and the first days of September 2022 to communicate, and to overcome painful and difficult things related to your relationship or marriage. The year 2022 represents an interesting year full of love, when each Pisces will balance between unbalanced partnerships, and deepening the foundations of true and deep love. Among the strongest and most beautiful months of love are almost 3 months of 2022 - July, August and days until September 10th, 2022. These days Pisces will heal broken relationships, Astrological transits will heal such connections that are based on strong and true emotions or feelings. 2022 ebd does not predict great complications in long-term relationships, so Pisces Horoscope 2022 recommends you to enjoy the moments before the beginning of 2023 close to Pisces' loved ones.
Single Pisces will also hit positive transits. In 2022, single Pisces are given many opportunities to capture true love, but also for short-term pleasure. During March 2022, your thoughts are mostly focused on your ex-partner, and Pisces is considering whether Pisces should give him another chance. Pisces Horoscope 2022, in the part of the love of single Pisces, will also answer these questions, which relate to returning to the expartner, or new chances for fresh energy in your life. Several single Pisces should focus mainly on the signs of Virgo, Scorpio and Capricorn. These 3 zodiac signs form ideal people interested in Pisces' heart, whom Pisces should give a chance during 2022. A great chance for the love of Pisces will be revealed even among the closest friends, especially if the circle of these friends consists mainly of the 3 zodiac signs.
The first half of 2022 will be very important for single Pisces. The middle of the year brings harmonious energies. You meet people who are extremely interesting to you. At 2022 end, the single Pisces will be invited to social events. In November, Pisces should be wary of romances, love triangles that could deepen your life, so Horoscope is happy to avoid these romances. From a positive point of Horoscope Pisces 2022 view, however, you build a strong and deep friendship with Pisces' loved ones, Pisces can forgive and forget. The end of 2022 - December 2022, belongs to friendship and family of single Pisces.
Friendships and family relationships will also affect the transits of astrology in a positive sense. Even if Pisces is concerned about the loyalty of members of your household or your friends from the beginning of the year, later transits will balance these aspects. In March, for example, Mars will lend you militancy, and it will bring a smaller dose of impulsivity into your life, which is positive for your life. in Pisces' family and interpersonal connections, you calm down all disruptive relationships, and so Pisces is considered by family members and friends as a counselor, a fighter against injustice, and an extremely important part of the family. In the first half of 2022, Pisces will be satisfied with relationships with members of Pisces' family who welcome your attention, adds Pisces Horoscope 2022.
The year 2022 will also connect you more strongly with your siblings, with Pisces' parents, and at the end of 2022, an older woman will also play an important role in Pisces' life, which you should listen to. The most important role is played by your family in your life during June 2022, when several astrology transits are favorable and oriented towards the 4th astrological house of the family. You use the positive energies associated with Pisces' family, and reassure the past that may have affected your relationships with Pisces' family. The strongest month for friendly relations for 2022 is December, when several transits are positively oriented towards the 11th astrology house of Pisces. They bring you many opportunities for social events with Pisces' closest friends, as well as an ideal opportunity to meet new friends.
Pisces life careers and career responsibilities will also be affected by positive aspects, as will other areas of Pisces life. In the first month of 2022, Pisces 2022 Horoscope predicts that the Retrograde Mercury operating in the 11th and 12th astrological houses comes into play, which, while depriving you of a considerable amount of energy, also gives you the possibility to complete important tasks related to Pisces' work or household. Pisces can organize your energy, and Pisces can make long-term plans that are important for your career success.
In February, each Pisces grows personally, thanks to previous meditations and setting its own rules. You can make full use of the time you spend working in the office or at home, and other people near Pisces will notice your hard work. Unemployed Pisces also receive many opportunities in February, define accurate Pisces Horoscope 2022, which can enjoy an improved financial situation. In April, there is an extremely positive transit of the conjunction of the planet Jupiter with the planet Neptune. The life of every Pisces seems to be organized and complex, especially in terms of working conditions. At this point, many have the chance to advance their careers, because each Pisces gets many opportunities, even for new changes. If you no longer feel comfortable in Pisces' job, it is time to change this job, in the period from April 12th to May 10th.
From the start of June, the Pisces is awaiting progress at work, foretell astrology Pisces Horoscope 2022. However, it all depends on how you approach work during the month of May, which will be more complicated for work. However, it is quite clear that from July 5th to September 5th, energy is formulated in favor of Pisces, and in favor of promotion. Some Pisces will also have a business trip in July, and a change in the overall relationship to your job, whether it's working for someone else, business, or housework. In September and October, collegial relations can be a bit complicated. The positive news, however, is that December removes these negative energies and makes you a friendly and witty person who is an inspiration to others. Your colleagues admire you, and this admiration will be given to you by your superior, thanks to which you can succeed in December. Unemployed Pisces are also thriving and now have the opportunity to seize a chance in several career sectors.
In November, Pisces will even catch the financial happiness that awaits you not only due to Pisces' hard work. Happiness will also come in Pisces' life because of Pisces' devotion to work, and also because of the happiness that the transits will give you in November. Capture the extraordinary opportunities of your hard work to date, and get paid for your hard work in 2022, says prophecy of Pisces Horoscope 2022.
After overcoming the challenging introduction of 2022 in relation to your health, there are months when more Pisces can enjoy harmony and strong health. In 2022, the dioecious nettle will help you the most to overcome mild colds or unexpected diseases. Pisces can also reach for thyme oil, which is your oil of the year, helping not only for problems with varicose veins and rheumatism, but also for common colds or during periods of stress.
2022 is a good year for any Pisces that needs or decides to lose weight. Many Pisces are finally able to get rid of their addiction, and they can also fight the chronic diseases that have plagued you in the past. Pisces will feel solid health and positive energies related to Pisces' health, especially in the second half of 2022. Pregnant women born under the sign of Pisces also have favorable health prospects.
However, don't forget to add food rich in vitamin B12 and folic acid to your diet. These vitamins are recommended by every pregnant Pisces Horoscope 2022 and an astrologer who again reminds you of the importance of a drinking regime. Pisces can learn more about how transits into detail will affect your health in the section of Pisces Horoscope for 2022.
Accurate Monthly Horoscope Pisces tells you more about Pisces future in love, health, career, money or relationships. Horoscope Pisces 2022 is also connected with a monthly prophecy. Read all the important horoscopes from the fortune teller for the year 2022.
Yearly Horoscope 2022 Pisces from the NEGATIVE point of view
During the year, Pisces can also expect transits that play with energy and bring negative vibrations to life of Pisces. Focus on the most important transits so you know in advance what energies Pisces should prepare for. In this section, Negative Transits will briefly explain how to combat the disruptive aspects that affect you and when to expect these energies.
Pisces Horoscope 2022 will focus primarily on the relationships of the Pisces in relationship and the negative forces directed at your zodiac sign. In January, every Pisces is afraid of rejecting the others, so the relationship with Pisces' partner is more complicated for you. Pisces is afraid to move forward, especially if Pisces is in a long-term partnership, and you would like to seal this with marriage. Pisces is a Pisces who thinks about the appropriateness of this step at 2022 beginning, and the negative energies from the Retrograde planet Venus and Mercury bring many doubts and worries about the long-term partnership into the lives of Pisces. Fear of rejecting your partner may separate you from the deep understanding you had enjoyed with your partner in the past.
In March 2022, communication with Pisces' partner is complicated for you, warns accurate Horoscope Pisces 2022. You want to solve a lot of unresolved things that bother you in relation to your partner at once. Pisces is also bothered by things that are related to Pisces' relationship and the near past. A very negative aspect of March 2022 is the great jealousy that every Pisces will suffer. The month of March also indicates the breakups and breakdowns of relationships in which there are significant problems with physical violence, or a problem with alcohol dependence, or other addiction that deeply disrupts your interpersonal relationship with your partner. It is advisable to end these relations in March 2022.
The second Retrograde Mercury of 2022 makes you a childish person, especially in relation to your partnership and your marriage. You place too many demands on your partner, more than on yourself. You push him into things that your partner doesn't want, and so the second Retrograde Mercury can cause the breakup of a marriage that doesn't have a solid emotional basis. In June, every Pisces should be wary of deceptive feelings in a long-term relationship. Any mistrust or lie from the past will deeply affect your long-term relationship. It may be Retrograde Neptune from June 28th to December 4th, which will have the strongest effect at the beginning of the operation and overall Pisces 2022 Horoscope. Pisces now tend to suspect a partner of cheating or lying, which weakens mutual understanding and love.
Another negative aspect of Pisces' marriage and long-term relationship is Mercury's third Retrograde position, which will hit every Pisces from September 10th to October 2nd. Pisces horoscope 2022 recommends you to set aside enough time for your love, especially if your marriage has been going through problems, boredom or love without a spark lately. You should use this position of the third Retrograde Mercury in 2022 to complete homework, meditation and relaxation, and in your partner's arms. Sometimes a quiet hug of more than 1000 words, remember that, especially during the September Retrograde Mercury, advised by your annual Pisces Horoscope 2022.
The negative aspects of astrology will also affect those Pisces that are looking for love, ie those that are not in relationship in 2022. January 2022 tests the power of your energy. In January, many Pisces feel that they should drop all their barriers and succumb to the negative aspect of Retrograde Venus. This Venus brings your thoughts back to the past, and you feel that your love has not been repeated in the past. Pisces is afraid of rejection because in the past Pisces has felt how painful it is to reject someone you love or care about. Retrograde Venus absorbs your attention and redirects you to a passionate imagination or desire that Pisces will want to fulfill through an intimate relationship with someone you don't even know well. However, this negative face of Retrograde Venus will disappear in the month of February, which means better energy for every single Pisces.
The Retrograde movements of Mercury in 2022 mean more withdrawn behavior for Pisces, and a deepening of thoughts into the past. Some Pisces will have trouble asking if they should give their ex partner a chance again. Horoscope 2022 strongly warns you not to give this chance to someone who has hurt you physically or mentally deeply in the past. In November 2022, the Horoscope strongly warns you to be more careful about new relationships. Relationships can arise mainly in the workplace, but Pisces should consider whether these relationships are really suitable for you. Pisces can also break into a love triangle with your colleague who has no purest intentions towards you. Think carefully about your next steps, because the step next to it can mean a lot of complications for you in the future, points out the annual Pisces Horoscope 2022.
Family and friendly relationships will also be negatively affected in terms of aspects of astrology. From January 2022 start until February beginning, you feel Mercury in a Retrograde motion, and this Mercury means a lot of loneliness, a feeling of rejection, and isolation not only from your family, but also from your closest friends. Many Pisces will only rely on themselves, and the best way to overcome this negative introduction in 2022 is to return their thoughts to meditation and relaxation that are unrelated to the past. Pisces is karmically moving to the deepest levels of your being and consciousness, and you realize the important role your immediate family is playing in Pisces' life, according to Horoscope 2022, and in some cases your friends.
In friendly relationships, Pisces should pay particular attention to the actions of Pisces' closest friend born in Aries or Sagittarius zodiac signs. These two zodiac signs can use your goodness of heart, and the information you entrust to them. Aries and Sagittarius are the zodiac signs with which relations will be most complicated for Pisces in 2022. In the middle of 2022, Pisces sun sign will have to travel, whether for work, rest, or other responsibilities that may be related to the family. This journey can deprive you of much of the energy you wanted to direct elsewhere.
The months of November and December test several Pisces in terms of friendships. Some of Pisces' friends will show you their deepest feelings, and Pisces will balance between what is right and your passionate ideas. The end of the year 2022 will play an important role especially for those Pisces that are in relationship, because a certain friend will try you on the wrong paths in Pisces' life, points out the astrological Pisces Horoscope 2022.
When it comes to wedding planning or pregnancy planning during 2022, the horoscope describes the movement of Retrograde Mercury and Retrograde Venus as inappropriate terms for these great steps in life. If you are looking for a baby or a perfect wedding in 2022, you should read a comprehensive Horoscope where Horoscope 2022 Pisces list the exact terms that are appropriate or unsuitable for these great steps in life, which Pisces should plan in accordance with the most important transits of astrology that affect every Pisces.
Every Pisces is certainly interested in how the strong aspects of astrology affect your work, responsibilities and plans, but also your finances. In January 2022, Pisces is looking for more energy in Pisces' life. You feel exhausted and your work no longer motivates you. These negative feelings are mainly due to the Retrograde Mercury, which settles in the 12th and later in the 11th house of astrology, and robs you of a considerable amount of energy. It is therefore not very likely for Pisces to advance their careers during January 2022.
The 2022 Pisces horoscope alerts you to the period from May 10th to June 2022 beginning. At these times, every Pisces must pay enormous attention to dependencies in life. Any dependence in this period, according to the fortune teller, can cost you a place in Pisces' work, and a good reputation that Pisces has gradually built up. Under difficult working conditions, which will now occur, Pisces can do it itself. It is very important that during this period you eliminate any addiction from your life that can harm you at work, strongly warns your annual Horoscope.
In September 2022, Pisces is slightly troubled by deteriorating interpersonal relationships, especially when it comes to collegial relationships and relationships with Pisces' family. It is now more complicated for you to focus on completing important tasks, and on progress in work or study. Pisces will overcome these negative transits, which Pisces will feel in September 2022, only by full concentration and hard work, or by building resilience in Pisces' psyche. In terms of finances, Pisces should also be prepared for expenditure related to the spoilage of electronics or means of transport. Finances may be due to the operation of the Retrograde Mercury in 2022 as a swing.
At the beginning of the year Pisces will feel a lack, later prosperity, later again a lack and worries about finances, but at 2022 end it will give you full security in Pisces' finances, which Pisces will no longer have to worry about. Pisces can handle the negative aspects of finances if you think carefully about which way Pisces is spending your money.
Pisces Horoscope 2022 will also tell you if your health bothers you during the year, and why you should be most careful. In this section, Pisces Horoscope for 2022 will briefly discuss the most important terms that negatively affect your vitality and energy. In 2022, those Pisces whose work is related to driving or risky activities should be very careful.
In the periods of January, February and March 2022, injuries related to Pisces' work are likely. However, caution should be exercised by all Pisces that frequently drive or are planning to renovate in a home where you may also be injured. These 3 months of 2022 are risky from the point of Pisces 2022 Horoscope view of the astrological year 2022, so be careful with normal domestic activities. The year 2022 will adversely affect especially those Pisces that suffer from addiction in life. Pisces that have overcome alcohol or drug addiction in the past can expect an extremely mentally demanding year.
However, be aware that your loved ones help you in this journey, so turn to them with confidence. The fortune teller also warns you that neglecting a regular drinking regimen can result in more complicated health problems that you did not expect. Also, by the end of 2022, each Pisces should deal with acute problems that may arise, especially in connection with hereditary diseases. However, the 2022 Pisces horoscope generally predicts a fairly favorable 2022 year for Pisces health.
Daily Horoscope Pisces prepare you for the current day. Horoscope Pisces from the Fortune-Teller also means the possibility of daily divination for Pisces zodiac sign.
---
Horoscope Pisces 2022 - Love, Career, Health, Future...
Click the image you like and read more about year 2022...
Horoscope Pisces 2022: Overview - Positive and Negative aspects of 2022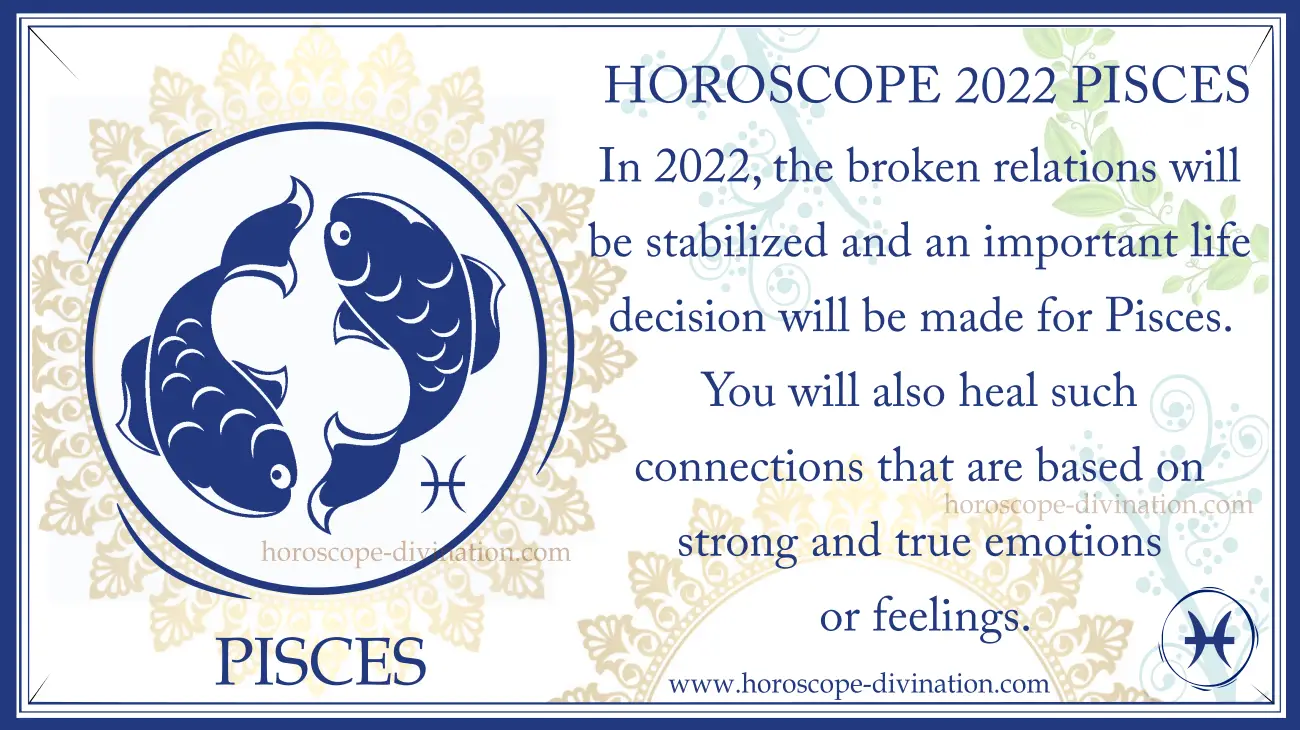 The introduction of 2022 brings Mercury, Venus, and the planet Uranus in regressive motion. The 3 regressive planets of astrology can mean certain negative vibrations, but on the other hand you have the opportunity to meditate and discover the deepest thoughts and needs of your soul... Introduction of Horoscope 2022 Pisces...
Horoscope Pisces 2022 from fortune-teller - Love & Relationships in 2022: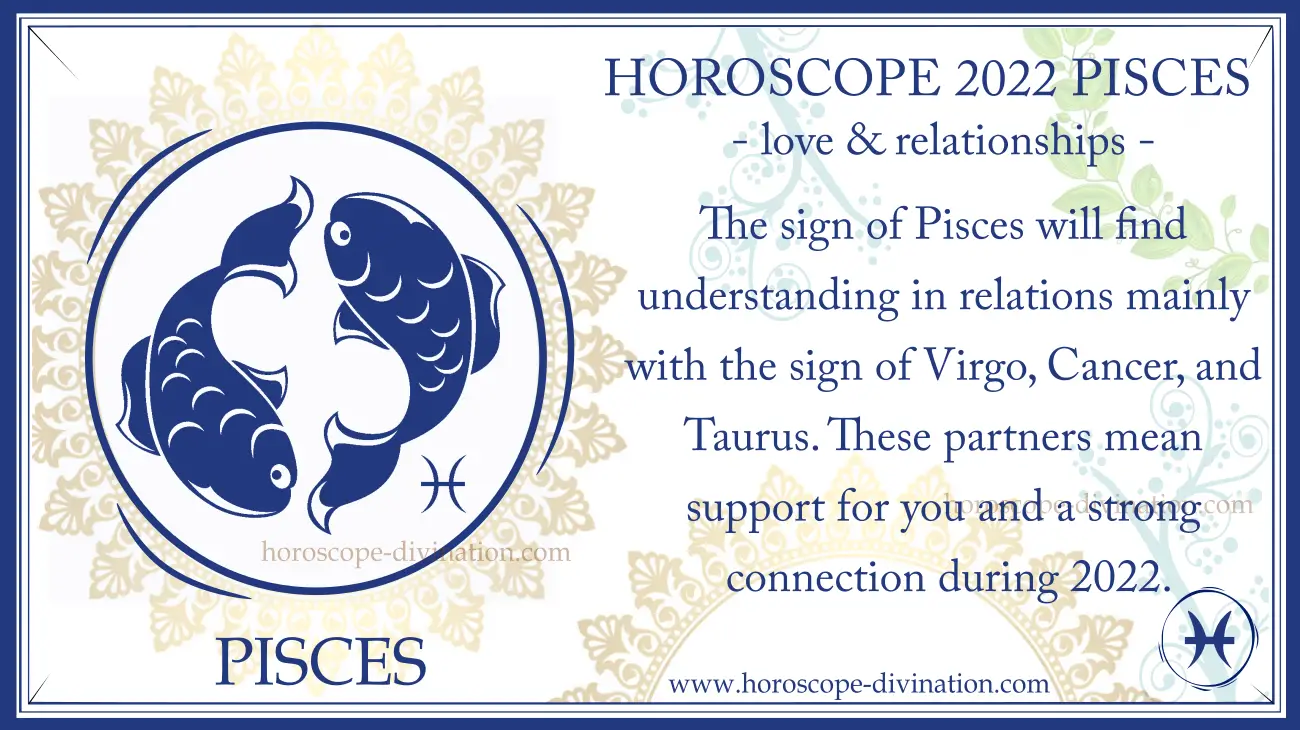 The 2022 Pisces horoscope alerts every single Pisces to the month of January 2022. This month you will be hit by the regressive Venus moving through the 11th house. Right now, it makes Pisces feel like they have to throw off their restraints to find a soul mate... Read more about Love Horoscope Pisces 2022...
Horoscope Pisces 2022 - Family, Friends, Marriage and Pregnancy in 2022: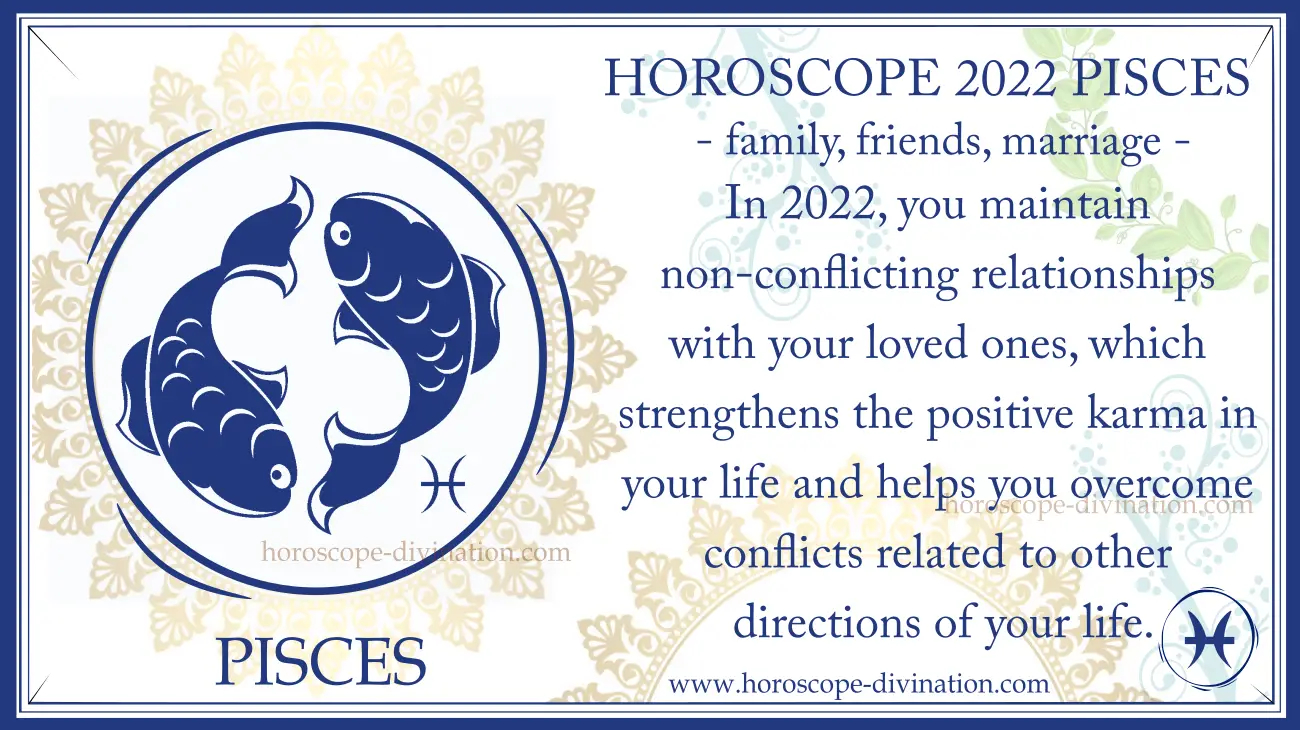 In January, regressive Mercury, operating from January 14th to February 1st, 2022, is an important astrological transit connected to family life. Mercury in a regressive motion is concentrated in the 12th and later in the 11th house... Read this yearly Horoscope Pisces 2022 - Family, Friends, Pregnancy and Marriage...
Horoscope 2022 Pisces - Career & Finances: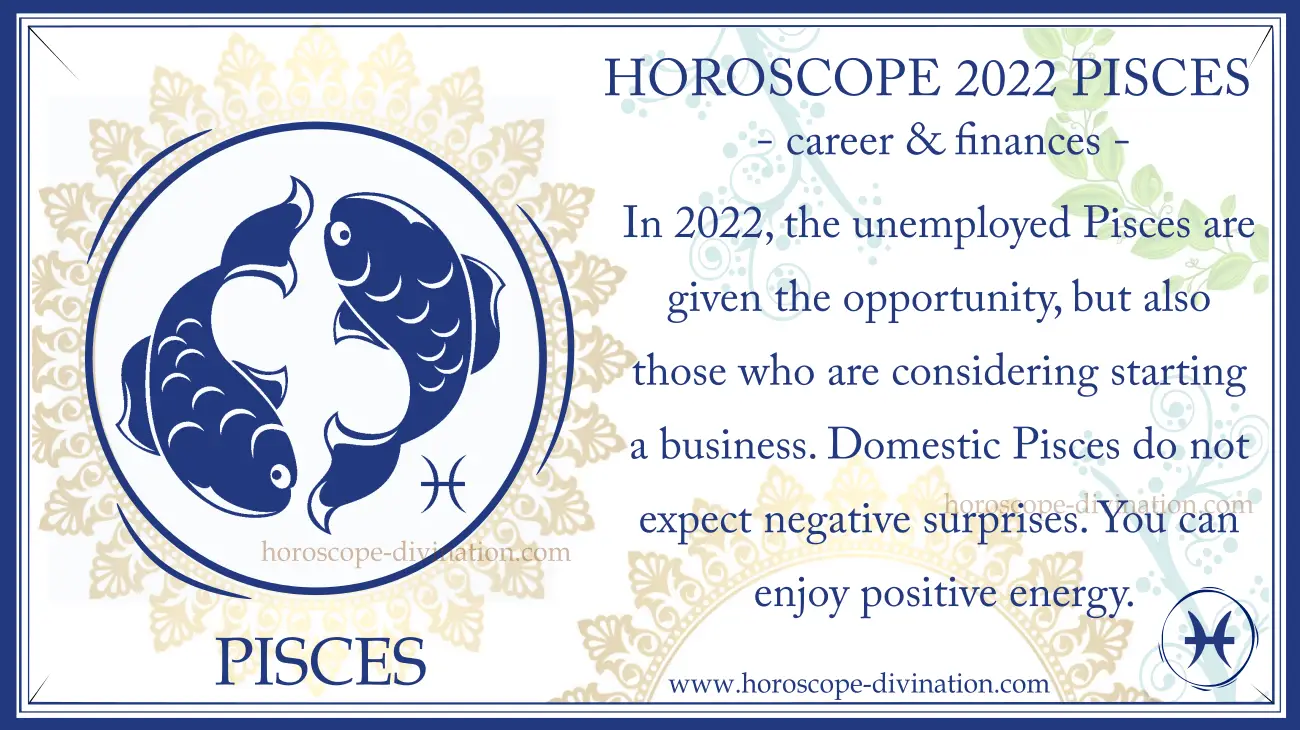 Let's look month after month at the energies that focus on your job responsibilities and career changes. In the first month of 2022 - the month of January, you mostly focus on your health, your friends, and your own inner energies... Complete annual Horoscope Pisces 2022 in career and finances...
Horoscope Pisces 2022 - Health & Vitality: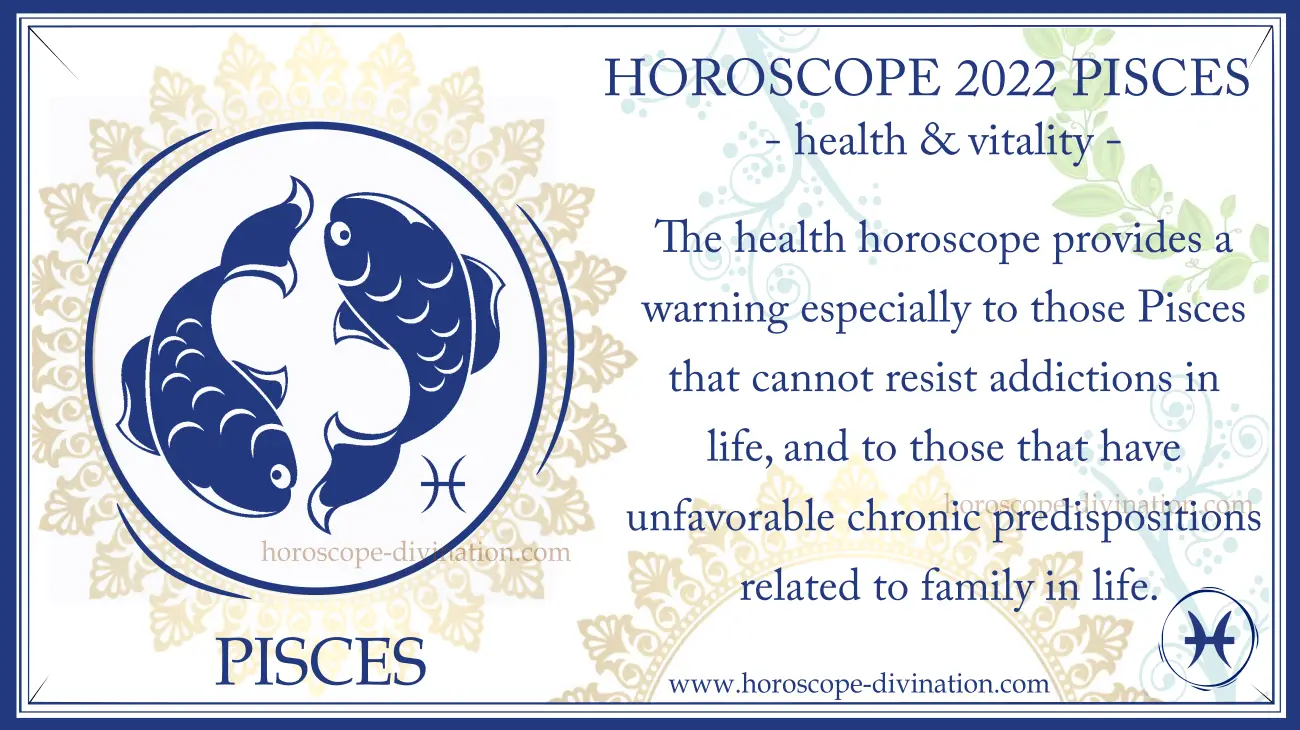 The classic health problems during 2022 will include problems with the nasal cavities, and with sore throats. Every Pisces should make sure that there is enough clothing, and you should omit cold drinks from your diet that do not benefit your health... Read yearly Horoscope 2022 of Health and Vitality for Pisces zodiac sign...
Retrograde movements of planets that affects Horoscope 2022 Pisces
Graph of Retrograde Planets 2022 - Their affect on Horoscope Pisces 2022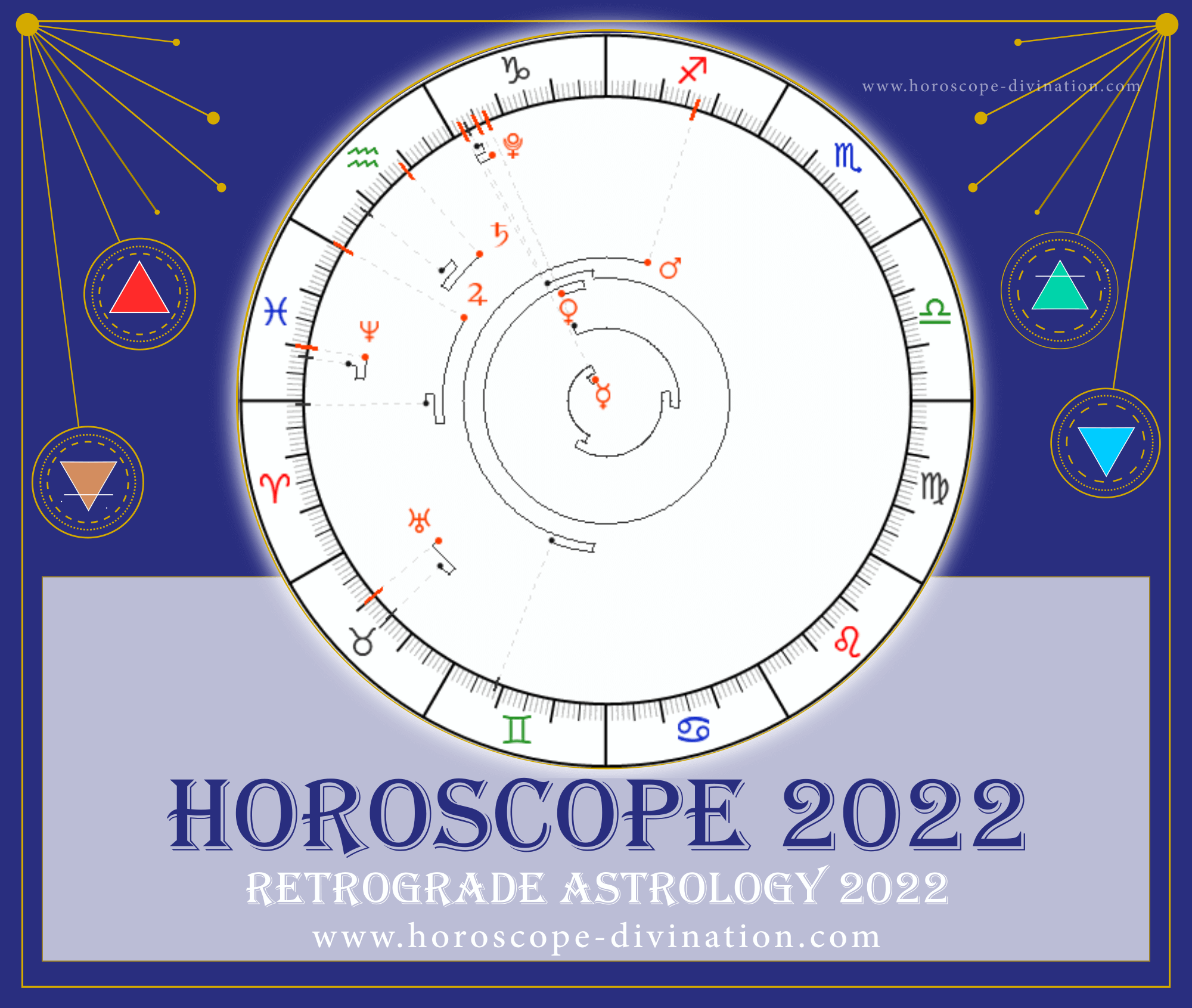 Click on the image above to read all the important information about the Retrograde Planets of 2022 and their impact on Horoscope Pisces 2022. Below you will find a list of terms important for your energy, vitality and for the overall Horoscope Pisces 2022.
Mercury Retrograde and Horoscope 2022 Pisces
14 January 2022 (in Aquarius 12 house) - 04 February (in Capricorn 11 house) (For 21 days, Horoscope Pisces 2022 is influenced by the first retrograde Mercury)
10 May 2022 (in Gemini 4 house) - 03 June (in Taurus 3 house) (Horoscope 2022 Pisces emphasize transit for 24 days)
10 September 2022 (in Libra - 8 house) - 02 October (in Scorpio 9 house) (Horoscope Pisces 2022 is affected by transit for 22 days)
29 December 2022 (in Capricorn 11 house) - end of year 2022 (Horoscope Pisces will hit this aspect for 3 days)
Venus Retrograde - Horoscope 2022 Pisces
01 January - 29 January 2022 (in Capricorn in 11 house) (Horoscope Pisces 2022 talks about this transit during 28 days)
Mars Retrograde - Horoscope Pisces 2022
30 October 2022 - to year 2023 (in Gemini - 4 house) (63 days are affected by Horoscope 2022 Pisces)
Retrograde Jupiter - Horoscope 2022 Pisces
28 July 2022 (Aries in 2 house) - 23 November (Pisces in 1 house) (Horoscope Pisces 2022 is affected for 118 days)
Retrograde Saturn 2022 - Horoscope Pisces 2022
04 June 2022 (Aquarius in 12 house) - 23 October 2022 (Aquarius in 12 house) (This transit affects Horoscope 2022 141 days)
Retrograde Uranus - Horoscope Pisces 2022:
01 January 2022 (Taurus in 3 house) - 18 January 2022 (Taurus in 3 house) (For 17 days, Uranus concentrates its energies on Horoscope Taurus 2022)
24 August (Taurus in 3 dome) - to the start of the year 2023 (The annual Horoscope 2022 Pisces is affected by the retrograde Uranus for 130 days)
Retrograde Neptune 2022 - Horoscope Pisces:
28 June 2022 (Pisces in 1 house) - 04 December (Pisces in 1 house) (the annual Horoscope Pisces 2022 is changed by transit for 159 days)
Pluto Retrograde - Horoscope Pisces 2022
29 April 2022 (Capricorn in 11 house) - 08 October 2022 (Capricorn in 11 house) (aspect affects Horoscope Pisces 2022 for 162 days)