Horoscope 2022 Aries
The fortune teller has prepared a prediction for Aries zodiac sign, which is celebrating its birthday between March the 21st and April the 19th. In the introduction we will discuss the basic characteristics and features of Aries. Subsequently, we will clarify the forecast in love, finance, health and career for 2022.
The personality of Aries in 2022 and yearly Horoscope
The sign of Aries is ruled by fire element, which it shares with two other zodiac signs - Leo and Sagittarius. If we look at the zodiac, we see that these signs are placed at an angle of 120° to each other. The fiery zodiac signs have certain characteristics in common. The fire inside them represents passionate energy, zeal, and a specific spark of life. However, Aries also takes on more negative qualities from the fiery element, and therefore he wants to be a leader in life, he is a dominant person with a choleric temperament. Aries zodiac sign with Libra and Leo achieves the greatest overall compatibility in love. The strong characteristics of every Aries are his courage, self-confidence, enthusiasm, passionate energy, optimistic approach to life and kind-hearted nature in marriage or in raising children. Both a man and a woman born in this sign will suffer great comfort in life, and a cozy home. The area that serves as a refuge for Aries after a hard day at work should always be clean and tidy. Aries loves physical challenges, and likes to live his life actively. He doesn't like boredom and repetitive days because he feels like life is slipping through his fingers. He seeks otherness and excitement from everyday life.
As the first sign of the zodiac, Aries also belongs to the basic signs. This fact gives the life of Aries a great determination and desire to apply in a career and in private life. With the entry of the sun into Aries zodiac sign, a certain start begins not only for Aries, but also for other signs of the zodiac, because with the entry of the Sun into Aries begins their rebirth. From this point of view, it is clear that the entry of the Sun into Aries will mark the beginning of something new, and the strengthening of purposefulness also in 2022. Specifically in Aries, goals will be achieved literally through fire, i.e. relentlessly, zealously, quickly and actively.
The energetic and turbulent Aries seeks a lot of dynamism in life, and therefore makes good friendships with the other fiery zodiac signs. Since Aries is one of the most active signs, you must forgive him for sometimes acting like that at first. He works so hard that sometimes he even forgets about food because he wants to achieve high social status or provide enough for his family members. With Aries you have to get used to speed and dynamism. He is not afraid of hard work and can use his talent very well.
The ruler of Aries is the red planet Mars, and its fateful color therefore becomes red. Planet Mars represents the animal energy in the Aries' soul, which it sometimes has to manifest on the outside. This planet manifests itself in the expression of energy, passion, but also in the sexual direction. Aries is a passionate person who seeks not only mental but also physical stimuli. However, Mars helps Aries find the basics of his journey and perfectly warns him of the wrong direction of life. Mars is a very sensual planet, and controls not only the personality of the Aries, but its karmic radiance.
This zodiac sign, which represents pure energy, can rely not only on its mind in life, but also on its heart and instincts, which are very strong thanks to the planet Mars. Mars also reminds the Aries of important facts about their lifelong health. Mars is associated not only with color, but also with plants. Every Aries should use garlic, onion and chilli in the diet to strengthen its health. To strengthen vitality and energy in 2022, it is recommended for Aries to eat nettle broth, which will strengthen their immune system and help them overcome any flu or a cold. However, we will talk more about health in 2022 later.
In Aries, Mars represents the daily ruler - he acts directly and boldly. That is why the sign is not afraid to compete with the masculine energy and be firm in its decisions. The male signs of the zodiac, to which Aries also belongs, want to set the direction in life and decide on events. Aries is the dominant man who combines the energy of Mars and the masculine energy into one whole, and with this are his expressions of love, his career and his life journey.
The year 2022 will also be influenced by the basic characteristics and characteristics of the Aries sign. For Aries, this year seems to be focused on work, caring for the family, finances, but also making new friends. In 2022, Aries will be very compatible with the signs Sagittarius, Leo, Aquarius, Gemini and Libra. These zodiac signs form a suitable relationships not only in love. Even friendships or collaborations will be successful in these combinations. Aries will understand these signs in all directions. In 2022, you will have more opportunities to meet new friends and strengthen existing relationships.
Horoscope 2022 Aries from the POSITIVE point of view
For Aries, 2022 will be a year focused mainly on work and finance. Emotions will be more in the level of self-care and care for children or family members. January is an opportunity for personal self-development, especially for March Aries. Thanks to the influence of the ruling planet in the 9th house at year beginning, you will have the opportunity to know the soul of your loved one. Although intimacy is not strongly represented, it brings the beginning of the year to mental compatibility with a partner, which will significantly strengthen existing relationships. Children in your family will also enjoy your attention more.
The month of February will belong to domestic well-being and no tense situations are expected in family relationships. You will get the opportunity to build your own intimacy and enhance the joy of the loved one's touches. You will strengthen relationships with your partner, which may have been tense at beginning of 2022. Especially in the middle of February, your joy of intimacy will be fully manifested. Although the Retrograde Mercury robs Aries in several terms of the possibility of peaceful communication, on the other hand, it will provide him with opportunities for his own inner self-development.
Thus, Aries can live this period in silence with a focus on himself. An ideal opportunity for meditation and to organize thoughts. Some times of the year will bring sexual disorder into your intimate life, but on the other hand it is positive news because you will penetrate into relationships through other values - understanding, communication, good food, common interests.…
The year 2022 thus makes the marriage of the Aries more interesting, and it makes single Aries focus on different values in relationship than before. Mars will not be as passionate as in previous years, so you can look forward to a calmer and more balanced love. August brings courage in love and in relationships with a lot of negative energy. If Aries is stuck in a violent and unbalanced relationship, the month of August brings enough weight to solve this problem. Mars will move to Gemini, where women in particular will have the opportunity to share their problems with the authorities and settle this painful relationship. The family will stand firm with you, you just have to decide.
This month is perfect for that, according to the astrological movements affecting the Aries. Retrograde Pluto brings more than 5 months for the Aries to deepen inside and teach himself to work with his feelings. In several respects, this means a positive impact for Aries, although this is not a good time to move forward quickly. This gives you time to calm your intense feelings and emotions and return to rethinking your decisions at the start of 2022. The month of March brings creative ideas and possibilities of perhaps the fastest progress in work in 2022. Even those whose job is to take care of the home have the opportunity to perfectly clean the energy of the home and improve the overall atmosphere.
Prepare a background that will be a joy to enter and hide whenever you are hit by negative energy from the outside environment. Already the 3rd month of the year - March, brings ideal opportunities for growth for all Aries. Pluto's energy will develop mainly in the working area of Aries and will direct their careers to new spheres. Even the unemployed Aries have more than 5 months of opportunity to find a job. For Aries, Pluto's transformation also means choosing a new direction in life, but carefully and slowly. The horoscope also tells positive news to those Aries who are trying to expand their family with a new offspring or are looking for their first baby.
The year 2022 will bring up to 3 opportunities and months that will be ideal for this fulfillment of your dream. For the singles, the year 2022 will be a challenge for them to be able to detach themselves from their own fear, to step out of established patterns and whether they will gain the courage for new experiences. Several months of the year will bring opportunities to meet new people, to make contacts. Family life will flourish especially in the summer months.
The end of the year is more unstable from the family's point of view, although it gives an opportunity to develop one's own personality. Aries, who take care of their health, will be rewarded. You can read more about health at the end of the horoscope, where you will also find prediction of positive and negative days of 2022 for Aries.
Accurate Monthly Horoscope Aries tells you more about Aries future in love, health, career, money or relationships. Horoscope 2022 Aries is also connected with a monthly prophecy. Read all the important horoscopes from the fortune teller for the year 2022.
Yearly Horoscope 2022 Aries from the NEGATIVE point of view
In January, the April Aries will be hit by the negative effects of the Retrograde Venus, which will play with stability in the relationship. These Aries can thus expect a weakening of the intimate connection with the partner and problems in the emotional direction. At beginning 2022, especially those Aries whose relationship is unstable and who are considering divorce or breakup should be careful. From the point of view of astrology, this is not a good idea, especially in the month of January, when this step would lead Aries to his future misfortune. From the point of view of work, the Retrograde Venus is also responsible for a good reputation among employees. Concentrate not to interfere in any way in the personal lives of your co-workers and not to gossip about others. It could be ugly vengeance.
The start of year 2022 will also present the first Retrograde movement of Mercury, which will affect the possibilities of communication in a relationship, but also at work. This disrupts especially the area of love of the assigned Aries, who will focus more on their own self-development and forget about intimacy in the relationship. Retrograde Mercury is an inappropriate time to address any important issues, and signing important treaties is not recommended. It is also not a suitable period for singles or unemployed. It is not appropriate to start a new relationship or a new job. Aries who plans to travel during this movement of Mercury should be especially careful - in finances and in health…
For more information on when Retrograde planets are affected, see the graph of Retrograde movements. The month of March highlights the tension in the relationship over finances. You need to try to reassure your partners of a negative attitude towards spending your finances. The second half of March may thus be weakened in the area of relations. Your partner may even complain about your emotional coldness. Even for singles, the first quarter is not ideal for new relationships. From the month of July, the love of those in relationship will be tested, when a third person can appear, hoping for the breakdown of this relationship, or at least for its disruption. Those who have doubts in the relationship or feel overlooked by their partner under the influence of a heavy burden will tend to run away from their obligations.
However, the astrological horoscope for Aries zodiac sign in 2022 does not recommend a breakup to the Aries. That is, if Aries is not in an aggressive relationship. The reversing pluto from April 29th to October 8th, stabilizes and slows down the life of the Aries and focuses his attention mainly on his own transformation. Aries enters the depths of his soul and thinks about unfinished duties. This is not a good time for marriage, but rather to identify with oneself. You will enjoy the work, but relationships with co-workers will not be in harmony. It can also cause you to focus less on the actual progress of your career, and you may fall into depression or grief that you may want to balance with alcohol, or otherwise fight these feelings. So from February to March, beware of inappropriate solutions to your negative moods. Try to rest more instead. Stir up your mind and relax actively. This line of thinking can help you overcome the New Year's depression in the first quarter.
Health will not be a gift this year, you will have to earn it with your honest approach to physical condition and your mental health. Bad habits will bother you and you will look for ways to motivate yourself to overcome any addiction you are well aware of. Women in Aries zodiac sign can drown their grief in unhealthy food, which is reflected not only in physical appearance, but later also on the psyche. In February and March, remember the warnings concerning your health, which will not be in such harmony as in the first month of the year. For some Aries, a more negative outlook by 2022 may be the need to work with one's inner self and the strong need to build a balanced psyche and harmonious family relationships. There is a period of forgiveness, even if you feel a blockage at start of 2022 that will not allow you to open your heart and accept life as it is.
Summer is often an opportunity for Aries to strengthen relationships at various levels. The summer of 2022 will not be an exception, although there are some warnings for those who decided to marry in 2022. From a financial point of view, you will also experience more demanding periods and you will struggle with an extreme passion for shopping, which will have to be tamed. The family budget will not prosper either, but finances will seem stable, with the exception of January and start of 2023. You will not be able to afford large investments, but this year is still not ideal for such steps from a global perspective. In 2022, your work will come into some conflict with co-workers (if you work in a group).
In business, you need to remember important dates when you have to meet your tax obligations and other dates when you need to avoid signing important projects, contracts and avoid purchases. Progress will be hampered by the influence of the reversing Mercury on several dates of the year, which will more or less affect the Aries sign. You can find out more about the Retrograde movements that await you in the tables and descriptions of the important aspects that are part of this prophecy. Health will be balanced in 2022 with some warnings for both men and women. Until start of 2022, however, the health horoscope brings a very big warning for Aries, who have been neglecting their health and healthy lifestyle for a long time.
Daily Horoscope Aries prepare you for the current day. Horoscope 2022 from the Fortune-Teller also means the possibility of daily divination for Aries zodiac sign.
Listen to your personal Horoscope Aries 2022
---
Horoscope 2022 Aries - Love, Career, Health, Future...
Click the image you like and read more about year 2022...
Horoscope Aries 2022: Overview - Positive and Negative aspects of 2022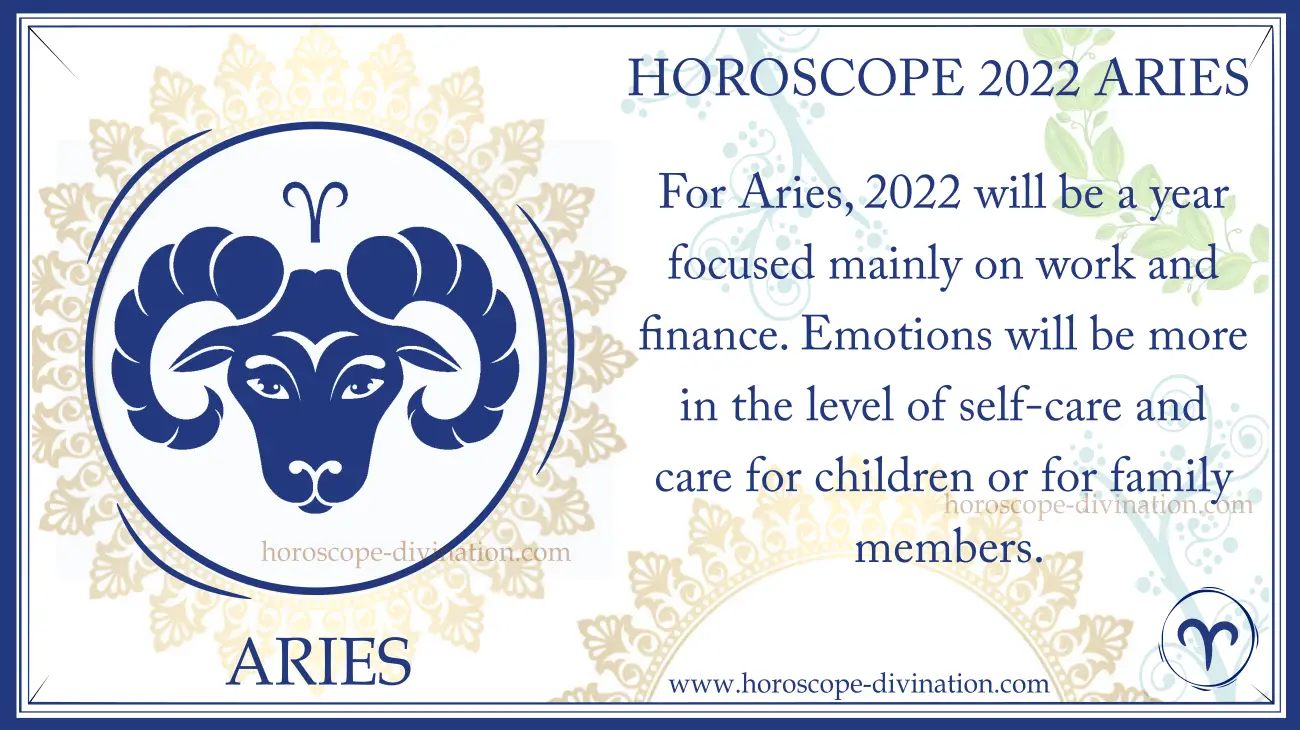 In January, the April Aries will be hit by the negative effects of the Retrograde Venus, which will play with stability in the relationship. These Aries can thus expect a weakening of the intimate connection with the partner and problems in the emotional direction. Introduction of Horoscope 2022 Aries...
Horoscope Aries 2022 from fortune-teller - Love & Relationships in 2022: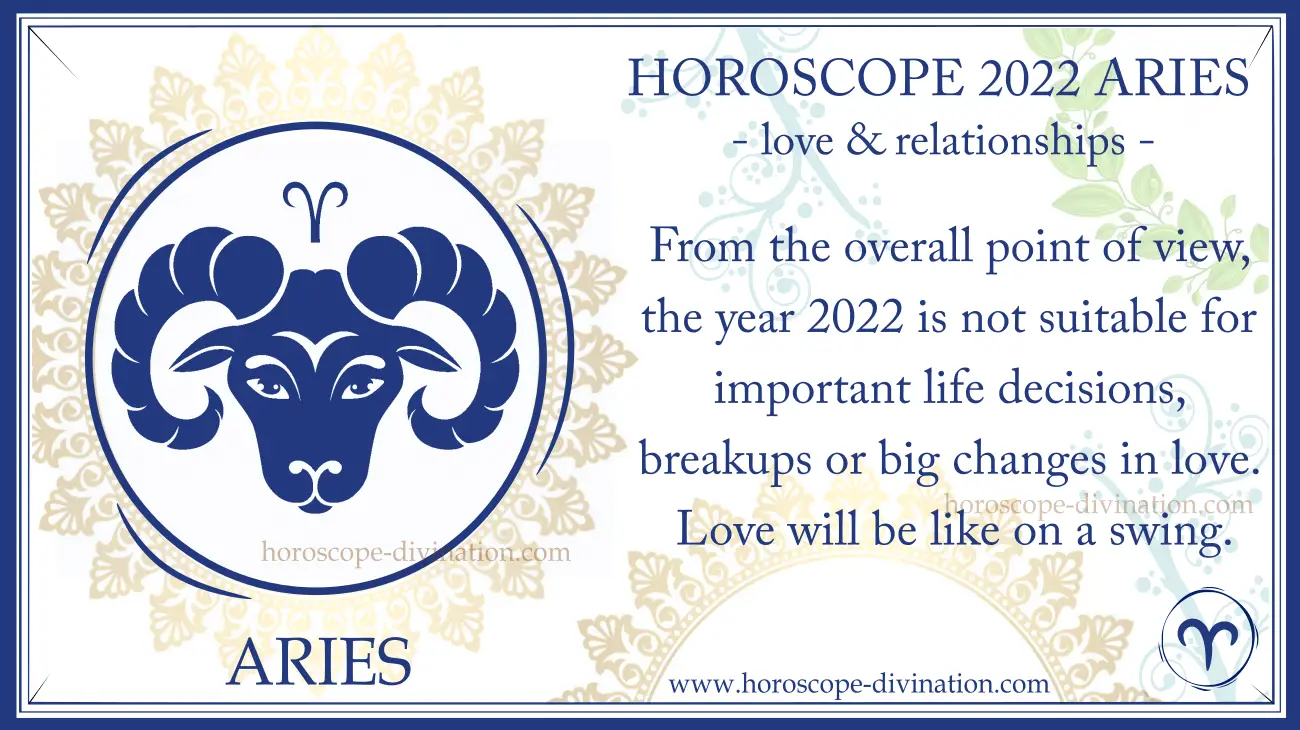 At beginning 2022, Aries feels the influence of the Retrograde Venus, which passes through the Capricorn in the 10th house from January the 1st to January the 29th 2022. Since the planet Venus is the opposite of the ruling planet of Aries - Mars, Aries feels these energies only faintly. Read more about Love Horoscope 2022 Aries...
Horoscope 2022 Aries - Family, Friends, Marriage and Pregnancy in 2022: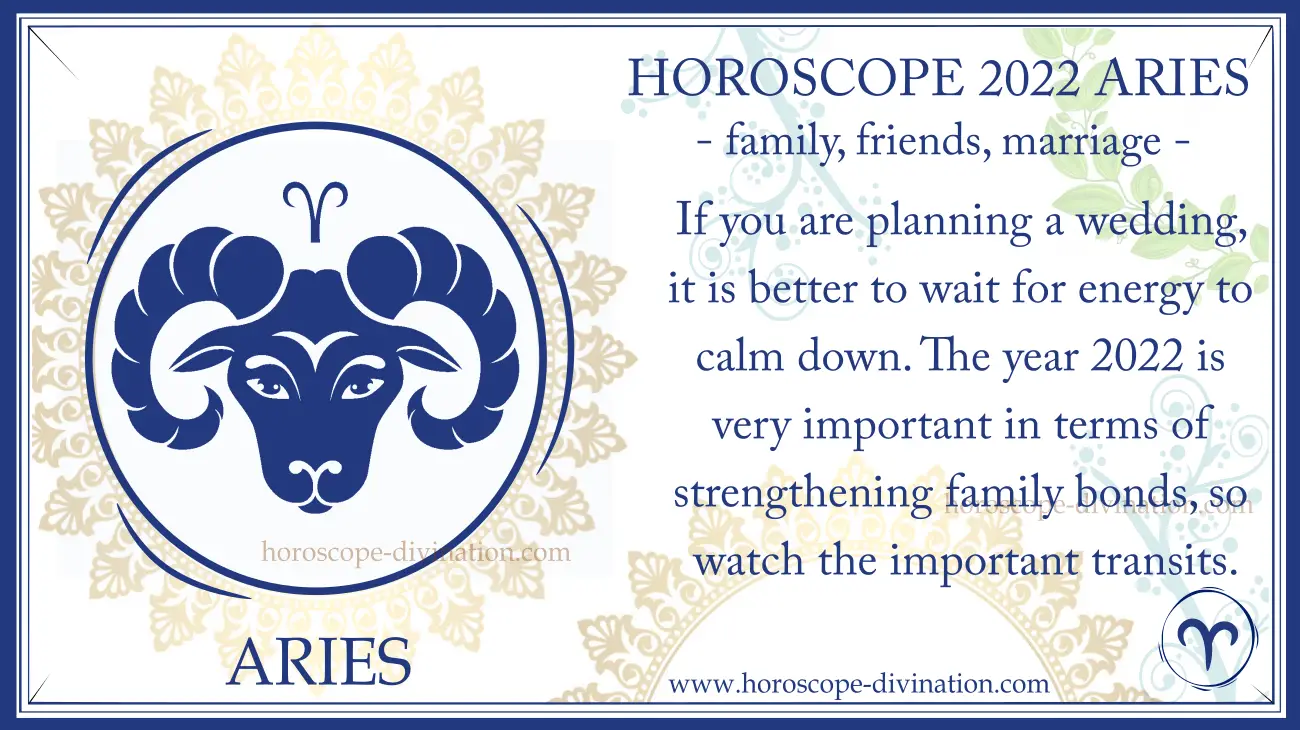 Taking care of others will be an important point throughout the year if Aries wants to be satisfied during the year. On January the 9th, the first lunar quarter is located in the first house of Aries, which means opportunities to strengthen family relationships and strengthen ties with children. Read this yearly Horoscope Aries 2022 - Family, Friends, Pregnancy and Marriage...
Horoscope 2022 Aries - Career & Finances: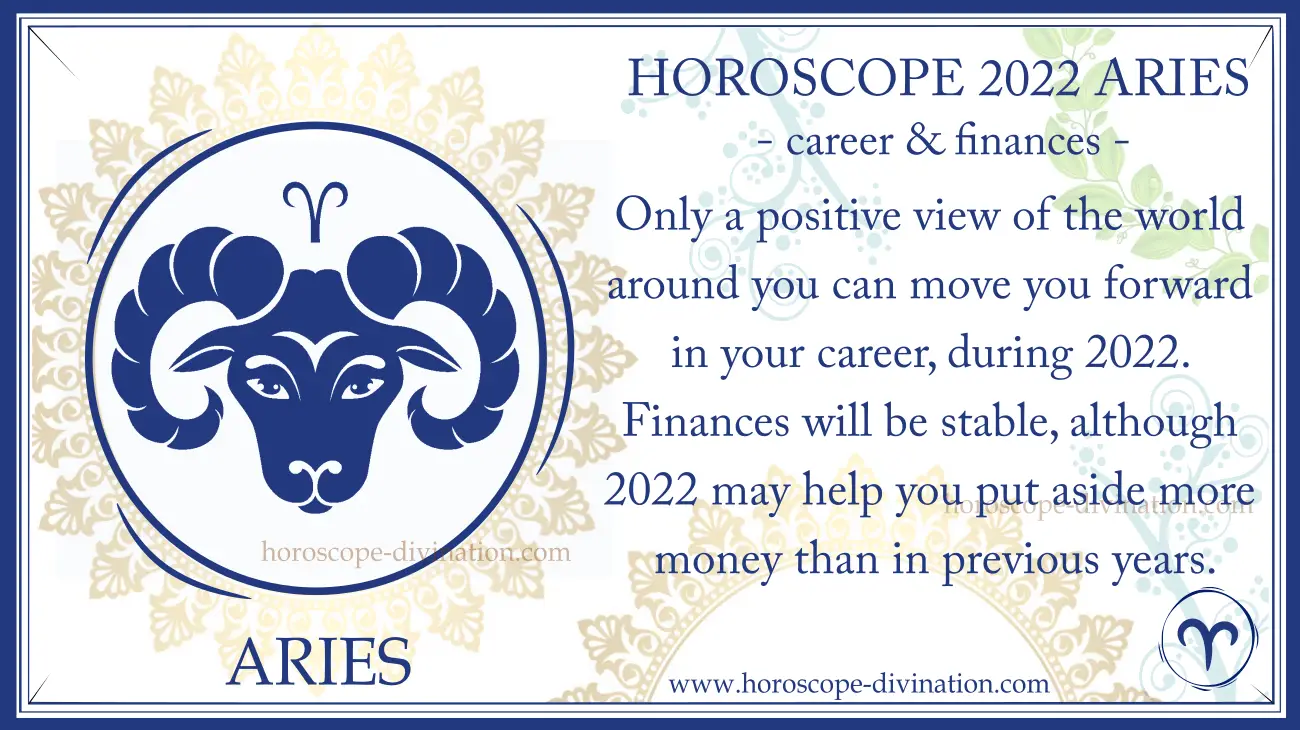 Already at the beginning of the year, you may feel the desire to meet your work goals faster. This strong desire is evoked by the Retrograde Venus in the 10th house, which, however, is in Aries exile and therefore will not significantly affect this area. Complete annual Horoscope 2022 Aries in career and finances...
Horoscope Aries 2022 - Health & Vitality: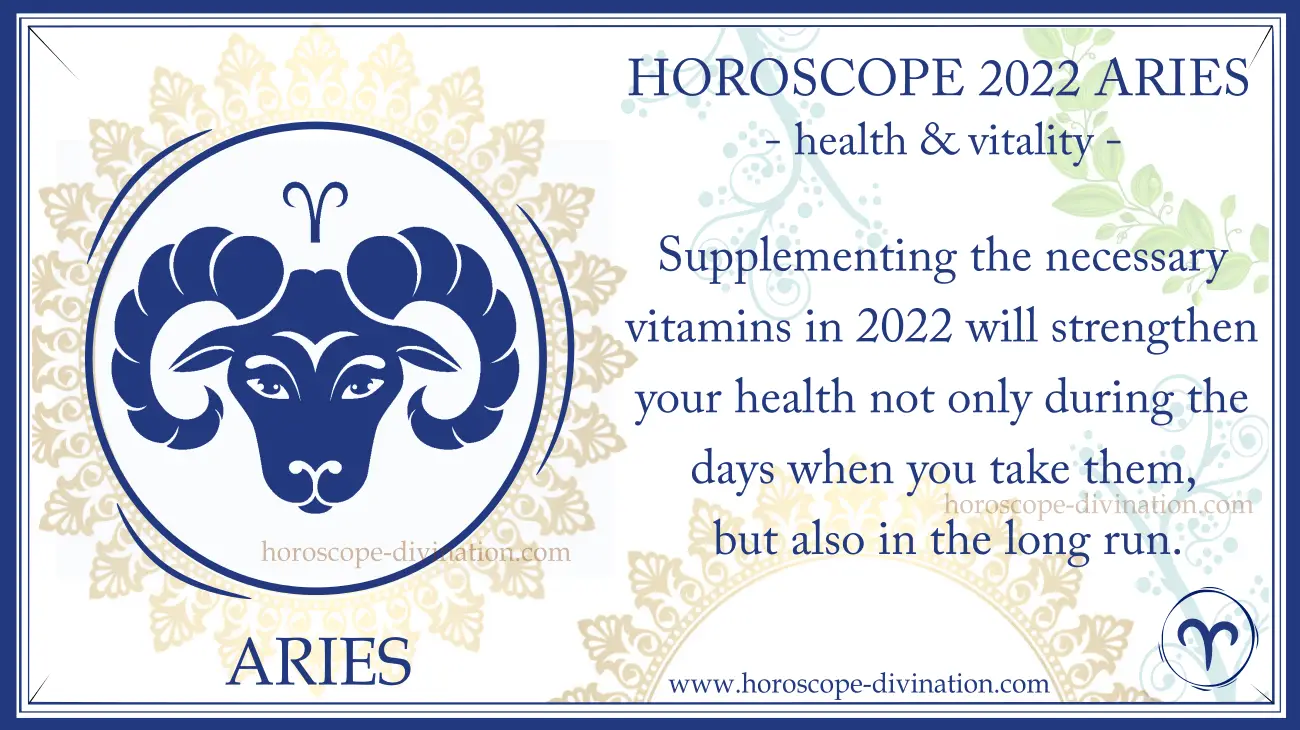 At the very beginning of the year, there are no warnings that could cause Aries' health problems. On the contrary, women can look forward to a great period around January the 10th to conceive a child, when the Moon will be positively affected by the energy of Aries. Read yearly Horoscope of Health and Vitality for Aries zodiac sign...
Retrograde movements of planets that affects Horoscope 2022 Aries
Graph of Retrograde Planets 2022 - Their affect on Horoscope 2022 Aries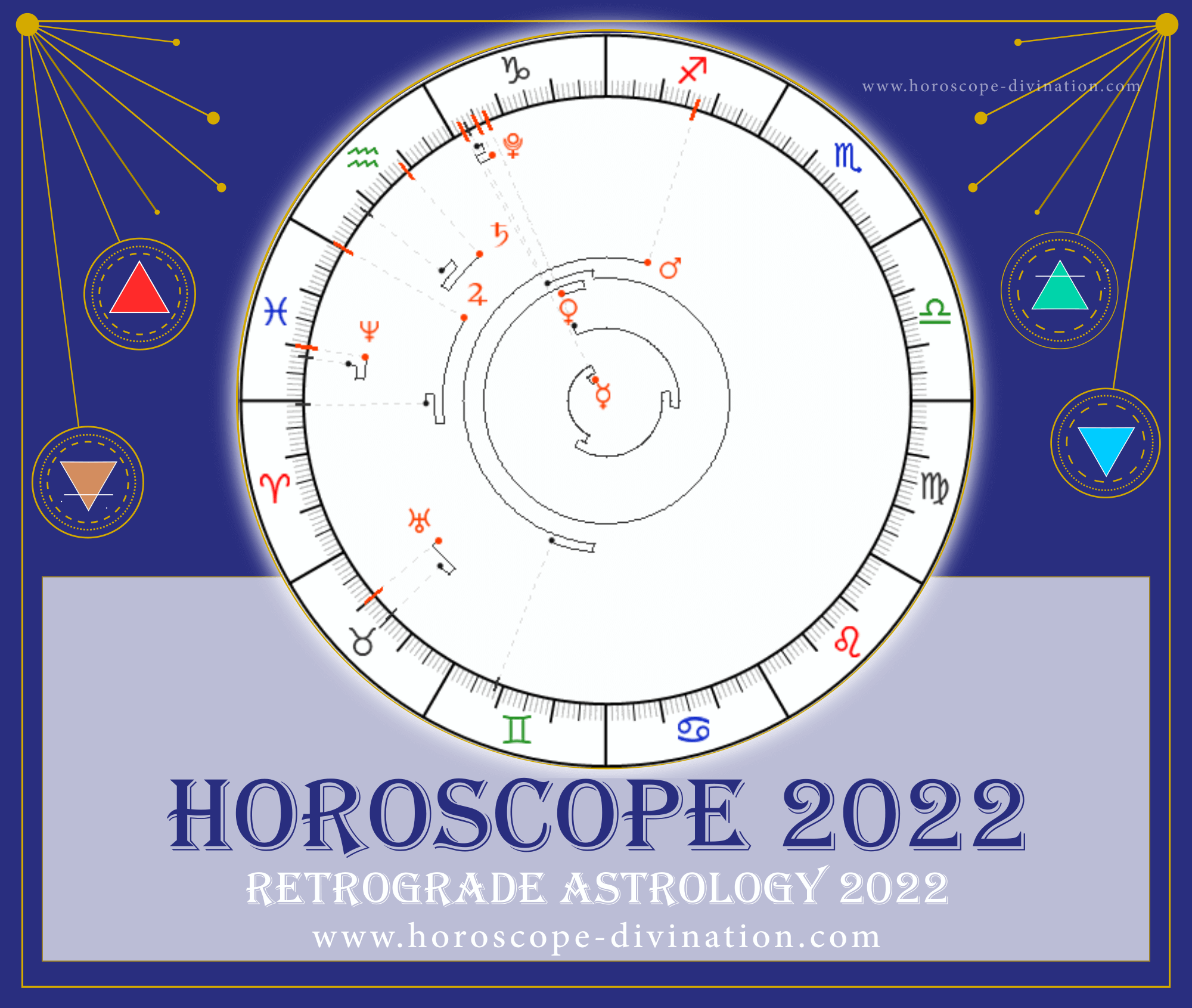 Click on the image above to read all the important information about the Retrograde Planets of 2022 and their impact on Horoscope 2022 Aries. Below you will find a list of terms important for your energy, vitality and for the overall Horoscope 2022 Aries.
Mercury Retrograde and Horoscope 2022 Aries
14 January 2022 (in Aquarius 11 house) - 04 February (in Capricorn 10 house) (For 21 days, Horoscope Aries 2022 is influenced by the first retrograde Mercury)
10 May 2022 (in Gemini 3 house) - 03 June (in Taurus 2 house) (Horoscope 2022 Aries is affected for 24 days)
10 September 2022 (in libra - 7 house) - 02 October (in Scorpio 8 house) (Horoscope Aries 2022 is affected by transit for 22 days)
29 December 2022 (in Capricorn 10 house) - end of year 2022 (Horoscope Aries will hit this aspect for 3 days)
Venus Retrograde - Horoscope 2022 Aries
01 January - 29 January 2022 (in Capricorn in 10 house) (Horoscope Aries 2022 is affected 28 days)
Mars Retrograde - Horoscope 2022 Aries
30 October 2022 - to year 2023 (in Gemini - 3 house) (63 days are affected by Horoscope 2022 Aries)
Retrograde Jupiter - Horoscope 2022 Aries
28 July 2022 (Aries in 1 house) - 23 November (Pisces in 12 house) (Horoscope 2022 Aries is affected for 118 days)
Retrograde Saturn 2022 - Horoscope Aries 2022
04 June 2022 (Aquarius in 11 house) - 23 October 2022 (Aquarius in 11 house) (This transit affects Horoscope 2022 141 days)
Retrograde Uranus - Horoscope 2022 Aries:
01 January 2022 (Taurus in 2 house) - 18 January 2022 (Taurus in 2 house) (For 17 days, Uranus concentrates its energies on Horoscope Aries 2022)
24 August (Taurus in 2 dome) - to the start of the year 2023 (The annual Horoscope 2022 Aries is affected by the retrograde Uranus for 130 days)
Retrograde Neptune 2022 - Horoscope Aries:
28 June 2022 (Pisces in 12 house) - 04 December (Pisces in 12 house) (the annual Horoscope Aries 2022 is affected by transit for 159 days)
Pluto Retrograde - Horoscope Aries 2022
29 April 2022 (Capricorn in 10 house) - 08 October 2022 (Capricorn in 10 house) (aspect affects Horoscope Aries 2022 for 162 days)