Horoscope Sagittarius 2022
Dear Sagittarius, the soothsayer prepared the Horoscope for 2022 for the health, love, finances and careers of Sagittarius throughout the year. The annual Sagittarius Horoscope 2022 will reveal the near future and whether Sagittarius can expect extraordinary surprises during the year or you should be more careful than before. The Astrological Horoscope describes not only the movements of Sagitttarius' ruling planet, but also other astrological actions that will affect your energies, astrological houses, progress and vitality. Sagittarius Horoscope 2022 is free, so discover the secrets of Sagitttarius' future with us. The individual Horoscopes were prepared by a soothsayer and astrologer with years of experience who know every sign of the zodiac perfectly.
The personality of Sagittarius in 2022 and yearly Horoscope
Sagittarius, born from November 22nd to December 21st, is a very generous man. He was born with the element fire, which he also shares with other signs of the zodiac - with the sign of Aries, and with the sign of Leo. The fiery signs of the zodiac have certain characteristics in common. When we talk about this element, which is sometimes dangerous, but sometimes very necessary fire, we perceive that the element represents energy itself, heat, but on the other hand also a destructive force and an unstoppable element. Every fiery sign of the zodiac is endowed with strengths, and thanks to the element of fire, it is a great energy, diligence and commitment. The last fiery zodiac sign, your Sagittarius sign, transmits the positive properties of this element into Sagitttarius' life in the greatest amount.
The fiery signs of the zodiac have good intentions for most of life, which blend with the strong energy in life. The male energy is very noticeable in Sagittarius, but it can happen that Sagittarius sometimes neglects his female principles. The biggest challenge for any owner of a fire element is to keep peace, balance and constructive passion in life. These people, as well as the sign of Sagittarius, have a huge need to move forward, and achieve their success even at the cost of more difficult overcoming obstacles. Sagittarius often lacks the excitement in life. Sagittarius longs to experience new, unknown. He has a huge relationship with the outside world, and he is interested in everything new. He hates routine, and tries to move through life quickly and easily, because every Sagittarius has an excellent sense of humor.
The ruling planet of Sagittarius is the planet Jupiter. This planet is also shared by Sagittarius with the sign of Pisces, of which Jupiter is also the ruler. Jupiter is considered a very positive planet in terms of astrology. Together with Venus, they form a pair of beneficial planets, along with the future impact on each person. Of course, it also depends on what astrological position this planet is currently in. We will talk more about the influence of Jupiter on the sign of Sagittarius in the comprehensive Horoscope for 2022 for the sign of Sagittarius. But what is the significance of Jupiter in the life of Sagittarius? This planet brings hope, perspective, faith and determination. Even in the weakest positions, he can defeat the influence of negative planets, which is a huge advantage of Jupiter, who rules Sagittarius and the sign of Pisces.
Jupiter is named after the Roman king of all gods and reminds us of our own abilities and possibilities to defeat the competition and move forward. It brings prosperity to the Sagittarius's life and enriches life in whatever direction Sagittarius choose to walk. He is such a great protector, Sagittarius' best friend, which means not only protection, but also a brighter future. The planet Jupiter has a number of positive qualities, and is generally considered the protector of the world, and brings good luck. The beneficial nature of the planet Jupiter sometimes wants to see problematic things through pink glasses, which can frustrate the realistic view of the people around.
Sagittarius sometimes struggles with looking at the people around him too optimistically, and does not take into account their negative characteristics. An incorrectly constructed aspect that is disruptive from the point of view of the planet Jupiter can mean a great challenge for Sagittarius, because Sagittarius feels the transition of his ruler very intensely. In a positive position, however, it brings wisdom, intelligence and faith. The harmonious aspects of Jupiter mean progress in the future, optimism and happiness. Several transits during 2022 related to Jupiter are positive. Therefore, the year 2022 will be to some extent focused on this planet of happiness, which is the ruler of Sagitttarius' zodiac sign, together with the sign of Pisces.
Sagittarius Horoscope 2022 also deals with what the love of Sagittarius will look like during the year. Let's see if Sagittarius can expect extraordinary surprises related to the relationship. The fortune teller also focuses on the Horoscope for singles, to which she will present the most suitable dates for discovering new contacts or one's own mental value. In any case, the highest overall compatibility in love will be achieved by Sagittarius in 2022 with the signs of Gemini and Aries. Sagittarius will understand these signs in trust, in love, in emotions ... But Sagittarius will have much more in common. Your interests will be shared, and these two signs of the zodiac are the most ideal partner even for single Sagittarius, who in 2022 will look for opportunities for love and a change in life status. However, single Sagittarius will find love with other signs of the zodiac.
Sagittarius will also understand the sign of Leo, Libra, and perhaps the greatest compatibility in terms of work and interpersonal relationships Sagittarius feels with the sign of Aquarius, and with the water sign of the zodiac Cancer. These two signs of the zodiac are an excellent companion for your business, for advancing in the direction of work. From the point of view of friendly relations, the fortune teller predicts that in 2022 every Sagittarius should pay attention to the signs of Pisces with which the relationship can be very complicated. Such compatibility in love, working relationships, or friendship awaits every Sagittarius during 2022, predicts the Great Horoscope. Sagittarius can learn more about compatibility, positives and negatives in your emotional life in the following sections.
As is already known, an energetic Sagittarius is a sign of a zodiac that hates routine and avoids any nude in life. He likes to travel, and discover new places, tastes, smells ... He seeks inspiration in the world around him, not only in his own interior. He knows and transfers all new knowledge into his life in a positive direction. He is very optimistic about the world around him. He is an idealistic man, with a great sense of humor, who is popular in society. The weak point of Sagittarius in 2022 will be the failure to keep the promises they make to others, especially in connection with Sagitttarius' family and partnerships. Beware of unfulfilled promises at work, which during certain negative transits of astrology can also become a place or a good reputation.
In 2022, Sagittarius will enjoy freedom and any movement in the outdoor environment, where Sagittarius can enjoy nature and the closeness of Sagitttarius' loved ones. To achieve yours, Sagittarius will do everything during the year 2022, but watch out for tricks on your part, directed mainly to Sagitttarius' friends or acquaintances. During the year, the planet Jupiter in a positive position will give Sagittarius several opportunities to travel, and discover new cultures, or to discover the surroundings. Sagittarius is a very funny person who is always surrounded by friends or family. It will not be different in 2022, when your career and health will be at the forefront of Sagitttarius' life, but several transits of astrology also indicate the influence of astrological houses on family, friendships and love of Sagittarius. The year 2022 will be very inspiring for Sagittarius, because from January to December there are a number of astrological houses occupied, which are responsible for your success, but also the fall in life. That is why we will also discuss the negative aspects that you should prepare for during the year.
A fun-loving Sagittarius can thus prepare for a very interesting, exciting and alive year 2022. The horoscope will not only clarify the relationships of Sagittarius. It also brings a prediction in the possibilities of the singles. It also predicts the development of friendly and family relationships. Is the year 2022 suitable for marriage or for a new addition to the family? The big Love Horoscope 2022 for the Sagittarius sign will also answer these questions. Sagittarius will also find out what energies are associated with Sagitttarius' work and finances, or how astrological transits, your ruler, or other planets of astrology will affect your health, vitality, and energy. Let's now take a step-by-step look at every prediction that Horoscope 2022 brings to every Sagittarius, whether Sagittarius is a man or a woman born in this fiery zodiac sign.
Horoscope 2022 Sagittarius from the POSITIVE point of view
In short, the fortune teller has prepared a prediction in love, health, work and finances for those of you who want to quickly find out what negatives and positives will affect Sagittarius in terms of astrological energies during 2022. In the introduction, we focus on a positive prediction for those who are in a stable long-term relationship and for those who are single. In short, every Sagittarius will learn the prediction of Love for the whole year:
From February 18th until the rest of the month, you enjoy the peace and quiet associated with Sagitttarius' home. A number of positive transits focus energy on the loving Sagittarius, who is now the best partner. Until the first half of March, the positive vibration of the Sun is also joined by its conjunction with Sagitttarius' ruler. It gives you a healthy self-confidence, an overview of the feelings and needs of others and generally brings Sagittarius closer to Sagitttarius' loved ones. Until April 15th, Sagittarius can enjoy any hobbies and leisure activities with loved ones. Your loved ones now mean a lot to you. Sagittarius perceive them as a means of removing excess energy, or as fighters against the stress in Sagittarius' life. It is your loved ones that provide your heart and soul with a refuge from adverse news from the outside.
In July, the energies are positive and Sagittarius is renewing several aspects of Sagitttarius' own value. You build a relationship with Sagitttarius'self and your partner. It is an excellent time for marital relationships and connections between partners. From 5th to 22nd July, trips with Sagitttarius' partner are expected, which are related to rest and relaxation. The transits are set very positively, so the holiday will be exactly according to Sagitttarius' dreams, ideas and expectations. Sagittarius don't have to worry about extraordinary surprises if you choose the first half of July 2022 for a family vacation together. Even single Sagittarius will be hit by certain specific transits.
In 2022, the single Sagittarius will enjoy a number of interesting, positive and optimistic moments. From the second month of 2022 onwards, the transits of astrology predict a beneficial period of love to Sagitttarius' heart. Sagittarius will be a socially popular person who has something to attract. Sagittarius is a person in the right place at the right time, especially from the beginning of February until the end of April 2022, when you are successful in building your emotions, but also in seeking love.
The love of single Sagittarius will be very rich. Some Sagittarius will re-establish a relationship with their ex-partner in the first half of 2022, or Sagittarius will be able to end that relationship within you. In any case, it is certain that Sagittarius will find forgiveness and the possibility of closing a certain painful chapter of life. And it will definitely be easier for you to walk during 2022. Sagittarius will also find that someone around Sagittarius is interested in your attention. It will be up to Sagittarius how Sagittarius approach this information. The year 2022 also offers opportunities for Sagittarius who are looking for intimate pleasure. This year will surprise you. Not only the joy of being close to someone else, but also the opportunity for loving adventures. The end of the year will stabilize Sagittarius and Sagittarius will find out who is closest to Sagitttarius' heart.
Astrological transits will affect Sagittarius' family relationships very positively, especially in the first half of 2022. Sagittarius is a great partner and a very popular member of Sagitttarius' family. Your parenting methods are right and the children are enjoying your presence. Even, Sagittarius' relationships with children are not affected by your increased entitlement to diligence and learning outcomes. Thanks to communication, you understand and can talk about any problem, but also about joyful experiences. Sagittarius share with others not only their pain from problems and misunderstandings, but also their joy at the things that make them happy. Great support from Sagitttarius' family members is now extremely important for every Sagittarius.
Also, the second half of the year focuses on building good relationships with family members. Even if the energies are somewhat blocked, Sagittarius can still share your joy, for example, financial stability with family members. Once again, Sagittarius is discovering ways to support children in the family to better interpersonal relationships. The final months of 2022 do not mean disrupting family relationships, but rather raising them and making Sagittarius feel that your loved ones are always there for you, when you really need them.
Horoscope 2022 will also be affected in terms of friendships, and very positively. In friendship, Sagittarius understand the signs of Gemini, Aries, Leo, Libra and Cancer. It is very likely that some of these 5 signs of the zodiac will be of great support to you in 2022. At the beginning of the year, Sagittarius can connect great family relationships with friendly ones. During the year, it is likely that one of Sagitttarius' friends will show you deeper emotions, which Sagittarius will have to handle with confidence and with intelligence of Sagitttarius' own. Treat Sagittarius' friend's emotions as if they were your own. Sagittarius is an understanding person and an excellent friend, and your friendly side of personality will be strong even in 2022, when Sagittarius understand and can support everyone who needs you. During the year, you also build new friendships that even help Sagittarius for a better future for work, whether Sagittarius is in business or not. You will be given the opportunity to enrich your life with new opportunities.
Transits of astrology operating on Sagittarius Horoscope 2022 will also touch on terms that are appropriate and unsuitable for a wedding in 2022 and also for the conception of the first or next baby. The horoscope is dedicated to a day that signifies harmony and happiness in the life of every Sagittarius, and which contemplates a wedding. The ideal time for a wedding is the month of July - specifically its second half, which merges with the first half of August. Sagittarius can find out more about these dates in the section Horoscope of Love 2022, where we will also present the days suitable for fathering a baby and recommendations for pregnant Sagittarius.
Horoscope 2022 in this section also specifies the positive transits that are related to Sagitttarius' career. The year 2022 is very harmonious in terms of work. Sagittarius who work in a permanent position will be rewarded. Those who take care of the household will enjoy the recognition and appreciation of others. Entrepreneurs will have a harder time, but even that will make them more successful, especially in the first half of the year than before. Astrological transits give you many opportunities to capture your chances of moving forward, starting a business, and engaging your family members in an activity that creates a cozy and safe home. Every Sagittarius will feel recognition and progress in work and therefore it is clear that the year 2022 is extraordinary from the point of view of each Sagittarius's career life - very favorable and suitable and big life decisions or changes.
Sagittarius Horoscope 2022 also predicts a financial well-being for each of you, which will make you very happy and calmed down after the previous period. The fortune teller also recommends that, if you need to strengthen your financial happiness, get a Citrine stone, which means stability, security, wealth and success. It is the stone of 2022 for every Sagittarius in terms of wealth and financial inflow. Sagittarius will also be able to enjoy an extraordinary win or other financial surprise. The forecast for the Sagittarius in terms of finances, which will be presented to you by Horoscope 2022 in the following sections, Sagittarius describes a prophecy until May 2023, which is related to the financial stability and financial success of Sagittarius. So will 2022 be a good year for Sagittarius? Certainly yes!
Health will be stable. But every Sagittarius must also prepare for negative transits, which mean some pain or complications. At the end of the year, however, the horoscope describes Sagittarius' health as stable. Sagittarius don't even have to worry about accidental injuries - but if you pay enough attention to driving and if you use your attention in every risky activity. Health must be strengthened by a healthy lifestyle, which will be a normal part of Sagitttarius' life. Sagittarius Horoscope 2022 also predicts success for those of you who decide to lose weight, and even greater success for those Sagittarius who want to include healthy eating and physical activity in the normal part of life.
Accurate Monthly Horoscope Sagittarius tells you more about Sagittarius future in love, health, career, money or relationships. Horoscope Sagittarius 2022 is also connected with a monthly prophecy. Read all the important horoscopes from the fortune teller for the year 2022.
Yearly Horoscope 2022 Sagittarius from the NEGATIVE point of view
How will the Loves of Sagittarius be influenced by the negative transits and energies of 2022? In January, you may be tormented by thoughts of the past, which were in some way connected to Sagitttarius' emotions. Sagittarius will focus on past unfinished relationships, or those whose breakup meant a lot to Sagitttarius' emotions. Retrograde Mercury returns your feelings to the past, which can cause certain complications in your current partnership or marriage. Since April 15th, Mars has been in the 4th astrological house of Sagittarius and will be affected by energy in its home. Mars in the 4th house will cause quarrels and misunderstandings, which will be insignificant. To overcome the energy associated with this Mars, you can use more physical exercise to soothe the disturbing effects of Mars on Sagittarius.
From May 10th, the Retrograde Mercury reminds Sagittarius to think mainly of Sagitttarius'self. Your thoughts are directed only to Sagitttarius' own happiness and satisfaction, which can provoke your partner to an argument, because you do not pay him the amount of attention he desires. Any great quarrel that would now lead to the breakdown of the relationship is unthinkable. Ending the relationship during the period of the Retrograde Mercury is the worst idea on the part of Sagittarius in 2022, warns the annual Horoscope.
From May 24th to July 5th, the disruptive aspects of Mars and Venus are a huge provocation of Sagitttarius' fidelity. Sagittarius feels it as one of Sagitttarius' friends or colleagues looks at Sagittarius. Sagittarius focus on the emotions that Sagittarius is heading for other than your stable partner. Any such interference with Sagitttarius' long-term relationship will not only be unreasonable, but also devastating to Sagitttarius' own emotions. Even if your partner does not find out about the affair. Therefore, do not waste confidence in your relationship and focus on the values in life that are real.
The second half of 2022 will be even more challenging for Sagittarius than the first - in terms of marriage or permanent relationships. The Retrograde Jupiter and the Power of Mars have meant a strong interference in marriages and long-term relationships since July 28th. These transits and your selfishness can cause the breakdown of several relationships during the second half of the year, so take care of these relationships as much as Sagittarius can. If you care about your future happiness.
Negative aspects also affect those who are still looking for love. Gloomy thoughts related to the past will hit single Sagittarius, especially at the beginning of 2022. But every single Sagittarius should use Mercury's transits to build their own abilities and their own value. Meditations and thinking set in a positive direction are suitable. The Retrograde Mercury of 2022 should certainly not belong to social events and big decisions in the life of single Sagittarius. The second half of 2022 means shyness for a single Sagittarius and less determination to fight for the heart of a potential partner. However, a number of positive opportunities overcome the negative effects of transits, and therefore the single Sagittarius can breathe and draw energy from positive days, which will certainly not be few.
Let's now list the negative energies related to family, friends, a planned wedding, or pregnancy. From May 15th, you tend to aggressively interfere in the free time of Sagitttarius' family members. Sagittarius tend to set their time and want them to pay full attention to them. Horoscope 2022 warns you to calm your masculine, and sometimes even aggressive, personality side in terms of family relationships and Sagittarius' free time. In the second half of the year, specifically from August 28th, you tend to react more passionately in terms of family relationships. Sagittarius run into the past and your past karma associated with the incorrect upbringing of Sagitttarius' parents is fully manifested. Energies appear that are related to the past and your inability to forgive others and find an understanding of others' actions. The end of the year may be blocked in your good family relationships by your own distrust of others.
During the year, friendships will flourish, but you should also be a prudent Sagittarius in several ways. Pay attention to the advice and especially to the friendship from Pisces, which can deprive you of a lot of positive energy during the year, which Sagittarius should use to build real friendships. Also be careful in your friendship with Scorpio, as this sign of the zodiac also represents complicated friendships for each Sagittarius during the year of Horoscope 2022.
The fortune teller also clarifies the statement for every Sagittarius who is interested in whether the year 2022 is a suitable year for conceiving a baby or for a wedding according to Sagitttarius' ideas. Inappropriate terms, which the Sagittarius Horoscope 2022 highlights, are the days of Retrograde movements of the planets Mercury, Venus and Mars, which would mean complications for Sagittarius not only in the upcoming wedding, but also during pregnancy. The dates of Retrograde Mercury are not suitable for important life decisions and therefore Sagittarius Horoscope 2022 recommends you to avoid this day, for your happier present and a more favorable future.
The Sagittarius' career will also be affected by negative transits, of which there will be very few. Only Retrograde Mercury can take care of deteriorating working conditions and your thoughts running away from past unfinished projects or tasks. The most problematic month in terms of progress or success is the month of January 2022. Sagittarius must complete all the necessary tasks during the first month of the year. Sagittarius need to close ongoing projects and also take care of all e-mails and unfinished duties that you should handle to everyone's satisfaction. From a negative point of view, the work will not surprise Sagittarius in any way.
The only problem may be for some Sagittarius to establish good relationships with co-workers. From another point of view, however, the year 2022 is very positive. Work can take you away from quality sleep, perhaps only in September, and during October, when Sagittarius will have to handle even more demanding tasks and projects. That's when Sagittarius can feel a decline in energy, which will not be sudden and long-lasting. It all depends on how well you know how to divide your time between responsibilities, private life and your health. Balance is very important in September and October, although it can be complicated for Sagittarius.
Money will be stable. Sagittarius may only be negatively affected by the month of January, when Sagittarius have to guard the financial expenses of Sagitttarius' family members who spend more than would be appropriate. Soothe their high demands on financial expenses so that you do not have to be overly interested in financial planning at the beginning of the year. In January, Sagittarius feels a bit of stress about money, but it will go away quickly. During the summer months, be careful and guard your wallet. When paying online, be careful not to share your information with people who could misuse your personal information to steal your money. Be especially careful if Sagittarius go on holiday in the summer. Sagittarius may become a victim of fraud or theft, warns the annual Sagittarius Horoscope 2022.
The health forecast is also very positive for the Sagittarius, with the exception of minor warnings. In the second half of the year, you should be careful when driving, because the Retrograde movements of the planets deprive Sagittarius of the attention you should pay to activities that pose a risk of injury. July and August will hurt Sagittarius - the time is coming when your spine will be loaded and this period will bring you many wrinkles on your forehead. Your attention will be focused on back pain, which will be pervasive in several cases.
At the beginning of the year, it is also advisable to undergo all regular examinations and preventive check-ups to avoid surprising health complications in the future. Also focus on adequate protection against stinging insects and ticks. If Sagittarius neglect preventive protection, you may be surprised by days full of complications related to the diseases that these insects transmit. Horoscope 2022 therefore recommends you to increase your caution when walking in nature, or during a barbecue, or relaxing in the arms of nature.
Daily Horoscope Sagittarius prepare Sagittarius for the current day. Horoscope Sagittarius from the Fortune-Teller also means the possibility of daily divination for Sagittarius zodiac sign.
---
Horoscope Sagittarius 2022 - Love, Career, Health, Future...
Click the image you like and read more about year 2022...
Horoscope Sagittarius 2022: Overview - Positive and Negative aspects of 2022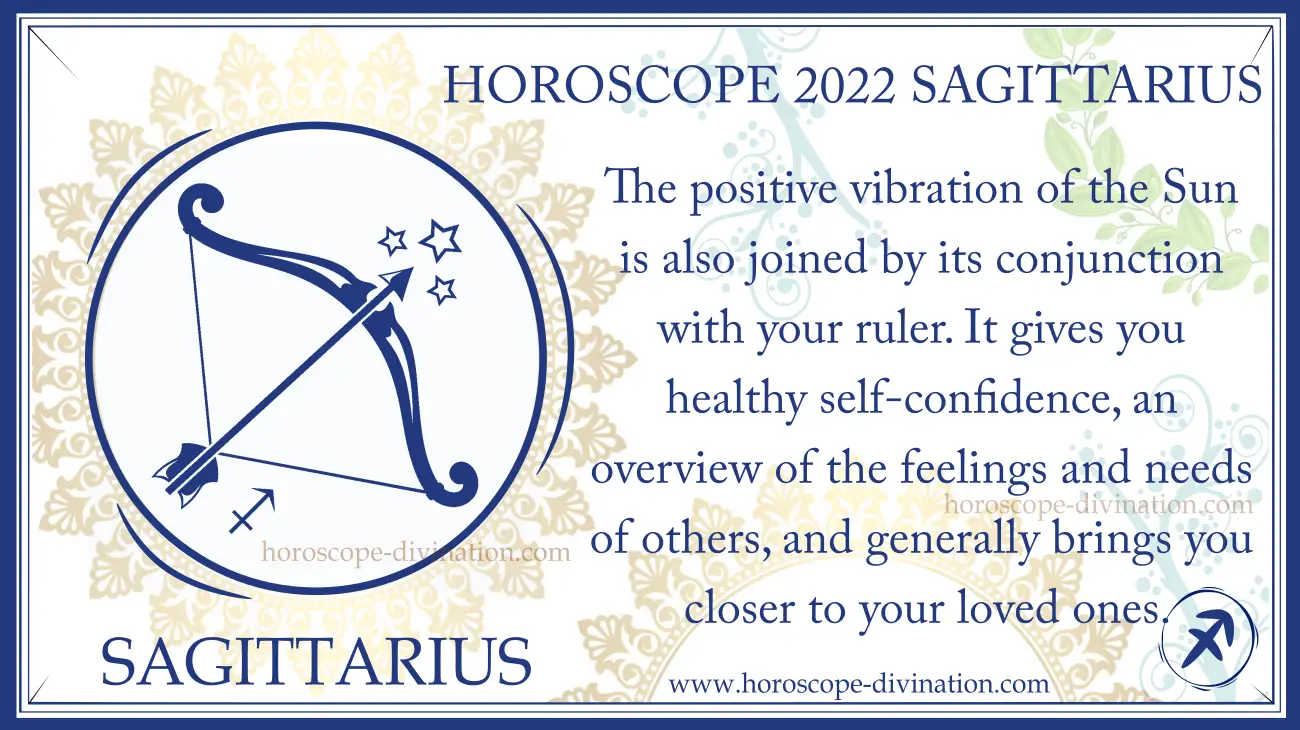 From February 18th until the rest of the month, you enjoy the peace and quiet associated with your home. A number of positive transits focus energy on the loving Sagittarius, who is now the best partner... Introduction of Horoscope 2022 Sagittarius...
Horoscope Sagittarius 2022 from fortune-teller - Love & Relationships in 2022: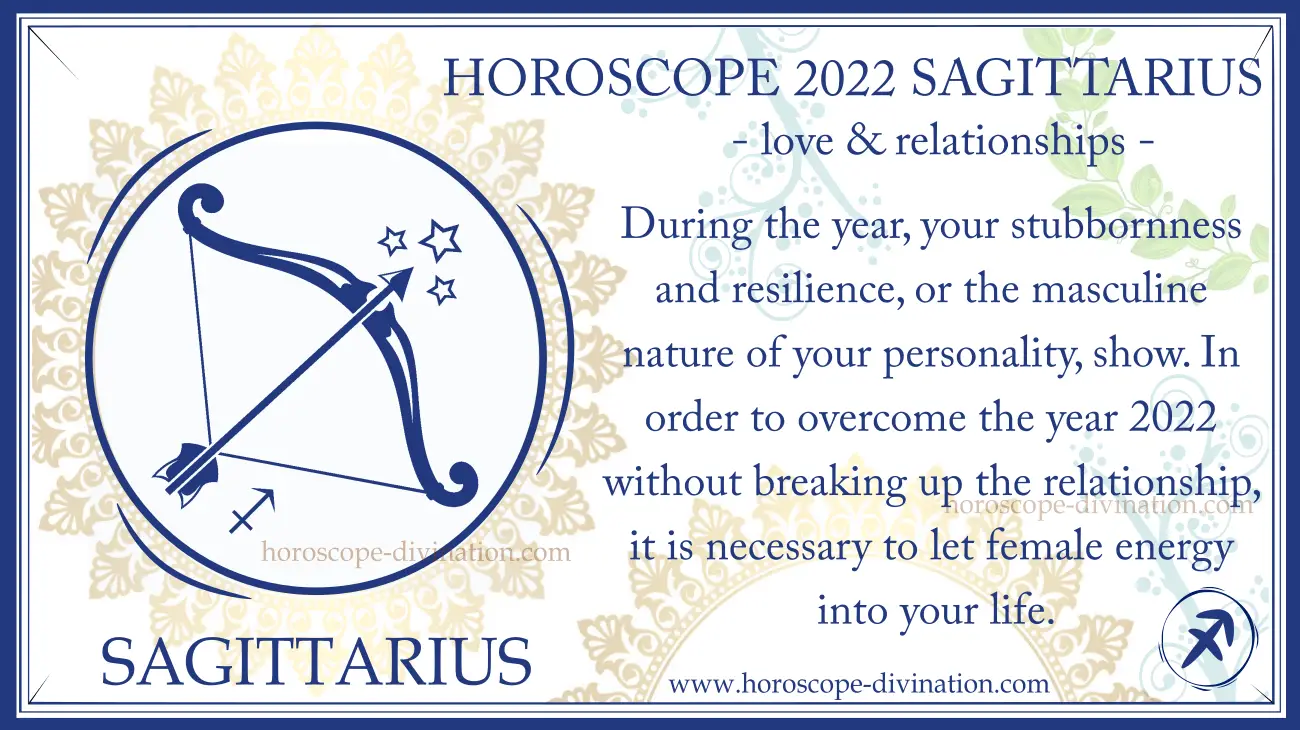 To enhance the love in your life, to improve your emotions, and for a great deal of harmony, Sagittarius Horoscope 2022 recommends that you place a pink Quartz semi-precious stone in your home, a well-known stone that concentrates positive energy on each owner... Read more about Love Horoscope Sagittarius 2022...
Horoscope Sagittarius 2022 - Family, Friends, Marriage and Pregnancy in 2022: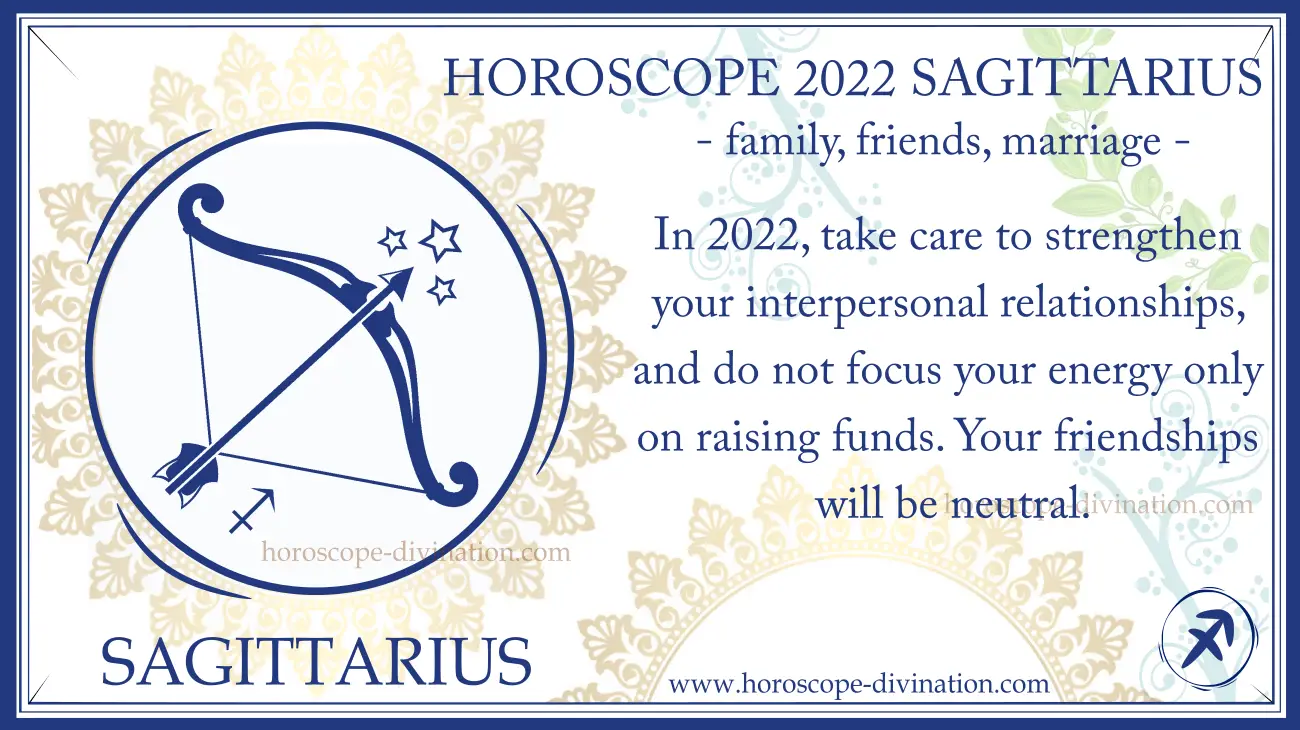 Family relationships are at least as important in the Sagittarius's life as work, money, or a functioning marriage. Good interpersonal relationships are important for anyone who needs the support and help of others... Read this yearly Horoscope Sagittarius 2022 - Family, Friends, Pregnancy and Marriage...
Horoscope 2022 Sagittarius - Career & Finances: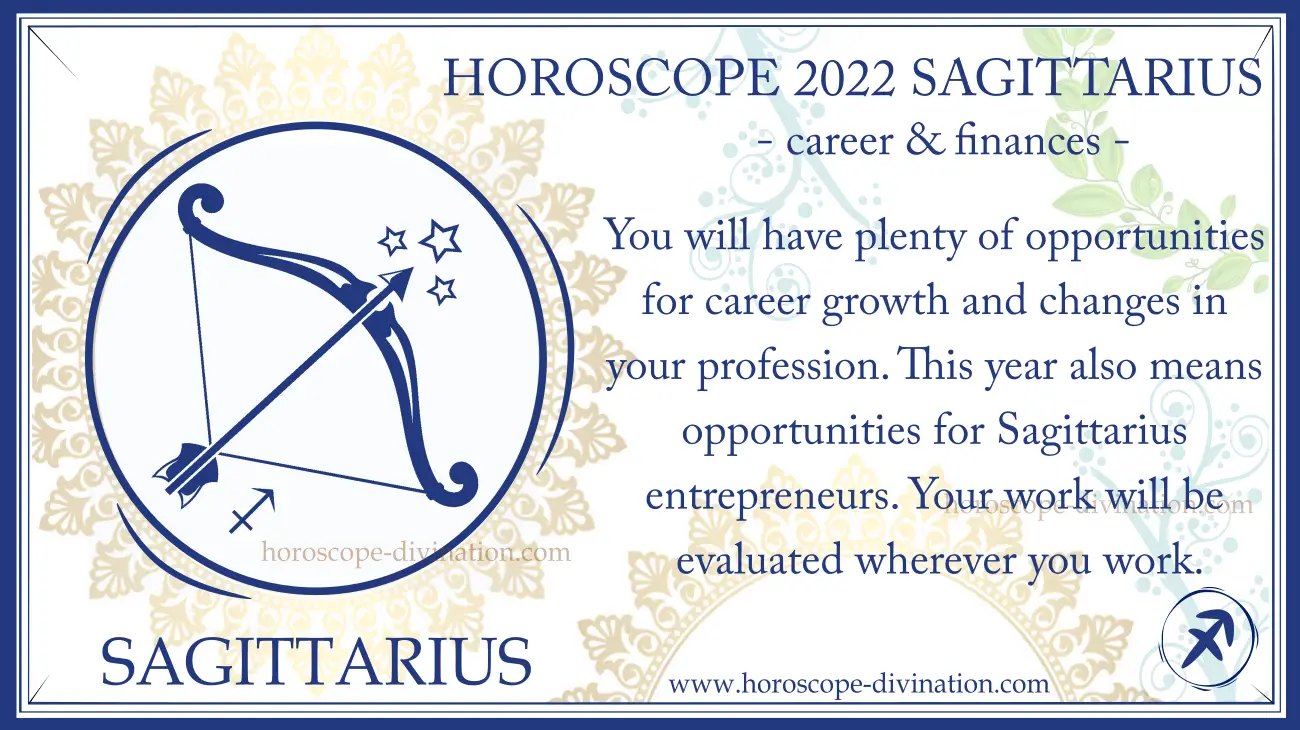 Do harmonious working conditions await you during 2022? Will 2022 be a year of great changes, will you be able to advance your career, will the unemployed Sagittariuses be able to find a new job? Complete annual Horoscope Sagittarius 2022 in career and finances...
Horoscope Sagittarius 2022 - Health & Vitality: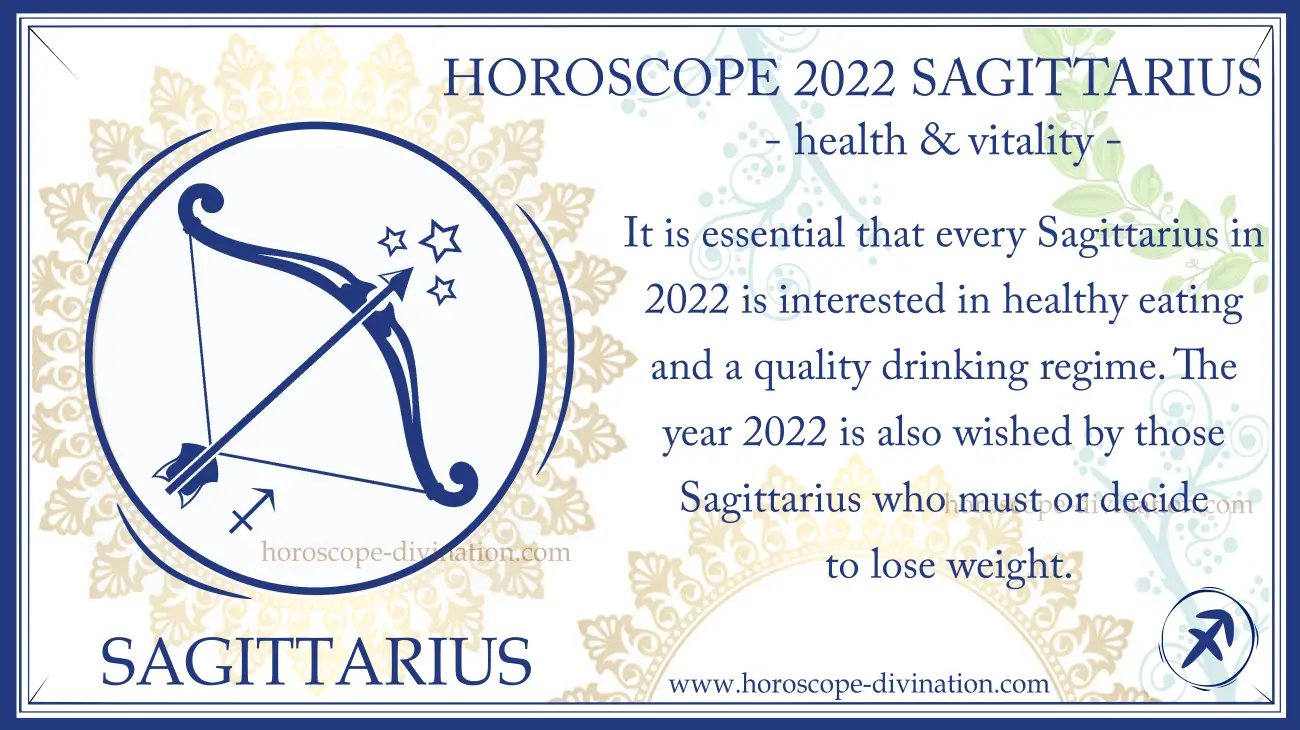 Does 2022 mean strong and relentless health for Sagittarius? Are you expecting unexpected illnesses that you should be worried about during the year? What steps does aromatherapy recommend in terms of assessing health, protection, and the biggest complications in Sagittarius' life during 2022? Read yearly Horoscope 2022 of Health and Vitality for Sagittarius zodiac sign...
Retrograde movements of planets that affects Horoscope 2022 Sagittarius
Graph of Retrograde Planets 2022 - Their affect on Horoscope Sagittarius 2022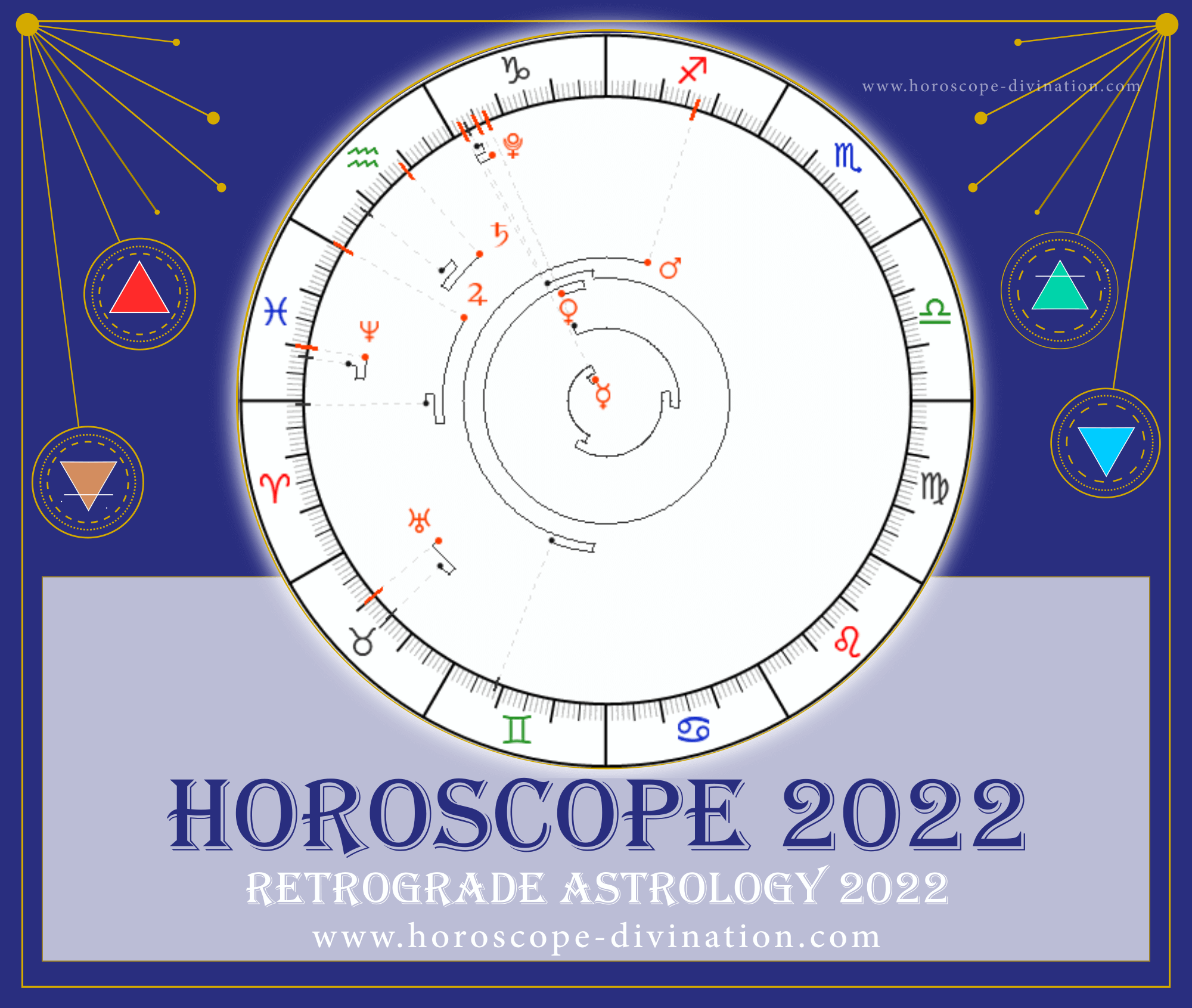 Click on the image above to read all the important information about the Retrograde Planets of 2022 and their impact on Horoscope Sagittarius 2022. Below you will find a list of terms important for your energy, vitality and for the overall Horoscope Sagittarius 2022.
Mercury Retrograde and Horoscope 2022 Sagittarius
14 January 2022 (in Aquarius 3 house) - 04 February (in Capricorn 2 house) (For 21 days, Horoscope Sagittarius 2022 is influenced by the first retrograde Mercury)
10 May 2022 (in Gemini 7 house) - 03 June (in Taurus 6 house) (Horoscope 2022 Sagittarius emphasize transit for 24 days)
10 September 2022 (in Libra - 11 house) - 02 October (in Scorpio 12 house) (Horoscope Sagittarius 2022 is affected by transit for 22 days)
29 December 2022 (in Capricorn 2 house) - end of year 2022 (Horoscope Sagittarius will hit this aspect for 3 days)
Venus Retrograde - Horoscope 2022 Sagittarius
01 January - 29 January 2022 (in Capricorn in 2 house) (Horoscope Sagittarius 2022 talks about this transit during 28 days)
Mars Retrograde - Horoscope Sagittarius 2022
30 October 2022 - to year 2023 (in Gemini - 7 house) (63 days are affected by Horoscope 2022 Sagittarius)
Retrograde Jupiter - Horoscope 2022 Sagittarius
28 July 2022 (Aries in 5 house) - 23 November (Pisces in 4 house) (Horoscope Sagittarius 2022 is affected for 118 days)
Retrograde Saturn 2022 - Horoscope Sagittarius 2022
04 June 2022 (Aquarius in 3 house) - 23 October 2022 (Aquarius in 4 house) (This transit affects Horoscope 2022 141 days)
Retrograde Uranus - Horoscope Sagittarius 2022:
01 January 2022 (Taurus in 6 house) - 18 January 2022 (Taurus in 6 house) (For 17 days, Uranus concentrates its energies on Horoscope Taurus 2022)
24 August (Taurus in 6 dome) - to the start of the year 2023 (The annual Horoscope 2022 Sagittarius is affected by the retrograde Uranus for 130 days)
Retrograde Neptune 2022 - Horoscope Sagittarius:
28 June 2022 (Pisces in 4 house) - 04 December (Pisces in 4 house) (the annual Horoscope Sagittarius 2022 is changed by transit for 159 days)
Pluto Retrograde - Horoscope Sagittarius 2022
29 April 2022 (Capricorn in 2 house) - 08 October 2022 (Capricorn in 2 house) (aspect affects Horoscope Sagittarius 2022 for 162 days)