Yearly Horoscope 2022 Scorpio - Health
(Vitality of Scorpio, health issues in 2022, aromatherapy and energy for Scorpio)
First days of 2022 - Health Horoscope 2022 Scorpio
In this section, the horoscope focuses on the health of Scorpio during the year 2022. Scorpio will learn what recommendations the fortune teller brings for your better life, for firmer health and a more vital life. Scorpio will find out what health complications are to be expected from the point of view of the effect of astrological transits on each Scorpio. Let's also look at what things and supplements you should surround yourself with if Scorpio want to cure a health problem or want support in the event of a sudden illness.
In general, Scorpio's health is sometimes on a swing. Scorpio is a very passionate zodiac sign that loves exercise and physical movement. You last longer than anyone else during exercise, but Scorpio often suffer from headaches and diseases associated with Scorpio's gender. Women born under the sign of Scorpio often have problems with the urinary tract, uterine diseases or ovaries. Men should be careful about genital diseases, because these diseases are typical of Scorpio. The energy of the Scorpio is also double, because from a health point of view, the Scorpio sometimes feels at the top, and sometimes at the very bottom. These are the basic health characteristics of Scorpio, who should include ginger tea in its life and receive enough aloe vera, which cools the body and has an anti-inflammatory effect. For 2022, however, the Horoscope also makes recommendations in terms of aromatherapy.
Scorpio Horoscope 2022 specifies your oil of the year 2022, which helps Scorpio with various health complications. Aromatherapy determines Clove Essential Oil - Clove (Syzygium aromaticum) as your oil in 2022. What benefits will Clove Oil have for your health during the year? Scorpio may experience more pain in the middle of 2022, but perhaps the most intense will be toothaches that plague Scorpio over several days. That is why it is very convenient to have clove oil on hand. Mix one drop of Clove Oil with 1 deciliter of water. Use this combination for aphthae or gargling for toothache. Clove has strong antibacterial, antifungal effects, but be careful, because this oil is used only for external use. In any case, every Scorpio should be careful to buy only quality oil that contains only natural ingredients.
Do not use clove oil internally. However, Scorpio can use it not only for toothaches, but also for massages, rheumatic problems, during the day. As we have already mentioned, thanks to this oil you also fight against unpleasant aphthae. The oil dripped into the aroma lamp helps Scorpio to relax, and with its pleasant scent it is suitable for relaxation after a busy day when Scorpio need to rest. It will permeate your apartment, your office, and its healing effects and its pungent scent affect cough, sore throat, acne or inflammation, as well as clogged cavities. Therefore, reach for clove essential oil whenever you feel a loss of energy or the onset of a cold.
The year 2022 will be more demanding for Scorpios in terms of health, so Scorpio should get this clove essential oil at the beginning of 2022, because in January Scorpio will overcome many thoughts and mental moods, when Clove oil is a welcome helper to strengthen your mental health. Scorpio can also use the essential oil in the bath or for massage. However, choose a quality essential oil, and carefully read the recommendations related to this essential oil.
Horoscope 2022 recommends every Scorpio to express its emotions during the year. If you need to cry, cry. If Scorpio need to shout, shout. But rather shout alone or somewhere in nature, where Scorpio can fully manifest the excess of Scorpio's energy. Taking a yoga class can strengthen you not only physically but also mentally, but yoga and meditation will certainly help Scorpio cleanse your aura of negative thoughts. For Scorpio, physical movement is very important, so Scorpio can combine this physical movement in 2022 with music that will lift your spirits and further encourage the sporting side of Scorpio's personality.
Scorpio Horoscope 2022 recommends Scorpio to have clove essential oil on hand, but also to have ginger ready at home and in the office, which is the herb of 2022 for every Scorpio. Ginger has a rich history due to its healing effects. It has been used since ancient times, and the Arab nation considers it a very powerful aphrodisiac. However, it has many other healing benefits that you should discover in 2022 if you want to feel healthy, vital, if Scorpio want to prevent diseases that Scorpio will definitely avoid thanks to the use of ginger. After ginger, reach at least four times a week, in the form of a strong broth or tea. It is ideal if Scorpio cut fresh ginger, which you cook in water, and treat yourself to this broth for an evening movie, or if Scorpio need to start after a rich lunch. Ginger relieves pain, helps with anorexia and indigestion and brings feelings of fullness ... However, its benefits are even greater. It is antibacterial and prevents infections. It has a useful and beneficial effect on the whole process of our digestion. In winter, it is an irreplaceable helper in strengthening and improving immunity and is suitable not only for tea, but also for sweet and savory foods.
During 2022, Scorpio may discover new flavors, such as Thai cuisine, where ginger is widely used. If you combine your 2022 herb with the aromatherapy recommendation, it is clear that your 2022 year will be of better health and smaller diseases will be avoided in most cases. Use ginger for cooking, or drink ginger tea to relieve muscle and joint pain. Drink ginger tea to prevent heart disease and protect your blood vessels. Ginger is also suitable for wraps in case of joint pain, it is also added to the bath because it has a relaxing and refreshing effect. Be careful not to confuse packaged and loose ginger tea in sachets with fresh ginger. It is always better to reach for a fresh alternative, which Scorpio grate finely and prepare a healing decoction.
In the beginning, we discussed what procedures will help you improve Scorpio's health during 2022, or prevent unexpected diseases. In the following lines, however, we will indicate which astrological transits will affect Scorpio's health during the year. So read the Astrological Health Horoscope 2022 for every Scorpio, because health is one of the most important values of life.
In January, Scorpio will feel the movements of Venus and Retrograde Mercury, affecting your 3rd and 4th astrological houses. These movements of the Retrograde planets cause a return to the past, and a number of thoughts directed to Scorpio's childhood. Astrological transits that focus energy on your past can cause more stress, but Scorpio's health should not be strongly affected by these transits. In any case, we remind you again of Scorpio's oil of the year 2022, which Scorpio will use whenever Scorpio feel sad and exhausted. All you have to do is drop a few drops on a small plate and place it in the office or at home. They transcend every space, and turn your negative thoughts into positive thoughts. Reshape your thoughts with the help of clove oil, and remember the beautiful moments with Scorpio's family, when Scorpio baked gingerbread, when you felt happy and carefree.
Love, a working relationship, or problems in living together? The Love Compatibility Calculator for Scorpio will show you how high your compatibility in love, even in 2022, is with other zodiac signs.
Mentally health of Scorpio and Vitality based on astrology Horoscope Scorpio 2022
The first important astrological transit that affects Scorpio's health is the sun passing through the 6th house, from March 20th to April 20th. In March, however, Mercury passing through the 6th house also affects your health. These two astrological transits concentrate strong energies not only on your health, but also on the health of Scorpio's pets. Every Scorpio should take good care of the health of the pet with whom Scorpio share the household, because it is the strong transit of the sun that warns the Scorpio to be interested in the health of others. The sun is strongly built throughout March and in the first half of April. It is well built, so Scorpio do not expect any negative energy affecting your health.
The location of Mercury is also very interesting during this period, because Scorpio choose food according to your mood. So Scorpio can be tempted to unhealthy eating, which will haunt you mainly from March 27th to the first half of April. Scorpio Horoscope 2022 recommends Scorpio to avoid excessive unhealthy eating, and fast food. But in the case of these transits from March 27th to the first half of April, Scorpio can also indulge in unhealthy food, which will not be a normal part of Scorpio's diet, but will rather be an exception. Now also learn to express your emotions to the outside, more than ever before.
Mercury passing through the 6th house reminds Scorpio how important it is to vent your emotions and thus prevent mental problems and mental contradictions within you. Thanks to a great outlook on the lives of others, it is possible that thanks to Scorpio's attention Scorpio will be able to catch the illness of one of your family members in time, and thus help them quickly solve a health problem that would later become a major complication. Scorpio yourself should take a preventive check-up from the second half of March to the first half of April. Scorpio should also enrich this check-up with examinations that you do not routinely undergo every year. We are talking about MRI, ultrasound or CT examination, which is especially suitable if Scorpio have certain suspicions about Scorpio's health. Otherwise, arrange a preventive examination in time, and do not postpone it until later.
Some Scorpios may also be troubled these days by mental exhaustion related to solving previous personal and career problems. Many of Scorpio will suffer from persistent headaches, for which Scorpio will more often reach for a painkiller. However, headaches have a cause, so it is advisable to look for it. It is quite likely that these pains are related to Scorpio's diet and neglect of a regular drinking regimen. Therefore, follow your habits and try to maintain a healthy diet throughout the year to prevent unpleasant pain. Above all, Scorpio need to gain a lot of strength, because May will test you in terms of Scorpio's career, and may therefore cause Scorpio more strain than in previous months. So Scorpio need to prepare Scorpio's health, and start a strong mental resilience to work problems that may affect Scorpio during the month of May 2022. This applies not only to work problems, but also to those related to Scorpio's health problems.
From the beginning of May until June 13th, toothache, which can be really unbearable, comes to the fore. Again, you may suffer from severe pain and unpleasant complications in Scorpio's health - specifically in the health of the oral cavity. Scorpio must see a doctor immediately to help you with these pains, even if this help is not immediate. In any case, he will at least quickly help you get rid of unbearable and penetrating toothache. Don't forget the clove, which also alleviates these severe shocks associated with your mouth and helps prevent severe inflammation or swelling.
Horoscope 2022 Scorpio says - Focus on Healthy Life
From June 13th, the planet Mercury will affect Scorpio's health again. It is concentrated in the 8th astrological house and is in his home. Now comes the time when Scorpio's chronic diseases are improving, and when each Scorpio can take the initiative to improve own health. If Scorpio is a Scorpio who decides to lose weight during 2022, the right time is from June 13th to the end of 2022, when your energy is fully started to make it easier for Scorpio to undergo these changes in life than before. With every activity you start from June 13th, Scorpio will last. The problematic month could be December 2022, which will be more health-intensive, but we'll talk about that later.
The horoscope has not yet indicated that Scorpio will have any extraordinary negative surprises related to your health. Positive health-related transits are joined by Mars, your home planet passing through the 8th Astrological House, from August 20th until the beginning of 2023. In the period from the transition of Mercury to the 8th Astrological House from August 20th to October 23rd Scorpio do not expect any extraordinary health surprises. However, the warning becomes the period from October 23rd, when your excessive passion for sports affects your initiative in life. It can cause certain injuries or even fractures. Therefore, be careful with any activity from October 23rd to November 16th, when Venus is secondarily affected by your exile and can cause certain health problems.
But when is it very appropriate to pay the most attention to Scorpio's health? This is clearly the period since December 20th, when the planet Jupiter passes through the 6th house. Every Scorpio should now take care of their health, not only at work, but also when meeting other people. Scorpio may be hit by the negative vibrations of Jupiter. Beware of injuries and sudden illnesses that can also cause social events, where Scorpio can become infected with diseases that Scorpio underestimate. Astrological December transits also mean illness of one of Scorpio's family members, especially those who suffer from brain or heart problems. Sudden bursts of great energy and a sudden rapid decline of this energy can also occur in Scorpio's life. So, from December 20th, be very careful about Scorpio's health. This warning also applies to pregnant Scorpios, who should be alert from December 20th. Be careful not only if Scorpio is experiencing a high-risk pregnancy. Caution is welcome with any Scorpio. If Scorpio experience an unexpected sign of loss or a rapid increase in energy, Scorpio should seek immediate medical attention, as this instability in your energy may signal more serious health complications. The last 3 days of 2022 belong to the Retrograde Mercury, which causes fatigue, so Scorpio can spend more time in bed relaxing and lounging.
Accurate Monthly Horoscope Scorpio tells Scorpio more about Scorpio future in love, health, career, money or relationships. Horoscope 2022 Scorpio is also connected with a monthly prophecy. Read all the important horoscopes from the fortune teller for the year 2022.
Health Horoscope 2022 Scorpio - last days before 2023
Health seems to be mostly stable during 2022, but Scorpio need to prepare for the sudden and unexpected pain that is bothering you. The first half of the year draws attention to headaches and toothache, which must be resolved once and for all, during this year. The second half of the year also brings some warnings that Scorpio should remember to prevent the health complications of 2022. What may surprise you most is the period since December 20th, during which transits are clearly directed to health complications. For Scorpio, however, it is advisable to avoid unhealthy eating throughout the year, and to pay attention to the regularity of the drinking regime. Scorpio need to provide your body with enough vitamin A, B vitamins, and vitamin C on a regular basis, which will play a very important role in Scorpio's health.
Pregnant Scorpios must also ensure a sufficient intake of folic acid. Therefore, do not avoid fruits and vegetables. Fruits and vegetables should therefore be a regular part of Scorpio's diet. Avoid artificial vitamin supplements. Rather reach for the natural products. Don't forget ginger, which is a great helper to improve and build Scorpio's health throughout the year.
Dear Scorpios, prepare for 2022 according to an astrological prediction prepared by a fortune teller, an astrologer with years of experience. In this Horoscope for 2022, we reveal the future of the Scorpio. Find out how your partner's life will go in 2022. We will reveal to Scorpio what sorrows and pleasures await Scorpio in the areas of family life, friendships, work, or health. Scorpio Horoscope 2022 also tells you the appropriate dates for marriage, and the terms that affect the fertility and pregnancy of each of Scorpio. Scorpio Horoscope 2022 is divided into several categories so that Scorpio can easily orient yourself in it. The easy-to-read Horoscope 2022 will foretell Scorpio a future in all important life directions of the Scorpio during the year 2022.
Daily Horoscope Scorpio prepare Scorpio for the current day. Horoscope 2022 from the Fortune-Teller also means the possibility of daily divination for Scorpio zodiac sign.
---
Horoscope Scorpio 2022 - Love, Career, Health, Future...
Click the image you like and read more about year 2022...
Horoscope Scorpio 2022: Overview - Positive and Negative aspects of 2022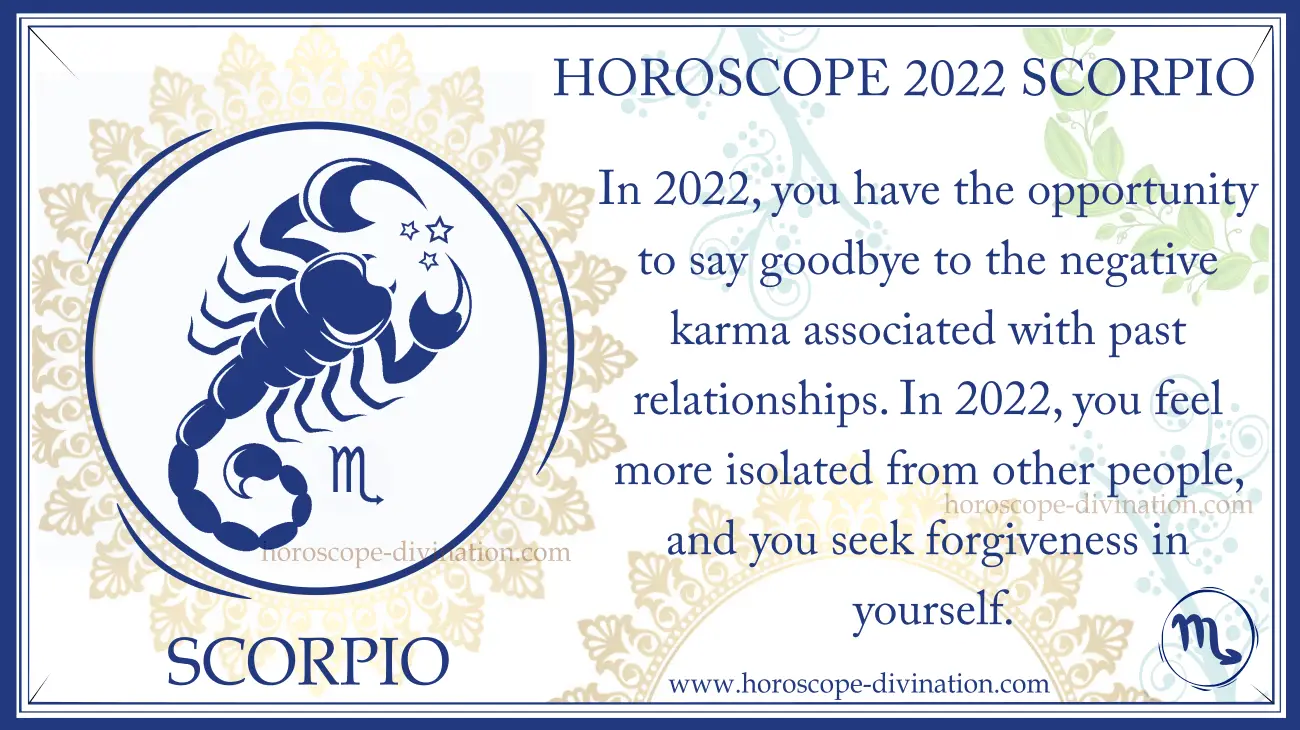 Astrological transits focus on both positive and negative effects on each Scorpio. Scorpio Horoscope 2022 in this section will introduce you to positive transits and the greatest impact on the area of love, health, finances, or career of each of you... Introduction of Horoscope 2022 Scorpio...
Horoscope Scorpio 2022 from fortune-teller - Love & Relationships in 2022: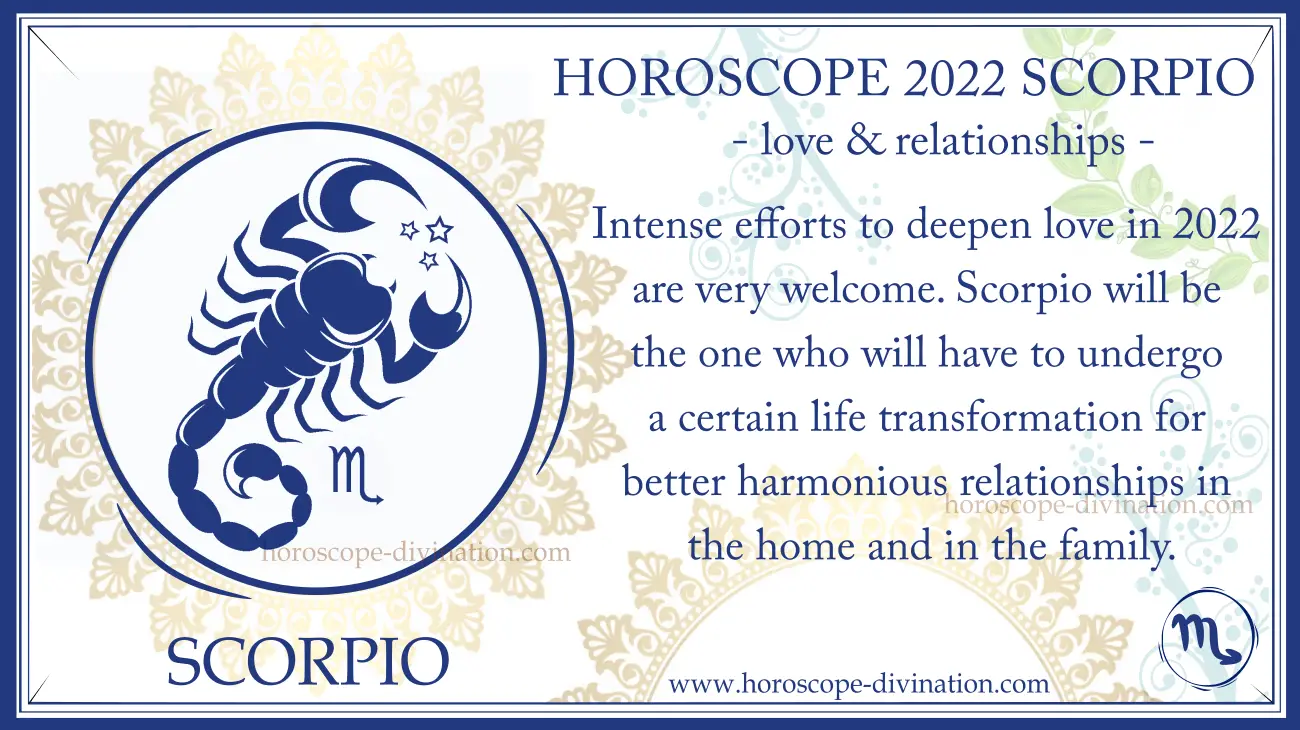 The Scorpio struggles with emotions during his life. The year 2022 will present itself as a year focused not only on the love of Scorpios in relationship, but also on the emotions of singles. Your family and friendships will be strengthened, but other interpersonal relationships that you should know will also be affected... Read more about Love Horoscope Scorpio 2022...
Horoscope Scorpio 2022 - Family, Friends, Marriage and Pregnancy in 2022: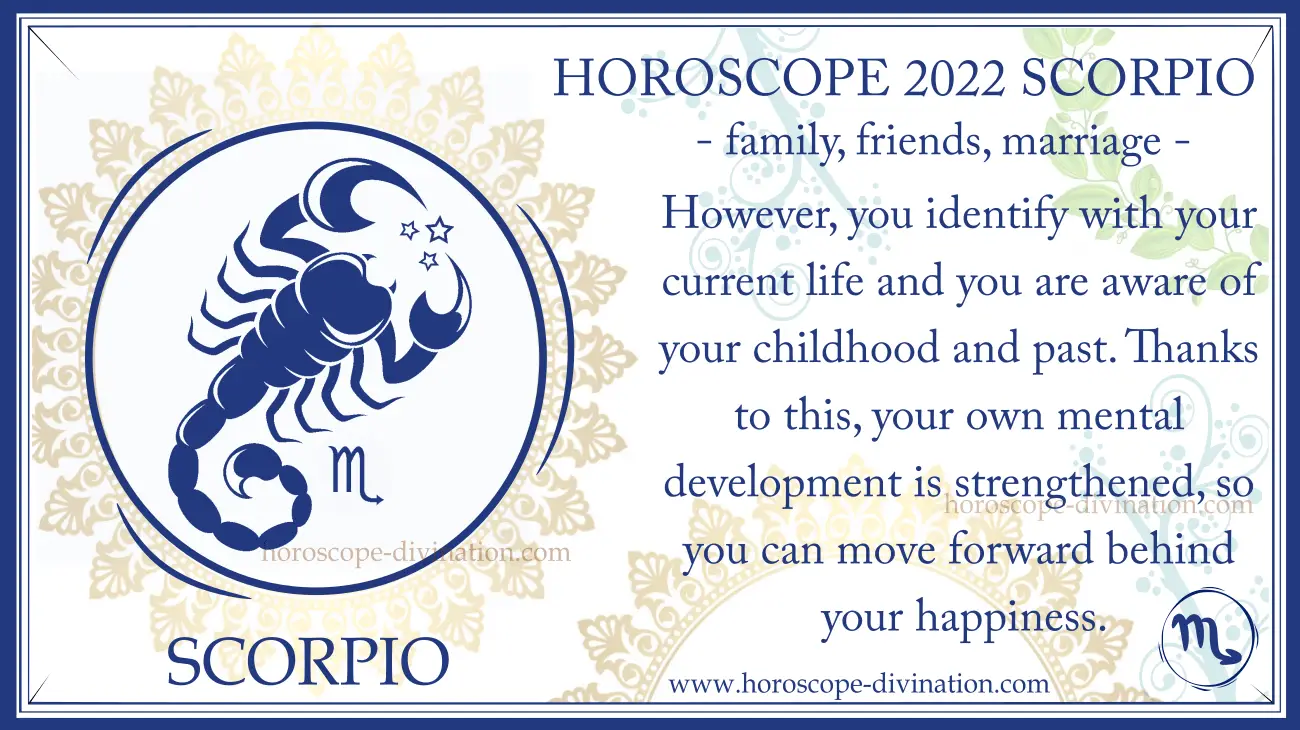 In 2022, Scorpio's family relationships will be severely affected by several astrological transits. January 2022 focuses on the 3rd and 4th houses, but these houses will also be affected in February, March, April and the final month of 2022 - December 2022... Read this yearly Horoscope Scorpio 2022 - Family, Friends, Pregnancy and Marriage...
Horoscope 2022 Scorpio - Career & Finances: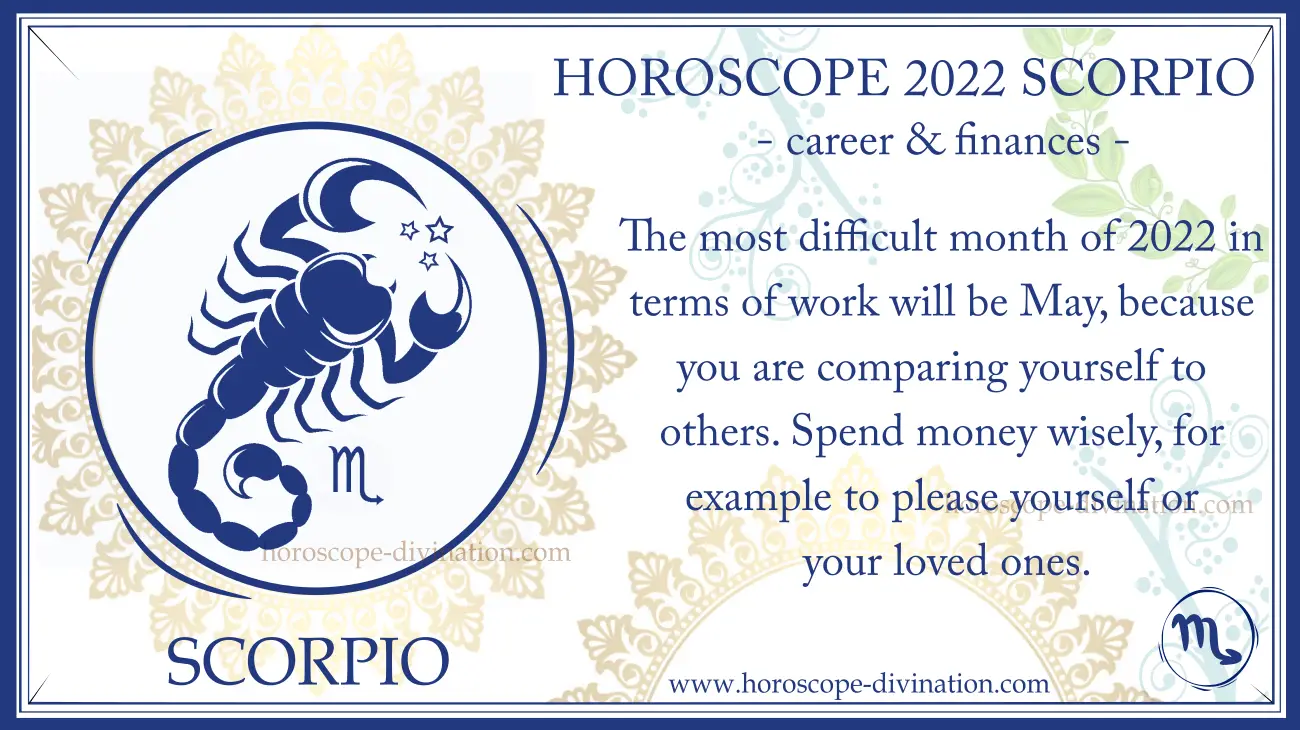 The Fortune Teller has also prepared Horoscope 2022 for those Scorpios who are interested in whether they will be more successful in the field of work and career advancement in 2022, or whether they should expect extraordinary problems at work or other complications from the point of view of career... Complete annual Horoscope Scorpio 2022 in career and finances...
Horoscope Scorpio 2022 - Health & Vitality: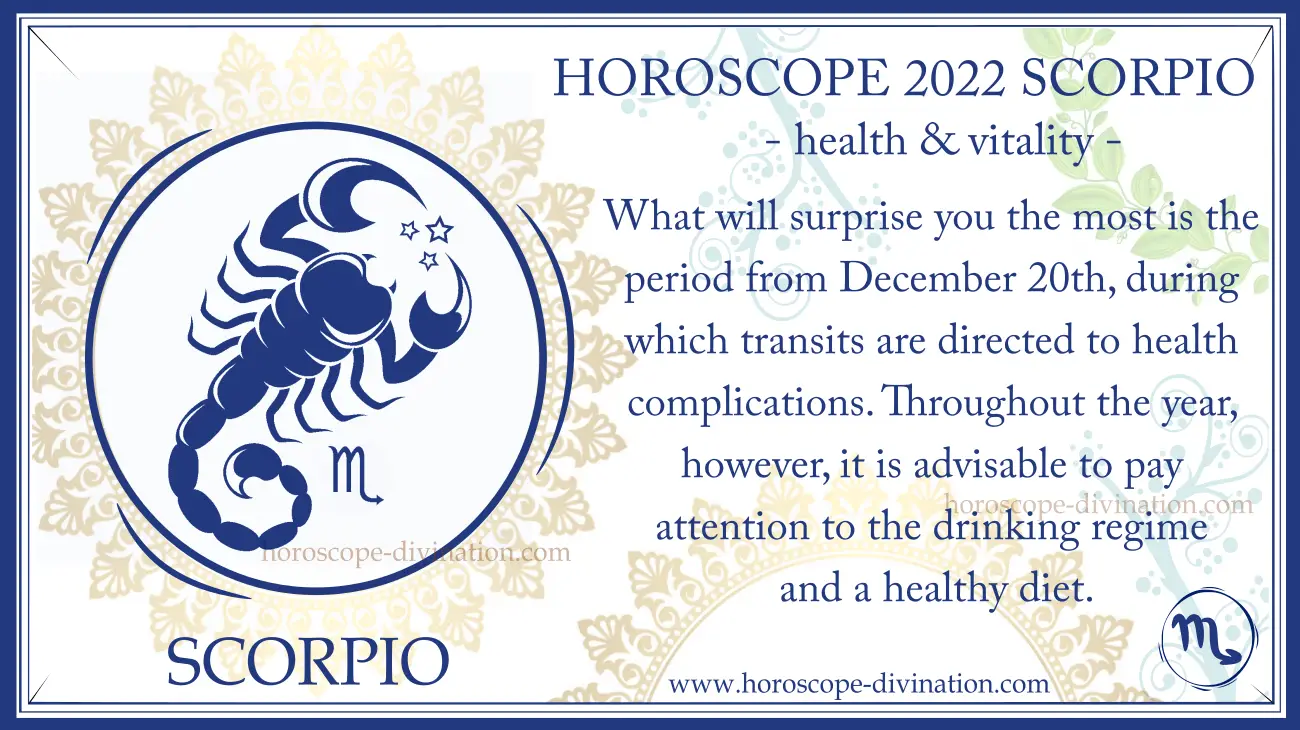 In this section, the horoscope focuses on the health of Scorpio during the year 2022. You will learn what recommendations the fortune teller brings for your better life, for firmer health and a more vital life... Read yearly Horoscope 2022 of Health and Vitality for Scorpio zodiac sign...
Retrograde movements of planets that affects Horoscope 2022 Scorpio
Graph of Retrograde Planets 2022 - Their affect on Horoscope Scorpio 2022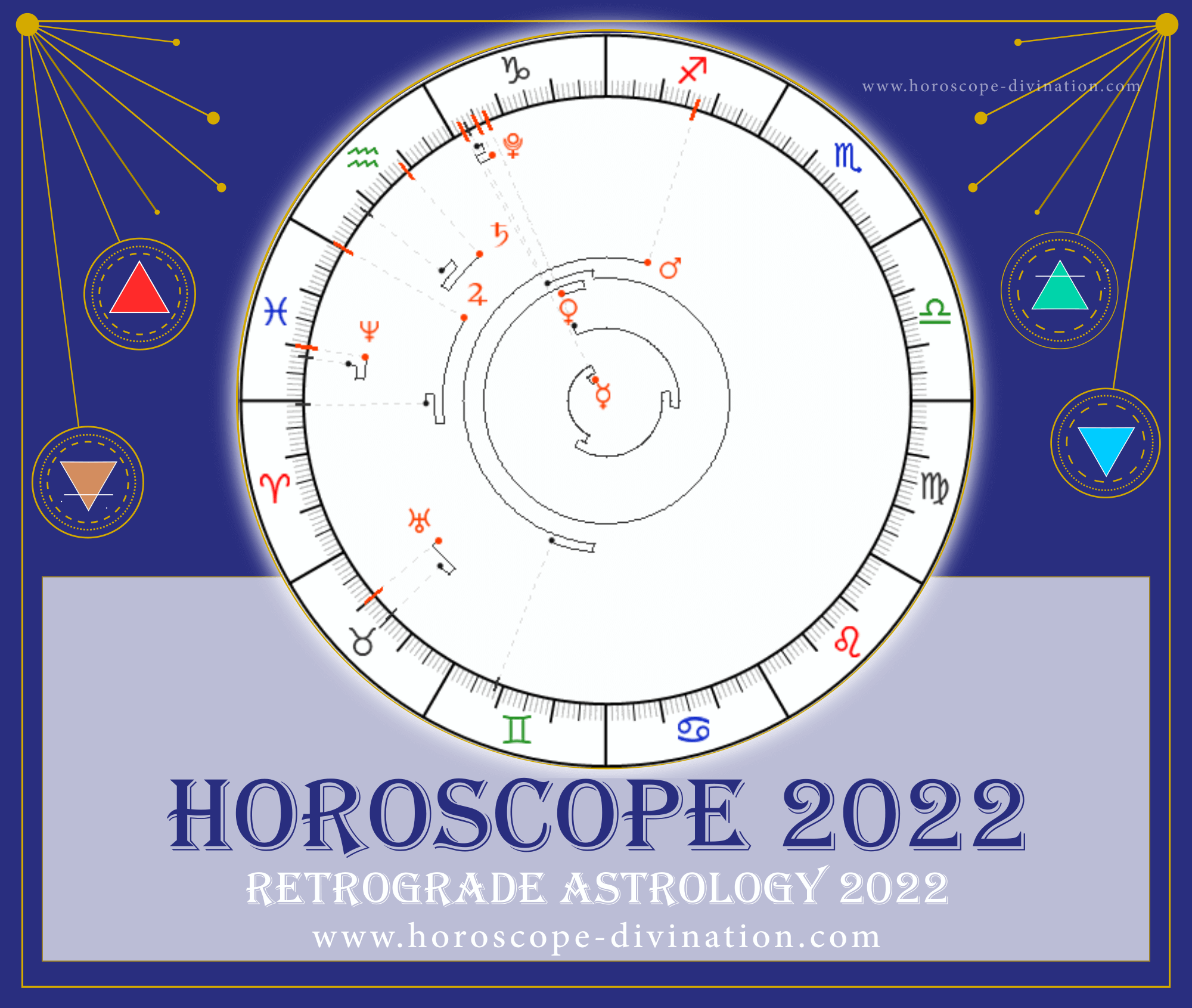 Click on the image above to read all the important information about the Retrograde Planets of 2022 and their impact on Horoscope Scorpio 2022. Below you will find a list of terms important for your energy, vitality and for the overall Horoscope Scorpio 2022.
Mercury Retrograde and Horoscope 2022 Scorpio
14 January 2022 (in Aquarius 4 house) - 04 February (in Capricorn 3 house) (For 21 days, Horoscope Scorpio 2022 is influenced by the first retrograde Mercury)
10 May 2022 (in Gemini 8 house) - 03 June (in Taurus 7 house) (Horoscope 2022 Scorpio emphasize transit for 24 days)
10 September 2022 (in Libra - 12 house) - 02 October (in Scorpio 1 house) (Horoscope Scorpio 2022 is affected by transit for 22 days)
29 December 2022 (in Capricorn 3 house) - end of year 2022 (Horoscope Scorpio will hit this aspect for 3 days)
Venus Retrograde - Horoscope 2022 Scorpio
01 January - 29 January 2022 (in Capricorn in 3 house) (Horoscope Scorpio 2022 talks about this transit during 28 days)
Mars Retrograde - Horoscope Scorpio 2022
30 October 2022 - to year 2023 (in Gemini - 8 house) (63 days are affected by Horoscope 2022 Scorpio)
Retrograde Jupiter - Horoscope 2022 Scorpio
28 July 2022 (Aries in 6 house) - 23 November (Pisces in 5 house) (Horoscope Scorpio 2022 is affected for 118 days)
Retrograde Saturn 2022 - Horoscope Scorpio 2022
04 June 2022 (Aquarius in 4 house) - 23 October 2022 (Aquarius in 4 house) (This transit affects Horoscope 2022 141 days)
Retrograde Uranus - Horoscope Scorpio 2022:
01 January 2022 (Taurus in 7 house) - 18 January 2022 (Taurus in 7 house) (For 17 days, Uranus concentrates its energies on Horoscope Taurus 2022)
24 August (Taurus in 7 dome) - to the start of the year 2023 (The annual Horoscope 2022 Scorpio is affected by the retrograde Uranus for 130 days)
Retrograde Neptune 2022 - Horoscope Scorpio:
28 June 2022 (Pisces in 5 house) - 04 December (Pisces in 5 house) (the annual Horoscope Scorpio 2022 is changed by transit for 159 days)
Pluto Retrograde - Horoscope Scorpio 2022
29 April 2022 (Capricorn in 3 house) - 08 October 2022 (Capricorn in 3 house) (aspect affects Horoscope Scorpio 2022 for 162 days)