Yearly Horoscope 2022 Sagittarius - Health
(Vitality of Sagittarius, health issues in 2022, aromatherapy and energy for Sagittarius)
First days of 2022 - Health Horoscope 2022 Sagittarius
Does 2022 mean strong and relentless health for Sagittarius? Are you expecting unexpected illnesses that you should be worried about during the year? What steps does aromatherapy recommend in terms of assessing health, protection, and the biggest complications in Sagittarius' life during 2022? In this part of the horoscope, Sagittarius will get to know not only your herb of the year 2022, but also the recommendation in terms of aromatherapy, from the fortune teller, who in this part will analyze in detail the health of each Sagittarius during the magical year of 2022.
The most common health problems of Sagittarius, with which Sagittarius will identify in 2022, are problems with back pain and unpleasant cramps. Each Sagittarius will have to build their physical strength and mental endurance in order to overcome several health problems that await you during the year. At the beginning of 2022, Sagittarius should build a fitness routine, which is cycling, swimming, or courses that combine your creative thinking with physical activity. However, the Sagittarius' biggest problem during the year will be back pain, cervical spine pain, as well as pain related to movement. To overcome these problems, from the point of view of aromatherapy, the oil of the year 2022 is peppermint oil, which helps you in several ways.
Aromatherapy recommends every Sagittarius to buy this oil at the beginning of 2022, because in January Sagittarius will feel unpleasant pains related to Sagittarius' past health problems. Use peppermint oil to your advantage. It not only helps you with digestive problems. It also relieves pain and breathing difficulties. It helps to overcome skin problems, allergies, and especially relaxes the muscles after a hard day. Muscle relaxation will be very important for Sagittarius, so a suitable means is to mix one deciliter of water with 6 drops of peppermint oil. Use this mixture for massages of your back, and recommend the oil to your masseur, who will be extremely important for every Sagittarius during 2022.
At the beginning of the year, you should find a person who will take care of you in case of unexpected, acute back pain. Rehabilitation massages are a very suitable massage for every Sagittarius, thanks to which Sagittarius will find out what activities in your life you should perform in order to prevent unpleasant back pain in the future. Thanks to peppermint oil, however, Sagittarius will not only support faster pain relief, but this herb also has antiseptic and anti-inflammatory properties. Sagittarius Horoscope 2022 strongly recommends that when looking for peppermint oil, pay attention to its quality and choose natural essential oils that do not contain chemicals that are harmful to Sagittarius' health. Instead, invest more money in quality oil, which will be an important part of Sagittarius' health during 2022, and an irreplaceable helper for colds, back pain, or anxiety or stress.
Love, a working relationship, or problems in living together? The Love Compatibility Calculator for Sagittarius will show you how high your compatibility in love, even in 2022, is with other zodiac signs.
Mentally health of Sagittarius and Vitality based on astrology Horoscope Sagittarius 2022
Horoscope 2022 however, the Sagittarius in the field of health recommends you to reach for your herb of the year 2022, which is Sage. Sage is known to several people for its wide healing effects, and for its use, which has its roots since the Middle Ages. The beneficial effects of sage can be used not only in the kitchen when cooking, but also by making tea, which will be full of health for every Sagittarius caress for the soul. The effects contained in this herb are very diverse. They help the proper functioning of the airways, but this herb strengthens your body's defenses and stimulates proper digestion. Sagittarius can take sage into your body thanks to the decoction, which with its healing effects is an excellent means of overcoming colds and minor diseases.
However, one cup of this decoction a day is enough for you. You do not have to eat sage in large quantities, but you should include it in Sagittarius' regular diet, as it will support your strong health, immunity and defenses throughout 2022. Sagittarius can use it either to make tea or to get sage candies or lozenges that can be used in case of acute sore throat or as a prevention against an unpleasant disease. Sage candies should always be in your pocket when you need to prevent the growth of bacteria in Sagittarius' throat, and if you need to prevent colds, or unpleasant, pungent and severe sore throats, especially during the winter months of 2022, and during the consumption of cold drinks during the summer. At the beginning of 2022, these recommendations are brought to you by the Horoscope, which advises you to procure your 2022 oil and 2022 herb before entering this year, to greatly strengthen Sagittarius' health and your vitality. In the following lines, we will focus on transits of astrology that directly affect health and advise you on disease prevention.
The first important astrological aspect is the planet Mercury passing through 2nd house, which is happy for you to do all the important preventive examinations that Sagittarius avoided in the past. Neglecting your health can lead to serious illnesses that can endanger you. They can endanger not only your vitality, energy and your well-being, but even your life. A very important transit is therefore the period from April 11th to April 29th, when each Sagittarius should pay increased attention to their health. You should finally undergo such examinations, which are not an annual part of the preventive examination for you. Focus on examinations related to Sagittarius' gender, and if you suspect a more serious illness, do not postpone a CT scan, ultrasound, or MRI. But you don't have to stress unnecessarily. However, prevention is very important in Sagittarius' life to prevent health problems in time.
In the second half of April, Sagittarius' health is strengthened by the positive aspects of the sun and the planet Mercury, which have a positive effect on the 6th Astrological House. You focus on your own health, and at the forefront of Sagittarius' life is a healthy lifestyle, to which you pay full attention during April and May. These months are good for the rebirth of any Sagittarius who feels tired and exhausted. April and May should belong to the healthy lifestyle of each of you. Focus on restoring your energy thanks to a healthy diet and a sufficient drinking regime.
At the end of April and in May, you do not have to fight any health problems related to your common diseases. Even your back will be strengthened thanks to Sagittarius' physical exercise and healthier lifestyle, so Sagittarius can enjoy an ideal period full of health and a sense of satisfaction. The biggest problems and pains related to Sagittarius' spine can be caused by Mars passing through the 6th house, in the sign of its exile. This unpleasant period will last from July 5th to August 20th. Now you have the opportunity to bet on your herb of the year 2022. Sagittarius can also enjoy regular massages, which you should get in the year 2022. Add peppermint essential oil to the massage, which will strengthen muscle relaxation. Sagittarius will prevent inflammation or even worse back pain. These pains can be related to travel, but also to the wrong movement that Sagittarius have included in Sagittarius' life. Therefore, when starting any physical activity, make sure that this physical activity is performed correctly so that Sagittarius do not harm your own health.
Horoscope 2022 Sagittarius says - Focus on Healthy Life
In July and August, you focus on the importance of the drinking regime. Skip the sweetened drinks from your menu, which are very unsuitable for you in 2022. Also pay attention to stress-related illnesses that Sagittarius cause yourself, especially in connection with travel or your personal life. A lot of stress can multiply your back pain, so the period from July 5th to August 20th can be very uncomfortable for you. Don't forget about massages, proper exercise, a healthy lifestyle, and enrich your body with vitamins K, B vitamins, and of course make sure you get enough of the most important vitamin for your body - vitamin C. The right ratio of vitamins in your diet can help you great back pain, because if you feel generally vital, your spine will also enjoy this vitality.
Another transit related to Sagittarius' health is the sun in opposition to Jupiter. From September 26th until the end of this month, Sagittarius will suffer from indigestion. Any unhealthy diet you have taken in recent times, any neglect of your health, has come to the fore, because you have not paid enough attention to the pain and the loss of energy that has occurred in Sagittarius' life in previous months, health may now surprise you. From December 26th until the first days of October, indigestion will cause you many problems. You may also have trouble sleeping due to poor diet. It is very important that Sagittarius avoids nighttime eating during this period. Take a few days to detox, cleanse your body, because your body needs it.
The Mercury square Jupiter may also mean your efforts to solve a certain health problem, which will not be successful. You may also need to travel to solve a health problem, as Sagittarius will lack an expert view of Sagittarius' health complications. It is very likely that in the second half of 2022 Sagittarius will have to take a trip related to Sagittarius' health and to solving a persistent health problem. The good news, however, is that Sagittarius does not have to worry about major injuries in 2022. Astrological transits do not indicate any injuries that could affect your health or your vitality during 2022. Horoscope 2022 however reminds you to be careful when driving, especially in the second half of 2022, when astrological transits also focus on your attention, and may affect your attention while driving. This applies to car as well as motorcycle drivers. Every Sagittarius can now be threatened by inattention behind the wheel, which can cause many unpleasant moments in the hospital, with unpleasant injuries if Sagittarius is not careful. The chance of injury is not great, but injuries can affect those Sagittarius who neglect attention during the activity.
Accurate Monthly Horoscope Sagittarius tells you more about Sagittarius future in love, health, career, money or relationships. Horoscope 2022 Sagittarius is also connected with a monthly prophecy. Read all the important horoscopes from the fortune teller for the year 2022.
Health Horoscope 2022 Sagittarius - last days before 2023
If you want or need to lose weight in 2022 and ask if Astrological Transits will make it easier for you, the answer is from November 22nd to December 21st. It is during this period that each Sagittarius can create his own routine of physical activity, which will be related to the accommodation of your weight. From November 22nd to December 21st, you also have the strength to reshape your diet, and follow these new practices. Inaction in this direction can be interrupted for a few days only by Venus square Jupiter, which, however, will not affect your energy for a long time.
These positive transits of December 2022 will hit every Sagittarius, and will strengthen your vitality and energy. You have an excellent opportunity to lose weight, and further improve Sagittarius' health. You have the opportunity to work on your health, because transits are positive until May 2023. This period will help you develop a habit that Sagittarius will follow later. Fight for your better future, and for more vital health. Sagittarius will be kicked by the period from November 22, which Sagittarius can make full use of for stronger health, for the large amount of energy of each Sagittarius, and for any start related to Sagittarius' health. Start eating healthily, start moving, start to be more interested in your own health, as recommends Sagittarius Horoscope 2020 , for the end of 2022.
Sagittarius Horoscope of Health 2022 therefore does not predict any negative aspects related to Sagittarius' health. Use caution when driving and taking risky activities, especially during the Retrograde transitions of Mercury and Venus. Even during Retrograde Jupiter, be more careful, and especially pay enough attention to driving. It is essential that every Sagittarius in 2022 is interested in a healthy diet, a quality drinking regime, and a more vital way of life. The year 2022 is also an ideal period for those Sagittarius who must or decide to lose weight. It is a time when Sagittarius can begin to form a habit that will be a normal part of Sagittarius' life and future.
Daily Horoscope Sagittarius prepare you for the current day. Horoscope 2022 from the Fortune-Teller also means the possibility of daily divination for Sagittarius zodiac sign.
---
Horoscope Sagittarius 2022 - Love, Career, Health, Future...
Click the image you like and read more about year 2022...
Horoscope Sagittarius 2022: Overview - Positive and Negative aspects of 2022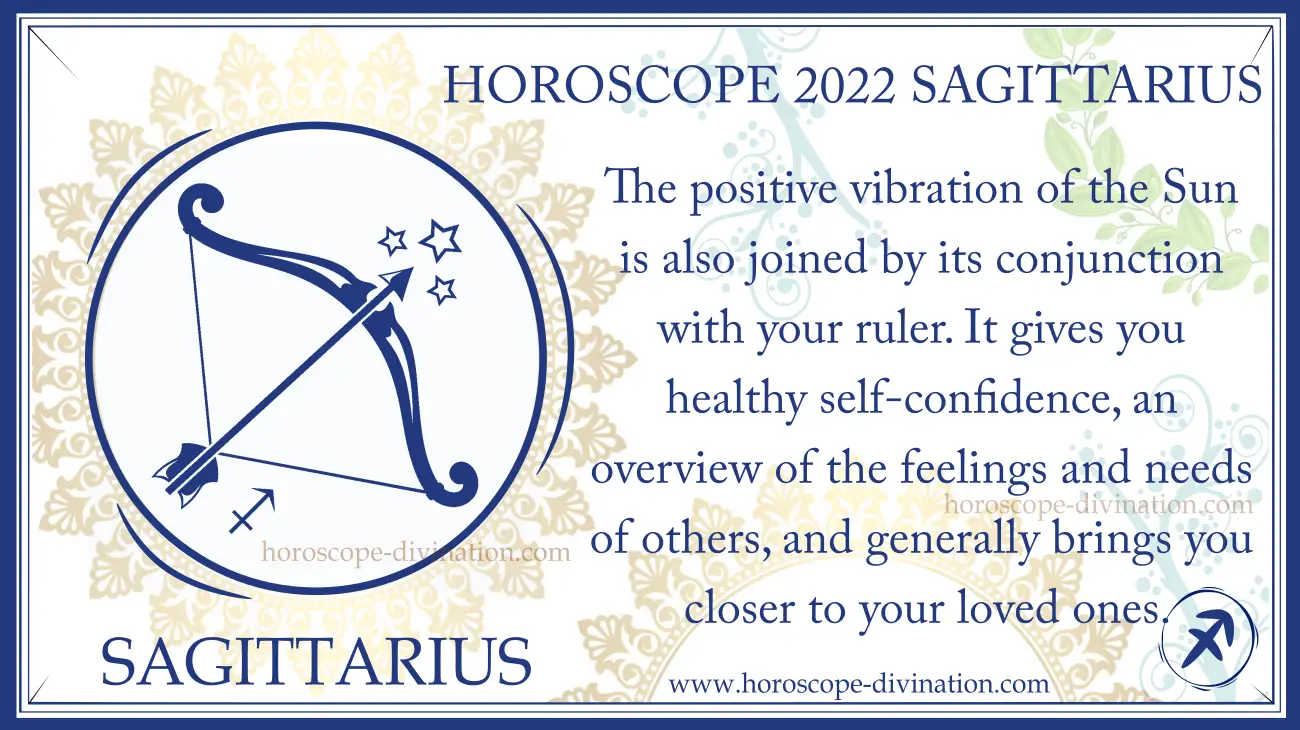 From February 18th until the rest of the month, you enjoy the peace and quiet associated with your home. A number of positive transits focus energy on the loving Sagittarius, who is now the best partner... Introduction of Horoscope 2022 Sagittarius...
Horoscope Sagittarius 2022 from fortune-teller - Love & Relationships in 2022: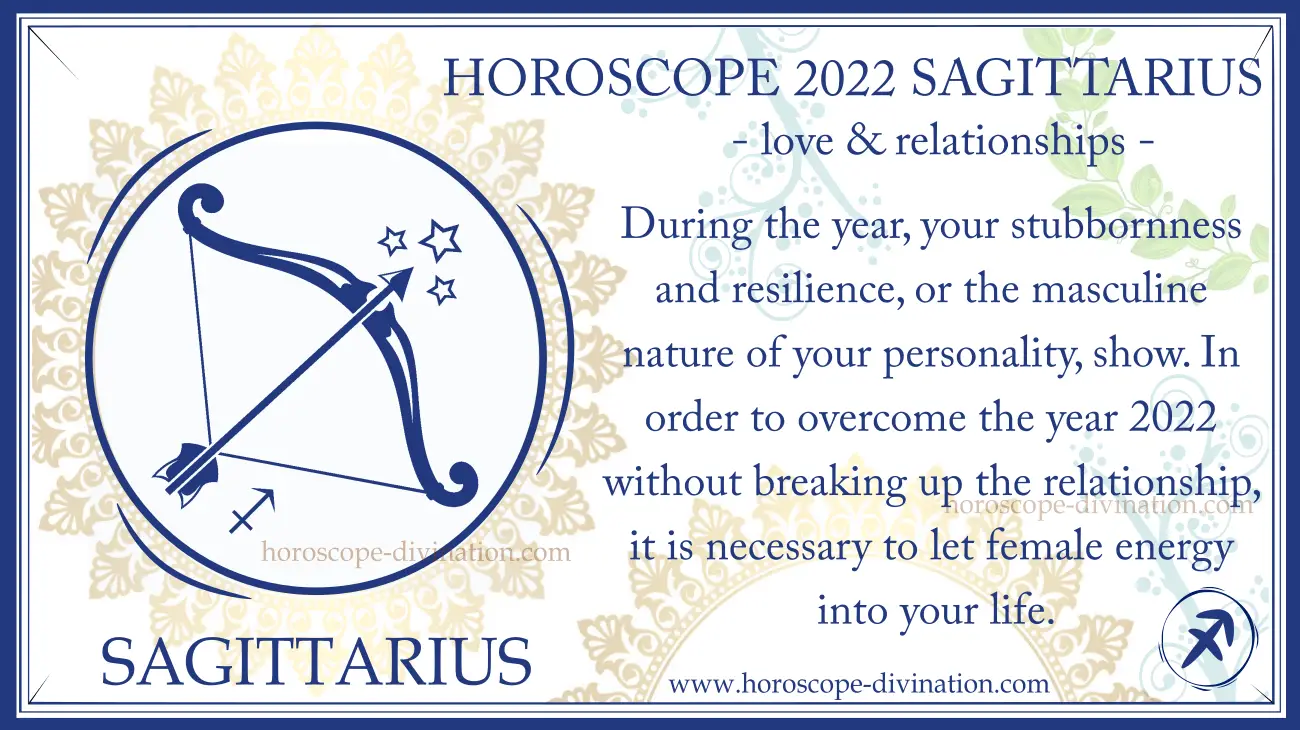 To enhance the love in your life, to improve your emotions, and for a great deal of harmony, Sagittarius Horoscope 2022 recommends that you place a pink Quartz semi-precious stone in your home, a well-known stone that concentrates positive energy on each owner... Read more about Love Horoscope Sagittarius 2022...
Horoscope Sagittarius 2022 - Family, Friends, Marriage and Pregnancy in 2022: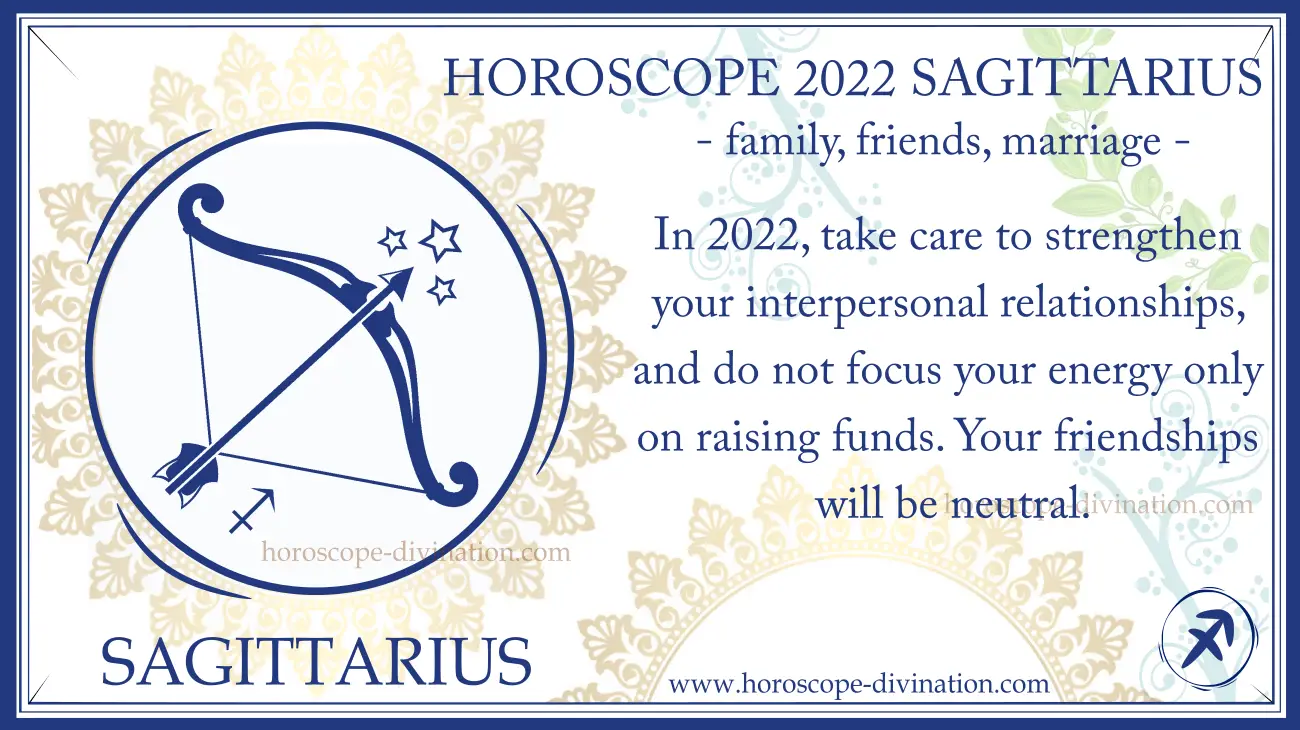 Family relationships are at least as important in the Sagittarius's life as work, money, or a functioning marriage. Good interpersonal relationships are important for anyone who needs the support and help of others... Read this yearly Horoscope Sagittarius 2022 - Family, Friends, Pregnancy and Marriage...
Horoscope 2022 Sagittarius - Career & Finances: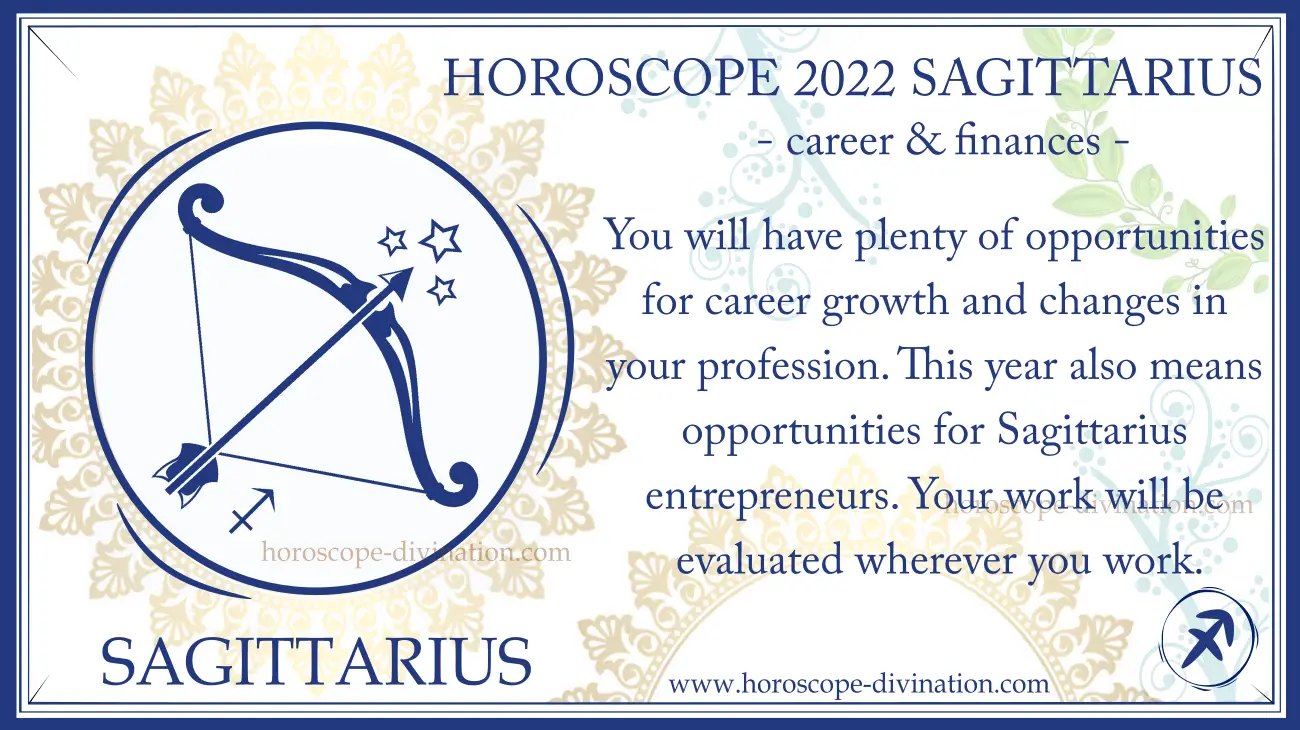 Do harmonious working conditions await you during 2022? Will 2022 be a year of great changes, will you be able to advance your career, will the unemployed Sagittariuses be able to find a new job? Complete annual Horoscope Sagittarius 2022 in career and finances...
Horoscope Sagittarius 2022 - Health & Vitality: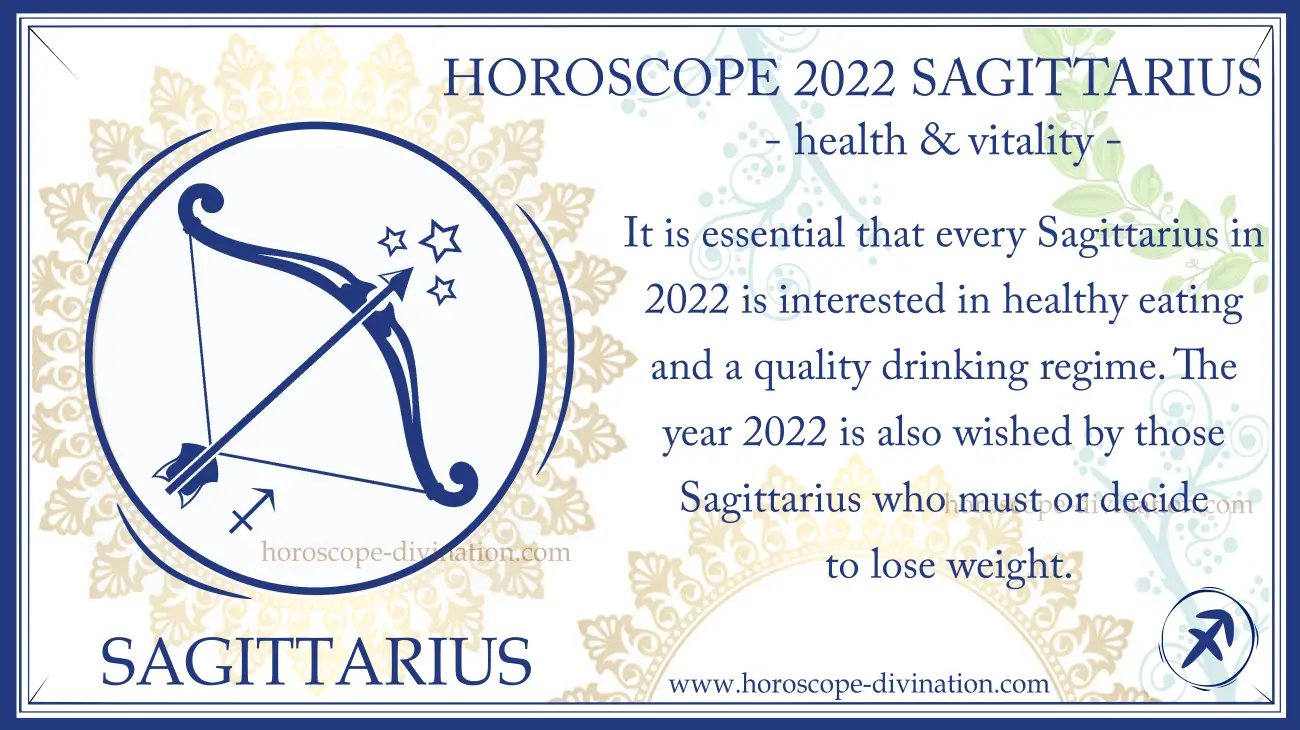 Does 2022 mean strong and relentless health for Sagittarius? Are you expecting unexpected illnesses that you should be worried about during the year? What steps does aromatherapy recommend in terms of assessing health, protection, and the biggest complications in Sagittarius' life during 2022? Read yearly Horoscope 2022 of Health and Vitality for Sagittarius zodiac sign...
Retrograde movements of planets that affects Horoscope 2022 Sagittarius
Graph of Retrograde Planets 2022 - Their affect on Horoscope Sagittarius 2022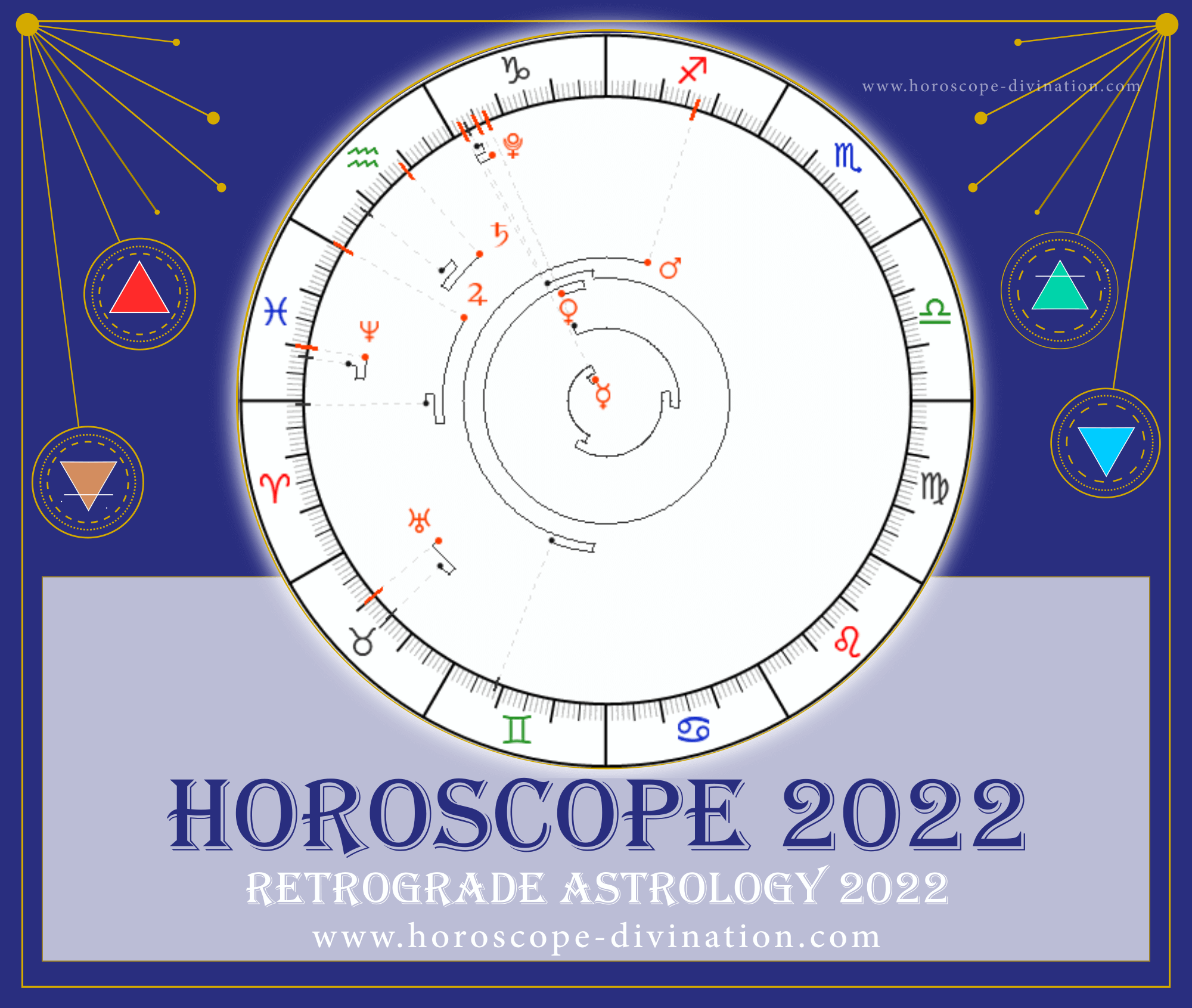 Click on the image above to read all the important information about the Retrograde Planets of 2022 and their impact on Horoscope Sagittarius 2022. Below you will find a list of terms important for your energy, vitality and for the overall Horoscope Sagittarius 2022.
Mercury Retrograde and Horoscope 2022 Sagittarius
14 January 2022 (in Aquarius 3 house) - 04 February (in Capricorn 2 house) (For 21 days, Horoscope Sagittarius 2022 is influenced by the first retrograde Mercury)
10 May 2022 (in Gemini 7 house) - 03 June (in Taurus 6 house) (Horoscope 2022 Sagittarius emphasize transit for 24 days)
10 September 2022 (in Libra - 11 house) - 02 October (in Scorpio 12 house) (Horoscope Sagittarius 2022 is affected by transit for 22 days)
29 December 2022 (in Capricorn 2 house) - end of year 2022 (Horoscope Sagittarius will hit this aspect for 3 days)
Venus Retrograde - Horoscope 2022 Sagittarius
01 January - 29 January 2022 (in Capricorn in 2 house) (Horoscope Sagittarius 2022 talks about this transit during 28 days)
Mars Retrograde - Horoscope Sagittarius 2022
30 October 2022 - to year 2023 (in Gemini - 7 house) (63 days are affected by Horoscope 2022 Sagittarius)
Retrograde Jupiter - Horoscope 2022 Sagittarius
28 July 2022 (Aries in 5 house) - 23 November (Pisces in 4 house) (Horoscope Sagittarius 2022 is affected for 118 days)
Retrograde Saturn 2022 - Horoscope Sagittarius 2022
04 June 2022 (Aquarius in 3 house) - 23 October 2022 (Aquarius in 4 house) (This transit affects Horoscope 2022 141 days)
Retrograde Uranus - Horoscope Sagittarius 2022:
01 January 2022 (Taurus in 6 house) - 18 January 2022 (Taurus in 6 house) (For 17 days, Uranus concentrates its energies on Horoscope Taurus 2022)
24 August (Taurus in 6 dome) - to the start of the year 2023 (The annual Horoscope 2022 Sagittarius is affected by the retrograde Uranus for 130 days)
Retrograde Neptune 2022 - Horoscope Sagittarius:
28 June 2022 (Pisces in 4 house) - 04 December (Pisces in 4 house) (the annual Horoscope Sagittarius 2022 is changed by transit for 159 days)
Pluto Retrograde - Horoscope Sagittarius 2022
29 April 2022 (Capricorn in 2 house) - 08 October 2022 (Capricorn in 2 house) (aspect affects Horoscope Sagittarius 2022 for 162 days)