Yearly Horoscope 2022 Gemini - Health
(Vitality of Gemini, health issues in 2022, aromatherapy and energy for Gemini)
First days of 2022 - Health Horoscope 2022 Gemini
From health view, the year 2022 suggests that you should provide your home with essential oils, which are a valuable in dealing with headaches or in case of great exhaustion. Eucalyptus and lemon oil should be part of your household throughout the year. A few drops of this oil will help you to relax mentally, especially if you need to fully relax from your worries. These oils will have very positive effects even in the case of migraine or colds. Your home and office should be surrounded by the scent of eucalyptus throughout 2022, advice Horoscope Gemini 2022, as this scent is the scent of 2022 for every Gemini in terms of aromatherapy. Nowadays, you can get pure essential oils anywhere, but pay attention to their quality and, above all, choose natural oils that do not harm your health in any way. In addition to this important knowledge, it is useful to know what transits will affect your health and yearly Horoscope Gemini during 2022.
In terms of astrological transits, January will hit Gemini in several directions. Because of the retrograde Venus, you will feel that you have to hide from your own feelings, and the whole of January can be psychologically demanding for Gemini. More significantly, however, every Gemini will feel the movement of the retrograde Mercury in the 8th house from January 26th, when you may fall victim to destructive thoughts and depression. The transition of retrograde Mercury will take from January 14th, but you will feel the strongest impact on your health from January 26th to February 4th.
For Gemini, January will be a challenging month, specifies yearly Horoscope Gemini 2022, when you will question the value of your own intimate life and your thinking. You will think deeply about everything in the past, and you will be reminded of every mistake you have made in the past. As a very receptive person, these days you will also remember the bad things you have experienced in the past. These gloomy, black thoughts can therefore affect your mental health, and can break your New Year's energy. You must not stick to such thoughts, because if you do not get rid of negative thinking, it will block your further growth.
From February 4th, you feel the departure of the retrograde planet Mercury from your energetic field, and you perceive the sun in the conjunction of Saturn in 9th house, describes astrology Horoscope Gemini. You realize that your past goals were too idealistic and this aspect will negatively affect your health for a few days, predicts astrology Horoscope for Gemini zodiac sign. You will focus on work, which will cause tension and sophistication. Conjunction Sun with Saturn in 9th astrology house robs you of energy, and you can feel exhausted. Astrological transits show that transits affecting health are mainly related to fatigue and the intensification of mental illness. Even on February 25th, when the quadrature of the planet Mercury and Uranus takes place in 9th astro house, it intensifies grief and encourages mental illness. In February, they should include more exercise in their lives to help you overcome the loss of energy and impaired mental health.
Throughout February, you should focus on your friends and family, and on your love, because transits also indicate relationship difficulties and the breakup of some friendships, adds yearly Horoscope 2022 for Gemini zodiac sign. These facts will further worsen your mental health, which may be broken after the beginning of the year. Avoid deliberate quarrels, and focus on your own personal development. The graph does not indicate any unexpected or new diseases, but on the other hand it warns chronically ill people that their disease may worsen and develop in February. Bet on a healthy diet and especially on enough exercise in nature, which helps you overcome the pitfalls of everyday life.
Love, a working relationship, or problems in living together? The Love Compatibility Calculator for Gemini will show you how high your compatibility in love, even in 2022, is with other zodiac signs.
Mentally health of Gemini based on astrology Horoscope Gemini 2022
From March 6th, you will experience the positive impact of Venus entering the 9th house, which also affects your health. You will have chance relax and focus mainly on your family and friends. Your family and friendships are strong, and these relationships help you improve your own health as well. Venus in the 9th house brings opportunities to your life to relax and clean up your own energies. Venus is in this sign from March 6th, until April 5th, when you do not have to worry about any unexpected or serious illnesses. In March, you can indulge in a complete restart of your soul and also your body. Nature opens its arms to you, and your actions will also affect your mental health. Therefore, you must not sit indoors at home. Focus on healthy physical exercise, and healthier eating.
As of March 20th, the astrological chart alerts you to pay attention to your drinking regime. The energy of the sun directed to the 11th house from March 20th means possibilities of self-realization and also strengthening of health. The sun is in zodiac sign its elevation, and from a health view it is necessary to monitor one's own health and diet. From March 20th to April 20th, you have the opportunity to strengthen your defenses. Therefore, eat healthy and do everything to keep your health strong and ready for the more difficult period of 2022, continue health Horoscope Gemini 2022. The passage of the sun from the 11th to the 12th house (from March 20tg to April 20tg) can also mean nausea in children born in zodiac sign Gemini. Therefore, if there is a child with this sign in your household, you need to monitor your health and diet with caution. Children may tend to discover new tastes, which can also lead to more serious digestive problems.
In April, it is necessary to follow a regular exercise, and a balanced diet. Since you may feel lazy and tired, you will be required to follow a proper drinking regimen, and eliminate lemonades and sugary drinks from your diet. On April 15th, Planet Mars will remind you that you need to be more careful with yourself as you enter the 8th house. Mars is found in Pisces from April 15th to May 24th, and these days you may more often face injuries. During this period, the horoscope points out that there are great preconditions for an unexpected and rapid injury. In the second half of April - until May 24, this aspect also means the high intelligence and receptivity of Gemini. You should therefore use these gifts to prevent injuries. This aspect places great emphasis on the health of Gemini, not only in terms of injuries and injuries. It can also mean a sudden death in the family, or an injury that will have consequences for the future.
Therefore, be careful during normal activities, such as driving, cleaning, or your daily work, where danger may await. The period from April 15th to May 24th is a very specific period when you need to be very careful about your health, says Horoscope of vitality for gemini. On the 28th, 29th and 30th of April, you feel a New Moon in the 12th house, when you focus on your health again. Gemini can resort to addictions that damage not only your physical but also your mental health. Therefore, be careful not to consume any substance that is addictive.
Horoscope 2022 Gemini says - Focus on other areas of life
Around May 15th, the energies of April's Mars also merge with the Sun square Saturn. The sun laid in this way is in a neutral position, but it indicates problems with chronic diseases. Caution should be exercised especially by Gemini, who are being treated for a long time for a certain disease that may worsen during this period. The horoscope draws attention especially to diabetics, and people who have problems with high blood pressure and heart. Constant efforts to financially improve the family budget will also bring you stress, which can mean health complications. So far, the horoscope indicates that the health of Gemini will be very demanding in the first half of the year.
In the month of June 2022, the transits do not anticipate any serious changes to your health, because the energies of astrological transits are focused mainly on the house of personality and property. The second half of the year will be more health-friendly. From July 22nd, the sun enters the 3rd house, when there is a huge opportunity for you to grow mentally and learn. You have the opportunity to move forward in your own relationships, or in family or friendships. Your communication with other people will be very fresh. This time is suitable not only for self-care, but also for children in the family, undelines yearly Horoscope Gemini for 2022. Educate yourself in the field of health, and be more interested in meditation and various forms of strengthening mental health. Mental and physical health goes hand in hand in 2022, so you need to keep your body in excellent condition and give your soul a harmonious period in the second half of 2022.
The whole of August 2022 deals with the issue of family life. Gemini think that their family is very important to them. Gemini will be given a chance to increase their own housing, and will focus on other areas of life. Your health will not bother you in August, but again those who suffer from chronic diseases should be careful. Gemini can also search for their roots during this period. Especially in terms of health, when you should talk to family members about hereditary diseases that can affect you during your life. It is good to know about these diseases in advance so that you can prevent the deterioration of your health. The period from August 23rd to mid-September is ideal for searching for diseases that can potentially endanger you. Get to know the family past.
Accurate Monthly Horoscope Gemini tells you more about Gemini future in love, health, career, money or relationships. Horoscope 2022 Gemini is also connected with a monthly prophecy. Read all the important horoscopes from the fortune teller for the year 2022.
Health Horoscope 2022 Gemini - last days before 2023
September belongs to most of the planets moving in the house of joy, and your health will be strengthened and unchanging. Those who have suffered from pain so far will time to end this suffering in September. You will either get the medicine you need or you will learn to work with the pain in your own way so that you are no longer bothered by these pains. In October, the focus of astrological transits is again on your health and your work. From October 23rd, the sun enters the 6th astrological house - it moves to the home of health and work. Gemini's desire for success increases, and this strong sun also means opportunities for healing and getting rid of disease.
From October 23rd, a very positive sun gives you the opportunity to cure diseases that are related to your skin, your weight, or your overall lifestyle. Every illness that you can treat yourself will now be at the forefront of your attention, and you will have opportunity change your diet for the better. Some of you will need to lose weight to improve health, talks Horoscope for Gemini zodiac sign 2022. From October 25th, there will be several ideal opportunities to lose weight and strengthen your fitness. The end of October can afflict people who have problems with muscle pain or lungs. From 29th October to 17th November, all Gemini who are deeply interested in health will have time to find the cause of their disease. Mercury will help you focus fully on your health problems and give you answers to your health questions.
From December 6th, Mercury in the 8th Astrological House, which is heavily occupied, means an effort to find out everything about things that interest you. It means not only financial security and a positive attitude towards study, but also the development of communication and intellect. From a health view, however, the view on this aspect is not so positive. From December 6 until the end of 2023, you must be aware of dangers such as accidents or falls. Another intervention in your health will be the Full Moon in the first house, which will affect you on December 8th, 9th and 10th. It brings a changeable nature - you overreact to the opinions of others. Your own interests and opinions may come into conflict with others, emphasize Horoscope Gemini 2022, and therefore it will be necessary to seek your own inner strength and mental balance. In order to keep your psyche in balance, you will need a moment of peace just for yourself, which you have to experience every day from December 8th until the end of 2023.
The end of 2022 will no longer surprise you with any negative transit to your health. In any case, the Horoscope recommends that you be very careful when driving from 6th December, especially when driving to the 8th house, Mercury indicates the already mentioned dangers or accidents. From the overall view of the Health Horoscope during 2022, we see more difficult periods that you will have to overcome both mentally and physically.
In this section, the horoscope acquainted you with the things you need to watch out for in 2022, and with the months that mean strengthening your health and vitality. In 2022, we wish every Gemini to find inner balance and strengthen physical health. Remember that in case of feeling tired or nauseous, you can always reach for eucalyptus or lemon oil, which is your salvation for colds, headaches, or at times when you feel a decline in vitality. Also, don't forget about herbs, which should be part of your daily diet, especially in the spring.
From view of health, the end of 2022 brings opportunities for weightloss to those who need to lose weight. You can also achieve this goal by skipping one meal, which you replace with a nutritious soup. Healthy eating, an adequate drinking regime, and exercise in nature are among the key points to improve and maintain health in 2022.
Daily Horoscope Gemini prepare you for the current day. Horoscope 2022 from the Fortune-Teller also means the possibility of daily divination for Gemini zodiac sign.
Listen to your personal Gemini Horoscope 2022
---
Horoscope Gemini 2022 - Love, Career, Health, Future...
Click the image you like and read more about year 2022...
Horoscope Gemini 2022: Overview - Positive and Negative aspects of 2022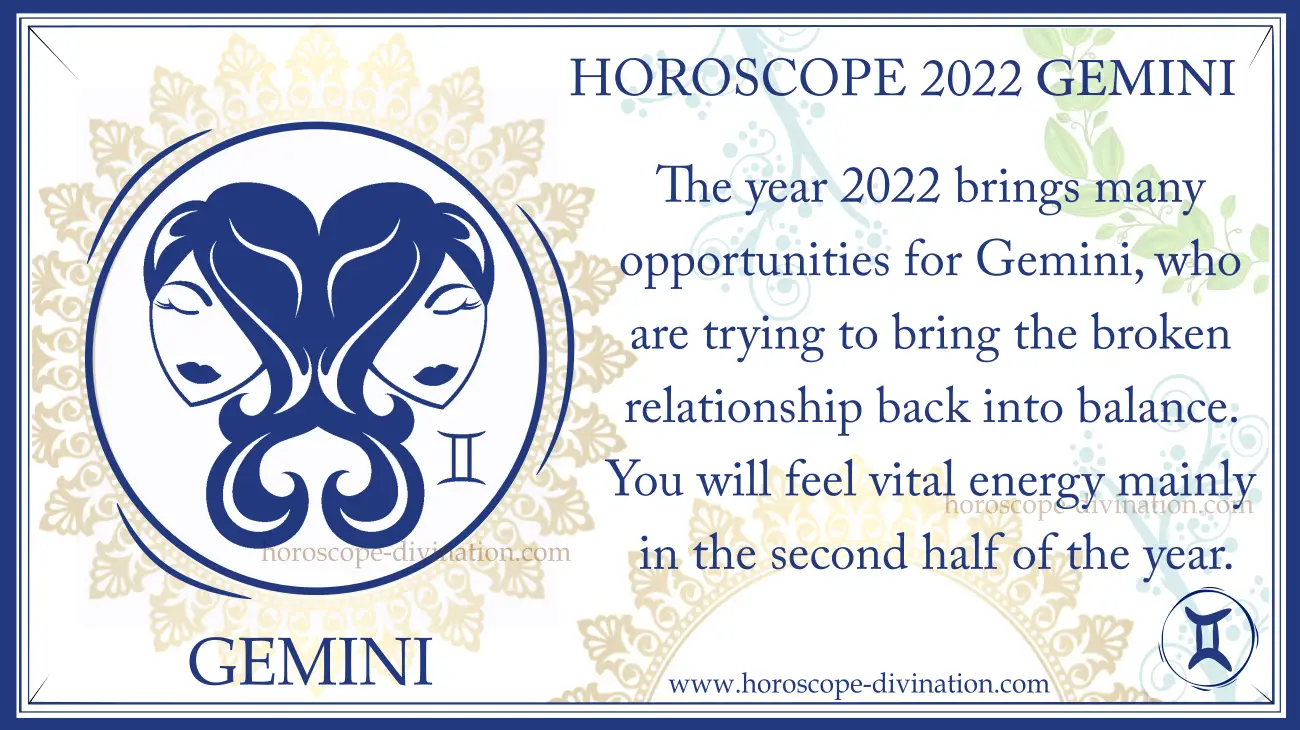 From Love view, the first quarter does not bring any exceptional transits that would positively or negatively affect the energies of Gemini. The first big positive aspect comes during the month of May, when Gemini will have many opportunities in a relationship to strengthen their long-term relationship and marriage... Introduction of Horoscope 2022 Gemini...
Horoscope Gemini 2022 from fortune-teller - Love & Relationships in 2022: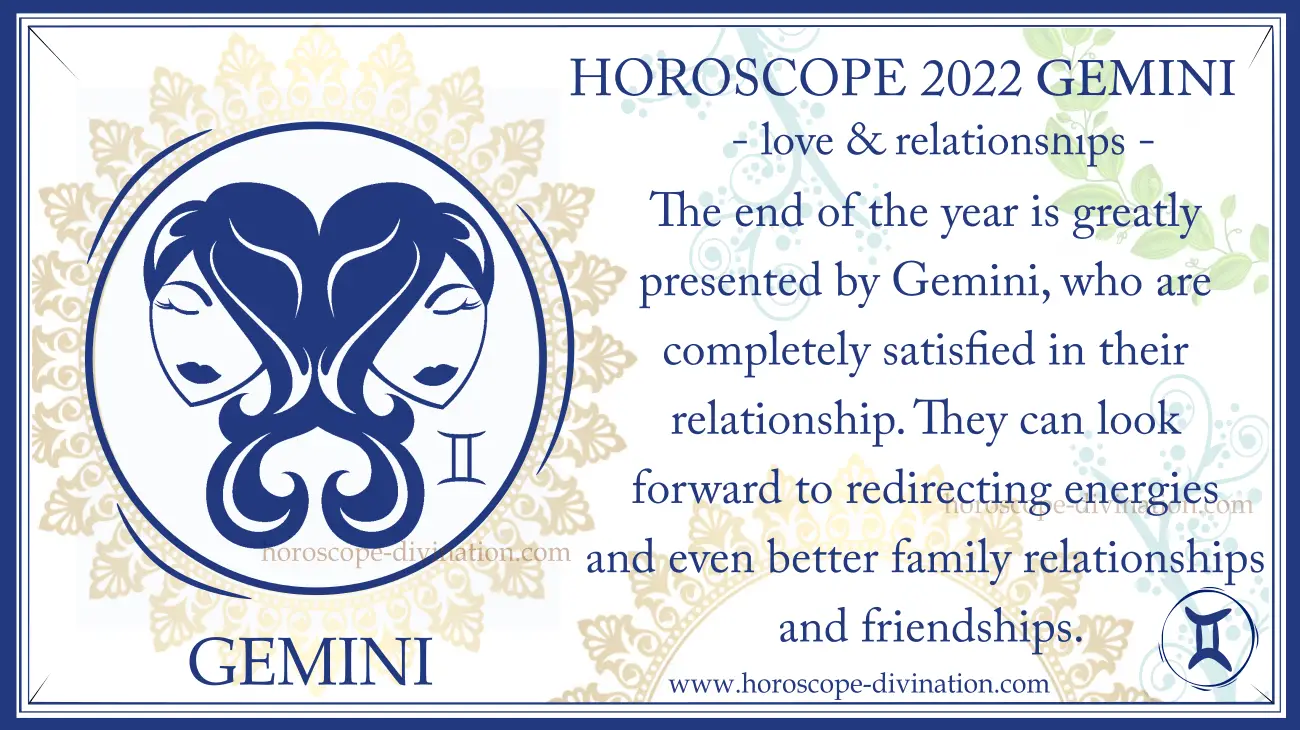 We see the busiest 5th house of joy and pleasure on the planets mainly in September, when Gemini is hit by several positive transits affecting the love of the assigned Gemini. In November, the 7th partnership house is the hardest hit, and these energies are focused mainly on romantic relationships... Read more about Love Horoscope Gemini 2022...
Horoscope Gemini 2022 - Family, Friends, Marriage and Pregnancy in 2022: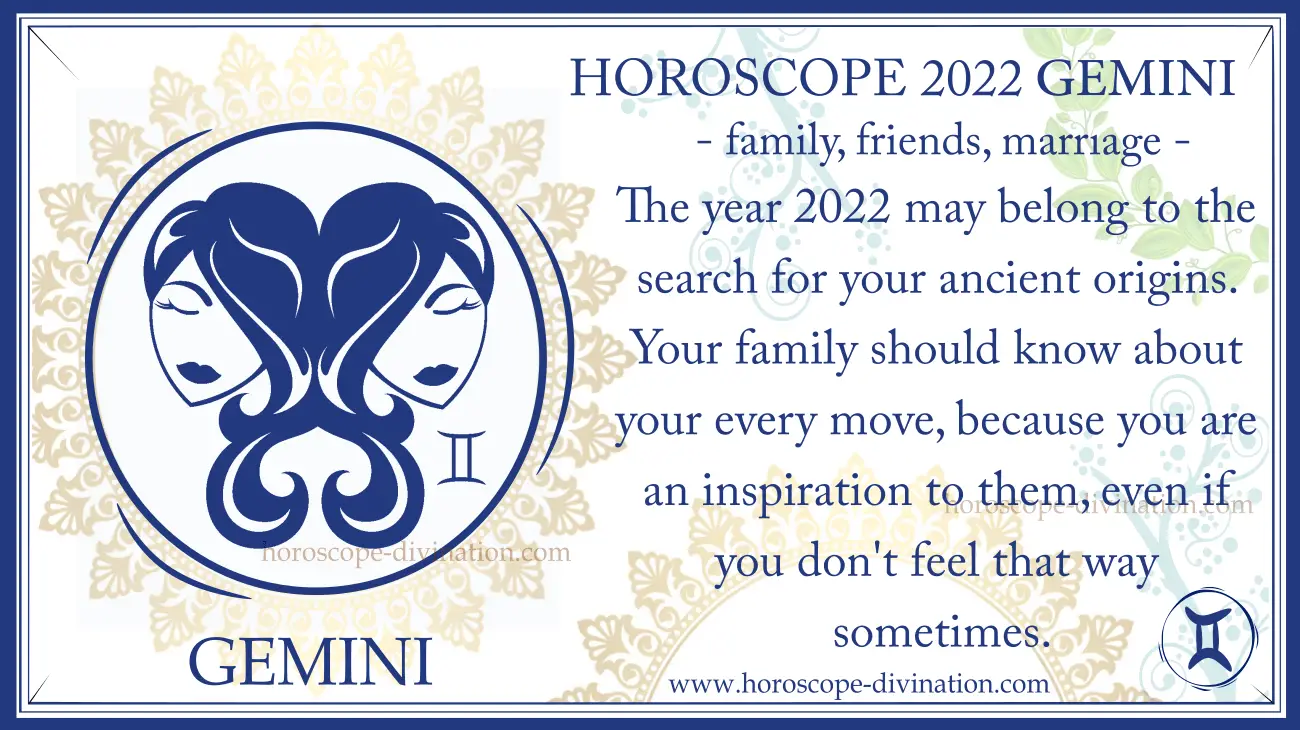 The year 2022 may belong to the search for your ancestors and your ancient origins. You will combine periods of great curiosity with a desire to know yourself. January brings to the life of Gemini a regressive planet that rules you, but also a regressive Venus that brings distrust to the people around you... Read this yearly Horoscope Gemini 2022 - Family, Friends, Pregnancy and Marriage...
Horoscope 2022 Gemini - Career & Finances: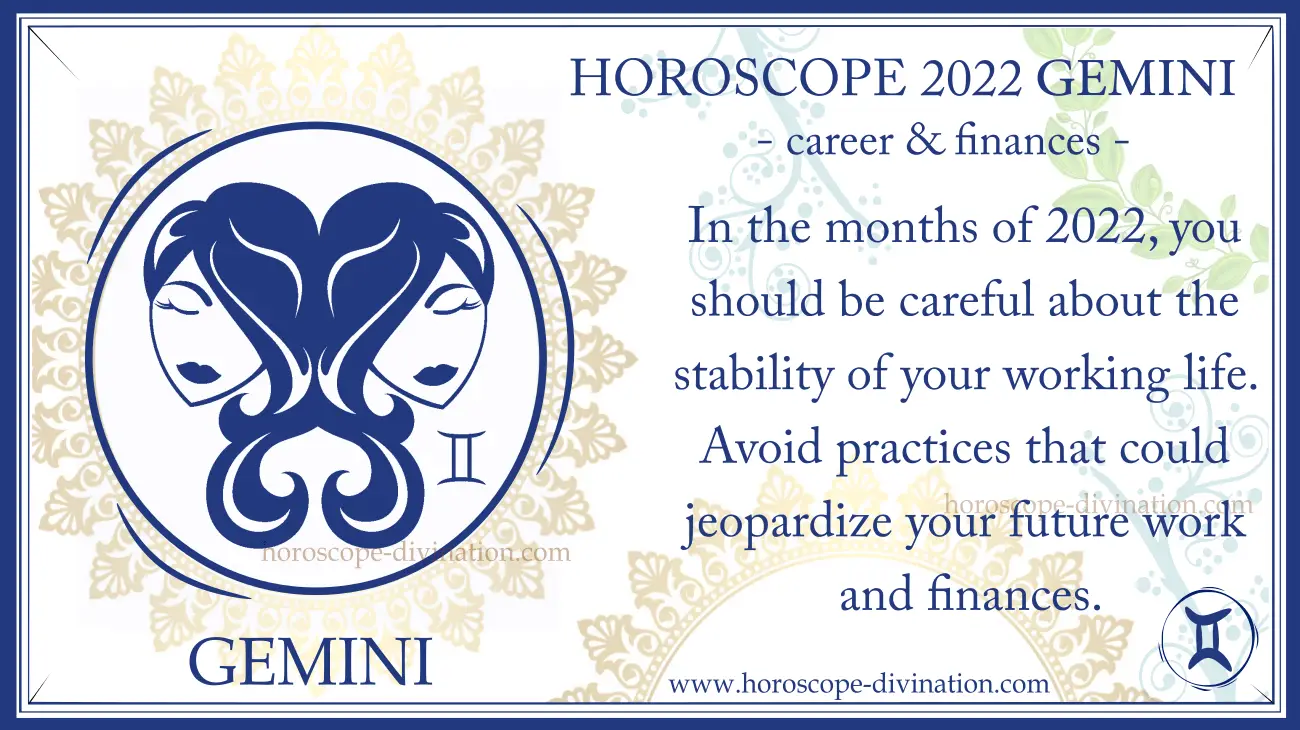 The influence of January's regressive Venus in the 8th house, from January 1st to 29th, 2022, affects not only the energy of love and desire, but also trust in people and interest in things around you. Gemini will overcome a period of lack of interest in things that do not seem valuable in their life... Complete annual Horoscope Gemini 2022 in career and finances...
Horoscope Gemini 2022 - Health & Vitality: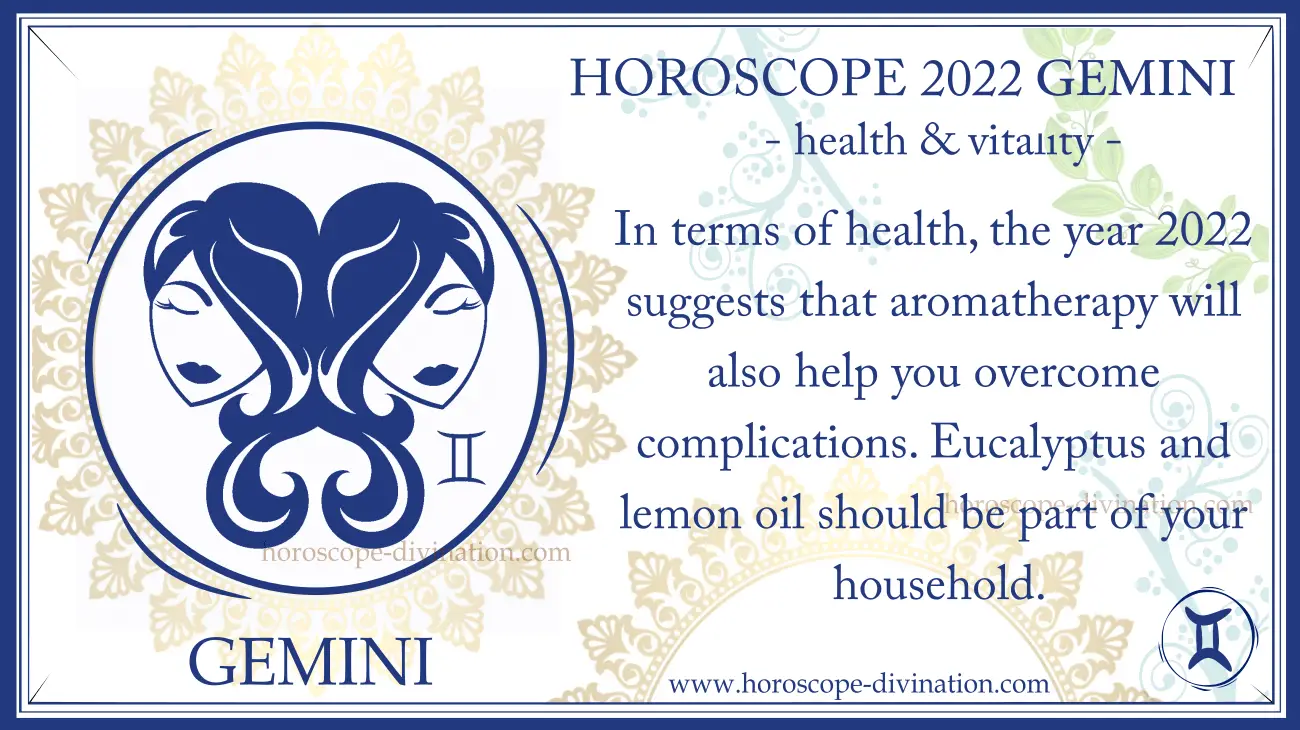 From a health point of view, the year 2022 suggests that each of you should provide your home with essential oils, which are a valuable aid in terms of aromatherapy in dealing with acute headaches or in case of great exhaustion... Read yearly Horoscope 2022 of Health and Vitality for Gemini zodiac sign...
Retrograde movements of planets that affects Horoscope 2022 Gemini
Graph of Retrograde Planets 2022 - Their affect on Horoscope Gemini 2022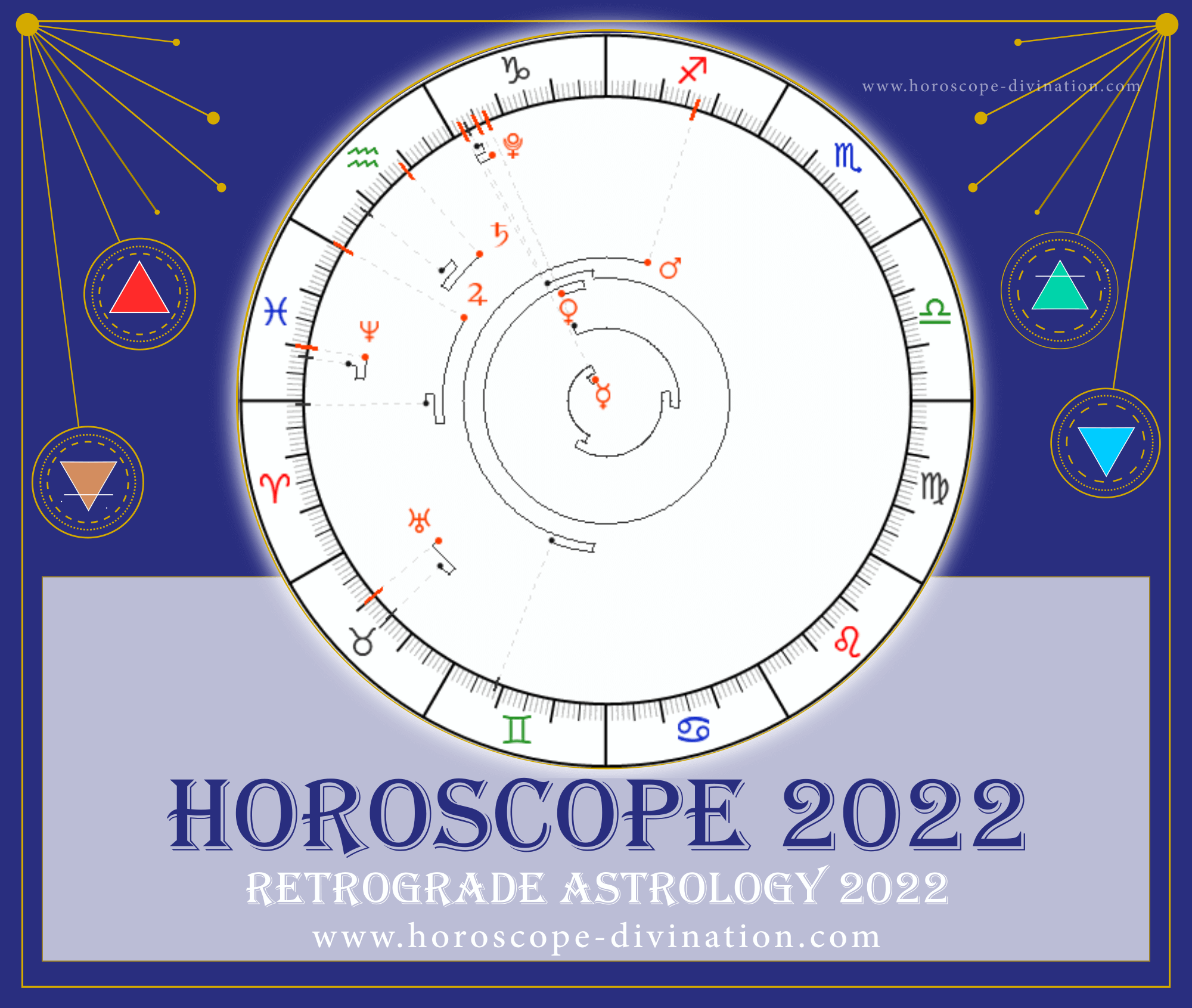 Click on the image above to read all the important information about the Retrograde Planets of 2022 and their impact on Horoscope Gemini 2022. Below you will find a list of terms important for your energy, vitality and for the overall Horoscope Gemini 2022.
Mercury Retrograde and Horoscope 2022 Gemini
14 January 2022 (in Aquarius 9 house) - 04 February (in Capricorn 8 house) (For 21 days, Horoscope Gemini 2022 is influenced by the first retrograde Mercury)
10 May 2022 (in Gemini 1 house) - 03 June (in Taurus 12 house) (Horoscope 2022 Gemini emphasize transit for 24 days)
10 September 2022 (in Libra - 5 house) - 02 October (in Scorpio 6 house) (Horoscope Gemini 2022 is affected by transit for 22 days)
29 December 2022 (in Capricorn 8 house) - end of year 2022 (Horoscope Gemini will hit this aspect for 3 days)
Venus Retrograde - Horoscope 2022 Gemini
01 January - 29 January 2022 (in Capricorn in 8 house) (Horoscope Gemini 2022 talks about this transit during 28 days)
Mars Retrograde - Horoscope Gemini 2022
30 October 2022 - to year 2023 (in Gemini - 1 house) (63 days are affected by Horoscope 2022 Gemini)
Retrograde Jupiter - Horoscope 2022 Gemini
28 July 2022 (Aries in 11 house) - 23 November (Pisces in 10 house) (Horoscope Gemini 2022 is affected for 118 days)
Retrograde Saturn 2022 - Horoscope Gemini 2022
04 June 2022 (Aquarius in 9 house) - 23 October 2022 (Aquarius in 9 house) (This transit affects Horoscope 2022 141 days)
Retrograde Uranus - Horoscope Gemini 2022:
01 January 2022 (Taurus in 12 house) - 18 January 2022 (Taurus in 12 house) (For 17 days, Uranus concentrates its energies on Horoscope Taurus 2022)
24 August (Taurus in 12 dome) - to the start of the year 2023 (The annual Horoscope 2022 Gemini is affected by the retrograde Uranus for 130 days)
Retrograde Neptune 2022 - Horoscope Gemini:
28 June 2022 (Pisces in 10 house) - 04 December (Pisces in 10 house) (the annual Horoscope Gemini 2022 is changed by transit for 159 days)
Pluto Retrograde - Horoscope Gemini 2022
29 April 2022 (Capricorn in 8 house) - 08 October 2022 (Capricorn in 8 house) (aspect affects Horoscope Gemini 2022 for 162 days)