Yearly Horoscope 2022 Aquarius - Health
(Vitality of Aquarius, health issues in 2022, aromatherapy and energy for Aquarius)
First days of 2022 - Health Horoscope 2022 Aquarius
In this part, Aquarius Horoscope 2022 by the soothsayer deals with the health of the air sign of the zodiac Aquarius. We will look at which herb will be extremely beneficial for you in 2022 and also which oil is the oil of 2022 for you for even greater vitality, energy and to combat mild health problems. The forecast for 2022 deals with healthy Aquarius but also with those who are overcoming a chronic disease or other health complications. Read the health forecast that Horoscope 2022 brings for the whole year, for the sign of the zodiac Aquarius.
In general, the Horoscope Aquarius prediction for 2022 tells you that every Aquarius should be very careful about injuries during normal activities. Women born in Aquarius zodiac sign may suffer from varicose veins during the year. Both sexes, especially older Aquarius and with associated difficulties, can suffer from heart disease. The strength of Aquarius is that he has the ability to believe, and to connect his mind with his body. Aquarius can thus achieve mental satisfaction whenever mental health is affected by stress or other problems in life.
In 2022, Aquarius will neglect his health. Therefore, it is extremely important that Aquarius does not forget to take care of himself, to pay attention to his body to the extent that he takes care of finances and members of his family. For Aquarius, 2022 is an excellent opportunity to correct its weight. This applies to those Aquarius who must or want to lose weight. The best partner for this Aquarius activity, whether you want to lose weight or start regular sports, is the Scorpio sign, with which you share a lot of activities, and so represents the best partner for sports or weight loss in 2022, foretell Aquarius asrology Horoscope 2022. In this regard, Aquarius will also understand the sign of Virgo, which can even advise you in a normal fitness routine, and in a diet.
Aquarius will find the greatest mental balance in nature, and therefore walks or sports in nature will be the alpha and omega of 2022 for each of you. Aquarius can also bet on group fitness exercises, where Aquarius will meet new people, especially if you belong to the single Aquarius, who wants to expand their horizons of interest. During physical activity or overcoming health problems, listen to music that flushes the endorphins needed into Aquarius' body to overcome difficult moments related to Aquarius' health. If you want to get rid of stressful days or situations, treat yourself to a rest in the comfort of Aquarius' home, which you combine with one of your hobbies, which is painting, photography, walking, pets, cooking and the like. In 2022, Aquarius can read more or just relax in front of the television. Choose any activity that helps you relax, but focus on those hobbies that make sense to you.
The herb of the year 2022 for every Aquarius is the Common Comfrey (Symphytum officinale). This herb has an anti-inflammatory effect and stimulates the growth of cancer cells. It supports tissue regeneration, and is suitable for any Aquarius who suffers from stomach problems, alert accurate Horoscope 2022 Aquarius. Aquarius can use this herb to make a tea mixture. Let the tea mixture from the comfrey infuse for 3 minutes. and drink two cups a day. Aquarius can also use it in the bath, where you add two hundred grams of comfrey leaves to the hot water and enjoy a relaxing and healing bath.
An excellent way to enjoy comfrey medically in small sips is to prepare wine from this medicinal herb. Add 5 fresh comfrey roots to one liter of white wine and let it infuse for 7 to 8 weeks. Such wine is an excellent means of overcoming the first symptoms of a cold or lung problems. Common comfrey hides an admirable strength, because comfrey belongs to the irreplaceable herbs that nature offers us as a gift. Women can use bone tincture for compresses against varicose veins, as well as for back pain, recommends annual Aquarius Horoscope for 2022. The leaves obtained from comfrey are used both for compresses and in the bath and in rheumatic pain. It is a truly irreplaceable and excellent helper for varicose veins and for the treatment of fractures after serious injuries. The internal and external use of Aquarius' herb of year 2022 gives you a whole range of possibilities to use it for the benefit of Aquarius' health.
The oil of year that you should have available right from the beginning of 2022 is lemon grass for Aquarius, which again brings a lot of use. Since several Aquarius will suffer from several problems with acne or other skin problems in 2022, it is advisable to use them in form of a natural oil or lemon grass essential oil. It protects cells from damage, revitalises, detoxifies and disinfects, emphasize Aquarius 2022 Horoscope. It soothes pain and stiffness of muscles and joints, and when used internally promotes digestion and increases the absorption of nutrients in the intestines. It stimulates the lazy digestive system and thus helps not only with weight loss, but also with a wide range of digestive problems.
Aquarius can use the oil of 2022 in aromatherapy, says Horoscope Aquarius for 2022. Aquarius can use it in an oil lamp, and use this oil to scent your whole home or office. Be especially careful when choosing this oil, and bet on 100% natural oil from lemongrass, which Aquarius can use for inhalation, for massages, or for general body and skin care. Lemongrass oil massages support your energy and give you the vitality you need. Protect Aquarius' body and improve your mood through lemongrass and oil, which strengthens and calms the nervous system and helps you overcome stressful situations and thus protect Aquarius' health from mental health problems. Get this oil of 2022, which is lemon grass for Aquarius in time, at the beginning of 2022, because in the first month of the year Astrological transits mean burdensome days for your mental health.
Love, a working relationship, or problems in living together? The Love Compatibility Calculator for Aquarius will show you how high your compatibility in love, even in 2022, is with other zodiac signs.
Mentally health of Aquarius and Vitality based on astrology Horoscope Aquarius 2022
In January, up to 3 planets are in Retrograde motion, which will also affect your mental well-being and mental health. Every Aquarius who has his herb and oil of 2022 at hand can overcome these moments full of mental tension more easily. January will test your mental resilience by January 20th. From this period, the sun enters Aquarius zodiac sign and moves through your first astrological house, thus meaning good mental health and the amount of energy Aquarius can use in the right direction. The period from January 20th means for every Aquarius to start a fight against long-term illnesses and persistent health problems. From January 24th, Mars passing through the 12th house joins this positive transit, highlighting accurate Horoscope for Aquarius zodiac sign 2022. Every Aquarius must be careful now, because Aquarius has certain, specific health problems. These health problems affect Aquarius who suffer from addictions, but also those who are not careful during normal activities. You may be injured or even have an unpleasant car accident.
Therefore, from January 24th to March 6th, Aquarius should avoid any addictive substances, whether alcohol or drugs, that damage your psyche but also Aquarius' body. Mars is in a directive motion, and signals mental suffering and imprisonment in its own body, with its own problems. Health will largely depend on your own self-care. You need to be especially careful when driving, when you should not be disturbed by any external influences. Pay full attention to driving, as it is likely that Aquarius will have a minor or major injury by March 6th. If Aquarius is experiencing unexpected health complications caused by a car accident, or an injury at work, or during normal household activities, it is necessary to get professional help, but also to reach for your herb by 2022, underline Aquarius 2022 Horoscope.
Aromatherapy also recommends dripping to increase concentration. Get a few drops of lemongrass oil in your car, as this oil will also help you stimulate your concentration. Do not neglect the external influences of the environment, and pay sufficient attention to Aquarius' health in the first 3 months of 2022, because it is very important that you withstand the negative astrological transit affecting your health.
From April 29th, you perceive the beginning of the power of Retrograde Pluto. Pluto passes through the 12th house, indicate Aquarius Horoscope 2022, so several Aquarius may feel that others do not understand you. Destructive forces are pushing into your life from several sides, which mainly affects your mental health. Again, it is very dangerous in every Aquarius' life to be addicted, whether to alcohol, drugs or medication. Any dependence on your life in 2022 will cause you a lot of problems. Solve these problems at the beginning of the year to avoid the devastating impact of Aquarius' addiction on the overall health not only of you but of your family members.
Horoscope 2022 Aquarius says - Focus on Healthy Life
Aquarius Horoscope 2022 strongly warns each of you to avoid any quarrel or addiction in Aquarius' life. From July 18th, Venus entering Cancer zodiac sign in the 6th Astrological House will offer you a large amount of energy. Until July 18th, every Aquarius pays attention to addictions, but also to activities that could cause injuries. To overcome stressful situations, reach not only for your oil of the year, but also for a healthy lifestyle. Find out from others how to overcome chronic diseases in Aquarius' life, and determine a new way of treatment. Strengthen Aquarius' health mainly by the force flowing from nature, but also by physical movement and walks in nature. As Aquarius Horoscope 2022 have already mentioned, the greatest strengthening of health in Aquarius' life comes from Scorpio and Virgo zodiac signs. These two signs of the zodiac bring support for the health of Aquarius in 2022.
The first year period will be more challenging, especially for those Aquarius who can not get rid of life addiction. A challenging period can also occur for those who do not pay enough attention to driving, or for those who, due to any inattention, come to an accident that can be invasive. Not very positive forecast in the first year half will be replaced by Venus entering the sign of cancer from July 18th. Overall satisfaction with work and your personal life will be pushed into Aquarius' health, so Aquarius can enjoy stronger and firmer health, but women born in Aquarius zodiac sign may again have problems with varicose veins. Approach Aquarius' health carefully.
From July 18th, throughout the second half of 2022, there are ideal opportunities to undergo a preventive examination, and to solve any problems related to Aquarius' health. Aquarius Horoscope 2022 recommends that you no longer ignore health problems in Aquarius' life and visit a specialist. From August 4th, Aquarius will receive enough information about Aquarius' health condition, and about ways to treat or alleviate the pain that is bothering you. Mercury points to treatment options by communicating with someone who is familiar with the problem.
The second period of year will not affect Aquarius' health very invasively. If Aquarius is worried about getting sick in 2022, Aquarius Horoscope only predicts health complications in the first semester of the year. In the first half, be very careful about Aquarius' health, until July 18th, 2022, when the negative vibration of transits on your person will subside. The last transit related to the healthy Aquarius is the period since December 6th, when the planet Mercury passes through the 12th house, which is now heavily occupied. This Mercury, and later the sun passing through Capricorn zodiac sign can cause nervousness in your life and restraint in a healthy diet, or even weight gain. Aquarius will be successful in losing weight and a healthy lifestyle, especially in the second part of year, but this well-established process of yours will be interrupted by the month of December, when you should focus mainly on healthy living habits, a healthy lifestyle.
Accurate Monthly Horoscope Aquarius tells you more about Aquarius future in love, health, career, money or relationships. Horoscope 2022 Aquarius is also connected with a monthly prophecy. Read all the important horoscopes from the fortune teller for the year 2022.
Health Horoscope 2022 Aquarius - last days before 2023
December can bother you with stomach problems and digestive problems if you don't think about what you are eating. Aquarius will fight against pain and health problems not only in Aquarius' life, but also in the people who make up your immediate family. Throughout the year, it is extremely important that every Aquarius avoids substances that cause addiction. Aquarius astrology Horoscope 2022 repeat this because it is extremely important for Aquarius, not only in terms of mental but also physical well-being. December is also the month in which Aquarius can choose to detox your whole body. Discover the charm of smoothies, and healthy drinks consisting mainly of vegetables, which are low in calories, but give Aquarius' body plenty of important vitamins. You must also deal with the varicose veins that are plaguing you in 2022. It is advisable to reach for gels and ointments that contain substances that support blood circulation and reduce inflammation, or fight pain in veins, muscles and joints. Choose such products that are used for hand massages, and treat yourself to a daily massage and regular use of this medicine, as Aquarius Horoscope 2022 recommends to each of you.
Aquarius must take good care of his health throughout 2022. Aquarius' health requires the full attention of each of you, but especially Aquarius who suffers from addiction, joint pain, inflammatory processes in the body, or obesity should be careful. Choose a healthy lifestyle and do not forget the regular drinking regime, which the astrologer considers extremely important throughout the year. The forecast for 2022 in terms of Aquarius' health and vitality is more on the level of warning, and concern for the health of every Aquarius. The first half of 2022 is a period requiring Aquarius to pay full attention to his own health. You need to prevent injuries and such processes in Aquarius' health that deprive you of happiness in life. The preventive solution for improving Aquarius' health is not only common comfrey, and your oil of 2022, but also enough exercise and a healthy lifestyle. And of course, saying goodbye to any addiction in life.
Daily Horoscope Aquarius prepare you for the current day. Horoscope 2022 from the Fortune-Teller also means the possibility of daily divination for Aquarius zodiac sign.
---
Horoscope Aquarius 2022 - Love, Career, Health, Future...
Click the image you like and read more about year 2022...
Horoscope Aquarius 2022: Overview - Positive and Negative aspects of 2022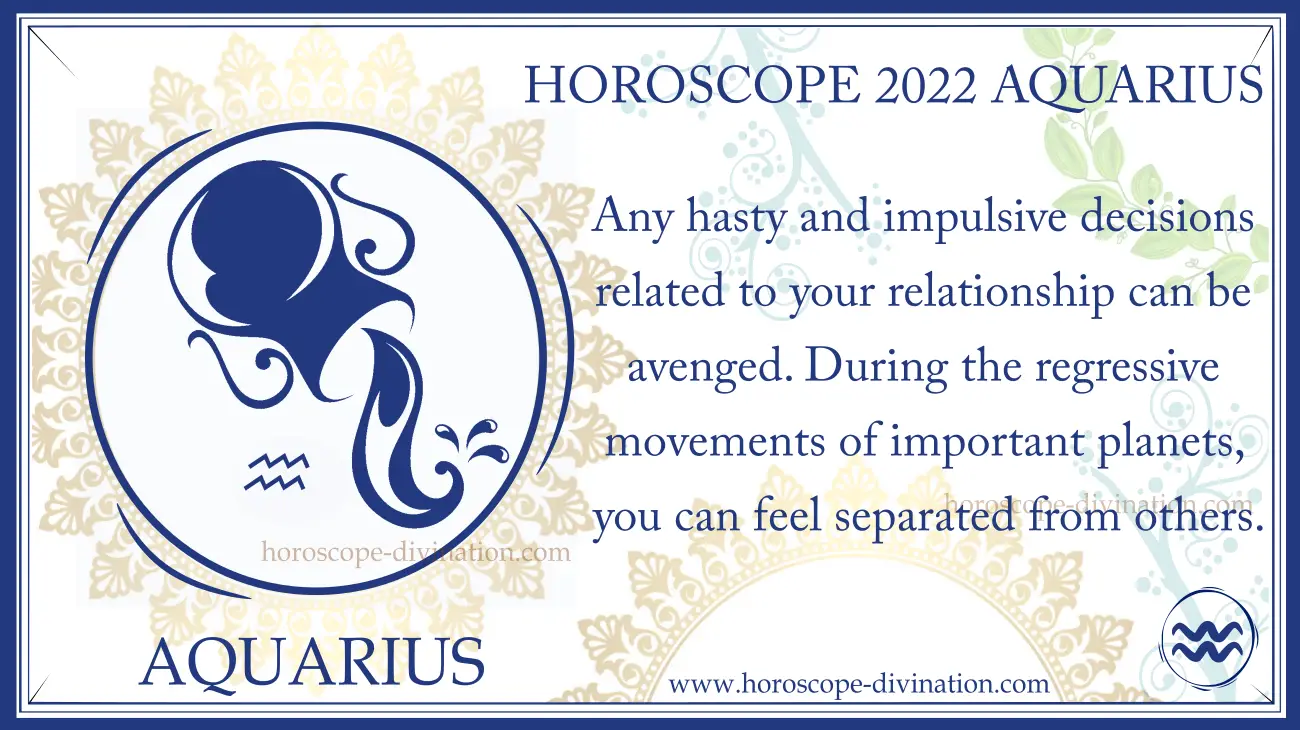 Positive transits also occur in terms of the long-lasting love relationships of Aquarius. In January 2022, you will be hit by the energies of the disruptive regressive planets Mercury, Venus and your ruler - the planet Uranus... Introduction of Horoscope 2022 Aquarius...
Horoscope Aquarius 2022 from fortune-teller - Love & Relationships in 2022: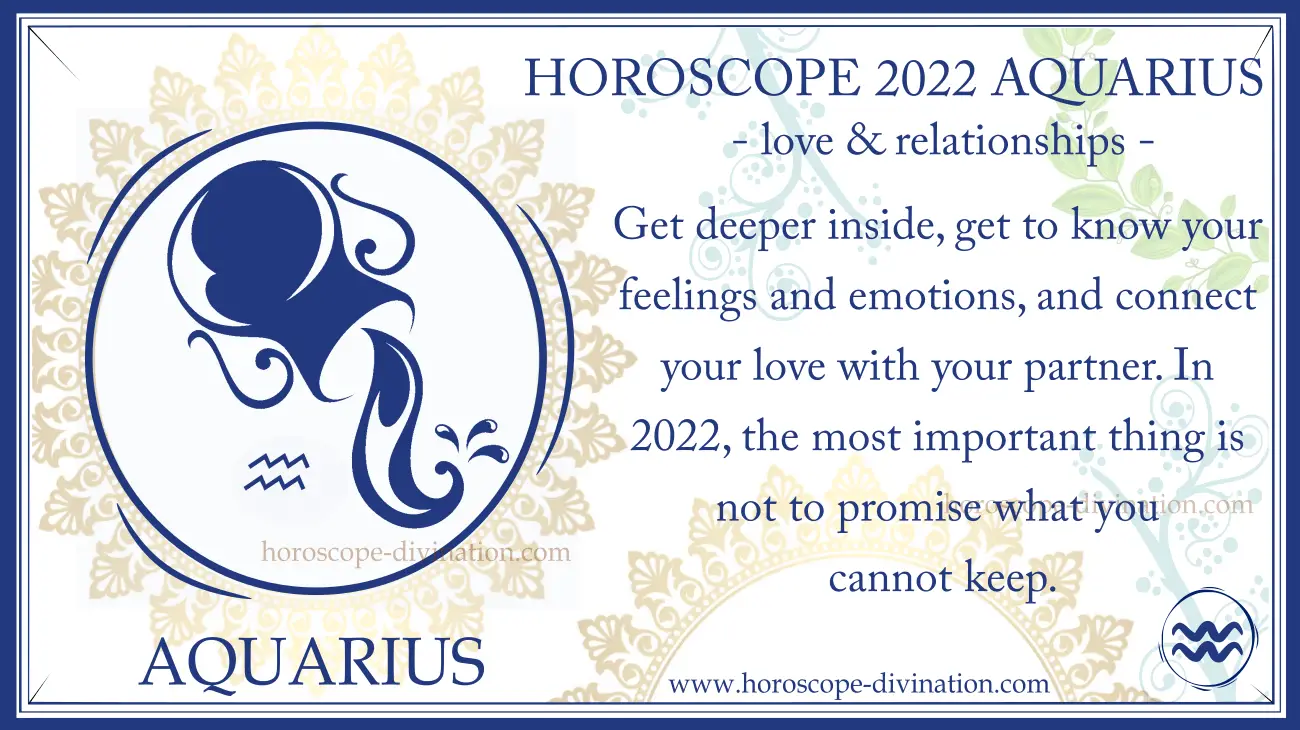 Were you born in the sign of Aquarius and are you interested in what your long-term relationships will look like during 2022? Should you expect negative surprises, or can you enjoy the positive energy that is connected to your marriage or long-term partnership? Read more about Love Horoscope Aquarius 2022...
Horoscope Aquarius 2022 - Family, Friends, Marriage and Pregnancy in 2022: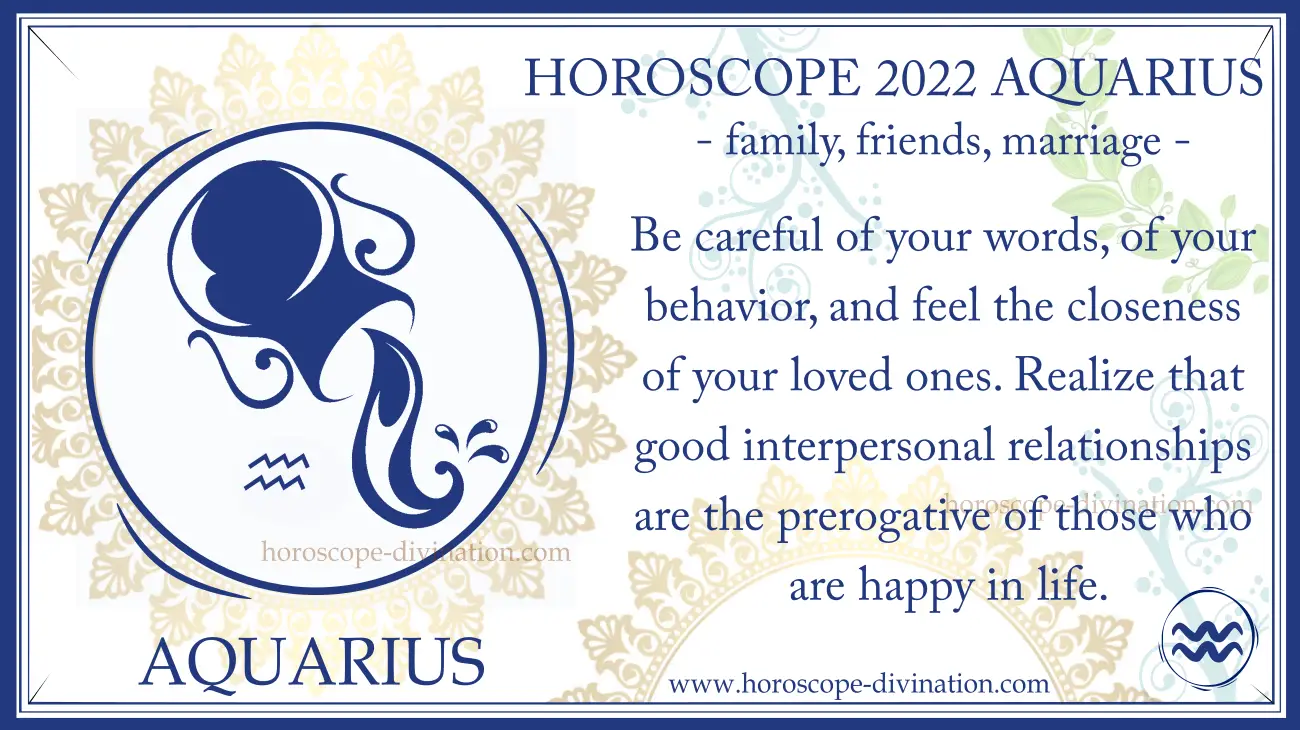 As I have mentioned several times, the beginning of 2022 belongs to the regressive Venus, also to the planet Mercury, and to the regressive movement of your ruler, the planet Uranus. Regressive Venus works in Capricorn in the 12th house, and affects interpersonal relationships, even those in your family. Read this yearly Horoscope Aquarius 2022 - Family, Friends, Pregnancy and Marriage...
Horoscope 2022 Aquarius - Career & Finances: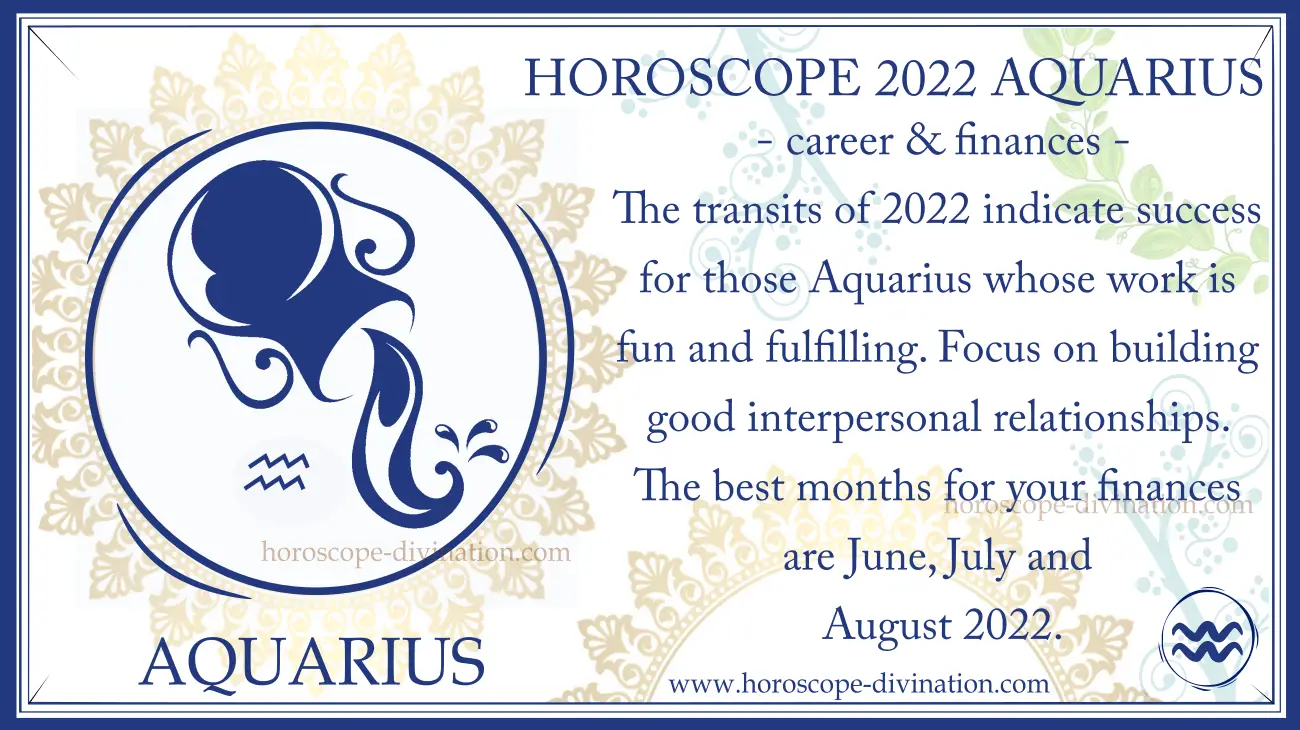 Astrological transits indicate several important transitions of planets, which affect the career but also the financial well-being of every Aquarius. In January, Astrological Transits are mainly focused on the 1st and 12th Astrological House of Aquarius, so many Aquarius will return to the past with ideas, and also deal with their health... Complete annual Horoscope Aquarius 2022 in career and finances...
Horoscope Aquarius 2022 - Health & Vitality: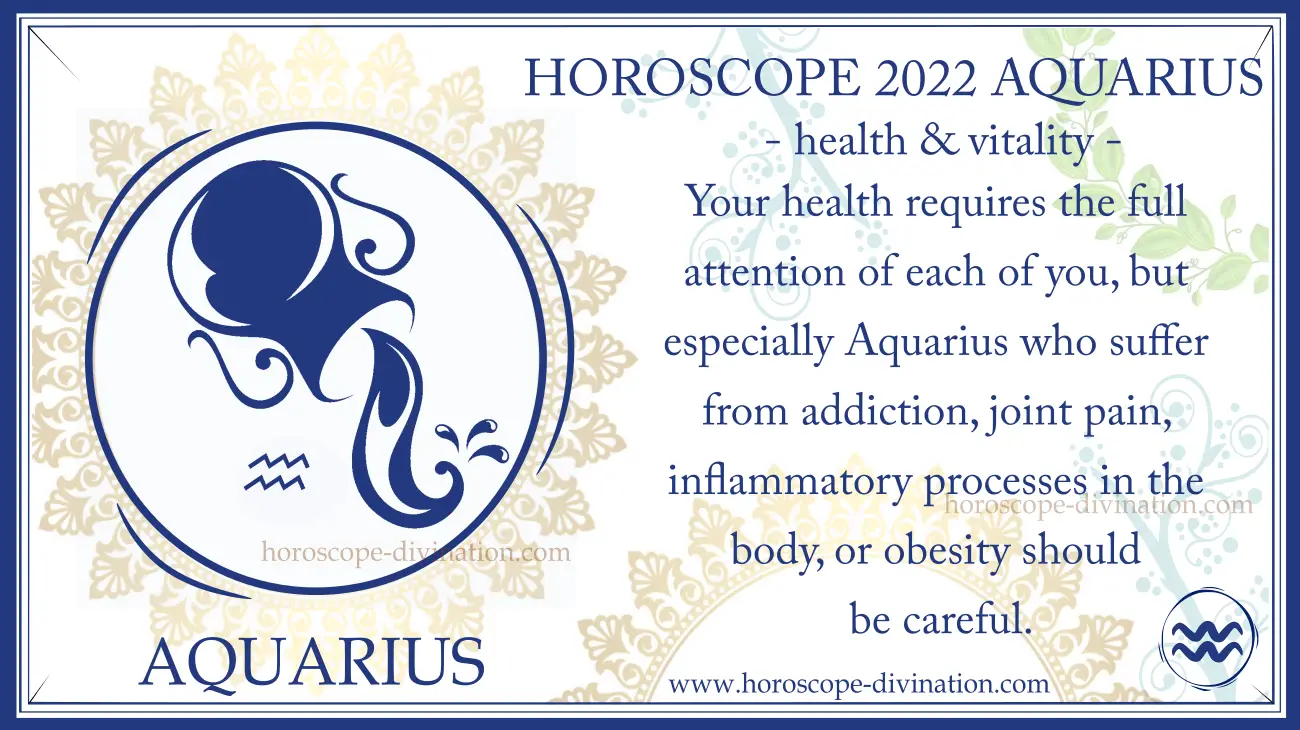 In general, the prediction for 2022 tells you that every Aquarius should be very careful about injuries during normal activities. Women born in the sign of Aquarius may suffer from varicose veins during the year. Both sexes, especially older Aquarius and with associated difficulties, can suffer from heart disease... Read yearly Horoscope 2022 of Health and Vitality for Aquarius zodiac sign...
Retrograde movements of planets that affects Horoscope 2022 Aquarius
Graph of Retrograde Planets 2022 - Their affect on Horoscope Aquarius 2022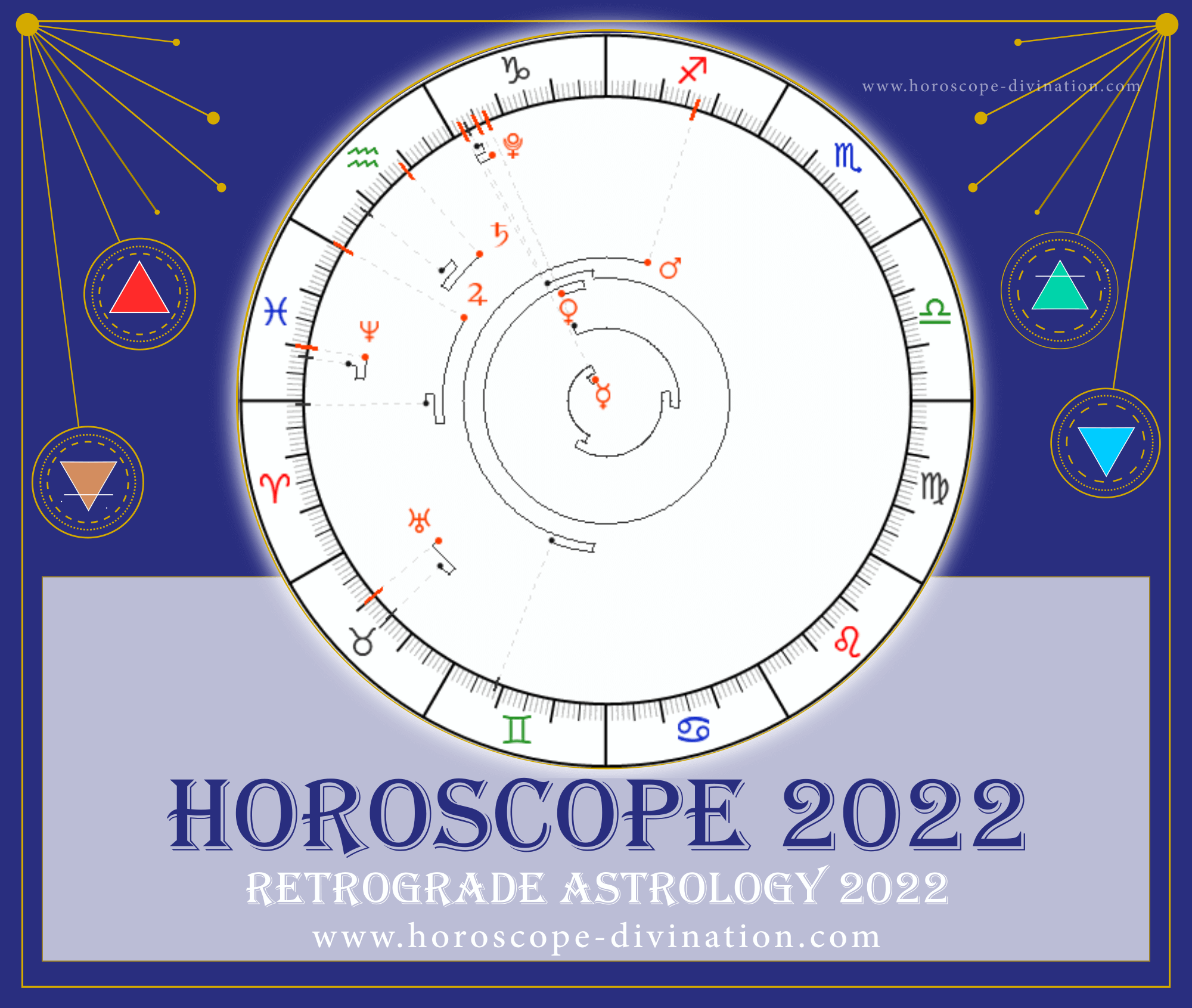 Click on the image above to read all the important information about the Retrograde Planets of 2022 and their impact on Horoscope Aquarius 2022. Below you will find a list of terms important for your energy, vitality and for the overall Horoscope Aquarius 2022.
Mercury Retrograde and Horoscope 2022 Aquarius
14 January 2022 (in Aquarius 1 house) - 04 February (in Capricorn 12 house) (For 21 days, Horoscope Aquarius 2022 is influenced by the first retrograde Mercury)
10 May 2022 (in Gemini 5 house) - 03 June (in Taurus 4 house) (Horoscope 2022 Aquarius emphasize transit for 24 days)
10 September 2022 (in Libra - 9 house) - 02 October (in Scorpio 10 house) (Horoscope Aquarius 2022 is affected by transit for 22 days)
29 December 2022 (in Capricorn 12 house) - end of year 2022 (Horoscope Aquarius will hit this aspect for 3 days)
Venus Retrograde - Horoscope 2022 Aquarius
01 January - 29 January 2022 (in Capricorn in 12 house) (Horoscope Aquarius 2022 talks about this transit during 28 days)
Mars Retrograde - Horoscope Aquarius 2022
30 October 2022 - to year 2023 (in Gemini - 5 house) (63 days are affected by Horoscope 2022 Aquarius)
Retrograde Jupiter - Horoscope 2022 Aquarius
28 July 2022 (Aries in 3 house) - 23 November (Pisces in 2 house) (Horoscope Aquarius 2022 is affected for 118 days)
Retrograde Saturn 2022 - Horoscope Aquarius 2022
04 June 2022 (Aquarius in 1 house) - 23 October 2022 (Aquarius in 1 house) (This transit affects Horoscope 2022 141 days)
Retrograde Uranus - Horoscope Aquarius 2022:
01 January 2022 (Taurus in 4 house) - 18 January 2022 (Taurus in 4 house) (For 17 days, Uranus concentrates its energies on Horoscope Taurus 2022)
24 August (Taurus in 4 dome) - to the start of the year 2023 (The annual Horoscope 2022 Aquarius is affected by the retrograde Uranus for 130 days)
Retrograde Neptune 2022 - Horoscope Aquarius:
28 June 2022 (Pisces in 2 house) - 04 December (Pisces in 2 house) (the annual Horoscope Aquarius 2022 is changed by transit for 159 days)
Pluto Retrograde - Horoscope Aquarius 2022
29 April 2022 (Capricorn in 12 house) - 08 October 2022 (Capricorn in 12 house) (aspect affects Horoscope Aquarius 2022 for 162 days)