Yearly Horoscope 2022 Libra - Health
(Vitality of Libra, health issues in 2022, aromatherapy and energy for Libra)
First days of 2022 - Health Horoscope 2022 Libra
In the next, last part, the Horoscope for 2022 and the soothsayer are dedicated to the prediction of health for each Libra. Prepare for the health ffťcomplications that await Libra during 2022 based on astrological movements and influences on your energy and vitality. Get detailed information about what health Libra can expect during 2022 and how to strengthen and improve Libra's strength. Aromatherapy will also help Libra strengthen your vitality during 2022, and getting to know Libra's herb of the year 2022, which has many benefits for Libra. The astrological transits of 2022 indicate the amount of energy, and also warns you of the days when you should be careful about Libra's vitality. Let's now look at the great Libra Horoscope of Health 2022 according to the fortune teller.
Right at the start of the horoscope, we will state how aromatherapy will affect Libra's health during the year 2022. For each Libra, during the year 2022, mint becomes the oil of the year. This Essential Oil is very freshly pronounced, and can also provide Libra with cooling effects in case of insect bites or pain. However, Libra Horoscope 2022 recommend you to bet on quality when choosing mint oil, while you should not only focus on the price, but especially on the composition.
In 2022, each Libra should be removed only after pure essential oil, or after mint oil, which Libra can also use internally. Mint is an excellent helper of 2022 for every Libra, because it relieves pain and relieves negative feelings, It also alleviates digestive problems. It can also relieve any Libra from back pain, especially if a few drops of peppermint oil become part of the massage oil, as a supportive agent to relieve back pain. However, pregnant women should be careful with this oil, as its internal use is not suitable during the first 4 months of pregnancy. It not only has a beneficial effect on your nervous system, but also helps to improve your emotions and supports the immune system. So if Libra can't use the essential oil internally, buy a quality diffuser and let the scent of mint cover your entire home or office. Always reach for Mint if Libra need to relieve stress, headaches, or negative energies that surround your aura. This essential oil has a complex and deep effect on every Libra, and it is necessary to pay attention to the quality of the oil used.
Mint essential oil will have the greatest effect for Libra, especially during the period of the full moon, and the new moon, when it will help you cleanse the overall karma and aura of the past and negative energies during purification rituals. Libra can also use a few drops of mint in the bath, so Libra can relax completely whenever Libra have problems with concentration or nervousness. Aromatherapy for 2022 for the sign of Libra clearly recommends Mint, because this oil becomes Libra's oil of 2022 to support the defense, energy, vitality and overall well-being of each Libra.
The 2022 Health Horoscope also specifies which herb will be the most important for you during 2022. Libra will need a large amount of vitamin C and even vitamin A to strengthen your health in 2022. Of course, to strengthen your immunity and defenses Libra need a varied diet, plenty of drinking, but also supplementation with B, E and K vitamins and vitamins that we mentioned above. All these ingredients that will help you improve Libra's defenses and support your immunity in 2022 are found in the rose hips. Rose hips not only help prevent cancer but also fight chronic diseases to which Libra tend to succumb. Popular rose hips are a fruit full of health and energy. Surely every Libra knows of rosehip tea, which is known not only for its beneficial effects on health, but also for its delicious taste. If you were born in the sign of Libra, rose hips are the alpha and omega of your vitality in 2022. Treat yourself every day to rosehip tea that will improve Libra's health in several ways.
Again, Libra Horoscope 2022 recommends Libra to pay attention to the quality of the rose hips purchased. Rather, procure this ingredient in tea in the form of an organic product that is not chemically treated, and Libra's body will not burden, on the contrary, it will provide it with a sufficient dose of valuable vitamins and energy. Reach for rosehip tea whenever Libra feel a loss of energy or when your immunity seems weakened. One of the main benefits of vitamin C, which is abundant in rose hips, is the stimulation and production of collagen. Rosehip tea will ensure you good health, but it also strengthens your skin and Libra's beauty. This is because a lack of vitamin C can cause several problems in your life.
Libra Horoscope 2022 recommend rosehip tea as a prevention of colds, and in its high concentration as a supportive agent for other chronic diseases - such as heart problems, diabetes, migraines and rose hips even help prevent the proliferation of human cancer cells. This little miracle should be an active ingredient in your regular diet, especially during 2022. Suppress the inflammation and cure your chronic diseases. Support Libra's energy and vitality and your beauty thanks to Rosehip tea, which maintains not only your immunity but also healthy skin and hair. So much for the introduction of the health horoscope for 2022. Now we can focus on the most important astrological transits that affect your health and energy.
Love, a working relationship, or problems in living together? The Love Compatibility Calculator for Libra will show you how high your compatibility in love, even in 2022, is with other zodiac signs.
Mentally health of Libra and Vitality based on astrology Horoscope Libra 2022
At 2022 start, Libras do not have to worry about any unexpected effects on health. January is focused on the family atmosphere, and on strengthening your inner harmony and balance. Libra focus on your inner self, which also helps Libra strengthen Libra's mental health. February is diverse, and belongs not only to your personal relationship, but also to career and financial planning. For this reason, do not forget to reach for your essential oil in terms of aromatherapy, and also for Libra's herb of 2022, which will help Libra overcome many difficult periods, when strengthening Libra's energy, your defenses and overcoming tense days. The first astrological transit has focused its strength on Libra's health since March 10th - Mercury passing the 6th House, specifies accurate Libra Horoscope 2022. This location of Mercury is very interesting, because for Libra it means a number of extraordinary abilities that Libra will be able to use not only at work but also in your career, but also to develop and strengthen Libra's health. Because Libra is a very understanding person who easily understands others, Libra can heal not only yourself but also the soul of loved ones.
From March 10th, Libra become a person full of understanding, especially for others. This health aspect of Mercury is known for learning to fight Libra's illnesses during this transition. Libra can find connections between your illnesses, and then Libra can find out the reasons why Libra suffer from certain pains or long-term illnesses. This position of Mercury is suitable for anyone who makes a living with others, whether as a doctor or nurse, emphasize annual Horoscope for Libra zodiac sign 2022. However, even if Libra is Libra that is just trying to know the cause of Libra's health problems, Mercury has been helping Libra to know the cause of your suffering since March 10th. If new pains or mild illnesses or colds appear in Libra's life, Libra can withdraw after a modern method of examination, such as ultrasound, MRI or CT. Sometimes it's a good idea to make sure that everything in your energy is in order and that Libra don't have to worry about any unexpected complications related to Libra's health or Libra's chronic illnesses.
The characteristic for the first half of 2022 will be the laziness of each Libra. That is why it is possible that Libra will gain weight in the beginning of 2022, because Libra will avoid sports activity and physical exercise. Each Libra should create a training routine at 2022 beginning, as Horoscope 2022 recommends. This training routine should bring you not only fun, but also a great strengthening of Libra's vitality and defenses. The more people Libra involve in your fitness routine, the happier Libra will be together, and the longer Libra will last the activity Libra like. Monitor your health throughout March, and undergo examinations that are not part of the annual preventive examination. Now is the time to focus more on Libra's energy. Women should focus on their female side of health, and men on the male side.
From August 5th, every Libra of Venus feels the previous sign of elevation - the 6th astrological house. In order to be satisfied in life, to keep your health strong and balanced, Libra also need to feel harmony at work, define Libra Horoscope 2022. In April, everything is fine in terms of work, but in May, you may be bothered by a number of work projects and also misunderstandings with co-workers. In this respect, Libra will be protected by your ruling planet passing through the 6th house, which settles in the sign of promotion during April until May 2nd. So Libra won't have any migraines or back pain in April. If Libra is experiencing skin problems or skin inflammations, eczema or other skin problems, the situation will improve in April, and Libra will find out how to overcome these diseases, says astrology Libra Horoscope 2022. Maybe a few drops of your essential oil added to the bath will help Libra with this, along with sea salt, which has beneficial effects on the body.
Especially in May, focus on the overall complex relaxation of the body, and treat yourself to several moments alone, in the comfort of Libra's bathroom in the bathtub, filled with warm water enriched with a drop of mint and sea salt. This May routine of yours will help Libra fight diseases that may plague you from April 2022. June, July and the first half of August are health neutral. This means that no extraordinary injuries or health-related complications await Libra. In these months of 2022, even Libras that choose to lose weight are given the opportunity to succeed. Whether Libra need to or want to lose a few extra pounds, practicing yoga, skipping rope, and listening to good music will definitely help you, which will also strengthen Libra's mental health and joy, emphasizing annual Libra 2022 Horoscope. Tennis, swimming, and other fun calorie burning options are becoming ideal sports activities in 2022 for every Libra.
Since you don't like spending time and hours in the gym, a fun form of exercise is much more acceptable for Libra. In general, Libras do not want to deal fully with weight loss or exercise with their full consciousness, and therefore it is necessary for them to move subconsciously in nature, or during popular sports physical activities, or when working in the garden. Seek energy outside, in healthy air, with healthy movement. Don't let your energy grow and fall, and rather find a routine that Libra will follow during these months.
Horoscope 2022 Libra says - Focus on Healthy Life
From August 26th, the planet Mercury passing through the 1st house will affect your health. This Mercury can manifest in Libra's life with restlessness and nervousness, which can affect your life deeply and mark Libra's mental health. From August 26th to September 23rd, as Libra cross the planet Mercury, Libra should pay more attention to meditation, yoga practice, and overall mental development. Libra need to reconcile your soul with ideals, ideas and with a happy overall life. Something inside Libra is fighting against yourself, and it is this period that will remind Libra of the need to end this fight. By harmonizing your soul, Libra will also achieve better physical condition, predicts yearly Horoscope 2022 Libra, and thus get rid of diseases that could arise from this stress and nervousness. Meditation and deep relaxation of the body will definitely help you with that.
These days, Libra should also eliminate all bad habits from Libra's life - such as drugs, smoking, or drinking alcohol. It is these ailments of your life that completely disrupt Libra's health, which could be even stronger after removing these bad habits. From September 5th, Horoscope 2022 also warns Libra not to forget to follow a quality drinking regime, which must be regular. Skip the sweetened drinks that pull Libra's energy down from Libra's diet. It may happen that from September 5th to September 29th Libra will feel a cycle in a certain shortcoming, because Libra's ruling planet is going through a sign of its fall. Your physical activity may be blocked by this Venus, and Libra will want to rest and laze more. There is nothing wrong with relaxing more, but don't forget to keep Libra's body in shape, remind Libra Horoscope 2022. If you don't want to exercise, at least forget about unhealthy diets. Now, more than ever, it is important to make up for the lack of exercise with a healthy lifestyle, a good and regular drinking regime, and strengthening your mental health and Libra's defenses. So Libra can afford the luxury of inactivity, doing nothing and relaxing in bed or in front of the TV, but instead of chips Libra prefer to slice a piece of carrot.
Proceed the same way in second part of 2022, when the energy of Libra's health from September 23rd to October 23rd is affected by the sun passing through Libra's own zodiac sign, acting in the sign of the fall. It may be cut from Libra's energy, which is what this astrological transit is talking about. Libra will be too sensitive. With your sensitivity, Libra can reveal the causes of other people's illness in your household, and Libra can help them. Being more concerned with the health of others than with Libra's own can cause Libra to forget about the right habits in Libra's life, and again Libra will start eating unhealthily and gaining weight. Libra Horoscope 2022 warns Libra to avoid Libra's bad habits, especially at the end of 2022, when energy will also hit Retrograde Mars from October 30th.
At the end of the year, Libra have to bet on a healthy lifestyle. Not only the drinking regime is important for you, but also the harmony with your love and family members. Right now, Libra can build mental health with other people, and use Libra's energy to build quality interpersonal relationships. The only thing that may bother Libra in second period of 2022 is back pain or kidney problems. In any case, in case of any acute pain, do not hesitate to visit a doctor who is a suitable helper for you in the second period of 2022 to maintain Libra's energy, vitality and defense. Strengthen the main spine and move in a fun way so that Libra's physical activity does not quickly get bored, recommends astrology Libra Horoscope 2022. Get inspired by other people around you, or be their inspiration in a healthy diet, and in a quality life. Realize that only if Libra bet on a healthy lifestyle can you live a happy life, without any surprises in Libra's vitality. Try to eliminate foods that contain a lot of chemicals from Libra's diet.
Accurate Monthly Horoscope Libra tells Libra more about Libra future in love, health, career, money or relationships. Horoscope 2022 Libra is also connected with a monthly prophecy. Read all the important horoscopes from the fortune teller for the year 2022.
Health Horoscope 2022 Libra - last days before 2023
Remember that a healthy diet is not just about fruits and vegetables in general, but the quality of these vegetables and fruits that you receive into your body must be verified. It is better if Libra buy from quality manufacturers or shop in the markets. It is not the same for the body if Libra eat vegetables and fruits full of chemicals, or fresh fruits directly from nature, which are not treated with chemical components that damage Libra's health. Libra will also indulge in such a lifestyle for other family members, Libra's children or your partner. In 2nd half of 2022, Libra need to pay more attention to the health of Libra's family members, because Libra's health should be balanced in general. For back pain, don't forget about the massages, which are very important at the end of the year.
In 2022, every Libra should be careful about its health, highlighting yearly Horoscope. Astrological transits may not indicate sudden and unexpected illnesses or major health complications, but they alert you to exact terms when it is better to bet on a healthy lifestyle. The second half of the year should be mainly in the interest of a healthy diet that does not contain chemicals. Libra should also learn a regular drinking regime, which will be very important from September. In the second part of the year, also focus on the health of your family members. Libra may suffer from back pain or diseases related to Libra's gender - either female or typical male diseases. If Libra's health deteriorates significantly in 2nd half of year, don't wait and visit a specialist who specializes in Libra's problems.
Libra Horoscope 2022 recommends Libra to strengthen not only your mental and physical body, especially sports activities that do not bore Libra and that are more fun for Libra. which helps Libra's health a lot. Libra is known to suffer from joint diseases, back pain during their lifetime, but also cramps are common in their lives. Too sedentary a job can make these pains even worse at the beginning of 2022, so the Horoscope once again recommends Libra to move regularly to find a regular routine of exercise and movement in Libra's life. It will be ideal if Libra combine this movement with nature, which is very close to the scales. During March, Libra should also undergo examinations that are not included in the list of annual examinations. Women should monitor their feminine side of health, and men should monitor their masculine side. Each Libra should focus on its specific problem, and look for treatment options that Libra are sure to discover in March.
Daily Horoscope Libra prepare Libra for the current day. Horoscope 2022 from the Fortune-Teller also means the possibility of daily divination for Libra zodiac sign.
---
Horoscope Libra 2022 - Love, Career, Health, Future...
Click the image you like and read more about year 2022...
Horoscope Libra 2022: Overview - Positive and Negative aspects of 2022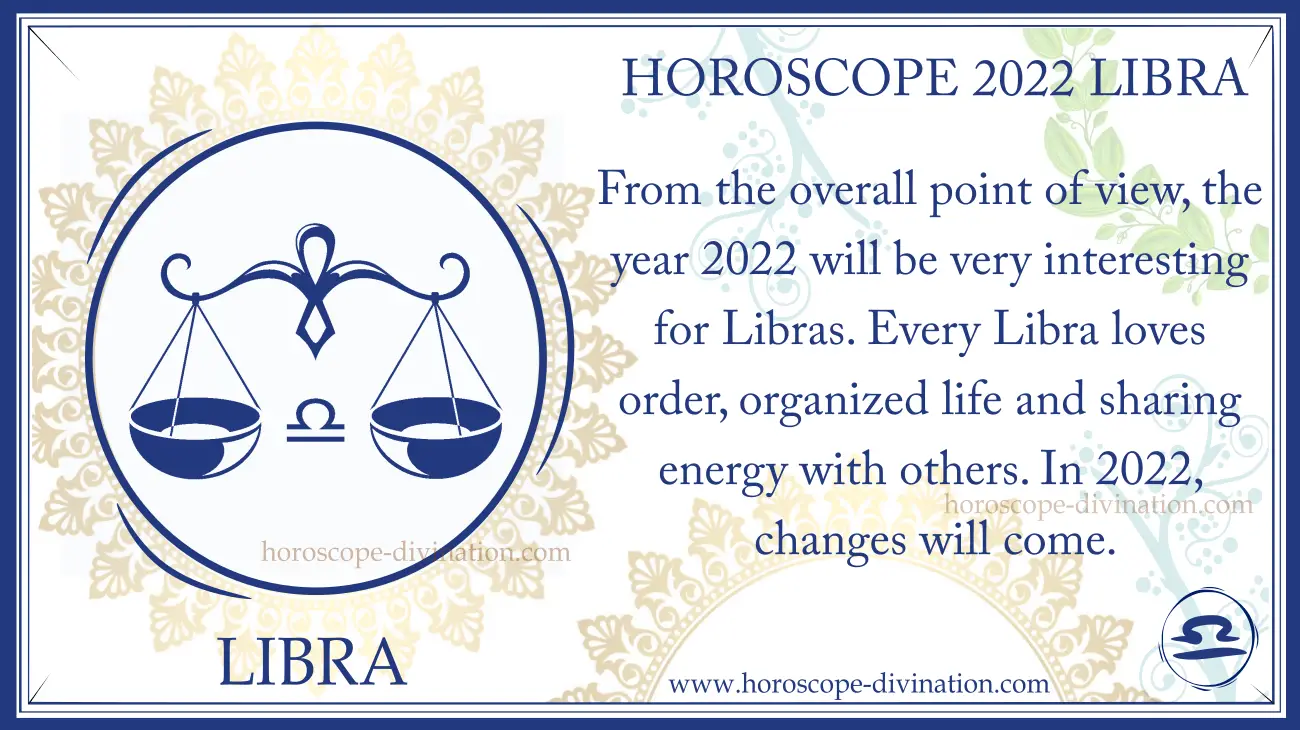 The number of transits at the beginning of the year is related to the 4th and 5th astrological houses and brings to the life of Libra a healthy impulsivity, which is related to intimate pleasure. A home of joy and inspiration pushes you to enjoy passion with your partner... Introduction of Horoscope 2022 Libra...
Horoscope Libra 2022 from fortune-teller - Love & Relationships in 2022: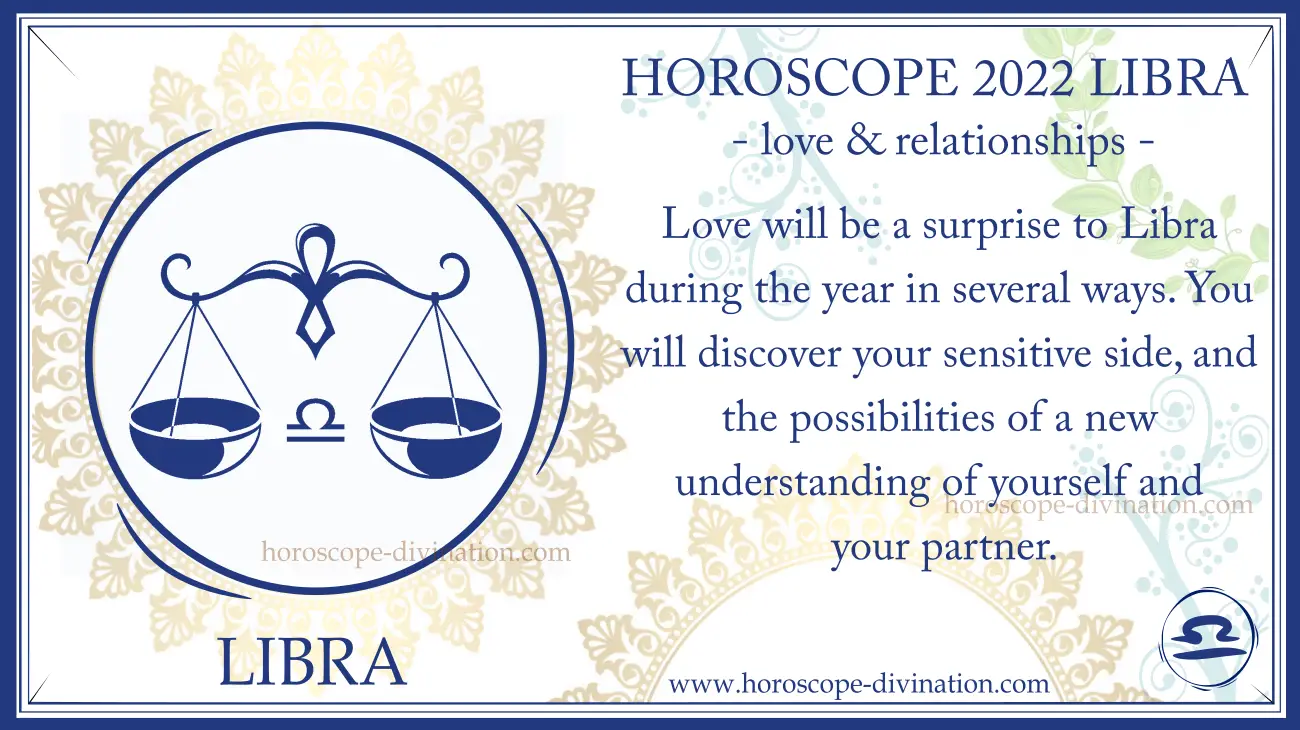 Since in January 2nd planets are in Retrograde motion - namely your ruling planet Venus, and from January 14th also the ruling Mercury passing through the 5th and later the 4th astrological house, it is important to be mainly interested in your own feelings... Read more about Love Horoscope Libra 2022...
Horoscope Libra 2022 - Family, Friends, Marriage and Pregnancy in 2022: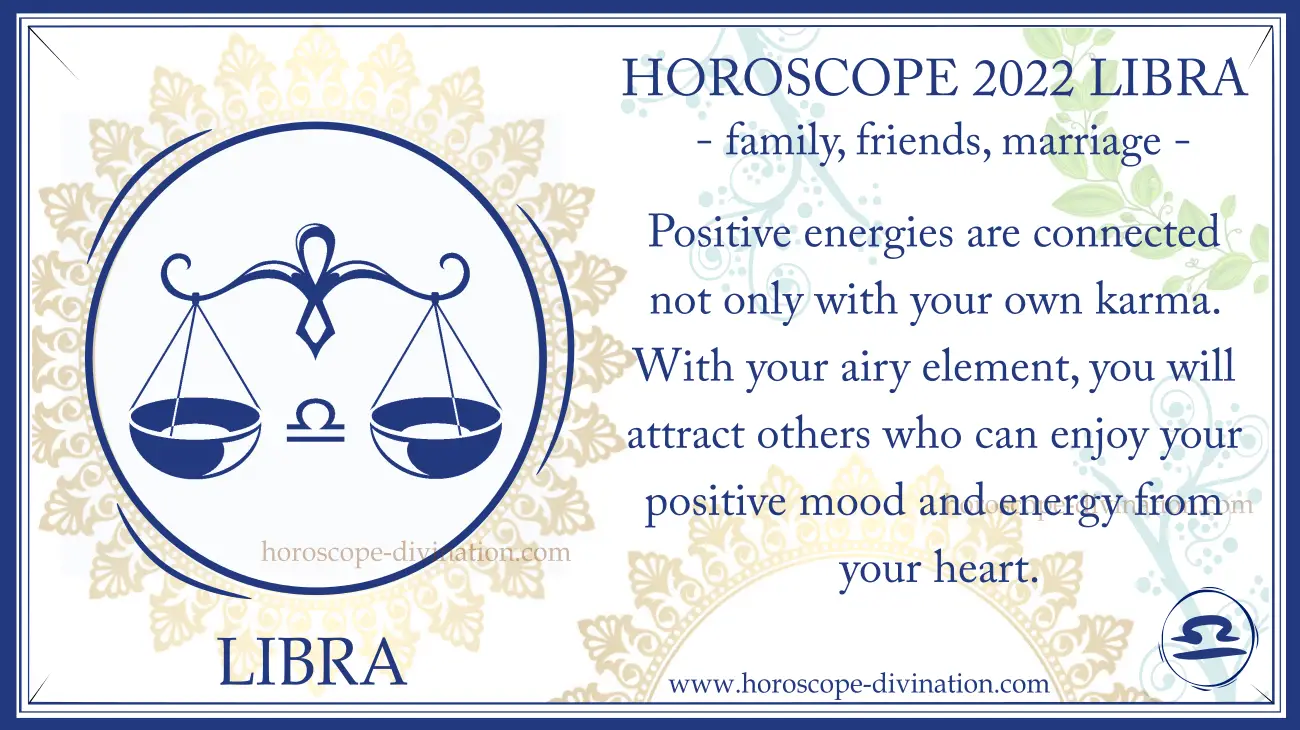 Right at the beginning of 2022 - specifically in the month of January, the 4th and 5th astrological house of Libra is strongly occupied. In January, your ruling planet Venus acts on the house of the family and the home with its strength, which is in Retrograde motion from January 1st to January 29th... Read this yearly Horoscope Libra 2022 - Family, Friends, Pregnancy and Marriage...
Horoscope 2022 Libra - Career & Finances: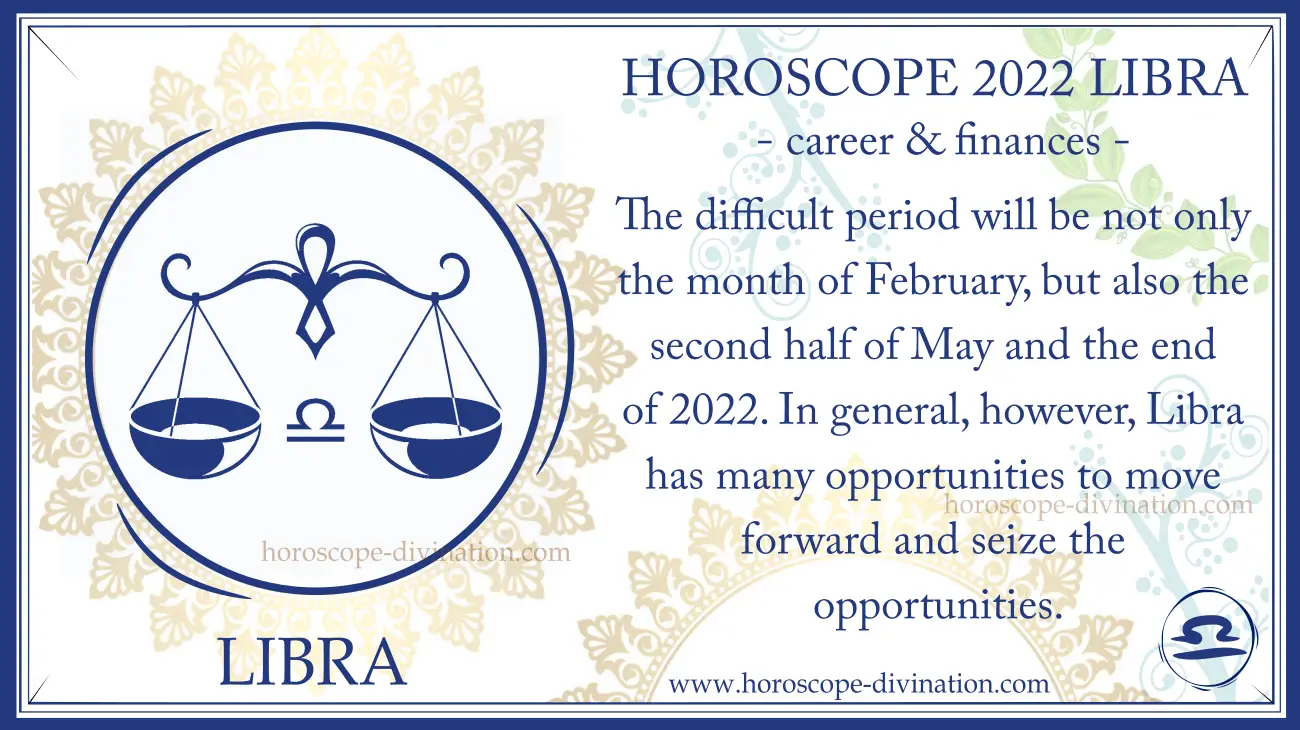 The year 2022 will be an interesting year for Libra not only in terms of personal relationships, but also in terms of job responsibilities, successes, new opportunities, but also in terms of financial well-being... Complete annual Horoscope Libra 2022 in career and finances...
Horoscope Libra 2022 - Health & Vitality: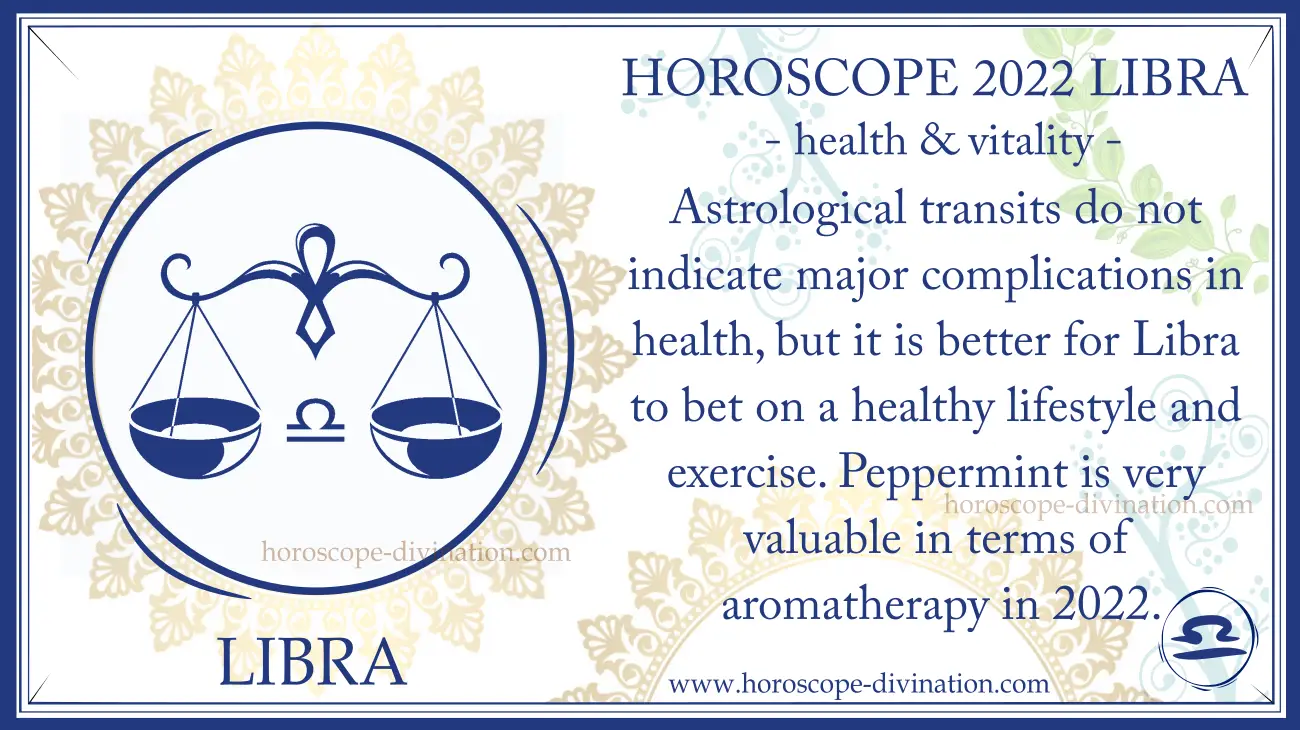 Horoscope 2022 Libra also describes every Libra's health, whether man or a woman born in a fiery sign, which is ruled by warm Sun. During January beginning, especially from January 1st to January 6th, the New Moon in exile zodiac sign draws the attention of Libra to the health area. Read yearly Horoscope 2022 of Health and Vitality for Libra zodiac sign...
Retrograde movements of planets that affects Horoscope 2022 Libra
Graph of Retrograde Planets 2022 - Their affect on Horoscope Libra 2022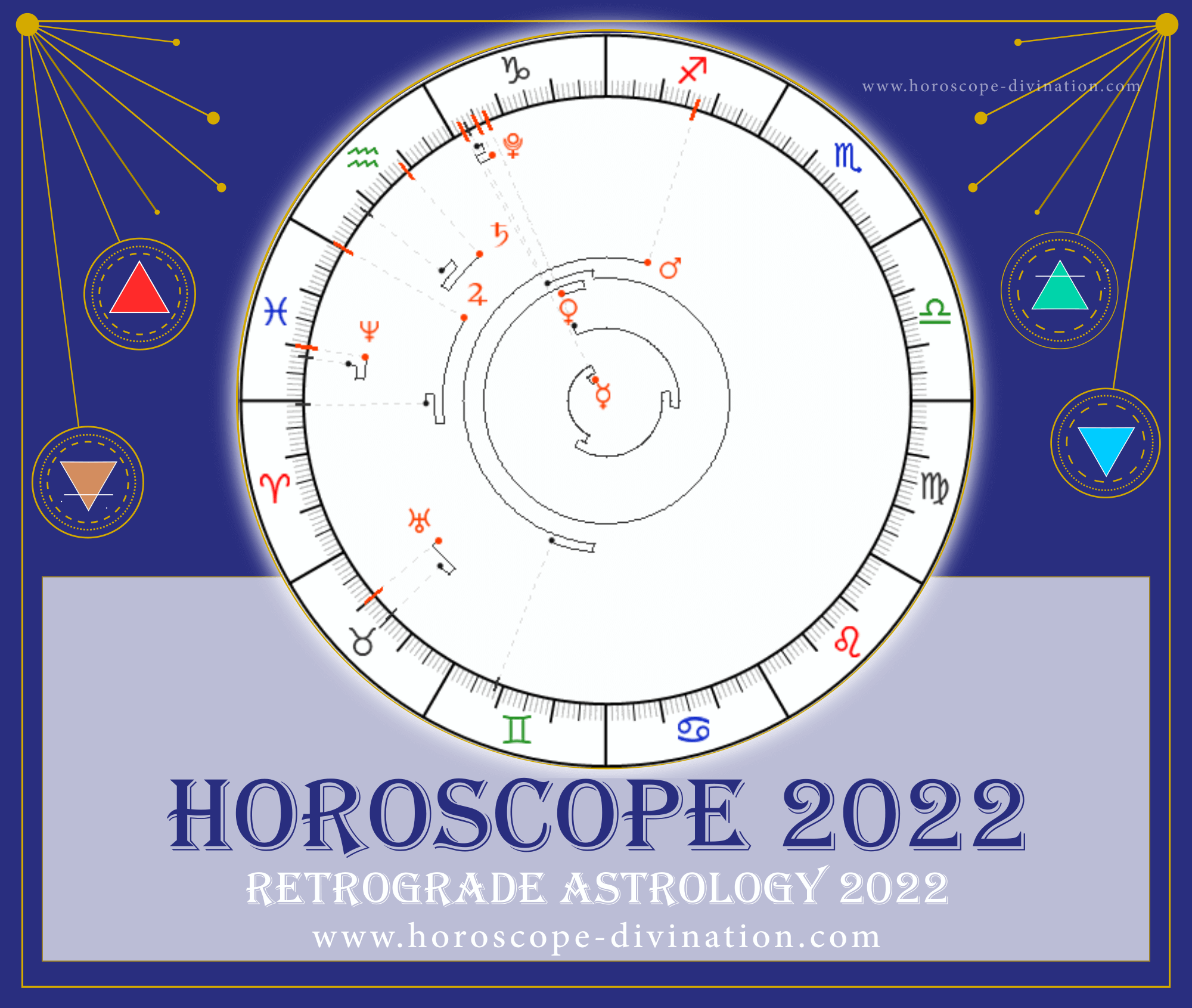 Click on the image above to read all the important information about the Retrograde Planets of 2022 and their impact on Horoscope Libra 2022. Below you will find a list of terms important for your energy, vitality and for the overall Horoscope Libra 2022.
Mercury Retrograde and Horoscope 2022 Libra
14 January 2022 (in Aquarius 5 house) - 04 February (in Capricorn 4 house) (For 21 days, Horoscope Libra 2022 is influenced by the first retrograde Mercury)
10 May 2022 (in Gemini 9 house) - 03 June (in Taurus 8 house) (Horoscope 2022 Libra emphasize transit for 24 days)
10 September 2022 (in Libra - 1 house) - 02 October (in Scorpio 2 house) (Horoscope Libra 2022 is affected by transit for 22 days)
29 December 2022 (in Capricorn 4 house) - end of year 2022 (Horoscope Libra will hit this aspect for 3 days)
Venus Retrograde - Horoscope 2022 Libra
01 January - 29 January 2022 (in Capricorn in 4 house) (Horoscope Libra 2022 talks about this transit during 28 days)
Mars Retrograde - Horoscope Libra 2022
30 October 2022 - to year 2023 (in Gemini - 9 house) (63 days are affected by Horoscope 2022 Libra)
Retrograde Jupiter - Horoscope 2022 Libra
28 July 2022 (Aries in 7 house) - 23 November (Pisces in 6 house) (Horoscope Libra 2022 is affected for 118 days)
Retrograde Saturn 2022 - Horoscope Libra 2022
04 June 2022 (Aquarius in 5 house) - 23 October 2022 (Aquarius in 5 house) (This transit affects Horoscope 2022 141 days)
Retrograde Uranus - Horoscope Libra 2022:
01 January 2022 (Taurus in 8 house) - 18 January 2022 (Taurus in 8 house) (For 17 days, Uranus concentrates its energies on Horoscope Taurus 2022)
24 August (Taurus in 8 dome) - to the start of the year 2023 (The annual Horoscope 2022 Libra is affected by the retrograde Uranus for 130 days)
Retrograde Neptune 2022 - Horoscope Libra:
28 June 2022 (Pisces in 6 house) - 04 December (Pisces in 6 house) (the annual Horoscope Libra 2022 is changed by transit for 159 days)
Pluto Retrograde - Horoscope Libra 2022
29 April 2022 (Capricorn in 4 house) - 08 October 2022 (Capricorn in 4 house) (aspect affects Horoscope Libra 2022 for 162 days)