Yearly Horoscope Scorpio 2022 - Family, Friends, Wedding & Pregnancy
(Family Life of Scorpio, friendship in 2022, and prediction for marriage and pregnancy of Scorpio)
Horoscope 2022 Scorpio - Family
In 2022, Scorpio's family relationships will be severely affected by several astrological transits. January 2022 focuses on the 3rd and 4th houses, but these houses will also be affected in February, March, April and the final month of 2022 - December 2022. Let's now look at how transits will positively or negatively affect your home well-being, your interpersonal family relationships, and whether the year 2022 will give Scorpio the opportunity to calm down broken family relationships after an argument or misunderstanding. However, from the point of view of family relationships, Scorpio 2022 also tells whether family members in your vicinity will be satisfied and whether Scorpio can expect complications in relation to Scorpio's parents, siblings, children, or the overall well-being associated with family life.
You spend the whole of January 2022 close to Scorpio's family and friends, but Scorpio also focus on building your own inner happiness. From January 1st to January 29th, the Retrograde planet Venus operates at the 3rd Scorpio Astrology House, where it means opportunities to communicate and share feelings, energy and auras with other members of Scorpio's family. A certain problem posed by Retrograde Venus is the blocking of life here and now, and therefore it is quite possible that your thoughts will flee to a past that Scorpio have in one way unresolved. Scorpio will be constantly affected by the external forces of Retrograde Venus, so Scorpio feels that in life Scorpio is not yet ready for the great things Scorpio is planning. As a result of these feelings, Scorpio can spend a lot of time analyzing, checking, rethinking your journey, and moving forward in life.
Slower progress is also predicted by another astrological transit, which is the Retrograde Mercury operating in the 4th house of the family from January 14th to the beginning of February. Therefore, you are not only oriented to the ideas of the near past. Scorpio also remember your childhood and any misunderstandings or complications with Scorpio's parents that were related to Scorpio's childhood. From this point of view, Scorpio tend to blame your parents for their procedures and steps in connection with Scorpio's upbringing.
The whole January revolves around your own inner feelings, which Scorpio have experienced mainly in the past. You do not want to transfer the amount of things Scorpio experienced in your youth to Scorpio's own upbringing of your children or to Scorpio's household with a partner. Simply into Scorpio's life. From this point of view, you not only remember the past, your childhood. Scorpio try not to repeat these mistakes of Scorpio's parents. You may feel detached from your parents, especially from an emotional point of view, because you blame them for all the mistakes they made in your upbringing, regardless of their mental and emotional state at the time. Scorpio run into the past even if your childhood was happy and joyful. The current status of Scorpio's life does not offer Scorpio so much happiness, which is why you wander through the past, when everyone felt more happy and when others cared for your well-being.
But how to use January Astrological Transits for your own benefit? By meditating, and communicating with Scorpio's family members directly, easily, and without remorse - these are the steps that will help you use Retrograde Venus and Retrograde Mercury to Scorpio's own advantage. Scorpio may learn things from your past that you had no idea about that would fill holes in your personal life and your inner feelings. So talk to your parents, try to figure out the origin of Scorpio's negative feelings from childhood, and also talk to your children. A lot of communication directed in the right direction, a lot of positive aura and energy will overcome every negative transit that appears in Scorpio's life in 2022 in connection with Scorpio's family life. Scorpio have your own need to manifest your identity, and take these steps with Scorpio's children or your closest relatives. Scorpio's family plays an important role in your life throughout January. The Retrograde movements of Venus and Mercury will have a positive effect from January 20th on the sun passing through the 4th astrological house.
So from January 20th to the beginning of February 2022, be sure to bet on a peaceful conversation with Scorpio's family members, because the sun entering the 4th house brings a sense of security and safety, and means a safe home and many opportunities to settle disharmonious relationships. Mercury and Venus in Retrograde motion like to and every scorpion to solve negative energies during this return of the planets. Do not transmit negative energies until the next months of 2022. Retrograde movements of planets are suitable for solving relationships in life. Since this is not a good time to move forward quickly in any direction of life, whether it is personal relationships, work, finances, or health, you have the opportunity to take advantage of these transitions by searching for your roots, moderating relationships, and searching for your own mental health.
From February 4th to 14th, Scorpio will perceive the sun in the conjunction of Saturn again in the 4th astrological house. Now Scorpio can unleash your imagination and focus not only on your family, but also on your career or financial progress. During the conjunction of the sun with Saturn, you have great support from family members, and Scorpio do not keep things to Scorpio'sself. As you share your plans for the future with Scorpio's family members, it is quite likely that someone who would like to draw strength from your energy and want to steal success just for themselves will want to join your life path. However, consider this cooperation with a member of Scorpio's family. Write down on the paper all the pros and cons that this collaboration would bring Scorpio. It is quite likely that at the beginning of February 2022 Scorpio will have a large number of ideas, but Scorpio will not have enough strength to implement them. So be sure to choose someone to help, but make sure they are a hard-working person with enough time for your ideas.
From February 14th, Mercury passing through the 4th house, where it stays until March 10th, also increases positive transits in February. Scorpio love the time Scorpio spend at home, Scorpio is interested not only in your present and future, but also in your roots. Scorpio want to discover your lineage and Scorpio is interested in other traits of Scorpio's personality that are related to Scorpio's mental and physical heritage. This excellent position of Mercury is again suitable for long conversations with loved ones, for conversations with children, for guiding children in life. Scorpio is a very intelligent and receptive person who can now conduct conversations on an intellectual level, which really suits your children. You listen to the opinions of others, Scorpio also accept a different view of the world. The nature of Scorpio's speech is not suppressed either, so your communication skills are at a very high level, which will be appreciated by every member of Scorpio's family. Now Scorpio can help anyone who feels mentally down or who is interested in your mental support. Not only this transit is positive in February.
Venus in the conjunction of Scorpio's ruler and the sun passing through the 5th house also add to Mercury in the 4th house. The whole of February is so ideal for experiencing satisfaction and success, especially in family and personal life. Scorpio can enjoy the joys of Scorpio's family life. Have a party just because you want to be closer to Scorpio's loved ones. Love that he is so alive around Scorpio. February is a time of joy, spontaneity and harmonious moments with Scorpio's family members. The houses are strongly aimed not only at family happiness, but also towards the happiness of children, who are brought up by the Scorpio parent. In February, Scorpio will feel great harmony in life. The month of February 2022 is one of the best of this year for every Scorpio, in several areas of life.
However, March will also show you its positive transits with all its strength and energy. As of March 6th, two powerful Astrological Transits have been operating on the 4th Scorpio House as Venus enters this house along with Scorpio's home Mars. From March 6th to April 15th, every Scorpio strives to harmonize family relationships. Scorpio want to be in a pleasant and clean family environment, not only in terms of housework, but also mental satisfaction. Therefore, not only your household as such deserves cleansing. Also, cleanse your interpersonal relationships in the household that need to be stabilized. In order for Scorpio to move forward with great speed, and feel perfectly happy, you need to let a friendly atmosphere into Scorpio's home. Scorpio can ease the tension between family relationships because of Scorpio's communication skills, your determination, a healthy dose of spontaneity, and actions that will be right in March.
As far as children are concerned, Scorpio may tend to place more demands on their own children and their upbringing. Your strict side of personality increases with Mars passing through the 4th house. This way, children can feel more pressure on your part, which can result in a conflict between Scorpio and your children. Prefer gentleness and calm communication when solving problems in a family environment, as Horoscope 2022 recommends to every scorpion. Be careful at the end of March. The home planet Mars, located in the 4th house, enters the square with Uranus, which is located in the 7th house. Scorpio have a huge tendency to act hastily, impulsively, and do not take into account the feelings of other people, especially members of Scorpio's family and your partner.
From March 22nd until the end of this month, there may be some great life conflict. This dynamic energy of Mars square Uranus can lead to a great quarrel, mainly due to misunderstandings or lies. However, these family relationships will be stabilized again from April 5th, when the planet Venus enters the 5th house, in the sign of promotion and brings to each Scorpio popularity and opportunities for social activities, which again stabilize the negative energies of the home planet Mars square Uranus.
In April, all transits indicate positive transitions through the 5th and 7th astrological houses, which means well-being and harmony in life, especially in terms of raising children. All transits are positive, so you have the opportunity to enjoy activities with Scorpio's children, walks in nature, and you can also focus on the right form of their upbringing. Teach them art and creativity, because not only good grades are important in life. The main thing is the ability to assert yourself, and encouraging the energy or physical activity of Scorpio's children. This right upbringing for your little ones will be what Scorpio enjoy in April, together with building interpersonal relationships with Scorpio's partner, or with Scorpio's family members, or with friends. In the coming months, transits indicate no effects on your family relationships, and so for almost the rest of 2022, your relationships will be harmonious.
In the months of September and October, an interesting period awaits you, when Scorpio is more restrained towards personal relationships, which can isolate Scorpio from others. Scorpio will feel quality family relationships and their strengthening again since December 2022, when not only our creativity but also family relationships are developed. However, in December, you need to be careful, because one of Scorpio's family members may be overcoming a problematic period in good health. That is why Astrological Transits predict that in December 2022 Scorpio will have to focus on family relationships, more than has been the case so far.
Scorpio will feel the strongest positive period related to Scorpio's development, family, siblings and children since December 21st, when the sun passes through the 3rd house. Scorpio realize yourself mainly in communication with others, and this aspect is also excellent for family relationships and strengthening the bonds of Scorpio and your children. If Scorpio feels that your child has been unmanageable after last month, Scorpio can calm down your tense relationships from December 21st and enjoy the other's presence. You too will look at life in a new light. Scorpio will realize what your life was like in the period that your child is now going through. When it comes to family relationships, Scorpio can expect to develop closeness with your siblings and parents. Your own wish will be to be more close to others, and to experience greater connection with loved ones. On the other hand, it can hinder the Scorpio's work, but we'll talk about that later.
The year 2022 will be quite favorable from the point of view of family relations, even though certain transits await Scorpio, which will negatively affect the energies of interpersonal family relations. In 2022, Scorpio should focus mainly on the proper upbringing of children, and on building relationships with parents. In January, Scorpio is troubled by the energies of Retrograde planets, which divert your thoughts from the present, so Scorpio think about what mistakes your parents made in your upbringing. However, you identify with Scorpio's current life. Scorpio think about what mistakes Scorpio will not make in your upbringing. Thanks to this, your own mental development is strengthened, so Scorpio can move forward to Scorpio's happiness. February Harmonizes relations in the same way as the month of March, which, however, ends in a negative transit, drawing attention to Scorpio's explosive nature. The following months do not mean big changes or falls in Scorpio's family life. December again gives Scorpio the opportunity to get into the skin of others. Scorpio can look into their souls and personal lives.
Love, a working relationship, or problems in living together? The Love Compatibility Calculator for Scorpio will show you how high your compatibility in love, even in 2022, is with other zodiac signs.
---
Horoscope Scorpio 2022 - Friends
friendship Scorpio in 2022
Astrological transits also focus on friendships. In this part of the horoscope Scorpio can find out how strong your friendships will be and whether Scorpio can look forward to new friendships or Scorpio should be afraid of betraying one of Scorpio's friends. Let's look at which Astrological Transits will hit your interpersonal friendship hard, which will be positive and which will be negative.
Since January 3rd, Venus has been in Retrograde motion in the 3rd House of Communication and Sharing. This position of Venus will affect not only family but also friendships. This Transit is connected with communication of all kinds, and the 3rd house is also connected with the search for the right path and possibilities in the direction of friendly relations. Every Scorpio now has a problem living in a moment, and Scorpio is dealing with friendships that have been disrupted in the past.
Some Scorpios will tend to contact old friends whose friendship has meant a lot to them in the past, but current relationships are not the best. For Scorpio, January 2022 means a month of purification, precisely from the point of view of unresolved interpersonal relations. This is an ideal opportunity for Scorpio to reconcile with a friend Scorpio have hurt in the past. It also means a time when emotional redress in friendships should be directed at you as well. So contact a friend who has hurt you and give him the opportunity to correct these relationships. The Retrograde Venus in the 3rd house wants to cleanse your energies of a negative aura, also in terms of friendships, and it wants Scorpio to share your feelings with others. Even though your feelings may not be fully heard, and there will be no 100% correction, Scorpio yourself will feel good that you have done what was necessary to correct the negative energies in your life.
In January, therefore, Scorpio have the opportunity not only to renew a neglected friendship, but also to find an inner balance within yourself. From January 16th, the influence of Venus is blocked by the sun in conjunction with Pluto in the 3rd house. This astrological transit for a few days increases your personal strength, and even means building new friendships or great strengthening of existing ones. Now the broken relationships will definitely be repaired and any negative energies related to Scorpio's friendship will be resolved. Scorpio will find that many of the wrongs that have occurred in the past have arisen from a misunderstanding. After the end of January 2022, friendship will not come first for you, because Scorpio will focus on a different direction of Scorpio's life.
Another transit that will affect your friendships is the sun passing through 7th house, where Scorpio can realize not only through yourself, your partner or family members, but also through your friends. Share your worldviews, your hobbies, and your energy is connected to Scorpio's closest friends. It is a very positive aspect that increases your energy, and therefore the period from April 20th to May 21st is an ideal period for meetings with a friend, which will further enrich your energy and positive aura. However, Scorpio Horoscope 2022 warns Scorpio to associate only with real friends who are not fake during this period and to realize the true value of Scorpio's friendship.
From April 29th to October 8th, the Retrograde movement of Scorpio's secondary planet - Pluto - affects every Scorpio and friendships. From April 29th to October 8th, Scorpio can be much more sensitive to Scorpio's friends. Scorpio is able to find more trust in others in personal communication, but this position of Pluto also suggests a test in your friendships. In fact, it can be one of life's most difficult lessons, just during Pluto's Retrograde movement, from April 29th to October 8th in terms of Scorpio's friendships. Every Scorpio should be wary of a friend born in the sign of Gemini. Scorpio Horoscope 2022 indicates that it will be Gemini who will disrupt your positive karmic direction during the year, and will break your trust. If there is a Gemini friend in your area who has hurt Scorpio in some way in the past, or whom you do not have full confidence in, your behavior will be fully justified right now. In these months of 2022, however, watch out not only for the sign of Gemini, but also for all other friends who tend to damage your reputation and block the positive energies associated with other friendships in life.
From July 18th to August 26th, it is an ideal time for Scorpios to travel, even in the company of Scorpio's friends. This applies especially to those Scorpios who have long wanted to fulfill their dream and go on holiday with their closest friend, or to get to know foreign countries and cultures. From July 18th to August 26th, transits are positively placed, so your travel will not be blocked by anything and in addition, Scorpio can enjoy mental harmony with Scorpio's closest friend. Even in a team environment, Scorpio feels good and share important information with others. Enjoy your person's verbal expression, and communicate in a direct way that others value in Scorpio. Your transparency, and your direct, honest speech towards others between July 18th and August 26th, is your powerful weapon with which Scorpio can attract new friends who move in the higher social classes to Scorpio's attention. The year 2022 thus gives you the opportunity to gain a higher social status for Scorpio and Scorpio's family thanks to Scorpio's friends. If you desire so.
For the rest of the year, the friendly relations seem to be balanced, without unexpected surprises. The last warning from Scorpio Horoscope 2022 is the period from September 5th to 29th, when Venus passes through the 11th astrological house of blessing and friendship. This period is not suitable for social events, so you better plan your celebrations for another period. It's better to have fewer real friends than more friends who gossip about Scorpio or who are fake. Horoscope 2022 will like this principle and procedure from September 5th to 29th, when the planet Venus, with its rapid passage through the 11th house, focuses your attention on real friendships. It reminds Scorpio how important it is to focus on your closest friends. However, Scorpio can expect a strong development of Scorpio's friendly relations in the period from December 21st to the end of 2022, when the sun, through a strong passage through the 3rd Astrological House, means your friendly relations exactly according to Scorpio's ideas. So at the end of the annual plans, Scorpio can include not only your family members, your love, but also your friends who are now supporting Scorpio, because Scorpio is only surrounded by the closest friends who are closest to you.
The Scorpio Friendship prediction also provides the Weekly Scorpio Horoscope which is updated weekly. Get ready for the coming week with an astrological horoscope in 2022.
---
Horoscope 2022 Scorpio - Marriage
Horoscope predicts what dates are best for Wedding in 2022
Are you a Scorpio planning a wedding in 2022? Want to know which terms are astrologically the most appropriate for marriage? If Scorpio want the wedding to be according to Scorpio's dreams, without unexpected complications, you should also follow the transits that determine the appropriate and unsuitable days for the wedding. Therefore, thanks to the fortune teller's predictions, enjoy the wedding of Scorpio's dreams, without unexpected surprises that would disrupt or damage your wedding day.
From the point of view of astrological transits, it is necessary to state at the outset that dates close to the Retrograde motions of the planets are not suitable for a wedding ceremony. For 2022, this is especially true of the Retrograde motion of Mercury and Venus. Horoscope 2022 therefore does not recommend weddings throughout January 2022, then from May 10th to June 3rd, from September 10th to October 2nd, and in the last 3 days of 2022 - from December 29th until the end of the year. In these terms, Mercury is Retrograde, and during January 2022, the planet Venus joins Mercury. To avoid the minor complications that cause astrological movements, it is advisable to omit the days from October 30th to the end of 2022 from the calendar, because your ruling planet also operates in a Retrograde motion, and your planning, rapid progress, and desires could be thwarted. , mainly because of the work of this Retrograde ruling planet of every Scorpio. So we discussed the dates that are most unsuitable for a wedding in 2022. Let's look at the opposite, which dates are appropriate, and which days you should include in your planning calendar if Scorpio is going to get married in 2022.
The most ideal period of 2022 for a wedding are the months of March and April 2022, when all transits of astrology indicate not only excellent family relationships, but also great harmony with Scorpio's partner and a positive effect on your friendly relationships. From March 6th to April 29th, the transits are to everyone who decides to get married during the first half of 2022, which is, however, the most suitable for these decisions. Scorpio share everything that interests Scorpio with Scorpio's partner and Scorpio's family or your loved ones. Others are available to you and are very helpful, so your wedding will take place exactly according to Scorpio's plans and expectations.
The transits of March and April also do not indicate that your wedding plans could be complicated by an unexpected event. Also, the wedding day that Scorpio plan for this date will be unforgettable, and since the positive perception of social events by astrological transits affecting Scorpio is strengthened, it is clear that your wedding day will be unforgettable. However, many couples choose to get married during the summer months. If Scorpio want to enjoy your wedding day to the fullest, transits of astrology predict that another suitable date for marriage is the month of June - until July 5th, 2022.
During June, the energy of Scorpio is influenced by the sun passing through the 9th astrological house, and this position means happy marriage and lasting relationship with a loved one. Even, this aspect also means a happy marriage with a stranger. Therefore, if your wedding day is also connected with another culture or with the connection of families from different countries, just from June 21st to July 5th, the days are completely ideal for this marriage, and for the dream wedding, which will not be disturbed by any quarrels. , misunderstandings, or complications. These 3 months of 2022 are from the point of view of astrological transits the most suitable for a wedding.
The second half of the year is no longer so favorable from the point of view of transits, because in the second half of the year Scorpio will have more restraint and closedness, which could also complicate your wedding planning. In the introduction to the horoscope of marriage, we dealt with inappropriate dates. To these unsuitable dates must be added the days from July 5th to August 20th, when your ruling planet is going through a sign of exile. This can disrupt your wedding planning. This period also means the overly impulsive and ill-considered marriage of Scorpio, who hastily decides to marry. But Scorpio should be careful, because astrological action says that these relationships will have to go through a complication at once, and it is quite likely that they will not withstand a negative effect on your relationship. Such marriages may lack not only later passion, but also teamwork and understanding. The remaining months of 2022 focus on the other life paths of Scorpio, and on members of Scorpio's family and your surroundings.
In 2022, it is best to choose dates for the wedding day during the months of March, April and during the month of June 2022. The appropriate month is also February, which, however, does not bring any exceptional transits to make your wedding unforgettable. These months mean not only a wedding without complications. They also mean a very positive perception of Scorpio's wedding day by the invited guests. Avoid Retrograde Mercury and enjoy a dream wedding full of fulfilled plans and positive radiance that will accompany you throughout your wedding planning and during your wedding day.
Accurate Monthly Horoscope Scorpio tells Scorpio more about Scorpio future in love, health, career, money or relationships. Horoscope 2022 Scorpio is also connected with a monthly prophecy. Read all the important horoscopes from the fortune teller for the year 2022.
---
Horoscope Scorpio 2022 - Pregnancy
Horoscope prediction for Best dates for pregnancy in 2022
In 2022, it is clear that more Scorpios will be interested in which terms are appropriate for conceiving the first or next offspring. If Scorpio is a Scorpio who is deciding whether 2022 is a good year to start a family, and which dates are favorable to this step, it is advisable to pay your attention to this part of the 2022 Scorpio Horoscope as well. In this section, the soothsayer and astrologer deals with the most favorable terms, which are related not only to the position of the sun, your ruler, or the secondary planet Pluto.
Transits are also related to the moon that affects every Scorpio. Whether Scorpio is a man or a woman, the following transits represent the strongest days associated with conceiving a baby. They not only increase fertility. They also bring harmonic energies, thanks to which the pregnancy will run without complications and without problems. It is very likely that these terms will also help those couples who have been trying in vain for a common baby for a long time. So let's introduce the strongest period in terms of Scorpio fertility for 2022.
However, in the introduction to Horoscope 2022, the Scorpio points out that the following terms are not exact, and each Scorpio should follow its reproductive cycle and adapt it as closely as possible to the terms we will now state. As with the marital horoscope, Scorpio Horoscope 2022, in terms of pregnancy and Scorpio fertility, warns Scorpio to omit dates that are identical with the Retrograde Venus, Mercury, and also with the Retrograde Mars when planning your baby.
The first suitable date for conceiving a child is the period from May 1st to 10th. The lunar position is very strong in this case and directs its harmonic vibrations to every Scorpio who decided to be a parent in 2022. Subsequently, from May 10th, Mercury becomes Retrograde, which blocks your decisions and can cause Scorpio some complications. Another suitable date for the birth of a baby is the days from June 3rd to 13th 2022, but basically the whole of June 2022, which is not blocked by negative transits, so Scorpio can perfectly plan your pregnancy with the help of counting fertile days. The period from June 3rd to 13th also increases fertility in every man born in the water Scorpio.
Subsequently, from June 30th to July 10th, Scorpio can again succeed in your planning, in the successful conception of Scorpio's beloved baby. Pregnancy that begins during June is likely to take place without any complications related to pregnancy, and without any problems related to Scorpio's health. Pregnancy will also be easy for those Scorpios who become pregnant in June. The last dates suitable for pregnancy are from July 29th to August 7th and from August 28th to September 3rd. These exact terms represent a period when your energies, body and mind are affected by the beneficial effects of the lunar position, thus multiplying not only your fertility but also your positive feelings during pregnancy.
In 2022, no transits indicate a negative vibration toward those Scorpios who are currently pregnant, and ask if the pregnancy will be trouble-free. Pregnant Scorpios should only be careful during the month of December 2022, when health is more complicated in terms of astrological transits, and you may be affected by unexpected changes in your energy and vitality. Increase your caution, especially from December 20th until the beginning of 2023. Rest and relax more than before. Especially those of you whose pregnancy is risky or more complicated should pay increased attention to Scorpio's health. So in December, be more careful about your health, and pay your attention to taking care of Scorpio'sself, your health, your vitality, and your energy.
Horoscope 2022 recommends all Scorpios during the year to take enough folic acid and B vitamins, which are now an essential part of Scorpio's life if you want your pregnancy to go without any complications. Bet not only on leafy vegetables, but try to adjust your diet so that it is suitable not only for you, but also for your baby.
Scorpio Horoscope 2022 therefore not only represents terms suitable for marriage and pregnancy. Obviously, if Scorpio follow these terms, which Scorpio Horoscope 2022 introduced Scorpio, Scorpio can expect a happy year 2022, which will fulfill your desires, expectations and ideas. We wish a lot of love and health to every Scorpio who plans to become a parent in 2022, or wants to revitalise his family with another child, and especially positive interpersonal relationships, which will be extremely important for Scorpio in 2022.
Daily Horoscope Scorpio prepare Scorpio for the current day. Horoscope 2022 from the Fortune-Teller also means the possibility of daily divination for Scorpio zodiac sign.
---
Horoscope Scorpio 2022 - Love, Career, Health, Future...
Click the image you like and read more about year 2022...
Horoscope Scorpio 2022: Overview - Positive and Negative aspects of 2022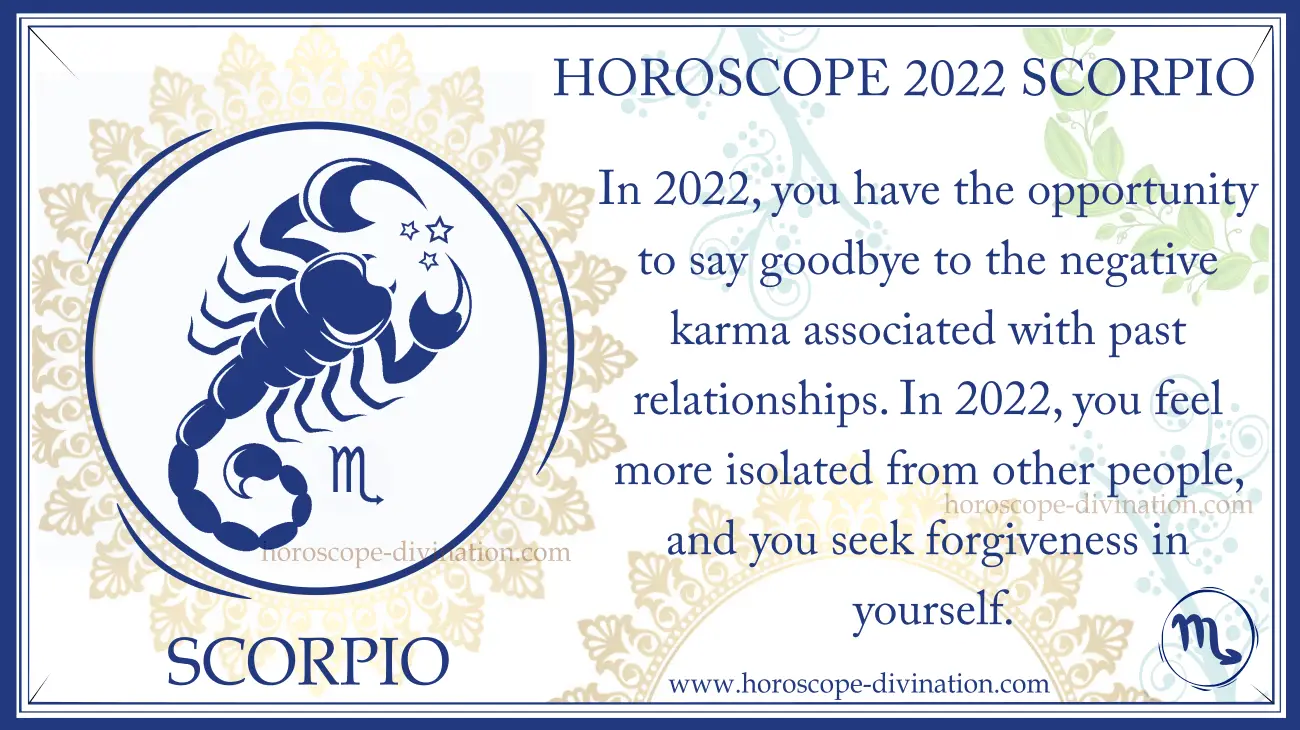 Astrological transits focus on both positive and negative effects on each Scorpio. Scorpio Horoscope 2022 in this section will introduce you to positive transits and the greatest impact on the area of love, health, finances, or career of each of you... Introduction of Horoscope 2022 Scorpio...
Horoscope Scorpio 2022 from fortune-teller - Love & Relationships in 2022: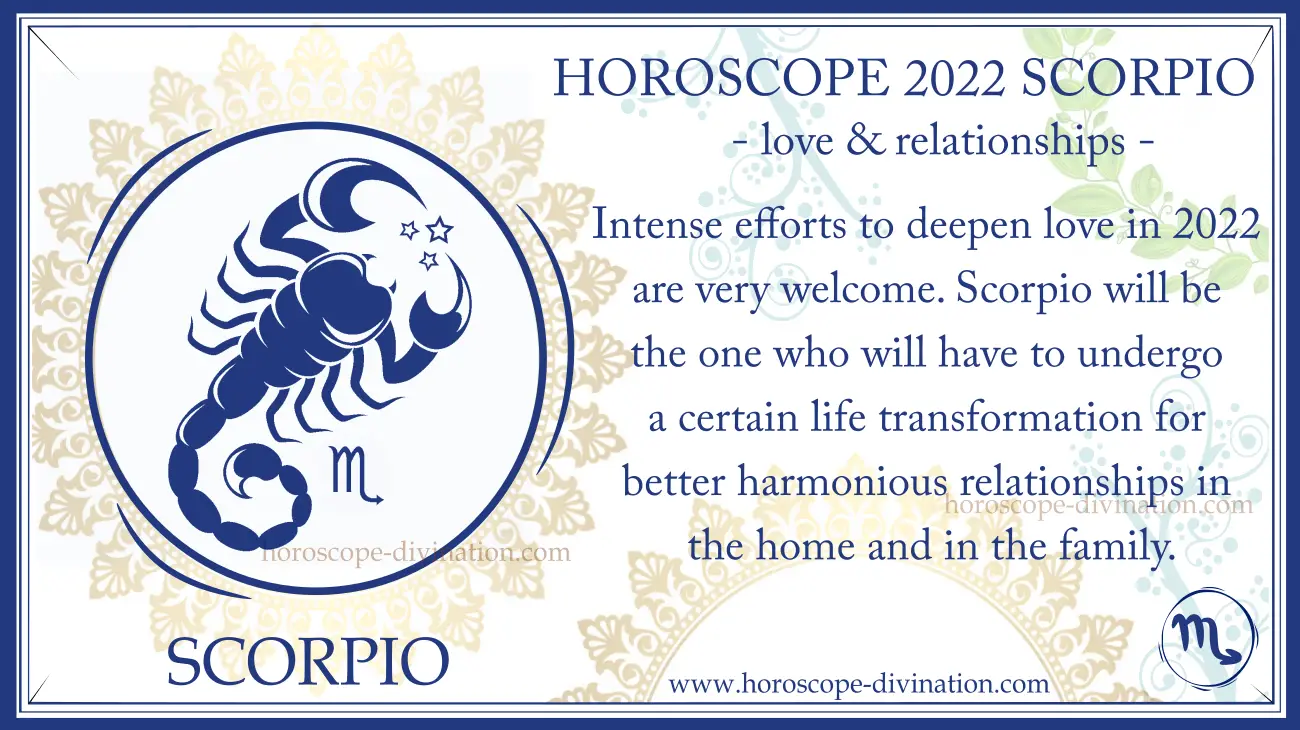 The Scorpio struggles with emotions during his life. The year 2022 will present itself as a year focused not only on the love of Scorpios in relationship, but also on the emotions of singles. Your family and friendships will be strengthened, but other interpersonal relationships that you should know will also be affected... Read more about Love Horoscope Scorpio 2022...
Horoscope Scorpio 2022 - Family, Friends, Marriage and Pregnancy in 2022: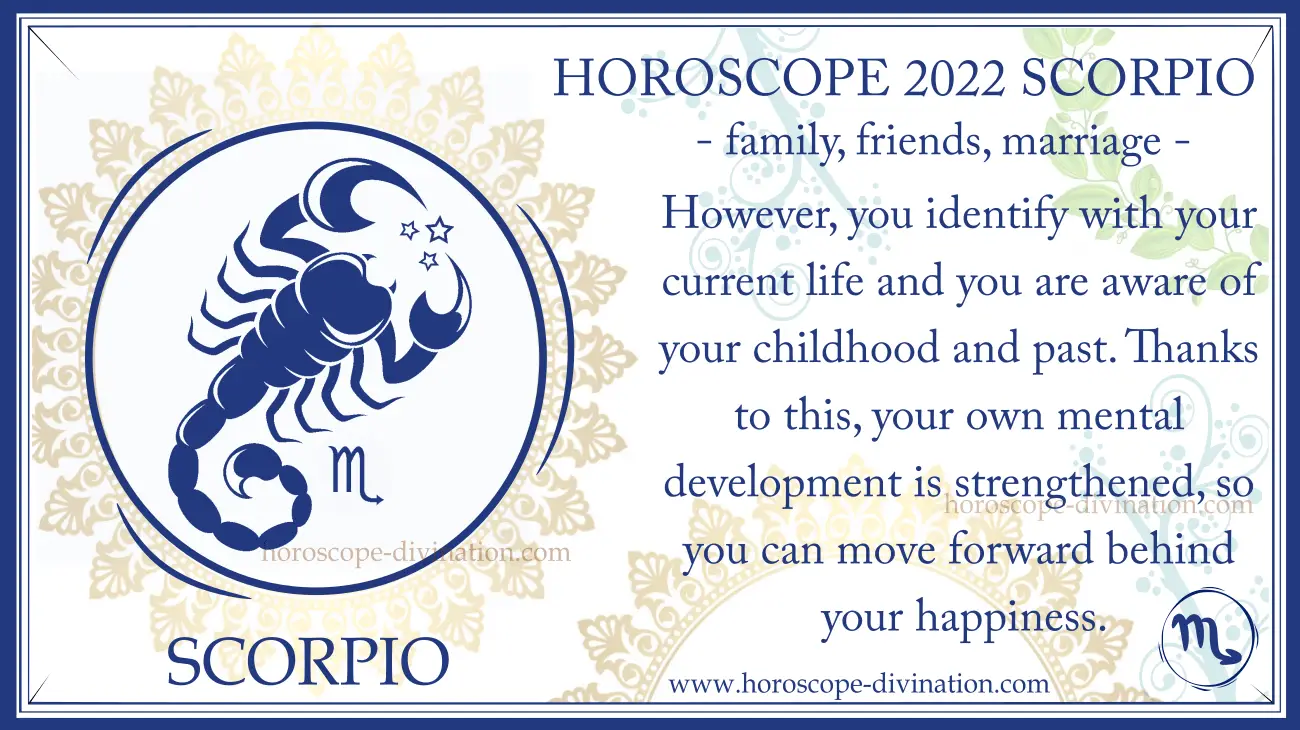 In 2022, Scorpio's family relationships will be severely affected by several astrological transits. January 2022 focuses on the 3rd and 4th houses, but these houses will also be affected in February, March, April and the final month of 2022 - December 2022... Read this yearly Horoscope Scorpio 2022 - Family, Friends, Pregnancy and Marriage...
Horoscope 2022 Scorpio - Career & Finances: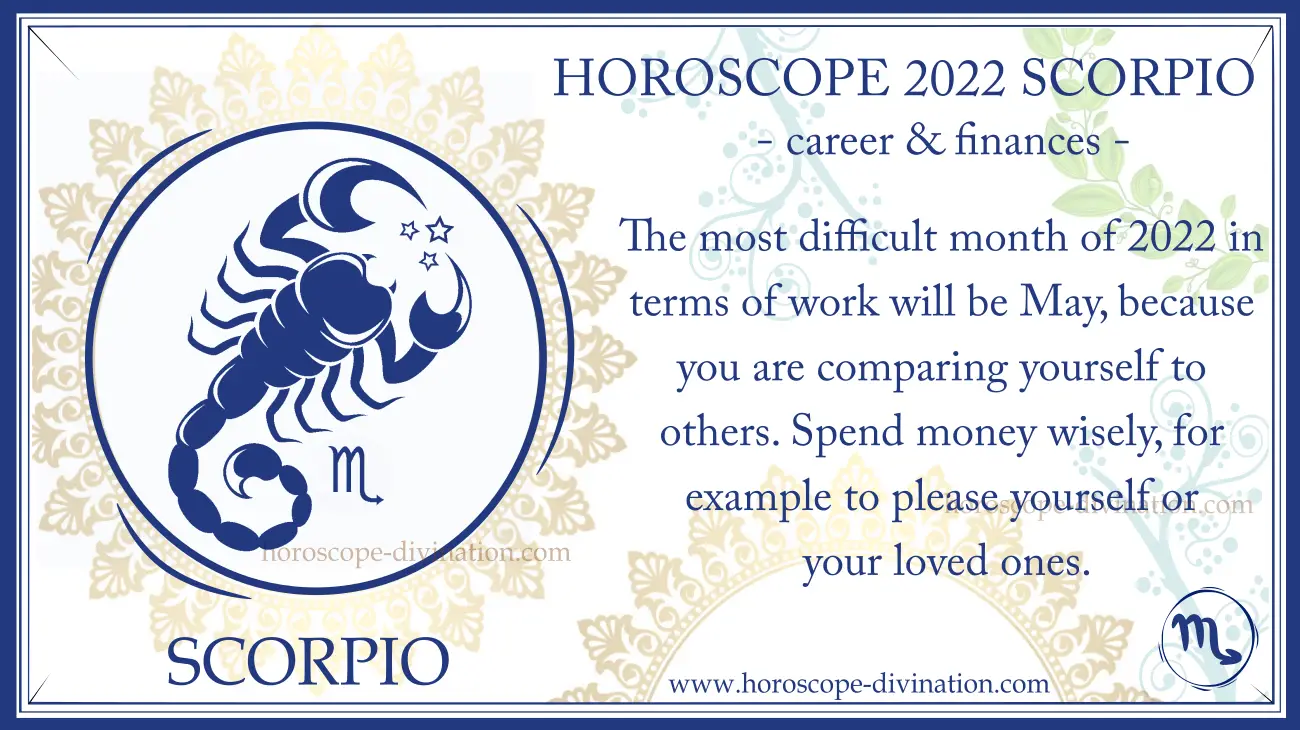 The Fortune Teller has also prepared Horoscope 2022 for those Scorpios who are interested in whether they will be more successful in the field of work and career advancement in 2022, or whether they should expect extraordinary problems at work or other complications from the point of view of career... Complete annual Horoscope Scorpio 2022 in career and finances...
Horoscope Scorpio 2022 - Health & Vitality: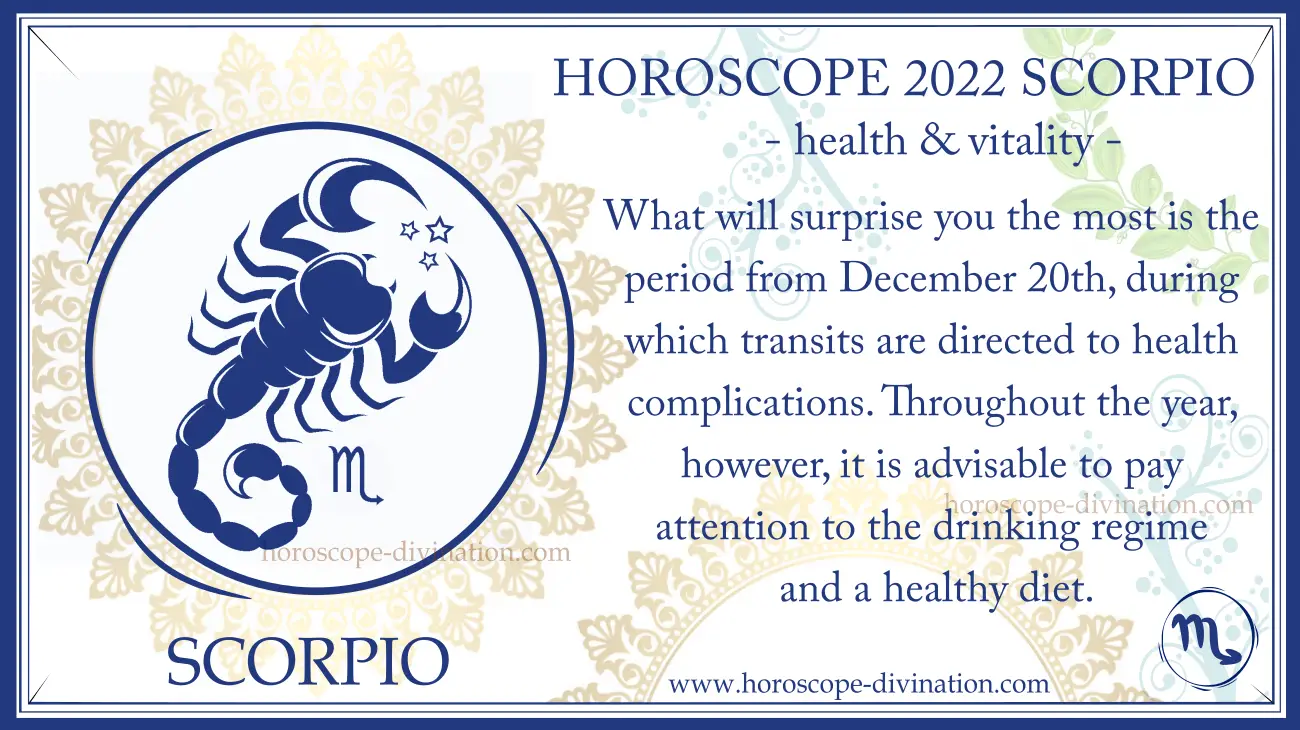 In this section, the horoscope focuses on the health of Scorpio during the year 2022. You will learn what recommendations the fortune teller brings for your better life, for firmer health and a more vital life... Read yearly Horoscope 2022 of Health and Vitality for Scorpio zodiac sign...
Retrograde movements of planets that affects Horoscope 2022 Scorpio
Graph of Retrograde Planets 2022 - Their affect on Horoscope Scorpio 2022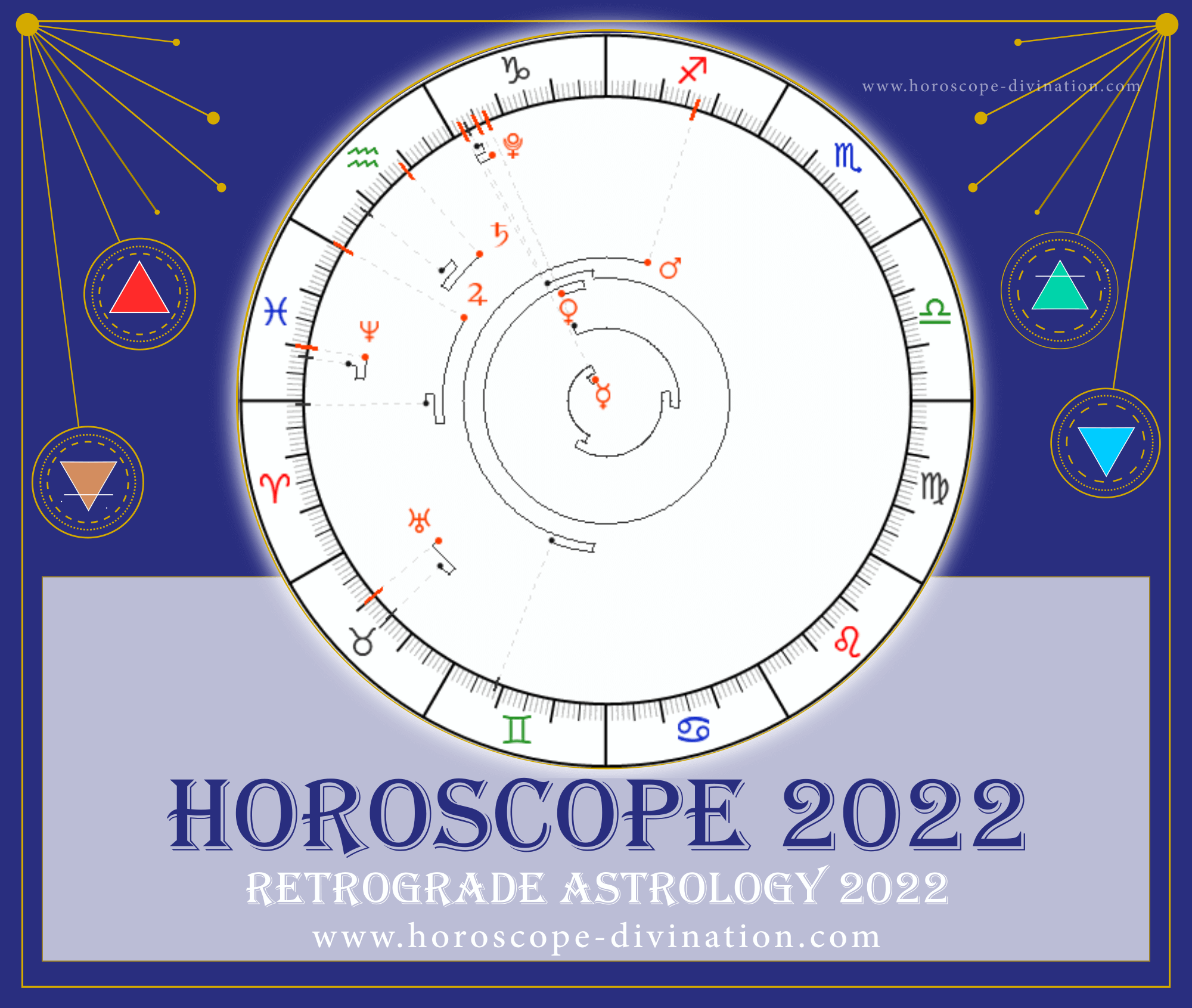 Click on the image above to read all the important information about the Retrograde Planets of 2022 and their impact on Horoscope Scorpio 2022. Below you will find a list of terms important for your energy, vitality and for the overall Horoscope Scorpio 2022.
Mercury Retrograde and Horoscope 2022 Scorpio
14 January 2022 (in Aquarius 4 house) - 04 February (in Capricorn 3 house) (For 21 days, Horoscope Scorpio 2022 is influenced by the first retrograde Mercury)
10 May 2022 (in Gemini 8 house) - 03 June (in Taurus 7 house) (Horoscope 2022 Scorpio emphasize transit for 24 days)
10 September 2022 (in Libra - 12 house) - 02 October (in Scorpio 1 house) (Horoscope Scorpio 2022 is affected by transit for 22 days)
29 December 2022 (in Capricorn 3 house) - end of year 2022 (Horoscope Scorpio will hit this aspect for 3 days)
Venus Retrograde - Horoscope 2022 Scorpio
01 January - 29 January 2022 (in Capricorn in 3 house) (Horoscope Scorpio 2022 talks about this transit during 28 days)
Mars Retrograde - Horoscope Scorpio 2022
30 October 2022 - to year 2023 (in Gemini - 8 house) (63 days are affected by Horoscope 2022 Scorpio)
Retrograde Jupiter - Horoscope 2022 Scorpio
28 July 2022 (Aries in 6 house) - 23 November (Pisces in 5 house) (Horoscope Scorpio 2022 is affected for 118 days)
Retrograde Saturn 2022 - Horoscope Scorpio 2022
04 June 2022 (Aquarius in 4 house) - 23 October 2022 (Aquarius in 4 house) (This transit affects Horoscope 2022 141 days)
Retrograde Uranus - Horoscope Scorpio 2022:
01 January 2022 (Taurus in 7 house) - 18 January 2022 (Taurus in 7 house) (For 17 days, Uranus concentrates its energies on Horoscope Taurus 2022)
24 August (Taurus in 7 dome) - to the start of the year 2023 (The annual Horoscope 2022 Scorpio is affected by the retrograde Uranus for 130 days)
Retrograde Neptune 2022 - Horoscope Scorpio:
28 June 2022 (Pisces in 5 house) - 04 December (Pisces in 5 house) (the annual Horoscope Scorpio 2022 is changed by transit for 159 days)
Pluto Retrograde - Horoscope Scorpio 2022
29 April 2022 (Capricorn in 3 house) - 08 October 2022 (Capricorn in 3 house) (aspect affects Horoscope Scorpio 2022 for 162 days)