Yearly Horoscope 2022 Capricorn - Health
(Vitality of Capricorn, health issues in 2022, aromatherapy and energy for Capricorn)
First days of 2022 - Health Horoscope 2022 Capricorn
The astrological prediction for 2022 also deals with those of you who are interested in whether the health of Capricorn will be stable during 2022. Capricorn Horoscope 2022 looks at the astrological transits related to the health of this earth zodiac sign. Not only will Capricorn Horoscope 2022 introduce supplements that can help Capricorn overcome serious illnesses and health problems, but Capricorn 2022 Horoscope will also talk about the strength of your medicinal herb for 2022 and other supplements that you should get into your home in time.
The classic health problems of Capricorn that they suffer from in life are diseases that are related to stress in life. Many Capricorns also suffer from rashes, eczema and other similar skin problems during their lifetime, which are very common in this zodiac sign. The stable sign of the zodiac, which is known for its determination, perseverance and internal or external arrangement of things around it, often focuses on exactly the problems of its body that it needs to solve.
Many Capricorns will struggle with skin problems in 2022, and Horoscope 2022 recommends that each of you focus only on natural products that are related to the care of your skin and body. Capricorn is sometimes unable to detach itself from the problems it experiences in its private life or at work. The stress in Capricorn's life not only enriches Capricorn with chronic health problems in the future, but often manifests itself in the form of skin and energy problems. In 2022, Capricorn will also need to strengthen your stamina, and your mind. Appropriate ways to feel fit and balanced are definitely for any Capricorn meditation, and plenty of cardio exercises.
Capricorn loves the habit of life, so at the beginning of 2022 Capricorn should build a habit of healthy living, a sufficient drinking regime, and last but not least, Capricorn should include less salt in Capricorn's diet. You should replace a large number of carbohydrate foods with protein, especially if you belong to the Capricorn, which is a vegetarian or vegan. Try to carry more protein into Capricorn's life, which is extremely important for your body. Other Capricorns must seek harmony in their diet so that you eat enough of a balanced diet. Capricorn must not underestimate the healthy drinking regime that is important for 2022 not only during the hot months of 2022, but also during each day when Capricorn need more energy. It is also an ideal time for Capricorn to learn to eat better.
The year 2022 brings a lot of opportunities to Capricorn's life so that Capricorn can learn to perceive your body as your temple. Eat only quality foods, and reduce your daily caloric intake rather than stressing with weight gain, which can occur especially at the end of 2022. In order not to let stress into your body, it is necessary to enrich your mind. other interests. After work, it is advisable if Capricorn reads a book, physical sports or moments spent with his family. More than one Capricorn loves water, and walks in nature. Combine these hobbies with your friends or family for even more relaxation.
At the beginning of 2022, Capricorn should also avoid excessive caffeine consumption, as it can paradoxically dehydrate the body. If you drink more coffee, Capricorn need to take more pure water that hydrates your whole body. In the following lines, yearly Horoscope 2022 will present the essential oil of 2022 for every Capricorn who needs to strengthen his health in his life and prevent diseases related not only to the amount of accumulated stress in life.
Lavender oil will provide you with all its benefits throughout the year 2022. Capricorn Horoscope 2022 recommends Capricorn to get this oil before the beginning of the year, as it will help you not only with stress, but also with potential skin problems. How to use Lavender oil, and what is it actually suitable for?
This oil is considered the most versatile oil in terms of health benefits for each of us. For Capricorn, this oil becomes the essence of health in 2022, a helper for your vitality and energy. Capricorn Horoscope 2022 warns each of Capricorn to take care of your choice of quality oil. Choose lavender essential oil, which is made only from natural ingredients and only then has the opportunity to present you all its positive healing effects. This oil contains not only a number of vitamins, but also beta-carotene and minerals that are ideally combined to support your health and relieve nervous tension and stress. Lavender oil helps with wound healing, has anti-inflammatory effects, and even helps you during long hot evenings, when it effectively fights insects and bites.
However, the effects of lavender oil are even more extensive. Capricorn can use it to relieve headaches, help you sleep better, and work strongly against stress. If Capricorn want Capricorn can even use a few drops of lavender essential oil even in a regular bath. This procedure is recommended especially in the evening, before bedtime, because Lavender oil will then give you a peaceful night, full of quality sleep. Thus, beautiful lavender is used not only as a part of gastronomy or as a decoration, but also as a medicinal herb, which represents a number of benefits for each user. Last but not least, it also cures acne, eczema or different skin problems, which suffer to a large extent from your earth sign.
This oil can cause some mild allergic reactions in sensitive people, so it is very important to read this oil carefully before using it for the first time. Follow the recommendations on the box or on the packaging of the oil Capricorn is buying, and do not use the oil internally if you suffer from very low blood pressure. Capricorn can use the oil through the aroma of the lamp to enjoy its intoxicating scent. Capricorn can also paint the skin with it when Capricorn mix water with one or three drops of this oil. The oil can also be used internally, but again Horoscope 2022 remind you to get quality oils and follow the manufacturer's recommendations.
So lavender oil helps you with several health problems. It is an oil that is associated with a healthy Capricorn throughout the year. However, the Capricorn should also buy an herb of 2022 for every household or office, which is for the Chamomile (Matricaria chamomilla). Capricorn can also get chamomile as aesthetic oil or essential oil, but Capricorn Horoscope 2022 in this case recommends Capricorn to get chamomile flowers, which Capricorn will use to make tea or tincture.
Chamomile contains vitamins A, vitamin C, a lot of calcium, magnesium, iron, beta-carotene and thus brings each user anti-inflammatory effects and the possibility of combating other diseases. Chamomile is a strong anti-inflammatory and helps with inflammation of the airways. It is recommended that each Capricorn has a high quality chamomile available, preferably in organic quality, as this chamomile flower has not been treated with chemical treatment. Capricorn can also get Chamomile in nature, if Capricorn has this herb available in your area. It is harvested at the time of flowering and then allowed to dry in the shade, without direct sunlight.
Chamomile has a calming effect on those Capricorns who suffer from stress or who do not tolerate problematic situations. Capricorn can also use it for colds or rhinitis, as well as a poultice for skin problems. Indoor and outdoor use of chamomile is also suitable for difficulties in pregnancy and toothache. Chamomile means a number of health benefits for each user. Get it in Capricorn's home, and include it in Capricorn's regular diet, and in Capricorn's daily drinking regimen.
Love, a working relationship, or problems in living together? The Love Compatibility Calculator for Capricorn will show Capricorn how high your compatibility in love, even in 2022, is with other zodiac signs.
Mentally health of Capricorn and Vitality based on astrology Horoscope Capricorn 2022
In the introduction, Capricorn Horoscope of Health 2022 has clarified what supplements Capricorn should get for your home, if you want to overcome this year without any unwanted health problems. But now let's look at specific astrological transits. In January, the astrological aspects may stress Capricorn even more, due to the effect of the Retrograde Venus. Capricorn may feel that Capricorn is getting little attention from others, and so your soul and energy may suffer. Overall, January 2022 is the month when Capricorn feels less vitality and energy, so accurate Horoscope 2022 again recommend that Capricorn reach for your herb of 2022, and especially follow a regular drinking regime. The loss of energy is also associated with improper eating, so in January, deal with a balanced diet, and do not eat energy-intensive foods that burden your body to great depths.
Relationship and marriage problems that may occur in January, as well as stressful situations related to your financial and work karma, can cause Capricorn stress, and Capricorn will look for ways to overcome it. There is a time when it is advisable to spend more time alone and relax in the comfort of your bedroom with essential lavender oil. Capricorn can also soak in a tub full of hot and relaxing water, enriched with a few drops of your oil in 2022. Also, don't forget to push a greater dose of active physical movement into Capricorn's life than it was in the past. Liberation from the Retrograde Venus occurs in the month of February 2022, when Capricorn may feel inharmonious feelings about your health.
During the months of February, March and April, the 2nd and 3rd astrological houses will be hit, and in April also the 5th house, when the Capricorn's energies will be focused on family, friends, money and work. This period is very beneficial for every Capricorn. The horoscope does not predict any negative aspects related to health. The next problematic period is the second Retrograde Mercury of 2022 - from May 10th to June 1st. Again, Capricorn deepen deeply inside, and you tend to spend time alone. Capricorn is looking for meaning in your thoughts. Capricorn analyze your insides, and your overall health. From May 10th to June 1st, it would be a good idea to analyze every health problem in Capricorn's life, as it is possible that this problem will grow into something more problematic right now. Capricorns that are pregnant and in high-risk pregnancies should also be careful about their health. Once again, astrology Capricorn Horoscope remind Capricorn to take more care of your body and healthy eating, which is extremely important for every Capricorn in 2022.
Horoscope 2022 Capricorn says - Focus on Healthy Life
From June 13th, Mercury enters the 6th house and is in the sign of its home. This position of Mercury is very interesting, and brings to Capricorn a period of using the ability not only at work but also in private life. Capricorn will now have more responsibilities in life, and in addition to these responsibilities is a reminder to undergo a regular preventive examination. Capricorn Horoscope 2022 reminds Capricorn to complete all the necessary preventive examinations related to your health from June 13th to July 5th. Include in the examination those that Capricorn do not pass every year. If during this period Capricorn develops an unexpected health problem, or a complication mainly related to the heart, pregnancy, or excessive headaches, it is time for you to solve this problem in Capricorn's life in depth. Be sure not to neglect the pain that tells Capricorn to find the cause and try to eliminate it.
In the month of July, the planet Mercury is located in the 8th house and your health can now be affected by healthy laziness. The month of July and the beginning of August wanted to tell Capricorn to relax more. During this period, more than one Capricorn will have the opportunity to travel abroad for the sun, whether in the arms of partner, or surrounded by family or friends. Use this opportunity for a total deep break in Capricorn's life, which is now very important.
Subsequently, the months of 2022 do not predict any negative transits that would extremely affect the energy and health of a person born in the earth sign Capricorn. Certain stressful situations in Capricorn's life can occur mainly due to misunderstandings in the family, due to the Retrograde movement of your ruling planet Saturn, which makes Capricorn a much more careful, tight and closed person. Some Capricorns may feel that they do not have to deal with their health problems because they do not want to harass other people. But be careful, because this deceptive side of Saturn distracts you from important things in Capricorn's life. So it can also divert attention from an important illness that Capricorn should deal with quickly.
If there is a lot of pain in Capricorn's life in the second half of 2022, it's time to take action, especially if you suffer from frequent headaches, migraines, or skin problems that may have a deeper meaning. In the months of October and November 2022, increase your caution, especially when driving. Capricorn Horoscope 2022 warns each of Capricorn of risky activities, but also of driving. Use caution and follow the rules of the road. Avoid activities in the car that distract Capricorn from driving, as Capricorn could cause a number of health problems.
Accurate Monthly Horoscope Capricorn tells you more about Capricorn future in love, health, career, money or relationships. Horoscope 2022 Capricorn is also connected with a monthly prophecy. Read all the important horoscopes from the fortune teller for the year 2022.
Health Horoscope 2022 Capricorn - last days before 2023
In November, it is very important to focus on your attention, especially when riding a motorcycle or in a car. Astrological transits indicate the possibility of injury, which is not a flattering prediction for Capricorn. From December 21st, Capricorn can see the sun passing through the first astrological house. This sun remains in the position of the first house of Capricorn until January 20th, 2023. If Capricorn ask whether the year 2022 will allow Capricorn to lose weight, whether you want it or need it, the answer is the end of 2022. Most energy and vitality, but also strengthening commitment and the last step in your journey comes in the period from December 21st to January 20th, 2023. Therefore, decide for big changes related to your health these days. Every Capricorn can lose weight if it has to, or wants to, and the big start in this path of Capricorn's life comes at the end of the year, because the energies of astrological transits are completely inclined to you in this direction.
The 2022 Health Horoscope is extremely positive for every Capricorn. Astrological transits do not predict extraordinary diseases that would severely affect your health and complicate other areas of Capricorn's life. Capricorns with chronic diseases must take care of their health, but no exceptional changes await you. Use caution when driving or taking risky activities, especially in October and November. Pregnant women born under the sign of Capricorn must be careful during the Retrograde movements of the planet Mercury, which occurs up to three times during 2022.
In any case, for every Capricorn, it is extremely important to follow a regular drinking regime, and you should develop this habit at the beginning of the year. Capricorn Horoscope 2022 also warns that in November, certain Capricorns may be affected by kidney stone problems. Therefore, treat yourself to a chilled beer during the year, which also helps prevent kidney stones. Harmonically, the year 2022 underlines the positive prediction of the health horoscope in several directions of the Capricorn's life. Follow the recommendations of the Horoscope and enjoy a period full of energy and vitality, with tools (your oil of the year and an herb that supports your health), as these procedures help to overcome stress and problem days.
Daily Horoscope Capricorn prepare Capricorn for the current day. Horoscope 2022 from the Fortune-Teller also means the possibility of daily divination for Capricorn zodiac sign.
---
Horoscope Capricorn 2022 - Love, Career, Health, Future...
Click the image you like and read more about year 2022...
Horoscope Capricorn 2022: Overview - Positive and Negative aspects of 2022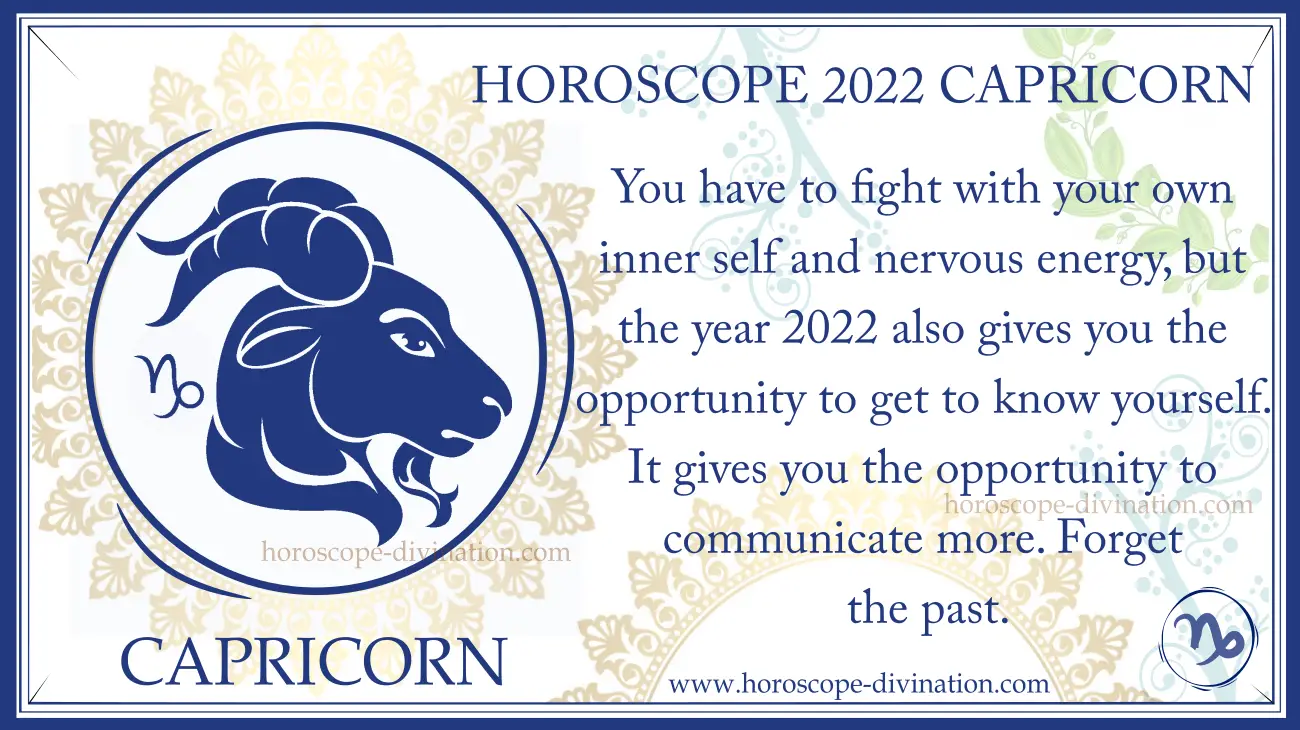 January is a month of a certain cleansing of Capricorn. You clean the energies of the past and deal with the real feelings of your partner. You enjoy the connection with your love at a higher level and you don't mind focusing on communication... Introduction of Horoscope 2022 Capricorn...
Horoscope Capricorn 2022 from fortune-teller - Love & Relationships in 2022: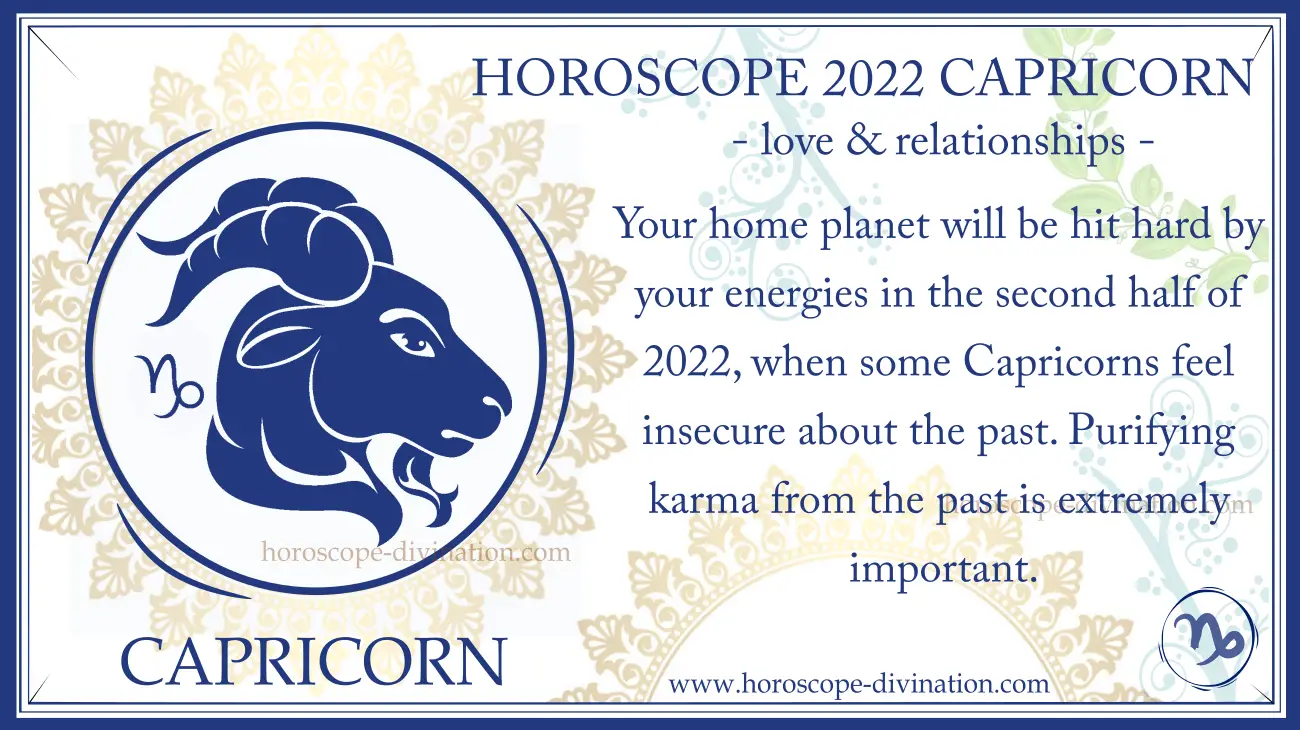 In this part of the horoscope, we will talk about the long-term relationships of each Capricorn. Find out how astrological transits affect interpersonal relationships with your partner. We will draw your attention to the most important problematic dates of 2022 in connection with your partnership... Read more about Love Horoscope Capricorn 2022...
Horoscope Capricorn 2022 - Family, Friends, Marriage and Pregnancy in 2022: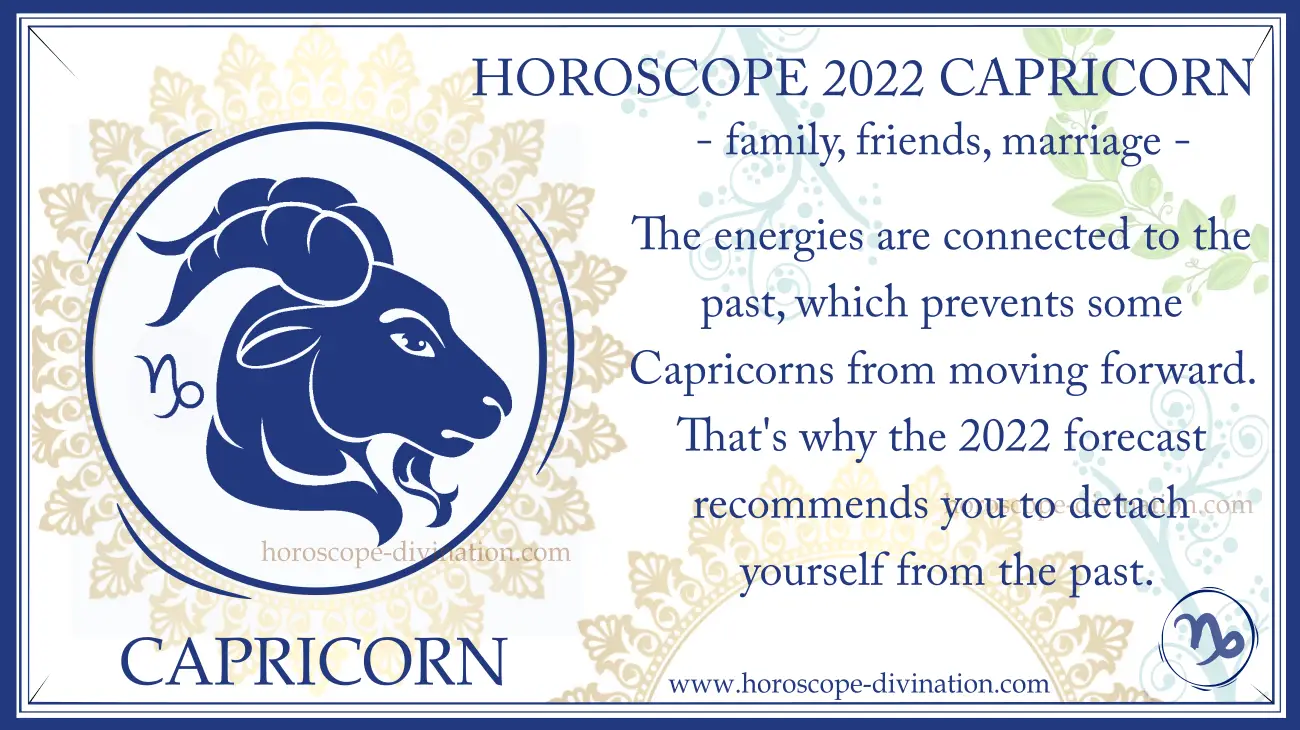 In this section, the Horoscope deals with the prediction of stability in family relationships. Will your family relationships, whether with parents, siblings, or the immediate family - children and partner, be harmonious? Read this yearly Horoscope Capricorn 2022 - Family, Friends, Pregnancy and Marriage...
Horoscope 2022 Capricorn - Career & Finances: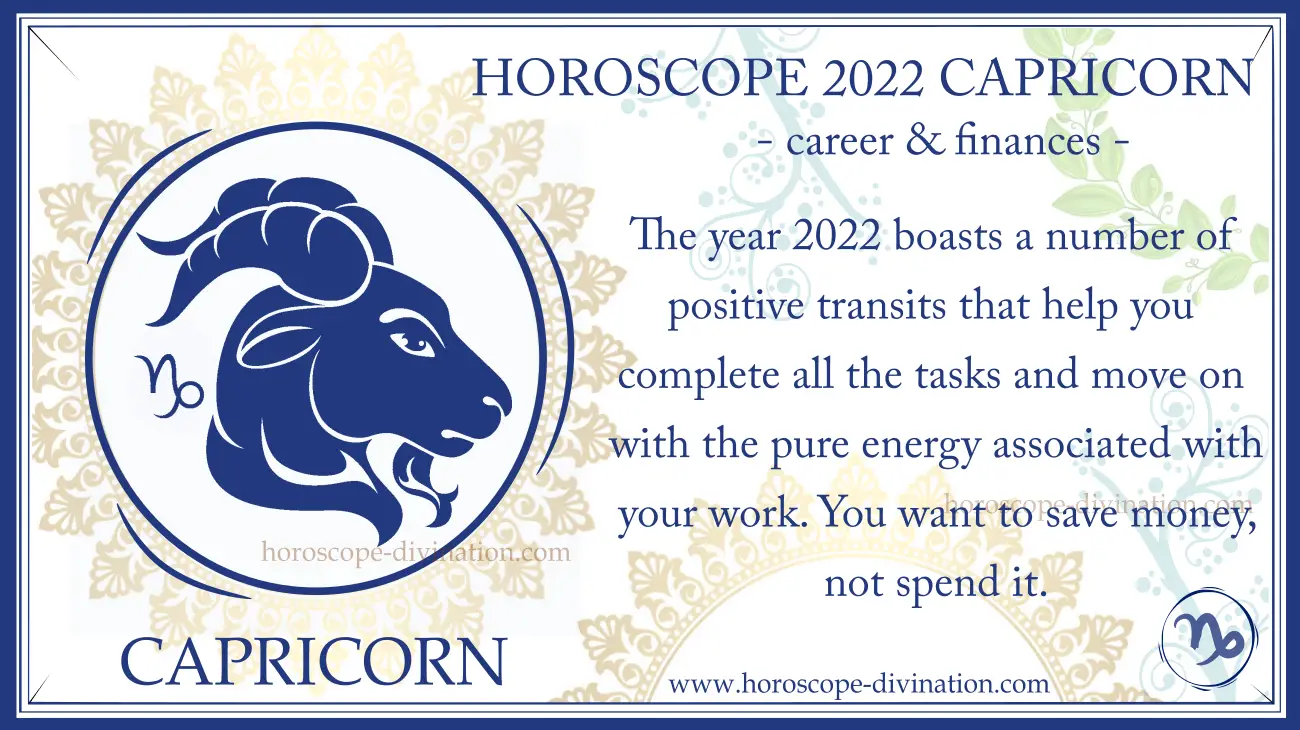 In this part, Capricorn Horoscope 2022 will make your prediction clear at work, in Capricorn's career. Whether you work as an employee, entrepreneur or take care of the household... Complete annual Horoscope Capricorn 2022 in career and finances...
Horoscope Capricorn 2022 - Health & Vitality: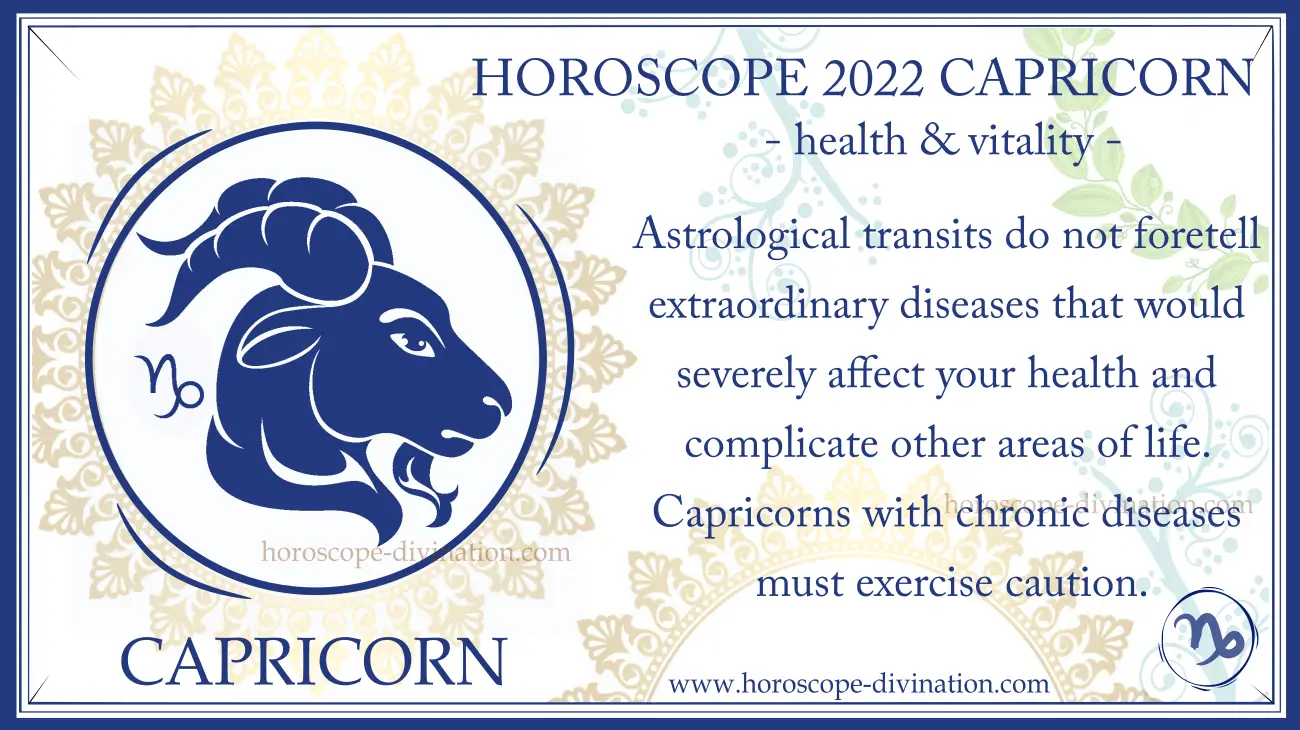 The classic health problems of Capricorn that they suffer from in life are diseases that are related to stress in life. Many Capricorns also suffer from rashes, eczema and other skin problems during their lifetime, which are very common in this zodiac sign... Read yearly Horoscope 2022 of Health and Vitality for Capricorn zodiac sign...
Retrograde movements of planets that affects Horoscope 2022 Capricorn
Graph of Retrograde Planets 2022 - Their affect on Horoscope Capricorn 2022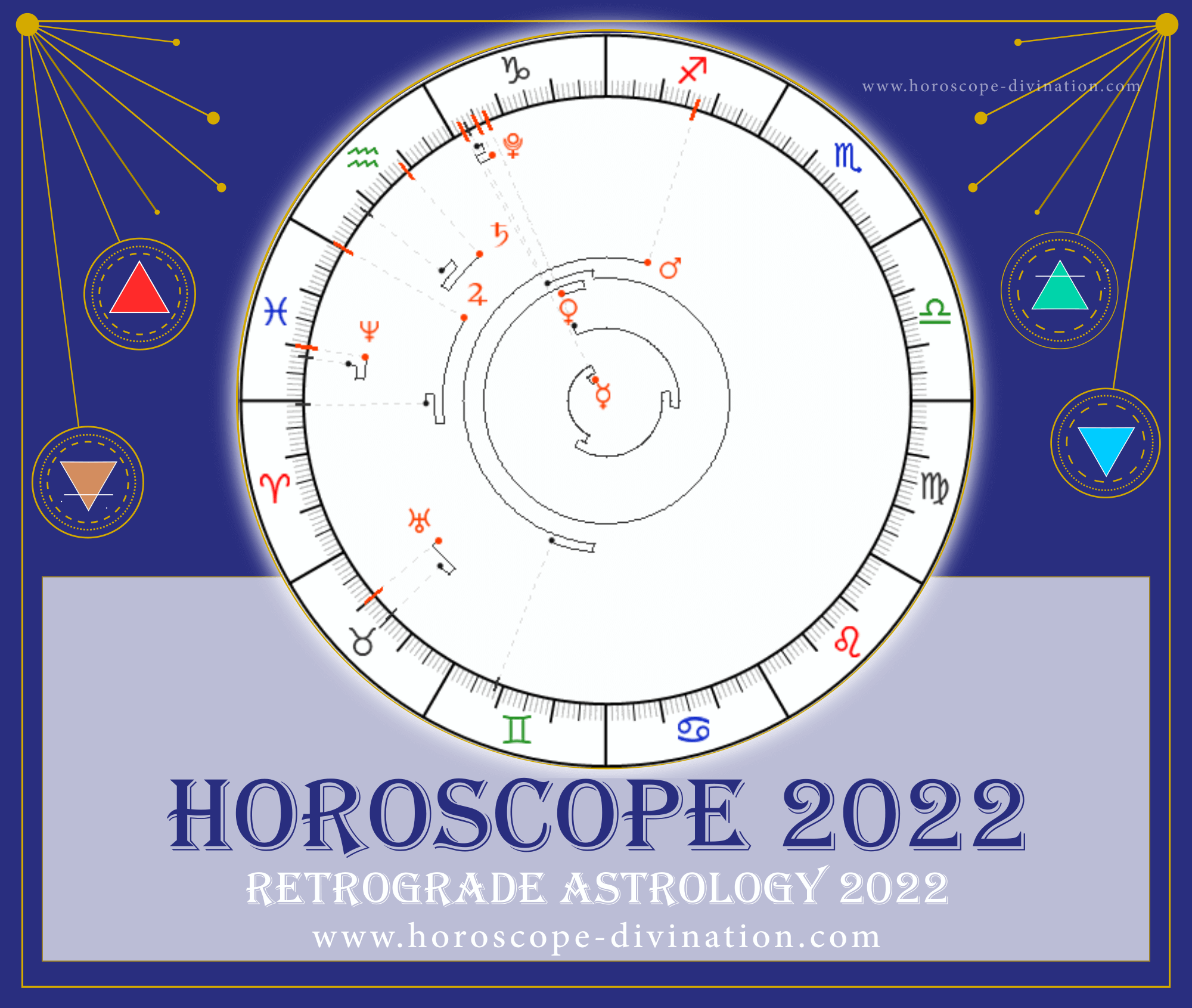 Click on the image above to read all the important information about the Retrograde Planets of 2022 and their impact on Horoscope Capricorn 2022. Below you will find a list of terms important for your energy, vitality and for the overall Horoscope Capricorn 2022.
Mercury Retrograde and Horoscope 2022 Capricorn
14 January 2022 (in Aquarius 2 house) - 04 February (in Capricorn 1 house) (For 21 days, Horoscope Capricorn 2022 is influenced by the first retrograde Mercury)
10 May 2022 (in Gemini 6 house) - 03 June (in Taurus 5 house) (Horoscope 2022 Capricorn emphasize transit for 24 days)
10 September 2022 (in Libra - 10 house) - 02 October (in Scorpio 11 house) (Horoscope Capricorn 2022 is affected by transit for 22 days)
29 December 2022 (in Capricorn 1 house) - end of year 2022 (Horoscope Capricorn will hit this aspect for 3 days)
Venus Retrograde - Horoscope 2022 Capricorn
01 January - 29 January 2022 (in Capricorn in 1 house) (Horoscope Capricorn 2022 talks about this transit during 28 days)
Mars Retrograde - Horoscope Capricorn 2022
30 October 2022 - to year 2023 (in Gemini - 6 house) (63 days are affected by Horoscope 2022 Capricorn)
Retrograde Jupiter - Horoscope 2022 Capricorn
28 July 2022 (Aries in 4 house) - 23 November (Pisces in 3 house) (Horoscope Capricorn 2022 is affected for 118 days)
Retrograde Saturn 2022 - Horoscope Capricorn 2022
04 June 2022 (Aquarius in 2 house) - 23 October 2022 (Aquarius in 2 house) (This transit affects Horoscope 2022 141 days)
Retrograde Uranus - Horoscope Capricorn 2022:
01 January 2022 (Taurus in 5 house) - 18 January 2022 (Taurus in 5 house) (For 17 days, Uranus concentrates its energies on Horoscope Taurus 2022)
24 August (Taurus in 5 dome) - to the start of the year 2023 (The annual Horoscope 2022 Capricorn is affected by the retrograde Uranus for 130 days)
Retrograde Neptune 2022 - Horoscope Capricorn:
28 June 2022 (Pisces in 3 house) - 04 December (Pisces in 3 house) (the annual Horoscope Capricorn 2022 is changed by transit for 159 days)
Pluto Retrograde - Horoscope Capricorn 2022
29 April 2022 (Capricorn in 1 house) - 08 October 2022 (Capricorn in 1 house) (aspect affects Horoscope Capricorn 2022 for 162 days)