Yearly Horoscope 2022 Cancer - Health
(Vitality of Cancer, health issues in 2022, aromatherapy and energy for Cancer)
First days of 2022 - Health Horoscope 2022 Cancer
In terms of aromatherapy, Citrus oils - such as Mandarine and Orange - are oils that in 2022 will help Cancer overcome sadness, depression, but also pain. To eliminate unpleasant headaches, or to be able to relax perfectly, so that you have to surround yourself with citrus scents. Orange oil will help you from headaches or stressful situations. Mandarine oil, in turn, will strengthen your defenses and increase your energy and vitality. Oils should be a regular part of your home and office by 2022, to remove any pain, to relieve stress, and to bring energy back to your normal days.
On January 16th and 17th, you perceive the full moon in the first astrological house. This location of your ruling planet causes instability in energies and can be disruptive to long-term planning. The house of personality also affects your mental health. In the positive direction, therefore, the full moon in your zodiac sign brings opportunities for thorough care for others that they will appreciate, but you also have time to devote yourself to your own mental growth. In January, look for self-love and try to clean up your own emotions for your strong mental health. Your energy is less, so be more careful in cold weather. From January 20th, the sun moves to the 8th house, where it is placed until February 18th. This position of the sun means happiness in several directions, and because it is settled in the sign of its exile, sudden and unexpected changes in your health can occur. Therefore, you could exercise caution to escape the health complications that may affect you from the second half of January to the first half of February.
Beware of sudden illness or injury in the period from February 1st to 3rd, when the sign Cancer perceives the New Moon in the 8th house. You analyze more not only your finances, but also the healthof your family members. Beware of those family members who are overcoming a chronic and long-lasting disease in terms of health. The disease can worsen under the influence of the ruling planet in the 8th house. Your mental health is enhanced by the sun in conjunction with Saturn at the beginning of February 2022. From the point of view of health, this aspect means great resilience, and since you feel recognized and admired at work, it will move your self-confidence and self-love. Even the stress of looking at the February transit will certainly not affect you, so you have the opportunity to enjoy all the gifts that astrological February transits bring you. In terms of astrological influences, the first month of 2022 will be much happier than the second. You will have the opportunity to immerse yourself deeply in your own emotions and thoughts and move forward in several areas of life. Under the influence of several work duties, you will tend to be stressed, but in the first year half, aromatherapy will help you to overcome these moments perfectly, as we mentioned in the introduction to this horoscope.
From February 18th, the sun enters the 9th house and moves to a comfortable position in Pisces zodiac sign. It works in the house of philosophy which is also responsible for the fertility of Cancer. From the point of view of health, it brings enormous energy to women, especially those who are trying to get pregnant and those who take care of children in the household. This transition of the sun brings positive energy into the lives of those who overcome long-term illness. You will be able to discover new ways to strengthen your health and feel better. From an astrological point of view, transit also allows you to meditate and give you more free time just for yourself, which will positive affect your overall personal health.
On March 2nd and 3rd, you will be hit by a New Moon in Pisces, when you can enjoy a short holiday or an extended weekend. This decision will help you relax perfectly. This lunar position also indicates the need to rest and satisfy your curiosity by learning new things. It is very appropriate to be educated in the field of health, and to look for solutions to health problems not only of yours, but of members of your family. If you can, explore the world around you, discover, and identify new things. Read not only about aromatherapy, but also about herbs that can strengthen your health during 2022. There is an ideal opportunity for active recreation, but also for the joy of education, from a health point of view. Women born as Cancer zodiac sign will be most affected by this lunar transition, who should be careful when driving and using medication correctly.
All Cancers should take care of their health in the period from April 30th to May 1st, when you will long for peace and moments of leisure, which you want to use only for your rest. You will be solitary and a little selfish because you get the opportunity to relax on your own. Meditate, relax, which will significantly strengthen your health. If you do not use these two days for a good rest and a restart of your mental and physical body, this new month may cause you a more complicated period during May, when you will feel an imbalance and loss of energy. You need to restart your vitality and energy. Make the most of your free time, because otherwise the new moon will rob you not only of your good immunity, but also of quality sleep. In May,
Love, a working relationship, or problems in living together? The Love Compatibility Calculator for Cancer will show you how high your compatibility in love, even in 2022, is with other zodiac signs.
Mentally health of Cancer and Vitality based on astrology Horoscope Cancer 2022
Mercury gets into Retrograde motion from 10th to 23rd May. It will be difficult to cooperate with Mercury in the 12th house. You will focus on past conversations, end your past disputes, and return your thoughts to where you can no longer change anything. Your thoughts will focus on your own secrets and the consequences they may have. The desire to escape from reality now engulfs you, so you try to seek solitude and immerse yourself even more inside. This aspect will mainly affect your mental health, and may affect you fully. Remember again Citrus oils, which will help you overcome a mentally demanding period in 2022.
From May 15th, the Sun square Saturn will also be added to this action of Mercury. This aspect again reinforces your desire to seek solitude because you are frustrated by friendships that bring you nothing. Especially when it comes to the health of loved ones, your attention is required. Your own transformation now means above all an awareness of the value of the health and mortality of yourself and your loved ones. The period of Full Moon from 16th to 18th May in the 6th house indicates a mild cold or fluctuating immunity. So bet on the herb Echinacea, which is your herb of 2022, and do not underestimate warm clothes on cold nights when you can easily get sick. The moon in Sagittarius zodiac sign also causes back pain and during these days intensifies the suffering of people suffering from these pains.
From June 4th to October 23rd, every Cancer feels Retrograde Saturn in the 8th house. Saturn is located in your house and thus gives you the opportunity to succeed in several ways. From a health point of view, you have the opportunity to be reborn. The old karma of pain and suffering that may have tormented you over the years is now disappearing and you can find new ways to heal. The overall vitality and energy is strong and your health is strengthened. Transit transforms everything in the past into better prospects, whether in the field of health or other important directions of Cancer's life. This transit will perhaps only cancel the period from 13th to 14th June, when the Full Moon is formed in Sagittarius and can again cause unexpected pain. Especially men born in Cancer zodiac sign should be careful about their health these days. Those on a diet can include lemon water in their diet, which boosts your defenses and improves your metabolism. You will need a comprehensive rest throughout June, because the Sun square Neptune also affects the June chart. Some things in your life will frustrate you, and you may feel a decline in energy - if you underestimated meditation or your mental recovery in the first half of 2022. Your mental stability may be weakened at this time, so you may react to others. exaggerated.
In the month of July, there are no transits that would negatively or positively affect the health energies of the Cancer sign. From August 20th until the end of 2022, pay special attention to all your addictions that can negatively affect your health. Avoid alcohol, cigarettes or drugs, or other things on which you are addicted. It can also apply to food, sweets, medicines and other ailments that rob you of good mental and physical health. To strengthen your defenses, Horoscope 2022 recommends that you familiarize yourself with the herb Echinacea, which will help you with any cold or flu epidemic. This herb has long been one of the most distinctive medicinal plants, whose purple flower activates white blood cells, which protect the body from the dangerous effects of toxins from the environment. You can also use this herb for stomach problems, to overcome Cancer, but especially when you need to move in society and want to increase your defenses. During the colder months, it is an excellent choice to bet on a tasty tea from this herb, which will thus fully show its strength to you.
Horoscope 2022 Cancer says - Focus on your Love
On the 23rd, 24th and 25th of September 2022, the New Moon in the 3rd house acts on you, which focuses its energy mainly on calming the mental unrest in the mind of Cancer. Any thoughts about the past that bothered you in the first days of the year will now be balanced, and will not cause you future mental health problems. They should be especially careful of women born in Cancer zodiac sign, who may be more affected by the Retrograde influence of Mercury on family relationships and thus cause sadness, depression, or general mental disharmony. Your family relationships may bother you more now than ever before, so again, don't forget about Citrus Oils, which boost your energy and mental balance. You should include many more vegetables in your diet in the second half of the year than before. Do not avoid such vegetables, which you do not normally consume, and buy, for example, fennel, leeks, spinach, because these vegetables will have a positive effect on your health in 2022, especially at the end. Don't forget about lemon water, which helps with harder digestion, and helps boost your energy.
In October, you feel Venus in a Scorpio, specifically from October 23rd to November 16th. Venus is moving from her home to the sign of her exile, which will have a strong effect on several Cancers. The 5th astrological house is now occupied by planets and focuses mainly on the realm of love. But beware of your health. The huge exclamation point is aimed mainly at those women who are currently in high-risk pregnancies. Pregnant women should exercise caution in any activity and avoid overpowering their bodies. Venus in her exile is a complicated position, so you must pay special attention to your health until November 16th. On the other hand, this Venus is associated with the joy of raising children, which will help you get your mental health to a loving level.
From November 17th, you will feel Mercury entering the 6th house, when you can fully engage in finding the health problem that is bothering you. From November 17th to December 6th, you will be able to find the cause or solution to your illness. You can also help others in the family who suffer from a persistent or chronic health problem. By entering the sign of Sagittarius until December 25th, the sun strongly develops your energy so that you can devote yourself fully to your health and work. You find a balance between your responsibilities and rest, and thus end the month of November. A positive view of your health will enrich your vitality. There are no illnesses or complications related to your health waiting for you in December.
You will fully focus on your love, whether in the family, in a partnership, in or on your love for children. The year 2022 is quite balanced from health view, but it brings a warning, for example, for pregnant Cancers, who must pay special attention to their health. The year 2022 means a period suitable for the discovery of aromatherapy and the study of herbs that improve your health and help you treat long-term illnesses. Transits do not indicate any unexpected death or illness that would affect the life balance of Cancer in 2022.
Accurate Monthly Horoscope Cancer tells you more about Cancer future in love, health, career, money or relationships. Horoscope 2022 Cancer is also connected with a monthly prophecy. Read all the important horoscopes from the fortune teller for the year 2022.
Health Horoscope 2022 Cancer - last days before 2023
Daily Horoscope Cancer prepare you for the current day. Horoscope 2022 from the Fortune-Teller also means the possibility of daily divination for Cancer zodiac sign.
Listen to your personal Cancer Horoscope 2022
---
Horoscope Cancer 2022 - Love, Career, Health, Future...
Click the image you like and read more about year 2022...
Horoscope Cancer 2022: Overview - Positive and Negative aspects of 2022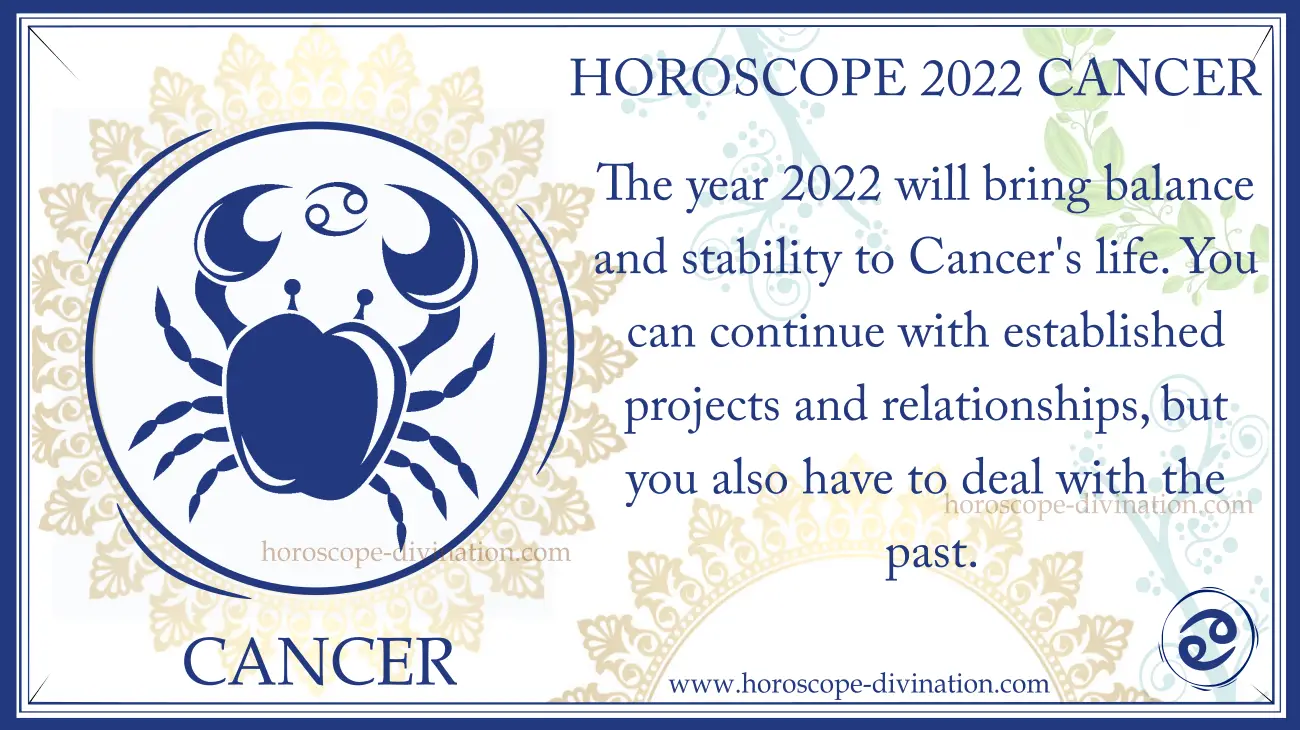 The year 2022 brings stability, joy and balance to your life. You should continue with running projects, but you need to be dealed with the past. Every Cancer have the chance to get rid of unbalanced relationships and violent, specifies yearly prediction... Introduction of Horoscope 2022 Cancer...
Horoscope Cancer 2022 from fortune-teller - Love & Relationships in 2022: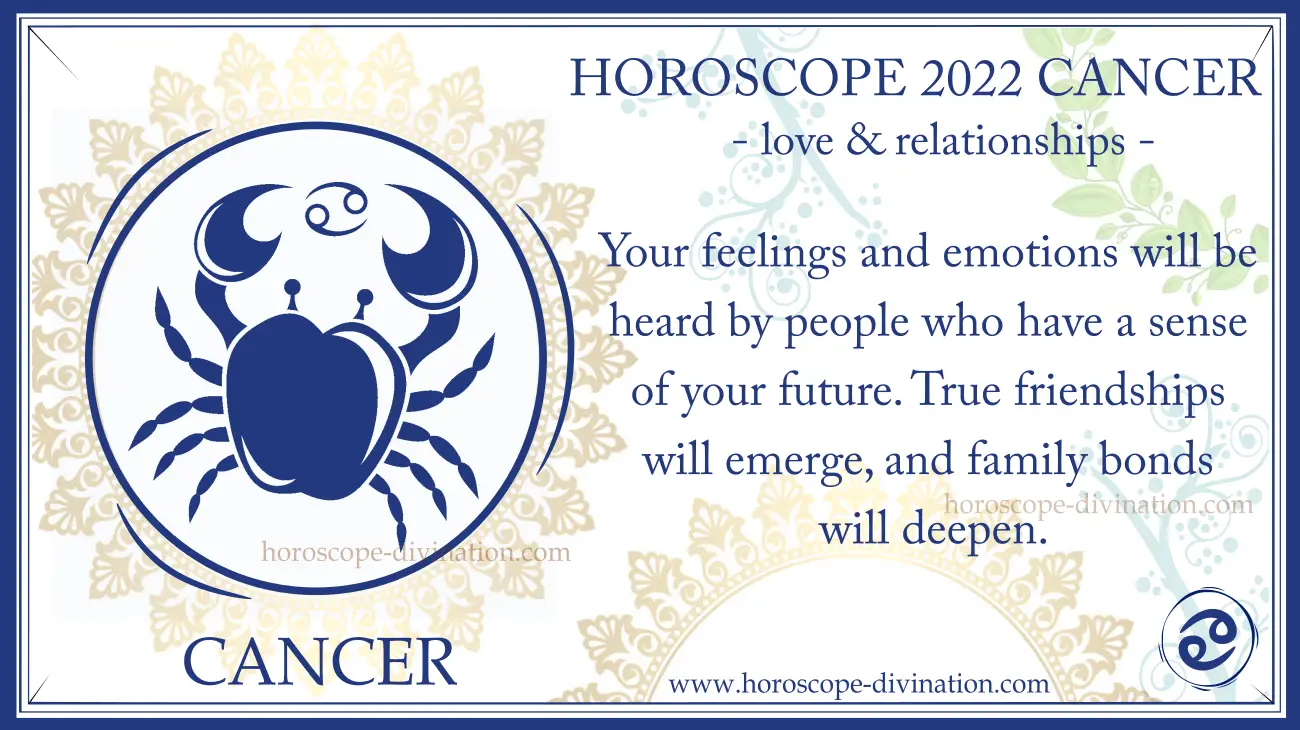 January 2022 means unusual position of Venus retrograde. The Venus acts on 7th House of Astrology of Cancer zodiac sign. Venus passing through House of Astrology number 7 means an effect on Cancer's love, relationship, but also on marriages that are planned... Read more about Love Horoscope Cancer 2022...
Horoscope Cancer 2022 - Family, Friends, Marriage and Pregnancy in 2022: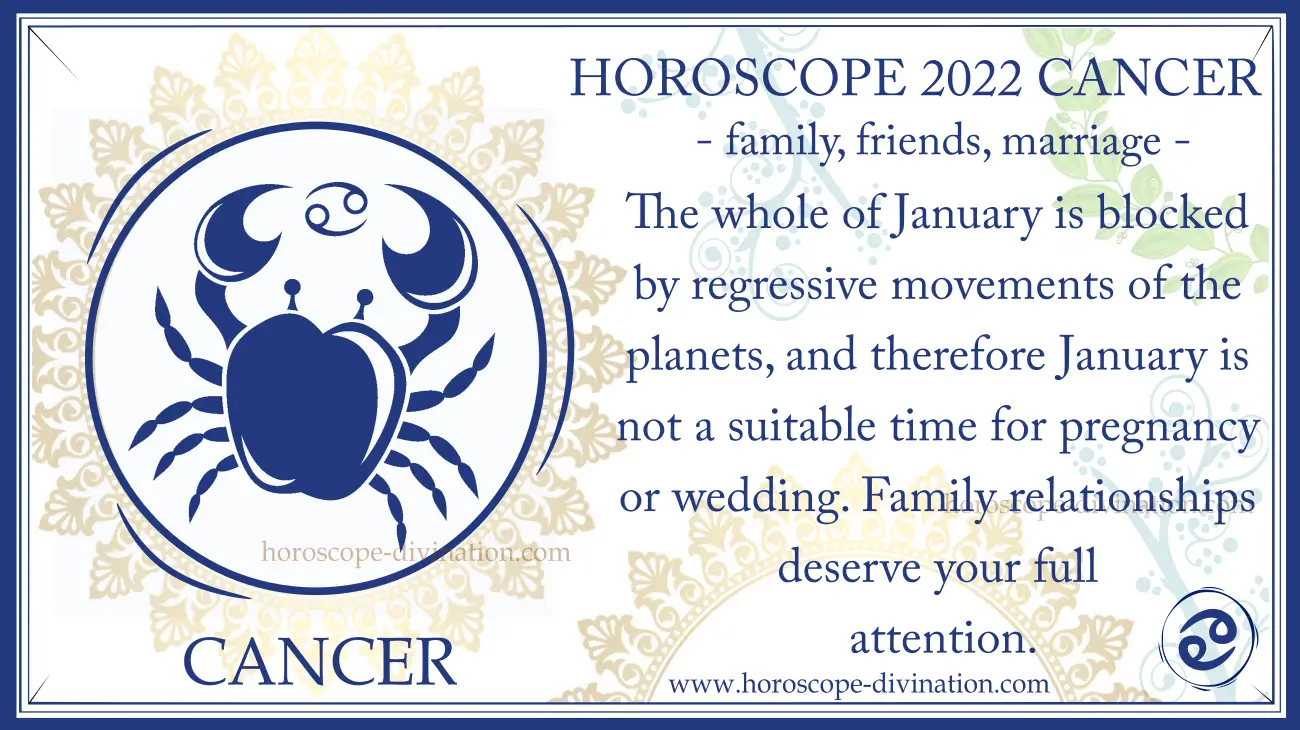 From family view, this transit gift you bz opportunities of care for others, which they appreciate. Full Moon could disrupt energies of the Retrograde transits that block your focusing on others. January 16th to 17th says, that you will see how much important is to take care of these you love... Read this yearly Horoscope Cancer 2022 - Family, Friends, Pregnancy and Marriage...
Horoscope 2022 Cancer - Career & Finances: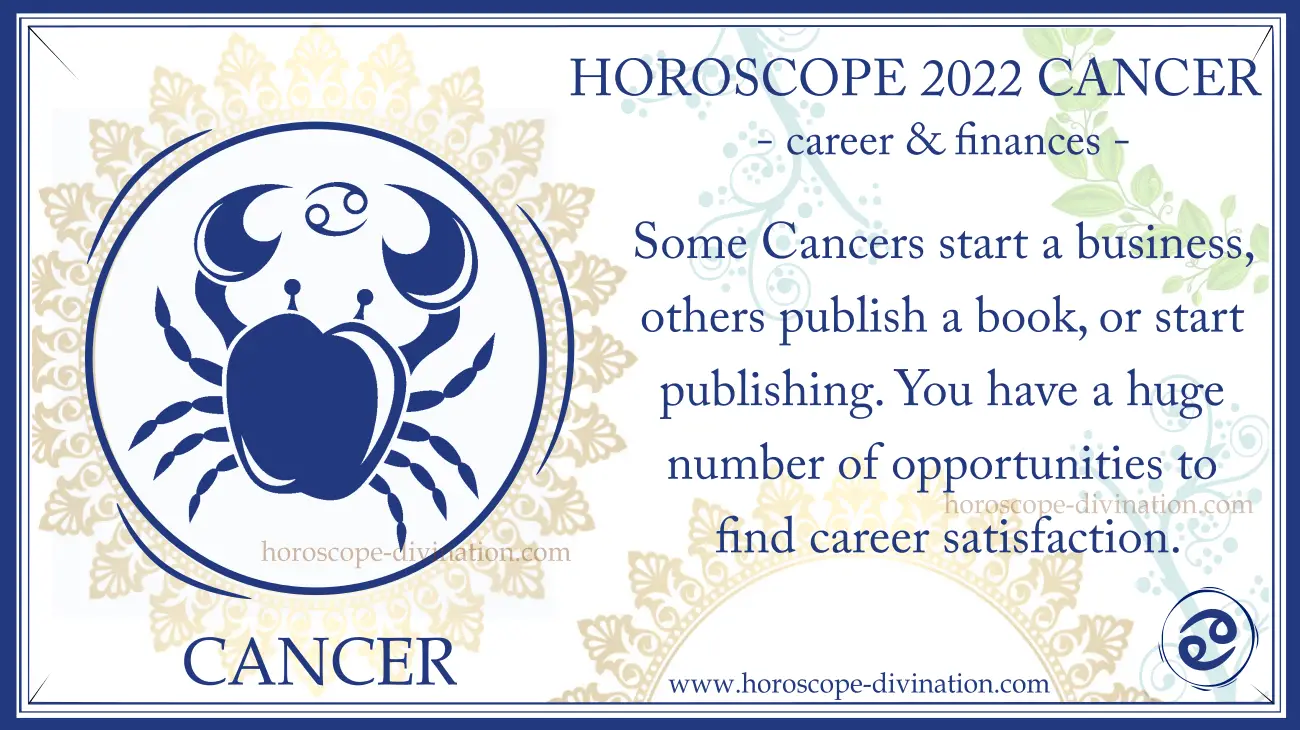 During the first month of the year 2022, Astrological energies and vibrations are focused mainly on 7th and 8th houses of Astrology of Cancer zodiac sign. Important 7th astro House focuses Cancer's focus and attention on love, personal self-development and marriage. You have many good opportunities to learn and grow... Complete annual Horoscope Cancer 2022 in career and finances...
Horoscope Cancer 2022 - Health & Vitality: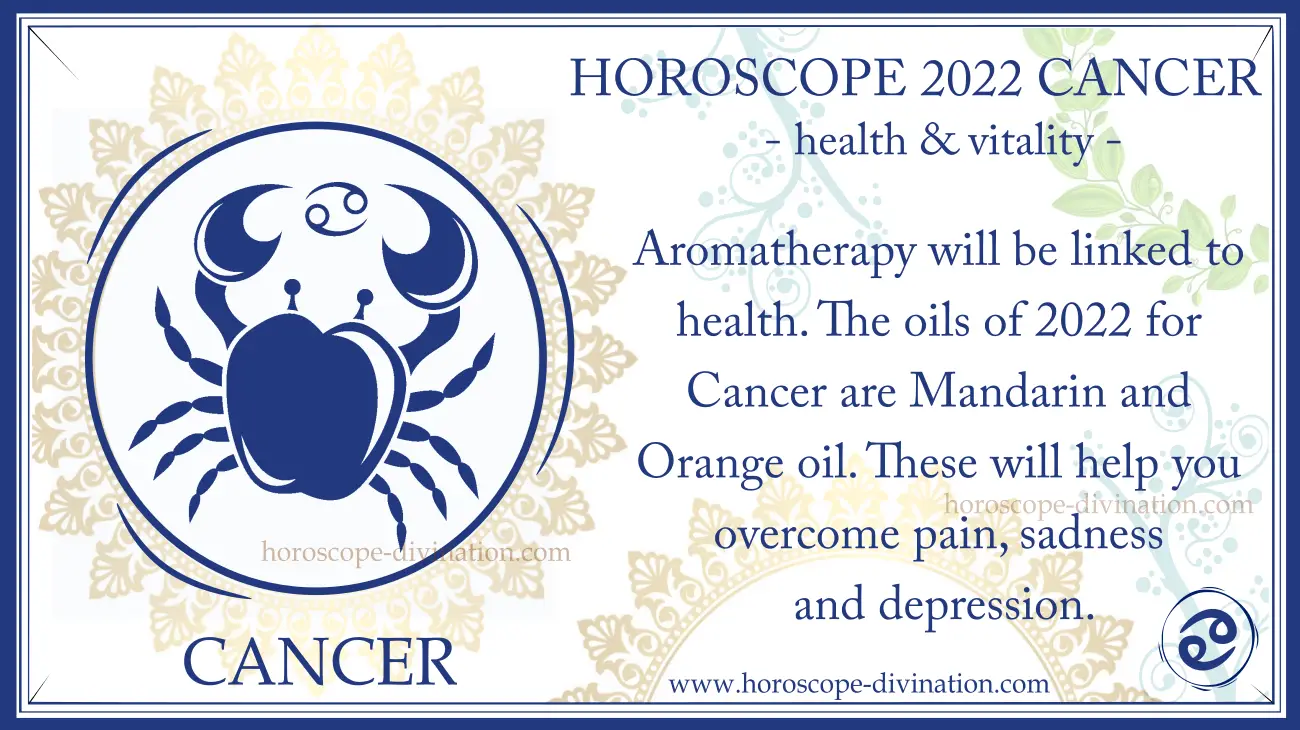 Aromatherapy is important and Citrus oils - Mandarine and Orange - are essential oils that helps Cancer overcome sadness in 2022. They helps also with depression and pain. To eliminate headaches, or to ability relax perfectly you should surround yourself with essential citrus oils. Orange oil could help you againts headaches and stressful situations as well. Mandarine oil will increase good health, vitality and energy... Read yearly Horoscope 2022 of Health and Vitality for Cancer zodiac sign...
Retrograde movements of planets that affects Horoscope 2022 Cancer
Graph of Retrograde Planets 2022 - Their affect on Horoscope Cancer 2022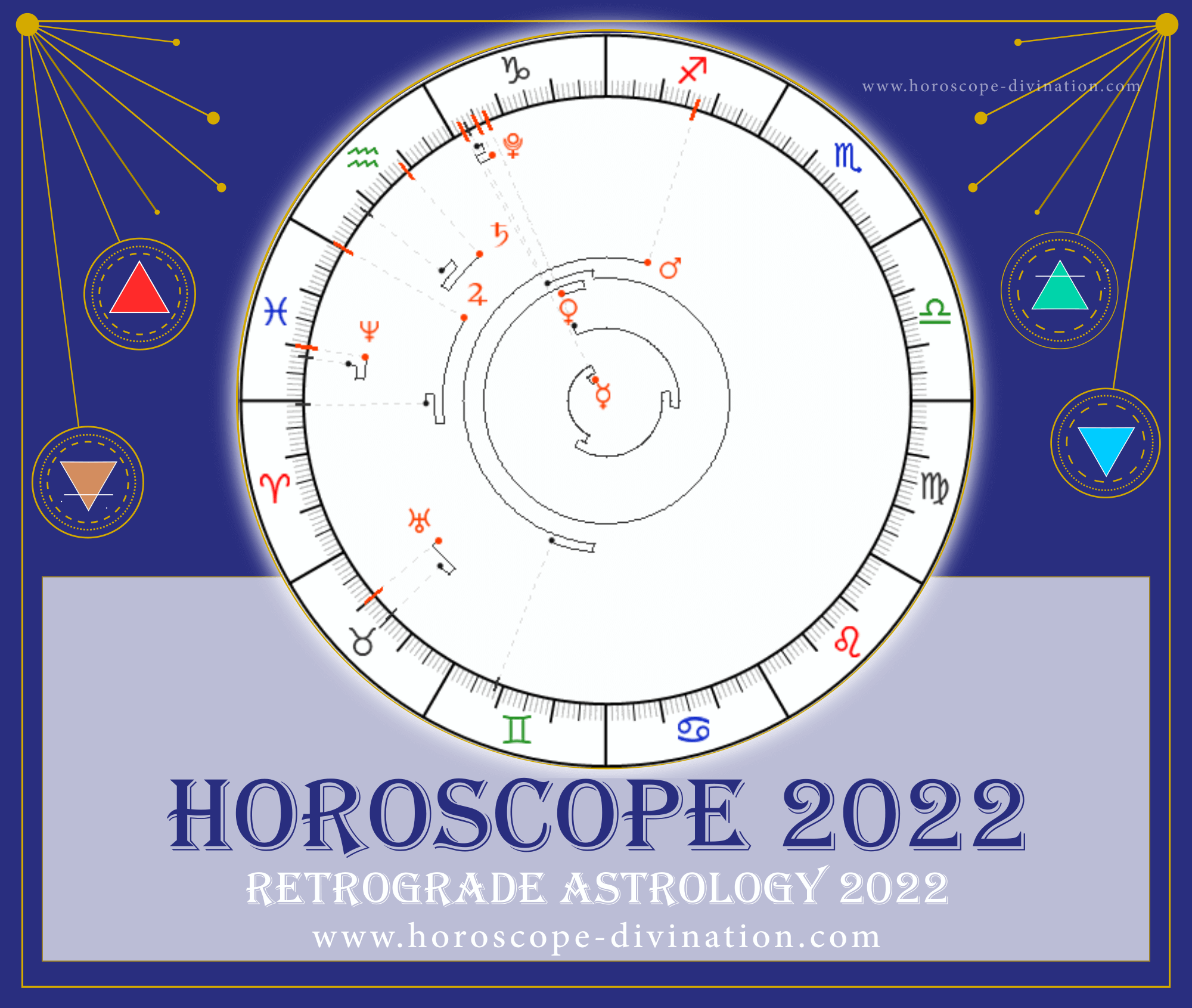 Click on the image above to read all the important information about the Retrograde Planets of 2022 and their impact on Horoscope Cancer 2022. Below you will find a list of terms important for your energy, vitality and for the overall Horoscope Cancer 2022.
Mercury Retrograde and Horoscope 2022 Cancer
14 January 2022 (in Aquarius 8 house) - 04 February (in Capricorn 7 house) (For 21 days, Horoscope Cancer 2022 is influenced by the first retrograde Mercury)
10 May 2022 (in Gemini 12 house) - 03 June (in Taurus 11 house) (Horoscope 2022 Cancer emphasize transit for 24 days)
10 September 2022 (in Libra - 4 house) - 02 October (in Scorpio 5 house) (Horoscope Cancer 2022 is affected by transit for 22 days)
29 December 2022 (in Capricorn 7 house) - end of year 2022 (Horoscope Cancer will hit this aspect for 3 days)
Venus Retrograde - Horoscope 2022 Cancer
01 January - 29 January 2022 (in Capricorn in 7 house) (Horoscope Cancer 2022 talks about this transit during 28 days)
Mars Retrograde - Horoscope Cancer 2022
30 October 2022 - to year 2023 (in Gemini - 12 house) (63 days are affected by Horoscope 2022 Cancer)
Retrograde Jupiter - Horoscope 2022 Cancer
28 July 2022 (Aries in 10 house) - 23 November (Pisces in 9 house) (Horoscope Cancer 2022 is affected for 118 days)
Retrograde Saturn 2022 - Horoscope Cancer 2022
04 June 2022 (Aquarius in 8 house) - 23 October 2022 (Aquarius in 8 house) (This transit affects Horoscope 2022 141 days)
Retrograde Uranus - Horoscope Cancer 2022:
01 January 2022 (Taurus in 11 house) - 18 January 2022 (Taurus in 11 house) (For 17 days, Uranus concentrates its energies on Horoscope Taurus 2022)
24 August (Taurus in 11 dome) - to the start of the year 2023 (The annual Horoscope 2022 Cancer is affected by the retrograde Uranus for 130 days)
Retrograde Neptune 2022 - Horoscope Cancer:
28 June 2022 (Pisces in 9 house) - 04 December (Pisces in 9 house) (the annual Horoscope Cancer 2022 is changed by transit for 159 days)
Pluto Retrograde - Horoscope Cancer 2022
29 April 2022 (Capricorn in 7 house) - 08 October 2022 (Capricorn in 7 house) (aspect affects Horoscope Cancer 2022 for 162 days)