Yearly Love Horoscope 2022 Scorpio
(Love of Scorpio in relationship, compatibility 2022, and prediction for single Scorpio)
Love Horoscope 2022 - Scorpio in relationship
The Scorpio struggles with emotions during his life. The year 2022 will present itself as a year focused not only on the love of Scorpios in relationship, but also on the emotions of singles. Your family and friendships will be strengthened, but other interpersonal relationships that Scorpio should know will also be affected. In this section, Scorpio Horoscope 2022 deals with love of Scorpios in relationship, predictions of the future and what astrological transits affect your relationships in Scorpio's partner, during the year 2022, whether Scorpio were born as a Scorpio male or female. The horoscope for 2022 is prepared for both sexes, who can use this prediction to reveal complications in the relationship before they occur. Month after month, we will determine which transits are suitable for a stronger harmonious relationship and, conversely, in which months you should withdraw from the background and let your partner's nature, energy and strength show.
The month of January 2022 will be dedicated to the astrological passage through the 3rd and 4th astrological houses. From this point of view, it is clear that friendly and family relationships will be most affected in Scorpio's life. In January, however, each Scorpio feels the Retrograde transit of Venus and the planet Mercury in the same motion, which causes greater mystery. Scorpio will dwell even deeper into your own feelings, which Scorpio do not tend to share in Scorpio's partner. Scorpio want to learn more about your life through your own meditation, and through your own inner voice, which you should now listen to. It may seem to you that Scorpio is still not ready for some steps in life. In January, this will be caused mainly by the Retrograde Venus, which is disadvantageous for any major shifts in interpersonal relationships, such as marriage. So be more interested in Scorpio's inner growth, when Scorpio need to remove uncertainty, jealousy and tense interpersonal relationships from Scorpio life.
The movements of Mercury and Venus in a Retrograde motion are also connected with the past karma of Scorpio's life. With the past karma of Scorpio's family life, as well as your own emotions. If Scorpio still feel that you have not solved something in the past, January will remind you of these unresolved things related to your love and emotions. Deep meditation, physical exercise, and mental self-development are the key words of January. By following these keywords, Scorpio can feel emotionally balanced in later months. You have to learn to live mainly in yourself. Only then will it be happy for others to live with you, to take care of Scorpio, and it will be easier for others to understand Scorpio. This also applies to Scorpio's partner, who wants to support Scorpio in January, but transits indicate that Scorpio will not let him get very close to your personal zone. It is this fact that can cause tense interpersonal relationships. You can go back in time to Scorpio's thoughts, but don't let the past that you can no longer change affect your current partner life.
Love, a working relationship, or problems in living together? The Love Compatibility Calculator for Scorpio will show you how high your compatibility in love, even in 2022, is with other zodiac signs.
Love and Relationship Horoscope 2022 Scorpio for next months
The first strong transit that will hit the energies of the Scorpios in relationship will be the second half of February, when Scorpio will feel the conjunction of the planet Venus in Scorpio's ruling planet Mars. This conjunction can increase your desire for intimacy in Scorpio's partner. The Scorpio sign now fully manifests its character in the intense need for sexual satisfaction. This aspect will affect not only the Scorpios in relationship, but also the singles. However, for those in relationship, it can mean aggressive expressions of love and emotions, which can make your partner feel uncomfortable. To find harmony in Scorpio's partner during the second half of February 2022, your relationship must be dominated by the gentler and more meaningful side of Scorpio's personality. Scorpio should leave your more aggressive passion out the door and not bring it into your home. However, Scorpio will be highly attractive to Scorpio's partner thanks to Scorpio's unquenchable desire for an intimate connection. Your charisma increases, so the moments spent in Scorpio's partner are more exciting and enjoyable. However, forget about the aggressive side of your personality, which Scorpio's partner does not want now.
From 18th February, Scorpio can see the sun passing through the 5th house. Until March 20th, those Scorpios whose loyalty to the partnership is broken should be vigilant. The passage of the sun through the 5th astrological house can mean directing energy in the wrong direction, which may indicate an affair or flirtation that will damage your relationship. This applies especially to those Scorpios who have gone through a period of conflict with their partner in the past, and a more difficult period full of stress and misunderstanding. Scorpios, whose relationship has been broken since the beginning of 2022, should increase their prudence. Your own person will be provoked by a third party who, in Scorpio's full knowledge, will easily disrupt your partner's life.
However, Horoscope 2022 Scorpio does not recommend Scorpio to make such a fundamental change in Scorpio's emotions, because they would cause Scorpio a lot of pain and sleepless nights. You long for adventure and love, but Scorpio should redirect this area of entertainment to Scorpio's partner, and omit the person who is not close to you. Use your energy in the right direction, Horoscope 2022 recommends Scorpio, so that later in 2022 Scorpio can use your positive karma to build a stronger connection in Scorpio's partner. In the later months of the year, Scorpio will have the opportunity to save the relationship after any problem. However, this targeting of the relationship must not be disturbed from the beginning of 2022, and your reckless actions during February may mean a later complete breakdown of the relationship, and this breakup will be very painful. Definitely direct the intimate energy and joy of sex that Scorpio want to enjoy now only to your constant partner, who will be pleased in Scorpio's loving expressions. Do not devote yourself not only to physical joys. Enjoy shared joys, and building interpersonal relationships. In the second half of February, it is welcome if Scorpio pay full attention to your children and the physical expression of love in Scorpio's partner - such as massage, caress, hug, but also cooking a good dinner.
Freing yourself from the negative Aura at the beginning of 2022 will bring Scorpio many loving moments into your partner's life throughout the year, and it's up to you how well you can cope with the past karma that will intimidate Scorpio at the beginning of the year. If Scorpio is in a relationship that has gone through a really complicated period, the intervention of a therapist is now in place. Do not be afraid to entrust your relationship to an expert in the second half of February. He can find the intersection between your needs and the needs of Scorpio's partner during sessions and can also help Scorpio in Scorpio's uncontrollable emotions related to intimate pleasure, or with a desire for adventure and news. The next astrological transit affecting Scorpio's love will be Venus passing through the 5th Astrological House from April 5th until the first days of May 2022.
Do you want to try simple divination assisted by a fortune-teller? Do Scorpio want to know your destiny not only through the prediction described by Horoscope 2022 Scorpio? Try the Online Yes/No Divination for Scorpio zodiac sign which gives an immediate answer to your question.
How Astrology Transits play with Love Horoscope 2022 Scorpio
The whole month of April 2022 is very positive in terms of astrological transits. The 5th house is influenced by Venus, but also by your ruling planet Mars, which strengthens the positive effect of the planet of love. In April, Scorpio also perceive the passage of Mercury and the sun through the 7th astrological house of partnership and understanding. April is a month of mental harmony in Scorpio's partner. It is a month capable of stabilizing all relationships because Scorpio have the power to remove negative karma from Scorpio's life. Scorpio have the strength to progress in a relationship, also in interpersonal connections between you and your partner.
However, your energy is also focused on the children in Scorpio's family, whom you fully support, and Scorpio is directing them with the right steps forward. Now Scorpio care not only about the success of yourself, but also about the success of Scorpio's partner and the progress of Scorpio's children. All aspects are laid out very harmoniously in April, and this month means aligning your needs in Scorpio's partner. In April, you enjoy the fun of intimacy in Scorpio's loved one, and Scorpio can also communicate at a higher level.
From April 11th, communication can be the basic point of Scorpio's relationship, and the possibility of a fundamental transformation in Scorpio's partner life. Scorpio can talk to Scorpio's partner whenever you need it. Your partner is open to listening. They will support Scorpio and advise you in Scorpio's journey. This open approach in Scorpio's love is very welcome, especially after the difficult beginning of 2022. In April, Scorpio have the opportunity to heal any broken past relationships. Scorpio have the ability to soothe any tension in Scorpio's home. You can restore harmony to relationships that have had to go through a complicated period. Whether it was a period caused by one of Scorpio or caused by the loss of a loved one. Now you can communicate, share your emotions, which will significantly help in deepening your interpersonal relationship with your love.
Mars has been encouraging Scorpio since April 15th. Take your partner's hand and go together to a social event that Scorpio will enjoy together. It may be a joint activity in the company of friends or family, but Scorpio can also enjoy a weekend together with a partner alone, which Scorpio will spice up with intimate pleasure and joy of being close to each other. Choose one direction that will be close to you in April and focus on Scorpio's partner either in a circle of friends and family, or alone. At the end of April, the sun passing through the sign of Taurus acts on your 7th astrological house of partnership. You can feel this transition of the sun in the first half of next month. This position of the sun is key to all relationships, both friendly and family, but also partner. You may also want to reconcile your work with your partner. Scorpio can involve a partner in Scorpio's work activities, because he is not only a helper. He is also an excellent listener. You identify in Scorpio's partner not only on the basis of spiritual but also intimate identity.
The whole beginning of 2022 revolves around intimate needs, and sexual pleasure. It is not a bad position of astrological aspects, but Scorpio must learn to manage and understand it. April and the first half of May bring new ideals into your life. Scorpio is aware of Scorpio's partner's opinions, Scorpio identify with them. You may now feel a subordinate position in Scorpio's relationship, but this position will free you from the stereotype that is tormenting your life. The sun in the 7th house also indicates the quality of social life. This is a good time for Scorpio and Scorpio's partner for social events and celebrations that Scorpio will enjoy among the people Scorpio love.
Scorpio will perceive the positive effect of transits until the end of May 2022. A very interesting May transit that affects your partnership house is the Sun square Saturn. From May 15th to May 23rd, you may feel certain challenges in Scorpio's personal life that will be associated in Scorpio's relationship. This square can also mean tests by Scorpio's partner that Scorpio should be prepared for. Scorpio's partner wants to test your full commitment to the relationship, and this aspect can also cause a wave of criticism from Scorpio's partner. But don't be too hard on yourself and look at the world with their eyes. Try to put yourself in their situation and understand how your partner feels in the relationship. Scorpio will understand that the criticism of your person may be in place.
Accurate Monthly Horoscope Scorpio tells Scorpio more about Scorpio future in love, health, career, money or relationships. Horoscope 2022 Scorpio is also connected with a monthly prophecy. Read all the important horoscopes from the fortune teller for the year 2022.
Relationship Horoscope 2022 Scorpio describes negative aspects
From May 23rd, Retrograde Mercury leaves the Gemini sign until June 3. Again, Scorpio is deepening into your own life, and into Scorpio's feelings. This time, however, Scorpio can consult your feelings in Scorpio's partner. You can now pay more attention to your hobbies and interests, in which Scorpio will also involve your loved one. Confidence can be a bit torn, which can cause jealousy on your part. However, Scorpio Horoscope 2022 recommends that, in case of any doubts about your partner's trust, choose a peaceful verbal form of problem solving. Scorpio won't spoil the communication, even if Mercury is in Retrograde motion until May 3rd. It is not disturbed by other negative aspects, so you can communicate in Scorpio's partner directly and constructively. Just focus on not raising your voice and overreacting to its presence, nervousness, or wrong decisions. Don't jump into Scorpio's partner's speech, and listen to their attitudes towards love, needs and the future.
Communication in Scorpio's partner is now very important, which is specified not only by Mercury in the Retrograde motion, but also by the planet Venus in the 7th house, which acts on your house of love and partnership until June 23rd. Again, this Venus in the month of May and in the first half of June means great popularity and charm in society. So go out with a partner among people, and share your love and your rebirth in emotions and feelings in Scorpio's immediate surroundings. As Scorpio is very popular in society, Scorpio can enjoy the great stability and depth of Scorpio's interpersonal relationships. You only perceive the other side of the other person now, so from a certain point of view Scorpio will fall in love in Scorpio's partner again. Scorpio see all its positive qualities, you perceive its charisma and the energy that your partner puts into your life together and into making Scorpio feel as good as possible. From May 28th to June 23rd, Venus means a harmonious partnership life and balanced relationships, which are more on the level of friendship and deep understanding. From the second half of June, other areas of your life come into play, because, for example, the second half of June and the month of July will be more focused on your family, health and work, but also on your overall interpersonal relationships.
From July 5th, Scorpio have the opportunity to communicate in Scorpio's partner about any misunderstanding. Mercury passes the 9th Astrological House through a very rapid transition from July 5th to July 19th. You can consult in Scorpio's loved one about your interests, your decisions, and your future course of action. So you develop your relationships through the exchange of ideas and through communication, when your partner seems to be on the same intellectual level as you. Scorpio can analyze your future together, and make a plan for what you want to accomplish together in the future. Make a schedule, plan dates for important life steps, and don't be afraid of topics that have been taboo for Scorpio in the past. You can also talk about progress in Scorpio's relationship, a wedding, or a new addition to the family. Don't be afraid of honest communication. Mercury is strengthened by the rapid passage of the 9th house, so you can develop your relationship on a new level - communication and understanding.
Daily Horoscope Scorpio prepare you for the current day. Horoscope 2022 from the Fortune-Teller also means the possibility of daily divination for Scorpio zodiac sign.
Love Horoscope 2022 Scorpio - September, October, November & December 2022
In the final months of 2022, specifically in September and October, the transits are set so that the Scorpio feels closed, shy and reserved in life. This is mainly due to the planet Mercury passing through the 12th house, but also Venus entering the 11th house in the sign of the fall. Scorpio will now enjoy more free time with social events, and close to Scorpio's friends. Your attention is also focused on work, and your career progression, or on personal development. Scorpio delve into your own interior and seek satisfaction in Scorpio's own decisions or your own thoughts. Such will be the months of September and October, when more complicated transits occur, especially in terms of self-understanding. However, this shy and closed nature will affect single Scorpios more. Scorpio will not have a big impact on your partner life, mainly because Scorpio will be able to enjoy an undisturbed harmonic period, which is not marked by negative or positive transits. So it means a bit of routine, but on the other hand a period without surprises.
In September and October, there may be a problem that in the event of a minor quarrel or a misunderstanding in Scorpio's partner, Scorpio will be locked deep inside. Scorpio reject any access of a partner to Scorpio's soul, which can complicate their view of Scorpio's person. Therefore, try to use your restraint during these months mainly to calm down any negative energies in Scorpio's home. Quarrels can now be very invasive in Scorpio's relationship because Scorpio wants to hide and escape from problems. You hide in Scorpio's own interior, where Scorpio refuse to let Scorpio's partner in. This attitude of Scorpio'ss can cause alienation from their feelings, and a number of complications in Scorpio's relationships before the start of 2023. Therefore, be careful of Scorpio's closure to the outside world, and use your restraint to quickly overcome quarrels or misunderstandings that may occur during September and October.
From October 30th, 2022, there is a strong passage of the Retrograde Mars through the 8th astrological house. Until the end of 2022, your ruling planet will be moving in regression. This constellation of Mars often causes sexual problems, loneliness, and separation from others. Scorpio will tend to isolate yourself from touches, hugs and kisses from Scorpio's partner. Retrograde Mars also intensifies your natural jealousy, which can be a big problem before the beginning of 2023. Your manifestations of jealousy are exactly what Scorpio considers a weakness. Towards the end of 2022, under the influence of the Retrograde Mars, the more negative aspects of Scorpio's personality may be strongly manifested. It promotes high ideals, and high demands on the life of Scorpio's partner. Scorpio want your partner to isolate themselves from others as Scorpio isolate yourself.
However, your isolation is also caused by astrological transits, because Scorpio is not interested in sharing your energies with others, especially under the influence of Scorpio's Retrograde ruling planet. If you want to use the energy of Retrograde Mars to your advantage, Scorpio must learn to share feelings emanating from the depths of your soul in Scorpio's partner. Don't just expect other people to transform, but it is you who are transforming your energy, and direct your feelings to the people around you. You may feel a decline in libido or a change in the sexual energies in Scorpio's life. On the other hand, you can enjoy this transit with other expressions of love, such as walks in nature, hugs, touches, caring for children or pets, or activities that Scorpio have in common in Scorpio's partner. Redirect your frustration in sex life to something else, and talk in Scorpio's partner about things Scorpio have in common. The Scorpio Horoscope 2022 recommends Scorpio to try to master the transit of Retrograde Mars to Scorpio's advantage in order to benefit from this transit of the ruling planet. Scorpio can use this aspect very positively in building your joint activities, which will surely bring Scorpio closer to Scorpio's partner at the end of 2022.
Scorpio Horoscope 2022 from the point of view of the love of Scorpios in relationship thus predicts for each of Scorpio a very complicated year 2022 full of challenges, struggles, detachment from one's own characteristics, but also accepting a new perspective on your partner's life. You face not only problems, but also beautiful moments that Scorpio can enjoy near Scorpio's partner.
Use the months of April, May and June to convalesce your relationship, when Astrological Transits are favorably built towards building and strengthening Scorpio's partner life. Scorpio's partner will be a great support to Scorpio in 2022. However, your own setting can disrupt love to a great extent, especially at the end of 2022, when Scorpio feel the negative energies of the Retrograde Mars affecting your relationship and emotional life. Mastering the Retrograde Mars is the alpha and omega of the 2022 and how Scorpio will feel in Scorpio's partner's arms in the final months. Your Intense effort to build and deepen your love is very welcome in 2022. In Scorpio's partner life, it is clear that Scorpio will be the one who will have to undergo a certain life transformation for better harmonious relationships in the household and in the family.
Love, Traits of personality, fortune-telling and much more ... The fortune-teller has a lot of information about Scorpio Zodiac sign. Find out all the important facts about your zodiac sun sign.
---
Love Horoscope 2022 - Single Scorpio
(Love of single Scorpio, compatibility 2022, and relationship prediction Scorpio)
Love Horoscope 2022 - Single Scorpio
What forecast did Horoscope 2022 prepare for the single Scorpios? Will a Scorpio who longs for love find a soul mate? Will the single Scorpio manage to come to terms with the past, and will the single Scorpio find a new direction in life? The astrologer has also prepared a prediction for those of Scorpio who are currently single and who want to learn more about love, interpersonal relationships, and new opportunities during 2022. Certain months of the year indicate new opportunities, as well as a return to past love, whether restoring a previous relationship for those scorpions who have gone in the wrong direction.
During January, the single Scorpio will focus on friendships and family. At the forefront of Scorpio's life, you may feel the need to deepen into Scorpio's own life, and understand yourself. Your desire for meditation, and for a strong knowledge of yourself and your needs, is conditioned by the passage of the planet Venus and the planet Mercury in the Retrograde direction. January belongs to astrological transits, which are responsible for good family relationships and for building friendships. So Scorpio can also find new friends at social events who will be interesting for Scorpio in the future. Building a Scorpio relationship should be preceded by a strong friendship that Scorpio may have formed at the beginning of 2022, Scorpio 2022 predicts.
Relationships of singles since January 24th will be greatly affected by your ruling planet entering the 3rd Astrological House, a sign of promotion. Your communication skills are now very strong, your thoughts fast and prompt. It is these positive qualities that are enhanced by Scorpio, so Scorpio is a very charismatic and interesting person for your surroundings. You can communicate your thoughts with anyone, and you pursue them with joy and pleasure. In this way, the person you enchant can engage in communication with Scorpio, and you can even take their breath away in Scorpio's charisma.
Until March 6th, this Mars may affect Scorpio's desire to travel. However, the Scorpio should avoid traveling for the first 5 days in February, when the strength of the Retrograde Mercury is still fading, during which it is not wise to travel. From this date until March 6th, single Scorpios can consider short trips around the area, but also abroad. Mars gives Scorpio excellent predispositions to meet new people. You can use your strong communication skills to your advantage, to attract new friends to Scorpio's life. From February 16th, however, Venus will affect the conjunction of Mars, and during the remaining days of February, your desire for an intimate connection with another person. With a certain person, you desire to share not only your opinions and ideas about life, but also intimate joys and pleasures. Beware, however, because from February 18th, the sun passing through the 5th Astrological House is added to this conjunction, and Scorpio tend to enter into relationships that are not prudent. These relationships can be complicated for you in the future. These may be relationships that fall apart under your influence and under intense pressure from Scorpio. Therefore, do not care about the relationships of other people, and choose a partner who has no other obligations.
Astrological February transits will cause the Scorpio to be interested in the partners who are already in relationship, because it does not seem like an obstacle to you. However, Scorpio Horoscope 2020 strongly remind you to take into account the feelings of people who may be affected by Scorpio's decisions. You want to join the adventures of Scorpio's life. They long to experience more passion in life. You want to eliminate boredom, Scorpio is looking for more news and tension. However, the destruction of the relationship of others should not be part of this entertainment. Although it is not natural for you, February transits can make Scorpio a person looking for satisfaction only for yourself. In this way you forget the feelings of others and perceive only your own desires. However, Scorpio is a very intelligent person who is well aware of Scorpio's own value. However, a time is coming for you that will affect your sexual desires and may push you in the wrong direction in life. However, if you know the impact of this transit, you can easily avoid it in Scorpio's intelligence, your foresight, and resilience. That is why Scorpio Horoscope 2022 warns Scorpio to verify well the status of everyone with whom Scorpio is starting a new relationship, whether amatory or loving, at the beginning of 2022. It may also be your ignorance that has misled Scorpio.
In the first 3 months of 2022, Scorpio want to enjoy love adventures and pleasures, but unfortunately you attract mainly people in relationship interested in Scorpio's love into Scorpio's life, which is now unacceptable. If Scorpio enter into such a relationship, it means not only a feeling of sadness and loneliness for the future, but also a number of complications that will be with Scorpio throughout 2022. Scorpio will have to face attacks on your person, as well as a bad reputation in the future. Therefore, focus only on those potential candidates who will not disrupt personal relationships. However, Scorpio must overcome the February and March transits, which provoke Scorpio to end your desire for an intimate adventure, at all costs, and so Scorpio will be able to fully enjoy the following months full of love and new opportunities. For example, since April 5th, Venus has been passing through the 5th Astrological House, a sign of exaltation. It brings a lot of opportunities for social activities, and a lot of opportunities for new contacts.
The whole of April, the month of May and June 2022 are months that have a positive effect on the love of single Scorpios and Scorpios in relationship. Some Scorpios will also have the opportunity to fight for old lost love. Scorpio will have the opportunity to restore the love you lost in the previous period due to your irresponsibility or because of the irresponsibility of Scorpio's ex partner. The months of April, May, and June 2022 give Scorpio opportunities to forgive yourself and others. Astrological transits are in an excellent position, and mean great opportunities for communication, and forgiveness. Scorpio can communicate in Scorpio's ex-partner every problem that has occurred in the past and that has caused the breakdown of your relationship. This applies especially to those Scorpios who have children in common from past relationships and who wish to renew this relationship. Capture the opportunities and positive astrological transits that Horoscope 2022 Scorpio predicts from April 11th to the second half of June 2022.
The only more challenging period of these transits is the period from May 15th to 23rd, 2022, when you perceive the sun in the quadrature of Saturn. This quadrature brings challenges and tests that can test your own value again. Scorpio will have to decide between several options in life and which path you choose will be important for your future. Scorpio Horoscope 2022 warns every single Scorpio to avoid the resumption of relationships that were previously marked by violent action and the violent nature of the ex-partner. In this case, the Horoscope does not recommend Scorpio to contact this person, nor does it recommend that Scorpio continue to maintain any contact with such a person, who would only further harm Scorpio and emotionally abuse Scorpio. The fortune teller says that this person certainly does not deserve a second chance during 2022.
Single women born in Scorpio zodiac sign may be interested in the personality of Men in different zodiac signs. In ASTROLOGY BLOG Scorpio could read more about yourself and many more facts from the zodiac world.
Love of single Scorpio & Horoscope for second half of 2022
In the second half of May and in the first half of June, Scorpio will also find lost self-esteem through your friends and family members, who are now a great support to Scorpio. Astrological transits also talk about strengthening your health and working conditions, which have a strong connection and are related to your self-confidence. May and June will provoke Scorpio again in the search for pleasure, especially of an intimate nature. So Scorpio can look for relationships that will only give Scorpio sudden, short-term pleasures. However, transits say that relationships started in this way will not be based solely on intimate pleasure. Even if Scorpio may focus on it at first, these relationships may later grow into deep love. Therefore, it is not a bad idea at all to try to attract joy into Scorpio's life in this direction. No one will alienate Scorpio for wanting to enjoy life to the fullest and for longing for the satisfaction of Scorpio's life needs. On the other hand, it would be a pity if Scorpio did not take advantage of the positive transits of these 3 months, because in the second half of September, a period of isolation from people awaits you, when Scorpio let few people into Scorpio's life.
Since August 20th, the planet Mars has settled in the sign of Gemini, in the 8th house, and your ruling planet will strongly influence your love life. It brings Scorpio a large amount of sexual contact, because you want to use intimacy as a weapon used for self-expression. Scorpio come across mainly the interest of the zodiac signs of Taurus, Virgo and Capricorn, which will be close to Scorpio from August 20th until the end of December 2022. However, single Scorpios will find the greatest compatibility in love during 2022 with the signs of Pisces and the sign of Virgo. In love and in an intimate life, however, Scorpio will also understand Taurus and Cancer. These 4 signs of the zodiac will be closest to the Scorpio throughout the year. If Scorpio meet such a person, it would be a shame to miss this excellent relationship building opportunity offered by the first half of 2022.
The months of September and October will be months of self-closure. These months also mean the restraint and shyness of the Scorpio. Finding new opportunities and new contacts is more problematic for you. November and December perceive the passage of the Retrograde ruling planet Mars, and this constellation of the planet often means personal and sexual problems for each Scorpio. The Retrograde Mars can pull you away from people, from conversation, or from meetings ... Scorpio want to avoid social events, and you don't like empty and meaningless conversation.
At the end of the year, Horoscope 2022 indicates a number of opportunities to meet a potential fateful partner. However, it gives the opportunity to deepen again into your own interior. Build a relationship in Scorpio'sself, your own self-confidence, charisma, which is extremely important to Scorpio. The end of the year belongs mainly to Scorpio's own creativity and family, and Scorpio's life will be more health-oriented, as Scorpio will have to increase your caution and attention to the health complications that await you. From this point of view, until the beginning of 2023, there are no suitable opportunities to discover a new, fateful love.
From the overall point of view, however, the year 2022 is very interesting, and Scorpio is forced by a number of promising dates in the 3 months of 2022. Not only to satisfy intimate desires, but also to find true, fateful love. As Scorpio Horoscope 2022 has already stated, we remind Scorpio that every Scorpio looking for fateful love should use the months of April, May and June, which are the strongest positive months for Scorpio's love for 2022.
---
Horoscope Scorpio 2022 - Love, Career, Health, Future...
Click the image you like and read more about year 2022...
Horoscope Scorpio 2022: Overview - Positive and Negative aspects of 2022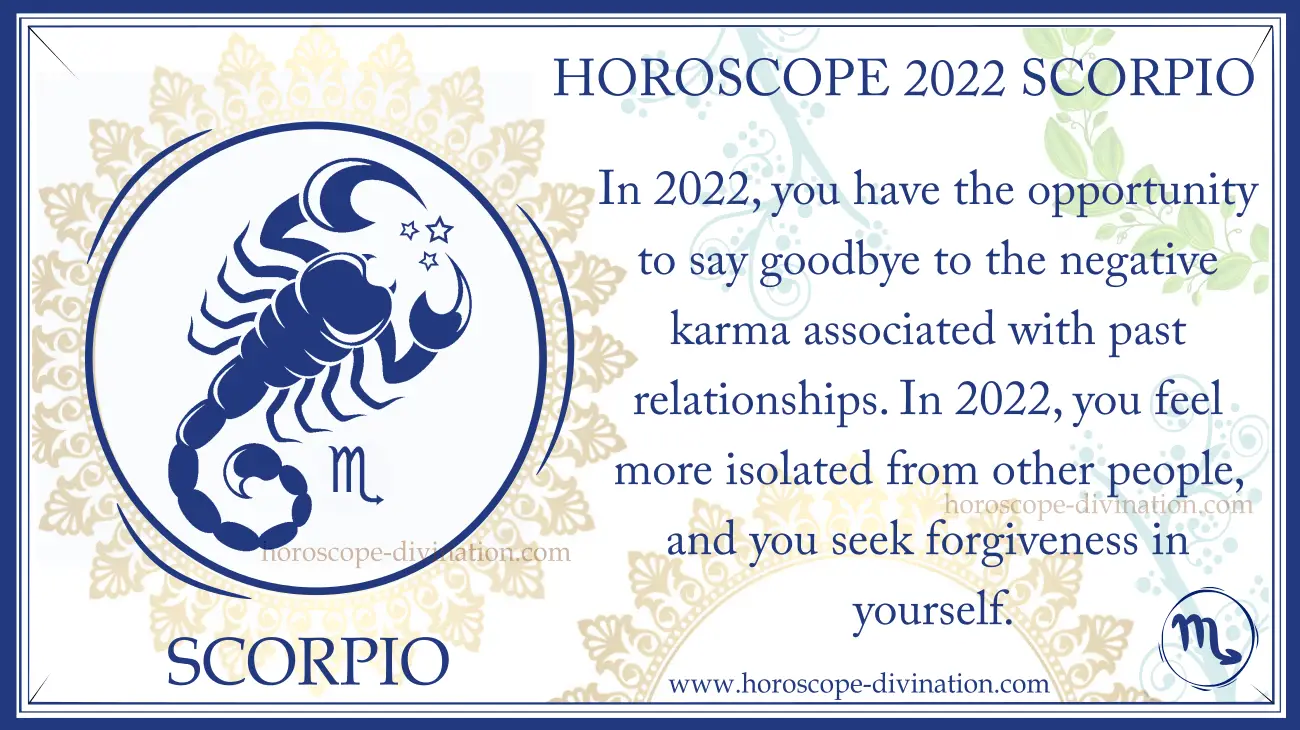 Astrological transits focus on both positive and negative effects on each Scorpio. Scorpio Horoscope 2022 in this section will introduce you to positive transits and the greatest impact on the area of love, health, finances, or career of each of you... Introduction of Horoscope 2022 Scorpio...
Horoscope Scorpio 2022 from fortune-teller - Love & Relationships in 2022: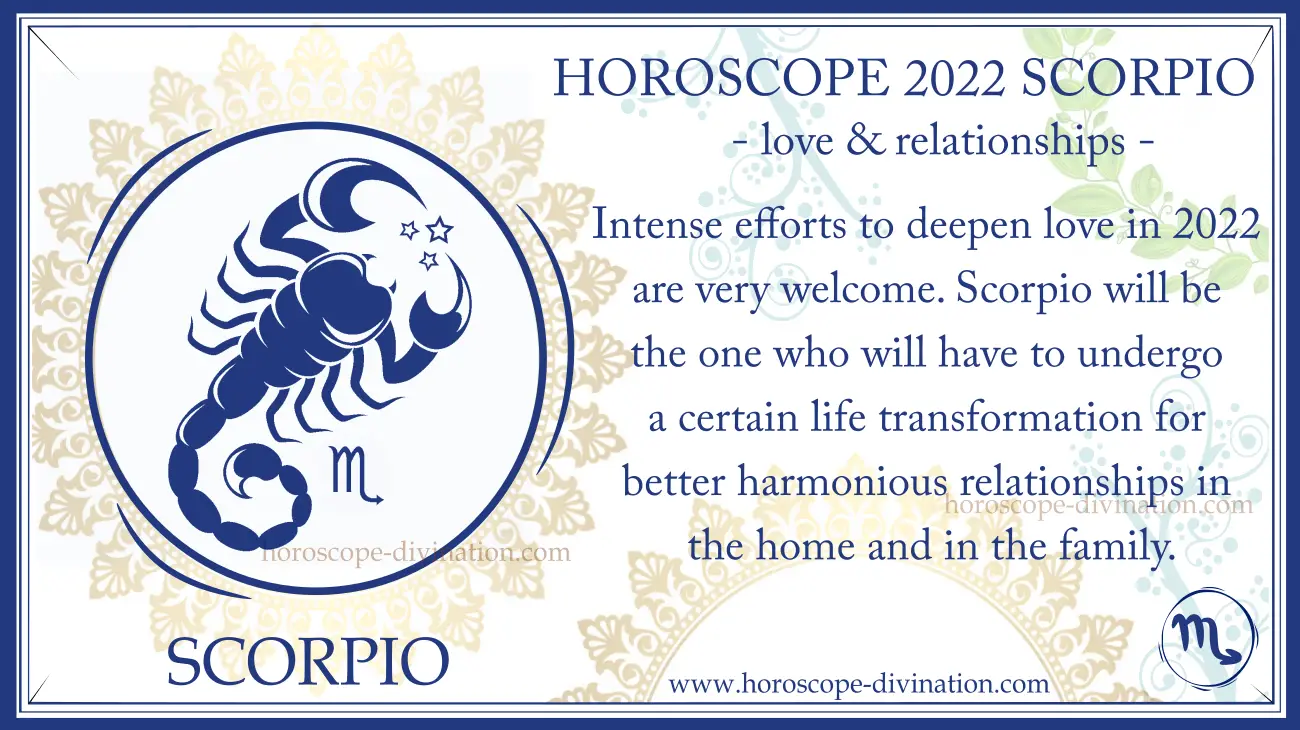 The Scorpio struggles with emotions during his life. The year 2022 will present itself as a year focused not only on the love of Scorpios in relationship, but also on the emotions of singles. Your family and friendships will be strengthened, but other interpersonal relationships that you should know will also be affected... Read more about Love Horoscope Scorpio 2022...
Horoscope Scorpio 2022 - Family, Friends, Marriage and Pregnancy in 2022: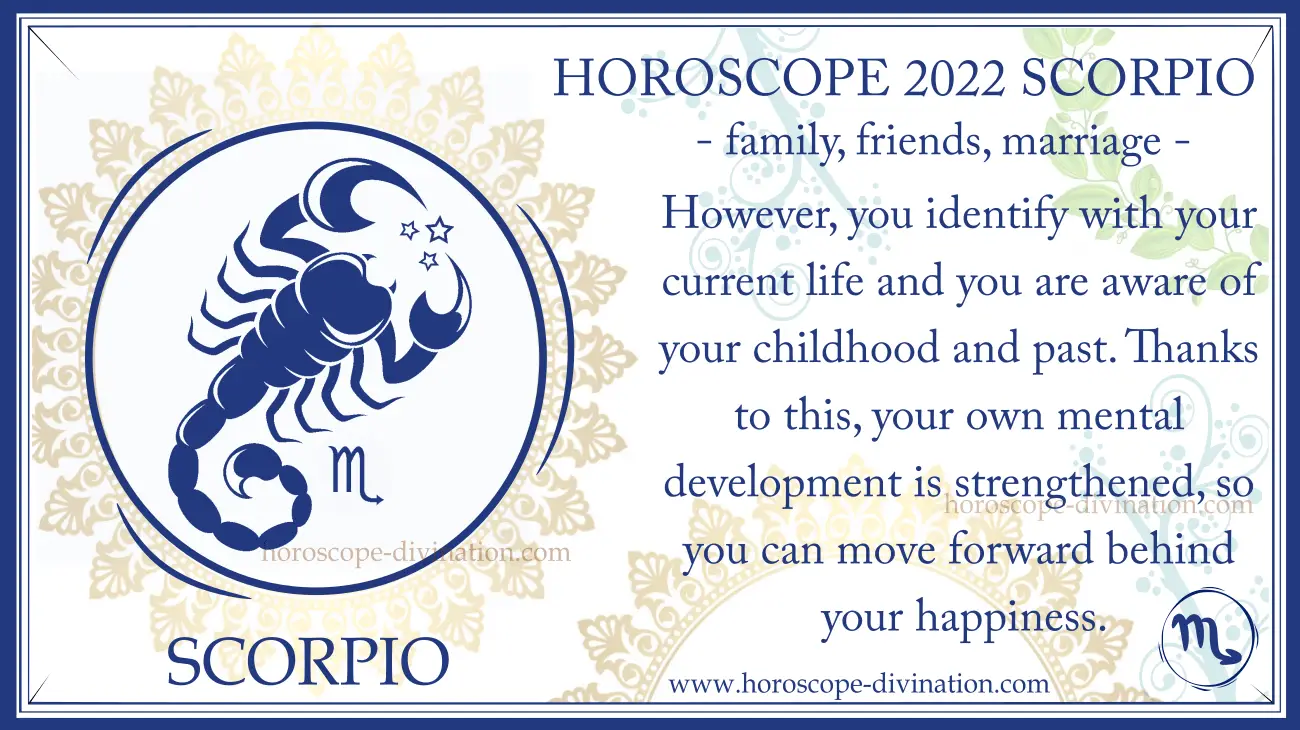 In 2022, Scorpio's family relationships will be severely affected by several astrological transits. January 2022 focuses on the 3rd and 4th houses, but these houses will also be affected in February, March, April and the final month of 2022 - December 2022... Read this yearly Horoscope Scorpio 2022 - Family, Friends, Pregnancy and Marriage...
Horoscope 2022 Scorpio - Career & Finances: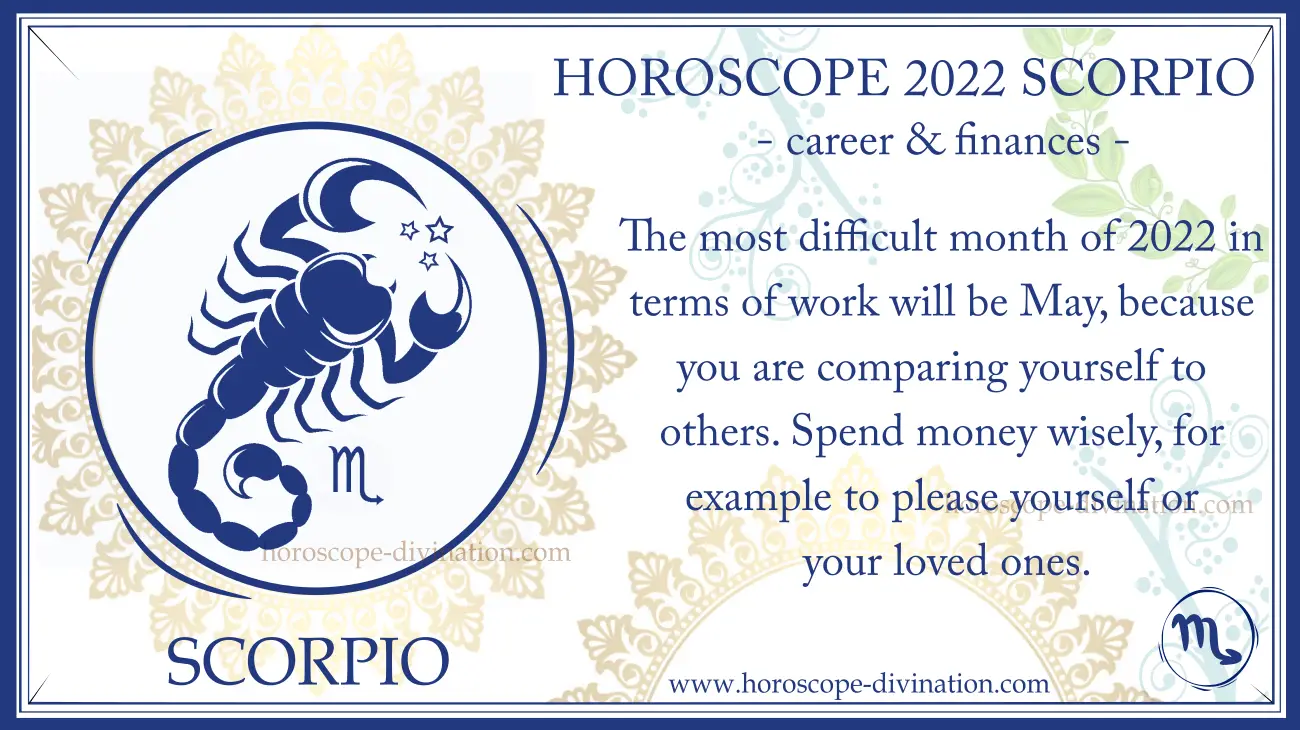 The Fortune Teller has also prepared Horoscope 2022 for those Scorpios who are interested in whether they will be more successful in the field of work and career advancement in 2022, or whether they should expect extraordinary problems at work or other complications from the point of view of career... Complete annual Horoscope Scorpio 2022 in career and finances...
Horoscope Scorpio 2022 - Health & Vitality: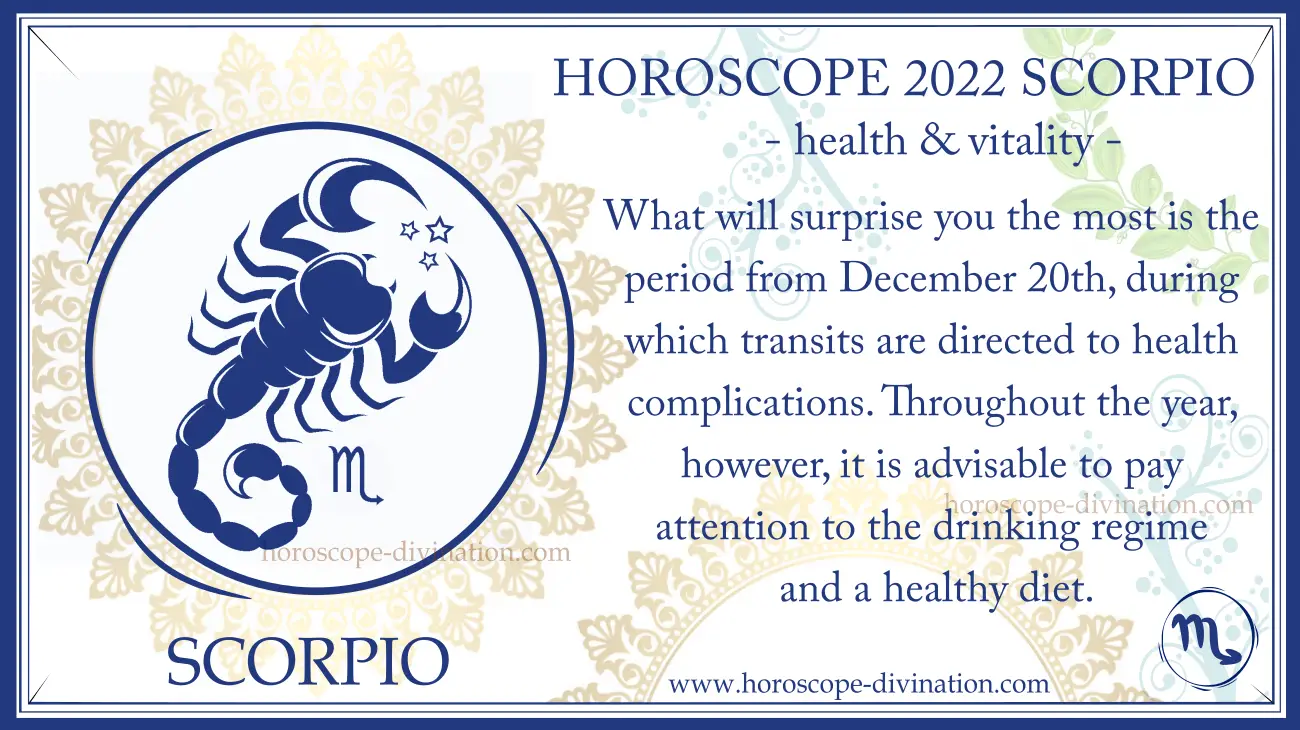 In this section, the horoscope focuses on the health of Scorpio during the year 2022. You will learn what recommendations the fortune teller brings for your better life, for firmer health and a more vital life... Read yearly Horoscope 2022 of Health and Vitality for Scorpio zodiac sign...
Retrograde movements of planets that affects Horoscope 2022 Scorpio
Graph of Retrograde Planets 2022 - Their affect on Horoscope Scorpio 2022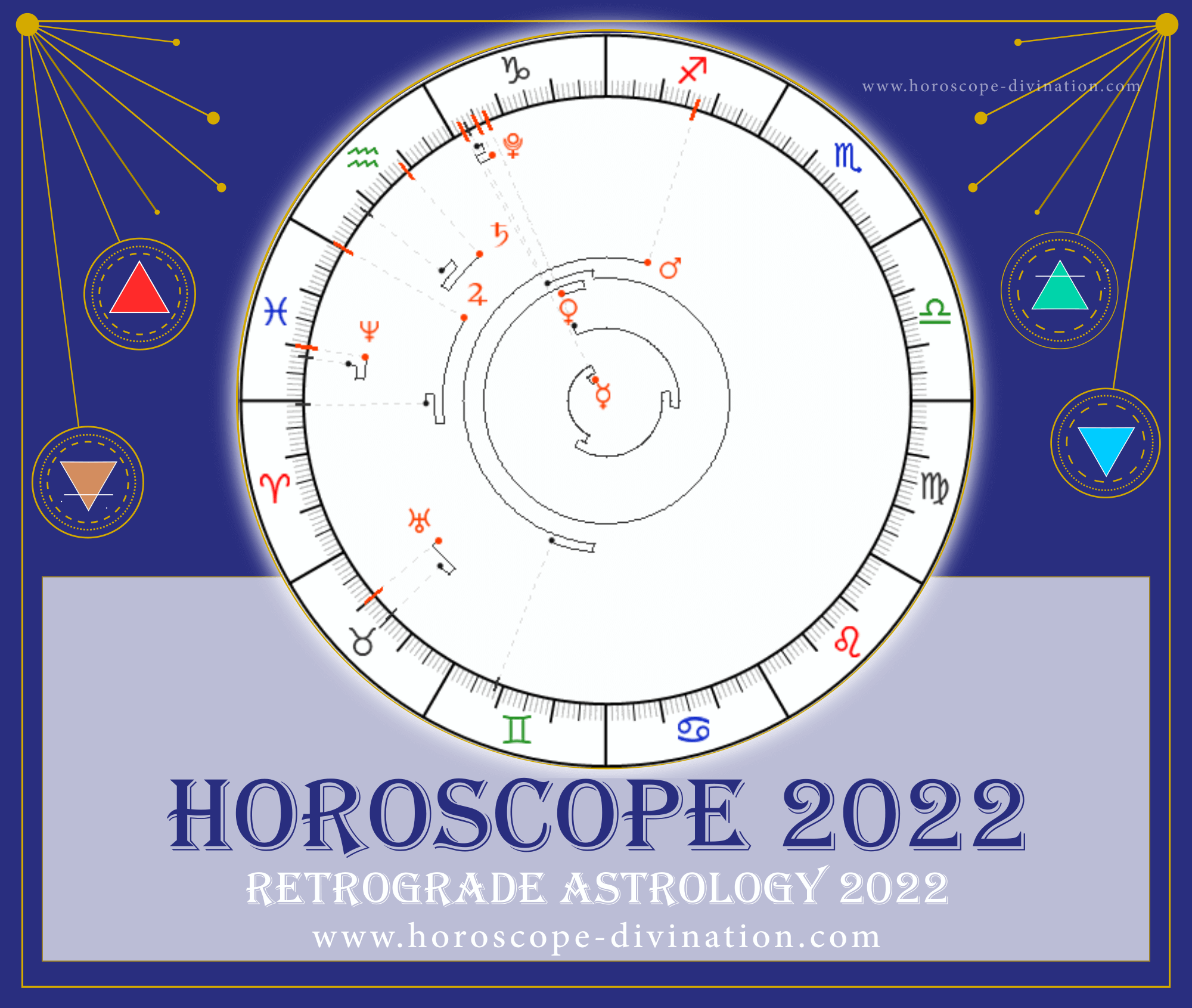 Click on the image above to read all the important information about the Retrograde Planets of 2022 and their impact on Horoscope Scorpio 2022. Below you will find a list of terms important for your energy, vitality and for the overall Horoscope Scorpio 2022.
Mercury Retrograde and Horoscope 2022 Scorpio
14 January 2022 (in Aquarius 4 house) - 04 February (in Capricorn 3 house) (For 21 days, Horoscope Scorpio 2022 is influenced by the first retrograde Mercury)
10 May 2022 (in Gemini 8 house) - 03 June (in Taurus 7 house) (Horoscope 2022 Scorpio emphasize transit for 24 days)
10 September 2022 (in Libra - 12 house) - 02 October (in Scorpio 1 house) (Horoscope Scorpio 2022 is affected by transit for 22 days)
29 December 2022 (in Capricorn 3 house) - end of year 2022 (Horoscope Scorpio will hit this aspect for 3 days)
Venus Retrograde - Horoscope 2022 Scorpio
01 January - 29 January 2022 (in Capricorn in 3 house) (Horoscope Scorpio 2022 talks about this transit during 28 days)
Mars Retrograde - Horoscope Scorpio 2022
30 October 2022 - to year 2023 (in Gemini - 8 house) (63 days are affected by Horoscope 2022 Scorpio)
Retrograde Jupiter - Horoscope 2022 Scorpio
28 July 2022 (Aries in 6 house) - 23 November (Pisces in 5 house) (Horoscope Scorpio 2022 is affected for 118 days)
Retrograde Saturn 2022 - Horoscope Scorpio 2022
04 June 2022 (Aquarius in 4 house) - 23 October 2022 (Aquarius in 4 house) (This transit affects Horoscope 2022 141 days)
Retrograde Uranus - Horoscope Scorpio 2022:
01 January 2022 (Taurus in 7 house) - 18 January 2022 (Taurus in 7 house) (For 17 days, Uranus concentrates its energies on Horoscope Taurus 2022)
24 August (Taurus in 7 dome) - to the start of the year 2023 (The annual Horoscope 2022 Scorpio is affected by the retrograde Uranus for 130 days)
Retrograde Neptune 2022 - Horoscope Scorpio:
28 June 2022 (Pisces in 5 house) - 04 December (Pisces in 5 house) (the annual Horoscope Scorpio 2022 is changed by transit for 159 days)
Pluto Retrograde - Horoscope Scorpio 2022
29 April 2022 (Capricorn in 3 house) - 08 October 2022 (Capricorn in 3 house) (aspect affects Horoscope Scorpio 2022 for 162 days)