Yearly Horoscope 2022 Taurus - Work & Money
(Taurus in career, finances 2022, and money success for Taurus)
Work Horoscope 2022 Taurus
The ruling planet of Taurus - Venus, which is Retrograde during most of January, also guides your stability and career perspective. January will not bring new opportunities for the Bulls who are currently looking for a job, because during the movement of the regressive Venus it is not appropriate to make a strong decision, change jobs, and this astrological Transit is not even favorable for those who want to start something new. The planet Venus rules Taurus not only in love and harmony, but it is also a planet of finances and values of life. As a career plays a very important role in Taurus's life, the January return of Venus will also influence the priorities in this direction. This allows you to reconsider whether you are in right place in your life or doing what you really enjoy.
During this period, it is best to look back briefly and evaluate the previous successes that have brought you to where you are now, says Horoscope Taurus 2022. Venus is also responsible for your creative feelings, and its Retrograde movement gives a deeper and more meaningful view of creative activity. During the Retrograde Venus, women born in Taurus zodiac sign have the opportunity to create something beautiful with their hands or their soul. It is a good time for those who work in households and play with the idea of a small renovation or replacement of some furniture. However, large purchases are definitely not recommended. Anyone who makes a living from creative activity in their life will feel the gifts that this movement of Venus brings.
Children born at a time when Venus is Retrograde are often less self-confident and can be lonely. This is how most people will feel during this period, and especially your Taurus zodiac sign, and the sign of Libra with which you share the ruling planet. Even if you struggle with feelings of self-worth, especially in your career, January will help you analyze the pros and cons of your current job, which you will either leave or appreciate later. Venus is in your 9th house, so it's a good time to think about your career, your visions, your future, and the dreams you want to fulfill. It is very likely that the energy of Venus in January will help you understand your future goal. From January 14th to February 4th, the Retrograde Mercury, which affects the 10th and 9th astrological houses, also intensifies the influence on Taurus's career. As it intersects with the period of Retrograde Venus, it brings caution in self-expression, and in its own presentation. From this point of view, there is no favorable period for job interviews, presentations, or the launch of new projects. What has begun must be completed in the work so that you can enter a new period with a clear slate and completed tasks.
Job Horoscope 2022 Taurus for next month of the year 2022
On February 4th, the Sun in conjunction with Saturn in 10th house affects Taurus' work and career. This allows you to focus fully on your long-term goals and work, which will bring you a positive reputation. Every social event you take with your colleagues will result in an excellent response to your person. On February 8th, it warns every Taurus that you will be hit by the trigon of Mars from the planet Uranus in 9th and 1st houses, which will result in a kind of fanaticism in persuading others. You will want to push your own opinions among other colleagues, which can cause a complicated period. Even those whose work in househols will show strange behaviors, where logical thinking will conflict with what your heart tells you. The period of special behavior on your part will break until the entry of planet Mercury into the 10th house, when you can once again fully focus on your own personal goals and ambitions. The end of February does not bring any significant changes or negative transits that could affect energy at work or in performance of your profession.
At the end of the month, caring for young children will be more difficult, warns Horoscope Taurus 2022, because Venus in conjunction with the planet with Mars in 9th house means conflicts mainly between understanding and learning. By month end, it will be more difficult to help children with homework, and it will be more difficult to understand their emotional needs. This area of work will mainly affect those whose job is to take care of children, and may also complicate the overall family well-being at the end of February. So far, during January and February, there have not been many suitable opportunities for those looking for a new job. Astrological transits do not indicate great or rapid progress for the unemployed, but this will change with the entry of Mars into the 10th house. From March 4th to 10th, there is an ideal opportunity for Taurus to star and show others all his strengths, and to present his person very positively. The unemployed should therefore pay attention, as these days are strongly focused on Taurus's career, pushing leadership skills and a great charismatic radiance of personality to the forefront. So February is the perfect time to send resumes, and in early March you can reap the rewards of your efforts. This positive period will be felt from the beginning of March until March 17th, when Taurus is slowly beginning to be influenced by the Full Moon in 6th Astrological House.
On March 17th, 18th, and 19th, you will try in vain to move forward, change things at work, or bring innovation to the minds of others, emphasizing yearly Horoscope Taurus 2022. A futile effort can give you a negative view of your work so far. However, do not despair, because these energies are due to a strong Full Moon, which affects your home's health and work. If you are very passionate about new projects or completing complicated things, it can make you more stressed, and this attitude at work can cause you to be very exhausted or even sick. We will talk more about how Taurus's work will affect health in the health section in 2020. To this March energy of Full Moon in the 6th house is added the square of the ruling planet Venus with Uranus, which will negatively affect your work endurance and hard work. You will be lazy, which only indicates the need for more rest and relaxation. You should listen to your body and your energy more in March than before, because by slowing down your pace, you can avoid a health problem that will result from your zeal and stress. With sun ingres into the sign of Aries around March 20th, each of you strives to achieve perfection in life. This applies not only to the areas of love, health, but also to careers and finances.
Love, a working relationship, or problems in living together? The Love Compatibility Calculator for Taurus will show you how high your compatibility in love, even in 2022, is with other zodiac signs.
You will feel influence of Full Moon specifies Horoscope Taurus 2022
The entry of the sun into the 12th house will affect every Taurus who feels that he needs to make more order in a certain direction of life. This will mainly affect Taurus looking for work or those who are dissatisfied with their job. As you will not feel the return of Mercury until May 10th, this second half of March, and the month of April will be excellent opportunities to change your profession, or at least to change the position in which you now work. So if you're playing with the idea of a change in your career life, the last March half and the period up to May 10th focus strong vibrations on career success. The warning period for those Taurus who work in the household is the Full Moon of the 6th house, when you will focus your energy on doing work mainly to satisfy the needs of others. You will feel this strong influence of Full Moon on April 15th, 16th and 17th, when you will not enjoy the work you do.
You will be struggling with the idea of leaving everything built so far, but be aware that these large mood swings on your career or on your household activities can be mainly a strong Moon affecting your health and your work. Again, during this period, you need to relax and focus mainly on eliminating the stress in life and minimizing the solution of problems that would be difficult to solve now and would only bring you a lot of stress and restlessness, recommends Horoscope Taurus 2022. You feel a huge feeling of vitality and self-confidence with sun Ingres into your first house, which takes place on April 20th. From April 20th to May 10th, those whose job is home care will also have the opportunity. Taurus will generate a huge amount of good ideas to help improve the functioning of household. You can create a home plan of tasks that will be performed by each member of household. You can buy a new appliance to help you carry out your daily activities.
Second half of April brings you the opportunity to buy the thing you need for a long time. But make it to May 10th, when the planet Mercury gets back in motion in the second and first house of Taurus. Transit brings a lot of problems from the past, also related to your career and finances. From May 10th, you have a strong urge to focus mainly on self-realization and overall relaxation of body and soul. Although work is very important, you feel an inner insecurity from this direction, which is related to unfinished past tasks or things that you did not do correctly. You focus not only on material values, but also on your career future. Communication is also now disrupted, so the period of Retrograde Mercury in May and early June does not favor unemployed Taurus or those who want to make career changes. If you are planning to change jobs, it is better to leave it to Mercury's influence to end. Rather, complete everything past that can negatively affect your reputation and your career stability. Even those who take care of the household must now gather all their energy and thoroughly clean up the entire household, which must shine with new energy and happiness after June the 3rd. It's time to get rid of all the unnecessary things, analyze the things you don't use, and offer them for sale, or give them to someone who appreciates and needs those things. It is necessary to let new energy into your home, so choose suitable essential oils that will positively affect your thinking and your mood.
Knowledge of aromatherapy for the year 2022 also determines a positive scent for the sign of Taurus, to increase performance and energy, define personal Horoscope Taurus 2022. Surround yourself with the scent of jasmine, which brings energy, self-confidence, vitality, and in terms of aromatherapy also means the support of creative mind. Here you will need mainly small changes or sorting of unnecessary things. Jasmine will highlight the positive energy of your household, and cleanse the negative aura of any quarrel or disagreement that has affected the energy of your virtue in past. The impact of jasmine essential oil on your health and energy will be noticeable in 2022. It not only affects your perception of stress, but also calms your nervous system and stimulates areas of brain that affect your positive thinking. Bet on the jasmine scent whenever you need to relieve stress levels, or calm down after a hard day or an argument. Helps deal with stress, anxiety depression.
Summer Work Horoscope / July & August 2022... Horoscope prediction 2022 for Taurus
In 2022 it is suitable mainly for the sign of Taurus. At times when you need to soothe mild pain or regulate work stress, jasmine is invaluable. It should therefore be part of the office and household of every Taurus. From the second half of June, you will have many opportunities to study in the area in which you work. Taurus that has been thinking a long time about expanding its abilities can realize these dreams in June and enroll in a new language course, or learn in other ways that motivate and entertain it. You should sacrifice some extra money to build your knowledge and expand your knowledge. It is never too late to start learning a new language that can bring you much more money in the future, not to mention an excellent reputation and what a positive impression you have on others. This development of your personality in June will also be related to your health, because every such decision will improve your self-confidence and strengthen your mental health. Since August 5th, especially women born in Taurus zodiac sign have huge opportunities for career success.
Until August 13th, a huge militancy and strength to solve every problem that arises at work or at home is pushed into your life. With the entry of Mars into the first house, which begins on August 5th, the women will be very strong and motivated, and therefore will cover every duty, even the one they sometimes leave to their partners. Enjoy these days, says your Horoscope Taurus 2022 because you can fully express not only your femininity, but also abilities that others do not see at other times. On August 20th, the opposition of the sun with Pluto in 3rd house of the sun and in 8th house of Pluto brings a huge positive effect when working with people. If you work in an area where working with people is required, or are interested in such a job, you have the energy from August 20th until ending of this month, which means a strong will to overcome obstacles.
Especially Taurus's career will be very promising in August, and it brings many opportunities not only for women, but also for men who want to advance their careers. Any obstacles, any challenges or unfinished projects are easily handled in August. For Taurus, there is no good opportunity to travel or vacation during the summer. You should focus on building and strengthening career status, and on growing your own personality through learning, and acquiring new knowledge. At the beginning of August, the unemployed, whose aura shines all around, will even have a great opportunity, and from August 10th to August 15th, there will be extremely suitable Astrological Transits concentrating energy to obtain the profession you desire. Energy is strong, so use it to your advantage, especially if you have been looking for a new job long time. In 2022, August represents the second strong opportunity to get the coveted job, especially for the unemployed Taurus.
Horoscope Taurus 2022 describes also transits Affect in October, November & December 2022
From September 10th to October 2nd, the Retrograde Mercury in the sixth and then in seventh house concentrates Taurus's energy on organizing own life and on its proper management. Taurus may feel nervous in presence of other people, which can slow down their career growth. The problem period occurs mainly for those who provide services to other people, whose main source of income is working with people. You can feel hampered by the energy of Retrograde Mercury. From September 10th to October 2nd, you should rest more and focus on completing open tasks. It is also an ideal time to relax, although it is not an ideal time to travel long distances. Choose a holiday destination that is close to you, or that you can easily manage on a short flight, or nearby by car. You will feel nervous in the presence of other people, but this does not apply to your own family. If you manage to relax properly from September 10th to October 2nd, and regenerate your mind, last year days will be very easy for you, and you will even overcome the problems of November in long-term planning.
At the end of October, the energy of Taurus an Horoscope 2022 will be affected by the influence of the Retrograde Mars in the second house, which focuses mainly on showing respect for the elderly and your superiors. From October until 2022 ends, slight conflicts can be expected, especially if you get caught in gossip at work that harms others. Stay a loyal person who is interested in himself and who is not interested in insignificant gossip and allusions to the lives of others. From October 30th for the rest of the year, this position of Retrograde Mars brings you the opportunity to show how valuable and loyal you are. Avoid gossiping about others, and don't do it even if you want to fit in with the team. Showing respect for others is the key to maintaining an excellent reputation in your job. If you are raising children or working at home, it is also a good idea to teach your children how to treat others. Retrograde Mars can hit your energy with great pressure, and bring very emotional desires after the end of year in a better position, or with a larger amount of money in account. This pressure on your own person can cause tension and stress in your private life, but also on your health. It is better to overcome the period of receding Mars with its own interior. You have the opportunity to learn, move forward, help others move forward, and teach children mutual respect. Learn to grow, and avoid gossip that can negatively impact the opinion of others on your own person.
On November 8th, you also feel problems in long-term planning, as the moon comes in first astrological house affecting Taurus's career. You will feel pressured and stressed that you will not be able to do everything by 2023 starts. However, wave your hand over it, because the world will not collapse because you do not have time to sign a document or complete replies to all e-mails. In November, you need to relax more and focus on your own health and the members of your family, underlines astrology Horoscope Taurus for 2022. Venus in Capricorn during December and also Jupiter in the 12th house, have a positive effect on career, creativity and housework. December will belong mainly to those whose household requires more love and more positive energy. Don't forget to plan Christmas in arms of your loved ones, because love for others will also strengthen your new ideas and creativity.
From December 20th until year 2023, there are days that affect people who are engaged in creative or literary activities. Have you been planning to write a book, or at least publish an article on the web? It is from December 20 to start of 2023 that Taurus has the opportunity to start his creative activity, which will enrich your life in the future. The year 2022 therefore means interesting opportunities for the unemployed, up to twice throughout the year. Workers will have to overcome problems, but most of the year again seems to be very favorable for the career of Taurus.
Problems, depletion, and energy decline will not be common, and therefore it should be possible to achieve strong satisfaction in your work. Jasmine will help with nervousness and you will overcome short-term negative aspects more easily.
Accurate Monthly Horoscope Taurus tells you more about Taurus future in love, health, career, money or relationships. Horoscope 2022 Taurus is also connected with a monthly prophecy. Read all the important horoscopes from the fortune teller for the year 2022.
---
Horoscope 2022 Taurus - Money
Taurus finances in 2022
During January, the Venus retrograde is in 9th house of philosophy, but from a financial point of view, it will also affect Taurus, which is ruled by Venus. The period of Retrograde Venus is a period in finance that is suitable for thinking about past dreams that you wanted to achieve. At the time of the Regressive Venus, it is not unusual if you feel a financial shortage or you are more concerned with what expenses await you during this year. January will hit Taurus significantly from this point of view, and finances may be an important topic of family conversations.
The future in finance may seem vague now, judge Horoscope Taurus 2022, but you should realize that these energies are mainly due to the Venus retrograde, which will fade away in late January. Venus can also cause some unexpected losses or gaps in your financial budget. The January period is not a good month for Taurus to spend money that you did not have planned in advance. Don't buy anything you don't need, on the contrary, try to get rid of unnecessary things that you can sell and you can improve your family budget. Neither career opportunities nor luck in the game indicate January astrological transits. Even if you don't spend a lot, you will feel instability and uncertainty for your future, which stems from large past expenses.
Such an impact will have Venus on Taurus in the first month of 2022, which may make finances one of your priorities to think about. If you calm these energies so that they don't cause you stress and problems, you can do financial planning and analysis of what you managed to save over the past year. Make goals and plans that you can fulfill during 2022, and reconsider what you really need in life, and you what you can't do without. Venus in a Retrograde motion also temps Taurus to buy things just to enchant others. Realize what you need in life and what you just want to enchant other people's eyes with. It is not necessary to collect a lot of wealth to be happier in life. It is this fact that your ruling planet wants to remind you during January.
The months of February, March, and almost all of April do not bring any negative aspects that would significantly affect finances. With the expiration of Venus back on January 29th, Taurus gets into the desired mental stability in terms of finances, when there is a feeling of scarcity, and finances are harmonized. In particular, your subconscious will tell you that you have enough money to handle every unexpected expense during the first quarter of 2022. Around April 29th, Taurus will feel Mercury entering the 2nd astrological house, which is now the property house and is often associated with your own zodiac sign. From the view of transition of direct Mercury to the second astrological house, you can generate new ideas that will significantly improve your finances during the year 2022.
This position of Mercury also connects financial affairs and property with the home of Taurus, warns financial Horoscope Taurus 2022. The financial improvement comes mainly from those Taurus who are engaged in educating other people. If you've been toying with the idea of starting a career in selling your knowledge, the end of April is very much in favor of you taking the first step. You need to invest wisely in yourself, in your time, and share your skills and knowledge with other people. In same way, some Taurus will be able to get even more money into their wallets during 2022, which will significantly ease your financial worries.
During May, you see the transit of Mercury in Sextile with Venus, while Mercury is located in house of property and finance. This positive Transit strengthens your charisma, and thanks to that you can easily make new friendships that will mainly affect your financial budget from a positive view. You can get friendships that will open your eyes in direction in which you can do business in future, or advise you on how to improve your overall family budget. On May the 10th, the period of the return of Mercury begins, but also the planet Jupiter enters the 12th house of Taurus.
From the 9th to the 10th of May, you have a great opportunity to take risks in field of finance, and try to bet in the lottery. Jupiter is a planet of happiness, and when it is located in 12th house, it means a reward, a win, simply put - an unexpected and quick improvement into the financial budget. Do not hesitate, therefore, and use these suitable days when happiness wishes you especially in field of finance. From May the 10th to June the 3rd, Taurus is affected by the Retrograde Mercury, first in the second house and later in first house. The period of Retrograde Mercury does not recommend Taurus to make big decisions, sign important documents, withdraw, or take risks in game or in financial matters, repeat Horoscope Taurus 2022. It brings to the life of Taurus the search for identity, and opportunities to improve its future. You can expect a slight imbalance in finances, as during this period of Mercury's movement it is very common for appliances to break down or you will have a problem with small electronics. From this perspective, you will need to replace the old piece with a new one, which can negatively, but to a small extent, affect your finances, and the spring family budget. In early June, you will have trouble mentally liberating yourself and bringing new ideas and thoughts into your life. You develop a desire for physical pleasure of a new kind, and therefore you tend to overeat. This increased appetite can also affect your final management during the month of June.
Financial Stability according to the Horoscope Taurus 2022
With planet Mercury enters into the Gemini sign during June 13th will also enrich you with great ideas, when you will get good ideas on how to save and how to relax without spending a huge amount of money to relax. The next day belongs to the Full Moon in 8th house, which in terms of finances means total intuition. This intuition is also related to your financial future, when you prefer to save some extra money that could be useful in future. June will also test you in terms of your great love for material things, when you will tend to buy useless things and spend money on things for yourself or others. If you do not want to get into financial difficulties during the summer, the horoscope clearly recommends that you control your desires, especially around June 23rd, when Venus enters the second house, and so you tend to spend your money headless. Taurus will feel this period until June end, so it is advisable to focus your energies on other areas of life so that you do not focus on buying unnecessary things.
There are no negative transits affecting finances until the 22nd, and on the 22nd of July the sun is in the 4th astrological house, which means security not only in the emotional direction, but also in finance. At this time, the sun is focused on financial resources, and on reassessing the personal and security you have in life. You long for material success, and you may feel tired, as there has not been much time to rest. The year 2022 will be difficult for Taurus from a labor and financial point of view, because they will not even realize how fast its first half will pass. It will remind you on 22nd July that you need to slow down, even though it leads you to strengthen not only your position at work, but also your financial stability. Pay special attention to the greed of others in your area who will want to use your good nature to make a financial fortune. Only give money to other people if they have a good enough reason to do so from your view. You will be able to evaluate well what you need to buy, what expenses make sense in your life. This way you will be able to avoid making insignificant purchases or spending money from your family members. However, it will want a hard hand on your part. By August 20th, watch out for finances, and try to stabilize your spendings.
Will Taurus be lucky based on astrology Horoscope 2022 in finances?
From August 20th, you can feel the directive Mars in the 2nd astrological house, and so your desire to increase finances and wealth is again affected. Mars with its energy can force you to spend all the money you have earned. The period around September is also a good time for a holiday, so these energies may overlap, and so Taurus will tend to spend a lot of money mainly in this direction. However, try to choose your vacation wisely. This year is not even a good year to travel to distant countries, so choose nearby trips, where you can indulge in more luxury for the money you had planned for this year's vacation. You need to learn to define clear rules not only for yourself, but for your family members. The strongly seated Mars in the 2nd house also draws attention to business activities. Therefore, this period is not suitable for starting a business, nor for a change of profession and employment. Finance is achieved by Mars by all possible means, and therefore Taurus should not be surprised if its passion for profit prevails over any other rational reasoning.
Planet Mars settles in Gemini until the end of 2022, so for the rest of year you will focus mainly on making a financial profit. Taurus will focus all its attention and all its energy mainly on improving the family budget, and on achieving its financial goals. From this point of view, time before 2023 starts can be complicated for Taurus, as they will forget the more important values of life. Focusing on the material security of the family will keep you so busy that it will be difficult to perceive the love of your family, friendship, or the beauty of everyday moments. The only recommendation for Taurus in field of finance for the end of 2022, from August 20th, is to try to diversify your interests between love, career, finance, family and, of course, you must also focus on taking care of your physical and mental health. While this may be complicated for you, mainly because of effect of mighty Mars on the 2nd house, you must realize that money does not carry everything, and that real values are waiting to be noticed and fully devoted to them.
From the view of astrological transits and astrology Horoscope Taurus 2022, end of year no longer indicates any complications or extraordinary possibilities for an unexpected profit. Precisely because the energies affecting Taurus's finances appear to be balanced, the Taurus would not have to worry about any financial loss, nor would it have to focus on quick profits. Excessive pursuit of quick earnings, or a strong focus on achieving finance through a career, will rob you of the moments you should spend with your loved ones. This zeal towards finances can turn you not only to spending time with loved ones, but also to other important moments that you should definitely not miss at last year days just to focus all your energy on making money. Sometimes it is better to be content with what you have in life than to pursue things that take you away from other important moments and experiences in life. This fact is the main thing Taurus should remember during 2022.
Daily Horoscope Taurus prepare you for the current day. Horoscope 2022 from the Fortune-Teller also means the possibility of daily divination for Taurus zodiac sign.
Listen to your personal Horoscope Taurus 2022
---
Horoscope Taurus 2022 - Love, Career, Health, Future...
Click the image you like and read more about year 2022...
Horoscope Taurus 2022: Overview - Positive and Negative aspects of 2022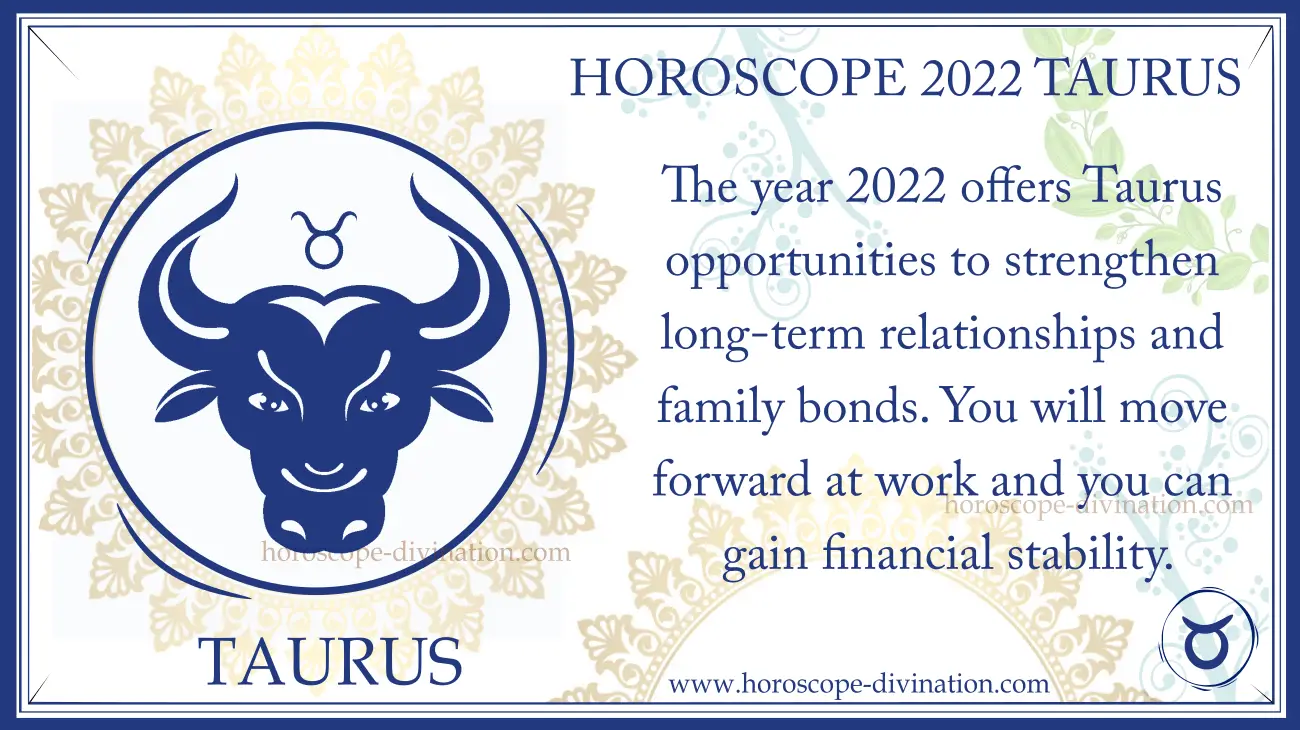 In January, focus mainly on resolving unfinished disputes, and meditate. A certain wise woman in your life, which you have so far perceived as a good counselor, will help you solve many conflicts and problems from the past in the month of January, ie at the beginning of 2022. Introduction of Horoscope 2022 Taurus...
Horoscope Taurus 2022 from fortune-teller - Love & Relationships in 2022: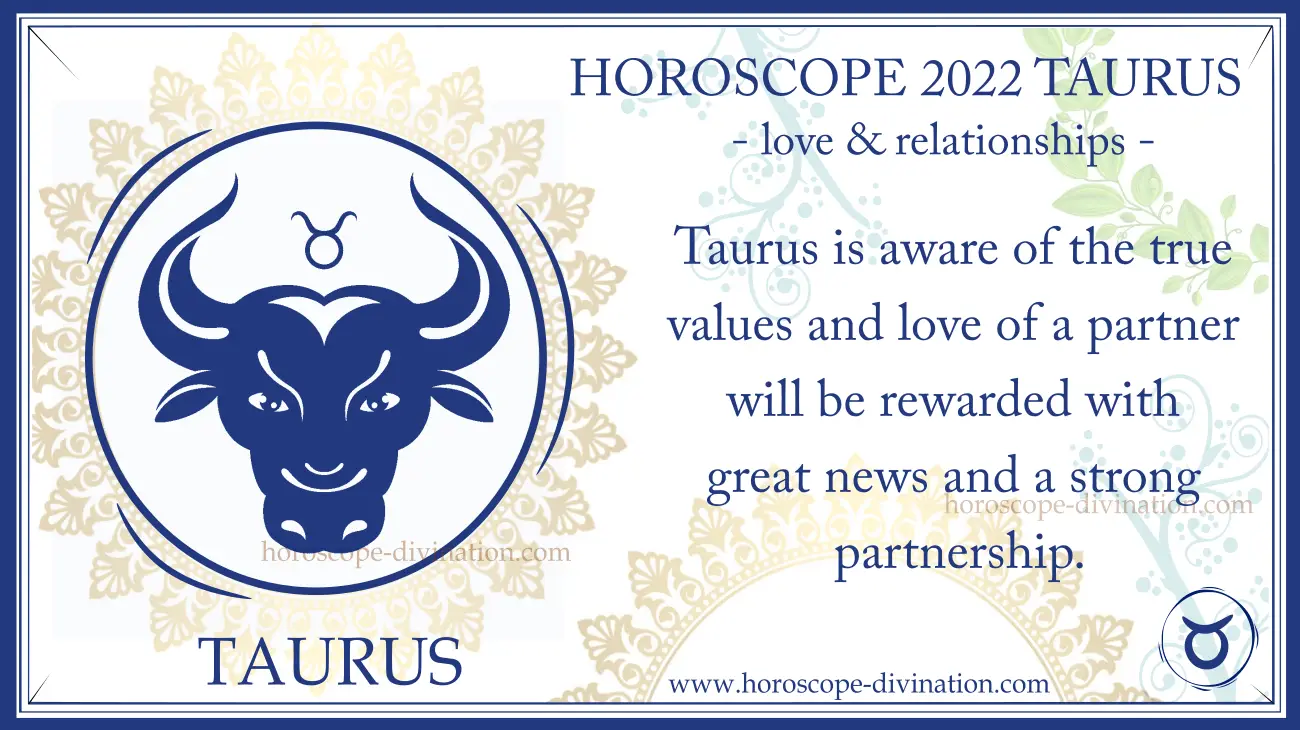 The Retrograde Mars in the second house, which Taurus will feel from October 30th until the rest of the year, will further strengthen the nervousness in the relationship. This is mainly due to a strong desire for intimate connection, and because of jealousy... Read more about Love Horoscope Taurus 2022...
Horoscope Taurus 2022 - Family, Friends, Marriage and Pregnancy in 2022: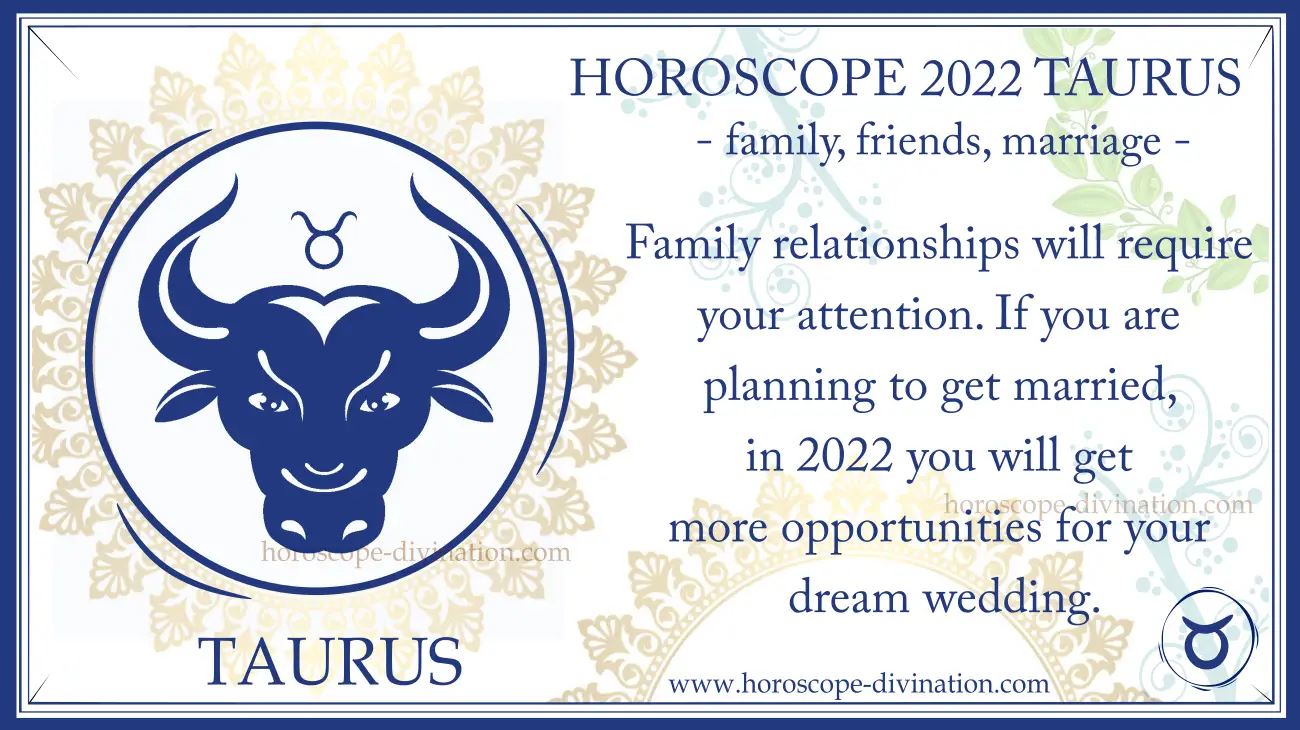 Every Taurus needs a personal space where it does not allow others to limit its development and progress. For some Taurus, such a position of Venus will be reflected in a tremendous love for spiritual advancement. You will also desire some form of solitude... Read this yearly Horoscope Taurus 2022 - Family, Friends, Pregnancy and Marriage...
Horoscope 2022 Taurus - Career & Finances: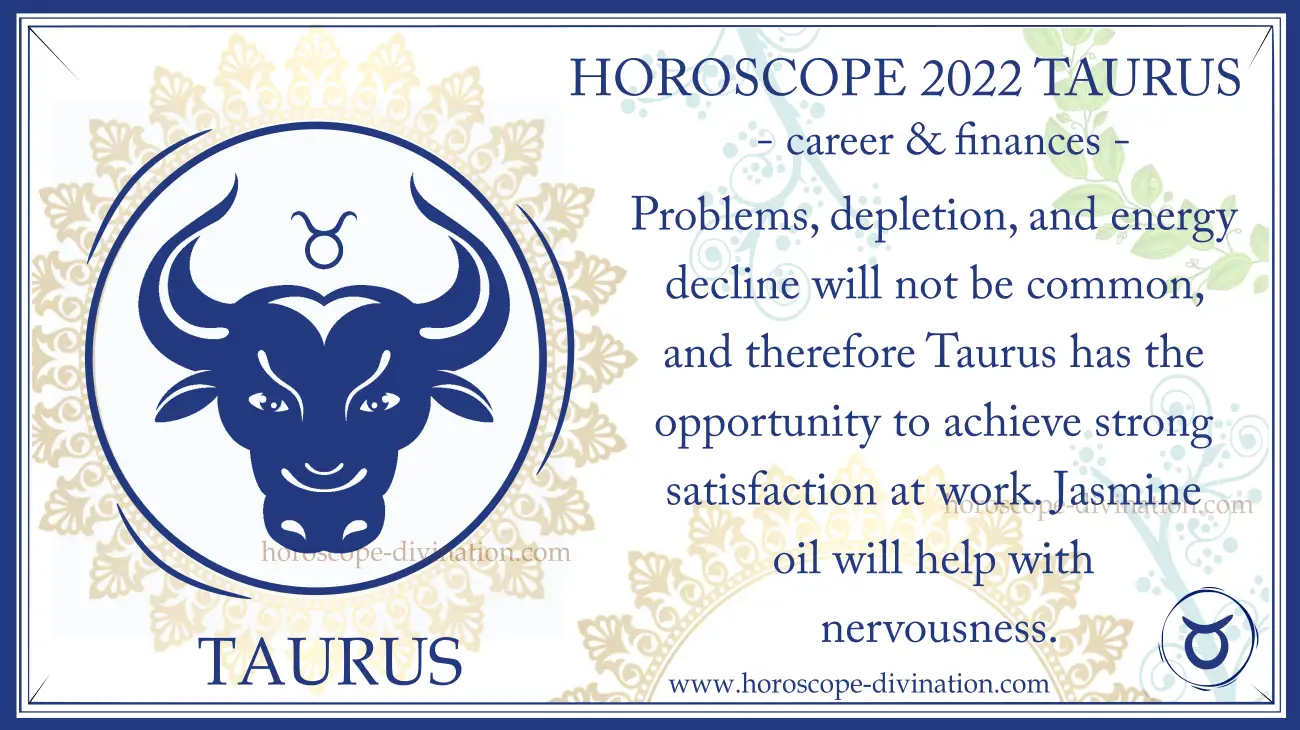 The ruling planet of Taurus- Venus, which is Retrograde during most of January, also guides your stability and career perspective. January will not bring new opportunities for the Bulls who are currently looking for a job, because during the movement of the Retrograde Venus it is not appropriate to make a strong decision, change jobs, and this astrological Transit is not even favorable for those who want to start something new... Complete annual Horoscope Taurus 2022 in career and finances...
Horoscope Taurus 2022 - Health & Vitality: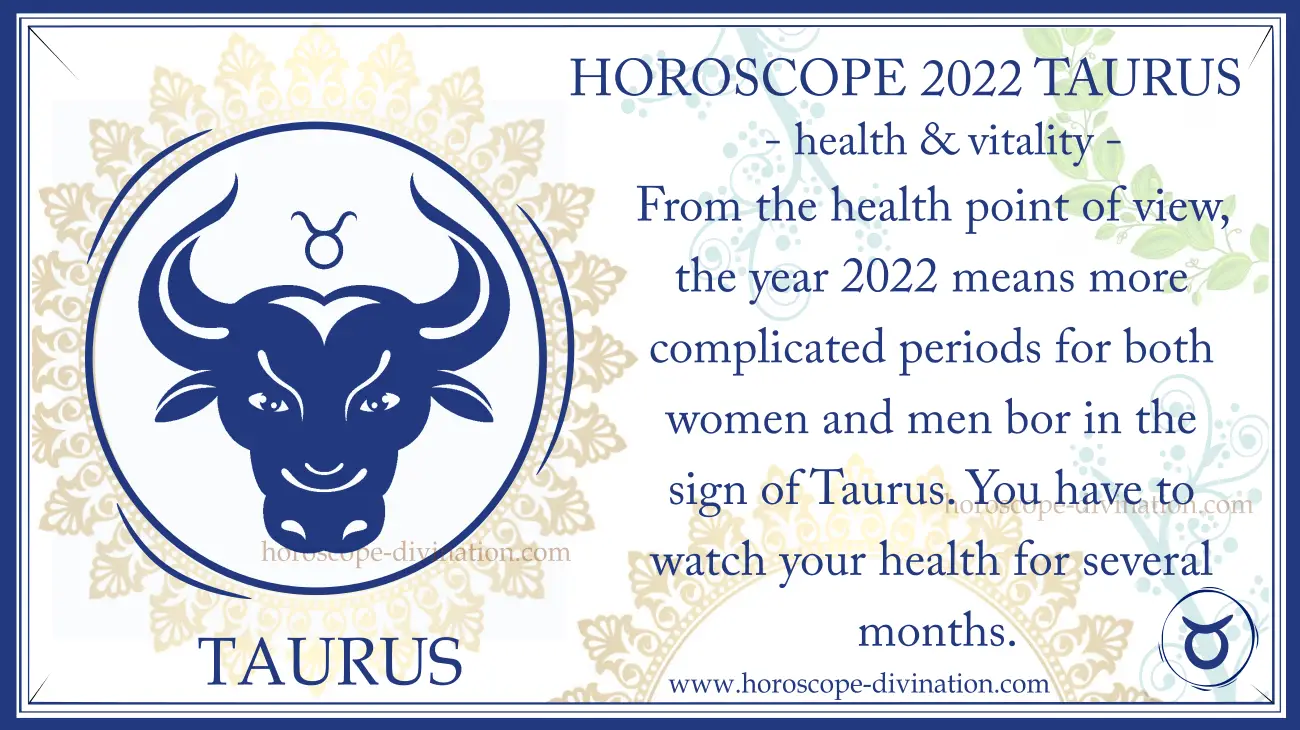 The health of Taurus in 2022 will be conditioned his problems in love, but also by workload. At the beginning of the year, the Retrograde Venus in the 9th Astrological House will also affect the health of Taurus, when he will be mainly looking for mental peace. Some Taurus, especially those who are more sensitive, will feel a desire for complete solitude, seeking long walks alone, or moments when they can indulge in silence and solitude... Read yearly Horoscope 2022 of Health and Vitality for Taurus zodiac sign...
Retrograde movements of planets that affects Horoscope 2022 Taurus
Graph of Retrograde Planets 2022 - Their affect on Horoscope Taurus 2022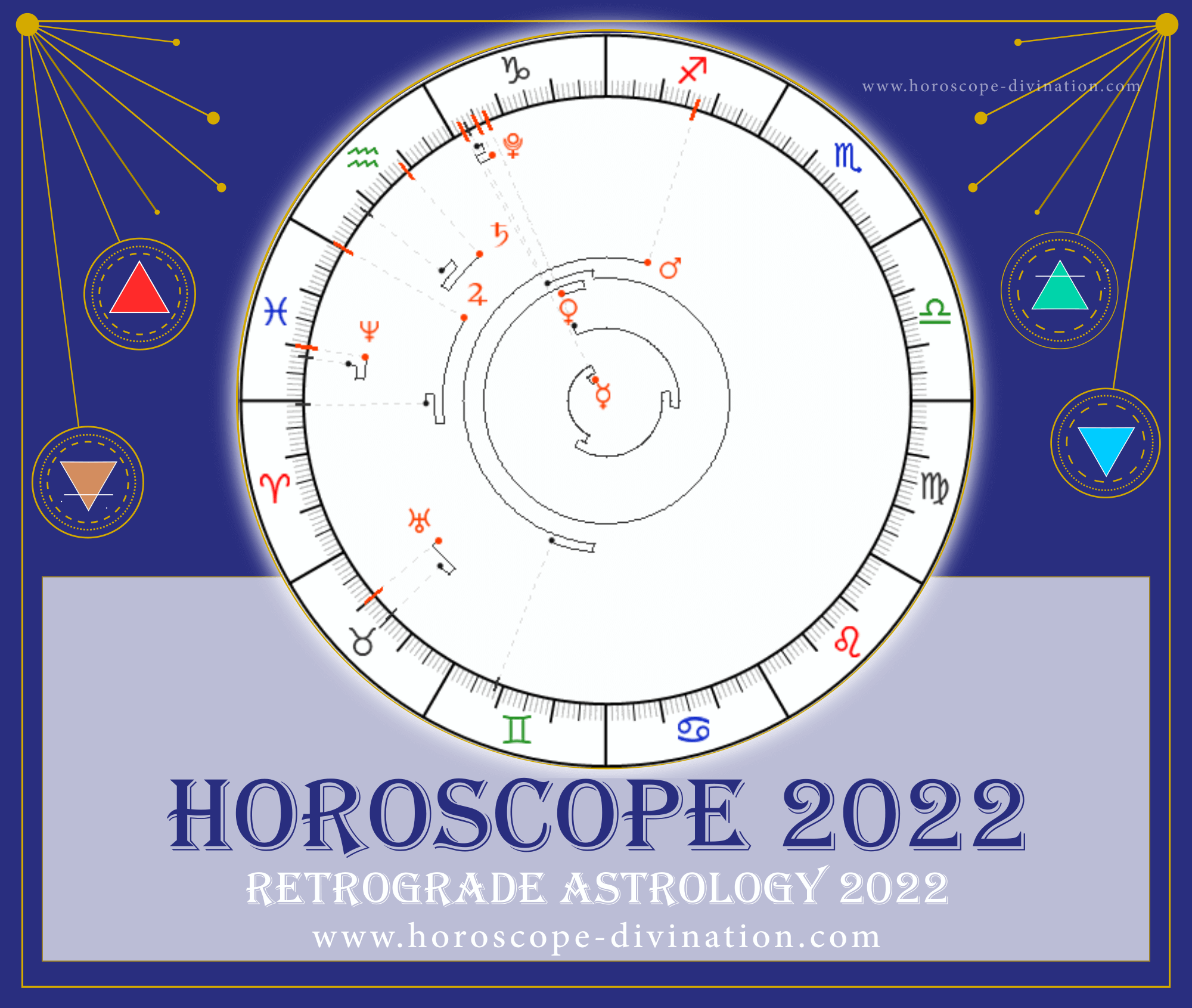 Click on the image above to read all the important information about the Retrograde Planets of 2022 and their impact on Horoscope Taurus 2022. Below you will find a list of terms important for your energy, vitality and for the overall Horoscope Taurus 2022.
Mercury Retrograde and Horoscope 2022 Taurus
14 January 2022 (in Aquarius 10 house) - 04 February (in Capricorn 9 house) (For 21 days, Horoscope Taurus 2022 is influenced by the first retrograde Mercury)
10 May 2022 (in Gemini 2 house) - 03 June (in Taurus 1 house) (Horoscope 2022 Taurus emphasize transit for 24 days)
10 September 2022 (in libra - 6 house) - 02 October (in Scorpio 7 house) (Horoscope Taurus 2022 is affected by transit for 22 days)
29 December 2022 (in Capricorn 9 house) - end of year 2022 (Horoscope Taurus will hit this aspect for 3 days)
Venus Retrograde - Horoscope 2022 Taurus
01 January - 29 January 2022 (in Capricorn in 9 house) (Horoscope Taurus 2022 talks about this transit during 28 days)
Mars Retrograde - Horoscope Taurus 2022
30 October 2022 - to year 2023 (in Gemini - 2 house) (63 days are affected by Horoscope 2022 Taurus)
Retrograde Jupiter - Horoscope 2022 Taurus
28 July 2022 (Aries in 12 house) - 23 November (Pisces in 11 house) (Horoscope Taurus 2022 is affected for 118 days)
Retrograde Saturn 2022 - Horoscope Taurus 2022
04 June 2022 (Aquarius in 10 house) - 23 October 2022 (Aquarius in 10 house) (This transit affects Horoscope 2022 141 days)
Retrograde Uranus - Horoscope Taurus 2022:
01 January 2022 (Taurus in 1 house) - 18 January 2022 (Taurus in 1 house) (For 17 days, Uranus concentrates its energies on Horoscope Taurus 2022)
24 August (Taurus in 1 dome) - to the start of the year 2023 (The annual Horoscope 2022 Taurus is affected by the retrograde Uranus for 130 days)
Retrograde Neptune 2022 - Horoscope Taurus:
28 June 2022 (Pisces in 11 house) - 04 December (Pisces in 11 house) (the annual Horoscope Taurus 2022 is changed by transit for 159 days)
Pluto Retrograde - Horoscope Taurus 2022
29 April 2022 (Capricorn in 9 house) - 08 October 2022 (Capricorn in 9 house) (aspect affects Horoscope Taurus 2022 for 162 days)