Yearly Love Horoscope 2022 Gemini
(Love of Gemini in relationship, compatibility 2022, and prediction for single Gemini)
Love Horoscope 2022 - Gemini in relationship
The compatibility of Gemini's love with other signs of the zodiac in 2022 suggests that your airy Astrological sign will understand most in love and romantic relationships, or in new beginning relationships, with the airy sign of Aquarius, and with the fiery sign of Sagittarius. With these two signs, especially single Gemini will achieve high compatibility in 2022, and marriages of such love connections will not be affected by the great negative aspects of 2022. Such connections will be stable and firm.
We see the busiest 5th house of joy on the planets in September, when Gemini is hit by several positive transits affecting the love and Horoscope Gemini 2022 of the assigned zodiac sign. In November, 7th house is the hardest hit, and energies focused on romantic relationships. From the point of view of hitting Gemini's home in 2022, we perceive which period will mean for the assigned Gemini the renovation of the relationship, the strengthening of emotions, and the enhancement of love.
In the month of January - from 1st to 29th January, the retreating Venus is located in house 8th, which negatively affects the sexual energy of Gemini, their needs and desires. Trust in your loved ones may be affected, and therefore certain conflicts and quarrels may occur. The period of the relocating Venus is unsuitable for marriages or new relationships. January therefore focuses the strongest energies mainly on finance and the career of Gemini. From January 14th, you will also feel the passage of the receding Mercury in 8th astrology House, which questions the attractiveness of Gemini, define Horoscope Gemini 2022. You will feel the first impact of your ruling planet in retrograde motion from January 14th to February 4th, and this transit can plunge you into depressing thoughts due to your love.
Love, a working relationship, or problems in living together? The Love Compatibility Calculator for Gemini will show you how high your compatibility in love, even in 2022, is with other zodiac signs.
Love and Relationship Horoscope 2022 Gemini for next months
In the second month of 2022, astrological movements also do not indicate any negative or positive effect on the love Gemini in relationship. Your energy will be directed to other areas of your life, and you will focus not only on your career, but also on strengthening family and friendships. The sun moving from the 9th to the 10th astrological house means your socialization of life, and therefore this social position of the sun is suitable for small celebrations or parties in the circle of your loved ones.
After this period, the area of love is closest to March 18th, when the full moon is in Libra zodiac sign and will hit your love from a negative point of view, specifies yearly Horoscope Gemini 2022. However, it will only negatively affect those who remain in inappropriate relationships and marriages. These Gemini will have to focus all their energy for 3 days - March 17th-19th, mainly so that they do not cause conflicts and quarrels over finances. The Full Moon in Libra zodiac sign, in the 5th house, can only hit Gemini if your relationship is already weak and unstable despite this transit. It will remind you that harmony in the relationship is important, and that if you want to build this love, you have to work on it constantly. Thus, from the view of love, the first quarter of the year will present more problems than pleasures.
Subsequently, on April 11th, Mercury's position, with its entry into the 12th Astrological House, represents an influence on emotions and logical thinking. Again, this Transit in love strikes mainly Gemini, who are unsure of their relationship. This influence of Mercury confuses your mind, and pushes you to temptation, because you will feel that someone else is more mentally connected to you than your current partner, underlines Horoscope Gemini for 2022. This influence of Mercury in the 12th house lasts from April 11 to April 29, when you should pay particular attention to your own loyalty to your loved one. Don't engage in relationships that are based solely on physical expressions of passion, because at the end of the year, when you look back on your emotions and decisions, you will be very sorry for your move. Don't be fooled by the influence of the planet Mercury on your 12th house, because your logical thinking can now stand in the background. During April, Mercury will offset the full impact of the month in the 5th house, which occurs on April 16. In duration of 3 days, it brings positive aspects to love in several ways. You will have an excellent opportunity to strengthen the emotional foundation in a relationship. They are even good days to have fun and enjoy an intimate life with your partner. Don't avoid the touches, kisses and hugs that can help strengthen your relationship from April 16 to 18. Subsequently, in April, the negative direction of Mercury again prevails in the 12th Astrological House.
Do you want to try simple divination assisted by a fortune-teller? Do you want to know your destiny not only through the prediction described by Horoscope 2022 Gemini? Try the Online Yes/No Divination for Gemini zodiac sign which gives an immediate answer to your question.
How Sun in 12th House play with Love Horoscope 2022 Gemini
From April 20th, the sun also enters 12th houses, which soothes these energies. You will have an urgent need to create good deeds, and to help others. You will forget about your own happiness and your own love, which can at some point bring negative energy into your relationships. In April, you will learn how to get closer to your partner and how to extinguish the fiery energy that tests you in your devotion and relationship. April will test the love of every Gemini, and it will be up to you how you decide - whether you will fight for your relationship and long-lasting love, or you will be enchanted by a completely new person with whom the future is very uncertain and unclear. retrograde Pluto has been operating in the 8th house since April 29th, and brings an ideal opportunity to explore its own life value. At the end of April, you will look back on the whole month and realize what is really the most important thing for you in the field of love, says Horoscope Gemini. Since then, Gemini has focused mainly on finding meaningful relationships, and it is a kind of rebirth for a long-lasting love that now requires your attention, sacrifice, and determination to improve.
A very demanding April will calm the reorientation of Gemini's energy during the month of May, to the 8th astrological house, which is associated not only with big business, but also with its own sexual energy. On May 16th, the assigned Gemini will feel a positive Full Moon in 7th House of astrology, when you will be fully focused on building stronger friendships and stronger personal relationships. It will affect your family life as a whole, and it will positively highlight your love for your partner, spouse or your children. This transit means searching for safety and security in love relationships, and reminds Gemini how important it is to have someone by your side on whom you can lean, even on more difficult days and times. In the month of May, astrological transits focus their activities mainly on 8th House of astrology and also affect the health of our family members, adds Horoscope Gemini 2022. Now, more than ever, we will need the support and closeness of the person we love, because some aspects have a negative effect, and you will need a strong foothold to overcome any suffering. In May, energy is also focused on family and friends, as many planets are in an excellent position to meet the emotional needs of Gemini.
The second quarter of 2022 closes in June, when energy focuses mainly on work and finance. On June 14th, the Full Moon in 7th house hits very positively. It brings a positive and stable atmosphere to your life in relationships and love. On the 14th, 15th, 16th of June, you have opportunity to build stronger relationships, and even talk to your loved one about this year's vacation. The Moon in the Sagittarius is in a neutral position, so you will get to know your surroundings mainly through your own emotions and feelings. In mid-June, the astrological prediction will give you the opportunity to reveal your secrets to your loved one… To fully hear his worries about your common future. From June 21st, Gemini will be mainly focused on the material area of their relationships, and some Gemini will tend to spend a lot of money. This can also negatively affect relationships with your partner, as your partner will not understand your passion for buying new things. The 2022 Horoscope for Gemini recommends overcoming this lust so that you do not bring negative vibrations into love. On June 23rd, it gives Gemini the opportunity to enchant their partner, because Gemini feel an extraordinary personal charm and strong physical beauty.
Accurate Monthly Horoscope Gemini tells you more about Gemini future in love, health, career, money or relationships. Horoscope 2022 Gemini is also connected with a monthly prophecy. Read all the important horoscopes from the fortune teller for the year 2022.
Relationship Horoscope 2022 Gemini describes positive transit of Venus
Until July 18th, Venus in the first astrological house means a large number of opportunities to enhance the relationship, and to build personal emotions. It is an excellent period not only for single Gemini to highlight their attractiveness, but also for those singles who will now have the greatest opportunity to meet new love. Even New Moon in second house, which occurs on June 29th, means a positive feeling of this aspect, especially in the area of emotions. Venus thus has a positive effect on the sign of Gemini until July 18th, when this positive transit is further intensified by the entry of the ruling planet into the second house. Not only will you be very happy with your personal relationships, but you will be able to share your positive outlook on your relationship and all the things around you with your love. Communication is also very strong, continue Horoscope Gemini, so you can communicate with your partner, even things that have bothered you a lot in the past. Take this opportunity when the planet Mercury and the planet Venus vibrate positively towards Gemini. It strengthens and enhances your emotional status and the closest relationships. The positive transit of Venus in the first house cancels out Full Moon in 8th house, because the moon is in exile and therefore does not feel very well there. A person experiencing the Moon in Capricorn tends to be overly savvy or overreacting to problems in family finances. So if you are one of the Gemini who devotes a lot of time to solving the lack of family finances, the period around July 12th, 13th and 14th will be especially challenging for you. Beware of conflicts or quarrels, because your words could easily hurt those you love. Try to weigh your words so that you do not hurt the feelings of others. On July 18th, Venus moves to another house, and her focus is mainly on finances and the love of singles, which we will discuss in the next lines of the horoscope.
The love of Gemini is subsequently influenced by the period of Mercury's entry into the 3rd house - from 19th July to 4th August. Any concerns we have in our relationships about the emotions of others are now clarified. During the last July days, and early August, Gemini may learn new news that will affect your view of the current relationship. In their emotional life, Gemini build better relationships, and even promote new ideas and methods of education. This is also related to the strengthening of ties between Gemini and their children, or children in the family. It is a favorable period not only towards private relationships, but also towards Gemini's emotions. It also strengthens friendly family relationships. Gemini can express their thoughts without fear, because the opinions of others are similar, highlights Horoscope for Gemini zodiac sign. You will feel like a cloud of happiness, when your loved ones agree with your decisions and with your attitude towards love and emotions. The period from 19th July to 4th August will thus also strengthen such relations, which felt weakened at the beginning of the year. So if you are a Gemini, who in 2022 cares about building good relationships and love, the whole of June, the second half of July and the beginning of August has a positive effect on your personal love relationships.
At first glance, August is chaotically occupied by planets, and thus affects several aspects of Gemini's life. Until August 4th, Gemini feel very positive vibrations towards love, and then the energies calm down. On August 20th, the planet Mars enters the first Gemini's house, where it is in a neutral position and ends its negative effect mainly on Gemini's career chances, which we will see later, ends Horoscope Gemini. This Transition of Mars into the first astrological house is presented mainly through one's own emotions and ability to strengthen love. It will manifest itself in a positive direction not only at work, but also in the privacy of Gemini. It brings the Gemini the strength to overcome the worries of raising children, and to overcome the fatigue of caring for the household. The period of the transit of Mars in the first astrological house also means the possibilities of Gemini to plan a vacation. For Gemini, therefore, a suitable period for rest will be mainly at the end of August 2022, and they should spend moments of rest mainly in the arms of their loved ones. August 26th is another positive day when this neutral position of the planet passes through the house of joy and passion. This house is also called the home of passion and sexuality, but it also concentrates energy on caring for children. 5th House, which is now operated by the planet Mercury, specifies great playfulness, and this period is ideal for a holiday with your children and with your loved one. The family bonds are very strong, and this positive transit affects the Gemini sign from August 26th to September 10th, when direct Mercury becomes retrograde Mercury. So if you are looking for an answer, when is the best time for a planned family holiday in 2022, it is certainly the period from August 23rd to September 10th.
Daily Horoscope Gemini prepare you for the current day. Horoscope 2022 from the Fortune-Teller also means the possibility of daily divination for Gemini zodiac sign.
Love Horoscope 2022 Gemini - September, October, November & December 2022
From September 10th, Mercury becomes retrograde in the 5th Astrological House, and later from September 23rd in 4th House. From September 10th to 23rd, Mercury is settled neutrally, which focuses Gemini mainly on finding their own identity and identifying their views. You will be looking for penetration in a relationship, and you are looking for what you best understand. The second half of September - from September 23rd to October 2nd means the placement of the retrograde Mercury, which is the home planet of Gemini, in the 5th house of joy. Gemini will experience an exaggerated flow of ideas that they will want to realize. Enormous curiosity, and the vast amount of things Gemini wants to do, will separate Gemini's attention from sexual desire, and from building their own relationship. This period thus becomes a time when love will not be so interesting for Gemini, and even in the foreground there is an interest in lasting and childish relationships. During the period of the retrograde movement of Mercury, the sun also enters 5th House. The sun is in Libra zodiac sign in the position of falling, and therefore the energies of this sun acting on Gemini are weakened. If we look at the overall interpretation of the horoscope for the specified, it is clear that Gemini will feel that their relationship is not moving anywhere. These days are also specific to the desire for parenthood. Gemini long for the expansion of their family, for new descendants, they long for a baby ... These energies will affect not only women born in Gemini zodiac sign, but also men who will look for a new meaning in life. On September 25th, 5th House of Astrology will also be hit by the New Moon in Libra, when a person gives great weight to a loving relationship. During this period, Gemini can emotionally hurt those people who now need your encouragement and psychological help. You will focus too much on calming your animal desires, and you do not attach much weight to your partner's emotions and moods. Thus, transit disturbs mainly the love of those in relationship.
October 2nd, 2022 ends the passage of retrograde Mercury through 5th House, ending your childish approach to your own emotions and long-term relationships. On October 10th, you receive as a gift an excellent ability to express yourself, and even opportunities for more romance in life. Mercury moves to 5th House of Astrology from October 10th until October 29th. Thus, several days will affect Gemini and Horoscope 2022, who are engaged in mental activity and their spiritual growth. Gemini will have the ability to develop not only their talent, but also to enjoy the earthly joys of life, such as true love, the joy of children, or fun in each other's arms. Gemini is given the ideal opportunity to enjoy love games, to enhance their sex life with a partner, and since this transit is extremely positive, it encourages Gemini to take the next step in their relationship. This aspect will significantly affect Gemini, who in 2022 decide on an important step in life. It is in the period from October 10th to October 29th that every Gemini has the opportunity to take lasting, functioning and loving relationship to a new level. Whether it's a new family member, first child, or marriage. There is no better time of 2022 than the time when the planet Mercury affects your 5th astrological house of joy and enjoyment of life, emphasize Horoscope Gemini. However, the month of October also brings a huge warning for Gemini, who are in doubt about their relationship. The period from October 23rd, when the planet Venus is located in the 6th house of the sign, is mainly tested by disharmonious relationships. Venus is in the heart of her exile and therefore focuses more closely on the relationships of the signs of the zodiac. Venus will look at whether your lasting relationship can overcome such a negative aspect, or whether it will fall apart. If you are a Gemini who is in an unbalanced relationship full of tears and pain, it is very likely that the second half of October and the first half of November will end this disharmonious aspect. Since Venus is now affecting you, the 6th Astrological House can mainly affect the termination of marriages, love or relationships. This end of the relationship will come mainly from the initiative of Gemini, who no longer want to grope in the teardrop valley, but want to move forward in their emotions and love before the end of 2022. Any Gemini who are in a violent or overly disharmonious relationship that only causes you pain and suffering are recommended by the Horoscope to use the period from October 23rd to November 16th suitable for ending such connections.
Weakened relationships will therefore face a great test in October, which lasts until the transition of Venus to the 7th Astrological House - November 16th. The retrograde Mars, which has been operating on all 12 signs of the zodiac since October 30th, can also cause great uncertainty in love. In Gemini, he acts specifically on the first house. Therefore, there may be mild complications in long-term loving relationships that do not have an excessive and strong emotional basis. Gemini will focus their energy more on future, and they will want to share their steps and desires with someone who is emotionally close to them. Therefore, you will tend to end relationships that do not matter to you in the future. This aspect also strengthens the Gemini's determination to end a lasting painful relationship. With her transition to 7th House on November 16th, Venus is in a very loving position and influences mainly to the enhancement of happiness in marriage and long-term relationships. Gemini think more about themselves than before and about sharing love with the right partner. You forget the temptations that tested your love in 2022, and all the little emotional declines of Gemini have since been forgotten by your partner. You have the opportunity to enjoy the emotional closeness of your relationship and build even more meaningful relationships with your family, underlines love yearly Horoscope Gemini. The second November half is sharply oriented towards the 7th Astrological House, which is the home of relationship and is often associated with the success of marriage and positive relationships. So if you are looking for an answer to the question of which month will be the most romantic month for Gemini in 2022, it is clearly the month of November, which brings Mercury's entry into 7th astrology House, the passage of the sun through this house, and New Moon in House of relationship. These transits and the positive occupation of 7th House of astrology bring a great deal of energy to build your own relationships, and even help you become a counselor in the relationships of others. You will be a popular and charismatic person who will thrive mainly in his own emotions and in love relationships. The period of positive thoughts, positive vibrations, and strong emotions for you occurs in November 2022.
What will be the end of 2022, and thus the last month of the year in terms of love and relationships? The heavily occupied 8th house during the month of December, combined with the effects of retrograde Mars, deprives Gemini of sexual energy. Gemini do not enjoy intimate connections, and focuse more on their health and health of their family members. December vigorously occupies mainly the areas of health, work and personal growth of Gemini, but it also focuses its astrological work on family and friends. In December, astrological transits focus on the love and relationships of the assigned Gemini. It is not until December 23rd that a New Moon enters 8th House of astrology, when the moon is in its exile. It evokes emotional and sexual needs, adds emotional Horoscope Gemini 2022, and this aspect means the breakdown of such relationships, which are based only on intimate pleasure. With the influence of the retrograde Mercury at the end of the year, Gemini is very well aware of what things make sense in their lives. Therefore, they end nonsensical relationships, which have no solid basis, and do not mean any relationship building for the Gemini in the future. If your relationship lacks an emotional foundation, the end of 2022 will remind you of the futility of these connections, which bring you tears and deprive you of positive emotions. The month of December will not significantly affect the Gemini, who are completely satisfied in their relationship. They can look forward to redirecting energies and even better family and friendships, and to increasing their property and financial background. We will discuss more about how the year 2022 will affect other areas of Gemini's life.
Love, Traits of personality, fortune-telling and much more ... The fortune-teller has a lot of information about Gemini Zodiac sign. Find out all the important facts about your zodiac sun sign.
---
Love Horoscope 2022 - Single Gemini
(Love of single Gemini, compatibility 2022, and relationship prediction Gemini)
Love Horoscope 2022 - Single Gemini
The January period of retrograde Venus also specifies the possibilities for the love of singles. The transit of the retrograde Venus strengthens relationships that are strong, and often responsible for the breakdown of relationships that do not have deep foundations in trust. If the relationship between the two people is strong, even this regressvie movement of Venus in January will not destroy it. But what does this transition of the planet of love mean for singles?
In general, January does not seem to be a good time to enter into new relationships unless you are sure that the relationship will grow into deep understanding and love. Many people in this period realize how they need another person in their vicinity, and love for their lives. Therefore, single Gemini can feel a little sadness in life, right at the beginning of the year, because January is reminiscent not only of past relationships, but also of the current situation in love. Although chasing love will not be an ideal approach to life in 2022, January must remind you that love is better than loneliness. From January 26th, the retrograde Venus also strengthens the entry of the return Mercury to the 8th Astrological House, when single Gemini will face unpleasant destructive thoughts or depression. This energy of retrograde Mercury will last until February 4th, when in case of great sadness or a negative outlook on life, it is welcome if you are within the circle of those you love, says love Horoscope Gemini 2022. If the thoughts of the past in your sleep deprived you of sleep, or deprived you of a lot of energy or good mood, it is advisable to seek professional help, when a few meetings with an expert can help you move forward in life and move on. January is therefore a thought to think about one's life, one's past relationships, and one's future. For some Gemini, it can be a very difficult time to confront their past decisions and their current life position. Not only will your own decisions bother you, but you will find it bad for some people to behave towards you in the past. You can handle these complicated emotions yourself if you are a strong and resilient person, but it would be better to focus mainly on your family, who will give you a helping hand whenever you need it.
In February, from an astrological point of view, no aspects are noticeable that would affect the singles. The same is true for the month of March, and thus for the entire first quarter of 2022. Thus, for singles, love does not change significantly. Only in the first month of the year will Geminis have to overcome certain negative energies affecting their mental health, which is also linked to physical energy. Remember that how energetic and vital your mind is is up to you. Only you can allow your mind to think negatively and depressing, and on the contrary, only you can transform this thinking into something beautiful that inspires you in the future. Don't focus on the negative aspects of your past or bring them into the present. Rather, focus on your positive qualities, the strength and energy you can offer the world.
A negative aspect of the love of singles is Venus in 8th House of astrology, which can confuse you so that you will only be interested in a relationship with a secure partner. In April, your decision can be firm and unchanging, when you direct your interest mainly to partners who will satisfy you financially. This position of Venus therefore evokes relationships based on material values, and shallow connections that do not have a long future. This Transit of Venus lasts until the second of May. During April, your superficial focus on the wealthy will be disrupted by the Full Moon for a period of 3 days - from April 15 to 17, when your attention is reoriented to the strong emotional basis of the relationship with the children in the family. These 3 days also give you huge opportunities for new social contacts and a lot of joy from intimate life. Some unmarried Gemini will explore their emotions more deeply, which will help you find self-satisfaction.
From May 2nd, Venus, influencing your attitude to love, will also end its work, and once again draw your attention to the real values of life. June focuses mainly on one's own personality and property. The singles will receive an extraordinary personal charm as a gift during the June period, which has intensified since June 23rd, when Venus enters the first astrological house. It will remain in this position until July 5th, so you have the opportunity to enhance your personal relationships and build new, prosperous connections, Horoscope Gemini underlines. It is a good time for singles to go to society and show all their positive qualities. Thanks to your enormous attractiveness, enchanting other people will be very easy for you. You will feel a great need to be loved, and this fact will move you forward, and you have gained courage and addressed a person you have long been interested in.
From June 23rd to July 5th, there are days to move forward faster that may affect your future. On July 13th, the Full Moon in 8th house indicates a negative effect on your sexual needs and intimate life. The Capricorn in this position of the month manifests recklessly and spontaneously, and so will your approach to relationships and other people. You tend to use all your skills and enjoy one-time fun with someone new, even if it's not your style. However, the Moon in Capricorn warns you to ignore this provocative side of it, because you can hurt the feelings of others.
Single women born in Gemini zodiac sign may be interested in the personality of Men in different zodiac signs. In ASTROLOGY BLOG you could read more about yourself and many more facts from the zodiac world.
Love of single Gemini & Horoscope for second half of 2022
On July 18th, the planet Venus moves to the second astrological house, and this transit focuses its attention mainly on the men of Gemini. They will tend to look for older women in their relationship who are materially secure. It is an aspect that highlights the greed of the Gemini man and unlocks new views on future relationships with unmarried Gemini. August focuses Gemini's attention on love, family and friends. Work will also be very important for Gemini in August, so there will be no time left for new friendships, social events, or new love.
Since September 10th, the single Gemini has focused mainly on achieving its own emotional stability under the influence of the retrograde Mercury, which runs until October 2nd. Gemini's ideas are focused on achieving uniqueness and even on expanding the family. Gemini play with the idea of such relationships that are of practical importance for their future. You will focus your attention on what your mind advises you, not your emotions. You can give a chance to someone who has a practical rather than an emotional meaning in your life. However, you will think carefully about your next steps under the influence of retrograde Mercury, because your decisions may hurt the other in the future. Direct your energy in the right direction so that you don't feel like you're wasting not only your precious time, but you're also wasting other people's emotions.
On September 23rd, not only the retrograde Mercury affects you, but also the sun with its entrance to the 5th house. The sun is in a falling position, and can cause strong desires for children and for starting a family. Therefore, your logical thinking will be pushed even further to the forefront, says yearly Horoscope Gemini 2022, and you will feel that you have to put your emotions aside. But consider whether this is the right solution for your future. In time, you will once again long for deep and passionate love, so you will never be satisfied in a relationship. So avoid having relationships out of your mind only, because it's better to wait for love than to regret it later. On September 25th, your emotions will be intensified by the New Moon in 5th House of Astrology, which affects you over a period of 3 days, from September 24th to 26th. You will give great weight to a loving relationship. It will therefore mainly affect people who are in unbalanced and senseless relationships, which are laid out only on a loving basis. The retrograde Mercury acting on your feelings encourages you to bring a positive aura to your life and find a balance between your logical thinking and emotions. Understandably, this transit increases your resistance to relationships that are based on animal desire. September will remind you that it is high time to end such relationships.
From October 2nd, you are thinking about your present again, and your future in terms of your emotions. Full Moon in 11th house of friendship longs for social events, so you can indulge in a rest in society. Expand your circle of friends, and give opportunities to new acquaintances, recommended by Horoscope 2022 Gemini in the field of love and relationships. From a negative point of view, Venus in the 6th house will affect your emotions from October 23rd to November 16th. Venus settles in exile, and this position means the probable breakdown of relationships that are based on only one plane. It can be financial, intellectual, or just love. However, realize that if Venus causes the breakdown of your new relationship, that relationship would never have a future for you. If you didn't do so during September, October will once again move you to end love affairs that lead nowhere. For singles, it is a very important step in 2022. Otherwise, you will not be able to find the necessary harmony in your life, and this fact will affect not only your future relationships, your own relationship with yourself, but even your mental health. Another astrological transit influencing the love of singles is Venus in the 7th house, concentrating its energies from November 16th to December 10th, 2022. This Venus in a loving position means happy life decisions. It thus closes the possibilities of 2022 for a happy relationship.
For several days during November and December, it wishes love to the singles, and this position of Venus is excellent for expressions of love for others. You tend to build meaningful relationships that will have a solid foundation for the future. During this period, the planet Mars is in a retrograde motion, and so the single Gemini think more about himself, predicts Horoscope Gemini. Thanks to these two transits, you can more easily share love with others, and also easier to express it. Your values focus only on one partner, one who makes sense to you not only practically but also emotionally. The very next day, November 17th, after Venus enters the 7th house, Mercury also works in the position of his exile, also in the 7th house. So by December 6th, it can cause mood swings and your unstable decisions. From November 17th to December 6th, the positive energy of Venus is blocked by Mercury in Exile. From the 6th to the 10th of December, you feel a great harmony in your family life and in your emotions. It is a great pity that the positive influence of Venus will hit your ruling planet in Sagittarius, because this transit suggests that you must be extremely careful when choosing a partner, and reminds you of your previous relationship problems. The month of December belongs mainly to your friends, increasing finances, but also family relationships.
Singles will feel neutral from the time the sun enters the 8th house - from December 21st. You will be more open to the opinion of others, and you will also perceive their life values, which will be an inspiration for you. This movement of the sun also concentrates its energy on financial resources and property, and thus turns the thoughts of the singles in another direction. Again, Gemini may tend to look for a partner who is also financially secure. However, it is not a negative transit, and therefore your entire attention will not be focused only on this property of a potential partner. During 2022, the energies of your zodiac sign will remind you several times how important true love is to you, and how useless it is to maintain relationships based on sexual needs. This fact will once again remind you of New Moon in 8th Astrological House from December 23rd, operating until December 26th, which means the breakdown of relationships that have no emotional basis. The love horoscope for 2022 recommends Geminis to avoid relationships that have no emotional value this year.
Listen to your personal Gemini Horoscope 2022
---
Horoscope Gemini 2022 - Love, Career, Health, Future...
Click the image you like and read more about year 2022...
Horoscope Gemini 2022: Overview - Positive and Negative aspects of 2022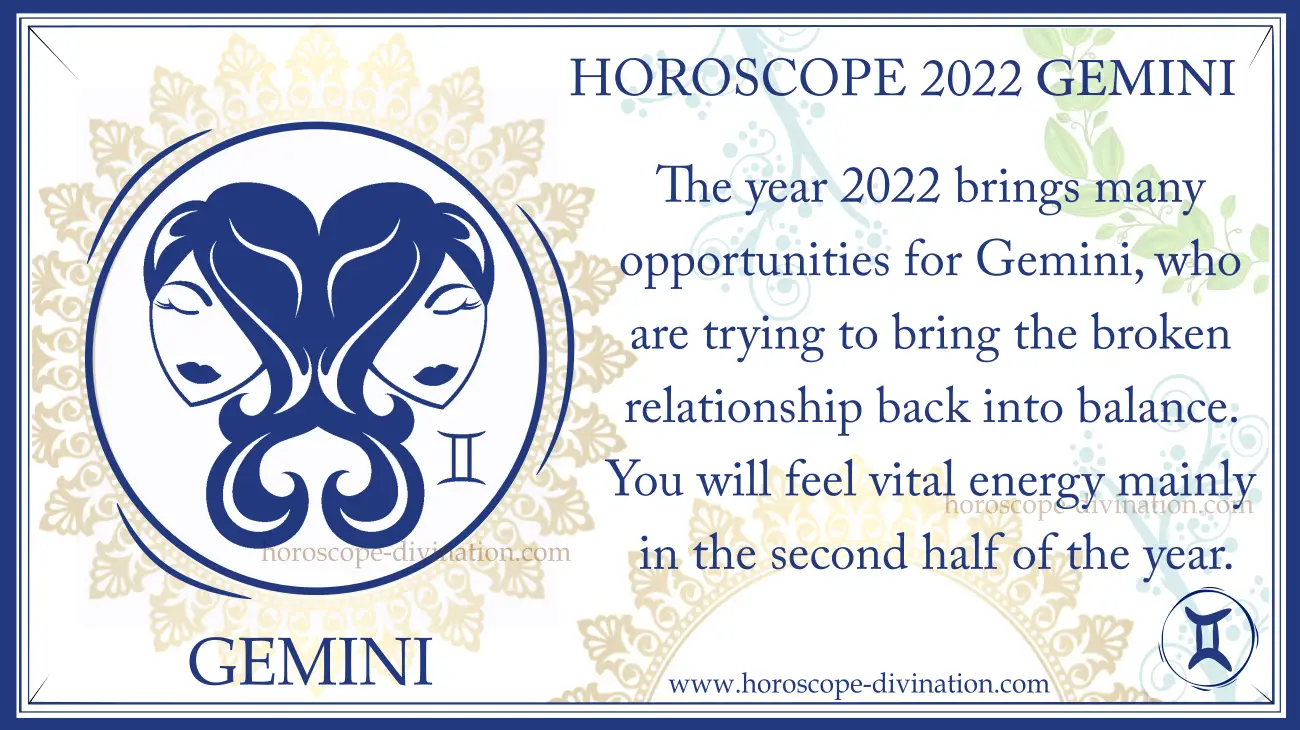 From Love view, the first quarter does not bring any exceptional transits that would positively or negatively affect the energies of Gemini. The first big positive aspect comes during the month of May, when Gemini will have many opportunities in a relationship to strengthen their long-term relationship and marriage... Introduction of Horoscope 2022 Gemini...
Horoscope Gemini 2022 from fortune-teller - Love & Relationships in 2022: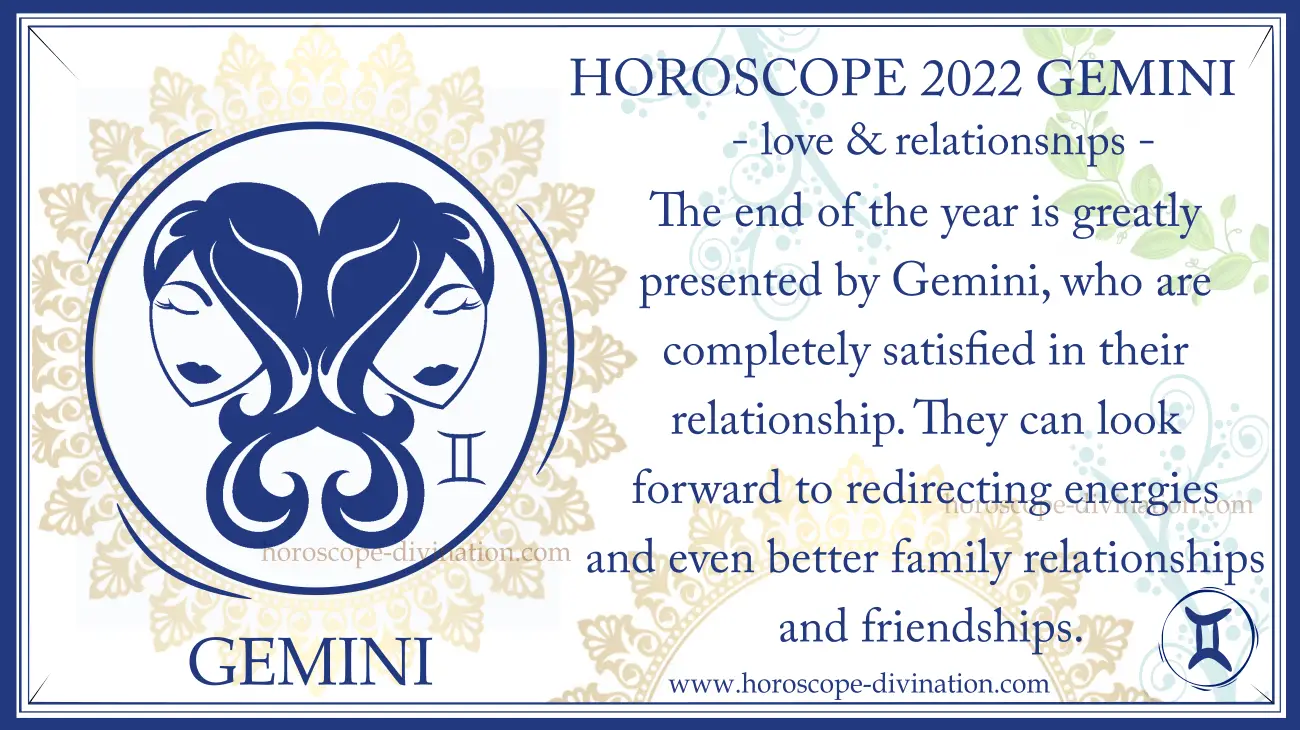 We see the busiest 5th house of joy and pleasure on the planets mainly in September, when Gemini is hit by several positive transits affecting the love of the assigned Gemini. In November, the 7th partnership house is the hardest hit, and these energies are focused mainly on romantic relationships... Read more about Love Horoscope Gemini 2022...
Horoscope Gemini 2022 - Family, Friends, Marriage and Pregnancy in 2022: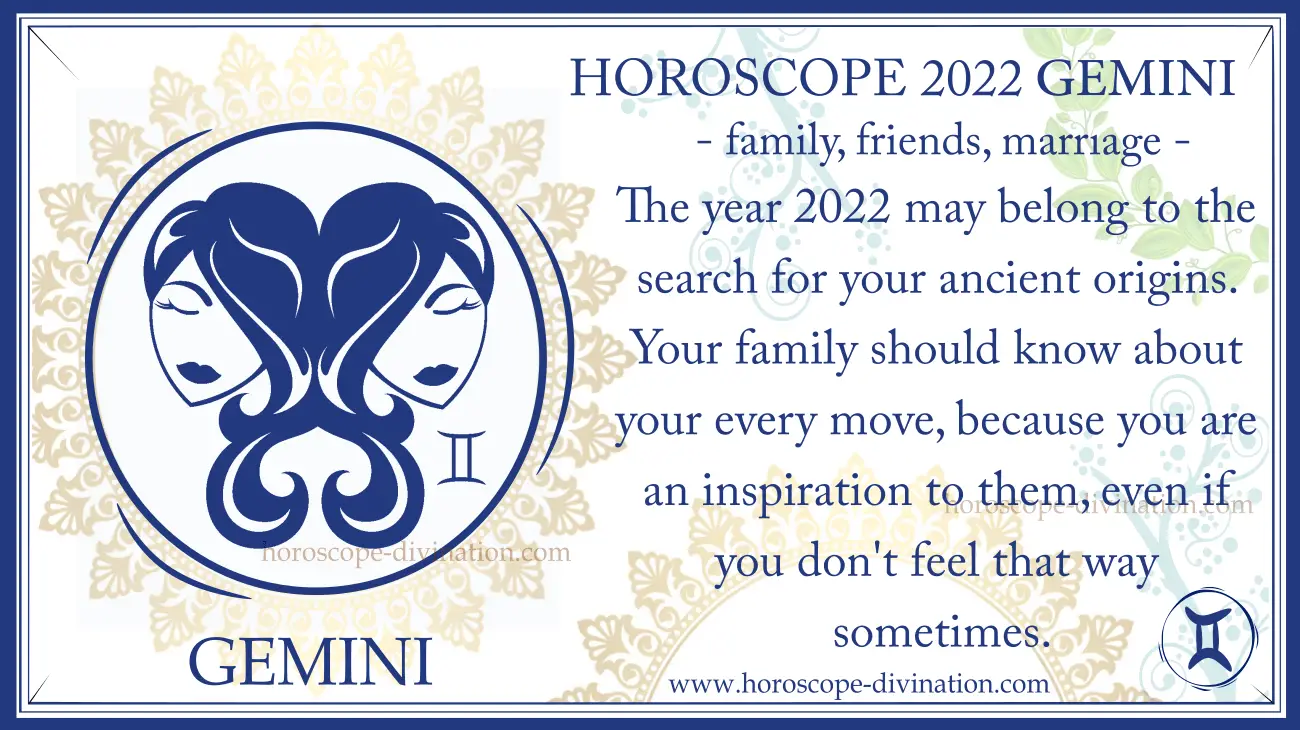 The year 2022 may belong to the search for your ancestors and your ancient origins. You will combine periods of great curiosity with a desire to know yourself. January brings to the life of Gemini a regressive planet that rules you, but also a regressive Venus that brings distrust to the people around you... Read this yearly Horoscope Gemini 2022 - Family, Friends, Pregnancy and Marriage...
Horoscope 2022 Gemini - Career & Finances: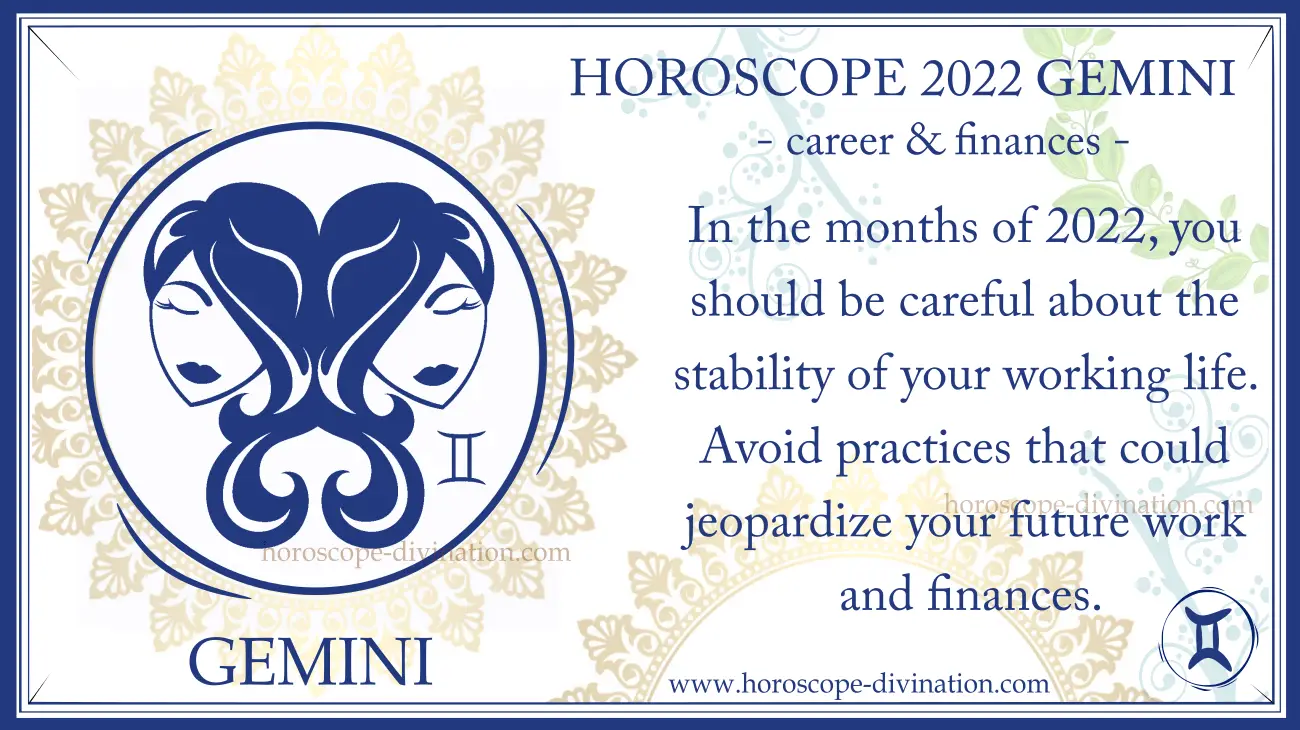 The influence of January's regressive Venus in the 8th house, from January 1st to 29th, 2022, affects not only the energy of love and desire, but also trust in people and interest in things around you. Gemini will overcome a period of lack of interest in things that do not seem valuable in their life... Complete annual Horoscope Gemini 2022 in career and finances...
Horoscope Gemini 2022 - Health & Vitality: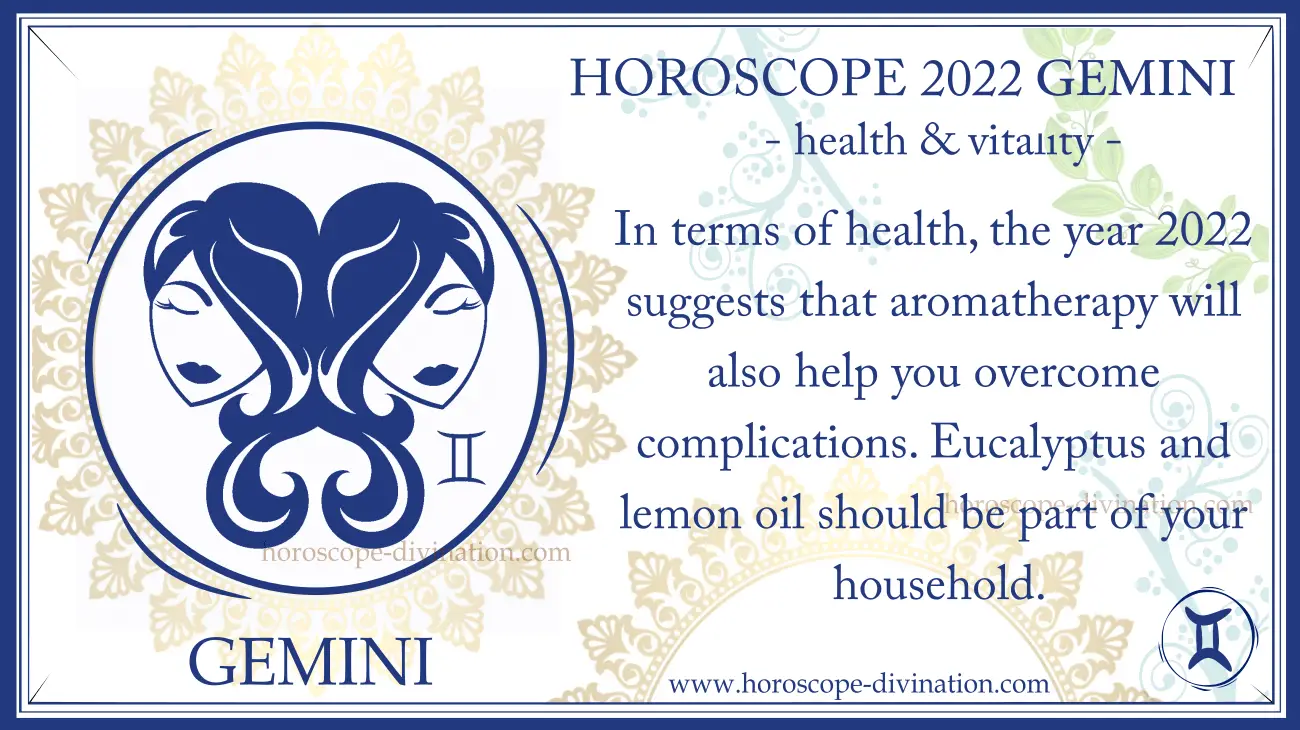 From a health point of view, the year 2022 suggests that each of you should provide your home with essential oils, which are a valuable aid in terms of aromatherapy in dealing with acute headaches or in case of great exhaustion... Read yearly Horoscope 2022 of Health and Vitality for Gemini zodiac sign...
Retrograde movements of planets that affects Horoscope 2022 Gemini
Graph of Retrograde Planets 2022 - Their affect on Horoscope Gemini 2022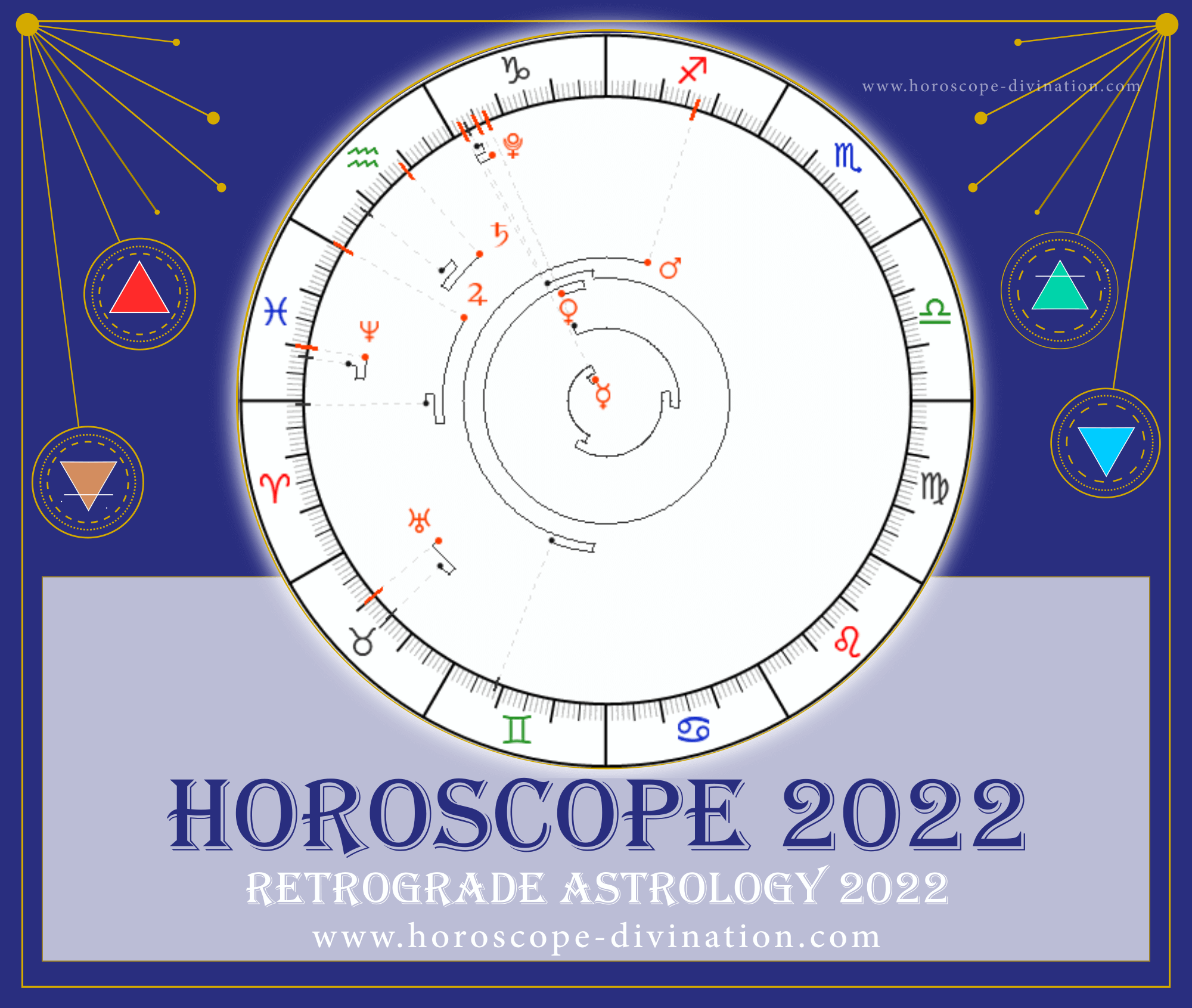 Click on the image above to read all the important information about the Retrograde Planets of 2022 and their impact on Horoscope Gemini 2022. Below you will find a list of terms important for your energy, vitality and for the overall Horoscope Gemini 2022.
Mercury Retrograde and Horoscope 2022 Gemini
14 January 2022 (in Aquarius 9 house) - 04 February (in Capricorn 8 house) (For 21 days, Horoscope Gemini 2022 is influenced by the first retrograde Mercury)
10 May 2022 (in Gemini 1 house) - 03 June (in Taurus 12 house) (Horoscope 2022 Gemini emphasize transit for 24 days)
10 September 2022 (in Libra - 5 house) - 02 October (in Scorpio 6 house) (Horoscope Gemini 2022 is affected by transit for 22 days)
29 December 2022 (in Capricorn 8 house) - end of year 2022 (Horoscope Gemini will hit this aspect for 3 days)
Venus Retrograde - Horoscope 2022 Gemini
01 January - 29 January 2022 (in Capricorn in 8 house) (Horoscope Gemini 2022 talks about this transit during 28 days)
Mars Retrograde - Horoscope Gemini 2022
30 October 2022 - to year 2023 (in Gemini - 1 house) (63 days are affected by Horoscope 2022 Gemini)
Retrograde Jupiter - Horoscope 2022 Gemini
28 July 2022 (Aries in 11 house) - 23 November (Pisces in 10 house) (Horoscope Gemini 2022 is affected for 118 days)
Retrograde Saturn 2022 - Horoscope Gemini 2022
04 June 2022 (Aquarius in 9 house) - 23 October 2022 (Aquarius in 9 house) (This transit affects Horoscope 2022 141 days)
Retrograde Uranus - Horoscope Gemini 2022:
01 January 2022 (Taurus in 12 house) - 18 January 2022 (Taurus in 12 house) (For 17 days, Uranus concentrates its energies on Horoscope Taurus 2022)
24 August (Taurus in 12 dome) - to the start of the year 2023 (The annual Horoscope 2022 Gemini is affected by the retrograde Uranus for 130 days)
Retrograde Neptune 2022 - Horoscope Gemini:
28 June 2022 (Pisces in 10 house) - 04 December (Pisces in 10 house) (the annual Horoscope Gemini 2022 is changed by transit for 159 days)
Pluto Retrograde - Horoscope Gemini 2022
29 April 2022 (Capricorn in 8 house) - 08 October 2022 (Capricorn in 8 house) (aspect affects Horoscope Gemini 2022 for 162 days)