Yearly Horoscope 2022 Capricorn - Work & Money
(Capricorn in career, finances 2022, and money success for Capricorn)
Work Horoscope 2022 Capricorn
In this part, Capricorn Horoscope 2022 will make your prediction clear at work, in Capricorn's career. Whether Capricorn work as an employee, entrepreneur or take household care. Capricorn's work is also extremely important in 2022, so it is necessary to know the prediction of positive and negative aspects, if you want to avoid unexpected surprises in Capricorn's career. Will 2022 be a successful year for a Capricorn career? Will unemployed Capricorn find the coveted job? Should Capricorn expect transits that will cause you to lose your job or make career advancement difficult for Capricorn? All these questions will be answered in this section - Capricorn Horoscope 2022 work and money, which deals primarily with transits that focus energy on your career life.
Capricorn's career and finances will be deeply affected during 2022, specifies astrology Horoscope 2022, also from the point of view of your ruling planet - the planet Saturn. During the year, Saturn passes through the second astrological house of Capricorn, which is home to a career and money. It therefore focuses on tangible and intangible things that have a certain value for each Capricorn. This astrological house is also associated with the personality qualities of Capricorn, and with the value for the future, as well as with wealth. Not only the ruling planet Saturn will affect the career of Capricorn.
Job Horoscope 2022 Capricorn for next month of the year 2022
From January 14th to February 1st, the planet Mercury is also located in the second house, but in this case in Retrograde motion. Capricorn can feel routine in Capricorn's career, because Retrograde Mercury pushes you not to invent anything new, to progress in a well-established job. The Retrograde Mercury from January 14th to February 1st can cause a little laziness and comfort in Capricorn, warns annual Horoscope 2022. On the other hand, there is nothing wrong with relaxing in January and trying to recharge your batteries for the next months of 2022, because there are several transits of the year talking about your career. In January, it's a good idea to complete all the running tasks and projects that you haven't had time for before.
The transits of astrology and Horoscope Capricorn 2022 suggest that Capricorn should now be given the opportunity to take important steps related to your career direction and progress. January 2022 is not a good month for unemployed Capricorns, because under the influence of the Retrograde Mercury, he does not recommend starting anything new - not even a new job. However, Capricorn can focus on creating a quality resume that will be your powerful weapon throughout the year. Capricorn Horoscope 2022 strongly encourages unemployed Capricorns to care about a good resume and a good reputation, which is now very much needed. The power of Retrograde Mercury acting on every Capricorn, specifically on your second astrological house, has been in effect since February 4th, when Capricorn perceive the sun in conjunction with Saturn.
This is a very positive transit of the sun, mention Capricorn 2022 Horoscope, in conjunction with Capricorn's home planet in another astrological house. It not only brings you material appreciation, but also means a number of new opportunities for the unemployed, and gaining a new perspective on your career direction. In February, it will be much easier for each Capricorn to take responsibility for projects, but also for their own work. If you tidy up Capricorn's office or home in January, February will surely reward you. A Capricorn that is now interested in career growth may be disappointed. Under the influence of astrological February transits, you find that Capricorn do not always get what Capricorn deserve for Capricorn's work. However, do not shake your head, because in the coming months there will be very positive astrological transits, which will allow employed Capricorn even a change of job and better working conditions in the future.
Some Capricorns will consider starting a business in 2022, emphasize Capricorn yearly Horoscope. The second half of February, specifically the period from 14th February, is an ideal period for this, lasting several months. Capricorn start a business if Capricorn have thought about it carefully. However, the Capricorn will be successful if, during 2022, it connects with the sign of Aries and Sagittarius. These zodiac signs offer Capricorn a new perspective on work, and career ideas, and can be very promising for Capricorn. During the month of March 2022, your family life is connected with Capricorn's career. If Capricorn is in a business that Capricorn run with members of your family, Capricorn will now be extremely successful according to horoscope 2022.
March 2022 is the month when Mercury passes through every zodiac sign, passing through 2nd astrological house, but also the sun in the 3rd house of the family, creativity and household. Since February 18th, this has been successful not only for those who work with family members, but also for every Capricorn, whose job is to take care of others and the household. Now Capricorn can shop, cosset your home, and shift your daily work mainly to caring and improving your home. Every Capricorn needs to feel harmony and a cozy home in the 1st half of 2022. It is Capricorn, whose job is to take care of the household, will play a very important role in March, which will last until April 15th. During this period, focus mainly on identifying yourself with Capricorn's home and cozying the common household, so that other people at home feel comfortable and safe. The horoscope also does not indicate any financial losses that would affect Capricorn in 2022 first half, so Capricorn can replace non-functioning appliances with new ones.
Also positive in March 2022 is the fact that unemployed Capricorns will have their doors open to whatever activity they desire. Several unemployed Capricorns will also be able to find a short-term job that will be financially advantageous. Don't just focus on long-term work, and don't be afraid to take a part-time job or work on a temporary basis. In March, every unemployed Capricorn needs to enrich his family budget, so every job, including a part-time job, is welcome.
Throughout 2022, Saturn comes into play before the second house, which means ambition and diligence. However, it also evokes a sparing and gentle nature, and so Capricorn will be the one to tame large household purchases. However, your friendly nature can be a very positive element for Capricorn's work, especially if Capricorn work in the field of banking or insurance. Show clients how they can save Capricorn to make their lives better. Any Capricorn who works with money and takes care of other people's money wishes for 2022 a lot of success, career advancement and increased profits. For the unemployed Capricorn, this Saturn means great ambition and a desire to move forward. You may also encounter obstacles, or more complicated tasks, due to Saturn in a directive position, which affects you from January 1st to June 4th, and is a great helper for every Capricorn.
In year 1st period, other positive Astrological transits are added to the directive Saturn, which will enhance your charismatic radiance and opportunities for career success. For example, at the end of March 2022, Mercury was active on the 4th Astrological House, which again has a beneficial effect on family relationships, Capricorn 2022 Horoscope, but also increases work commitment, also your analytical way of thinking, and also wishes every Capricorn working in the household. Capricorn must not suppress your natural expression of personality, and Capricorn must involve your family members in Capricorn's career activities. They will certainly advise and help Capricorn at a time when Capricorn do not know where to go next or what step to take to make you feel better at work.
The directive Saturn - your ruling planet, accompanies you throughout first half 2022 in a very positive spirit. From April 5th, Venus enters the 3rd house, and passes through the sign of promotion. It is for this reason that Capricorn will feel Venus in her very strong expression, because this planet of love gives you excellent communication skills and evokes a huge charm of personality.
Love, a working relationship, or problems in living together? The Love Compatibility Calculator for Capricorn will show Capricorn how high your compatibility in love, even in 2022, is with other zodiac signs.
You may have more work, specifies Horoscope Capricorn 2022
In April, the period comes again when unemployed Capricorns manage to find long-term employment. Capricorn can also get some work contacts while traveling. From a certain point of view, the whole of April belongs to the business trips on which Capricorn will be sent. From a certain point of view, however, unemployed Capricorns will also thrive, who will also take a chance to get the desired job abroad and succeed in a new place. The positive April transits of 2022 concern all Capricorns - employed Capricorns who run a business, even students and those who take care of household. The sun in the sextile of Saturn in the 4th house is added to the positive astrological movements of Venus and the planet Mars passing through the 3rd and 2nd houses.
In the second period of April, the sextile of the sun with Capricorn's ruling planet brings you a huge work ethic, patience and perseverance. All these positive effects of astrology transits on Capricorn Horoscope 2022 are passed on to every Capricorn who wants to achieve success or progress in life. If Capricorn is thinking about career growth, in April Capricorn must show all your weapons to your employer, who will now appreciate Capricorn's work performance. If Capricorn is thinking about changing your profession, because the current profession does not entertain and exhaust Capricorn, it is during April 2022 that Capricorn can decide on this great step in life. In the second half of the year, the Retrograde ruling planet Saturn arrives, which influences you in several ways, and you are rewarded with the opportunity to look for new career opportunities.
From April 13th until the end of the month, younger Capricorns will feel immense curiosity, and wisdom from learning and seeking information. In April, every Capricorn will be able to improve its life status. If Capricorn is a student, April gives you many opportunities to improve your learning outcomes. If Capricorn is a Capricorn working on a project in which he is stuck and does not know where to move in life, it is high time you sought the advice of someone older in Capricorn's area. The sextile of the sun and Saturn and Capricorn Horoscope 2022 as well say that an older person near Capricorn can be very helpful during April, especially in Capricorn's career. This applies to entrepreneurs as well as employees who have a project in place that is causing you wrinkles on your forehead.
From April 15th, therefore, most Capricorns can expect to be sent on a business trip by their employer. Mars enters the 3rd house, Capricorn is ready to communicate until May 10th, and fast and effective thinking is at the forefront of Capricorn's life. Capricorn is an adept for promotion in eyes of your employer because you can communicate directly and prudently. Do not refuse such a great opportunity, underline Capricorn Horoscope, especially if another person born Virgo zodiac sign, Pisces, Aries or Sagittarius is going on a business trip with you. These working trips will be extremely successful for every Capricorn. Capricorn have strong logical thinking, and Capricorn can engage others through your verbal expression. Business trips can also apply to entrepreneurs, who now do not need to expand their business abroad. Capricorn can do so from April 15th to May 10th, when the transits passing through your zodiac sign are extremely favorable.
For the second time since May 10th, the planet Mercury has been moving into Retrograde movement. This second Retrograde movement of Mars hits every Capricorn to a deeper extent, and affects the 6th and later the 5th Capricorn House. There can be a lot of chaos in Capricorn's life, foretell Capricorn 2022 Horoscope, and especially in Capricorn's work. Sometimes you do things without realizing what you're doing. As a result, mistakes may arise in Capricorn's work, but they are closely monitored not only by your superiors but also by your co-workers. These mistakes in decisions, and in work procedures can even make many Capricorn a career position. Even entrepreneurs born in Capricorn zodiac sign will now sweat more. Capricorn will pay a lot of attention to the projects Capricorn is now covering and control other people more. To all these negative aspects of Retrograde Mercury are added the impaired communication skills of each Capricorn and the discrepancy in decisions, actions and thoughts.
A complicated period also occurs for students, and for unemployed Capricorns, who from May 10th to June 1st do not receive opportunities for change. In any case, when Mercury moves Retrogradely, it is not recommended for Capricorn to make big decisions in life. Therefore, Capricorn Horoscope does not recommend you to embark on a career change or start a business now. The problematic period related to the moving Mercury recedes on June 1st, but the positive vibration towards Capricorn will not last long.
Summer Work Horoscope / June, July & August 2022... Horoscope prediction 2022 for Capricorn
As of June 4th, your ruling planet Saturn will also be moving Retrogradely in the 3rd house. So from June 4th to October 23rd, your ruling planet will show Capricorn full strength in the Retrograde motion. First of all, the way you communicate with others can be significantly impaired. Secondly, Mercury shows Capricorn to stay in a job that makes you feel bad and that causes you problems. In other respects, Retrograde Saturn also causes a number of different problems, such as the mismatch of thoughts with actions such as perceiving the world in black and white, and the promotion of one's own views with hard hands, quarrels, and sometimes even childish behavior.
From June 4th to October 23rd, there is a difficult period for every working Capricorn. Whether you take care of the household, are a business or a long-term employee, or Capricorn is an unemployed Capricorn. All of these groups of Capricorns are hit by the Retrograde Saturn, which blocks opportunities for change, progress, and delivers your thoughts deeper into itself. Even the process of learning and prudent perception of the thing Capricorn want to learn is now slowed down, and so Retrograde Saturn is also under the feet of students born in the sign of Capricorn. However, some astrological transits block the negative vibration of Saturn during these months, which has a positive effect on several Capricorns and astrology Horoscope 2022. The first positive transit that overcomes the movement of Retrograde Saturn is the Sun trine Saturn - it brings success and recognition.
Capricorns who worked hard and without mistakes will be rewarded for their previous efforts. It will now be easy for Capricorn to achieve his goals, but on the other hand, Retrograde Saturn and also Capricorn 2022 Horoscope does not recommend Capricorn to change your job. At June 2022 end, Mars gives you the strength and ambition in the trine with Saturn to overcome obstacles that have occurred in past periods. The powerful, warlike planet Mars trine Saturn finds a very effective way for Capricorn to fulfill all Capricorn's work duties. Certain Capricorns can be rewarded by unexpected joy, something valuable that Capricorn didn't even expect. The end of June 2022 and the aspect of Mars trine Saturn also means excellent interpersonal relationships between co-workers, which is a good sign for unemployed Capricorns, who can focus mainly on jobs where teamwork is required.
From July 22nd, the sun preceding its home has been operating on the 8th Astrological House. Once again, the unemployed get a chance, but they are now very intensively looking for any job. From July 22nd to August 28th, Capricorn can once again focus on short-term work that will bring you some financial improvement. You don't have to focus only on long-term employment, because you're probably not on the right track yet, and Capricorn need time to discover your coveted job. From July 31st, Astrological Transits will once again wish the unemployed Capricorns. They have the opportunity to travel for work. In August, Capricorn can focus on your dreams, because transits indicate business trips that will be linked to rest and success. These transits last until the second September part of 2022.
Horoscope Capricorn 2022 describes also transits Affect in October, November & December 2022
You have an ideal opportunity to expand your area of interest, and also focus on career opportunities abroad. Capricorns that are not strongly tied to their current job and are considering a change can gradually gain an overview of what job opportunities they will find in other cities or in another state. In September, it is very important for every Capricorn to find a match between the time spent at work and the time he devotes. Relaxation, education, reading are welcome during September. Capricorn should choose active recreation, whether through creative activities or sports. In September, your body needs a comprehensive break, which will later give you the opportunity to move forward. Focus on the form of relaxation that is close to Capricorn and that Capricorn can connect with Capricorn's family members or your loved ones. However, don't spend a lot of money on this form of relaxation, because the Retrograde movement of your ruling planet again reminds you how important it is in this period to save and buy only the things you need.
Saturn's Retrograde motion in 2022 will have a major impact on every Capricorn and accurate Horoscope 2022. However, his Retrograde movement ends on October 23rd. From this day on, it is moving in a directive direction, and the energies related to your career and your finances are once again harmonizing. In the 2nd half of October, when the transit of Saturn is already in decline, Capricorn can even invest or consider buying real estate. From October 23rd, the sun will move through the 11th house and strengthen your collegial relations with Capricorn's co-workers. Entrepreneurs and employees are successful, and team understanding is an essential part of their work.
In November, every Capricorn feels more shy and closed as more astrological transits pass through the 12th house. This means that Capricorn will be deepened into your inner feelings, and you do not have much time left to solve work problems. However, there will not be many problems, define astrology Capricorn Horoscope 2022, only those related to unfinished tasks. From November 22nd, the sun passing through the 12th astrological house marks the pursuit of perfection in Capricorn's work, and in Capricorn's home. Capricorn desire recognition and satisfaction, and therefore every job in which Capricorn is underappreciated, misunderstood and overlooked discourages you. At the end of 2022, each Capricorn has a suitable opportunity to change professions, and to change careers overall. You need to find a job where Capricorn find personal satisfaction.
Capricorn Horoscope 2022 recommends Capricorn to use the period from November 22nd to the first days of 2023 for this big change in Capricorn's life. It gives you wisdom, and a desire to learn in any field that interests you. A constant stream of thoughts can deprive Capricorn of quality sleep. Whether at home or at work, you now have the opportunity to get a job literally for two, and find ways and methods to further improve your work performance. The end of 2022 is very favorable for every Capricorn. From September 10th, students and also unemployed Capricorns, whose personal charm and pleasant demeanor help to achieve their goals, are thriving again. In general, Capricorn will have a positive attitude toward life in December, which will strengthen your overall attitude toward yourself. The patient, persevering and hard-working Capricorn can thus end the year 2022 according to his own wishes and needs.
The year 2022 will be hit hard by the second Retrograde Mercury, as well as your Retrograde planet Saturn, which results in less work. The career life of Capricorn will be very rich. Capricorn have the opportunity to travel abroad, get to know your own work needs, and also take care of your household. Every Capricorn will face certain changes in 2022. However, choose the right transits, and the periods associated with these aspects that affect Capricorn, to make the right decisions and changes related to your career. If you want to start a business, the most suitable period is at the beginning of 2022. An ideal opportunity for business trips is not only in the first half of the year, but also at 2022 end. The unemployed also get a chance to succeed. The end of 2022 boasts a huge number of positive transits that help you complete all the tasks and move to 2020 with clean energy related to Capricorn's work.
Accurate Monthly Horoscope Capricorn tells Capricorn more about Capricorn future in love, health, career, money or relationships. Horoscope 2022 Capricorn is also connected with a monthly prophecy. Read all the important horoscopes from the fortune teller for the year 2022.
---
Horoscope 2022 Capricorn - Money
Capricorn finances in 2022
Were you born in Capricorn zodiac sign and wondering if your finances will be stable during 2022? Is there an extraordinary expense related to electronics, car or household waiting for Capricorn? Are you waiting harmoniously for a year, or should Capricorn prepare for extraordinary financial expenses that will shake your family budget? What financial stability awaits every Capricorn during 2022, when your ruling planet passing through 2nd astrology house acts on your energies, based on the Capricorn 2022 Horoscope? The soothsayer has also prepared a forecast for every Capricorn who is interested in finance and the financial future this year.
As Horoscope Capricron for 2022 mentioned in the previous section, your ruling planet, Saturn, moves to another astrological house throughout the year. The slowly moving planet Saturn passing through the second house may increase the desire of every Capricorn to increase material possessions, to buy large valuable material things, but it also causes extraordinary thrift, especially at a time when the planet is Retrograde. You may feel trapped because of the hard work Capricorn do at your job, in business or at home, or while studying, describes annual Horoscope for Capricorn zodiac sign 2022. You may not receive sufficient financial remuneration for Capricorn's work. In some ways, Capricorn will not be far from the truth, but some logical transits also predict success and happiness about financial intentions during 2022.
The first important astrological transit in terms of the early months of 2022 is January's Retrograde Mercury from month of January 2022 14th to February 4th. The return of Mercury causes problems especially for those Capricorns who in the past spent money recklessly and spent money on big purchases. Capricorn, which at the end of 2021 succumbed to a large purchase of unnecessary things, or excessive spending on itself or family members, may feel anxious in January about finances and the financial budget.
The transit of the Retrograde Mercury will also affect those Capricorns who suffer from certain money-related addictions. You should avoid any games or bets that impoverish your family budget and cause you even more wrinkles on your forehead because of your money, specify financial Horoscope for Capricorn. Retrograde Mercury from January 14th to February 4th brings the karma associated with Capricorn's finances. If Capricorn treated your finances prudently last year, you won't even feel this Retrograde Mercury. Otherwise, Capricorn will be struck by depression, thoughts of failure, and awareness of your financial downfall. Fortunately, these are the energies that will end with the end of this transition from February 4th.
Since then, Astrological transits affecting Capricorn's finances have been rather positive. The sun in Saturn's conjunction right after the Retrograde Mercury has passed brings a rather sober look at your finances, so you focus on success and forget about the feelings of insecurity from last month. This energetic entry into the second month of 2022 brings Capricorn comfort to your emotions and to the feeling of your own safety. Mercury, passing through astrology house number 2, has been added to the positive conjunction of the sun with the planet Saturn since February 14th.
Transits of astrology are strongly focused on the second house, especially in the months of February, March and April 2022, when every Capricorn will be very successful financially. Capricorn can expect success for your previous well-done work, as well as extraordinary rewards and winning. The horoscope is predicted mainly during the month of March, when Venus passes through second house of astrology and Mars also passes through the same house. Mercury joins these two positive aspects in the conjunction of Saturn, so Capricorn is again very elegantly coping with the previous financial difficulties. You focus on normal responsibilities, but enjoy financial stability and a good financial background.
Venus and Mars in the second astrological house, which have been passing through this house since March 6th, also mean sudden enrichment. Capricorn will probably be able to raise more funds through inheritance or through your partner. Focus on your material resources, and on making money. From the beginning of March until the first half of April 2022, Capricorn can also consider buying a property. This applies to those Capricorns who have been considering buying real estate for a long time. In January, under the influence of Retrograde Mercury, some household electronics may have broken down. The months of March and April are good times for you to replace this spoiling electronics with a completely new piece.
Capricorn don't have to worry about financial instability, and Capricorn can indulge in things Capricorn can't buy again. Venus is located in the positive vibrational field of Capricorn where he feels safe, especially in connection with finances. From April 2nd part, Mars enters the 3rd Astrological House. While Capricorn may experience some difficulty communicating with other people, this well-built Mars gives you the disposition to improve the funds associated with Capricorn's job. Every Capricorn now has an ideal opportunity to apply for a salary increase in employment. In most cases, it is clear that Mars will comply with this request.
Financial Stability according to the Horoscope Capricorn 2022
Since April 20th, every Capricorn has shown a huge creative spirit, so some Capricorns can also make a living with creative activities. Remember the previous hobbies you loved in the previous period. Take on this hobby and find out how you could make extra money with this hobby of yours. Remember that the road to success is often long. Capricorn cannot achieve financial success without your own fault and even if you do not persevere in Capricorn's activities. Anyway, Capricorn can start, just in April 2022 second half, when all the Astrological Transits wish you success and great progress in Capricorn's decisions.
For the second time, the planet Mercury is getting the word out in Capricorn's finances in Retrograde motion. Again, it can cause a lot of problems with electricity in the home, but this time you should also watch out for your car, which may be in danger under the influence of this reversing movement of the planet. Greater spoilage of your car will also cause instability in Capricorn's finances and concern about your money saved. Your thoughts will focus not only on finances but also on other life directions, but the areas of Capricorn's life will often also be connected with Capricorn's saved money.
Capricorn Horoscope 2022 does not anticipate extraordinary expenses during the Retrograde movement of the planet Mercury, Horoscope warns you to pay more attention to your things, and problems with broken electronics or a broken car. Do not neglect the persistent problems of your vehicle, as later the expense related to your machine may be multiple. Every Capricorn will have a reward at work from June 16th for the rest of 2022. This remuneration applies mainly to older Capricorns and those who hold managerial positions. However, every Capricorn gives me the opportunity to seize some extra money for myself, whether Capricorn is a student, or a housewife, or a business. Fate will bring you a certain possibility, which will be related to the improvement of your financial budget. Which is extremely good news, especially for the month of June 2022, when Capricorn can expect an extremely positive surprise related to your money.
In July, some Capricorns will consider long-term investment. Since July 13th, the planet Venus has been in the trine with Saturn, which is an ideal opportunity for long-term investment and decisions related to deferred money. Capricorn feel more stability and security in Capricorn's finances, so Capricorn can focus on how to make even more of this money. Astrological transits predict that your decisions will be right, but don't forget to consult with Capricorn's partner or the person closest to you during July. July is generally the most harmonious month in love for Capricorn, so these energies should also be linked to your financial decisions. The month of August has a different effect on the energies of each Capricorn and on Capricorn astrology Horoscope for 2022.
From August 11th to September 5th, again each Capricorn can capture the chance to win, or the extraordinary financial improvement coming from someone around Capricorn. This money may be related to your family members, your partner or your friends. So listen to opportunities for investment, nice earnings, or for work that may be of interest to you. Every Capricorn should be wary in August, because opportunities are all around. Just perceive them.
Will Capricorn be lucky based on astrology Horoscope 2022 in finances?
The second half of 2022 brings a variety of energies, where Capricorn will connect Capricorn's life with family, friends, but Capricorn will also feel shy and closed in Capricorn's decisions. In October, some of your friends will ask Capricorn for a financial loan. It will not seem big to you, but you should rather politely and diplomatically reject it. Capricorn yourself feel a certain financial stability mainly due to the Retrograde movement of your ruling planet, so there is no time for any loans for your family members or your friends. This motto is valid from the beginning of June until the end of October 2022, when Capricorn's life is affected by the Retrograde Saturn. Don't lend money to others, because this loan can be avenged.
The end of 2020 - the specific months of November and December are extremely stable for Capricorn money. In November, Capricorn have to fight against a slight decline in energy, and with Capricorn's vitality, especially in connection with interpersonal relationships. This shyness can mainly cause the Capricorn to tighten into itself, so Capricorn will not have the desire or time to spend money for your own pleasure.
Throughout 2022, Saturn reminds Capricorn how important it is to save money and not change your earnings or your savings on trivial things. In this spirit, the whole year of 2022 will be conducted, ending with the positive aspects of December. December predicts that students will also prosper financially, and that thanks to communication and new ideas, all Capricorns who are not afraid to start new projects or monetize their ideas will have the opportunity.
So is 2022 a good year for Capricorn? Capricorn Horoscope 2022 specifies that it certainly is, although Capricorn will tend to save more, and therefore may seem to him in the eyes of others around him.
Daily Horoscope Capricorn prepare Capricorn for the current day. Horoscope 2022 from the Fortune-Teller also means the possibility of daily divination for Capricorn zodiac sign.
---
Horoscope Capricorn 2022 - Love, Career, Health, Future...
Click the image you like and read more about year 2022...
Horoscope Capricorn 2022: Overview - Positive and Negative aspects of 2022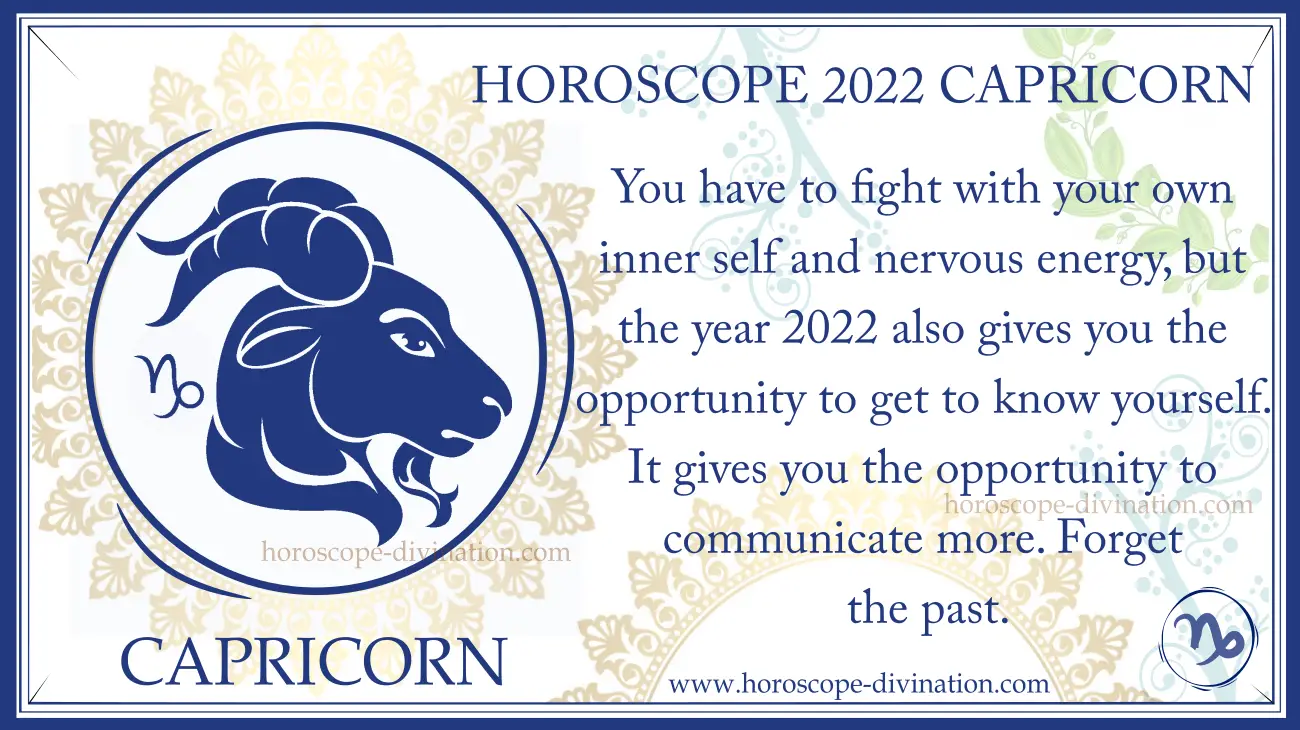 January is a month of a certain cleansing of Capricorn. You clean the energies of the past and deal with the real feelings of your partner. You enjoy the connection with your love at a higher level and you don't mind focusing on communication... Introduction of Horoscope 2022 Capricorn...
Horoscope Capricorn 2022 from fortune-teller - Love & Relationships in 2022: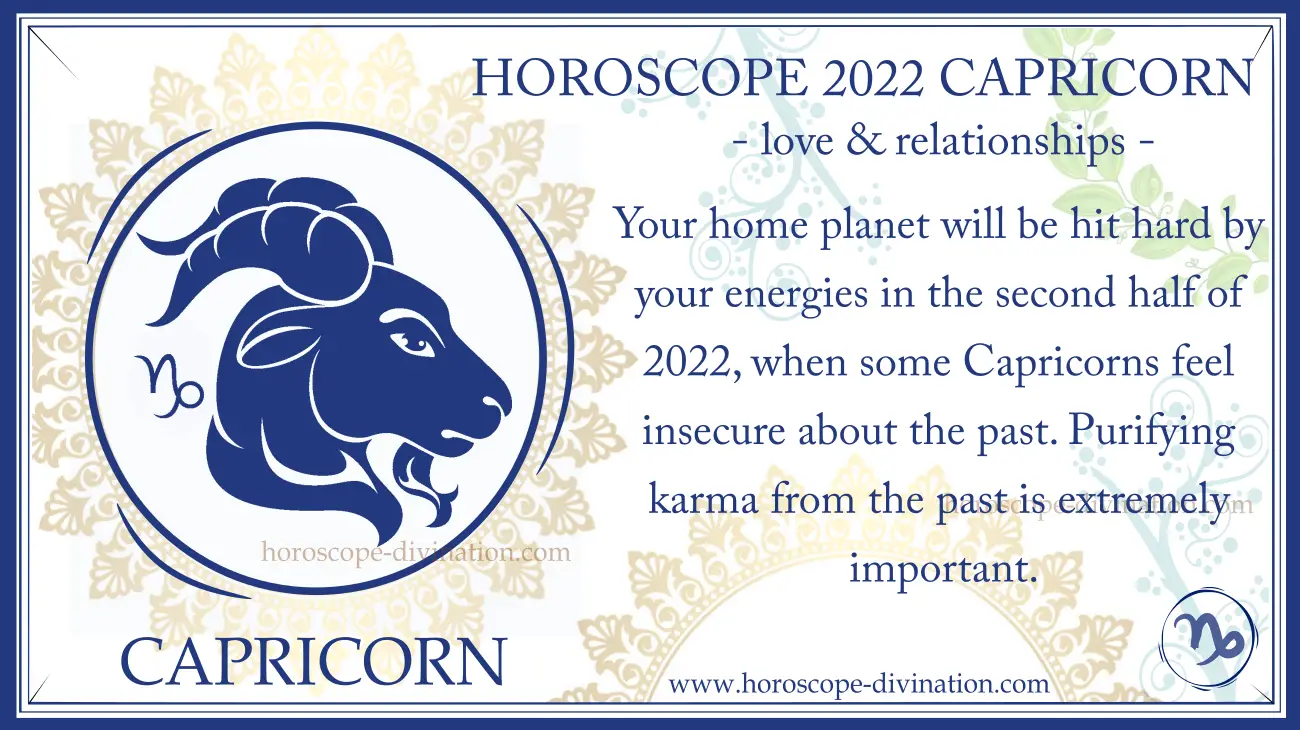 In this part of the horoscope, we will talk about the long-term relationships of each Capricorn. Find out how astrological transits affect interpersonal relationships with your partner. We will draw your attention to the most important problematic dates of 2022 in connection with your partnership... Read more about Love Horoscope Capricorn 2022...
Horoscope Capricorn 2022 - Family, Friends, Marriage and Pregnancy in 2022: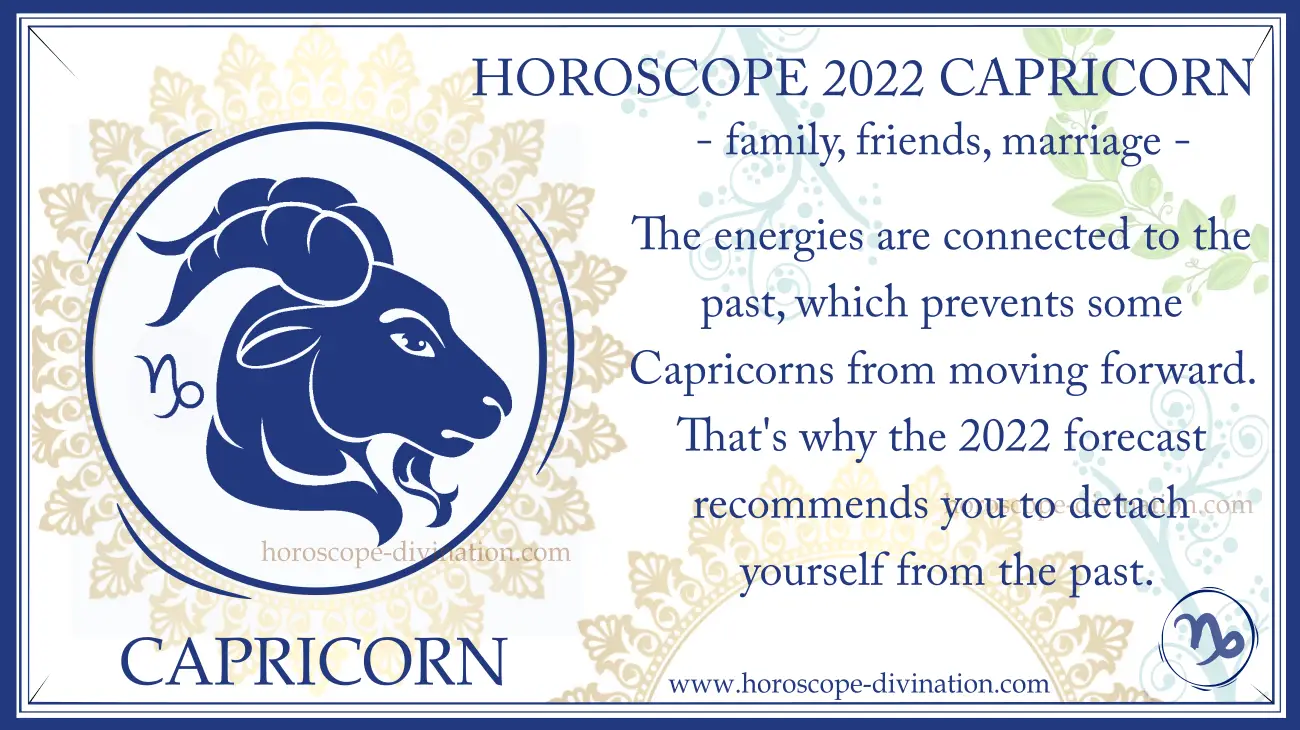 In this section, the Horoscope deals with the prediction of stability in family relationships. Will your family relationships, whether with parents, siblings, or the immediate family - children and partner, be harmonious? Read this yearly Horoscope Capricorn 2022 - Family, Friends, Pregnancy and Marriage...
Horoscope 2022 Capricorn - Career & Finances: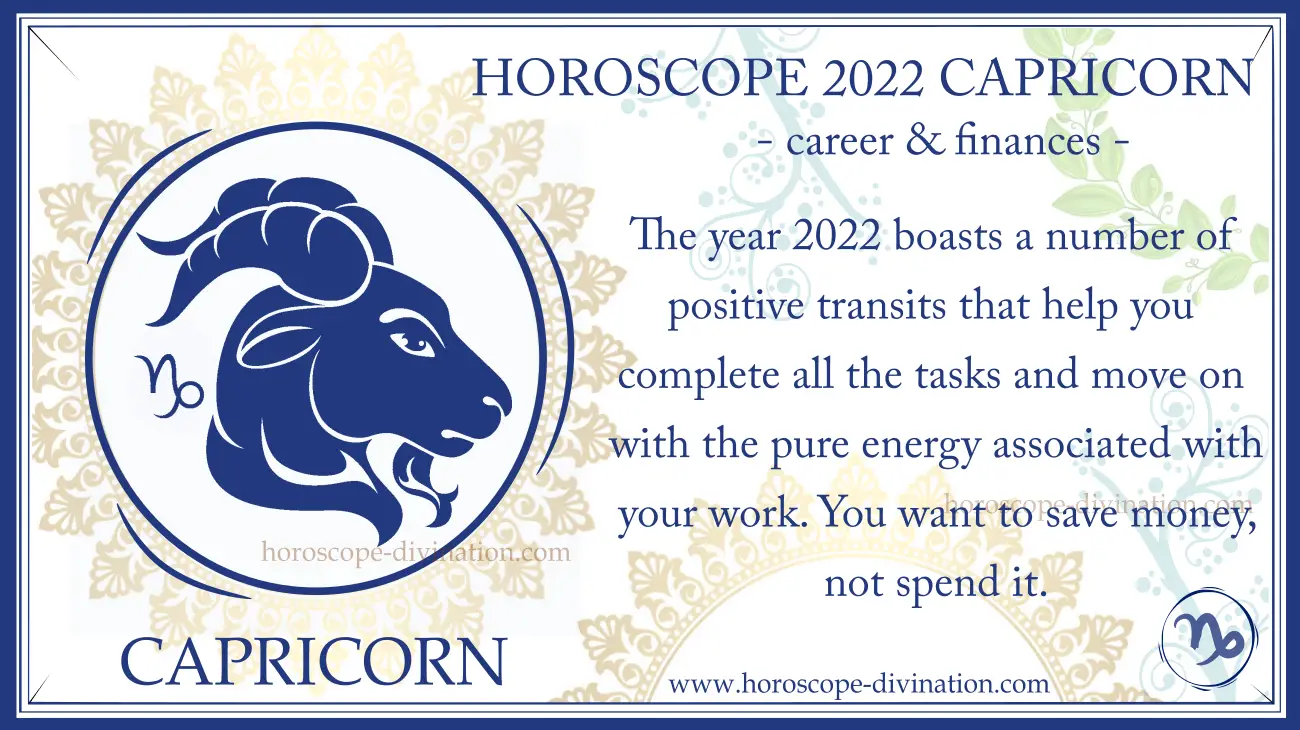 In this part, Capricorn Horoscope 2022 will make your prediction clear at work, in Capricorn's career. Whether you work as an employee, entrepreneur or take care of the household... Complete annual Horoscope Capricorn 2022 in career and finances...
Horoscope Capricorn 2022 - Health & Vitality: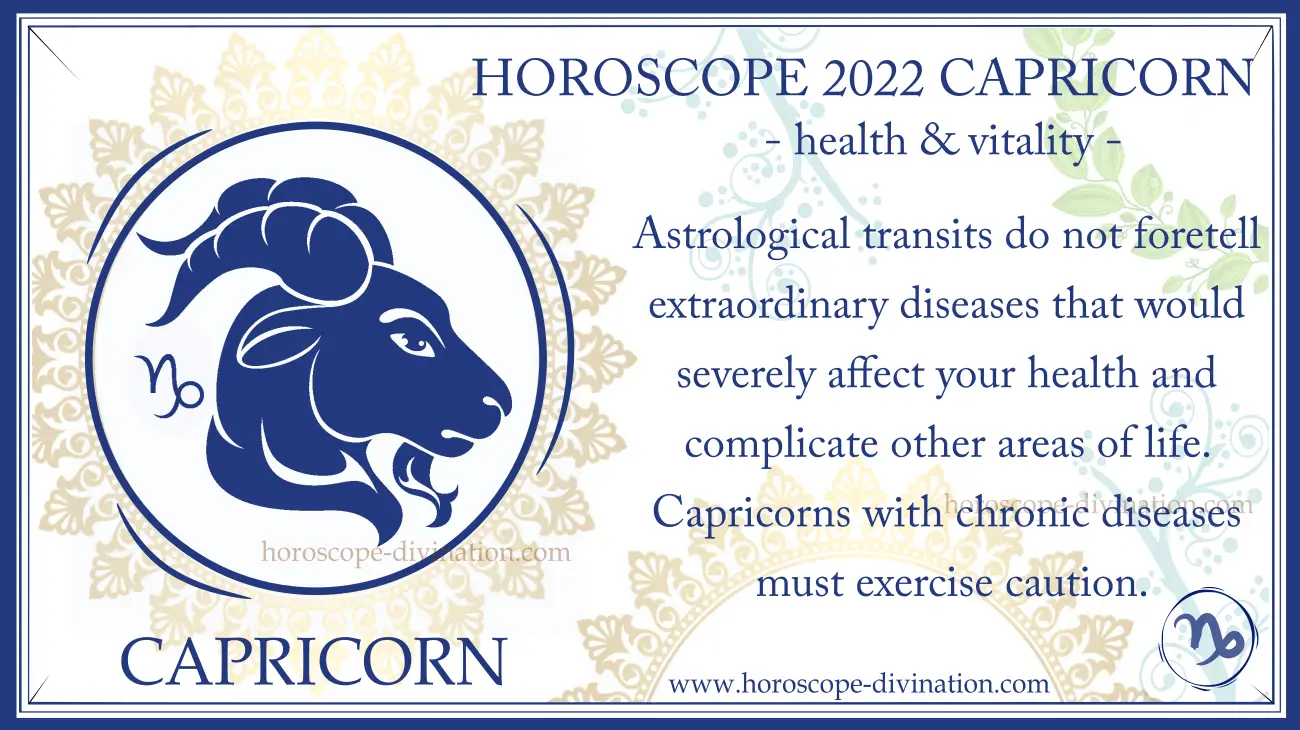 The classic health problems of Capricorn that they suffer from in life are diseases that are related to stress in life. Many Capricorns also suffer from rashes, eczema and other skin problems during their lifetime, which are very common in this zodiac sign... Read yearly Horoscope 2022 of Health and Vitality for Capricorn zodiac sign...
Retrograde movements of planets that affects Horoscope 2022 Capricorn
Graph of Retrograde Planets 2022 - Their affect on Horoscope Capricorn 2022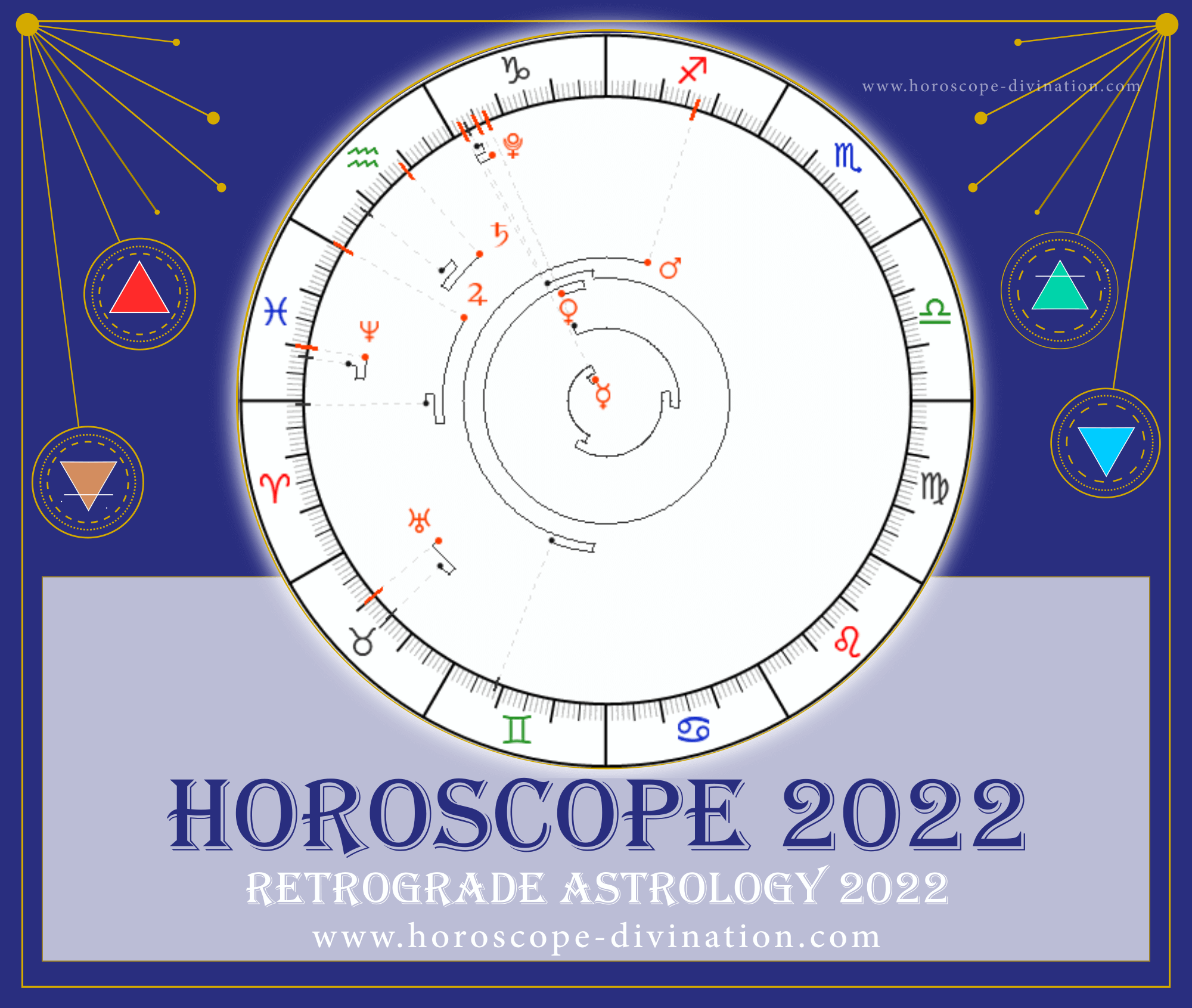 Click on the image above to read all the important information about the Retrograde Planets of 2022 and their impact on Horoscope Capricorn 2022. Below you will find a list of terms important for your energy, vitality and for the overall Horoscope Capricorn 2022.
Mercury Retrograde and Horoscope 2022 Capricorn
14 January 2022 (in Aquarius 2 house) - 04 February (in Capricorn 1 house) (For 21 days, Horoscope Capricorn 2022 is influenced by the first retrograde Mercury)
10 May 2022 (in Gemini 6 house) - 03 June (in Taurus 5 house) (Horoscope 2022 Capricorn emphasize transit for 24 days)
10 September 2022 (in Libra - 10 house) - 02 October (in Scorpio 11 house) (Horoscope Capricorn 2022 is affected by transit for 22 days)
29 December 2022 (in Capricorn 1 house) - end of year 2022 (Horoscope Capricorn will hit this aspect for 3 days)
Venus Retrograde - Horoscope 2022 Capricorn
01 January - 29 January 2022 (in Capricorn in 1 house) (Horoscope Capricorn 2022 talks about this transit during 28 days)
Mars Retrograde - Horoscope Capricorn 2022
30 October 2022 - to year 2023 (in Gemini - 6 house) (63 days are affected by Horoscope 2022 Capricorn)
Retrograde Jupiter - Horoscope 2022 Capricorn
28 July 2022 (Aries in 4 house) - 23 November (Pisces in 3 house) (Horoscope Capricorn 2022 is affected for 118 days)
Retrograde Saturn 2022 - Horoscope Capricorn 2022
04 June 2022 (Aquarius in 2 house) - 23 October 2022 (Aquarius in 2 house) (This transit affects Horoscope 2022 141 days)
Retrograde Uranus - Horoscope Capricorn 2022:
01 January 2022 (Taurus in 5 house) - 18 January 2022 (Taurus in 5 house) (For 17 days, Uranus concentrates its energies on Horoscope Taurus 2022)
24 August (Taurus in 5 dome) - to the start of the year 2023 (The annual Horoscope 2022 Capricorn is affected by the retrograde Uranus for 130 days)
Retrograde Neptune 2022 - Horoscope Capricorn:
28 June 2022 (Pisces in 3 house) - 04 December (Pisces in 3 house) (the annual Horoscope Capricorn 2022 is changed by transit for 159 days)
Pluto Retrograde - Horoscope Capricorn 2022
29 April 2022 (Capricorn in 1 house) - 08 October 2022 (Capricorn in 1 house) (aspect affects Horoscope Capricorn 2022 for 162 days)