Yearly Horoscope Pisces 2022 - Family, Friends, Wedding & Pregnancy
(Family Life of Pisces, friendship in 2022, and prediction for marriage and pregnancy of Pisces)
Horoscope 2022 Pisces - Family
To what extent will this year's astrological transits affect family relationships of Pisces? Are transits waiting for you that will deeply disrupt Pisces' family relationship, or can you look forward to a balanced year in the arms of your loved ones? The astrologer also prepared Pisces Horoscope 2022 in the prediction of family relationships and interpersonal connections that await you in an important year for many Pisces. Let's now focus on astrological transits, which predict the progress, but also the falls or quarrels in the family life of each Pisces.
In January, Retrograde Mercury, operating from January 14th to February 1st, 2022, is an important astrological transit connected to family life. Mercury in a Retrograde motion is concentrated in the 12th and later in the 11th house. He makes each Pisces a loner to some extent, who is willing to keep a mental distance from all members of the family. Since you now want to rely only on yourself, it is likely that your loved ones will be more demanding of Pisces' company. However, Pisces will not be interested in it, because now you do not feel good in the crowd, Pisces is mainly looking for understanding in yourself. Pisces will return deep into meditation, and into thoughts related not only to the past but also to the future.
Pisces is karmically moving to the deepest levels of your consciousness and thinking, even though family plays an important role in Pisces' life, it is very likely that Pisces will underestimate the importance of the moments spent with them. January is a powerful month that focuses all Pisces mainly on self-interest. Pisces' family may suffer from a lack of Pisces' attention and care, and this behavior is not close to you. However, the 2022 Pisces horoscope suggests that it is appropriate to use this period for your own understanding of Pisces' inner self and your feelings. This need of yours now needs to be met now, because the coming months of 2022 will take full care of others, and Pisces will not have enough time to take care of yourself.
With the Retrograde Mercury since February 1st, 2022 comes a period focused on health and personal growth. You also involve the children in Pisces' family in this personal growth that you want to achieve in February, helping them to achieve a healthy self-confidence and determination to complete and cover important life tasks, define annual Horoscope Pisces for 2022. In February, Pisces cannot relax, but from other perspective, Pisces can cover all the responsibilities related to your household. Mercury is located in the 12th house of Aquarius sign, and Pisces can apply your knowledge related to the family to all family members. Now is the right time for you to involve others in Pisces' chores, to spread the tasks among all the members of Pisces' family, so that each of you has time for your hobbies as well as your responsibilities.
In March, you think about several things related to your emotions. Some Pisces will focus on spiritual growth and purification of karma, others will reflect on the mistake of love in the past. In March, Mars lends you militancy, define Pisces 2022 Horoscope, and an impulsive solution to several problems in Pisces' life. If interpersonal connections appear in Pisces' family relationships that are disruptive or aggressive, Pisces has the opportunity to calm down these disruptive relationships from March 6th to April 15th.
During this period, Pisces is a counselor, and Pisces is an important member of Pisces' family who can cover every task related to positive family relationships. These days, you may be invited to a family celebration that includes family members who bring negative energy to others. Pisces can negate this energy, emphasize Horoscope 2022 Pisces, and transform it into a positive one. Pisces is an irreplaceable part of this family celebration or reunion, so be sure not to miss these plans from your calendar. The month of April represents strong relationships in the family and also in the partner's life. It represents a deepening of interpersonal contacts and connections, because Pisces is a very welcoming and friendly person.
Every Pisces has a huge desire and need to be loved in April. If you do not receive enough love from your partner or your children, Pisces is also looking for comfort from your parents or siblings. Seek emotional satisfaction from Pisces' family members who welcome your activity. In the second half of April, it is likely that many Pisces will have to travel, either for work or other duties. In these moments, every Pisces has the opportunity to rely on siblings, says astrology Horoscope Pisces 2022, parents or grandparents to cover important tasks in Pisces' household. Thanks to the excellent management of the period during which Pisces can fully devote yourself to your immediate family, it is certain that the second half of April will take place without major complications and interventions in Pisces' family life.
The second Mercury in Retrograde motion during 2022 will mainly test Pisces' family relationships. Mercury will pass through the 4th house, so the Pisces returns to his childhood with thoughts, define accurate Horoscope Pisces 2022. This period, this receding Mercury from May 10th to June 1st, mainly afflicts such Pisces, which carry in their lives unfinished relationships from the past, especially from childhood. Any painful memories hurt you much more now. Your past is closely linked to your presence, even if Pisces don't realize it, so you need to finally resolve any pains associated with your childhood. In this position, Mercury not only gives you the possibility to forge unbalanced relationships, but also the amount of strength and energy Pisces can use to do so. On the one hand, the position of this Mercury is very painful, but on the other perspective, it gives you the possibility to end the pain that has long depressed you. Pisces Horoscope Pisces recommends using May to interact with your past karma, and to remove the negative energies associated with your childhood and to close a certain chapter that bothers you.
During June 2022, the family is extremely important to you. Several astrological transits are focused on the 4th family house, which helps eliminate negative energies related to the past. Your relationships with Pisces' family members are now more intellectual in nature. Enjoy moments full of communication, games with children, laughter, and joy with those closest to you. Some Pisces want to search for their pedigree and learn about the great history of their lives, which will tell you more about your own person.
June and the first half of July are also a period of excellent relationships with children in the family, deepening interpersonal relationships. It is a period of deepening family relationships, and reconciliation in the case of disharmonious interpersonal connections. The sun in the 5th house from June 21st to July 22nd warns you that if you continue to overcome the trauma associated with your childhood, it is time to find an expert to help you with this trauma. Sometimes the calming of negative energies also requires the intervention of a therapist, don't forget, the annual Pisces Horoscope 2022 advises you.
Excellent educational methods and popularity among children in the family are also seen in the month of July, when transits are set up very favorably, especially in relation to children. The family relationships of Pisces that raise children are so flourishing. You develop your own emotions and the emotions of Pisces' children. You encourage their creativity and spontaneous expression of joy, so Pisces is rewarded with very strong and friendly relationships with children. July is a great month for any parent who can fully enjoy the excellent relationships with their children.
From August 20th until the end of the year, you may suffer from past family problems. Also, these problems may be related to an illness that has plagued a member of Pisces' family for a long time. You should therefore exercise caution against Pisces' family members and their health problems. It is essential that from August 20th until the beginning of 2023, Pisces is interested in problems, especially from the health point of Pisces Horoscope 2022 view of your loved ones. The 3rd Retrograde Mercury of 2022 will also affect family relationships of Pisces.
From September 2022, 10th to October 2nd, Pisces can feel nervous in the company of Pisces' loved ones. You need to prepare for remorse, and for judging your life by your parents, siblings, or immediate family. Not everyone is happy with your life direction and progress, and it is in the period from September 10th to October 2nd that Pisces will face these confrontations. Pisces Horoscope Pisces recommends you to fully focus on your own energy and your own ideas about your life. if Pisces want to move even further in Pisces' life, listen to an older person in Pisces' life who tries to advise you the best he can to make you happy and satisfied in life.
The end of 2022 belongs to diverse energies. However, Retrograde Mars will pass through the 4th Astrological House from October 30th, so Pisces is trying to find a better relationship with people who are close to you. You gain a lot of strength and energy to start trusting someone who lost your trust in the previous period. You establish excellent relationships mainly with older members of Pisces' family, who now have your full attention and enjoy your presence and interest in Pisces' happy life.
The energies of 2022 are very positive, highlighting astrology Horoscope 2022 Pisces, in relation to family relationships. Unlike a long-term relationship or marriage, these energies are more balanced, and Pisces can enjoy excellent relationships with children as well as older members of Pisces' family. Maintain non-conflicting relationships with your loved ones, which strengthens positive karma in Pisces' life and helps you overcome conflicts related to other directions of your life. In 2022, every Pisces should build its energy and strength mainly on positive family relationships, which will be the alpha and omega of Pisces' happiness throughout the year.
Love, a working relationship, or problems in living together? The Love Compatibility Calculator for Pisces will show you how high your compatibility in love, even in 2022, is with other zodiac signs.
---
Horoscope Pisces 2022 - Friends
friendship Pisces in 2022
What kind of friendship can Pisces zodiac sign expect in 2022? The soothsayer prepared Horoscope 2022 of Pisces also from the point of annual Horoscope 2022 view view of friendly relations, and from the point of astrology Horoscope 2022 view of the most important astrological transits connected with the energies of friendship, understanding and the closest friendly relations of Pisces. Which zodiac signs will represent the most important advisors and closest friends for Pisces? Are there any warnings about friendly Pisces connections in 2022 that you should be aware of? Is the year 2022 suitable for finding new friends, or for ending friendships that are not honest and valuable for your future? Pisces Horoscope 2022 will answer all these questions and more in this prophecy for 2022 in connection with the friendly relations of Pisces zodiac sign.
The first, very important astrological transit, which is closely connected with friendly relations, are the days of the Retrograde Venus from January 1st to 29th, 2022. The Retrograde Venus passes through the 11th house of friendship, and thus strongly affects these interpersonal relationships of every Pisces. Retrograde Venus now focuses your attention on the past. You know which friends are most important to you, and you also know which friends you shouldn't trust. Pisces can organize your thoughts and emotions in your favor, and you find support with your closest friend, who is a very important part of your life and forms a positive energy during this complicated transit of Venus. Pisces can't reunite friends, family and your partner in Pisces' life in January. Pisces is afraid of rejecting others, and Pisces is trying to explore Pisces' friendships in depth. Pisces is interested in the area of Pisces' friendships, especially those that have been disrupted or problematic in the past.
Pisces Horoscope 2022 also indicates compatibility between your zodiac sign and other signs in a friendly relationship. In friendship, you achieve the greatest compatibility with the sign of Cancer, Scorpio and Capricorn. If any of these 3 zodiac signs are near you, not only in January but also throughout the year will be a huge help and support for you. In case of problems, sadness or only if you need a helping hand or the support of someone close to you, these 3 zodiac signs will help you the most. It is these 3 zodiac signs that are always available to you in 2020, they trust you, they are your advisor and helper. On other perspective, the Pisces Horoscope 2022 of the also brings a certain warning in the area of friendly relations.
Every Pisces should watch out for a close friend if that friend is a person born in Sagittarius zodiac sign. The horoscope predicts that with this sign Pisces will not achieve the necessary degree of compatibility in friendly relations in 2022, and the Sagittarius may succumb to provocation by other people, and reveal important secrets about your life. This betrayal of the Sagittarius will hurt many Pisces. It is therefore important that Pisces take into account this warning from the fortune teller and the prediction for 2022, because just by knowing the important warnings Pisces can avoid betrayal by the Sagittarius. These recommendations, and compatibility in friendship, apply throughout 2022. Although the Retrograde Venus torments you to some extent in January, it will teach you much in several ways ... You can appreciate the power of Pisces' friendship, says annual Horoscope, Pisces can maintain a mental distance from those who have hurt you in the past. You develop your own life, and you also involve your closest loved ones in Pisces' interests and hobbies, whether they are family members, your children or your closest friends.
In March, some Pisces friendships get shaken. In the first half of 2022, Pisces can expect the expression of feelings, deep love, and emotions on the part of a close friend. This is when your friend is a person born in Virgo, Scorpio or Capricorn zodiac signs. Some of these friends, one of these zodiac signs, has deeper intentions with you, and desires to know your person in depth. This fact can represent positive and joyful events, especially for single Pisces, but on the other hand it can cause complications for Pisces that are in a long-lasting partnership. Pisces 2022 Horoscope says, that you must try to direct this energy, and reject your friends with emotion as you would like these people to approach you in these moments.
In March, every Pisces has a problem establishing new relationships, so social events and meetings can be done without new friendships in Pisces' life. From April 5th, Venus will be moved to the 1st Astrological House. Pisces is active in several ways of life, and you enjoy a harmonious relationship with yourself. Your friend will help you solve partner problems or problems at work, and you also have the opportunity to meet new people who will fit perfectly into your circle of friendships, foretell astrology Horoscope 2022 Pisces. So don't be afraid of new relationships and meeting interesting people, because now karma is set for your benefit and Pisces is attracting the right people to your life. The whole of April belongs to some extent to the friendly relationship and positive karmic radiance of each Pisces.
At the end of April, Jupiter is also in the conjunction of Neptune, which means the opportunity to go on vacation with some friends, and it also means enormous strength in Pisces' mental growth. Pay close attention to friendly relations, especially in the month of May, because this month presents certain pitfalls not only due to the Retrograde movement of Mercury. Again, you feel the need for a sense of security and safety, and Pisces is afraid to remove fake people from your life who rob you of energy and strength.
Pisces Horoscope 2022 predicts that during the months of May and June there is someone who draws your positive energy in their favor. You should avoid this person because they may deprive you of the energy needed for your own personal growth. This person will be a woman, and will reach out to your circle of friends by betraying your trust and your sincerity. Be careful especially if this woman is born in the sign of Sagittarius, the annual Horoscope 2022 recommends.
Pisces' friendship will be stable until August 24th. From August 24th, the Retrograde Uranus will own the floor. Pisces thus enter a new consciousness, you imagine your ideals, and you want to complete things to meet your goals. You learn to respect the individuality of others, which is a powerful weapon especially for your friendly relationships. The most ideal, and strongest month for Pisces friendship is December 2022, which will enrich you with many new experiences and joyful messages from your friends.
Mercury in the 11th house has a positive effect on you, as well as Venus and the sun passing through this house and also positive affect on astrology Horoscope Pisces 2022. So your home friendship is hit hard by positive astrological transits. You feel satisfied with the circle of closest friends who bring joy and satisfaction to your life. In this strong month, in December 2022, Pisces can celebrate, enjoy the presence of others, enjoy close social contacts, and make new friendships. Again, Pisces Horoscope 2022 warns those Pisces that are in a long-lasting partnership to not be subject to deceptive and excessive emotions on the part of a friend, to be aware throughout the year of the boundaries between friendship and partnership, or sexual passion.
The horoscope describes the friendship of 2022 as very positive. Pisces will find understanding with several zodiac signs, with which Pisces will understand on a new level. However, Pisces Horoscope 2022 provides a recommendation for Pisces in relationship, which should maintain a certain line between friendly and intimate relationships throughout the year. It is very likely that your energy, strength and charisma will enchant one of your close friends who will look at you in a new way. On the one hand, it is positive news for single Pisces, but a provocation for those Pisces that doubt love in their long-term partnership. Each of Pisces' attitudes, and each of Pisces' decisions, will have consequences for the future, reminds you Horoscope 2022. Therefore, be well aware of the importance of friendly relationships for you, which you do not want to disrupt by deceptive feelings or hasty decisions.
The Pisces Friendship prediction also provides the Weekly Pisces Horoscope which is updated weekly. Get ready for the coming week with an astrological horoscope in 2022.
---
Horoscope 2022 Pisces - Marriage
Horoscope predicts what dates are best for Wedding in 2022
Are you a Pisces who plays with the idea of preparing a wedding during 2022? Would you like to know if transits of astrology wish Pisces' wedding day during the year, and if the fortune teller predicts an undisturbed, fairytale wedding for the sign of Pisces? In this section, the Horoscope will tell you if the year 2022 is suitable for wedding preparation, and Pisces 2022 Horoscope also warn you of dates that could cause complications during Pisces' wedding day. The Fortune Teller and Pisces Horoscope 2022 are happy for you to carefully study the most important terms that Horoscope 2022 Pisces will mention in this part of the horoscope.
In the introduction, the Horoscope reminds you that the periods of Retrograde movements of the planets Venus, Mercury, and in some cases Retrograde Mars are not a suitable time for great life steps, and for great life changes. The particularly Retrograde Mercury brings energy to the lives of Pisces, which can also negatively affect Pisces' wedding day. For this reason, Pisces Horoscope 2022 warns you mainly about the Retrograde movements of the planet Mercury, which will occur up to four times during 2022. These dates of 2022 are not suitable for wedding planning. If Pisces is also planning a wedding from the point of view of astrology and from the point of accurate Pisces 2022 Horoscope view of a fortune teller, it is advisable to delete the following dates from your planning calendar for the wedding in 2022.
The whole of January is such an unsuitable time for these great plans, because Venus is in this position from January 1st to 29th, and from January 14th to February 4th, the Retrograde energy of Venus is interspersed with the Retrograde Mercury, thus forming strong energies of doubt with Venus. and past orientations, as well as more complicated family relationships. For this reason, the first date of Retrograde Mercury and the only date of the Retrograde Venus is not a suitable time to plan Pisces' wedding day. The second date is the days from May 10th to June 3rd, when Mercury gets Retrograde for 24 days. The May Retrograde Mercury even acts on the 4th astrological house of Pisces, and so your identity will overlap with your past, which is related to your childhood. Now is a time for meditation and for deepening oneself, not for big plans and big changes in life.
From September 10th, 2022, to October 2nd, the Horoscope again draws your attention to the complicated period, which affects not only the area of career and family, but also the area of marriage and wedding planning. Your thoughts are not in line with other people's thoughts and plans, which can cause complications on your dream wedding day. From its planning calendar, Horoscope 2022 recommends you delete to the date from September 10th to October 2nd, as well as the last impact of Retrograde planet Mercury, which will begin on December 29th.
In 2022, the last Retrograde Mercury operated for only 3 days, specifically from December 29th to January 1st, 2023. However, this Mercury intersects its operations until 2023 and will hit each Pisces until January 18th, 2023, so it is good advice from the omniscient omission of wedding planning also in this period, ie in the first days of 2023. The mentioned dates, which Pisces 2022 Horoscope have set, are therefore the most unsuitable period for wedding planning. On the other perspective, there are also opportunities for a wedding according to ideas and dreams, which is not disturbed by negative aspects.
if Pisces want to enjoy a wedding where Pisces' friends, family and loved ones are in harmony, you should plan Pisces' wedding for the coming months. The first suitable date, which is not disturbed by complications at work, in family relationships, and during which you enjoy a favorable state of health, is the period from June 4th during the whole month. Pisces' family is in balance with yourself, and your feelings with Pisces' friends are also balanced. Pisces can be frightened only by deceptive feelings in relation to your partner, which Pisces will solve by peaceful communication.
Therefore, June 2022 is considered the first suitable month for planning Pisces' wedding day during the year 2022. The following periods, during July, August 2022 and during the days until September 10th, also wish every Pisces planning a big wedding day. During these months, the energies are properly set up so that Pisces can enjoy your partner's closeness, immense love and understanding, so that Pisces' wedding will take place without unexpected surprises. So if you decide to get married in the months of June, July, August and Pisces will also not regret it until the first days of September, as the fortune teller and your annual Pisces Horoscope 2022 will advise.
December 2022 is also a suitable time for a wedding for the zodiac sign Pisces, namely the 29th day of this month. December is hit hard by the energies of friendship, as the vast majority of astrological transits focus on the 11th House of Astrology. Jupiter also wishes you luck. It is located in the 2nd astrological house, which means that this great wedding and Pisces' wedding plans will not negatively affect your wallet and family budget. Some Pisces may consider December an ideal month for a wedding precisely because of the romantic atmosphere that is combined with the celebrations and the proximity of friends and family. These dates of 2022 are ideal for every Pisces to plan a big day. Therefore, use the recommendation of the soothsayer and the horoscope to make you perfectly happy, so that the wedding will please not only you but also your partner, members of Pisces' family and your friends. A harmonious and perfect wedding awaits you in the months mentioned if Pisces avoid the movement of Retrograde Venus and Retrograde Mercury.
If Pisces is going to seal your love on a beautiful wedding day during 2022, yearly Horoscope 2022 wish you a lot of love and happiness in the future life with your partner. Pisces 2022 Horsocope believe that Pisces will choose the right date for your wedding, when the energies of astrology combine in a positive way, and wish you a day full of joy and harmony in the arms of your partner and in the circle of Pisces' loved ones, who will understand and no conflicts will arise. Pisces Horoscope 2022 believe that your marriage will be strong, and the fortune teller predicts that if Pisces adhere to the recommended terms Horoscope Pisces 2022 have set out for you in a positive prediction, it is clear that your marriage will be relentless and firm for most of Pisces' life.
Accurate Monthly Horoscope Pisces tells you more about Pisces future in love, health, career, money or relationships. Horoscope 2022 Pisces is also connected with a monthly prophecy. Read all the important horoscopes from the fortune teller for the year 2022.
---
Horoscope Pisces 2022 - Pregnancy
Horoscope prediction for Best dates for pregnancy in 2022
There is a moment in the life of every Pisces when he thinks about becoming a parent. If you plan to get up by your parents in 2022, you should also read this Horoscope 2022, which focuses on predicting pregnancy for each Pisces. Whether Pisces is planning a pregnancy or want to know if Pisces has this option in Pisces' plans, it is advisable to know this Horoscope 2022 from a fortune teller dedicated to the prediction of fertility and pregnancy for each Pisces. Whether Pisces is a man or a woman born in this watery sign. I will discuss the terms suitable for pregnancy and those when you should be careful of those Pisces that do not want to get pregnant.
On the other side, Pisces 2022 Horoscoope will also list terms that are not suitable for this big step in life, because these days would cause you more complications than joy during pregnancy. Some Pisces are certainly interested in whether Pisces can handle parental worries. Find out if these new responsibilities bother you if Pisces is striving for a first child. In the introduction to this horoscope, we will briefly discuss the characteristic features of Pisces, accurate Horoscope 2022 will talk about what kind of parent is a man or a woman born in Pisces zodiac sign.
Parents born under the sign PiscesPisces have their own approach to raising children. Every Pisces- a woman but also a man born in Pisces - try to give their children everything that was rejected in their childhood, what they lacked. In this regard, Pisces can pamper the child a little. However, every Pisces tries to make its child grow free, without major complications in life, so that they are satisfied. Pisces also place great emphasis on educating their children, and sometimes over-control them because they want their children to have a pleasant life without complications. The most difficult task for any Pisces that raises its children is to say goodbye to its child when the child grows up and wants to swim in its own way, describes Pisces 2022 Horoscope.
What kind of mother is a woman born under Pisces zodiac sign? A mother born as Pisces zodiac sign is initially afraid of this duty. There is too much fear and apprehension about the child's upbringing, and about the child's safety, and therefore from the beginning the mother lacks foresight and leaves the impression in others that she is not too happy about this task. However, the opposite is true. As soon as she grabs the child for the first time, she finds that parenting is not as difficult a task as she thought. Mother born in Pisces zodiac sign is a natural mother who is ready to sacrifice her free time for children, and raises a purposeful, strong and penetrating child. As a child grows, Pisces concerns about his safety change into the joy of his development and growth. The born as Pisces is gradually able to enjoy all the beauties related to motherhood, define astrology Horoscope Pisces 2022, and helps the child to fulfill his own desires in life.
What kind of father is a man born as Pisces sun sign? The father born in the sign of Pisces treats his children as equal partners. He is a father who does not refuse to play, but can also proudly participate in the education of his children. He is a very attentive father who considers himself one of the best fathers of all the zodiac signs. He brings a lot of optimism and a fair approach to children's lives. He teaches his child tolerance, generosity and sensitivity. It is sometimes difficult for a father born under zodiac sign Pisces to set boundaries for children. He fears that children will have to face problems in life.
A father born in Pisces sign physically hurts any injustice to his children, or any grief of his child. The father of Pisces, raising a child who can fight for his own interests, is resilient and loving to his surroundings. So it is clear that a person born in Pisces sun signis an excellent parent. And in all respects. Pisces is one of the zodiac signs, which is clearly one of the best parents for successful, balanced and happy children.
In 2022, the transits of astrology and Retrograde Mars also affect Pisces pregnancies, affecting this area of Pisces life either in a positive or negative direction. From a negative point of yearly Horoscope Pisces view, every Pisces should avoid the period of Retrograde Venus and Retrograde Mercury if Pisces is planning to become pregnant. These movements of the planet of love and the planet of communication are an unsuitable time to conceive, and to produce the first or next offspring. Pregnancy started in this way could be accompanied by complications, and a woman who becomes pregnant during the Retrograde period of Mercury will be much more worried about her pregnancy and the unborn child.
These fears are connected with the energies lent to you by the Retrograde movement of the planet Mercury, and so pregnancy will be more difficult for you than if it began during the period of Mercury's directive direction. As with the planning of the wedding day, so when planning the pregnancy, avoid the day of the Retrograde movement of Mercury, and also the pregnancy during January 2022, which is the most unsuitable month for this great step of life for Pisces. On other side, there are also terms that are favorable for Pisces' pregnancy. Pisces Horoscope 2022 and fortune teller describe the positive effects of lunar transits, but also other astrological influences on Pisces' pregnancy. Keep in mind, however, that for a successful pregnancy, you also need to follow your reproductive cycle, which is ideally aligned with the following terms.
In 2022, there are several terms that wish for this large step in the life of Pisces. The first period is the days from 17th February to the first of March 2022. This multi-day period is favorable for any Pisces wishing to become a parent. Men born in Pisces zodiac sign are more fertile during this period. If the pregnancy starts these days it is obvious that the pregnancy will be smooth and joyful. The next suitable period for each Pisces is the days from August 28th to September 9th, 2022. Again, the energies are strongly adjusted in favor of each Pisces that desires to become a parent. The end of September and the beginning of October also bring favorable days for this great step in life. The specific days from September 26th to October 8th are again an ideal time for pregnancy, and the fertility of men or women born under the sign of Pisces.
From November 24th to December 2nd, Pisces has the chance to get pregnant again. Even though Pisces has not been able to complete this great step in Pisces' life in the previous period, the year 2022 offers every Pisces a number of dates for you to use happiness to your advantage and fulfill the dream you desire. if Pisces belong to Pisces sun sign that is not planning a pregnancy but asks if they should expect this great change in life in 2022, the soothsayer and Pisces Horoscope 2022 also have an answer for you. if Pisces do not want to get pregnant, you should pay attention to the terms Pisces astrology Horoscope 2022 have given, which are strong terms for Pisces fertility. These days, your fertility is increasing, and you should be more careful if Pisces do not want to become a parent in 2022. There is another big warning for single Pisces, during November 2022.
Specifically, from November 11th to December 5th 2022, every single Pisces should be on the lookout for romances at work, which could even end in the pregnancy of the Pisces. So if Pisces is born in Pisces sun sign, and you belong to a woman in this zodiac sign, beware of love triangles and romances that will bring you a lot of problems and unexpected life changes, warns your annual Pisces Horoscope 2022.
So whether Pisces is looking for a baby or want to avoid deadlines that mean great fertility and increased chances of pregnancy, this Pisces Horoscope 2022 has certainly answered your questions related to pregnancy during 2022. Adhere to exact dates and look forward to the opportunity which offer you astrological transits throughout the year. If Pisces has decided on this big step in life in 2022, the soothsayer wishes you a lot of success and joy, which is definitely related to this decision of yours. The energies are strongly connected in Pisces' favor, and Horoscope 2022 only reminds you to be extra careful about your health if you become pregnant while the Retrograde planets are moving. However, accurate Horoscope Pisces 2022 will also talk about this in the following parts of the horoscope, when the warnings of the Health Horoscope 2022 for the water sign of the Pisces will also tell you the warnings.
Daily Horoscope Pisces prepare you for the current day. Horoscope 2022 from the Fortune-Teller also means the possibility of daily divination for Pisces zodiac sign.
---
Horoscope Pisces 2022 - Love, Career, Health, Future...
Click the image you like and read more about year 2022...
Horoscope Pisces 2022: Overview - Positive and Negative aspects of 2022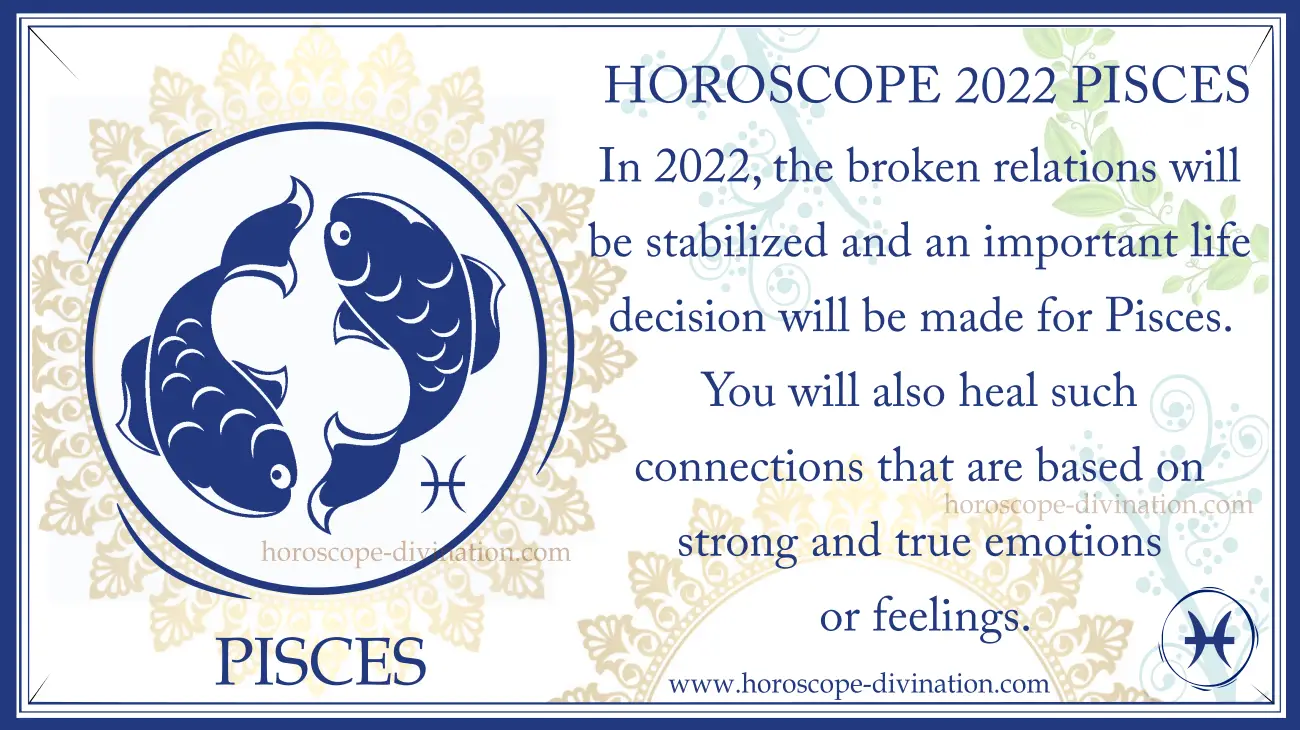 The introduction of 2022 brings Mercury, Venus, and the planet Uranus in regressive motion. The 3 regressive planets of astrology can mean certain negative vibrations, but on the other hand you have the opportunity to meditate and discover the deepest thoughts and needs of your soul... Introduction of Horoscope 2022 Pisces...
Horoscope Pisces 2022 from fortune-teller - Love & Relationships in 2022: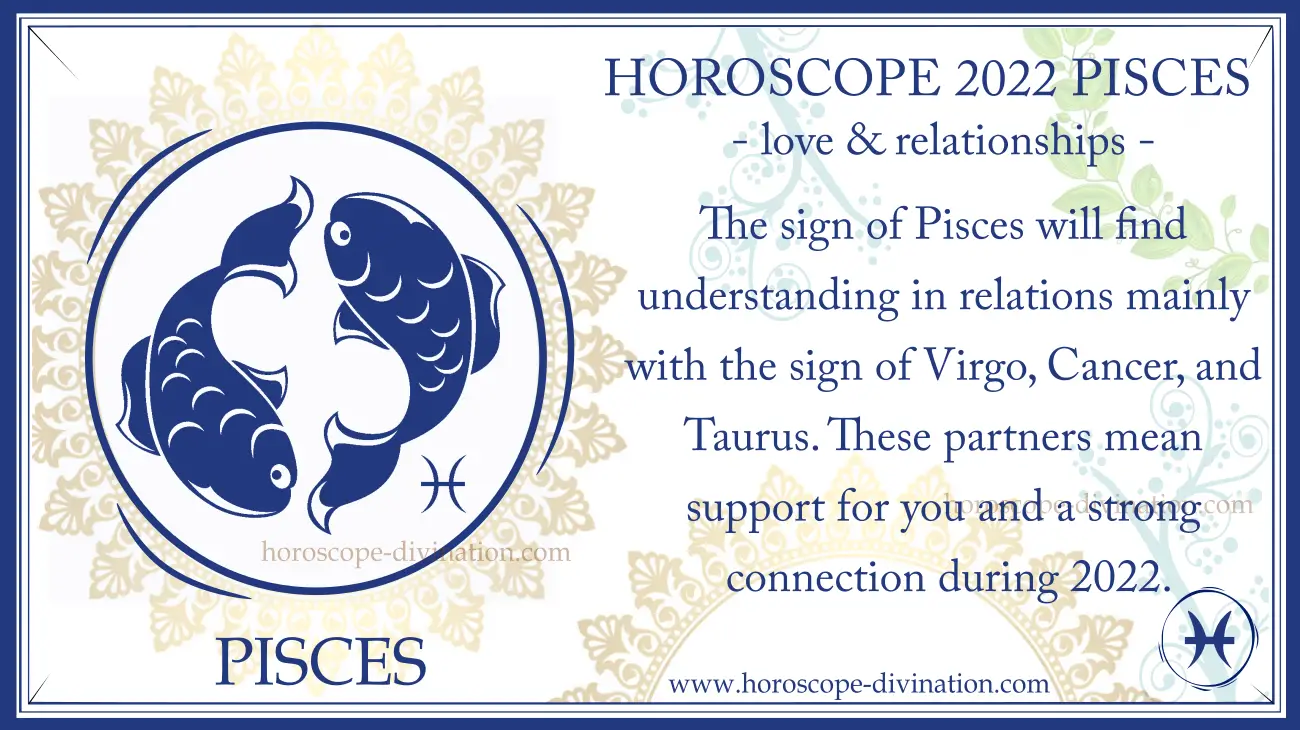 The 2022 Pisces horoscope alerts every single Pisces to the month of January 2022. This month you will be hit by the regressive Venus moving through the 11th house. Right now, it makes Pisces feel like they have to throw off their restraints to find a soul mate... Read more about Love Horoscope Pisces 2022...
Horoscope Pisces 2022 - Family, Friends, Marriage and Pregnancy in 2022: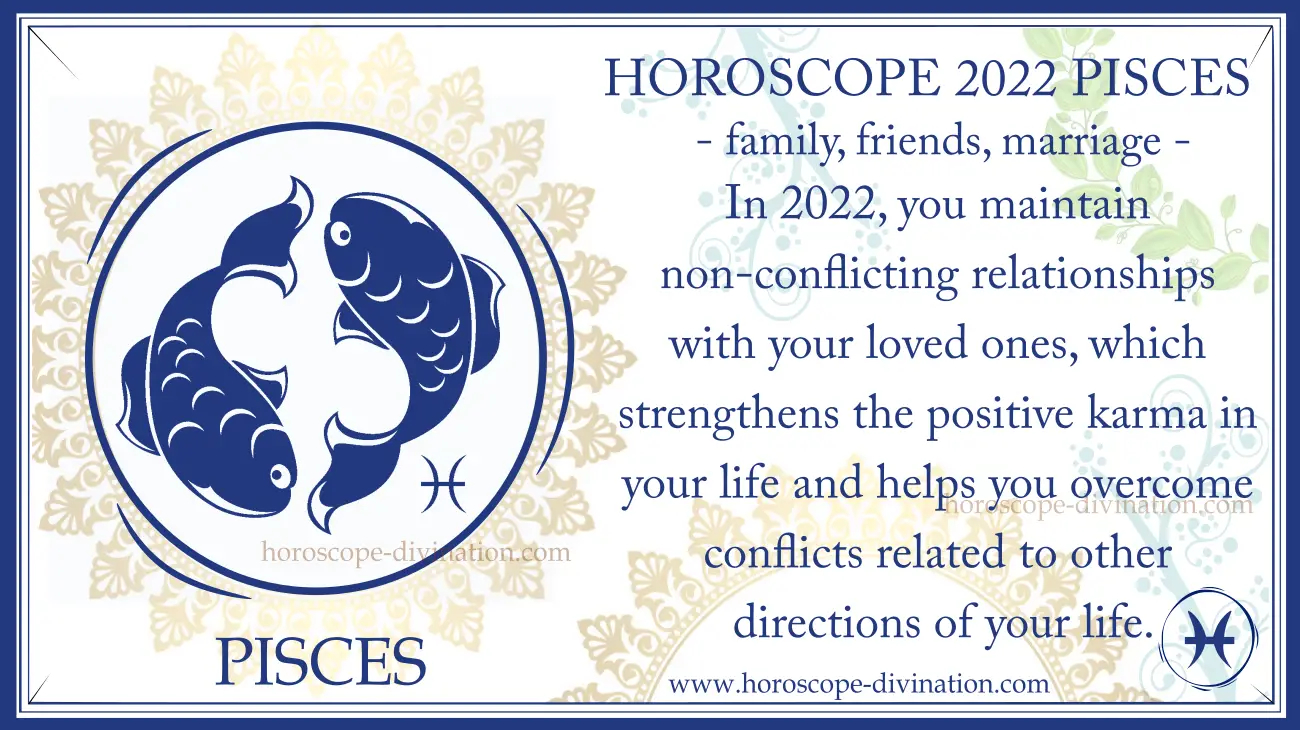 In January, regressive Mercury, operating from January 14th to February 1st, 2022, is an important astrological transit connected to family life. Mercury in a regressive motion is concentrated in the 12th and later in the 11th house... Read this yearly Horoscope Pisces 2022 - Family, Friends, Pregnancy and Marriage...
Horoscope 2022 Pisces - Career & Finances: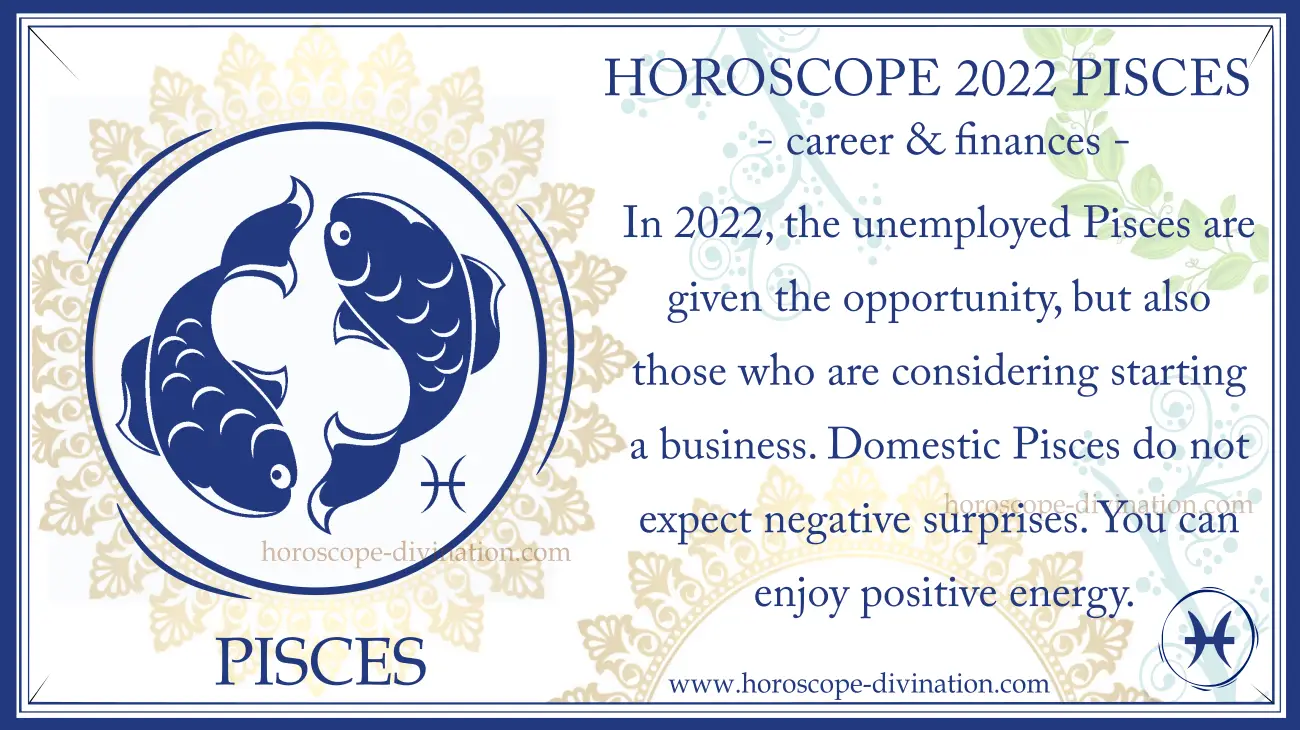 Let's look month after month at the energies that focus on your job responsibilities and career changes. In the first month of 2022 - the month of January, you mostly focus on your health, your friends, and your own inner energies... Complete annual Horoscope Pisces 2022 in career and finances...
Horoscope Pisces 2022 - Health & Vitality: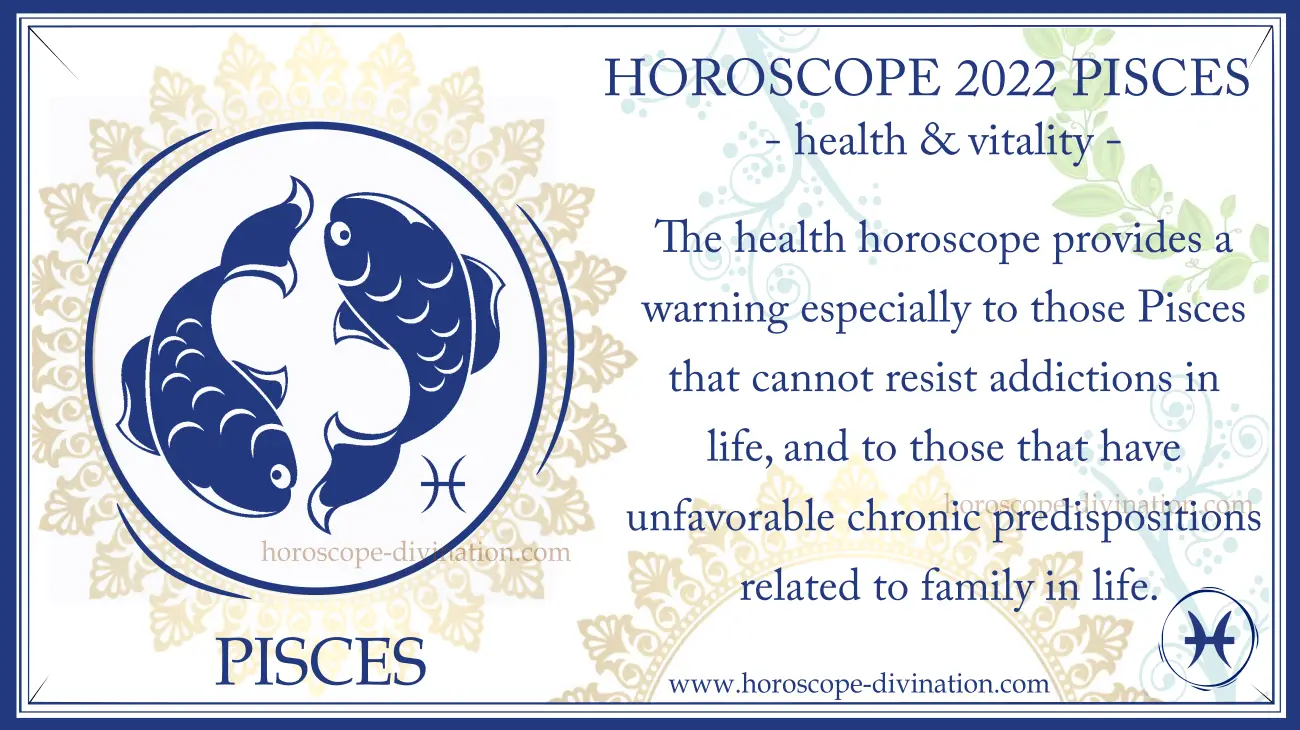 The classic health problems during 2022 will include problems with the nasal cavities, and with sore throats. Every Pisces should make sure that there is enough clothing, and you should omit cold drinks from your diet that do not benefit your health... Read yearly Horoscope 2022 of Health and Vitality for Pisces zodiac sign...
Retrograde movements of planets that affects Horoscope 2022 Pisces
Graph of Retrograde Planets 2022 - Their affect on Horoscope Pisces 2022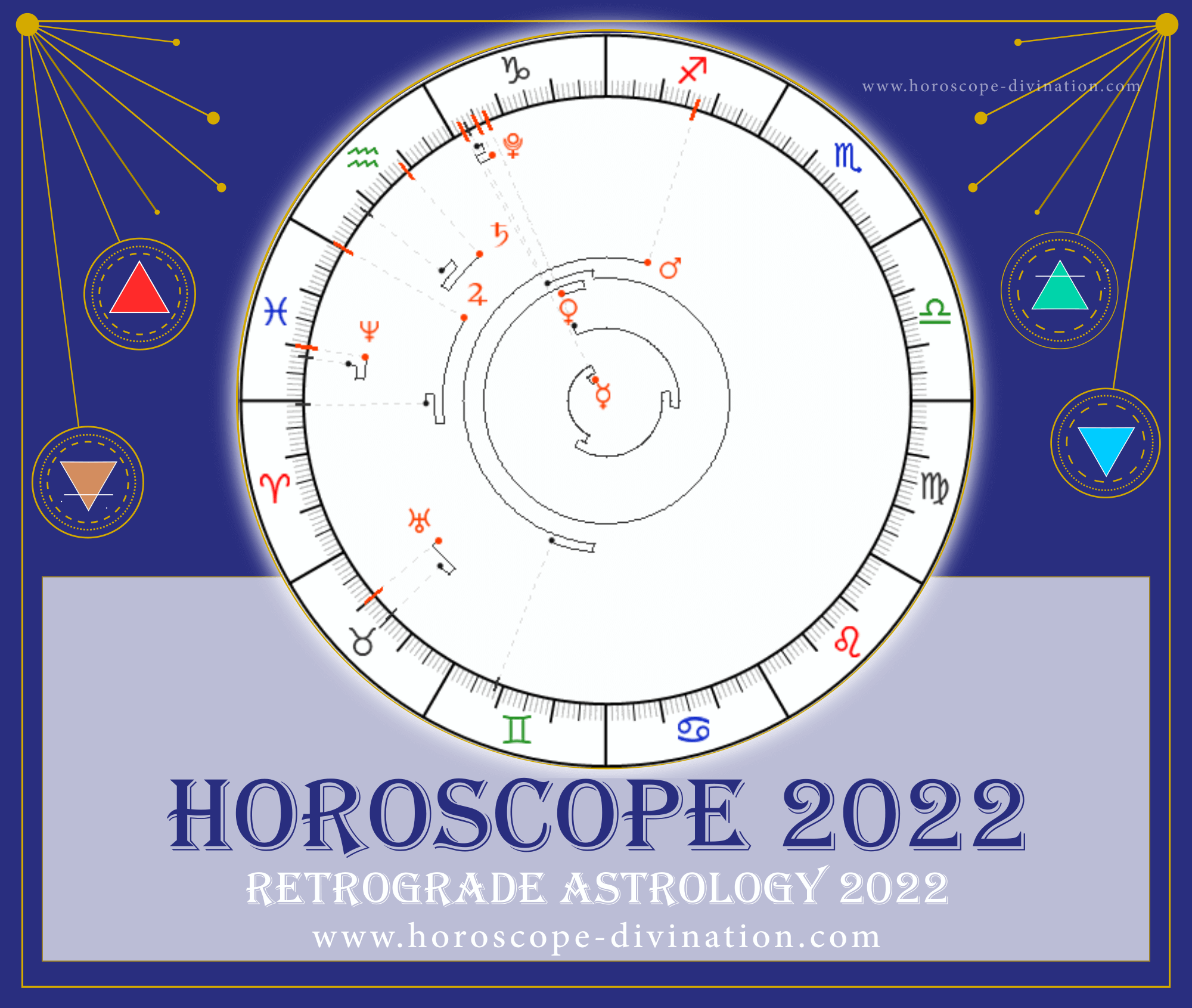 Click on the image above to read all the important information about the Retrograde Planets of 2022 and their impact on Horoscope Pisces 2022. Below you will find a list of terms important for your energy, vitality and for the overall Horoscope Pisces 2022.
Mercury Retrograde and Horoscope 2022 Pisces
14 January 2022 (in Aquarius 12 house) - 04 February (in Capricorn 11 house) (For 21 days, Horoscope Pisces 2022 is influenced by the first retrograde Mercury)
10 May 2022 (in Gemini 4 house) - 03 June (in Taurus 3 house) (Horoscope 2022 Pisces emphasize transit for 24 days)
10 September 2022 (in Libra - 8 house) - 02 October (in Scorpio 9 house) (Horoscope Pisces 2022 is affected by transit for 22 days)
29 December 2022 (in Capricorn 11 house) - end of year 2022 (Horoscope Pisces will hit this aspect for 3 days)
Venus Retrograde - Horoscope 2022 Pisces
01 January - 29 January 2022 (in Capricorn in 11 house) (Horoscope Pisces 2022 talks about this transit during 28 days)
Mars Retrograde - Horoscope Pisces 2022
30 October 2022 - to year 2023 (in Gemini - 4 house) (63 days are affected by Horoscope 2022 Pisces)
Retrograde Jupiter - Horoscope 2022 Pisces
28 July 2022 (Aries in 2 house) - 23 November (Pisces in 1 house) (Horoscope Pisces 2022 is affected for 118 days)
Retrograde Saturn 2022 - Horoscope Pisces 2022
04 June 2022 (Aquarius in 12 house) - 23 October 2022 (Aquarius in 12 house) (This transit affects Horoscope 2022 141 days)
Retrograde Uranus - Horoscope Pisces 2022:
01 January 2022 (Taurus in 3 house) - 18 January 2022 (Taurus in 3 house) (For 17 days, Uranus concentrates its energies on Horoscope Taurus 2022)
24 August (Taurus in 3 dome) - to the start of the year 2023 (The annual Horoscope 2022 Pisces is affected by the retrograde Uranus for 130 days)
Retrograde Neptune 2022 - Horoscope Pisces:
28 June 2022 (Pisces in 1 house) - 04 December (Pisces in 1 house) (the annual Horoscope Pisces 2022 is changed by transit for 159 days)
Pluto Retrograde - Horoscope Pisces 2022
29 April 2022 (Capricorn in 11 house) - 08 October 2022 (Capricorn in 11 house) (aspect affects Horoscope Pisces 2022 for 162 days)