Yearly Horoscope Virgo 2022 - Family, Friends, Wedding & Pregnancy
(Family Life of Virgo, friendship in 2022, and prediction for marriage and pregnancy of Virgo)
Horoscope 2022 Virgo - Family
The beginning of 2022 belongs to the Retrograde Venus, which moves with the friendly sign of the zodiac Capricorn from January 1st to the 29th day of this month. The Retrograde Venus acts on the 5th astrological house of Virgo, which is the house of joy and pleasure. This house is generally associated with the family, with children and grandparents, but also with the overall romance in the life of Virgo. Virgo have time not only for recreational and leisure activities, but also for all activities that will bring Virgo closer to your children and bring Virgo closer to your family members. The astrological transit of Venus in the 5th house is also associated with Virgo's creativity, which may now be slightly disrupted. Virgo may feel that your mind is not so free, and that some people around us have focused only on themselves.
The transit of the Retrograde Venus in the 5th house also strengthens your perception of the misfortune in the world around Virgo. The heart of Virgo opens wide, and you can solve any problem in Virgo's family. If a child, whether the child of your brother or your acquaintances or friends feels sad, misunderstood, or oppressed in life, he or she will find support in Virgo during this period, define Virgo Horoscope. The whole of January can be specified as a period suitable for great help to others. Virgo is very open towards other people, and your understanding of others is very strong. Although Virgo may feel slightly insecure because she fails to reconcile her ideas and thoughts with what she has in life, she still works to improve this world and especially to strengthen relationships between parents and children.
The Retrograde Venus in the 5th house gives Virgo a huge opportunity to grow personally, and to end any dissatisfaction she feels in relation to others, especially family members, indicate Virgo 2022 Horoscope. The transit of the Retrograde Venus will teach you in January 2022 that Virgo should expect less from life, because then you can enjoy even the smallest little things that life will offer you as a gift. Look for joy where you haven't felt it much before. Be a pillar of every problem in the family. Children in the family will greatly appreciate Virgo's attention, so Virgo can achieve the tremendous emotional growth and inner satisfaction that Virgo have been looking for over the years.
The month of January 2022 gives you an aspect that teaches Virgo how to work with your loved ones not only to your own satisfaction, but also to the satisfaction of others. Be a pillar of every problem in the family. Children will appreciate Virgo's attention, highlighting Horoscope Virgo 2022 so Virgo can achieve the tremendous emotional growth and inner satisfaction Virgo have been looking for over the years. The month of January 2022 gives you a transit as a gift, which teaches you how to work with your loved ones not only to your own satisfaction, but also to the satisfaction of others. In January, the energy of the sun in conjunction with Pluto also focuses on your connection with grandparents. Either the strength and energy Virgo inherited from your grandparents comes to the fore, or on the other hand, mid-January warns you to pay attention to Virgo's grandparents as well. January reminds Virgo of the great instability of life, specify personal Virgo Horoscope, because happy and successful days can immediately disrupt the days of sorrow, disease and disharmony. The month of January will be like a swing for some Virgos, so the Horoscope recommends you to pay attention to grandparents in the middle of this month, especially if they suffer from heart problems or high blood pressure. Now your attention needs to be focused on your overall family, which supports the need for strong support from Virgo.
February transits are very beneficial in terms of family relationships. They are beneficial in terms of the overall emotions of the Virgin, the overall love, and even wish to unmarried Virgins. In terms of family relationships, Mercury in the 5th house and the sun passing through the 7th house gives you deep curiosity and a very strong intellect, and also affects your style of communication. Virgo have the opportunity to convince all the people around Virgo that the truth in life is very important, undeline Horoscope for Virgo zodiac sign. You hate lying, and during this time you try to avoid it with full force. Virgo also teach your children and all members of Virgo's family to do this style. The position of the sun with its entry into the 7th Astrological House from February 18 is crucial for all relationships, both partner and family. The sun passing through the 7 houses focuses your attention mainly on your parents and siblings. Some of them can even help Virgo with starting projects or with complicated tasks at work. Your family will not only be your psychological support, but can also offer you other qualities that are related to your finances and Virgo's work.
February is also an excellent month for relaxation and recreation. If Virgo combine your rest with your closest family members, Virgo can get new original ideas, and your closeness to Virgo's family will be a great motivator for others to make them better in life. February also indicates certain social events that will be related to your family members, describes family Horoscope Virgo for 2022. So don't forget about any holidays that your loved ones celebrate, or Virgo can organize a celebration that will make them very happy. The influence of the sun in the 7th house is very strong, and it connects Virgo's hard work, entrepreneurship and finances, especially with your family members and your partner. In the month of March, Virgo will long for a mental connection with Virgo's loved ones. Your hobbies and interests will be shared with family members, who will be very happy that you are devoting your free time to them. However, the need to communicate with other people can be exaggerated. Virgo will constantly explain Virgo's attitudes to others, and this need to often reassure others of your truth can be exhausting for others. Therefore, pay attention to the negative impact of the month of March and especially at its end, when your exaggerated communication can turn you into moments of well-being spent again with Virgo's family.
The period of the Retrograde movement of the planet Pluto from April 29th to October 8th means instructing mainly your parents that Virgo are right in life and that they should not advise you on things in your life. However, be aware that it is Virgo's parents who can give Virgo a new perspective on the things you are dealing with many times over, and they can also provide Virgo with solutions that would not occur to you. The Retrograde movement of the planet Pluto during this period makes you a more nervous person who values his own individuality and forgets to help others, says personal Virgo Horoscope 2022. In general, Virgo does not like to ask for the help of others, and this aspect of Virgo's personality manifests itself mainly during the passage of the planet through the 5th house. Subsequent transits of 2022 will only strengthen Virgo's devotion to family members, to old and sick people in the family. The natural feature of Virgo zodiac sign is constant sacrifice, and a willingness to help. It will not be the same in 2022, when you will fully understand the tradition and importance of responsibility towards any member of your family. Everything related to the upbringing of your children, and to Virgo's parents, will be very important for Virgos in the later months of 2022.
From September 5th, the planet Venus passes into the 1st astrological house, says annual Virgo Horoscope, passes through the sign of the fall, and strikes mainly those Virgos who are born in the month of September. September Virgos will have a huge need to be loved. Venus improves your overall position in the family. From September 5th to September 29th, Virgos have a great opportunity to heal family relationships that have been disrupted so far. Virgo can listen to the problems of others, and your expressive abilities are so strong that others listen to you. Virgo express yourself not only through yourself, but also through other family members who would like to calm down broken family relationships.
From September 5th to 29th, Virgo are therefore a pillar of support for the family, you are a person who brings a considerable amount of positive energy and harmony to all family relationships that require Virgo's attention. Virgo give friends and family great enormous emotional satisfaction, and you feel like an important part of others' lives. The strongest occupied 4th astrological house, which is the home of the family and home, is in November 2022, specifies accurate Horoscope Virgo 2022. Not only Venus but also Mercury passes through the 4th astrological house, and from 22nd November the sun will be added to these transits. These positive transits through the 4th house harmonize family relationships, says Horoscope, although your excessive efforts to reconcile some family members will not be heard. Family moments can be more problematic, especially in the period from 17th to 22nd November. Aspects reveal relationships that have been disrupted.
From November 22nd, however, the sun eliminates everything negatively. It operates in the 4th Astrological House until the end of 2022. It evokes the need for safety and security in Virgo. These desires to calm your energies come especially when you are surrounded by the people you care about the most. Virgo may encounter some problems, especially in relation to the upbringing of Virgo's children, but other family members are here to help Virgo in this regard, empahsizing yearly Virgo Horoscope for 2022. You will tend to surround Virgo'sself with a large number of your family members, and Virgo should be especially careful about your health, as the period from November 22nd to December 21st can reveal some inherited diseases inherited from your grandparents.
The year 2022 is thus ended by the strong energetic influence of astrological transits, mainly on the family's home, and on the 5th house of joy and pleasure, which is associated with the family, children and grandparents. December gives you the opportunity to enjoy moments of happiness according to your ideas, close to your family that will not be disturbed by anything. Jupiter passing through the 8th house is a planet that deals with termination, death, happiness and the possibilities of rebirth. In this way, Virgo too can end December 2022, with death to end past disputes and past negative energies, and rebirth will mean a desire to move forward faster in Virgo's life, with a clear slate and pure energies that are not affected by any disputes or strained relationships.
Non-harmonic aspects do not affect any Virgo from the point of Horoscope view of family relations until 2023. You can enjoy the year 2022 close to Virgo's family and support the creative activities of your children. Children in the family will surround your life throughout December, and Virgo will enjoy the joy and happiness you bring into Virgo's life through children's laughter and love. Use your energy in the right direction, and focus mainly on the joys of everyday days, for which Virgo do not sometimes have a lot of time and energy. The final days of December 2022 endowed you with moments that will pull you out of negative thoughts and transform your energy into something creative.
Love, a working relationship, or problems in living together? The Love Compatibility Calculator for Virgo will show you how high your compatibility in love, even in 2022, is with other zodiac signs.
---
Horoscope Virgo 2022 - Friends
friendship Virgo in 2022
What friendships can Virgo expect from 2022? Will friendships be harmonious, or will you struggle with intrigue, slander, and the meanness of one of your close friends? The year 2022 also brings a prediction in the field of friendship, and the soothsayer specifies transits that are positive for Virgo's friendships, and when, on the contrary, Virgo need to be more careful in sharing your secrets and emotions with certain friends. The soothsayer also prepared Horoscope 2022 in the prediction of the friendly relations of Virgo , so you can find out whether your relations will flourish during the year.
January, the first month of 2022, focuses its energies on the interpersonal relations of Virgo, but also on work and finance. The first expectation of 2022 is the fact that Virgo will have a deep sense of helping others. That's why your friendships, and especially your relationships with friends who have children, can thrive. Virgo will tend to cling to the upbringing of these children, and you will want to be a part of the life of your friends' children. It can mean enormous help for Virgo's friends, who can relax through your childcare and gain new strength, which they will later redirect to Virgo. In January 2022, you can focus on helping those friends who appreciate your help.
The month of February is very positive in terms of the emotions of Virgo. Virgo's friends will be looking for support in Virgo, especially after the period of the sun's entry into the 7th house from 18th February. It is very important that you assess your true friendships during this period, says friends Horoscope for Virgo zodiac sign. You may have difficulty finding your spiritual identity, so it is not appropriate to talk about Virgo's religion or politics with your close friends. Leave more controversial topics that may result in quarrels or misunderstandings in February, and focus on harmonious relations with the immediate surroundings.
February also wishes for a relationship in the collective at work, and for several Virgos, this aspect means strengthening interpersonal relationships also at work. The sun in the 7th house means a show of great power, but also of understanding. Therefore, you are a good advisor, Virgo are an excellent friend, and you can support others in difficult times. Virgo Horoscope 2022 in friendly relations only warns you not to pass on the whole psychological burden of another person only to Virgo. Don't worry more than you can handle, because this way the month of February could exhaust you. This warning is especially valid at the end of February, from February 25th to the beginning of March, when Virgo are so kind as to do anything for your friends - but your exaggerated initiative may ultimately exhaust you.
Another transit affecting interpersonal relationships with Virgo's friends will be the April transit of the sun passing through the 9th Astrological House in a neutral position. This position of the sun brings many interesting predispositions to your life. It is quite possible that Virgo will decide to travel abroad with your closest friend, a friend with whom Virgo have long planned to escape from reality, and refresh Virgo's mutual bond. This Transit mainly concerns women who are born in Virgo zodiac sign, to whom the Horoscope predicts very happy moments in the company of best friend or boyfriend.
The sun in this astrological house also supports the publishing and journalistic activities of each Virgo, so Virgo and your closest friend can come up with a way to realize your dream, which is mainly related to literature, journalism, writing, or other creative activities. The harmonious sun anchors all relationships, and causes only those relationships in which there are too many illusions and violent tendencies to disintegrate. However, if Virgo are surrounded by a large number of friends, and you feel that certain friends are penetrating your personal life too much, it is time to end such friendships. None of you will be cut or impoverished by anything important in life, so you can move on with a clear conscience.
From May 2nd to May 28th, pay attention to the relationships that surround Virgo. It may happen that some people around you will succumb to provocative discussions about Virgo's person and be seduced by intrigue and slander that will affect Virgo as well. Therefore, throughout the year 2022, pay attention to who you trust with your deepest emotions, with your fears, but also with Virgo's motives in 2022, but also from previous years. Due to a certain person, it could happen that your reputation will be damaged during May. This transit draws attention mainly to the reputation associated with your job and your past relationships. Even new friendships gained during this period will not be prosperous for your life. While Venus travels in the sign of her exile, she is not well placed to make new friendships meaningful and valuable for the future of Virgo.
The sun entering the sign of Cancer in the 11th house from June 21st to July 22nd directs its energy to the friendly relations of Virgo. This position of the sun gives Virgo a sense of team, and you can realize it through friends or through Virgo's co-workers. Friends give you good ideas, healthy confidence, and energy to move you forward. During this period, each Virgo will avoid making relationships too analytical, focusing more on the emotional value of your friendships and social relationships. The horoscope also suggests that Virgo may tend to join various societies or move in a community that gives Virgo a sense of the value and need of your own personality. Remember that you should be surrounded mainly by people who bring you joy and pleasant feelings.
However, on July 5, your ruling planet Mercury joins the transit of the sun in the 11th house, which, with its rapid transition, can cause disaster in certain friendly relations. Mercury built in this way provides Virgo with a number of mental impulses and possibilities in the field of communication. You can perceive and analyze real relationships, and accept only those thoughts that are meaningful to you. You can sometimes overreact, and this can cause certain rifts in the team that deprive you of some friends. It all depends on how well Virgo can control Virgo's emotions and your explosive side of your personality. However, communication skills are at the forefront of your life, and right now Virgo have the opportunity to develop in this way. Virgo will be popular in the team even though you will present your one-way and unambiguous ideas and attitudes, which may not be at will.
From July 18th, the two transits of the sun and Mercury are also joined by the planet Venus passing through the house of blessing and friendship. It brings into Virgo's life people who are just as minded and who have the same attitudes as you. Virgo feel good especially in groups of people, in a community of people who share the same views, and in associations that focus on charity or helping others. You find satisfaction mainly in the activity that is related to the company. So the whole of July is strongly focused on your friendships, which can now flourish.
From August 11th to September 5th, Virgo can even get along with more people in the field of religion, politics, and topics that have been taboo for you so far. The transit of Venus through the 12th house can also mean shyness and closedness, but on the other hand it is a very strong transit to strengthen the closest relationships, to strengthen such friendships that have a deep communication base and in which you feel good about. Virgo Horoscope 2022 again reminds you not to expect heroic performances from your friends. If Virgo need help at work or in your duties, Virgo have to rely on yourself. These excessive expectations of others can pull you away from real life values.
During the month of October 2022, the 3rd occupied house of the Virgo is strongly occupied, which is the house of communication and sharing. It connects not only with Virgo's family, the household, but also with your closest friends, whom you can now connect with your family. Virgo can have a party to invite family and friends because you know they will understand and have something to say. If you are forced to go abroad during this period for a business trip, it is very convenient to combine pleasant with useful, and take with Virgo a close friend who can make Virgo's trip more pleasant. November means a month when you are mainly focused on your family, and December 2022 once again highlights the need to maintain the closest friendships, and the joy of children and love. Virgo can enjoy great happiness and joy through the children in the family, and also through the children raised by your friends. It is these children who will bring a lot of joy into your life. If Virgo combine such enjoyment of December days with a small celebration, you can enjoy a truly beautiful and prosperous December in terms of your emotions and relationships.
The Virgo Friendship prediction also provides the Weekly Virgo Horoscope which is updated weekly. Get ready for the coming week with an astrological horoscope in 2022.
---
Horoscope 2022 Virgo - Marriage
Horoscope predicts what dates are best for Wedding in 2022
Are you a Virgo who is planning a wedding in 2022? Wondering which days or months of 2022 are the best for marriage, and which days are unsuitable for this great step in life? The Fortune Teller prepared Horoscope 2022 also for those Virgos who are about to enter into a marriage in 2022, and would like to know suitable and unsuitable dates for a wedding in terms of astrological transits, energies, and in terms of karmic radiation. The astrological prediction focuses not only on the transits of the ruling planet of Virgo - the planet Mercury, but also on the harmonic and disharmonic aspects of the planet Venus, Jupiter, the Sun, or lunar transits, or the planet Mars.
A very interesting year of 2022 awaits Virgo zodiac sign from an emotional point of view. Several interesting transits of the planet Mercury bring many times for Virgo, who wishes to have a wedding like a fairy tale. At the beginning of the horoscope, it is necessary to remind that the periods when the ruling planet of Virgo - the planet Mercury, is in Retrograde motion are not suitable for the conclusion of a marriage. So in 2022 we will list 4 dates that you should delete from your calendar if Virgo are going to have a wedding with your loved one in 2022.
Horoscope 2022 definitely advises you to skip the whole month of January, when the planet Mercury and the planet Venus are in a Retrograde motion. In the article on regressíve motions of 2022, you will also learn what to avoid if the planets are Retrograde. Retrograde Mercury operates for every Virgo from January 14th to February 4th, and these dates are therefore absolutely inappropriate for the conclusion of a marriage. The horoscope further reminds Virgo to avoid marriage between May 10th and June 3rd. Here again, the energies of the Retrograde Mercury are disrupted, and the wedding may therefore face a number of problems, and also a closed bond during this period may be unfortunate in the future.
The Retrograde energies of Mercury are again operating in the period from September 10th to October 2nd, and therefore this term should be deleted from her list of potential dates for the wedding in 2022. If Virgo want the wedding according to Virgo's dreams, without complications, and without unexpected surprise, be sure to omit the last 3 days of 2022 - a specific period from December 29th to January 1st, 2023. Over a period of 3 days, Retrograde Mercury acts on every Virgo and Horoscope 2022, evoking feelings of tension, insomnia, stress, and can have a negative effect on all marriages during this period. In short, the terms mentioned are therefore the most suitable for concluding a marriage.
However, let's see which dates are suitable for you to have the perfect wedding according to your ideas, and during which dates Virgo can plan a wedding during which nothing will surprise you. The first suitable period for concluding a marriage is the period from 14th February to 25th February. These days are very auspicious from the point of Virgo Horoscope view of emotions, happiness and from the point of astrology Virgo Horoscope 2022 view of the prosperity of Virgo. Mercury is located in the conjunction of Pluto and the sun passes through the 7th house. This position is extremely favorable for self-realization, and means not only a happy marriage in the future, but also a wedding without any problems, because the transit is not blocked by any disruptive elements.
The days from 5th April to the beginning of the second Retrograde movement of Mercury - until 10th May - is also an excellent period. For almost the whole of April, it offers you the opportunity to capture the chance for a perfect wedding day, because your ruling planet passes through the 6th house and with this interesting location signals a number of positive changes in your life. It means not only successful social events, but also a personality that is associated with a happy marriage. Social events will be successful, beautiful and dream. A marriage between April 5th and May 10th will be happy, long-lasting, and the marriage will be harmonious. Virgo will feel that Virgo's husband or wife is also your friend.
Marriage plays a very important role in this period, and therefore the period from April 5th to May 10th is considered the most appropriate time to close the wedding for each Virgo. The movement of the planet of love - the planet Venus through the 7th house is favorable not only for your future, but also for a wedding without any complications. So if Virgo are asking which date is the most suitable for the Virgo's wedding in 2022, be sure to write down the date between April 5th and May 10th in Virgo's calendar, your astrological Horoscope advises for 2022. Not only will you draw many positive benefits from transit charm and popularity, but all your plans and projects will go according to your ideas. With ease… All Virgo's decisions will be stable. Many couples are planning a wedding mainly during the summer months.
With regard to transits affecting Virgo zodiac sign, it is necessary to mention that Virgo avoids the period from 10th May to 3rd June, which is the period of operation of the Retrograde home planet. On the other hand, in July, transits are neutral, so they do not indicate any complications associated with social events, signing contracts, or important life decisions. So if you want to get married during the summer months, do so from July 5th to August 11th, when all the positive Astrological Transits wish you successful social events, and especially the connection with your friends, who will be a great support to Virgo during this period.
Another excellent period is the month of October 2022, a specific period after the end of Retrograde Mercury from October 2nd. In October, your energy, and the energy of astrological transits, is focused on the 5th home of joy and pleasure, where not only love, harmonious family and friendly relationships, but also Virgo's great creativity are at the forefront. 5th house encourages self-expression and a period that is great for fun. If Virgo choose October fo wedding in 2022, Virgo will enjoy a lot of fun, a lot of laughter, pleasure and joy from not only her future husband, but also her family and friends. Everything will go according to your ideas, because the planet Mercury, the planet Venus, Jupiter and the sun at the end of 2022 have a very positive effect on Virgo's 5th astrological house of joy and happiness. From November until the end of 2023, Virgo have plenty of days to fulfill your dream, which is a perfect wedding without complications. Horoscope 2022 Virgo also reminds Virgo that at the end of 2022, you should avoid the day from December 29th to January 1st, when your ruling planet is Retrograde again, thus blocking the smooth course of your decisions.
Virgo Horoscope 2022, prepared by a soothsayer and astrologer, has certainly answered an important question in life and therefore, which dates of the year are suitable for concluding a marriage for a happy and satisfied future marriage. We believe that when planning your wedding, take into account even the most harmonious periods of 2022 from the point of astrology Virgo Horoscope view of astrological transits, and that Virgo's wedding will succeed according to your ideas. If Virgo are planning a wedding in 2022, dear Virgo, I wish Virgo much love and success for Virgo's new life, a lot full of love, harmony, and a lot of understanding.
Accurate Monthly Horoscope Virgo tells you more about Virgo future in love, health, career, money or relationships. Horoscope 2022 Virgo is also connected with a monthly prophecy. Read all the important horoscopes from the fortune teller for the year 2022.
---
Horoscope Virgo 2022 - Pregnancy
Horoscope prediction for Best dates for pregnancy in 2022
Do you want to expand your family in 2022, and are Virgo interested in which terms are suitable for pregnancy, and which encourage the fertility of Virgo zodiac sign? These questions will also be answered in the Horoscope for the year 2022 for Virgo zodiac sign, which deals with the most suitable periods for Virgo's pregnancy, when the energies are not blocked by any negative or disturbing transits. In the following lines, we will discuss the facts and information about the terms that seem to be the most important terms from an astrological point of view for any Virgo who seeks the first or next addition to the family.
If you are planning to expand your family, Virgo are planning to give birth to a baby whose parent is the sign of Virgo, be sure to skip the month of January, when positive Astrological transits are blocked by the Retrograde planets Mercury and Venus. The whole of January is thus very unsuitable for important life steps and decisions, and this is also related to decisions about your future, about pregnancy, and about the subsequent care of your child.
The ideal dates for these important steps in life are from March 3rd to 18th, and these days are the first good opportunity to conceive. Not only do they wish Virgo immense happiness in terms of pregnancy, but also for men born in Virgo zodiac sign, transits are laid out to support the validity of the man. The Virgo's pregnancy, which begins at this time, will be unproblematic, and the Horoscope does not anticipate any complications that could play with Virgo's emotional stability or your baby's health.
From an astrological point of view, it is clear that every Virgo should observe the periods of fertile and infertile days during 2022, in order to best capture the dates around the recommended transits. Overall, however, Virgo Horoscope 2020 recommends Virgo to perceive the period of Retrograde Mercury as an unsuitable day to conceive. Thanks to Retrograde Mercury, the energies of pregnancy are also blocked, so pregnancy that begins during the Retrograde period of Mercury can be more complicated, and can bring Virgo more stress than pleasure. Therefore, try to include mainly positive dates in your planning that are related to the child, and remove the date of the Retrograde planets Venus and the planet Mercury from the calendar.
The second suitable date for conceiving your coveted baby is the days from April 1st to 16th, and during April, the appropriate period is then April 30th to May 10th. Since May 10th, your ruling planet has been moving in Retrograde, and therefore, as we have already mentioned, there are no suitable opportunities to conceive a coveted baby. From the first to the 16th of April, however, the energies are very pleasant, so they will give you a lot of luck if Virgo decide to take this big step in life. The next date is therefore April 30th to May 10th, which is considered the most appropriate period for 2022 to father Virgo's child. Therefore, watch your fertile and infertile days of this period very closely, but focus more on April, because after the period of May 10th, the dates are already blocked by the Retrograde Mercury. Virgo zodiac sign, compared to other signs of the zodiac, offers many opportunities for this great step in life, and therefore it would be a great pity not to use them.
Other options for getting pregnant for Virgo zodiac sign are from 5th to 13th June, from 3rd to 8th July and from 30th July to 8th August. At the same time, these dates close the pregnancy forecasts for 2022, because in the second half of the year, Astrological Transits do not indicate any days suitable for this great step in life. If Virgo follow the deadlines given in this horoscope, it is very likely that your pregnancy will take place without any complications and even that your dream of your child's coveted gender will come true. It all depends on how close Virgo can get to these important astrological terms, which are related to a problem-free, happy and risk-free pregnancy. The horoscope again reminds you to avoid the Retrograde Mercury, which during 2022 will hit the energy of Virgo for up to 4 periods. So if Virgo want to bring a lot of joy into Virgo's household in the form of a child, do not hesitate, and use the deadlines, especially in the first half of 2022 until August 8th. August 8th closes the days suitable for the conception of a descendant for each Virgo.
The second half of 2022 will direct your attention in a completely different direction, and you will be dealing with joys and responsibilities in other realms, and Virgo will not have a part left in this area of your life. However, pregnancy in the second half of the year will take place without any complications, and Virgo do not have to worry about any negative aspects affecting the health of pregnant women born in Virgo zodiac sign. The horoscope of pregnancy for the year 2022 is therefore very desirable for every Virgo who in 2022 longs to become a parent - a mother or even a father. If you decide to take this important step in Virgo's life, we wish Virgo much success, and good luck in your next life journey.
Daily Horoscope Virgo prepare you for the current day. Horoscope 2022 from the Fortune-Teller also means the possibility of daily divination for Virgo zodiac sign.
---
Horoscope Virgo 2022 - Love, Career, Health, Future...
Click the image you like and read more about year 2022...
Horoscope Virgo 2022: Overview - Positive and Negative aspects of 2022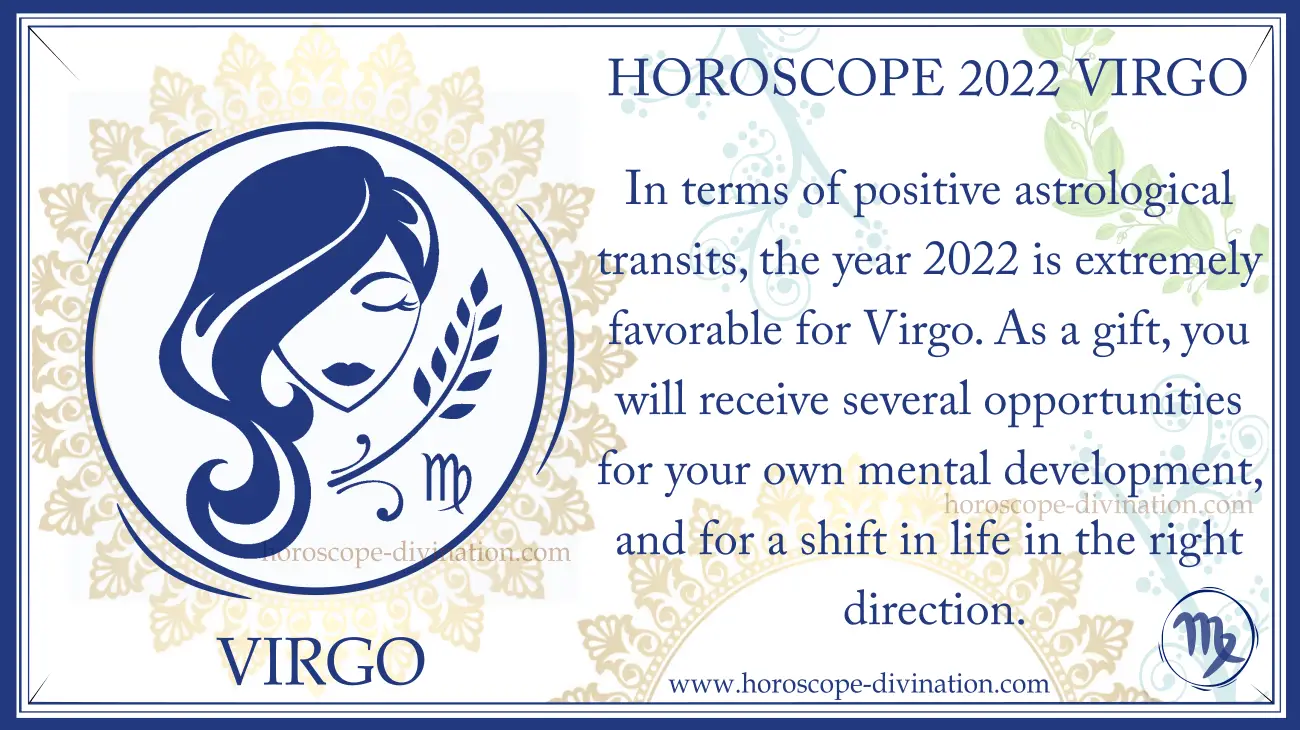 In love and emotions, there are important transits that direct your attention to solving problems in a relationship. During February 2022 and March, Mars focuses its vibrations on intimate pleasure in a continuing relationship... Introduction of Horoscope 2022 Virgo...
Horoscope Virgo 2022 from fortune-teller - Love & Relationships in 2022: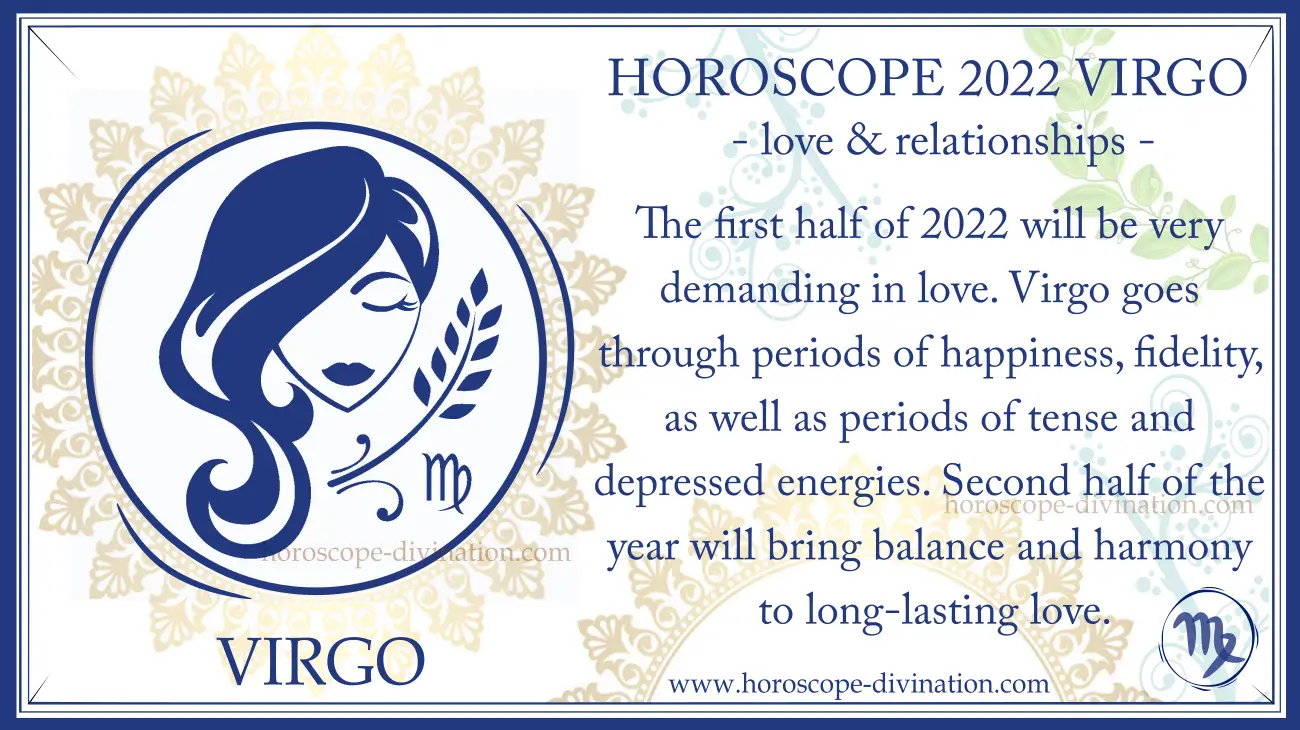 2022 is not very rich in astrology transits that could affect your long-lasting relationships. Prediction specifies that the friendships and family of Virgo sign, and the relationships of singles will be most affected In terms of long-standing love relationships, Virgo could expect the first effect on love from January 26, 2022 to March 6... Read more about Love Horoscope Virgo 2022...
Horoscope Virgo 2022 - Family, Friends, Marriage and Pregnancy in 2022: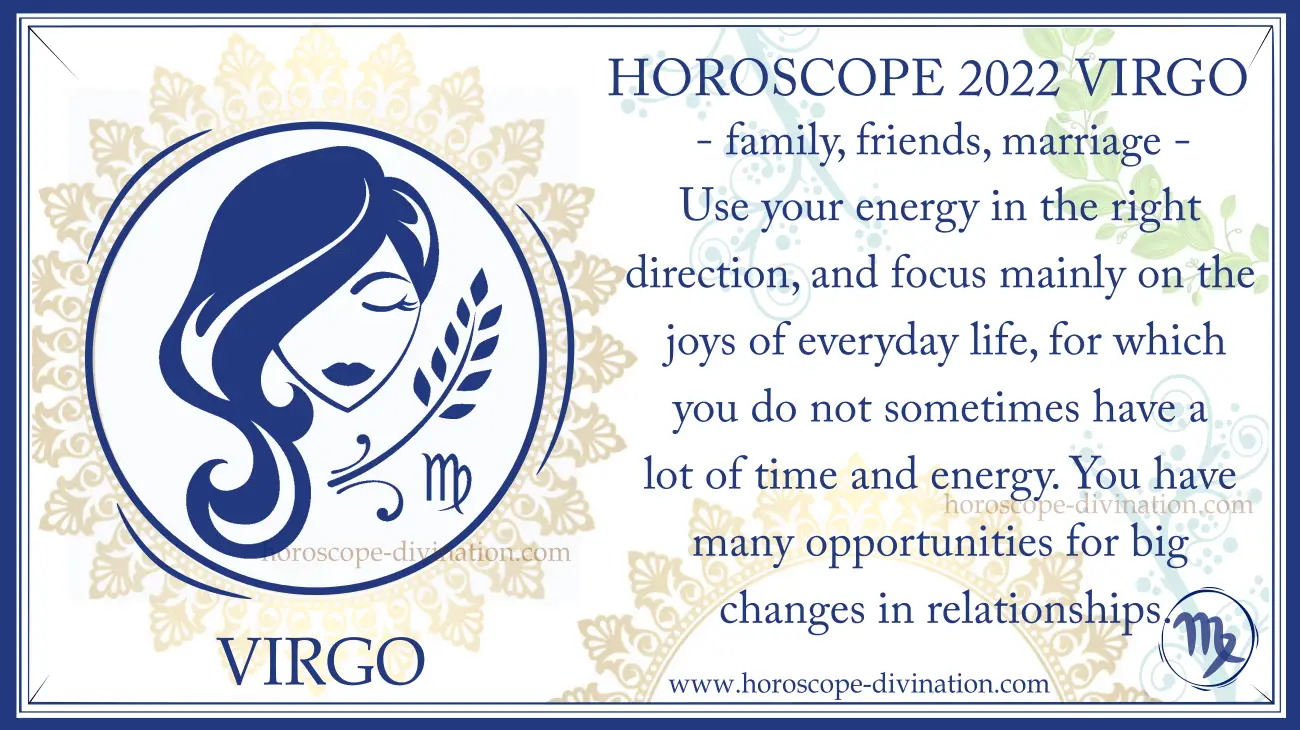 Retrograde Venus in 5th house strengthens your perception of misfortune in world around. Virgo's heart opens wide, and you could solve any problem in family. If a child, whether the child of your brother or your acquaintances or friends feels sad, or oppressed in life, he or she will find support in you during this period... Read this yearly Horoscope Virgo 2022 - Family, Friends, Pregnancy and Marriage...
Horoscope 2022 Virgo - Career & Finances: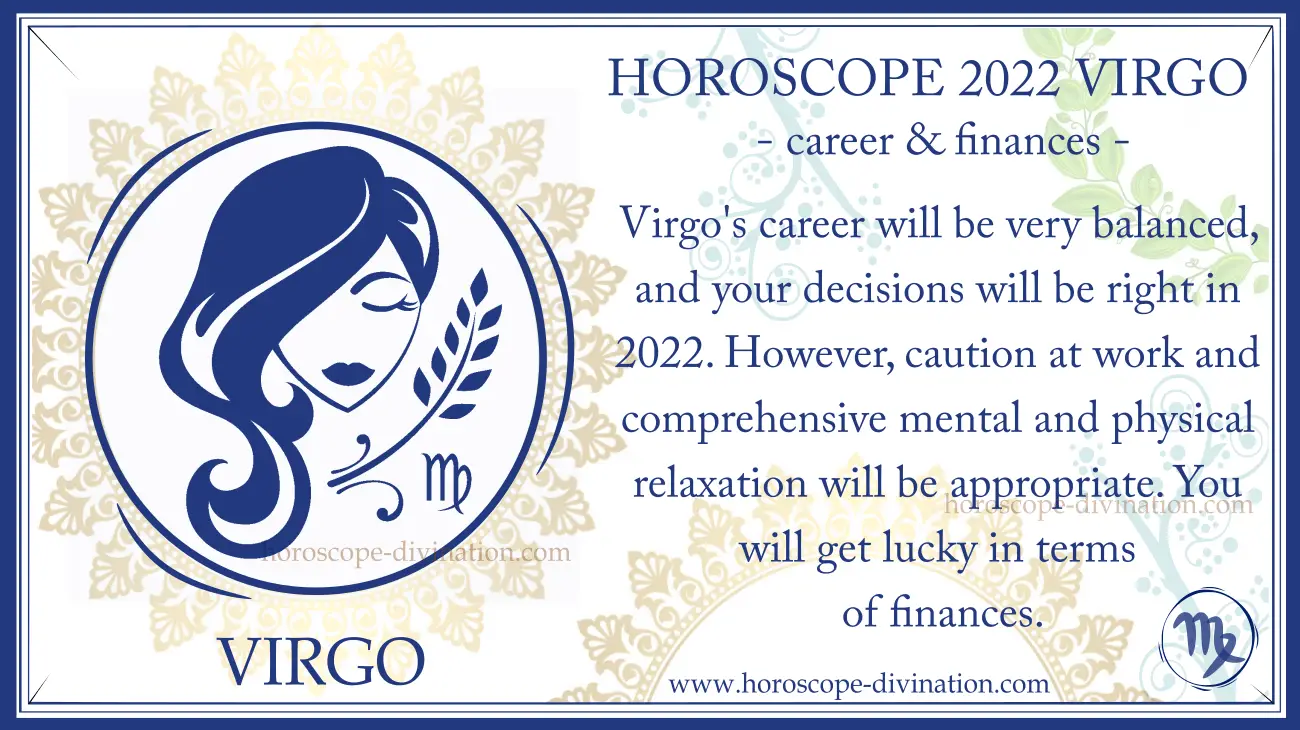 The first influence on the finances of Virgo will be the movement of Retrograde Mercury from January 14th to February 1st through the 6th House of Virgo. Later, from January 26th, Mercury moves to the 5th house. But what does this Transit mean for Virgo's finances? Complete annual Horoscope Virgo 2022 in career and finances...
Horoscope Virgo 2022 - Health & Vitality: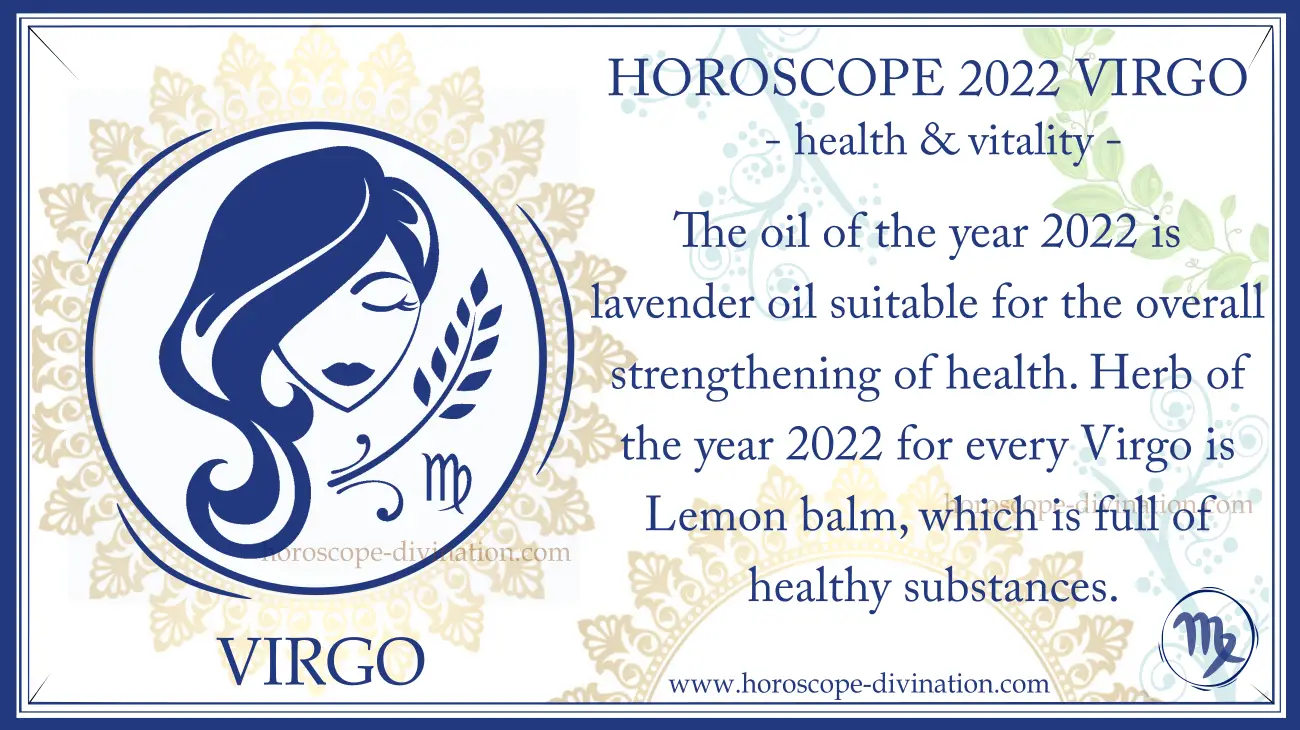 Virgo Horoscope 2022 brings opportunities to learn about the news, as a basic support for your health for 2022. The oil of 2022 for every Virgo becomes Lavender oil, the effects of which are really very wide. With lavender oil, you can cope with any stress you carry from work or personal family problems... Read yearly Horoscope 2022 of Health and Vitality for Virgo zodiac sign...
Retrograde movements of planets that affects Horoscope 2022 Virgo
Graph of Retrograde Planets 2022 - Their affect on Horoscope Virgo 2022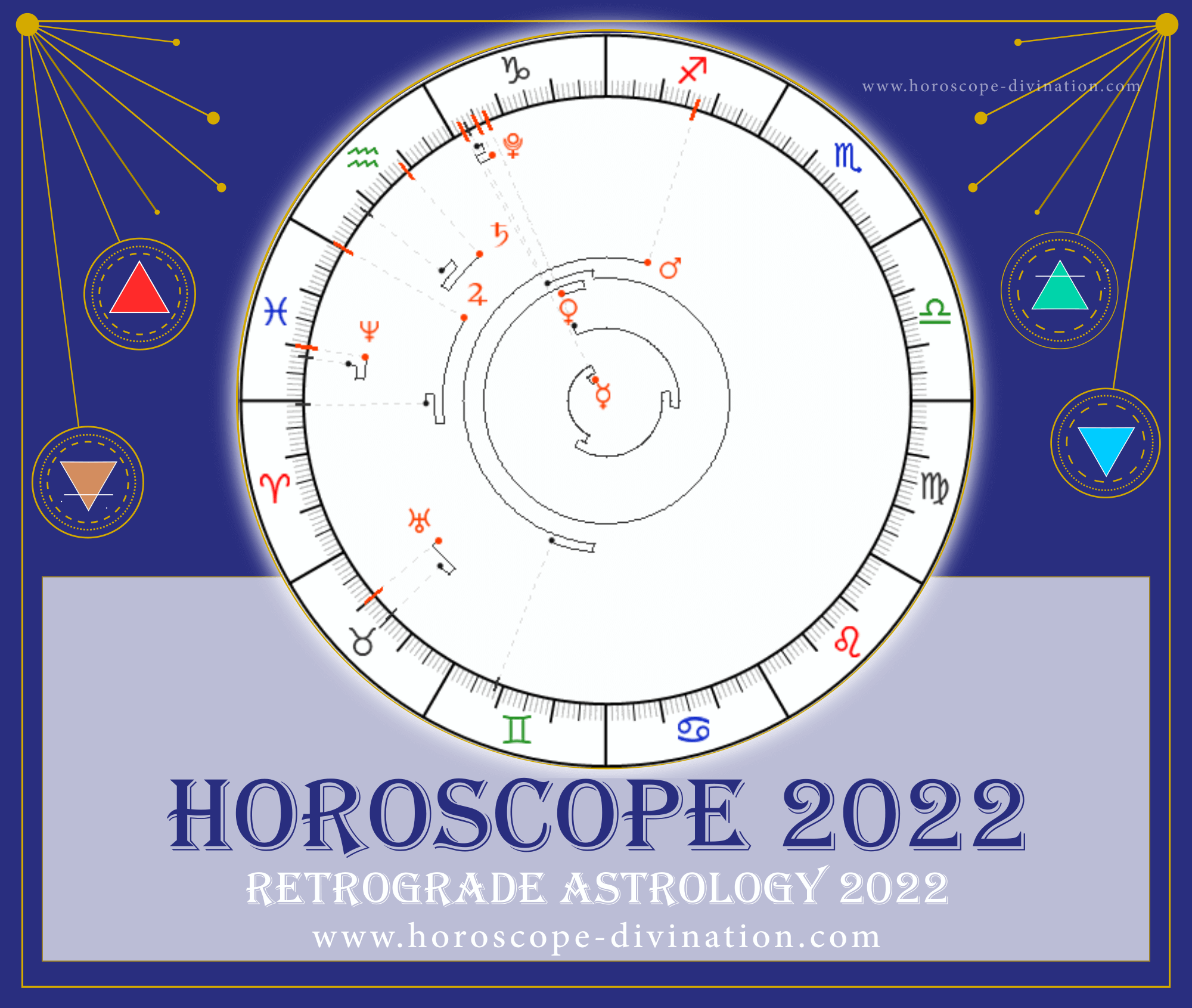 Click on the image above to read all the important information about the Retrograde Planets of 2022 and their impact on Horoscope Virgo 2022. Below you will find a list of terms important for your energy, vitality and for the overall Horoscope Virgo 2022.
Mercury Retrograde and Horoscope 2022 Virgo
14 January 2022 (in Aquarius 6 house) - 04 February (in Capricorn 5 house) (For 21 days, Horoscope Virgo 2022 is influenced by the first retrograde Mercury)
10 May 2022 (in Gemini 10 house) - 03 June (in Taurus 9 house) (Horoscope 2022 Virgo emphasize transit for 24 days)
10 September 2022 (in Libra - 2 house) - 02 October (in Scorpio 3 house) (Horoscope Virgo 2022 is affected by transit for 22 days)
29 December 2022 (in Capricorn 5 house) - end of year 2022 (Horoscope Virgo will hit this aspect for 3 days)
Venus Retrograde - Horoscope 2022 Virgo
01 January - 29 January 2022 (in Capricorn in 5 house) (Horoscope Virgo 2022 talks about this transit during 28 days)
Mars Retrograde - Horoscope Virgo 2022
30 October 2022 - to year 2023 (in Gemini - 10 house) (63 days are affected by Horoscope 2022 Virgo)
Retrograde Jupiter - Horoscope 2022 Virgo
28 July 2022 (Aries in 8 house) - 23 November (Pisces in 7 house) (Horoscope Virgo 2022 is affected for 118 days)
Retrograde Saturn 2022 - Horoscope Virgo 2022
04 June 2022 (Aquarius in 6 house) - 23 October 2022 (Aquarius in 6 house) (This transit affects Horoscope 2022 141 days)
Retrograde Uranus - Horoscope Virgo 2022:
01 January 2022 (Taurus in 9 house) - 18 January 2022 (Taurus in 9 house) (For 17 days, Uranus concentrates its energies on Horoscope Taurus 2022)
24 August (Taurus in 9 dome) - to the start of the year 2023 (The annual Horoscope 2022 Virgo is affected by the retrograde Uranus for 130 days)
Retrograde Neptune 2022 - Horoscope Virgo:
28 June 2022 (Pisces in 7 house) - 04 December (Pisces in 7 house) (the annual Horoscope Virgo 2022 is changed by transit for 159 days)
Pluto Retrograde - Horoscope Virgo 2022
29 April 2022 (Capricorn in 5 house) - 08 October 2022 (Capricorn in 5 house) (aspect affects Horoscope Virgo 2022 for 162 days)