Yearly Horoscope Leo 2022 - Family, Friends, Wedding & Pregnancy
(Family Life of Leo, friendship in 2022, and prediction for marriage and pregnancy of Leo)
Horoscope 2022 Leo - Family
Family relationships will be extremely stable in the first half of the year, predicts Leo Horoscope 2022 for both men and a women born in the fiery sign of the zodiac, which is ruled by a powerful and hot sun. At the beginning of the year, you focus mainly on the 7th house of partnership, ie your house of harmony, and your energy is directed to yourself, to love relationships, to marriage, but also to your own self-development.
The months of January, February and March will belong to a good relationship with oneself, and to personal self-development. The month of February brings into Leo's life many opportunities to enhance love and personal relationships, but also many opportunities for single Leos to let in sparks of love into their lives. Each step you take will be accompanied by great support from your family members, as the first half of 2022 does not indicate any negative aspects or transits that would affect your family life, describes yearly Horoscope Leo 2022. This means that your family life will be in necessary stability, so you can focus on the more important areas of your life that you can fully develop. The only brake on your rapid development will be the Retrograde movements of the planets Mercury and Venus, which will prevail mainly at the beginning of 2022.
Your family will not be able to speak until October 23rd, when Venus, working in 4th house, in the sign of exile, changes your character and concentrates your mind on the fact that you experience the greatest happiness, especially in circle of your loved ones by the family fireplace. From October 23rd to the end of 2022, every Leo will realize the importance of good family relationships and the importance of developing interpersonal relationships in family circle. The 4th astrological house of Leo, which is the house of the family - a very strong house, which is connected with domestic affairs, with your parents and with your childhood - will be hit, says astrology Horoscope Leo 2022. Leo can fully concentrate on what makes them happy. Use activities that make you happy to relieve everyday stress at work. The strengthening of family bonds in the second half of 2022 is extremely important.
From October 23rd, when Venus is in its exile zodiac sign, until November 16th, there may be family rifts that will first disrupt the harmony of 2022 in your family. You will have the desire and need to do things in household so that everything is smooth and organized. This excessive effort of yours at home will put you in many conflicts with other family members. You will have high demands on their help around the house, and you will demand more from them than they can give you in this regard. The transit of Venus in 4th house in exile zodiac sign can increase the tension in harmonious family relationships, specifies Leo Horoscope 2022. This negative aspect of Venus can pose a great problem for Leo in pursuit of perfection, which they will perceive very personally. In short, from October 23rd to November 16th, you feel a disharmonious period, when all your efforts for a clean and pleasant household are interrupted by someone from the outside environment, on whom you do not have much influence. With the end of this disruptive transit, the sun passes to the 4th house, where it remains until 22nd November.
From November 1st, these negative energies of Venus in zodiac sign of exile are weakened, and your ruling planet, the sun passing through the house of the family and home, comes to the fore. You feel extremely safe in your family, relying on powerful roots in your family and home. Family and home are closer to you now than ever before. You have a strong instinct to maintain family well-being and to enhance interpersonal relationships that must now be strong and steadfast. You realize that only if your family keeps it completely together, you can overcome every obstacle that life puts in your way.
From October 23rd, you are aware of the strength and need of your family. You try to ensure the well-being and warmth of home for everyone so that they feel well near you. You build a safe home full of love and harmony, but on the other hand you allow other family members to live freely and according to their own ideas. You are an understanding and loving person who is extremely popular because he brings a sense of security and love into the lives of loved ones. Therefore, a beautiful period for you occurs mainly from the beginning of November to November 22nd, when you can fully enjoy the warmth and well-being of your family members, when there are no conflicts or misunderstandings in your interpersonal relationships. Naturally, you will also encounter certain problems, and especially in the upbringing of your children, when your children will promote a separate and independent lifestyle. However, you are a strong person, a perfect parent who now understands the needs of their children, and now you can help and advise them. If you are wondering what time is best for resolving conflicts between parents and children, it is November 2022 that provides you with many opportunities to guide your children in right way of life and help them with any problem.
Your upbringing lifestyle during November inspires your children to be better at helping you in the household and to appreciate your true value in their lives, says Leo Horoscope for 2022. Enjoy the harmonious November period, which is of great importance throughout 2022 for your overall harmony and well-being. In November, each Leo also has the opportunity to refresh his household by selling unnecessary things or donating them to someone who needs them. November is ideal for any activity related to your household and family, for activities that will strengthen interpersonal relationships and rid your household of negative energies. To the positive energies flowing from your ruling planet is also added the planet Mercury entering Scorpio and also Venus in 5th astrological house, creating a loving and creative person.
Your family life will flourish during November, and your personality will be appreciated by your family members. You will be not only an excellent parent, but also a good counselor who will help family members solve any problem and can explain to everyone their own problems and find solutions. Your family respects you and loves you. This loving and harmonious period will last until the end of 2022, because there are no disturbing aspects that would affect family happiness or negatively affect your energy in the household. The positive radiance of the planets towards your family life can thus be used for an excellent end to 2022 in the circle of your family, which is a support for Leo in difficult times, and in which you feel happy and cheerful.
December transits also indicate a number of opportunities to close the year with a celebration, and well-being in family circle. Even family members who have not been able to stand up before, or who have been a source of conflict rather than love, will show you their new face during this period, which you will much prefer. It will be an interesting time when you will be able to look at other members of your family with a new perspective, predicts Horoscope Leo 2022, one that is nicer to you and thanks to which you will feel safer in your family circle than before.
So enjoy the year 2022, which is full of great benefits in your own emotions and relationships, and which will show you how strong and necessary your own family is for you. For some Leos who wish to expand their own family, Leo Horoscope 2022 also brings a lot of advice and opportunities when it is the best time to conceive the first or next offspring. In this direction, too, Leo will seize the opportunity to increase family relationships and flourish in personal emotional life. The year 2022 is therefore strongly focused on the emotions and feelings of Leo. Leo must not forget how important sincerity is in life. You must not be afraid to express emotions towards family members. It is because you open your heart and show others your emotions that can make your relationships flourish, and they can even change beyond recognition. Even relationships that were tense and broken in 2022 can be healed and transformed into friendly and inspiring relationships. Be the inspiration of your whole family, because it is in 2022 that you can show your strength, energy and loving nature that is natural to you.
Love, a working relationship, or problems in living together? The Love Compatibility Calculator for Leo will show you how high your compatibility in love, even in 2022, is with other zodiac signs.
---
Horoscope Leo 2022 - Friends
friendship Leo in 2022
In 2022, you will have a shot strengthen your friendships, because the year 2022 belongs, according to transits, mainly to the friendly and family relationship of Leo. Your energies will not only go to love, to work, to finances, but a substantial part of your life will be made up of your closest friends or family members, to whom you must show full trust and love. Leo Horoscope 2022 will in many cases remind you of the period when it is necessary to show your loved ones how much you care about them.
The year 2022 will be unstable in the first half, especially in terms of Leos emotions. Instability in Leo's life will be exacerbated by more difficult career periods, but on the other hand, these energies are offset by harmonious financial issues, as Leo does not have to worry about financial status. From this point of view, you can focus on strengthening friendships, and on moments with friends who are close to you. However, orient the beginning of 2022 mainly towards you. There will be no time to strengthen or form new friendships, because you should devote full energy to your own inner development and your own self, specifies astrology Horoscope Leo 2022. Your energies will be aspects directed to the past and past decisions, because during January 2022 you will analyze all your past decisions that got you where you are at the moment.
January can also test your psychological resilience, because the psyche will be unstable in terms of past experiences and past decisions. You tend to blame a lot of things that have negatively affected your life. However, January brings a huge opportunity to come to terms with your past decisions, which you will not change no.; To focus on your future. It is this step that will result in new friendships that you will create in 2022 and new valuable relationships that you will build. Your friends will be a huge support in 2022, but you should not be afraid to show that you need their friendship. January and February are very rich in astrological transits that settle in the 7th house of relationship, and therefore you will deal more than friendly ones with loving ones.
From March sixth to April 15th, the planet Venus is located in 7th house and affect yearly Horoscope Leo 2022. This position of the planets of love can shock you. It shocks you to see that some of your friends can announce a wedding date that is quick and thoughtless. However, be careful how you react to this news, as impulsive expressions of disagreement with this step can deprive your friend of an important relationship in your life. Try to guide this friend and listen to what they are telling you, not what you think. Maybe what would not be good foryou is very good for your friend. Remember that we are all different, and everyone in life is looking for their own paths and their own life satisfaction. You should remember this fact especially in the period from March 6th to April 5th, when one of your friends will surprise or shock you with an unexpected message.
Until May 2nd, you will continue to focus on close personal and loving relationships, and your friendship will not be affected in any way. From May 2nd to May 28th, however, Venus enters into the sign of exile, causing disputes mainly in friendly relations. It causes conflicts and misunderstandings, especially in such friendly relations in which there is a conflict of interests and philosophical issues. If you are in a friendship where you do not understand religion, or other life issues, it is possible that Venus, in exile sun sign, will cause rifts, and even strong quarrels in this direction. So there may be an earthquake between friendly relationships where you share the same views on life, warns Leo Horoscope 2022. However, beware of exaggerated reactions that could cause a bad perception of your personality on the part of other friends who have so far perceived you as a friendly person with a good heart. Your exaggerated or even aggressive reactions to the views of a friend of yours can shake your reputation.
So, from May 2nd to May 28th, be careful about any misunderstandings and conflicts in your friendships. At the end of May, the situation stabilizes again and you have chance to self-realize through your friends and team. Not only the relationships between co-workers will thrive, but also your closest friendly connections, which you are no longer indifferent to. At the end of May, you can avoid deeper emotional contact with friends, but on the other perspective, a close friend will be even closer to you. You will realize the need for the most faithful and valuable friend with whom you will identify your own personal integrity. These energies are directed to you by the sun entering the 11th house, where it remains until May 21st, when you have many days to build the best friendships that make sense for your life.
In second half of June, Mercury's location in 11th house means your intelligent mind with a broad understanding of the world, define astrological Horoscope Leo 2022. You perceive the diversity of people and the diversity of their opinions, and you are able to adopt any attitudes towards others, but also towards your own person. You are ready to accept any opinions and ideas that are related to your life and past decisions, because you know that your friends want only the best. To this favorable position of the planet Mercury, Venus in 11th house has also been added since June 23rd, pointing out the enormous benefits in your life, gained through friends. You now stand a chance to use valuable friendships to advance your career, your thoughts and ideas. Friends now give you not only opportunities for your own personal mental development, but also opportunities to capture opportunities at work and new innovative ideas to help you in business or in any project you plan to start. Friends may seem like a certainty to you, but try to treat people as you would like them to treat you. Not only focus on the benefits of your friends, but be the one who benefits them. Remember that your friendships must be balanced so that your days are harmonious.
From August 11th to September 5th, you perceive Venus entering the first astrological house in neutral sign of the zodiac. Venus in the first astrological house means not only great charm and charisma of personality, but also new ways of perceiving the world and dealing with other people. The extraordinary personal charm and pleasant demeanor of Leo results in a number of opportunities to meet new friends, says emotional Horoscope Leo 2022, and a number of beautiful moments spent with those who love Leo. Your friends will be like a star shining in your life, they will bring you joy, and beautiful feelings of closeness. You will be happy for every friend in your life who supports you whenever you need it.
In 2022, friendships mean a lot in your life. The feeling of security in company of your friends is brought to you by Venus, who enters the first astrological house from August 11th, which works in this house until September 5th. In terms of career and social life, you can expect new, joyful experiences that you can appreciate. The beautiful aspects of life are now reflected in every day of Leo. This period will be a celebration of friendship, and real interpersonal relationships. You will be welcoming and friendly, but at the same time there will be a huge need in your life to be loved, but also to share love with others. It is on this occasion that you should not forget everyone who has helped you in your life. After the end of this amazing transit of Venus in the 1st house, nothing unpleasant will surprise you until the end of 2022.
Friends will also support you during the final days of 2022, prognose Leo Horoscope 2022. From 22nd November, the sun is in the 5th house. It passes through this house until September 21st. It means a very creative nature of your personality, and a strong desire to develop friendly relationships. It means not only the development of your creativity and art, but also the great need for appreciation. Right now, you tend to act in eyes of others as best you can, and that's why you're thinking about those friends you've hurt in past. You will be struck by the ancient past, which carries with it elements of pain from harming others. You may not have noticed it at first glance, but with time, you know that you may have behaved differently in past.
From November 22nd to December 21st, you get an opportunity to correct these past wrongs. What's more, you have a duty to tidy up past friendships that still bother you. To avoid a sad future, you need to close everything past, predicts yearly Horoscope Leo 2022. Know that any past hesitation may not be so tragic in other's eyes. Maybe you're going through it worse than the other person. It's time to get in touch with anyone you've let down in past and fix those relationships that keep you from moving on in life to fully develop your self-confidence.
The sun in 5th house during this period supports your self-confidence, supports your expression, and brings many opportunities to close past life chapters and move to 2022 with a clear slate and a soul full of contentment. The year 2022 seems to be full of real interpersonal relationships in terms of friendly relations, and full of non-conflicting encounters. However, some transits suggest that you should tame your nature. Try to be more interested in your own life than in the lives of others. Avoid preaching, and forget that your own opinions must blend into other people's lives. Let everyone live their lives according to their own ideas, but do not hesitate to advise your closest friends if they need and demand your advice.
At the end of the year, you will find peace in yourself, you will also calm the past relationships that plagued you in 2022 and in previous years. Maybe they are just bothering you and you will find that you are freer in life than you actually realize.
The Leo Friendship prediction also provides the Weekly Leo Horoscope which is updated weekly. Get ready for the coming week with an astrological horoscope in 2022.
---
Horoscope 2022 Leo - Marriage
Horoscope predicts what dates are best for Wedding in 2022
Are you going to enter into marriage in 2022 and were you born in Leo zodiac sign? You ask which period is the most suitable for concluding a marriage so that your wedding is according to your ideas, without complications or unexpected surprises. Astrological transits in 2022 also describe a period that is suitable for the wedding you are dreaming of. A wedding during which you will not have to deal with any unpleasant surprises. On the other hand, the Astrological Horoscope 2022 Leo will also tell you what date to avoid in 2022, and when it is better to postpone the wedding until later. From an overall point of view, it is appropriate to specify that the period during the operation of Retrograde Mercury or Retrograde Venus is not suitable for concluding any contracts. In 2022, we can observe these transits in several terms.
In the month of January 2022, the sign of Leo perceives the movement of Retrograde Mercury, but also the return of Venus. Therefore, January is not a good time to get married because your marriage could be complicated, and a marriage like this could continue to have problems in the future. So if you are going to be married in 2022, the astrological Leo Horoscope 2022 recommends you to omit the month of January, which is absolutely inappropriate for such decisions. On the contrary, from February 4th, you can think of a wedding that will be like a fairy tale. February transits are very favourable from Febraury 4th to February 25th, when several aspects affect the 7th house. The marriage concluded these days will be happy and harmonious. Since February 4th, the sun has been in conjunction with Saturn, and this aspect is very favorable. From February 14th, the planet Mercury will enter the 7th house, where it will remain for the rest of February, thus ensuring an undisturbed, dream-like, fairytale wedding with your loved one.
However, you should be careful at the end of February, specifically from February 25th, when the Mercury square Uranus is formed, and this period is absolutely unsuitable for marriage. So avoid the last 5 days of February if you want to have a perfect and successful wedding. The wedding is an exceptional moment in the life of each of us. Therefore, you too should easily plan the most suitable dates concentrating positive energies for the wedding according to the horoscope. The month of March is also a good time to take this step in life. Venus is in 7th house, and Mars in the same house supports your militancy, so arrange everything you need.
From March 6th to April 15th, these transits mean a happy marriage in future, and perfectly social events, which can be your dream wedding. So if you ask which months of 2022 are the most suitable for marriage, the answer is in the first two months of 2022, which are the most appropriate for such a big step of a man or woman born in Leo zodiac sign. You can still use the whole of April to have your love confirmed by a marriage that will continue to be happy in future and will not be disturbed by any problems that you carry to your wedding day. These positive transits will end the first half of 2022.
The second half of the year is focused on friendly and family relationships that will flourish under the influence of astrological transits. Leo Horoscope 2022 mainly describes the month of October and November, when family relationships flourish, which mean happy interpersonal connections. These perfectly family relationships, where you stand a chance to harmonize past family problems, again bring opportunities for the wedding according to your dreams. If you have dreamed of a wedding in the summer, there are no astrological transits to suggest that the wedding is hindered or complicated. Neutral transits do not indicate either positive or negative aspects during the summer. If you have decided to have a wedding during beautiful summer days, you can enjoy excellent interpersonal relationships and social events. The whole year 2022 thus seems to be suitable for marriage in terms of astrological transits. Again, however, we remind you that every Leo should avoid especially the periods of Retrograde Mercury. These periods occur from January 14th to February 4th, but the whole of January is also affected by Retrograde Venus, and is therefore completely unsuitable for marriage.
This is followed by the period from May 10th to June 3rd, when the Retrograde Mercury operates again. It will hit you for the third time from September 10th to October 2nd, and these days are again unsuitable for signing important documents, such as the marriage contract. The last date you should remove from your list of potential dates suitable for a wedding is the last 3 Days of 2022, namely December 29th, 30th and 31st, when Leo sign is again affected by the Retrograde movement of the planet Mercury. You should also be more careful in last two months of 2022, when Retrograde Mars manifests, from 30th October to the beginning of 2023. 63 days in 2022 would therefore be more complicated in arranging your wedding, and it might seem more complicated to keep everything as you imagine. Leo Horoscope 2022 therefore recommends that you use mainly the months of February and March, and the summer months, when social events, such as a wedding, will be successful and undisturbed. If you want a perfect, dream and fairytale wedding, focus on recommended astrological transits that affect not only your energy, but also society's overall approach to change in life.
We believe that Leo Horoscope 2022 in the prediction of marriage dates answered the question of when is the most appropriate date of 2022 to conclude this important step in life. If you wish to get married in 2022, we wish you a happy and undisturbed wedding and a happy marriage that will perfectly meet your expectations.
Accurate Monthly Horoscope Leo tells you more about Leo future in love, health, career, money or relationships. Horoscope 2022 Leo is also connected with a monthly prophecy. Read all the important horoscopes from the fortune teller for the year 2022.
---
Horoscope Leo 2022 - Pregnancy
Horoscope prediction for Best dates for pregnancy in 2022
In the complete annual Horoscope, we have so far listed the most suitable dates for marriage, but also periods that will mean family harmony and love. You also had the opportunity to read about the days when you should relax and prefer to walk in the crowd. You have many opportunities to shine and show the power that is hidden in you thanks to the action of the fiery element and your ruling planet - the sun. The year 2022 will be suitable for important life steps on your life path. An important step in life is also the conception of the first or next offspring, which many Leo already think about. Is the year 2022 suitable for conceiving a child? Which days of 2022 are good for Leo's fertility, and when, on the contrary, should you avoid conceiveing a child in terms of astrological transits?
During 2022, Leo will get a really large number of opportunities to become a parent, or to continue this life mission in the form of another offspring. From the overall point of view, the Astrological Transits of 2022 indicate that the unsuitable periods for this great step of life are mainly the month of January, the month of May, June, August, September and October. On the other hand, Leo gets many more opportunities to conceive a child than other signs of the zodiac. However, every Leo must watch their fertile days throughout the year. However, Leo Horoscope 2022 can guide you in which months are astrologically fertile, and during which, on the contrary, you will not be able to conceive a child even with greater effort with your partner.
The first ideal opportunity to conceive a child is the period from February 5th to February 17th. The whole of February seems to be a good month for this step in life. If you conceive a baby during this period, it is likely that the pregnancy will proceed without complications and as you expect. The astrological chart even suggests that the pregnancy in February will give you the sex of the baby you dreamed of. The February pregnancy will take place without any complications, and the baby born in this way will be healthy and happy. Other suitable periods for pregnancy for a woman born in Leo zodiac sign is the period from March 11th to 18th.
In March, men born in this sign will also be fertile, so they can actively participate in this joyful activity, which will bring you a lot of happiness and satisfaction. Follow not only the recommended dates of the astrological horoscope, but also the days that are around this date and are in line with your fertile days. On the contrary, the most unsuitable time to conceive a child are the days of operation of the Retrograde planets Mercury and Venus. Another option for pregnancy and the smooth running of the pregnancy is the period from April 1st to 13th. All Astrological transits are in harmony during this period, and even the lunar phases wish Leo happiness and success.
The months of May and June are not suitable for this big step in life, because pregnancy could cause you many complications. Pregnancy during this period must be monitored, and pregnant Leos should pay close attention to their health, especially in the months of May and June, when it is not appropriate to do anything extra. Take a break and don't do things you don't have to do. Listen to your doctor's advice, and don't forget the regular preventive check-ups, which are now extremely important. From July 1st to 7th, Horoscope wishes women who wish to become pregnant but also those who are pregnant. You will have more energy and vitality, and your desires can be fulfilled during this period.
Have a romantic weekend with your partner, be together and enjoy each other, Leo Horoscope 2022 recommends. Only in this way will fate give you the opportunity to become a parent who will raise your child without any complications, whose life will be like a fairy tale. Pregnant Leoscan feel a great increase in energy and vitality between July 1st and 7th, which will be excellent in terms of your overall health and your overall mental stability. In August, September and October, you should relax more and focus on other areas of your life. Astrological transits do not indicate any supportive dates for conceiving a coveted baby, so you should redirect your desire to the period from November 22nd to December 21st. These days, the sign of Leo is affected by the ruling sun in the 5th house, which has a positive effect on the fertility and energy of Leo. It affects not only the pregnancy of women born in the sign of Leo, but also the fertility of men born in this sign.
So if you are looking for your first baby, or are planning to work on expanding your family in 2022, do not hesitate to follow the dates in this horoscope, which introduced you to the best days to father your beloved baby. Avoid the terms of Retrograde Venus and Mercury, which block your decisions and slows down everything in your life. If you are going to take this big step in 2022, dear Leo, we wish you a lot of success in your decision, which will certainly be the right one during the given dates.
Daily Horoscope Leo prepare you for the current day. Horoscope 2022 from the Fortune-Teller also means the possibility of daily divination for Leo zodiac sign.
---
Horoscope Leo 2022 - Love, Career, Health, Future...
Click the image you like and read more about year 2022...
Horoscope Leo 2022: Overview - Positive and Negative aspects of 2022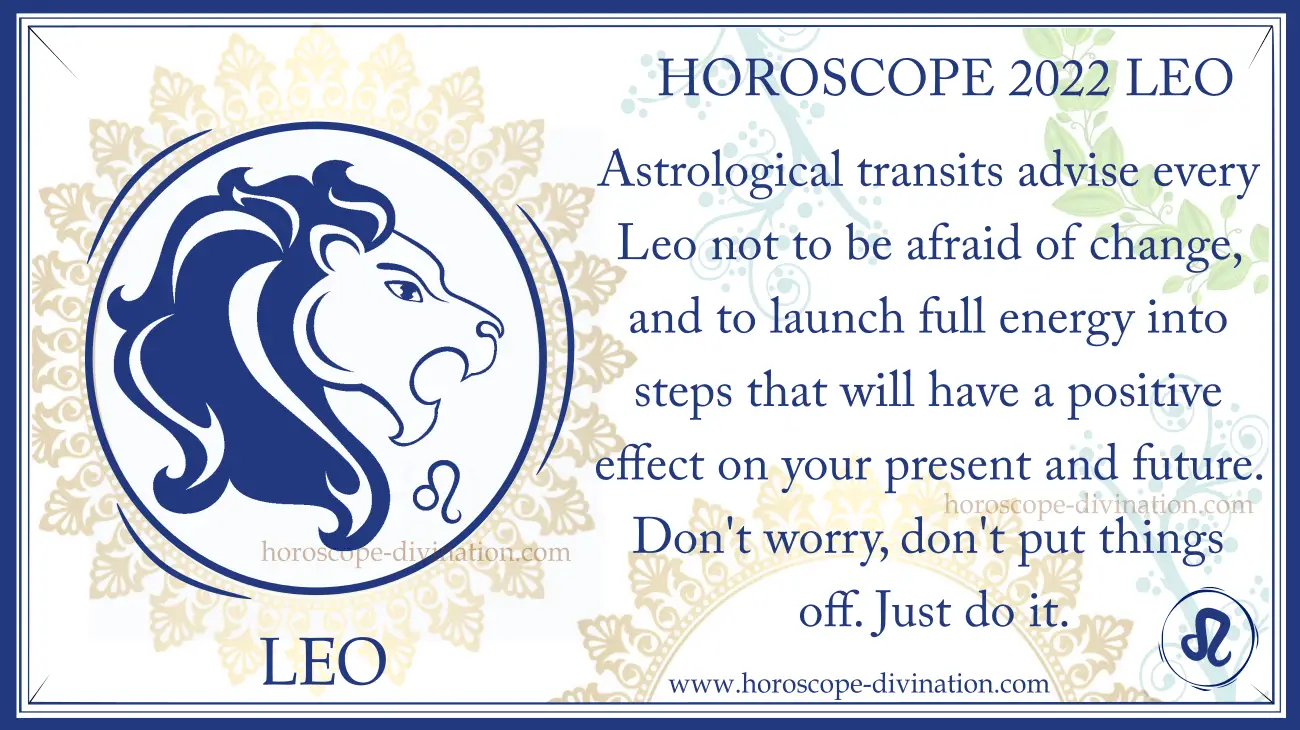 From the Love and relationships view, the Horoscope Leo 2022 describes February as a suitable month for discussions about love, emotions, relationships and for healing issues and problems from past. February is after a pause positive month, in terms of personal emotions and relationships of Leo... Introduction of Horoscope 2022 Leo...
Horoscope Leo 2022 from fortune-teller - Love & Relationships in 2022: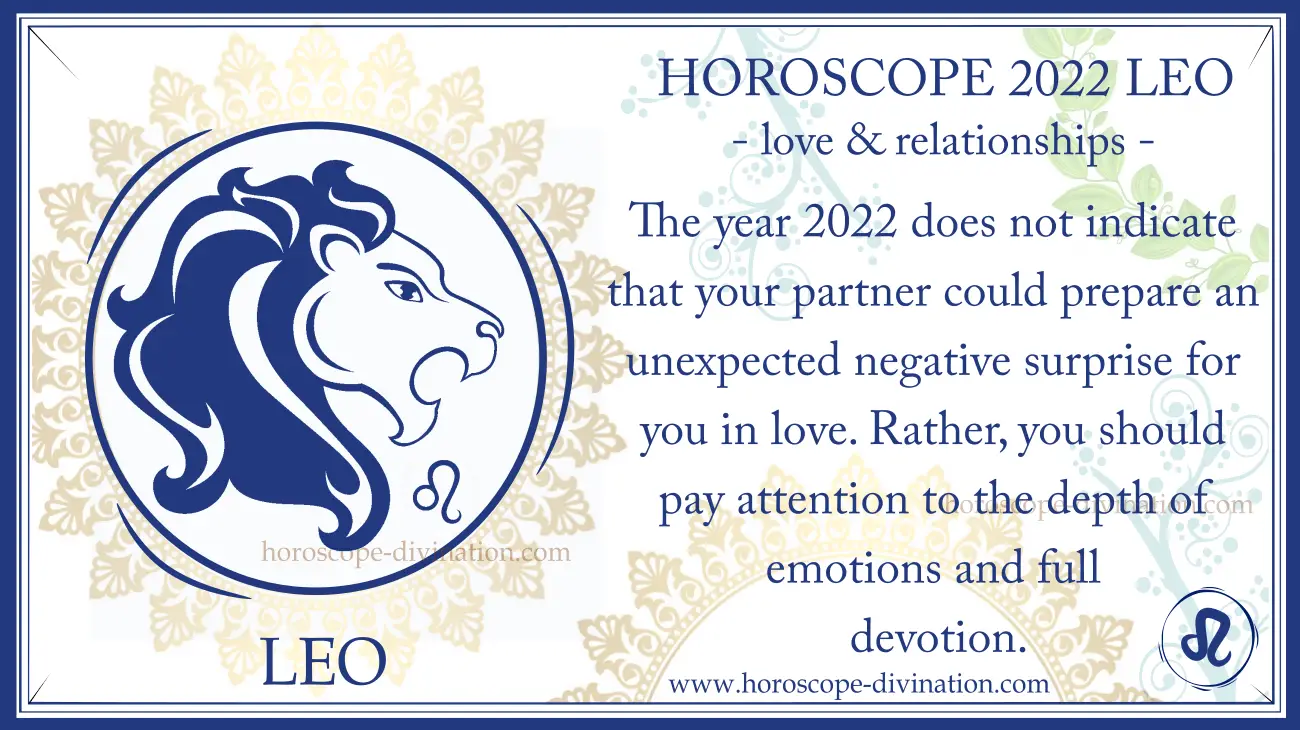 Horoscope 2022 introduce January, during which seventh and 6th astrological houses are occupied. This month focuses mainly on relationships, love, health, and work of each Leo. From first January days until the month end, we feel not only Venus retrograde in 7th house, but Mercury in a given motion as well, until February 1st... Read more about Love Horoscope Leo 2022...
Horoscope Leo 2022 - Family, Friends, Marriage and Pregnancy in 2022: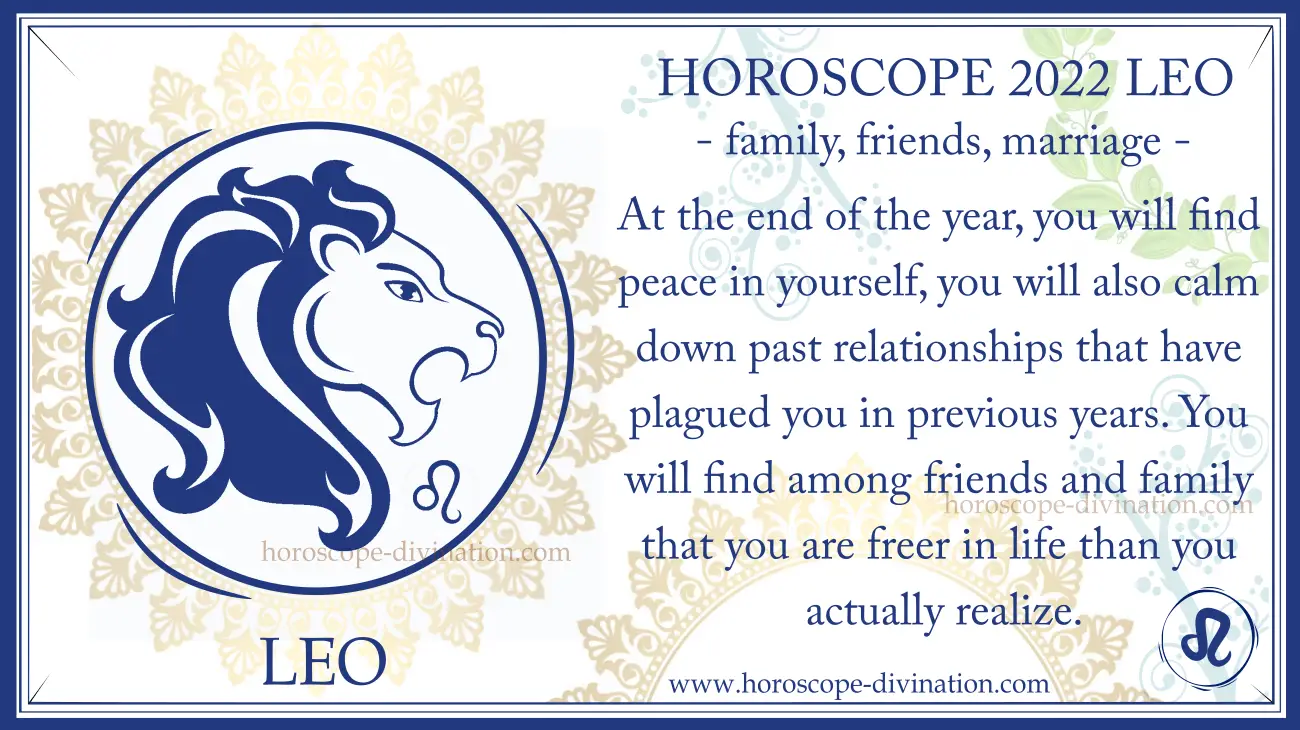 In 2022, Leo will have time to strengthen friendships, because 2022 belongs, according to astrology transits, mainly to family and friendly relationship of Leo. Your energies are connected not only to love, work, finances... Substantial part of life will be made up of Leo's closest friends or family members, to whom you should show full love, understanding and trust... Read this yearly Horoscope Leo 2022 - Family, Friends, Pregnancy and Marriage...
Horoscope 2022 Leo - Career & Finances: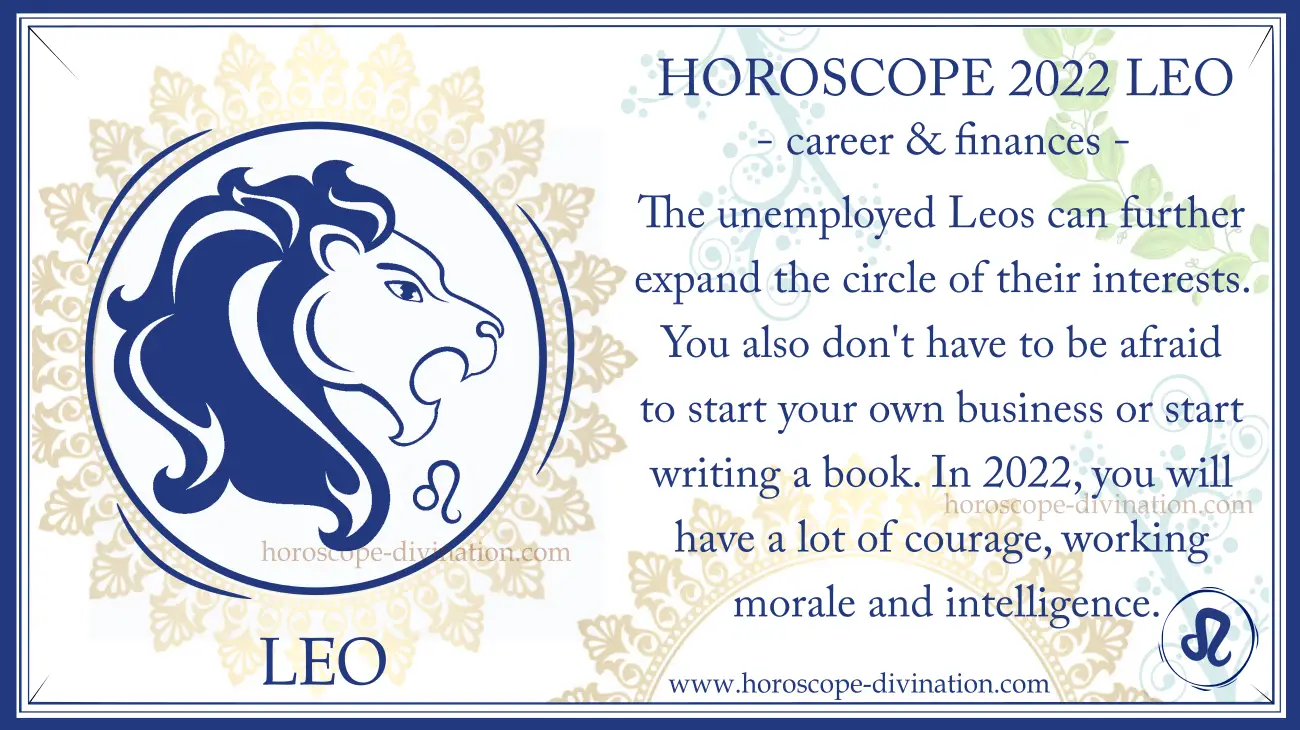 2022 beginning will give you January as a gift when you could complete all your tasks and projects that are running. Retrograde planets - Venus and Mercury, give you a good time during January to solve everything that has begun. Transits even lead you to it... Complete annual Horoscope Leo 2022 in career and finances...
Horoscope Leo 2022 - Health & Vitality: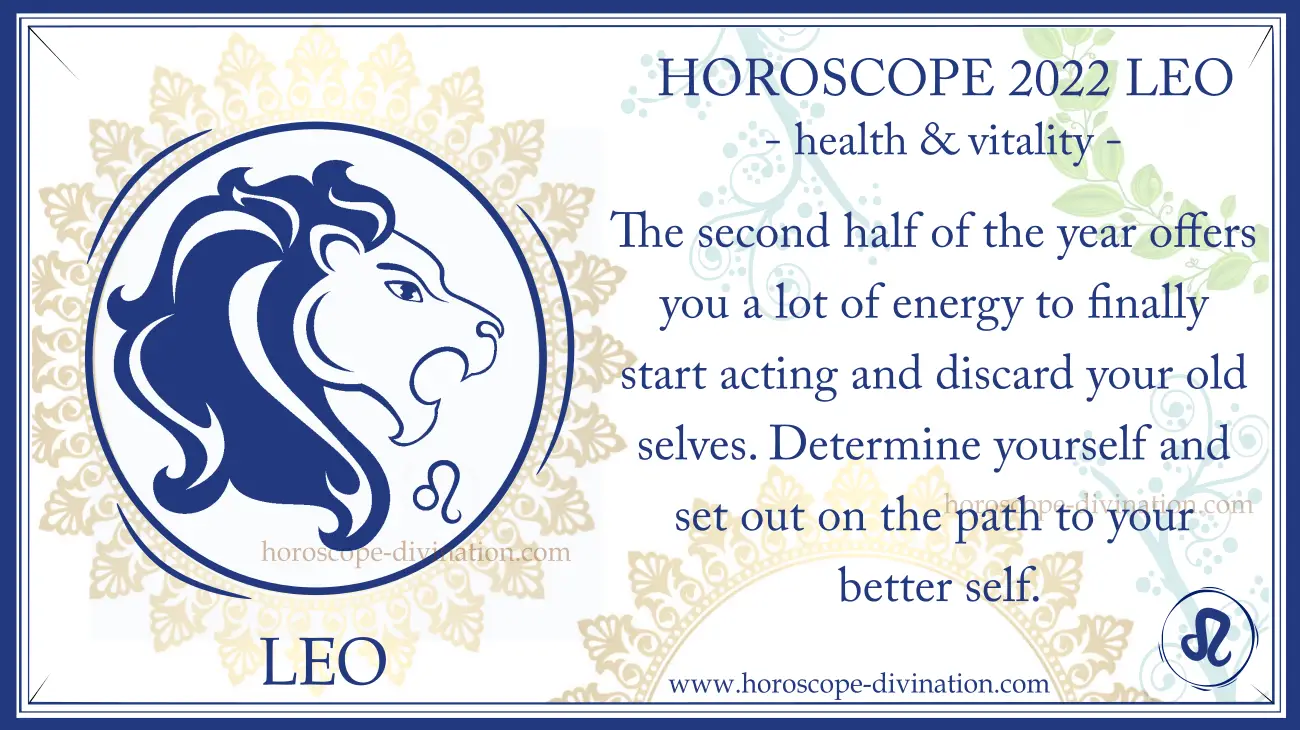 Horoscope 2022 Leo also describes every Leo's health, whether man or a woman born in a fiery sign, which is ruled by warm Sun. During January beginning, especially from January 1st to January 6th, the New Moon in exile zodiac sign draws the attention of Leo to the health area. Read yearly Horoscope 2022 of Health and Vitality for Leo zodiac sign...
Retrograde movements of planets that affects Horoscope 2022 Leo
Graph of Retrograde Planets 2022 - Their affect on Horoscope Leo 2022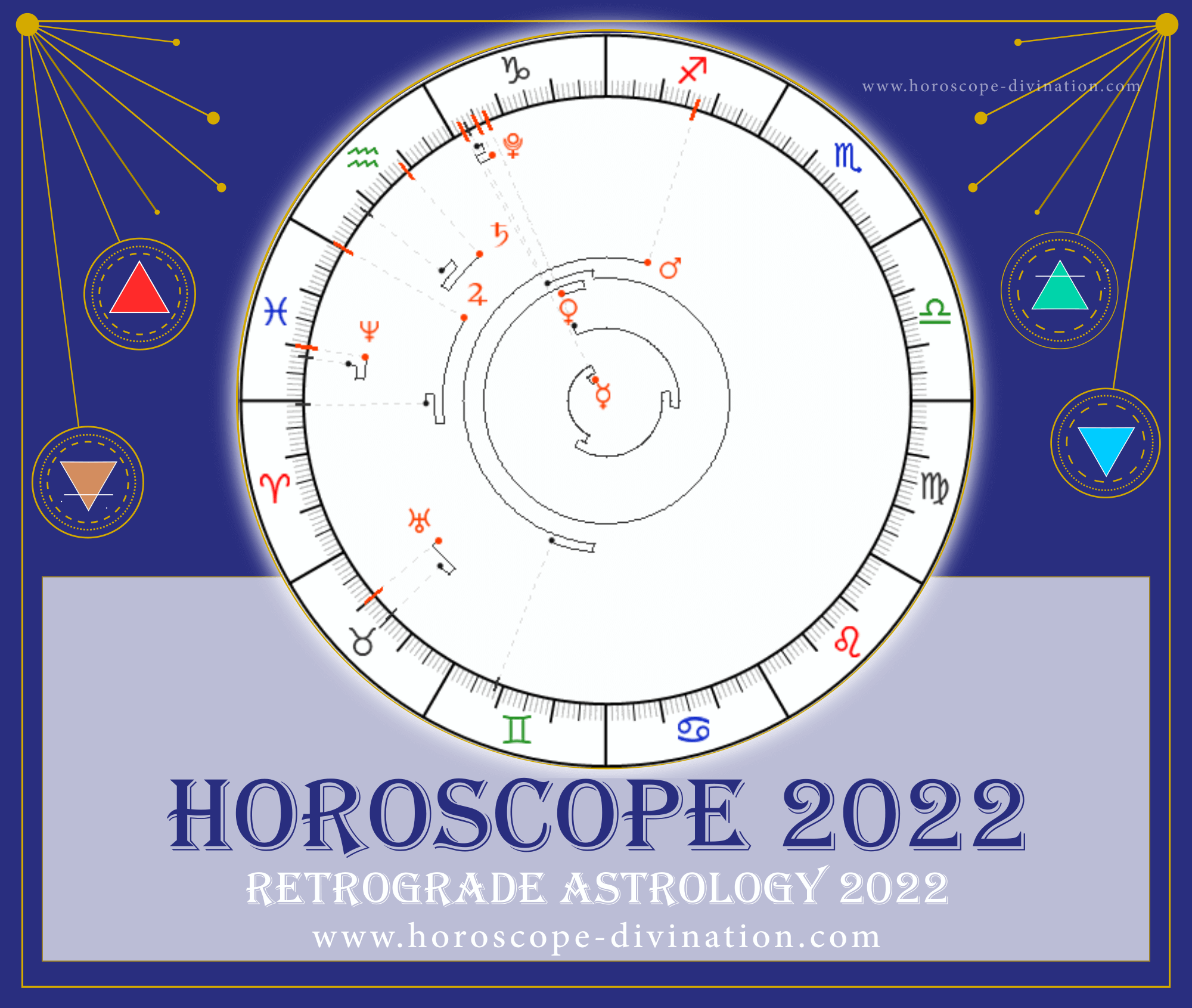 Click on the image above to read all the important information about the Retrograde Planets of 2022 and their impact on Horoscope Leo 2022. Below you will find a list of terms important for your energy, vitality and for the overall Horoscope Leo 2022.
Mercury Retrograde and Horoscope 2022 Leo
14 January 2022 (in Aquarius 7 house) - 04 February (in Capricorn 6 house) (For 21 days, Horoscope Leo 2022 is influenced by the first retrograde Mercury)
10 May 2022 (in Gemini 11 house) - 03 June (in Taurus 10 house) (Horoscope 2022 Leo emphasize transit for 24 days)
10 September 2022 (in Libra - 3 house) - 02 October (in Scorpio 4 house) (Horoscope Leo 2022 is affected by transit for 22 days)
29 December 2022 (in Capricorn 6 house) - end of year 2022 (Horoscope Leo will hit this aspect for 3 days)
Venus Retrograde - Horoscope 2022 Leo
01 January - 29 January 2022 (in Capricorn in 6 house) (Horoscope Leo 2022 talks about this transit during 28 days)
Mars Retrograde - Horoscope Leo 2022
30 October 2022 - to year 2023 (in Gemini - 11 house) (63 days are affected by Horoscope 2022 Leo)
Retrograde Jupiter - Horoscope 2022 Leo
28 July 2022 (Aries in 9 house) - 23 November (Pisces in 8 house) (Horoscope Leo 2022 is affected for 118 days)
Retrograde Saturn 2022 - Horoscope Leo 2022
04 June 2022 (Aquarius in 7 house) - 23 October 2022 (Aquarius in 7 house) (This transit affects Horoscope 2022 141 days)
Retrograde Uranus - Horoscope Leo 2022:
01 January 2022 (Taurus in 10 house) - 18 January 2022 (Taurus in 10 house) (For 17 days, Uranus concentrates its energies on Horoscope Taurus 2022)
24 August (Taurus in 10 dome) - to the start of the year 2023 (The annual Horoscope 2022 Leo is affected by the retrograde Uranus for 130 days)
Retrograde Neptune 2022 - Horoscope Leo:
28 June 2022 (Pisces in 8 house) - 04 December (Pisces in 8 house) (the annual Horoscope Leo 2022 is changed by transit for 159 days)
Pluto Retrograde - Horoscope Leo 2022
29 April 2022 (Capricorn in 6 house) - 08 October 2022 (Capricorn in 6 house) (aspect affects Horoscope Leo 2022 for 162 days)